Happy New Year and Happy Thursday!  Here are a few of this week's new arrivals and in other news, we are going to be redoing the two front window displays.  Remember back post covid, when we did a neutral background palette and then rotated the colors of the rainbow?  It was a super fun experiment and it brought in a lot of fun colorful items.  This time we will be doing two windows at once!
So, we need your red and orange accessories…pillows, mirrors, figurines, vases, decor, artwork, throws, rugs, lamps etc.  Can't wait to see what you bring us!
The red window was July 2020 and the orange window was August 2020.  Target date for the new red & orange windows is January 11th so bring us your stuff!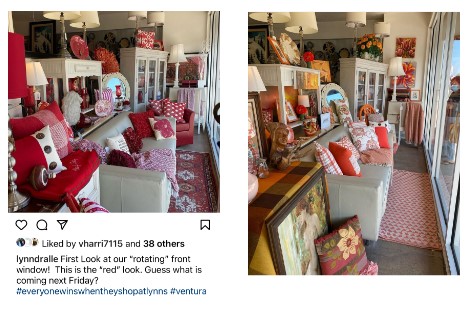 Many of you have expressed concern regarding my mom (Mor Mor) so thank you for that!  She is home now safe and sound in Bellingham, but she left us with the rain.  Ughhhh….I know we need it, but I am over it!  So are Cha Cha & Carlos…they just want to play outside.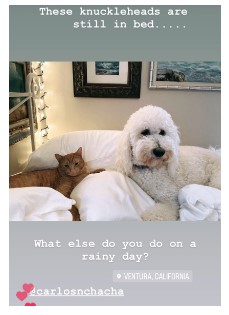 Now for some fun items….. Check out this desk that Sandy just finished with Redesign by Prima Decoupage paper.  Isn't it gorgeous?  Priced at $395.00.  Read more about it here.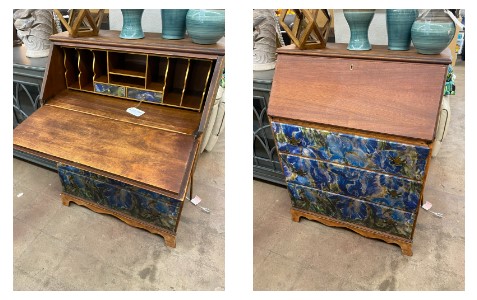 Here is a link to purchase the decoupage paper that Sandy used.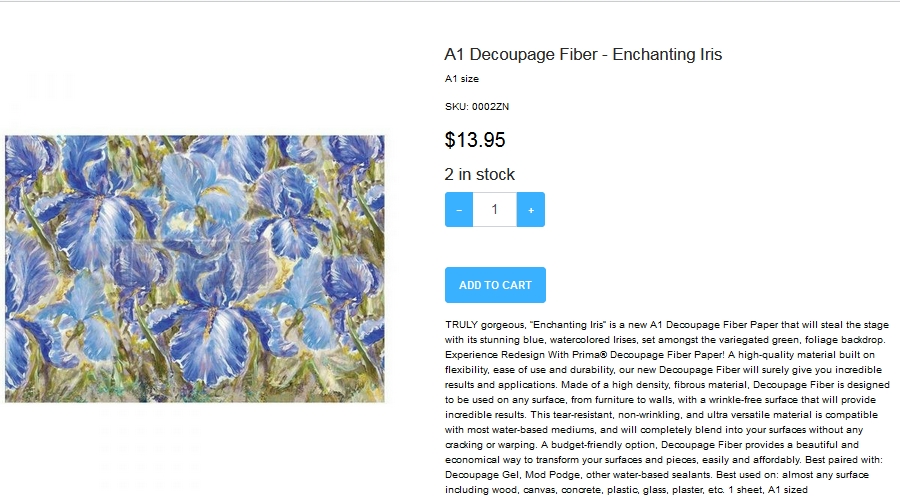 This super fun Banquet is also a newer arrival and would be so cute in someone's kitchen or dining room. Check it out here! Priced at $595.00 it goes down in price to $476 on January 6th if it is still here.
Goodfried 2 Piece Faux Leather Bench Set Tan/Brown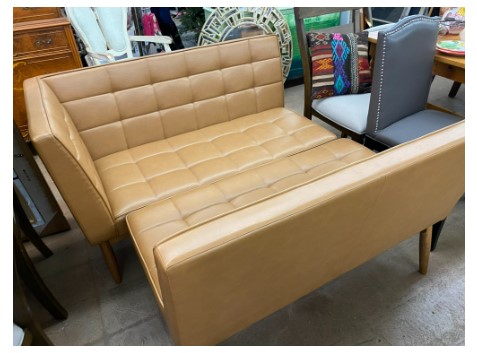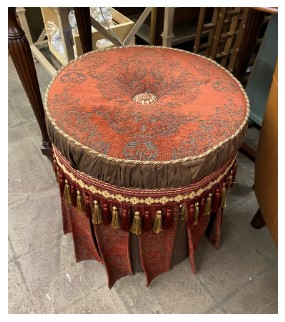 This Bombay Vanity w/ Mirror is the perfect addition to any bedroom.
This vanity features 3 drawers and provides ample storage space for all of your makeup.
This piece is reduced from $195.00 and is currently only $156.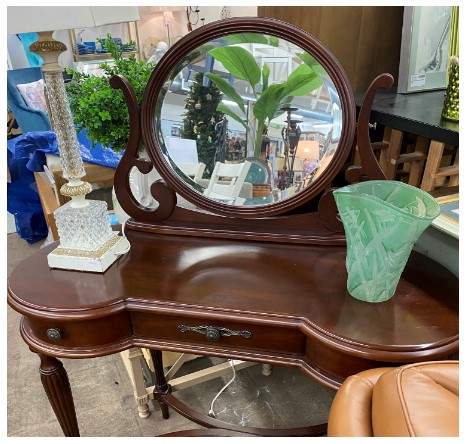 Enjoy your favorite beverage with one of our Gurgle Pots! They comes in a variety of colors and sizes.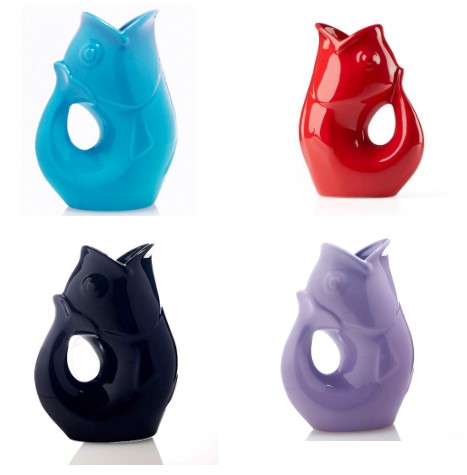 Here are some of our lovely velvet jackets that are perfect for the cold weather!
DL 1961 Marron Velvet Jacket NWT $35.70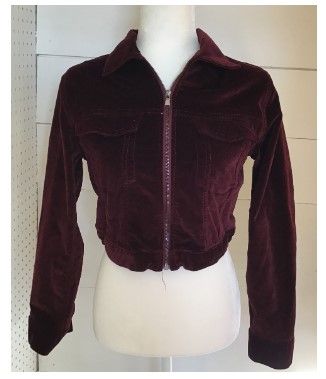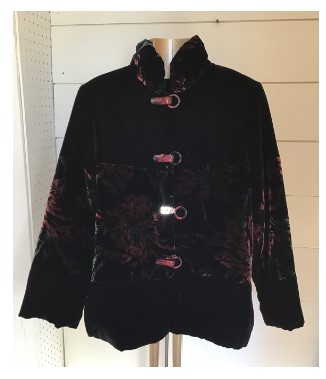 And now for more fun fashion items. Lots of great quality items for you to look through from Myra!
Have a look at our section on bags, or wallets. There is a variety of stylish options available in both categories!
Spacy Weekender Bag Purse $62.95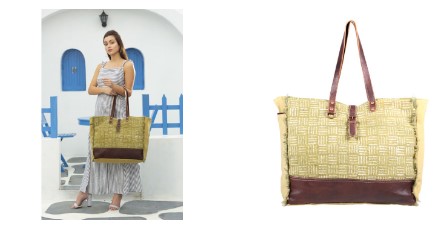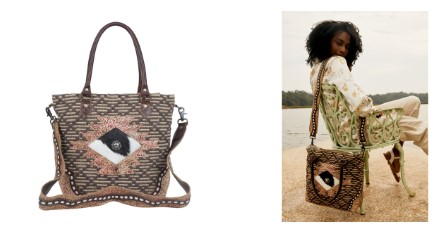 Deserve Wallet $62.95
Omegrow Wallet $57.95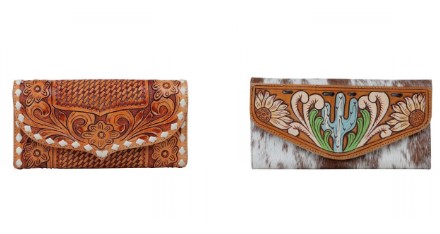 Brownie Dream Wallet $55.95
Charcoal Fiesta Wallet $55.95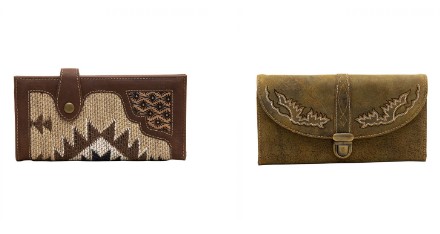 Hello Mermaid! Beads & Bells
Here Comes the Sun Beads Bell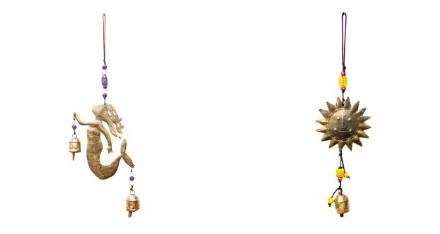 Swim with the Turtles Beads Bells
The Butterfly Farm Beads & Bells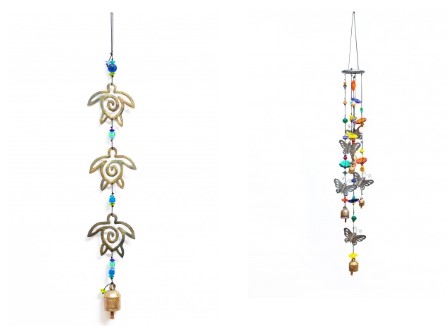 As I finish writing this, I realize that the 4th is my brother Lee's birthday, so a Happy Birthday shout out to him and a fun throwback picture of the three of us in my Grandmother's living room.  We are standing in front of the fireplace she imported from Europe back in the 1960's and some of her many Cloisonne Chargers on the wall.
During the holidays, I sure miss my sister, my dad and my grandma.  I met with a Medium over the holidays and I will share more about that in my next ezine.  It was kinda crazy which spirits came through and what I learned!
OK, back to the pic in my grandma's living room and a fun Insta story that my brother posted about a birthday 7 years ago when we brought Disneyland to the desert for him.  LOL!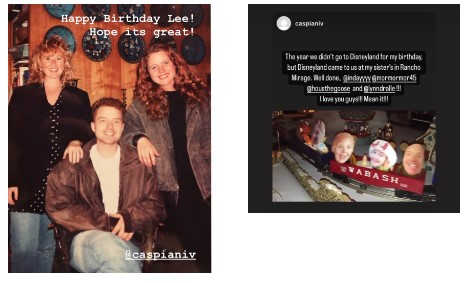 Take care and SEE YOU SOON!
Lynn, Emma, Indiana and Houston!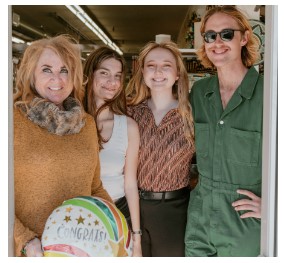 Thanks for reading my ezines!  I appreciate it….as always!
eBay with Heart & Design with Heart……Lynn
Past Newsletters…All can be found on our Blog.
P.S.  All of the professional photos I use on Instagram, Facebook and in these newsletters were taken by my friend Denise's daughter, Jaclyn Sabo.  She is amazing!   To learn more about Jaclyn….https://www.jaclynszabo.com/
P.P.S.  If you have a friend who wants to sign up for this newsletter.