Hi!
Happy Fall! I just arrived back in the desert from a short trip to Washington where Fall has definitely begun. Upon my return, I was greeted with quite a few items to ship. We sold $1,297 in the two days before my return…. YAY for Fall!
Mo was at the office to help ship and as we were pulling and packing those 40 plus items, something sold that cracked us both up.
As you know, I always like to start my ezines with a score and this one just made perfect sense. Especially since I just spent hours and hours in Bellingham playing Monopoly with my nephews

. Games, games and more games! As I was printing the final shipping labels, my phone kept making the Kaching sound and here is the auction that made us laugh. Seriously? Over $50 for these?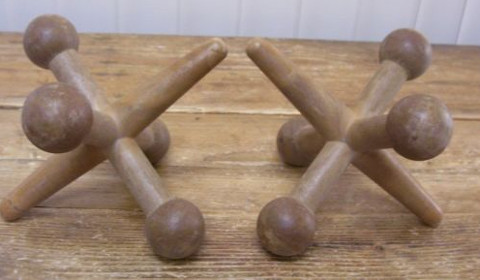 Click here
 to see this auction.
OK, here is another score with an AWESOME back story. Well don't all scores have awesome back stories?
I got a call from Vicki Pene, one of my Queen's Court members, and she said "I am on the way to the airport and there is this amazing dinner set at the Goodwill that I just can't get on the plane and I can't leave behind".
I said, "Call a Queen's Court member in San Diego like Jackie and buy it for her." Vicki thought that was a great idea but she let me know she wasn't in San Diego (I had assumed she would fly out of there because her mom lives there) but was in Culver City.
HMMMM I thought, my brother works very close to Culver City. I asked Vicki, "Would you mind if I bought them?". She said "of course not". But I let her know that I would have to make sure my brother would pick them up within the required 48 hours and that I would call her right back.
I wasn't so sure he would agree. I texted him and he immediately text back SURE! I called Vicki, she bought them for me, I PayPal'ed her the $53.22 and I now owned a set of dishes that were residing in the Santa Monica area

. Thank you VICKI PENE! But how was I going to get them to the dessert?
Well, as luck would have it, Houston's football team was playing St. Monica High in Santa Monica four days later. We decided to go and my brother came to watch and I got my dishes! Xavier won 28 to 11. Yay! Here is a photo of Houston on the field.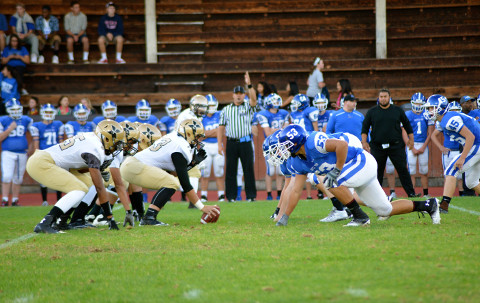 In addition to getting my awesome dishes, my brother even took us out to sushi in Santa Monica. So fun!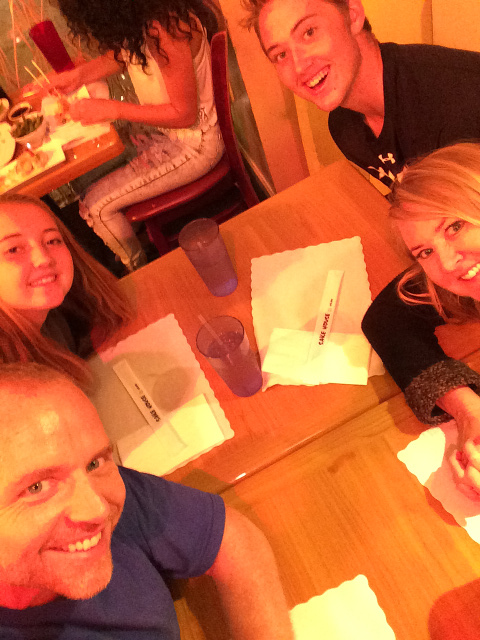 But back to the dish score. I listed them at auction and sold a few pieces but really scored big with these three soup bowls from my eBay store at full asking price within 4 days of listing them.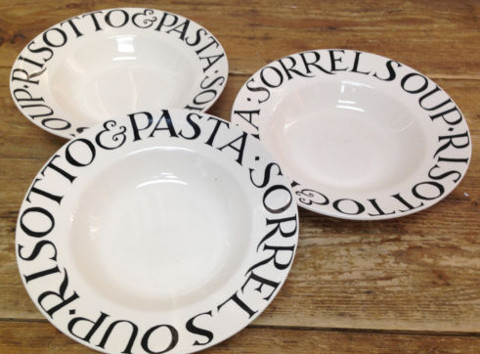 Click here
 to see this auction.
Maybe I priced them too low? Seriously though what a score and they got shipped back to their place of origin, no not Culver City, but England! Another big thank you to Vicki Pene and the power of Queen's Court members helping one another!
The Queen's Court challenge for the month of September was glassware. It was a very interesting challenge, and I found myself learning quite a bit. For one, glassware is a huge category, ranging from ashtrays, carnival glass, EAPG, shot glasses and barware to art glass. Also, glassware breaks really easily! A lot easier than coffee mugs!
I bought a lot of glassware for our challenge but was very surprised by three margarita glasses. They were super plain and nothing special. Or so I thought. They sold out of my store at a high fixed price immediately after Mo got them listed in my store. Maybe I priced them too cheaply once again? But they had just been up at auction for $9.99 for one and $14.99 for two and hadn't sold, so I probably just got lucky!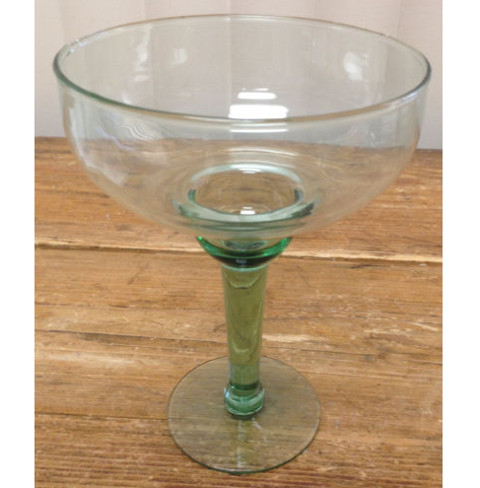 Click here
 to see this auction.
Friendly challenges are fun and encourage all of us to learn. The monthly Queen's Court challenges have gotten a lot of great discussions going. Do you remember the table full challenge that I issued to my mom in the several ezines ago? If not, you can read about it here.
Amazingly enough, My mom and I have decided that there was an early winner to this challenge and it was ME! If you recall, I predicted her to be the winner. But several weeks ago I got this email……
"I would like to buy everything you have in this pattern, what would be your best price?"
I responded and said "It all adds up to $687.54. What are you offering?"
She wrote back a day later, "What is your best price".
Here is a link to a listing in that pattern.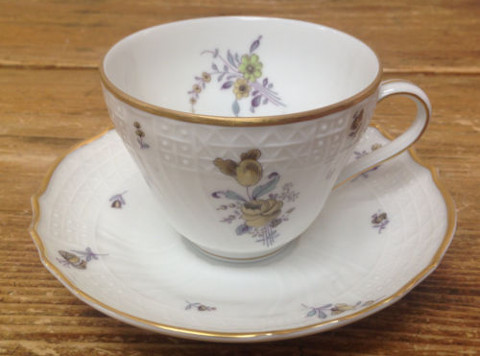 Click here
 to see this auction.
As you all know, I never name the price first. This was advice from extreme negotiator and best grandma ever, Cheryl Leaf. I also felt like I had put the price out there by stating what it added up to so had no need to name another price. In addition, I had just put my dinnerware category on sale using markdown manager for 15% off. Yikes! The entire set now only added up to $584.40.
She finally emailed back and wrote, "I can offer $450 for everything".
SOLD! I had only paid $40 for the set, so was more than happy to snap up that offer after just a month of owning the set. Also, it is a bonus to sell it all to one person. Super awesome! I also required her to pay the shipping.
After that sale, my mom declared me the winner and that challenge is finished! I am sure we will have a new one starting soon

.
Oh, before I forget, the lady was a new eBay user and didn't understand how to make an offer etc. She just wanted an invoice. So I quickly shut down all the individual auctions and made the dinnerware into one listing. The one listing just showed the dinner plates but listed all of the pieces she would be receiving in the description and I changed the title.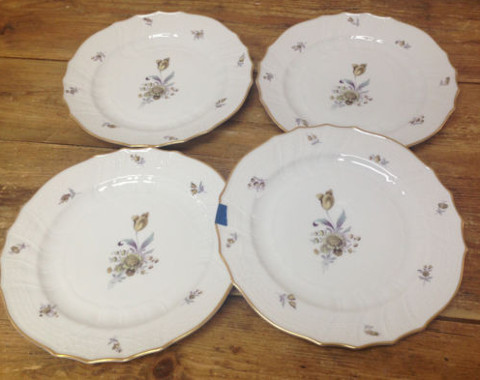 Click here
 to see this auction.
She did the buy it now, I got paid immediately and I shipped the entire set in two separate boxes. She emailed again and said "Thank you so much for accepting my offer! This was my wedding china!" FUN is all I can say!
Indy, Houston and I haven't been back home to Washington in almost three years and this past weekend we got to fly to Bellingham and visit Seattle. It was awesome and action packed!
Indy and I had a layover on our way up to Bellingham at SEATAC (Seattle Tacoma Airport) so we shared some clam chowder at Anthony's in the main terminal. I love this picture of Indy staring wistfully out at the rain/mist which sums up Washington to me.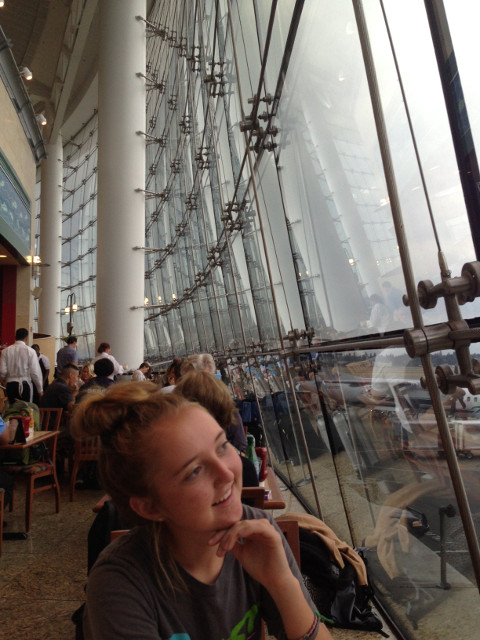 Once in Bellingham, we hung out with my mom and nephews at her beach house. We played a lot of Monopoly. Oh my goodness do our little "beach boys," as my mom calls them, LOVE Monopoly? Kai calls it Mo'opoly and I asked him if he liked it or Disneyland better from their trip to see us this past June. He said "they are equal".
My really good friend Audrey was there to witness that Q&A with Kai. Audrey was my first employee at the shop way back in 1993 and she and Kiki (my sister who passed away in 2012) were also really good friends.
Later that same day, I finally caved in to the demands and started playing Mo'opoly with Kai and Zach. We invited Audrey to join us but she declined. I know she was being respectful of our special time together without their mommy.
Audrey did come in the back bedroom and take this special photo of the boys playing Monopoly with me. Notice one of my mom's clothes rack in the background. Yep, this is definitely an eBay house!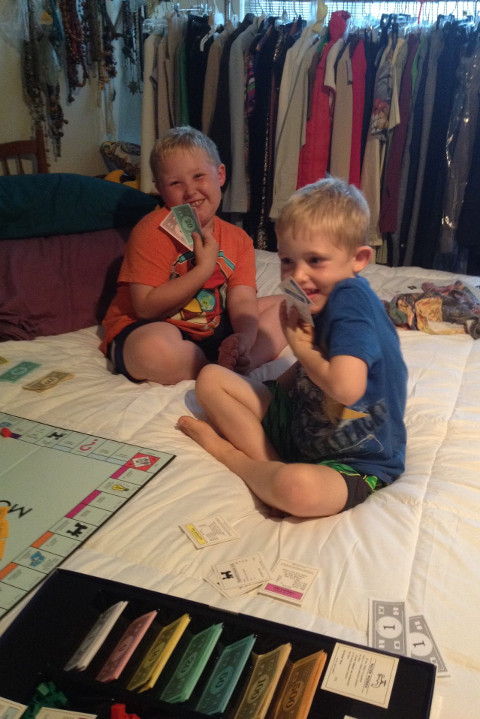 When Audrey got home she texted me. "It was so wonderful seeing you and your beautiful family tonight Lynnie. I also wanted to sit and play Monopoly with you and the little boys but it was too hard in that moment". That is what Kiki called me and that just made me want to cry right then and there. So I did

. It is OK to cry sometimes as you all know

.
I texted her back and said "Playing monopoly with the little boys is my way of showing them their mommies love and kindness even though she isn't here on earth anymore. Weird isn't it? I try not to think about her when I am with them because it is just soooo hard. I love you friend!!!"
She texted back and said, "The fact that Kai puts Monopoly at par with Disneyland speaks to the fact that he is receiving every bit of your love and Kiki's with every move".
OK. Seriously. Now I am really bawling my eyes out! I Love/Hate going home and haven't been since my sister passed away almost 3 years ago because it is just too hard. I am sure many of you understand. BUT, I have to make more of an effort to spend time with those little guys and play more Mo'opoly!
After Indy spent part of the day at Birch Bay helping my dad pull crab pots and paint some rocks, my dad dropped her off at my moms. I begged my dad to stay and help us crack the crab he gave us. Or at least teach us all how to do it! He obliged and we cracked the crab they had just caught.
Here is a photo of my mom and dad with Indy and my nephews cracking crab. I was supervising!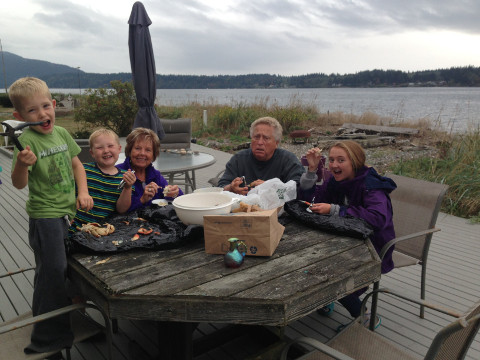 It was fun to spend time with my parents in Washington and I wanted to check out how they looked back in their high school days and compare them to my high school age kids. What do you think?
Remember my mom's friend Kay who found that old yearbook photo of my Dad? Here is another one of those photos and one of my mom.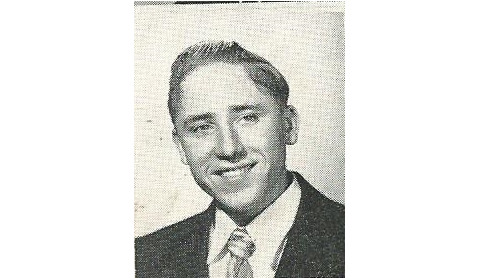 And, here is one of my mom.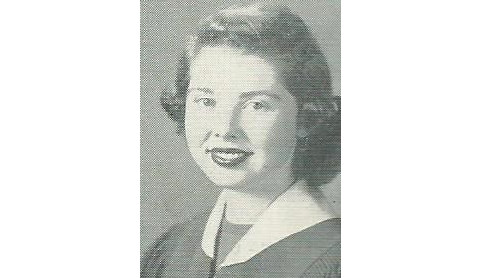 The auction that my mom's friend Kay shared with us in my last ezine, created quite the buzz and emails. Do you know what a hair receiver was used for? This is from Wikipedia….
A hair receiver is a small pot, with a hole in the lid, kept on the dressing table in the Victorian era to store hair removed from brushes and combs. The hair was recycled in a number of ways—notably for stuffing small bags, about 8–10 centimeters across, called ratts, used to bulk out women's hairstyles. Human hair was also used for stuffing pincushions and small furnishing cushions.
Please check out Kay's store and here is that hair receiver again!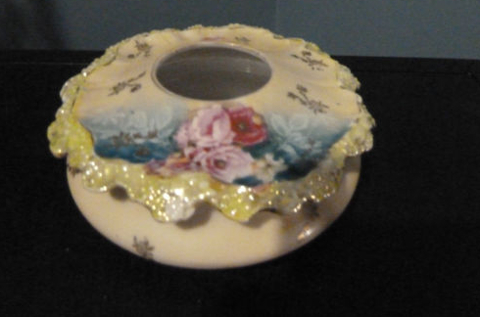 Click here
 to see this auction.
Here is one of the emails I received.

"I love your ezines. I have been receiving them now for many years. I wanted to thank you for sharing about the hair receiver. I have been trying to remember what those hair balls were called now for months.
I was talking about them to a friend because I can remember my grandma sitting at the coal stove on her rocker before bed combing her long braids out and pulling the hair out of her brush and making balls with it. I could not remember for the life of me what they were called.
I kept thinking tatts but it wouldn't come up as that on Wikipedia. Thanks so much. Your ezines are a wealth of information in many ways. LOL. You seem like such a wonderful person. Hope someday to meet you. Thanks, Priscilla P.S. Thought you might enjoy my grandma tale. She was my hero, too, as yours was."
I wrote back,
"Priscilla, love the story about your grandmother! What did she use the hair balls for? May I share this in my next ezine. I think it is a cool story! Lynn"
Her response,
"I think she must have been thin at the top and crown, because I would see her somehow roll these "ratts" under her own hair at the crown and use bobbie pins to secure, as she wore a braided bun at the back. I was always very close to my dear grandma. What a saint. You can share my story.
Thanks, Priscilla"
Loved that story! Here is another email that came in.
"Hi Lynn,
I have been reading your newsletters for years and love them. I had been a power seller for several years, then quit about a year ago and have decided to get back into it. I do love it and reading your newsletter made me want to get back to it more than ever!
Just wanted to add that along the lines of the hair receivers, some of the hair was used for jewelry and button making (I am an antique button collector) and these are very valuable if found so keep your eyes out for those!
Sincerely,
Mary"
I knew about hair jewelry but did not know about hair buttons! Here is an excerpt from an ezine I wrote back in 2007. Seriously? Yes, I have been writing ezines for almost 12 years! This portion of the ezine even had a title! Now, I just write free form which is much easier for me!
'Victorian Era Rocks!'
by Lynn A. Dralle, 'The Queen of Auctions'
When I was looking back at my last week's auctions, something really stuck out in my mind. It was a piece that–to be honest with you–I can't even remember where I bought it from. My best guess is that I got it when I bought three tables full.
Well, it just doesn't matter where I bought it because I probably only paid $1. What does matter is that I was able to describe it successfully, title it well and get it to sell for a great price.
When I first looked at it, I just didn't know what to call it. Then I remembered that my grandmother had a similar item that stood on her fireplace mantel. She had explained to me that it was an antique Fireplace screen and these lovely beaded pieces would often cover an ugly fireplace opening.
However, my item had been cut out from a larger piece of cloth. It was just the cut out portion, not the entire beaded screen. Still, the bead work was incredible and the angels/cherub helped to sell it.
Here is a picture of the item.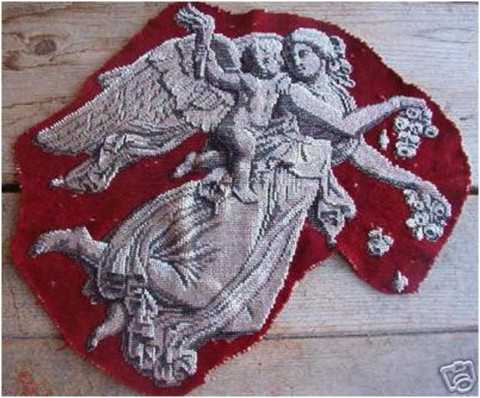 These pieces were very typically Victorian in nature so I thought I would write about the Victorian era this week.
1837 to 1901 were the years. The Victorian era was named after Queen Victoria who took the throne in 1837 and ruled until 1901. Wow–she was queen for 63 years, 7 months, and 3 days. I think that she is the longest reigning Queen in History! Did you know she is called the Grandmother of Europe? Her children and grandchildren married into royal families throughout the Continent so she really is grandmother to a lot of European royalty. England went through many changes during her lifetime and the tastes of the country reflected this.
This era was known for its overornamentation. This was a time of intense creativity, nostalgia, exaggeration, and experimentation. During this period, many artisans turned to past styles, such as Gothic, Rococo, Byzantine, Romanesque, and reworked designs of earlier eras.
These revivalists and their wares all became lumped under the heading "Victorian." Some examples include the use of garnets, cameo jewelry, gaudy furniture and elaborate vases.
Back to the woman for whom the era is named and her history. Queen Victoria's cousin Prince Albert came to visit in 1839. Victoria immediately fell in love with Albert and although he initially had doubts about the relationship, the couple was married in February of 1840. During the next eighteen years Queen Victoria gave birth to nine children. Wow!
After her husband Prince Albert died of typhoid fever in 1861, Queen Victoria went into mourning for the rest of her life. She went into hiding and would not even open Parliament in person.
She wore mostly black, and this influenced much of the art and antiques of that later time period. How depressing! Victorian mourning pieces are quite collectible and include things such as hair jewelry and ornate, lavish funeral-remembrance pieces.
This is a Victorian mourning piece woven from a beloved's hair.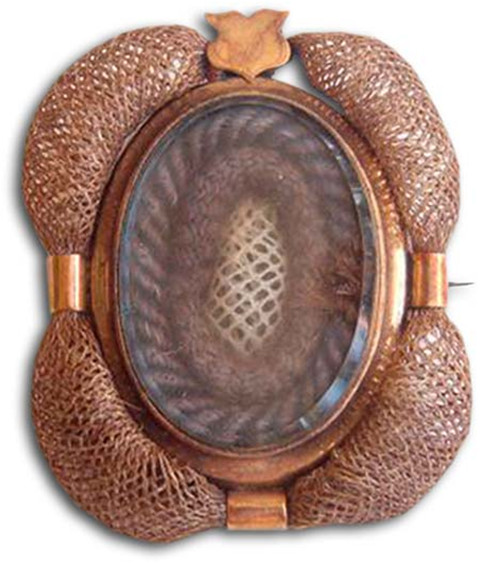 The Victorian period epitomized the Queen's personal tastes and ethics–those which really mirrored the Middle Class. Victorian is a great term to use in your eBay auction titles–but please make sure that your dates correspond accordingly!
It is funny, but I just went back and reread my auction description for the fireplace screen and I forgot to mention Victorian! Yikes. Sometimes I try to be so conservative with my years and date ranges that I miss out on a great keyword like Victorian. Oh well. It sold for an incredible amount of money regardless."
Wow, I wrote that article so long ago that it almost seems VICTORIAN or STEAMPUNK or ANCIENT. That hair brooch pictured above is from my personal collection. I LOVE IT. What a great photo!
And all this fun BONUS information came thanks to Kay and her sharing that auction with us! Amazing! Kay is also a graduate one of my live boot camp events.
Speaking of live events, I am excited to announce our first live event in over three years. I hope you will join us in Indian Wells (The Palm Springs/Palm Desert area)! The time has FINALLY come to bring together a small and exclusive group of students. This select group will consist of just ten executives.
Yes, you are an executive because no matter what level you are currently selling (beginner, intermediate or advanced) you are still President & CEO of your own business! That is the beauty of eBay. The American Dream! This new event will be held in a lush private room with incredible views at the Indian Wells Miramonte Resort. Click here to read more information about the event.
Here is a photo from the balcony of the room where the executive summit will be held.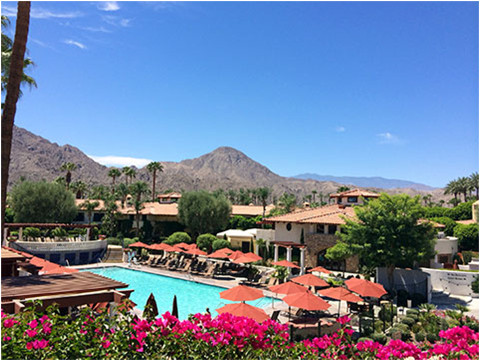 Back to School, Class of 2014/2015, is named in honor of my kids and the remarkable experience that they have had at their private school. The smaller group environment that a private school affords has benefited my kids in ways beyond explanation. And, now I want to offer that same experience to a select group. Even though we are in an exclusive setting, don't worry; it will still be all about the fun involved in selling on eBay.
We will be sourcing (thrifting and garage saling) and revisiting all of the basics including, assembly line listing, shipping, running an eBay store and day to day tasks. We will bond, network and learn how to improve our eBay business all in one action packed weekend. The biggest difference is that the Class of 2014/2015 is going to leave with the ultimate graduation diploma. A written business plan for the year ahead to guide you month by month, all based on your individual needs.
For the final day of the event, we will graduate to an executive boardroom complete with a huge conference table to gather around, plush chairs and wireless Internet.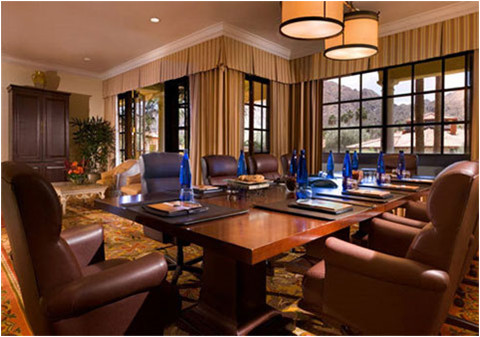 7 of these chairs are already reserved. Three for students from California, one from Ohio, two from New York, and one from Georgia. Don't wait too long to reserve your seat! Here is a link to learn more.
If you are considering joining us in Indian Wells, California on October 10, 11 and 12th for our Executive Live Summit, I would be happy to phone you for a five minute consult to see if it is the right fit for you and your business. I don't want you to join us if the event will not help you advance your business. To learn more about the event, please click here .
Eight years ago, I remember having one of these same phone conversations with Lynnette about attending my first EVER live event. She explained to me that she was currently selling hair care products and that she would have to miss one day of the event.
I told her the fit wasn't right as I specialize in teaching how to sell higher margin unique one-of-a-kind items (OOAK) and that she should NOT attend the event (especially considering she had to miss the entire day on Saturday). She disagreed and boy am I glad she did!
Check out this email she sent me with the actual chain of events:
"Hey Lynn!
My hairstylist friend was selling her salon, so I was losing my source of products that year. Nearly the same exact time I started getting your newsletter. You sent out that email about bootcamp and I was one of the first to reply. I still have those emails!
I think I was trying to figure out another "new" line to carry and hadn't thought about OOAK (one of a kind items) until I spoke with you. I didn't know what in the world to sell next. That's where the difference in what to sell came from. I remember our first phone conversation about bootcamp and you admonished me for only shipping domestic! That was amazing advice in the first two minutes and I think of that often such as this week when we shipped plush to the UK and varsity jackets to France, and mugs to Portugal.
I drove for 20 mins after I spoke with you, praying about it and came to the decision to attend if you would have me. Best investment EVER! Coming from the girl who only attended 2/3rds of it. I remember I got to the meeting room extra early because I wanted the best seat and I got it!
Ahhhhhh good times, I could reminisce all day about it. LOL It was so awesome.
I'm always excited for new people to experience your live event and a teeny bit envious because I know what an amazing, educational, and fun time is in store for them.
—Lynnette"
Here is a photo of a Queen's Court meet up in 2010 at eBay on Location on San Jose. Lynnette is on my right two over.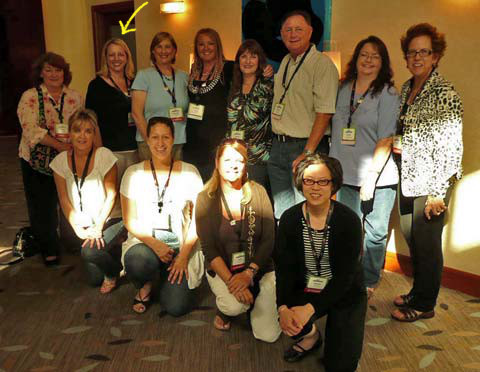 Lynnette switched to OOAK and is still a very successful eBay seller. She has been a charter member of my Queen's Court since 2007 and I consider her a very good friend.
Here is one of her auctions, let's see what kind of dialogue this gets started!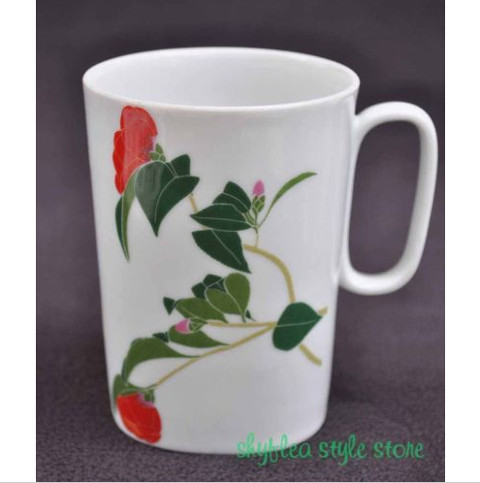 Click here
 to see this auction.
So, if you are thinking about joining us in Indian Wells, I would be happy to do the same phone consult with you. Just email me three time slots (and your time zone) and days that work for a quick 5-minute call and I will let you know when to expect to hear your phone ring! Just like I expect your cash register "kaching" on your cell phone to ring just as often as mine does after attending this very special three day event. I can't wait to chat with you!
Also, if you were a former live event attendee or an owner of a Boot Camp in a Box, you may be eligible for a discount. Email me to find out.
We are limiting our new executive program to just ten students. The dates are Friday, October 10th, Saturday, October 11th and a half a day on Sunday, October 12th. Make sure you sign up quickly because this event will sell out. The class of 2014/2015 is responsible for their own travel and lodging expenses. Meals will be provided except for Saturday dinner. Keep an open mind and be ready for a WOW executive experience. I can't wait to start working with and finally meet the ten students that will become the first graduates of my Class of 2014/2105 in October.
Reserve your spot now.
This is an investment in your future. It is my goal that you will begin to see results as soon as you return home – not only financially, but mentally, inspirationally and motivationally.
I am going to put everything I know from my sixteen years of selling on eBay, my business undergraduate and my Masters in Business Administration into simple eBay speak so that we can all put our best business principles and practices to work during the coming year.
Remember, as a business expense, this unique experience is tax deductible (as always, consult with your accountant.) We hope to see you there!
One of the things that we will learn at the executive summit is how to deal with problem sales or sales that could potentially become problems. Sometimes you can just smell a bad deal from the get go.
While we were in Washington and everyone was out cracking crab at my mom's beach house, I got this email from Queen's Court member Jan. The subject line was….A Little QC humor

. Gotta love the Queen's Court!
I had to crack up at this seriously funny question and the definite problem sale to come

.
"Lynn,
I know you are enjoying being with your family and nephews now, but wanted to share this. I posted this on the QC today for laughs, and Charmaine thought you might get a kick out of it too! I know you have had some dollhouse furniture fiascoes yourself. Here's my latest question from a buyer."
"Hi there!
I just need to make sure if I'm correct on my thinking. Can a child sit in a chair and be able to use this table? Can you compare it to an everyday item?
Would you be able to send me a pic with a person standing next to it? I just need a comparison. If they are the size I am thinking I would like both of them please! (Do you still have 2?)"
Here is the photo I sent her.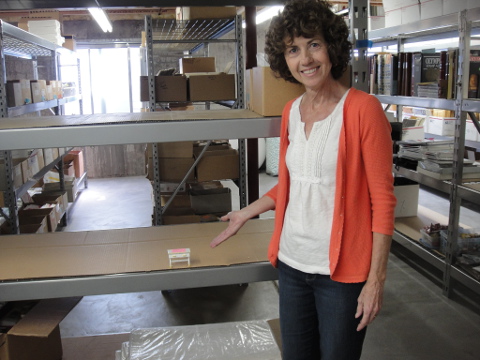 By the way, the desk was listed at $12.99 with free shipping! Why wouldn't she want both?" SERIOUSLY FUNNY!!!!
Here is a link to her actual listing.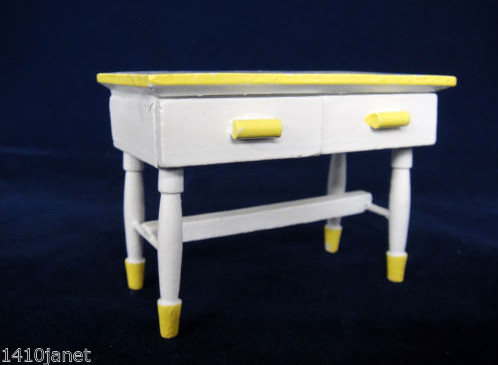 Click here
 to see this auction.
This sooooo reminds me of the time the guy bought my two twin dollhouse beds for $14.99 and $6.95 shipping and couldn't understand why they weren't full size. He actually returned them for a refund. Whatever!
After Indy and I spent a few days in Bellingham, we all headed down to Seattle to watch Houston's football game and spend time with friends there. On our drive to Seattle, I heard my phone go Kaching and an auction that I had been watching with intense interest had finally ended.
It was a butter dish from a Villeroy & Boch set that I had purchased the week before for quite a lot of money. I was thrilled with the price I received for JUST the butter dish. Dinnerware ROCKS!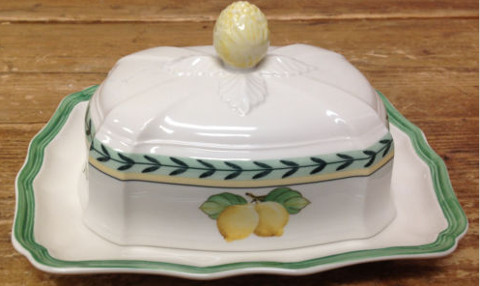 Click here
 to see this auction.
On Friday night, my brother flew in to Seattle and all five of us (my mom, dad, me, Indy, and Lee) watched the JV game and then drove to my sorority sister Dolly's house for a very special dinner. Love her and her family!
Her daughter, Frances, is a freshman at Seattle Prep, the school we played in football. Indy and Frances got along incredibly well. The dinner was spectacular, like a five star restaurant, and their house was straight out of Sunset Magazine or perhaps the magazine Dwell is more fitting.
Here we all are on the deck. It was Seriously the best time!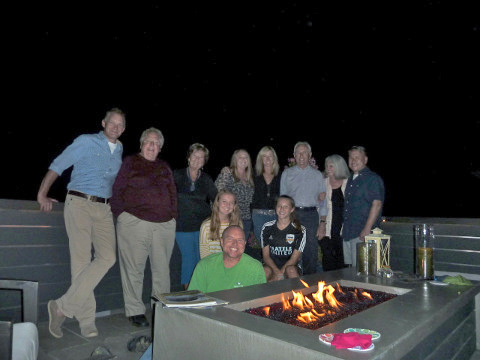 The next morning, my dad, Lee and Indy headed to University Village for brunch and my mom and I went out garage saling and thrifting.
All I can say is Seattle is a challenge! The traffic is heavy, the streets are steep and parking is difficult. I am beginning to appreciate the flat turf of my home Palm Desert

.
The first place we went saling in Seattle was right by our hotel at the airport. Not the best neighborhood but it was a church sale. There were beautiful things at the sale but the prices were quite high. They were super nice though and willing to negotiate so my mom bought all the Fitz & Floyd for $115. I would say it was quite the score!
Here is one of her listings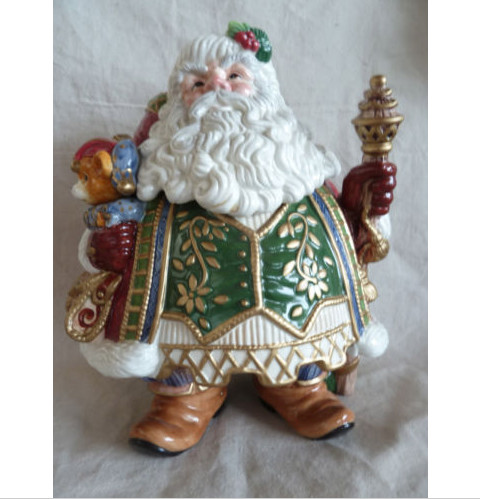 Click here
 to see this auction.
Then we hit Capitol Hill and bought a few things. The houses up there were AWESOME. Next, was Queen Anne Hill and my mom found another dish set. Her car was getting full! I was considering a Spode set for $300 but just didn't want to have to pack it up to ship it home. I bought some ashtrays, one of which was glass, so that counts towards the QC challenge of the month!
Here is that listing.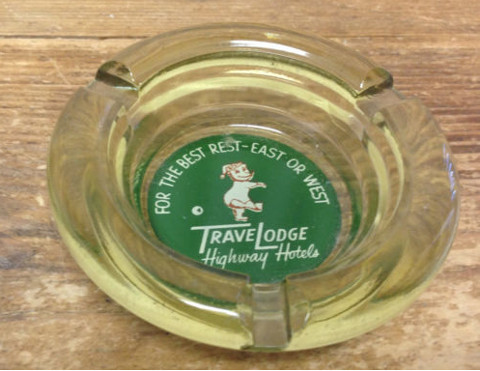 Click here
 to see this auction.
We were burned out from parking on hills so decided to head for some thrift stores. My mom had always wanted to go to the HUGE Goodwill sorting facility by the Mariners Safeco Field so by a stroke of genius and some luck, we found it! At these sorting facilities they sell by the pound. It was weird and the stuff looked like JUNK. It freaked me out!
Here is a photo of my mom checking it out. It was quite the experience.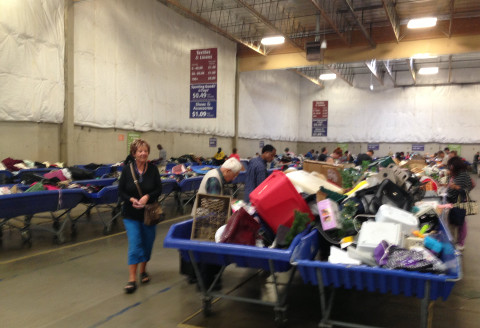 Next stop was the downtown Seattle Goodwill that was also immense. Their prices were OOC out of control. But for fun I purchased a San Diego Starbucks mug for $14.99 just to show how stupid some of the thrift store pricing is getting. I researched the mug on Terapeak and it is worth a whole $14.99! Wow!
It was strange being in Seattle at the same hotel as Houston and his team because we hardly saw him! His team spent a lot of time touring colleges, U of W and Seattle University, and they even got to practice on the field at Husky Stadium. Seriously Cool!
Here is Houston on the Husky football field during practice.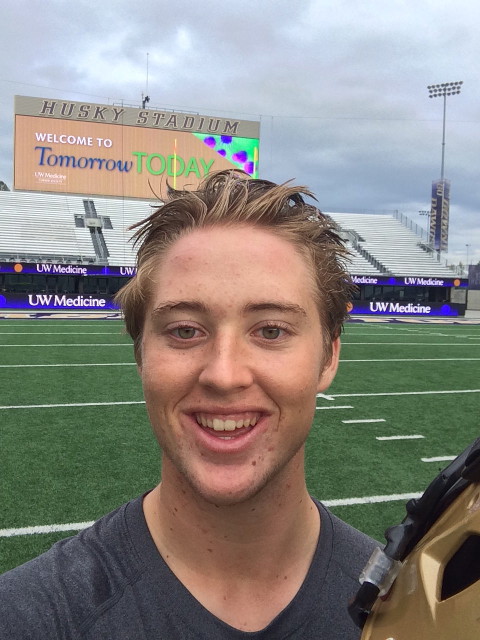 The football game on Saturday night was interesting. Actually, strange may be the better word. One of the referees had a son on the opposing team and I will leave it at that. Enough said!
Regardless, Houston played super well and it was fun to watch the game with my nephews and family. Houston played both offense and defense and had a few key tackles. His name was even mentioned by the announcer. Cool! Here we are all in the stands…it was cold!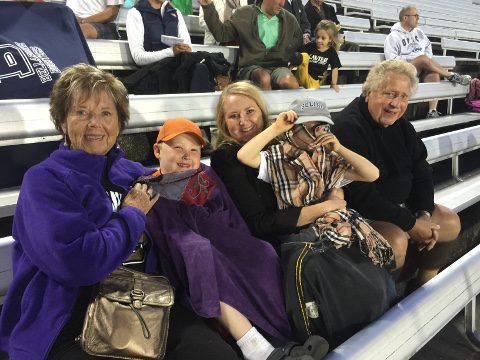 Sunday we all headed back up to my mom's beach house for our last day

. On the way back home, we all managed to meet up at my sister's grave site. What a beautiful place it is.
And just like she wanted. Somewhere that the boys would enjoy going. Where they could run around and still know she was there. Here are my kids with their cousins in front of her headstone.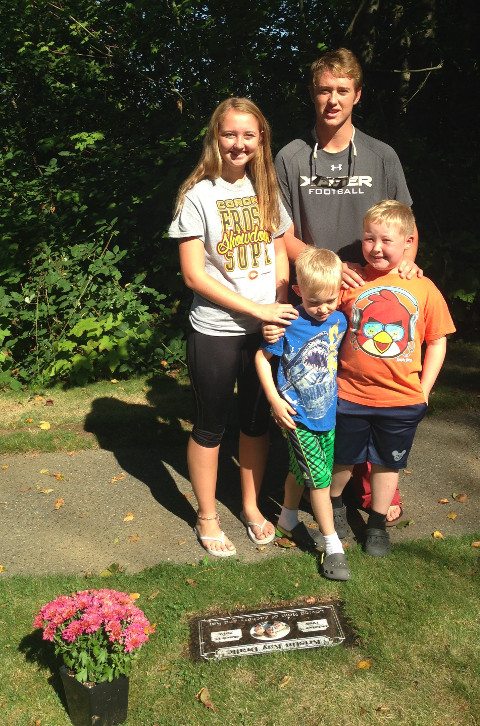 After that we all reconvened at my mom's house. We watched the Seahawks win, played more Monopoly, walked on the beach and my mom bbq'd salmon and steak. It was FUN. A great ending to a great 4 day mini-vacation!
As usual, I must end this ezine with a score. Too many to choose from but this one is interesting on many levels. First of all, it had been listed since 2010. Secondly, I had paid $100 for it. Too much in retrospect!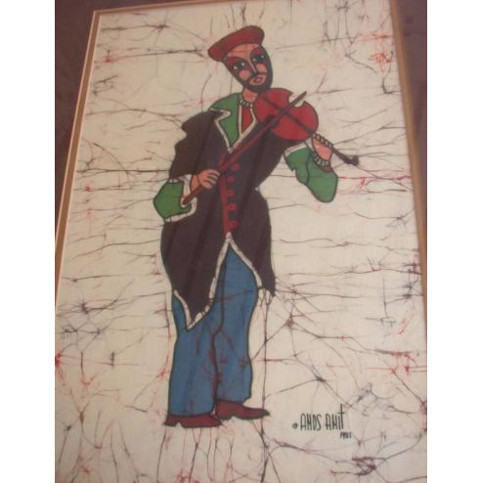 Click here
 to see this auction.
And finally, when I went to find the piece to ship, the glass had been broken in our recent move. I had to take the art piece to Michaels/Aaron Brothers and have the glass replaced and it professionally redone. Luckily it only cost me $25 with the online coupon!
Thanks for reading my ezines! I appreciate it!
Happy eBaying!
Lynn
---
Lynn is an experienced eBay Power Seller, author and teacher. If you want to know the eBay tips, tricks and tools that Lynn uses for buying and selling at online auction click here.
Some links in my emails to you may be affiliate links. You can be confident that I only partner with companies that I fully stand behind.