Hi!
I can't believe it is January! Wow, is all I can say. Our eBay business is out of control. We have been shipping approximately 37 items every day! It is CRAZY.
Here is a pile that we had out for the Post Office to pick up on Monday. YIKES! Happy New Year!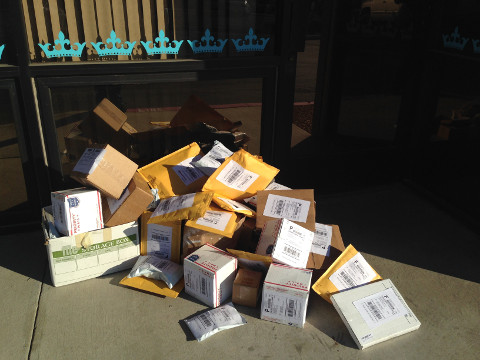 Since, I like to start my ezines with a score, let's start this one with a really weird item. I found this witch at a garage sale in a box of broken toys for $1. I thought it was really unique and started it at auction for $99.99. It didn't sell so I raised the price to $199.99 and just sold it for a best offer after only having it listed for 3 weeks! Yippppeeee.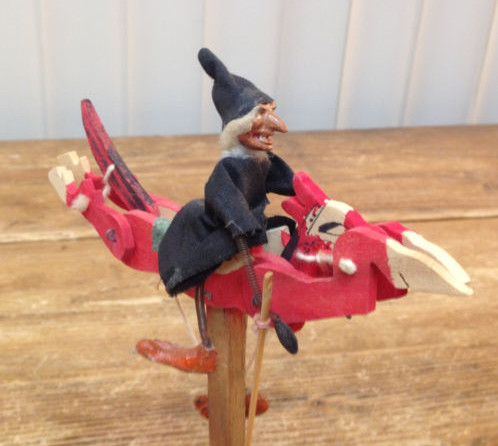 Click here
 to see this auction.
His offer was super cute….check out what he wrote….I had to accept it didn't I?
"Hi, Quite a perplexing piece. I would be willing to purchase for my offer and see what is there right and wrong. Happy New Year!"
It has been a crazy month here since I last wrote an ezine. I think it may have been even crazier than normal. Please let me know if you agree!
The weekend of December 6th, Houston had a baseball tournament in San Diego. Normally, we would have spent the night there instead of driving back and forth. But lo and behold, Houston insisted on attending the end of the year football banquet at Xavier. I didn't blame him in the least, but it just meant that I would be driving 5 hours to and from San Diego on Saturday and doing the same again on Sunday after a 7 pm banquet which lasted until 10 pm. Oh the joys of being a mother!
Thank God we returned for the banquet on Saturday night. His coach spoke very highly of him and he received the Student Athlete of the Year award for Football. I am soooooo proud. His cumulative weighted GPA is now 4.21. Stellar job Goose!
Here is a picture of Houston and the head coach Bob Molyet.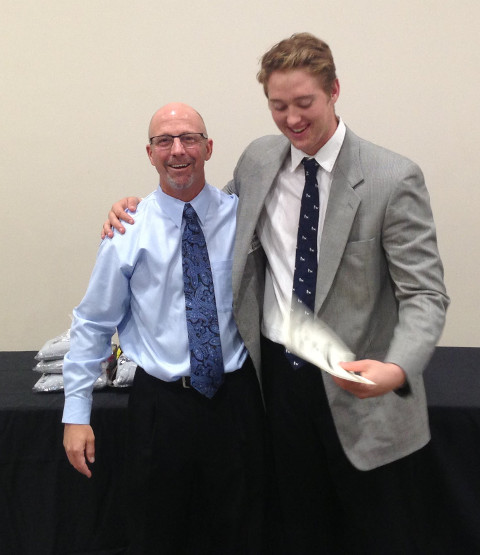 Here is a short video clip I took of Houston receiving his award if you would like to watch it. Sorry if it is a little shaky….I always get nervous during these things!
The next thing you know, my dad arrived in town on December 9th to spend time with us, work for me for free and be here for Indiana's 16th birthday. It is always hectic around here but seriously FUN FUN!
The first task I had for my dad was to help me build a crate. Yes, I said a crate. Here is my dad at Lowes laying building materials out on the floor with our awesome sales person Ernesto.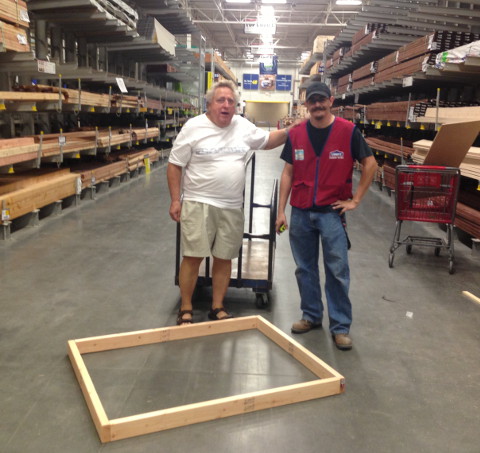 But back to the reason we needed a crate. It was all my fault, as usual, (just ask my dad). I don't know what I was thinking when I listed this painting for sale on eBay or why on earth I only quoted $49.95 for shipping. Obviously, I had NOT measured it and didn't realize it would have to be shipped oversized which costs a small fortune! Luckily the buyer split the extra charges with me. I did call her and suggest to her that she better love it and NOT return it. I think it worked out just fine.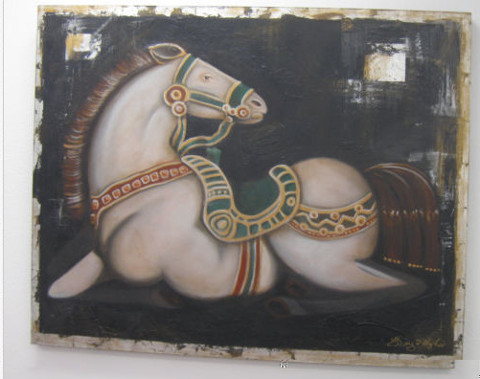 Click here
 to see this auction.
I wanted to include this story in the ezine to show you that even though I have a very successful business selling on eBay…I still make mistakes! That is how we learn, grow and have a meaningful life. Here is one of my favorite quotes about mistakes.
"A life spent making mistakes is not only more honorable, but more useful than a life spent doing nothing." George Bernard Shaw
In any event, I took a low best offer and then had to spend $137.22 to ship it (which included the Loews supplies and the UPS oversize shipping charge). My dad's labor was not included. Remember, his labor was free but the arguing between the two of us was not. Actually, our arguing is priceless. We are just too much alike and both LOVE to be right!
Here is my dad outside nailing it all together on the makeshift table I made for him while he talks on the phone to my brother Lee.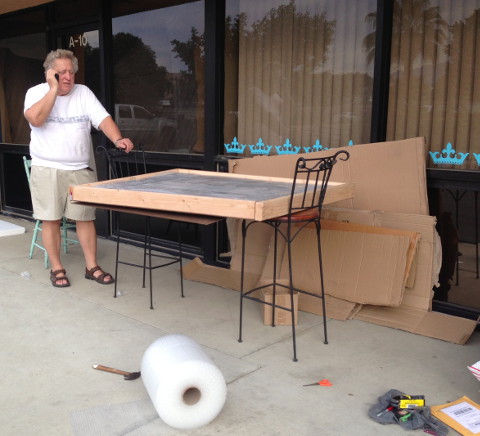 While my dad was here, he wanted to take us all out for dinner. What a sweetheart. We all chose Islands and it was a blast. Here are the kids with Papa in the booth. BTW, when we go to Islands for dinner, my dad can drink more of the refillable pink lemonades than anyone on record. Seriously!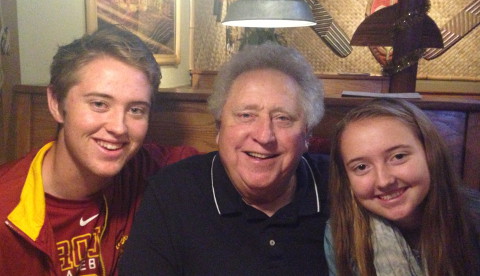 So after all of that madness, my mom flew in for Indy's 16th birthday. I LOVE my family. They rock! My brother drove out the day she arrived and we made plans to take our parents on a tour of the Palm Springs Windmills as a Christmas present on that Sunday.
The tour was super fun but there was absolutely no wind that day. Seriously, when does that ever happen in our Valley? NEVER.
Here is a super cool picture that Lee took of himself, me and the kids. Kind of makes you dizzy, doesn't it? Almost like having Vertigo (which my Grandma and my Dad suffer from). I will explain that comment later and you will understand why the Christmas of 2014 will forever be known as Vertigo Christmas—at least for me.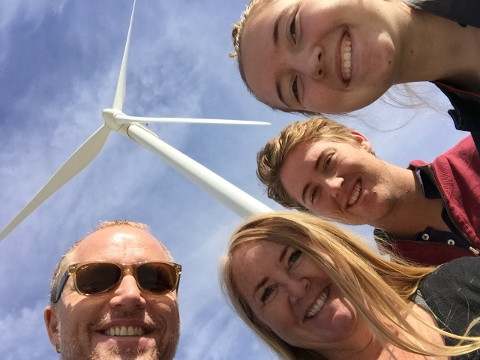 OK, time for a score. I was at a garage sale and saw some really nice golf bags. I immediately thought of Coco (Queen's Court Member) and a speaker at our recent Executive Summit. I texted her a photo of the bags and told her they were $25 and $50 each. She didn't get back to me and I didn't want to purchase them for her without her approval. But I did think that the cheaper one would make a nice Christmas gift for Houston. So I negotiated it down to $20.
Done and done. When Coco did text me back, she said they were great staff bags (check out her recent (Sporting Goods Teleseminar if you want to know more) and that it could be worth over $100.
Well, Houston wasn't getting that for Christmas! I had just bought him a laptop and we had already decided that the laptop would be all for his Christmas gift.
I finally got the golf bag listed on eBay. It sold for over my starting bid price and was super fun to sell! Thank you to Coco!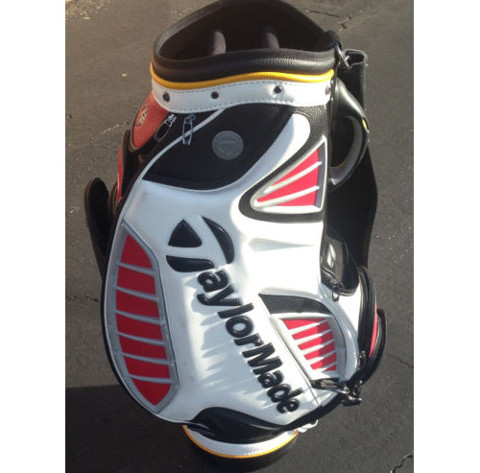 Click here
 to see this auction.
Speaking of Coco and her recent Sports teleseminar, reminds me that we are having a New Year's Sale on essential learning tools that will help you increase your Ebay sales. The sale ends at midnight tonight!
---
Our New Year's Sale
Ends Tonight at Midnight!
I'm really excited about this new year for many reasons! I hope you are excited as well! I just know that 2015 is going to be THE YEAR for us…both on and off eBay.
Unique One of a Kind (OOAK) sales on eBay are trending upwards and this traction will carry into 2015.
It's time to make 2015 your year. I am going to make it MINE! To do this, I am going to follow my best practices for selling on eBay (as many of you know these are not necessarily eBay's best practices) and I'm planning on achieving 10% growth. This translates to increasing my business from $100,000 to $110,000.
Are you determined to increase your sales in 2015? If yes, setting a goal is step 1. Step 2 is utilizing our tried and true selling practices. We are committed to help you meet your goals and to do that we are having a serious coupon sale on these important resources…
Take 25% off everything on our website (except for I sell products, live events and Queen's Court memberships.) This a SERIOUS sale. If you are a Queen's Court member don't forget to stack your 15% discount.
Be sure to enter our 25% off coupon code: HAPPY2015
Check out all of our products here.
We have included links to some of our more recent and most helpful products, most importantly, the seven videos in our teaching series. They are helping many of you to grow your business. That makes me super happy.
Here is a list of the downloadable videos so far.
Remember, each of these is a key step in learning how you can use "Assembly Line Listing" to ramp up your eBay sales for 2015.
Be sure to enter our 25% off coupon code: HAPPY2015
Don't forget all of our ebooks, like:
Be sure to enter our 25% off coupon code: HAPPY2015
And one of our most recent AWESOME teleseminars
OK, there are so many more great products and if you can't find what you are looking for, please email me at Lynn@thequeenofauctions.com so I can point you in the right direction!
Happy eBaying! Remember, this 25% off coupon sale will end at midnight tonight, January 8th, 2015.
---
My goodness, after the windmill tour, Indy had a basketball game. Xavier is a very new school and the girl's basketball team is still finding its way. The JV especially. The game that my mom and dad got to attend was a little challenging. The other team scored like 52 points and we had zero on the board. Finally, with about 3 minutes to spare, Xavier made a basket. I am very proud to say that the basket was made by Indiana! Go Indy.
Here are my parents with Indy girl.
Then it was Indy's real birthday. Indiana loves December and Christmas because it is her month. She is amazing and a real child of Jesus. I am always shocked and amazed by her. The 15th was a Monday. On Sunday, my mom and I looked at each other and said "someone better make a sign for her at school". We knew that if we left it to chance or a good friend, it may not happen. So, off to the office we went. I pulled sheets for shipping, my mom cut out and made the most meticulous Birthday sign ever.
Here is my mom with the finished product.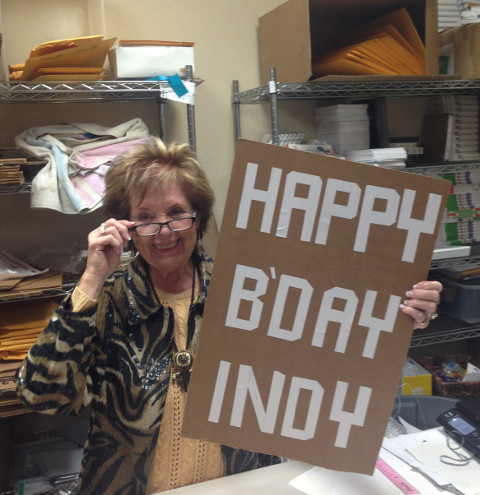 We drove down to the school that Sunday afternoon and hammered it onto the wood sign.
The next morning, we all drove Indy to school. Me, my mom, my dad and Indy. It was really fun. We stopped at Starbucks to get her a birthday cocoa and then drove her in to Xavier, hoping she would see the sign. She did and was sooooo excited!
Here she is in front of her sign!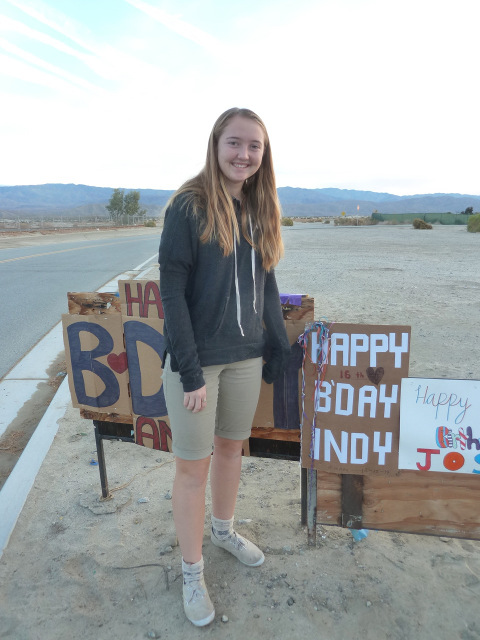 Indy is so sweet and was like "I don't know who put it up but it is signed MM". I was like "think about it". She finally said "Mor Mor" (which is mother's mother in Swedish and what we call my mom). YEP! You rock Indy Girl!
During all of this mayhem, I was working on buying, wrapping and shipping my Queen's Court Christmas gifts. I always try and buy them something that they can sell for big bucks. Here is my dad rolling up and putting rubber bands on their gifts. Then my mom tied on the hot pink and black polka dot ribbon to make them match our Christmas card this year. Thanks Papa and Mor Mor!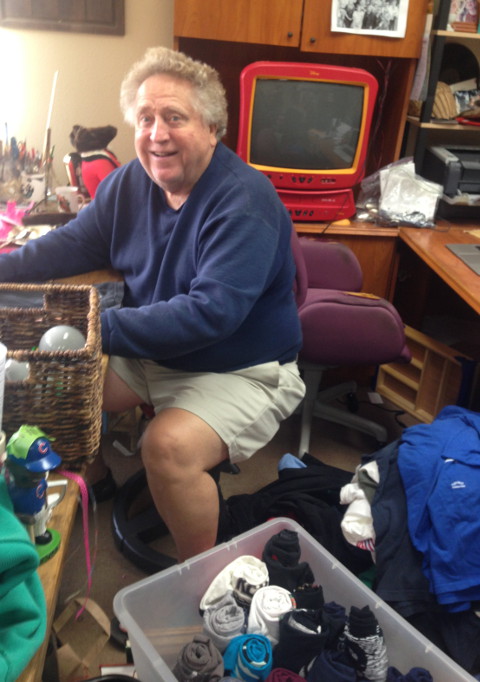 Speaking of my awesome Queen's Court Members, it is time to feature a member in this ezine. This issue will feature Sherri, who is very near and dear to me. When my little sister, Kiki, was dying of cancer, Sherri went above and beyond to make our family smile. I will NEVER EVER forget her extreme kindness. You rock Sherri!
This is what Sherri shared with us….thank you!
---
"Early in 2007 I saw an infomercial about "How to sell on eBay". My best friend was out of work, going through a divorce, and needing to generate some income so I ordered the DVD for her. She watched it, sold a few things, and then decided it wasn't a fit for her.

Fast forward to December 2008 … my consulting gig ended and I was unable to find any work in the midst of the recession. I decided to take advantage of my time off and clear out my cupboards, closets, storage shed, etc. While going through my stuff I found the DVD I had bought for my friend, sat down and watched it, and thought "I can do that!" So I gathered up the boxes of things I was going to donate and started selling them on eBay.

I sold my first item in February 2009. It was a spare remote control that came with my Bose Wave music system. I continued to sell personal items on eBay including kitchen items, clothes, jewelry, handbags, cosmetics, small electronic gadgets, books, etc. That was a great experience because I learned what I did and did not like to sell.

Eventually I ran out of personal items to sell and was still unable to find work so I got serious about sourcing for items to sell. While looking for ideas about what to sell, I stumbled across Lynn's website. Her eBay Boot Camp sounded absolutely perfect but I was not able to travel so I bought "Boot Camp in a Box" (BCIB) instead.

The BCIB package included a phone consultation with Lynn and during that call she convinced me to try sourcing at thrift store. That was unthinkable to me. You see, I grew up very poor and everything we bought was from thrift stores. The day I got my first paycheck I swore I would never step foot in a thrift store again. LOL … NEVER SAY NEVER, RIGHT?

Anyway, I forced myself to go thrifting and after I sold a $1 thrift store coffee mug for $77.53, I decided thrifting wasn't so bad after all. 😉 Since then I've tried selling all kinds of things but with limited space in my small home I eventually settled into selling flatware replacements and jewelry. Both of those niches are very competitive on eBay so I'm also selling some high end items on consignment and looking for a couple more niches (small items of course).

The BCIB package also included a free month membership to the Queen's Court. I immediately felt at home there and found the help and support in the group to be exactly what I needed so when the month was up I happily signed up for a year … and I'm still going strong.

Here is a photo of me, my local sourcing buddy Jane, and several other Bay Area Queen's Court members, having dinner after shopping at the Oakland Museum White Elephant Sale and Hudson's Estate Liquidation Warehouse Sale. I can honestly say that the QC members are as awesome in person as they are online!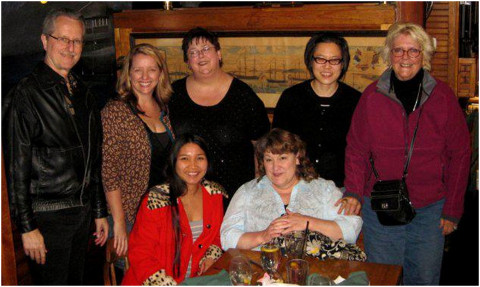 I owe a great deal of my success to the help and support of the Queen's Court members & Lynn. Thank you all for your help and support.

I completely agree with my Queen's Court buddy Pam Clayton who said "eBay IS hard work; don't let anyone tell you it's not!" What many people don't realize is just how many jobs you have as an online seller. The jobs include Research, Buying, Photography, Listing/Selling, Customer Service, Shipping, Inventory Management, Bookkeeping, Market Analysis, and more.

I do all of the above jobs myself and it can be rather overwhelming at times. But the benefits of working at home, at my own pace, selling whatever I want to sell, taking time off whenever I want/need to, etc. is worth all the hard work. The flexibility of selling on eBay really paid off in 2014 when my mom became very ill and I needed to help with her care. However, I still needed an income so I set up a "satellite" office at her home so I could continue to work. It's totally amazing to have a job with that much flexibility and portability.

Here's a photo of me with my mom a few years ago. She was an amazing person, a great role model, and a dear friend … and I miss her terribly.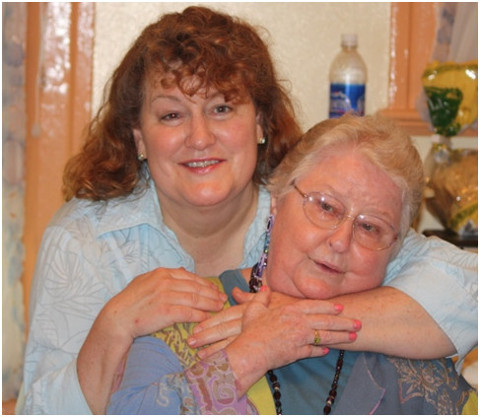 I've learned a great deal from Lynn, the Queen's Court members, and "experience". One of the most important things I've learned from experience (especially as a niche seller) is to be mindful of "competition". When I first started selling flatware there wasn't a lot of completion and sales were brisk. However, as time passed, my flatware sales pretty much stopped. I finally did some research and realized my prices were no longer competitive. Once I adjusted my prices, my flatware started selling again. Now whenever my sales slow, I immediately start looking at my competition and make adjustments as necessary.

Coming full circle … my best friend who I originally bought the "How to Sell on eBay" DVD for recently opened an eBay store and is finally enjoying the income from selling her unwanted items. ?

Recent Scores

Joan Rivers jewelry began to sell like crazy immediately following her death and some of her items are still selling for a very good price.

Click here to see this auction.

Mah Jong is regaining popularity and vintage Mah Jong tiles can fetch a great price if you can accurately identify them and get the correct key words in the title. Here's a great example of a Mah Jong tile set I recently sold on consignment. It took some time to identify the material but in the end it was well worth the effort.
---
Thank you to Sherri for sharing her story with us! I really appreciate it! She is such a valuable member of the Queen's Court and I feel very blessed that she continues to help us all!
After Indy's real birthday, she decided she wanted a REAL party. UGGGGHHHHH. She had told me that after last year's blow out party (glow sticks, vacant warehouse, etc. etc.) we didn't have to do anything major. Well that all changed. You have to see her invite that she made. It is awesome!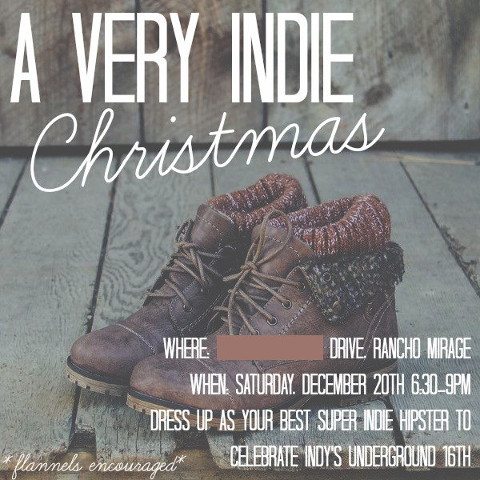 My brother had bought me a fire pit gas bbq as an early Christmas present. Well, actually it was for the kids. But, I have to admit it got us outside a lot more this winter season and has been sooooo much fun. Thank you Lee! For Indy's 16th birthday, all the kids gathered round the firepit and roasted marshmellows for smores. Sooooo much fun!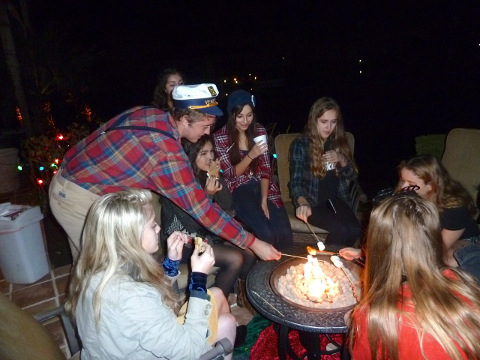 The Monday after her birthday party, it was time for her to take the driver's license test. I was freaked out. Seriously, two teenage drivers in my house and I honestly didn't know how she was going to do. I felt the same way when Houston took the test 2 ½ years previously. Was he/she good enough to pass?
My mom, Houston and I waited patiently in the DMV for her return. Houston and I watched her get out of my SUV and walk to the front of the building. We couldn't tell from her face if she had passed or not. Thank the LORD she did! It has been wonderful having an extra driver in the house! Here is Indy when she got the news. So precious.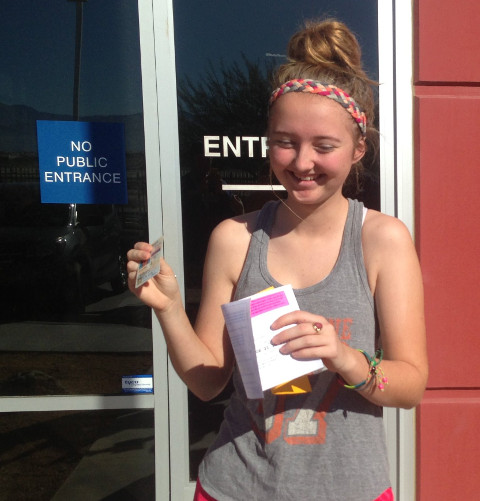 OK time for a score. For any of you who have had or do have a teenage daughter you know how quickly the scale can be balanced or become unbalanced. So in celebration of my awesome daughter, I must share this score.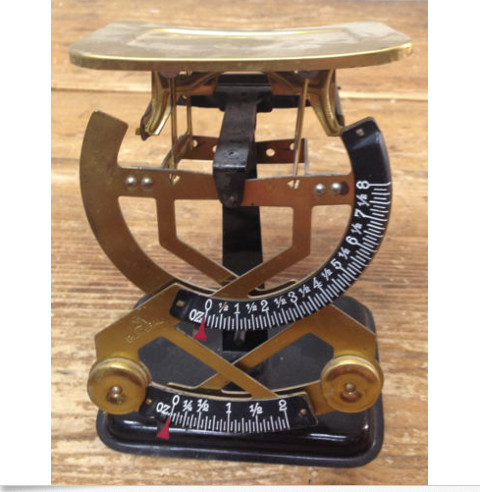 Click here
 to see this auction.
And here is a recent listing that I hope will be a score. Just remember with kids they are allowed to have mood swings and that is all OK!
Click here
 to see this auction.
That night after Indy getting her license I was exhausted….worn out and extremely happy with everything! But it had been a whirlwind of a month. I woke up on 12/23 and was not able to even walk. Everything was spinning and I couldn't even lift my head. I figured that "this too shall pass" and spent the entire day in bed.
By 7 pm nothing had changed and I decided I needed to go to the doctors or urgent care. I tried to get up and get into the car but it was impossible. We called 911 at 7:30 that night and I was rushed to the hospital. UGGGGHHHHH. That really cut into my holiday plans.
The doctor's couldn't figure it out. My blood pressure was high and I could not stand up. They did an MRI and a Cat Scan. Still no answers. They admitted me. Another UGGGGGHHHH.
My mom and kids went home and I spent December 23rd in the hospital. On December 24th they did another MRI and I had to spend Christmas Eve in the hospital. Another UGGGGHHHH.
All I can say is that my family and my doctors were incredible. My Mom was there and Indy and Houston rarely left my side. They rock! On Christmas day, my neurologist, my regular doctor and the ER doctor concluded that there was absolutely nothing wrong…..except for the terrible cold I had gotten during Indy's 16th birthday party that contributed to an inner ear infection. That inner ear infection caused my equilibrium to be off and resulted in severe vertigo.
Houston and Indy helped to spring me on Christmas Day!~ Praise the Lord. I could barely sit in the wheelchair to get out to the car. Indy held my hand the entire way. Wow, do I love my kids? Seriously! I spent Christmas day propped up on the couch and it took me another 7 days to be able to walk without being extremely dizzy. For those of you that have experienced this, I feel your pain. I WOULD NOT EVER wish vertigo on my worst enemy. And I have no enemies. IT IS AWFUL.
Luckily, while I was in the hospital for my 3 day staycation (just kidding) I didn't sell much. When I was sprung (I am starting to sound like my grandmother) our sales went KACHING. It has been awesome!
We had our first serial buyer in years! I LOVE these buyers. They find that you have awesome items and spend tons of money. This guy spent over $1,000. YIPPPPPPEEEEE. Here are a few of his items and the best news is that I could find all 38. YOWZA!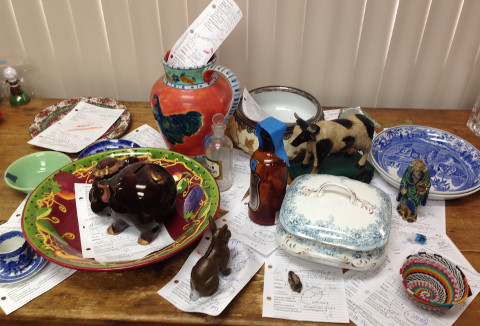 Here is a link to one of those pieces.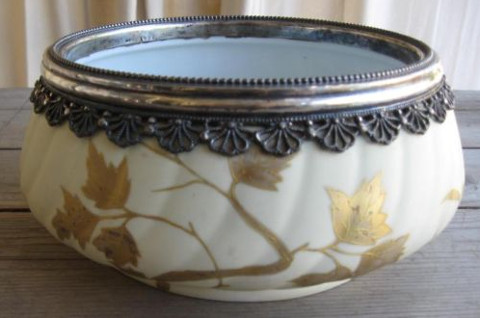 Click here
 to see this auction.
After this crazy Vertigo Christmas, it was my brother's birthday. Indy and Houston decided to do a Disney Christmas for him in our house. We all love Disney so the transformation was amazing! Here is Indy with Uncle Lee in front of his Mickey cake!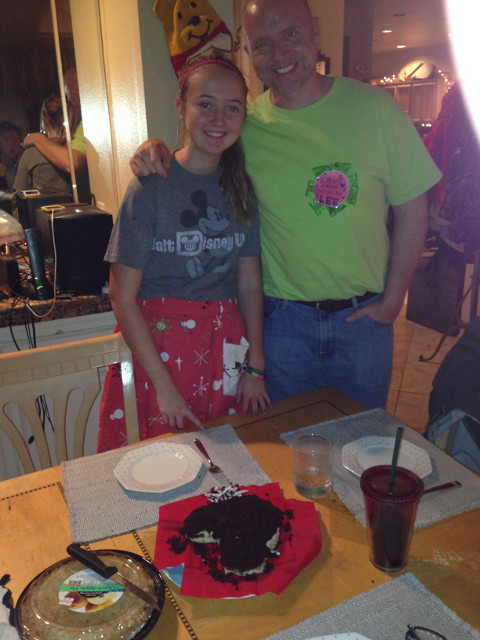 Then we all went out to breakfast at Clementines, this awesome restaurant in Palm Desert. Here is the gang at the high top table. LOVE my family.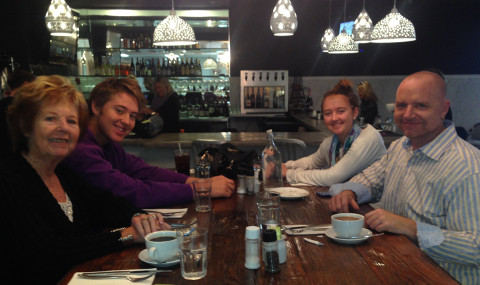 Ok, time to end with an awesome score and I have a bunch! I sold $400 worth of Villeroy and Boch dinnerware to one person. The pattern was only made for one year. So, it just goes to show you that if it is quality and a wonderful pattern, it just does not matter how long it was manufatured!
Here is one of the items.