Hi!
Since I didn't write an ezine in August, I guess I am making up for it by writing two in September so far! What is the world coming to?
Well, the reason for this super SPECIAL ezine is because of eBay's HUGE Fall Seller updates that were announced last week.
Before we get into that, let's start this ezine off with a score. Check out this Lettermen's Jacket that I bought about two weeks ago for $3 and just sold for a best offer of over $100. Yippeeee! Yay for back to school.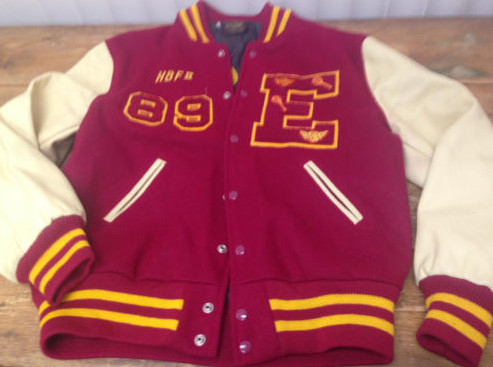 Click here
 to see this auction.
Anytime I see a Lettermen's Jacket for sale, I will buy it if the price is reasonable. Many times these can be re-used for a different student athlete if a professional takes out the stitching. I remember how painful it was spending about $600 for Houston's Jacket and then he didn't even take it to college with him. He said "I don't want to be 'that kid'". I think Lettermen's Jackets are cool and I wish I still had mine! And they can sell for big bucks on eBay!
So back to the awesome eBay news! I was fortunate to be chosen as an eBay "Influencer" and because of this I was able to learn about these exciting changes early and get to spend some quality time with eBay Executives during the "We are 20" Birthday Party in San Jose last week.
Here is a photo of Mor Mor, Mo and I getting a tour of the convention center set-up before the actual event began the next afternoon.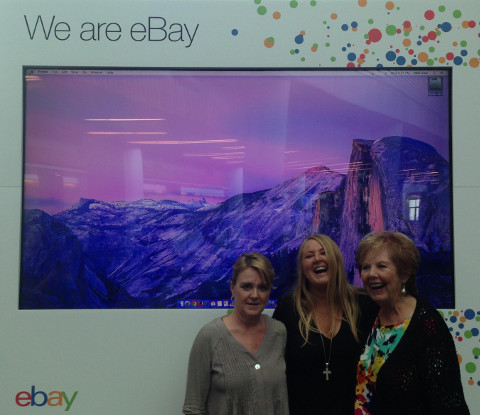 But let's jump right into eBay's Announcements which are great NEWS for SELLERS. Yay!
Special Announcements From eBay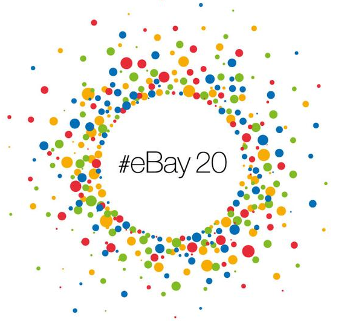 RETURNS
SELLER HUB
STANDARDS
I will discuss each one in detail and then give you my take on it with pros and cons. I must admit that the majority of these changes are HUGE PROS! Thank you eBay!
---
1. RETURNS ***************************
Current Stats for eBay
*88% of Listings offer a Return Policy
*A Return is Initiated on eBay every 4 Seconds
*It Takes 9 days on average to Return the Item and issue a Refund
eBay has listened to us as sellers and are announcing that Returns which are handled well will NOT affect our DSRs. Hallelujah! What this means is that even though a Return is initiated through the eBay system, it does not automatically count toward our Defect Rate. But more on that later in Section 3.
There will still be a continuum of ways to handle returns. It will not be just one way or the highway J. Sellers can still continue to handle returns their own way or use the eBay automated return program. Whatever works best for YOU!
The 6 Major Changes to Improve Returns:
Restocking Fee can be added within the listing flow—up to 20% max.
There are 11 New Reason Codes for Returns
Your Return Preferences can be set within your Automation Rules
An RA number can be added to returns
Seller can provide their own Return Label
Sellers will be able to privately report a problem with a buyer (for example…if a buyer returns an item in a condition that was not the way you shipped it you now have an opportunity to let eBay know and they do CARE)
The bottom line to all of this is that the Return process and power will be placed back where it should be…in the seller's hands.
Pros:
The majority of the return process changes are a PRO to me. The biggest PRO is that a return which is handled satisfactorily will not count as a defect.
I was concerned about the 11 different reasons for the return, thinking that eBay would put SNAD (Significantly Not as Described) as the first choice. This is NOT the case and I was told that we will be able to put the 11 in whatever order we desire. This new simplified process should make both buyers and sellers happy J!
Cons:
None that I can see. If I am missing something please let me know by posting your comments here or on one of my other social media pages.
---
2. SELLER HUB ***************************
The goal of the new seller hub is to simplify our selling process by having everything in one place. Another goal is to give us data we need to increase our sales and profits!
The new eBay Seller Hub will be rolled out to all users on October 20th, 2015. Beginning today (September 10th) you may sign up to be on the TEST waitlist here http://ebay.com/sellerhub.
The New Seller Hub is Divided into Six Tabs:
Overview—Snapshot of Performance and Your Action Items like Questions & Shipping
Orders—Check Orders, Cancellations and Returns on one page
Listings—Get Competitive Insights that Can Help you Optimize Your Listings
Marketing—Available to Store Subscribers Only (Use this hub for Marketing & Promotions…i.e. Markdown Manager)
Performance—Review Your Data which includes eBay Selling Fees and Page Views
Growth—Improve your Listings…Add Product Identifiers and Item Specific Recommendations
Pros:
A lot of great data that is very nicely organized and easy to find. I LOVE the item specific recommendations that show you a single SKU by what you own in $'s and at what % your current sell through rate is trending. This will be great for commodity sellers. The promotional tools seem to be set up in an easier to use format and we will be able to track results quickly. Kudos to eBay!
Cons:
I am afraid it is too much data and may scare away our selling newbies. It may even discourage new sellers to sign up to sell on the site.
I also see problems with some of our more analytical sellers spending hours on the statistics when what they really should be doing is listing. I think it may be overwhelming for some.
I am not sure if the old "Selling Manager Pro" will be discontinued but I am a creature of habit and don't like change. I really rely on my "Selling Manager Pro" page for my daily actionable items which include 1. Answering questions 2. Reviewing Best Offers and 3. Shipping (although I use Auctane for this more than eBay). I didn't see that these 3 key features were available on one page, but I may be mistaken.
I will definitely need to spend some time using the New Seller Hub before I give you my final thoughts on it. Please watch for my upcoming ezine on 9/17/15 for more info. If you don't subscribe to my free newsletter please sign up here www.thequeenofauctions.com
---
3. STANDARDS ***************************
The overall theme of this announcement was all about Returns! What the Standard Team had been hearing from us as Sellers…
Standards are Unfair
Why Bother Doing Returns
Buyers are Abusing SNAD (Significantly Not as Described)
And the Standard Team ACTUALLY HEARD US! YIPPPPPEEEEE!
Starting February 20, 2016 The Following will no longer Impact Your Defect Rate:
Buyer Feedback
Some of the DSR's (Detailed Seller Ratings which is currently made up of 4 things—Item as Described, Shipping Time**, Neutral or Negative Feedback, Cancelled Transaction**)
Return Requests that are Successfully Resolved
Items not Received Requests that are Successfully Resolved (These will STILL count towards a Defect)
Seller Cancelled Transactions for OUT OF STOCK situations…Not When Buyer Requests a Cancellation
The DSR for Shipping Time** Now called the ON TIME SHIPPING METRIC
When eBay has to Step in and Resolve a Case
The new ON Time Metric is tricky and may make some of you concerned…you will NOT get a defect for on Time if one of these two things occurs:
The package is scanned within your handling time (which means if you have 1 day handling and a buyer pays on a Tuesday during business hours you will need to have that package scanned by your carrier by Wednesday)
…OR…
It shows as an on time delivery by eBay. eBay calculates this date by considering the date the item was paid and then adding on the max days from your range of shipping days that was chosen when you listed your item.
When you list on eBay you must choose a shipping method and they all show a range of days.
This is why I ALWAYS choose ECONOMY Shipping (1-10) days to describe my service. Other choices of the GENERIC methods are STANDARD Shipping (1-6) days and EXPEDITED Shipping (1-4) days.
The NEW Standards for TRS which will roll out on FEBRUARY 20, 2016 are as follows:
| | | |
| --- | --- | --- |
| MAXIMUM ALLOWED | TRS | All Seller |
| Seller Cancelled Transactions & Closed Cases w/o Seller Resolution | 0.5% | 2% |
| Late Shipments | 3% | 7% |
To Be Eligible For Top Rated Plus Sellers Must offer a 30 day return policy with money back and 1 day or same day handling by 3/1/2016.
Pros:
I LOVE that returns will not count against us and I must be honest, I will handle my returns much more quickly and happily. Before it was seriously like "Why bother and do this quickly when I already got a defect for it?". Sad but true.
I am also happy that low feedback ratings for item as described and any neutral or negative feedback will not count against us. YAYA!
I just checked my TRS dashboard and as of today and I have 2.04% in defects which means I lost TRS by .04%. Seriously eBay? Couldn't you have rounded down J. I will share a copy of that screen in my ezine next week…but the good news……I have 0 seller cancelled transactions and 0 cases when eBay had to step into resolve a case so I will pass the first requirement for TRS under the new requirements with flying colors.
Cons:
As far as the 2nd requirement (EITHER tracking scanned by carrier within your handling time OR shipment arrived on time) here is what my DSR screen says now…. 94.99% of my transactions had tracking uploaded within handling time and validated by carrier.
But here is the rub. That 94.99% doesn't show if the item arrived on time and it was ONLY validated by the Carrier AT SOME POINT in the journey. This is changing to being scanned by the CARRIER within that 1 day handling period. This is RIDICULOUS and almost impossible to achieve.
The problem is that USPS (and other carriers) can NOT be relied upon whatsoever to scan your package. Many times it isn't even scanned by the time it arrives.
But the GOOD NEWS is that since we can't rely on our carriers to scan the item….as long as it arrives within our stated handling time…we will NOT get a defect.
So my advice is to start changing your stated shipping service to either ECONOMY (1-10) days or STANDARD (1-6) days. I recommend Economy since it gives us a 10 day cushion for bad weather etc.
This new defect can only be at 3% to maintain TRS and hopefully by choosing Economy we can attain that. HOWEVER, I never thought about it until now, the "economy" shipping that I choose to protect my TRS may be hurting my sales. What if another seller has my same item but is offering Expedited (1-4) days because they don't care about TRS, am I losing a sale? I ask you all, is it more important to attain TRS or make the sale? Or does the stated shipping time in the listing matter to the buyer?
One last con, I do NOT like that 30 day returns are required for Top Rated Seller Plus. The benefits to TRSP are awesome….the icon in your listings, the 20% final value fee refund and lower commercial shipping prices. I feel like 14 days was a big enough return window and by requiring 30 days we are allowing buyers to basically "rent" our products.
However, even if we state a 14 day return policy, buyers can still return an item for up to 45 to 90 days using Paypal's liberal "dispute a transaction policy". So, the 30 day return policy on eBay is really a mute point. Overall, I think we need to focus on the positive. eBay is not punishing us for open cases anymore…only for cases not resolved to both buyer and seller satisfaction. Way to GO!
---
In conclusion, I think these new eBay announcements were well worth the wait! eBay is really listening to the sellers and is making the changes that we have requested. TRS should be easier to attain and maintain (as long as we have a big delivery window), the extra data in the Seller Hub will be extremely valuable to most commodity sellers and some smaller OOAK sellers and the entire Return process has been revamped to help us. So a BIG SHOUT OUT and THANK YOU to eBay!
For more information from eBay please go here eBay.com/Fall2015.
PLEASE COMMENT!!
I would love to hear what you all think. Please comment right in this post below or on any of my social media accounts as eBay corporate would like feedback on all of these announcements.
I can't wait to share some of the wonderful experiences we had at the eBay celebration but before we get to that, it's time for a score or two in the making.
I went up to Idyllwild during Labor Day weekend to see my friend Kelly (also known as Kflan) and to go "junking" as she calls it. During Memorial Day and Labor Day weekends, Idyllwild turns into a garage salers paradise and city wide sales are held.
Check out this darling sign and set up for one of the sales we attended.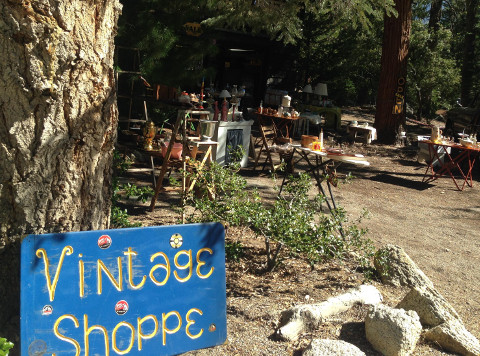 I bought a bundle of American Airlines ephemera at this sale for $10. Here is what it looks like but I haven't decided yet how to list it….either as a lot OR individually?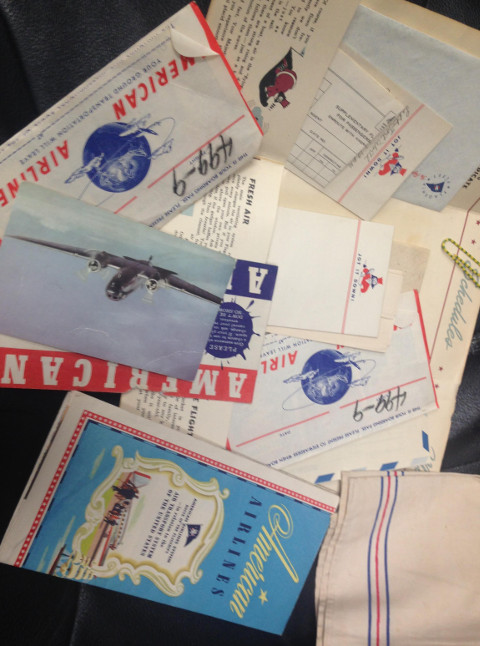 Then we went to a different sale and I ran into one of my postal delivery ladies, Lisa. The sale was at her mom's house and here is a picture of Lisa and her sister. In the background to the right is my friend Kflan. I ended up buying three flatware sets from Lisa and her mom for $120. I LOVE IDYLLWILD.
Here is one of the listings for a few of the forks. I can't wait to get them all listed.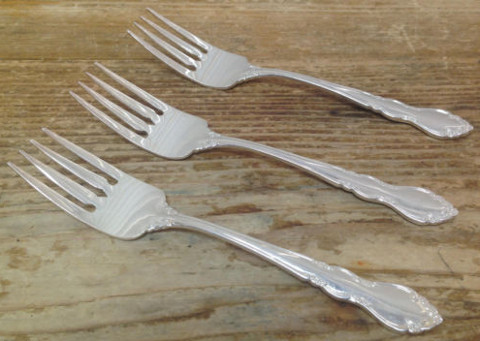 Click here
 to see this auction.
I got some awesome stuff! And it was a joy to get out of our heat.
One of the last things I bought in Idyllwild was a baggie of two napkin rings for $1. I thought that maybe they would end up being sterling. Instead they ended up being something much better. The 2 initials on the napkin rings were K and D. My little sister who passed away in 2012 from Cancer was Kristin Dralle. It was such a Kiki moment (smiley face) I miss you Kiki.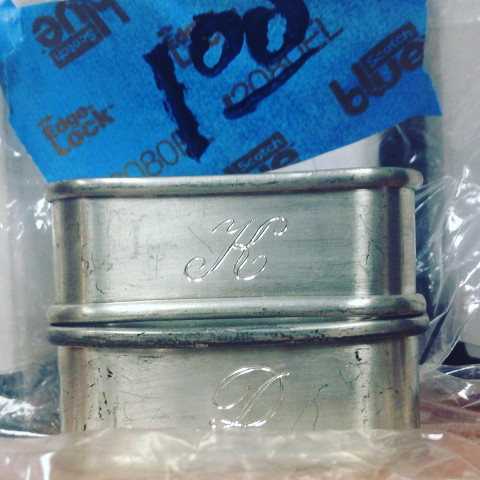 In honor of my sister who loved all things Disney, here is a recent score of an Enesco Eyeore.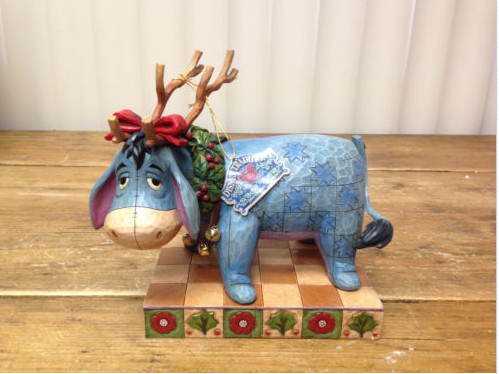 Click here
 to see this auction.
Now for an Important station interruption….. Let's get back to the Wonderful World of eBay! The Celebration was much more than my mom, Mo and I could have imagined.
It kicked off on Wednesday afternoon, with our private tour of the convention hall, and then I attended a dinner with the other "Influencers" and eBay Executives which was AWESOME…..and then we went to Worthpoint's party.
Here I am at that party with some of the Queen's Court Members and others including from left to right Chris Taylor, Rich (Lynn H's brother), Lynn H, Tiki Jason, me, Rich (from Chicago), Jan and Inez. Sooooo fun!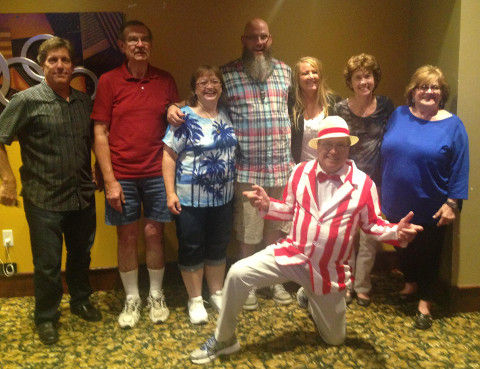 The next day was an Executive meet and greet with Jordan Sweetnam, eBay's Vice President of Seller Experience and several other eBay executives. Seriously awesome! Here I am with Jordan.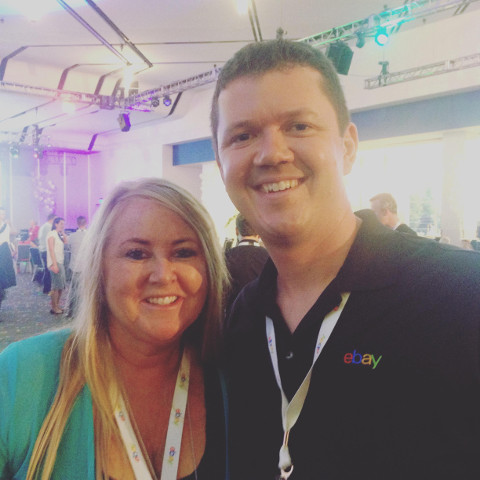 Then it was time for the official "We are 20" celebration to begin. President and CEO Devin Wenig kicked it off. It was INCREDIBLE. People are Basically Good. Don't forget that….it is the core principal that Pierre Omidyar founded this company upon and one of the big reasons we are still successful entrepreneurs.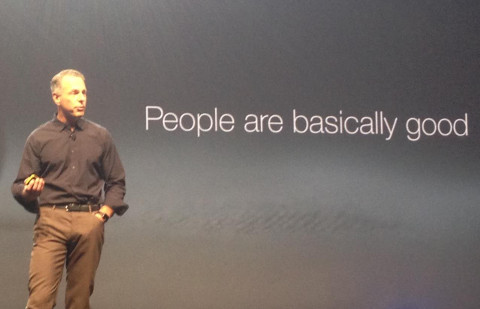 Luckily, we had reserved seats to view all of the exciting action! Thank you eBay!
After Devin's speech, it was Seller Leadership and the announcements of the Fall Seller Updates from Jordan Sweetnam, Laura Chambers and Heather Friedland. We had a short break and then it was the Q&A with Moderator: Steve Boehm, along with Jordan Sweetnam, Laura Chambers, Carl Gish and Dan Fain.
I love this photo with Steve Boehm (Senior Vice President Global Customer Experience) after the sessions ended. I told him that he was a great moderator and had a great voice. Seriously he does! He should be a radio or television personality if his illustrious career at eBay ever ends (which we hope it doesn't).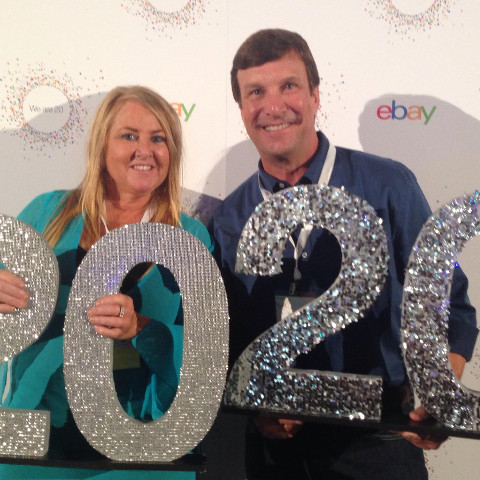 Next were some really fun presentations…New Customer Experience and Key Technology Changes with RJ Pittman & Steve Fisher. RJ's presentation was hysterical as he kept selling items from his mobile app to members of the audience

.
Finally, there was an experience that took all of our breath away. Devin announced a conversation with someone special. That someone special was Pierre Omidyar. Seriously? I couldn't believe it!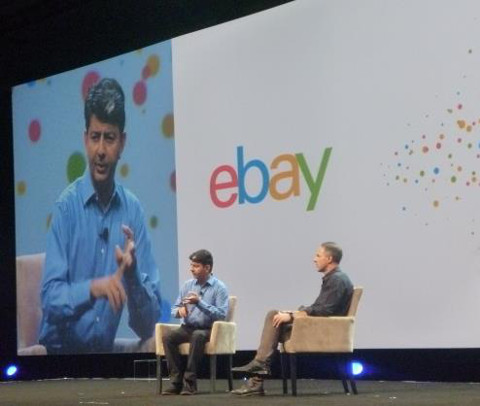 We all had tears in our eyes as the session ended and we left the auditorium to be applauded by eBay employees all the way into the after party. It was a very, very, special day and I felt the eBay LOVE again. I think all 1,000+ of us that attended felt that love. It had been lost for a while, but it is back and here to stay! eBay is eBay again and I am very happy to report that they are completely supporting the small to medium sellers. Hip Hip Hurray!
That first night party was so much fun. It included….Cirque du Soleil dancers, Elle K (Elle King Rob Schneider's Daughter) musical group, great food, great conversation and great friends.
As the end to that seriously perfect first day was winding down, I was left with some Terapeak executives. We took a photo…."Last men and woman standing". From left Andrew, RJ, me and Kevin.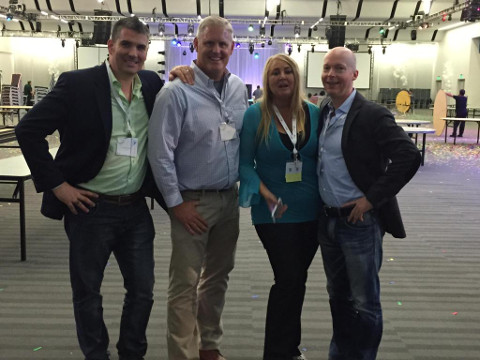 I asked the Terapeak folks to give me a quick outline of the differences between their packages for you all – here is what they wrote me.
Terapeak MySales – enables sellers to monitor, analyze, and improve their sales on eBay and Amazon. Sellers can source hot products at wholesale prices, perfect their strategies and listings, and automatically chart sales, revenue, and success over time.
Terapeak Personal – gives access to everyting in MySales plus 30 days of complete eBay activity—to see what shoppers are buying right now, at what prices, and in what quantities. Sellers can analyze price and demand and project their own sales and profits, before sourcing promising goods at wholesale prices.
Terapeak Professional – gives access to everything in Terapeak Personal plus 365 days of real-world sales data for eBay goods, along with sourcing and research for Alibaba products. Sellers can analyze markets, categories, sellers, hot trends, and products to find the best selling items on eBay, make great sourcing decisions, then act on them immediately.
I started to smile every time I saw that "We are 20" eBay Logo come up on my eBay page. And there was still a day to go. The event was NOT over.
The second day kicked off with a keynote from Hal Lawton. Hal is new to eBay and he is AMAZING as eBay's new Head of North America. Speaking of heads, Jason T. Smith just couldn't resist poking his noggin and photo bombing this photo of Hal that I took. Too much fun!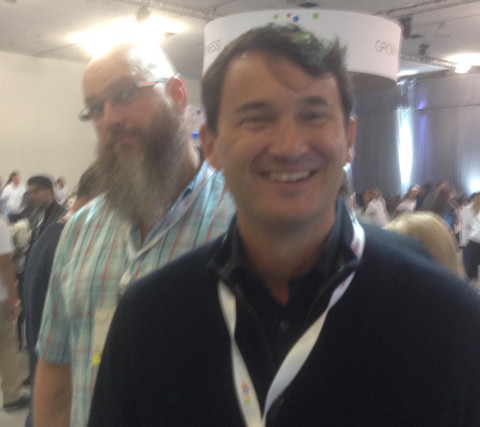 The entire event was filled with eBay executive personal connections like this. When eBay does this again, do NOT miss out! Can't wait for eBay's new Christmas Campaign "Wish Bigger". Hal you ROCK and did a great job on both the BIG and small stage. Let's do this

!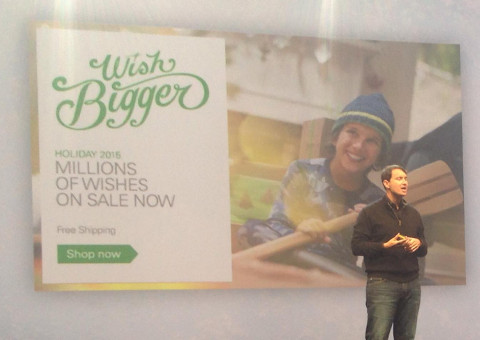 Then we had a bunch of break out workshops, I appeared on a seller panel and then it ended with a seller THANK YOU and toast from President and CEO Devin Wenig. A wonderful time was had by all and we were very sad to leave. Seriously!
As we were all getting ready to leave I had to ask a few of my new "influencer" friends for one last photo.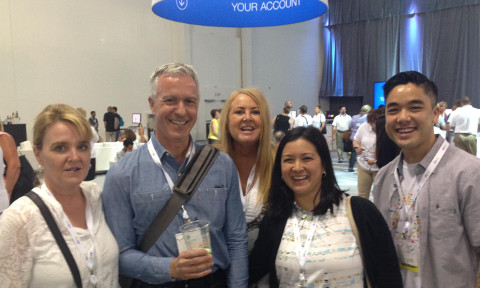 Here are Mo, Joshua (ILOVE YOUMAN), me, Melanie and John (Fully Laced) in a fun photo. When I had met Joshua for the first time two nights before he said "I Love you" and gave me a hug. I just knew he was special and he certainly is. So are Melanie and her husband John who own a very successful shoe lace company. They have a brick and mortar store, sell on eBay, and also manufacture their own line overseas. What a wonderful group!
As Mo, my mom and I walked out I took one last photo.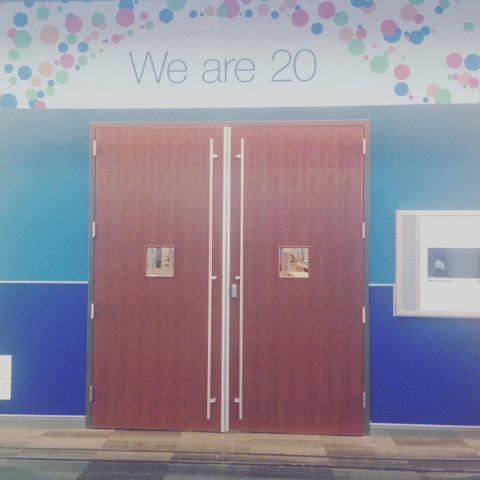 This is what I posted on Twitter and Instagram.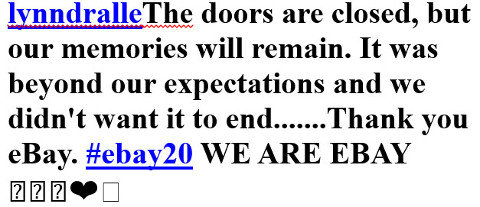 Seems like most of my ezine endings are bittersweet lately, so we are going to turn this one around. Time for a SCORE.
Check out listing for some USSR flatware which I did discuss in Cash for Cutlery. I bought it at a Church Sale and I have sold almost $1,000 worth to date. This one listing for 4 knives sold for a very high best offer in the most recent $285.00 order which included several more listings. Go flatware!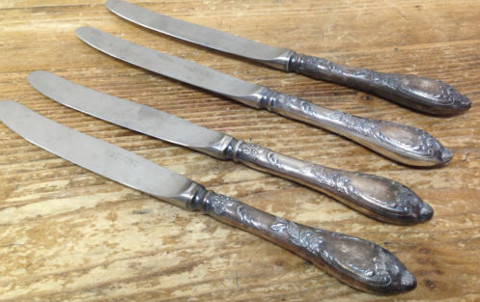 Click here
 to see this auction.
Oh my gosh…so much more to tell you. The day after I returned from eBay's celebration, we drove out to see Houston at Pepperdine. But before I get to that, I have a very special Queen's Court member to share with you, Line Stallard from Canada.
"Hey everyone! My name is Line, pronounced "Lynn" but with a French spelling. I live in Ontario, Canada, and have three children ages 7, 5 and 3. I am a former school teacher turned entrepreneur…
My eBay journey started in the Fall of 2010, when I was driving and came across a sign advertising a "Vintage and Antique show". I had a bit of time to spare, so I decided on a whim to go and check it out. Little did I know this would change the course of my life…
I spent about an hour or so at the show, just looking in awe at all the cool antiques and collectibles. Afterwards, I decided to hit the local library and borrow a few books on antiques, just for my own curiosity. One of the books I picked up was "How to Sell Antiques and Collectibles on eBay and Make a Fortune", written by Dennis Prince and Lynn Dralle. I had never shopped on eBay before so really don't know what possessed me to take it home!
The rest is pretty much history. I started reading the book and was hooked. I thought to myself, "hey, I can do this!" and for fun, I decided to try. I started by selling a few odd items here and there and slowly built my business. I was on maternity leave at the time, and when I went back to work as a teacher, I continued to do eBay in the evenings.
After my 3rd child was born, I just couldn't go back to teaching. It didn't fit into my lifestyle anymore since my husband works long hours and someone needed to be home to take care of the kids. So I left my teaching job and dived into eBay with both feet. I narrowed down my niche to neckties and "The Tie Chest" was born. Here is a recent tie score. University ties are always so much fun and are great back-to-school gifts for Freshman, profs or alumni!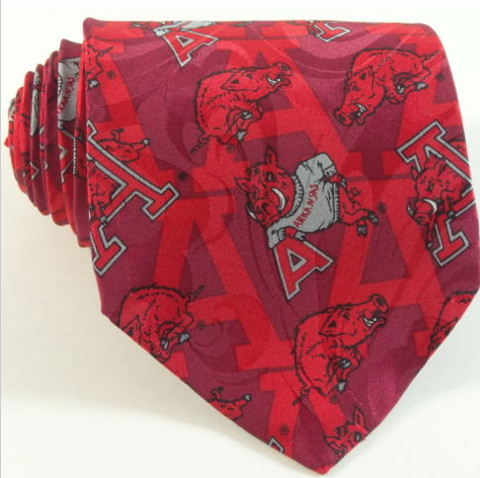 Click here
 to see this auction.
A little later, I added men's vintage jewelry to my niche, which has been a fascinating product to explore! Here is a recent jewelry score. Thanks to Lynn Dralle and the QC members for their help with this beautiful set! I accepted a best offer of $100.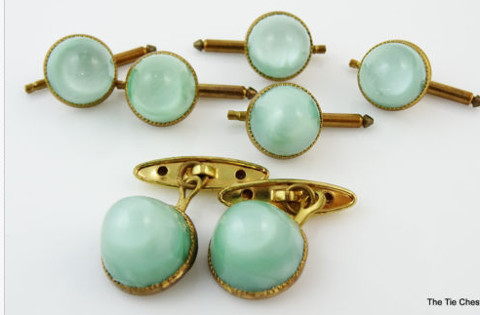 Click here
 to see this auction.
Since I started on eBay, the Queen's Court has been with me every step of the way. I have to say it is the BEST community out there. I've asked some pretty ridiculous "newbie" questions and NEVER has anyone been disrespectful or condescending. With the encouragement of the QC members, I also attempted two "live" antique shows. They were super fun experiences! Here I am at my very first show.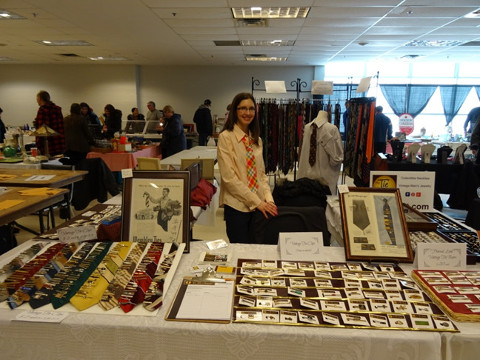 This year, I took some giant leaps of faith with my business. I expanded to an Etsy store and I also started building my "team". My mother-in-law, whose background is in marketing, took over my social media posts. I also recently hired a full-time virtual assistant who lists for me. Both have been a godsend to my business, which has been soaring ever since.
Having my own business has allowed me the to enjoy a lifestyle involving a career that I enjoy as well as the flexibility that allows me to be more present at home for my children. It has been an incredible journey and I can't wait to see what the future brings!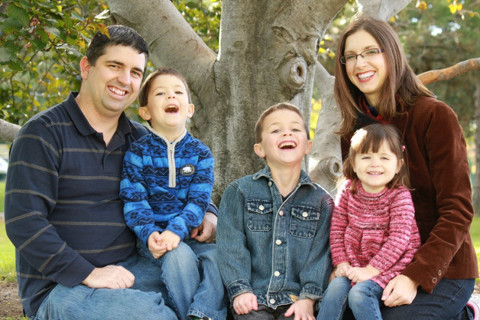 Line (or Lynn

) we both have the same name and YOU ARE ABSOLUTELY Darling and so are your husband and three kids! Thank you sooooo much for sharing! We love you

…..
While I was in San Jose for 4 days, I couldn't leave Indiana home alone. So I asked my dad if he would fly in and keep an eye on her. He couldn't make his reservations quickly enough. He LOVES Indy and she LOVES him. Well, let's be honest, we all love "Papa" as he is called and my mom "Mor Mor" as she is called. I have the BEST parents EVER.
While I was out of town, Indy had to host a Freshman retreat for her high school. They needed someone to cook dinner for 14 girls and there was my dad, promptly arriving at 4 pm to cook his special spaghetti. All of the girls loved him! I don't have a photo of him cooking but I do have a photo of Indy wearing one of the headdresses of flowers that the girls made during the retreat for their high school Xavier. The theme was the 1970's. Here is Indy.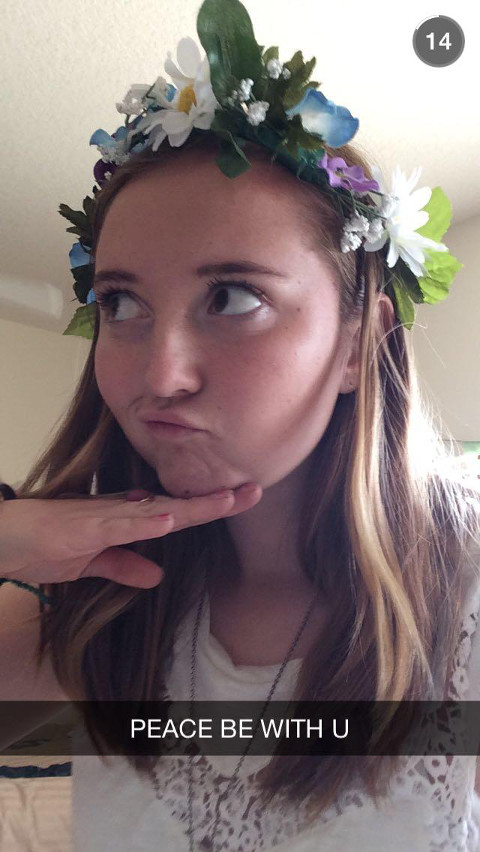 OK before I forget, we redid our I sell sheets and they now have a ruler on the front with inches and a ruler on the back with centimeters.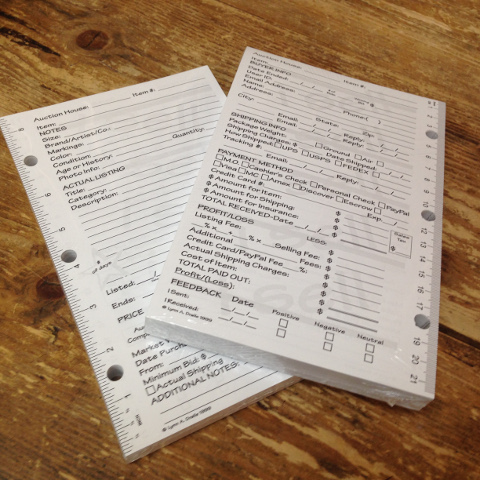 These are going to be even MORE AWESOME for listing and selling than the originals that I designed back in 1999. Now when you are listing and can't find a ruler….there is one right on your sheet. Also, when you are pulling items to ship and need to confirm the length of a salad fork…the ruler/isell sheet is right there! Yay! Order your new sheets here.
For those of you have never attended an eBay Live event, we have a very special offering for you. Back in 2008, we had the foresight to film "The Road to eBay Live". It looks at the event from our perspective as exhibitors and as sellers. We had the green light from eBay to film inside the event and also film my presentations.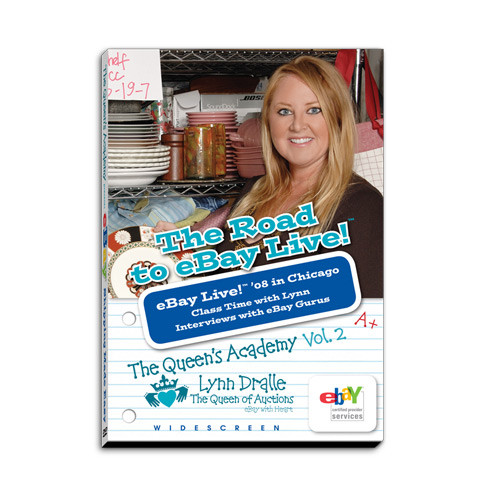 More information from the back of the original 3 DVD set….."In this episode from her instructional video series, Lynn takes you on "The Road to eBay Live".
Disc 1: You asked them and we took your questions to eBay Live in Chicago in 2008 and got you the answers you were looking for…This Q&A will include your questions asked and answered by Lynn, other PowerSellers, and some of our favorite eBay Gurus.
Disc 2: We were given the green light to film all three of Lynn's eBay classes. Be a fly on the wall and learn all her tricks for garage saling and research in her standing room only classes.
Bonus Disc 3: Behind the Scenes Reality before, during and after eBay Live in Chicago 2008! The drama, authors' luncheon, after hours parties and the humor of Mo, Carmen, Jason and Lynn. This is hilarious!
So excited to be able to share this DVD set of three that includes 5 hours and 42 minutes of "vintage" footage with you at a great price with FREE shipping for the next week. DISREGARD the WEBSITE PRICING when you click to order it is a lower price with FREE shipping. Since it has been 7 years since the very last eBay Live, it is time to break this out of the vault.
Time for a score. This coffee mug got 10 bids and sold for over $50. We still don't know exactly why it was so valuable. We do know that anything aircraft/military does sell well as long as it is allowed. Maybe it was because two bidders just really wanted it? Gotta love coffee mugs!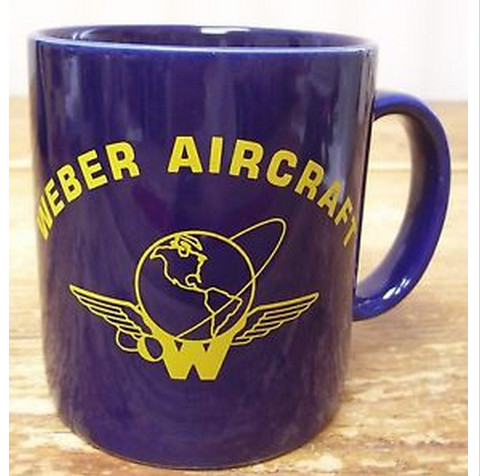 Click here
 to see this auction.
Speaking of "on the road" the day after I returned home from the "We are 20" eBay Birthday party it was time to drive my dad and Indiana to Malibu to see Houston. My dad had not seen Houston's college Campus, nor him, for quite some time, so it was a labor of love. The road trip took us 7 hours in the car that day (round trip) but I am glad we made the effort.
When we arrived, Houston was soooo excited to see his sister, me and his grandpa "Papa". Houston had a gift for each of us. One day on campus, the Coke company was there making customized cans of soda. He had a "Papa", "Indy" and "Lynn" Coke can waiting for us. Pretty fun!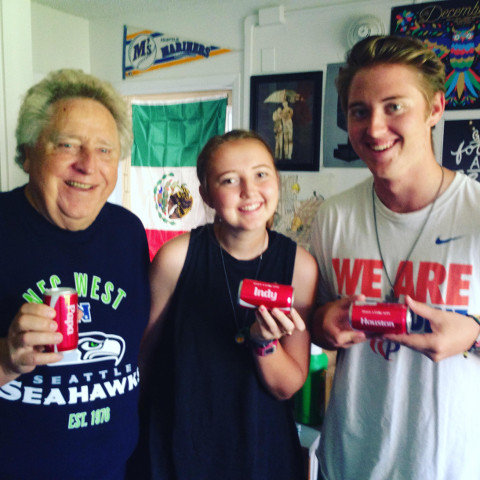 Houston introduced us to a bunch of his friends. What an amazing group of kids we met that day. Here is a photo of one of them, Rachel, with Houston, Indy and my dad. When Houston introduced us to Rachel (from Kansas) she hugged each of us…..that is why her picture is in my ezine

.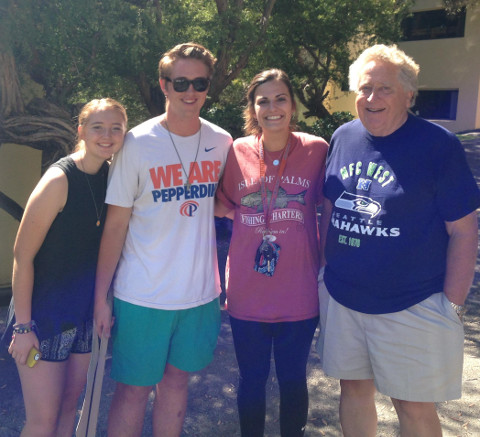 Later, as we walked onto campus to grab lunch it was really fun for my dad, me and Indy to see all of Houston's campaign signs. He is running for President of Pepperdine's Freshman Class. I am very proud of him for all that he is taking on and also very worried for how overextended he is becoming.
Here is a photo of Indy looking at a bunch of his signs and Houston waving to Papa.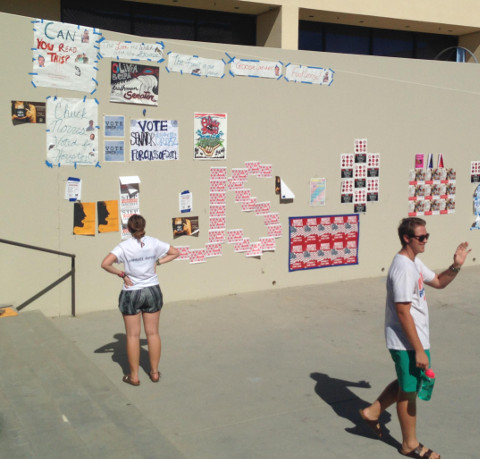 As Indy, Papa and I looked at the photos closer, we had to laugh. Seriously, "Chuck Norris Voted for Houston" with a picture of Chuck Norris, "The Lion, The Witch and The Goose", "The Fault in our Goose" and "Gooselander". Very creative these kids! The election was yesterday and the results should be out today…..so check my social media and I will let you know either way how it goes.
Here is a photo of Goose, Indy and my dad with Indy pointing to a picture Houston included on the sign of my dad and Indy. Seriously…..must have made my dad's day. HOWEVER, we are all exhausted after that 7 hour round trip. Kids……can't live with them….can't live without them!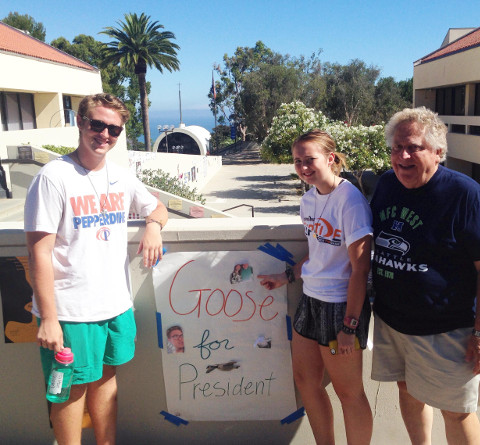 OK, I am exhausted from writing this after an amazing whirlwind trip to San Jose and a one day trip to Malibu…so must end with a fantastic score. Here we go.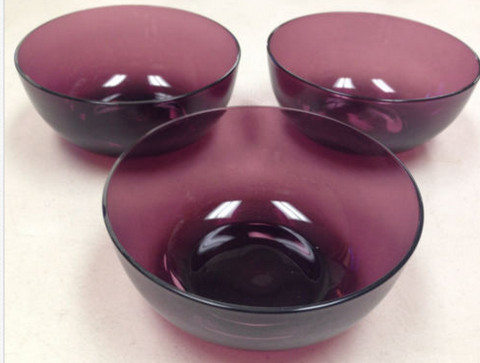 Click here
 to see this auction.
I bought these finger bowls in a stack of purple glassware that I think cost me $10 to $20. These bowls were also featured in my Dinnerware to Dollars teleseminar series. They sold for full price! And are going to France! c'est la vie eBay, it is the life! WE ARE EBAY!!! THE LOVE IS BACK…..THANK YOU eBAY!
Thanks for reading my ezines! I appreciate it!
Happy eBaying!
Lynn
---
Lynn is an experienced eBay Power Seller, author and teacher. If you want to know the eBay tips, tricks and tools that Lynn uses for buying and selling at online auction click here.
Some links in my emails to you may be affiliate links. You can be confident that I only partner with companies that I fully stand behind.