Hi!
It has been five weeks since my last eZine. Yikes! But I did finish Volume 2 of Cash for Coffee Mugs and have started on Volume 3. My goal is to have that last volume written and to my tech guy by Tax Day. Then he will format it and you will receive it shortly thereafter. Great deadline don't you think?
Let's start this ezine with a score. I love dinnerware…especially Villeroy & Boch, Spode, and Royal Doulton. I purchased a set of Spode last year that had some seriously rare pieces included. In fact, this piece is out of stock on Replacements.com and incredibly hard to find with all the different parts intact. That is why it sold for over $500 earlier this month. Yipppppeeeee Skippppeeeee!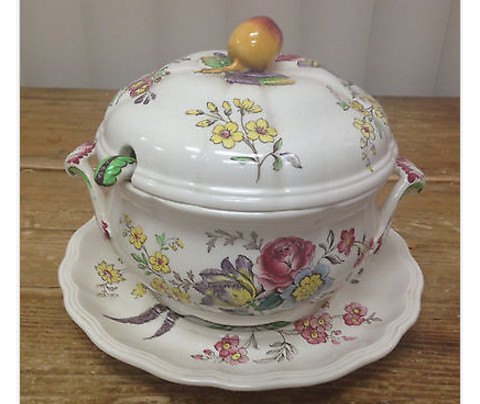 Click here
 to see this auction.
After our huge home move this past January, I made a commitment to join a gym and get into the best shape of my life. What was I thinking? I joined a super intense fitness club called Next Level. I guess I am trying to take my health to the next level 

.
I started working out there on February 23rd and have faithfully done four classes a week. One of the classes is called Cardio Combat and we wear boxing gloves…I usually burn 600 calories during that class. It has been a lot of work but I am enjoying it and have met some nice people.
In fact one of the ladies I was talking to today has a nephew who is a Freshman at Pepperdine. Her nephew is from Canada and I text Houston to see if he knew him and yes he did! They will both be on the Heidelburg, Germany year abroad as sophomores starting this August. Small world.
Houston has really enjoyed being Freshman class president and he sent me this photo that is displayed on the SGA (Student Government Association) wall at Pepperdine.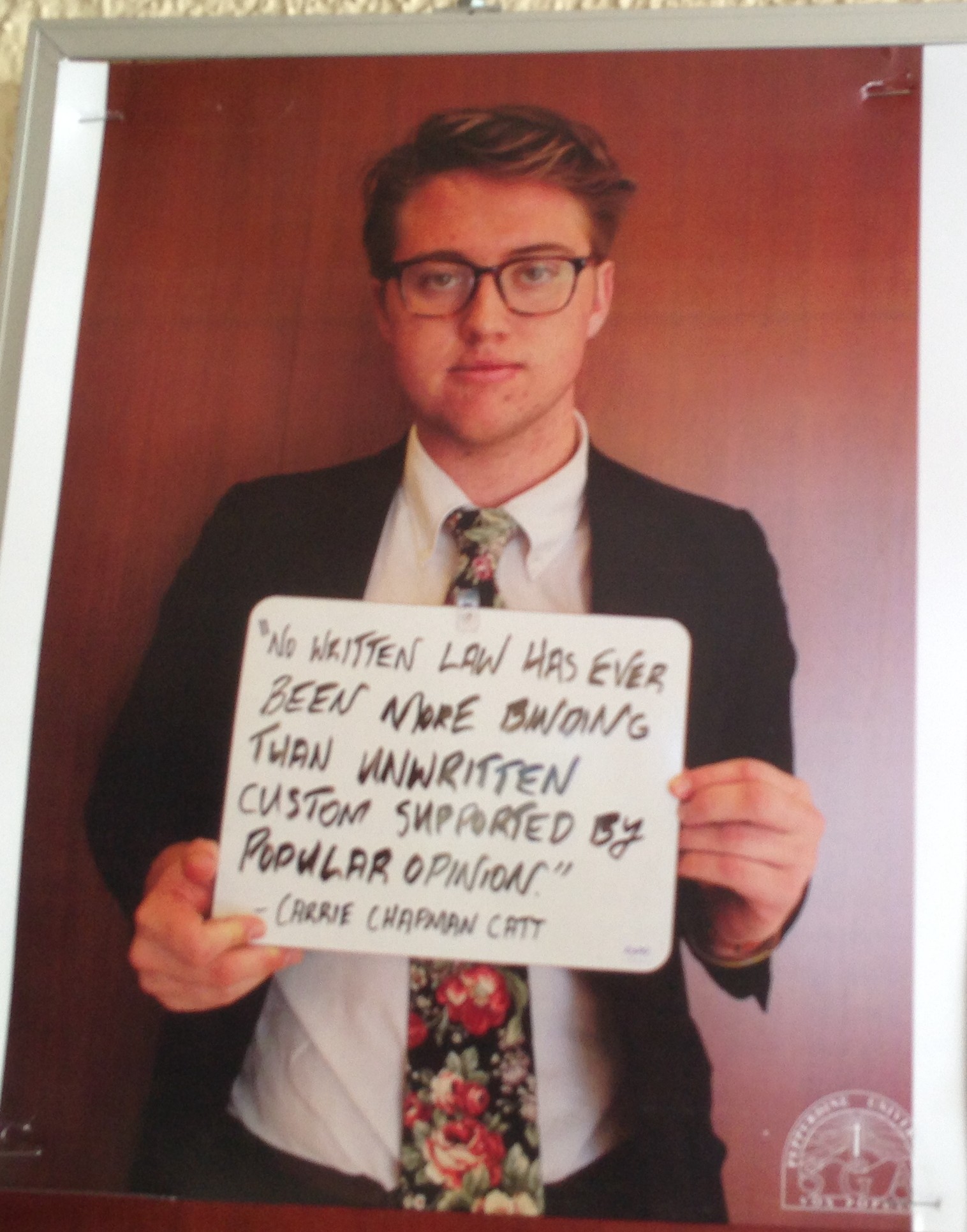 The members of SGA were photographed holding one of their favorite public policy quotes. His was "No written law has ever been more binding than unwritten custom supported by popular opinion" by Carrie Chapman Catt. It makes you think doesn't it?
You gotta love that tie the Goose is wearing. I bought it at a thrift store and he snagged it from me before I could even get it listed 

.
By the way, I am selling lots of men's ties this month. Check out this one that I just accepted a best offer on for about half of asking price. Most best offers are usually about ½ of asking price aren't they? That is just another reason to price high and let it fly. I LOVE ties! Easy to ship, easy to store and easy to find!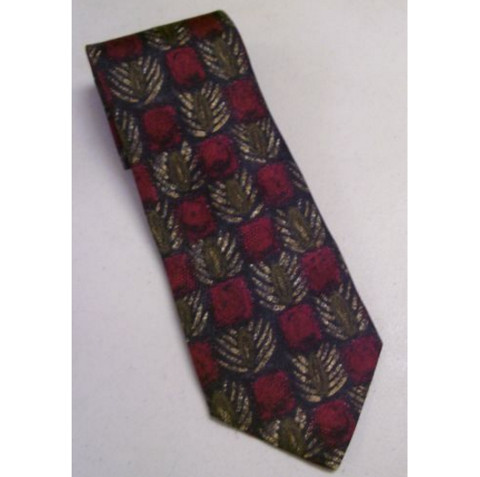 Click here
 to see this auction.
OMG, back to my new gym. The fact that it is literally around the corner from my office doesn't hurt either. When I was looking for office space three years ago, I almost leased the office right next to this gym but I had a feeling that the gym was going to be growing and would need that extra space. I was right! Now I do some training in that same space. It is a little surreal.
I never see my kids anymore, so working out has become a replacement for family time. It helps me to not miss them so much. As you may recall, instead of coming home for Spring Break from Pepperdine at the end of February, Houston lead a group of students to spend the week at the World Hunger Relief Center in Waco, Texas.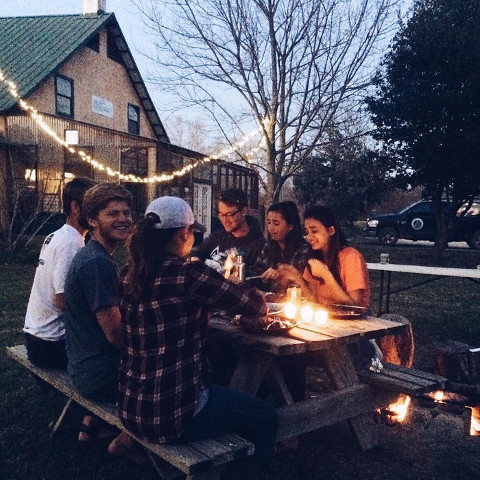 Here is what he posted about the event….
"We plant the seeds that will one day grow" // Leading a Project Serve team was one of the most difficult, heart wrenching, anxiety-inducing, and wonderfully transformative experiences of my entire life. So thank you to World Hunger Relief, inc. for allowing us to serve, learn, and be humbled through farming and thank you to Jordan, Jack, Lily, Avery, Angelina, and Mele for putting up with my dumb jokes, all the talk about the Jesuits and Catholicism, for allowing your hearts to be vulnerable and broken by injustice, and for teaching me what kinship truly means."
WOW! And a big shout out and Thank You to all who donated both directly and by bidding on our charity auctions to help get him there. It is much appreciated 

!
Thank the Lord that I did get to see Indy for a little bit during her "ski week" break. Can you believe that some of these private schools now do a "ski week" break in February? Like I am really going to take a week off from eBay and spend it skiing with Indiana—not my idea of a dream vacation. Our plan is that next year, we will be spending "ski week" in Europe to see Houston during his year abroad. Now that would be more like it!
During Indiana's time off I got a call from one of my favorite estate sale dealers. She had a houseful of dishes in a gated community where she couldn't have a sale and wondered if I would like to come and check them out? What do you think I said? Si, como no"….From my year abroad in Spain it means "yes of course".
I headed over to the home and found four sets of dishes to purchase. I had not brought enough boxes or helping hands so rushed back to the office to pick up Indy, more boxes and a business check to pay for my loot.
It was so nice to have Indy there to help me load and unload the car! Here she is with the carful.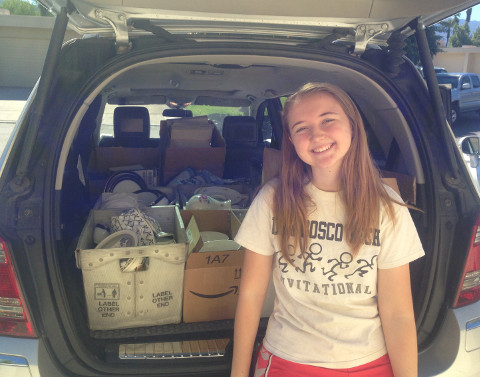 Here is a listing for one of the dishes from that fun shopping day!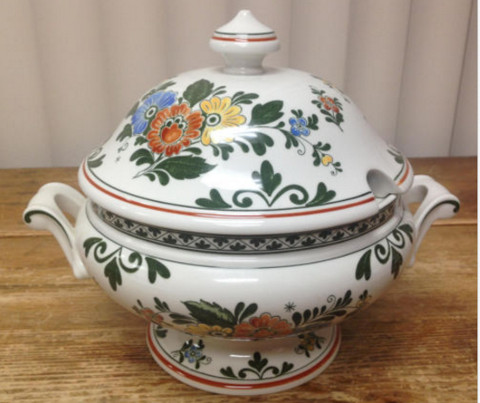 Click here
 to see this auction.
During Indy's "ski week" I also got a text from Coco (Queen's Court member and good friend) and she wondered if I liked Wynonna Judd and country music. For sure! She and her husband had tickets to see "Wynonna and the Big Noise" at the McCallum Theater but unfortunately (or fortunately for me) her husband Jerry was going to be out of town.

Yay! It was super fun and the seats were third row. Seriously amazing seats and company! Thanks Coco and Jerry! Check out how close we were to Wynonna and the stage.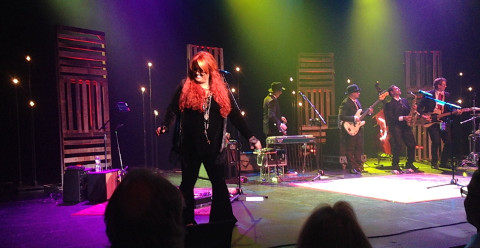 Speaking of Country Music and Wynonna reminds me that I have done really well with brass belt buckles lately. Check out this one that sold for full price! I bought it when Tiki Jason and Staci were out here to visit in October and we hit some estate/garage sales. Pretty cool!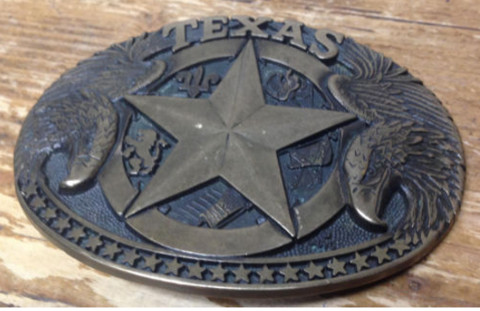 Click here
 to see this auction.
The estate sale where I bought this belt buckle didn't have much but they did have about 9 large brass buckles and I asked the dealer how much for all and she said $15.00. Done and done! So, I only paid about $1.50 for the one that sold. As Jason, Staci and I were walking out I flipped through the buckles to take a better and look and low and behold…I couldn't believe it but one said…..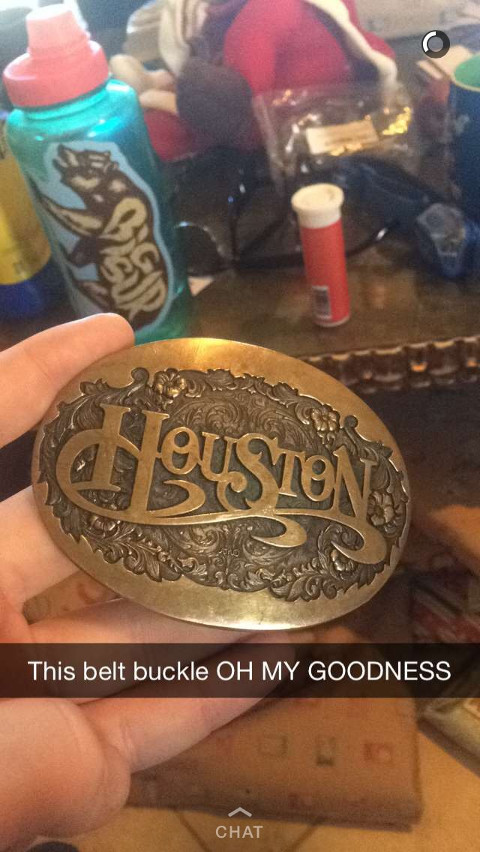 Guess who got that for Christmas? He loved it 

 and that photo is from his snap chat post on Christmas day. We still haven't put it on a leather belt yet but will do that when he comes home next….maybe in a year or two….just kidding kind of sort of.
Basketball ended for Indiana at the end of February and we attended the banquet on March 5th. Indy was given a very hard to achieve award called "Student Athlete" for maintaining over a 4.0 grade point! Yay!
She was also chosen by her teammates for the "Xavier Heart Award", meaning that she embodied the heart and soul of her team. I am very proud. With basketball over, you would think that I would see more of Indiana. Not the case.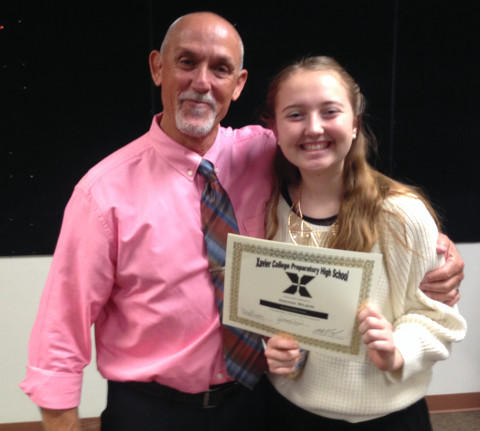 The reason that I have not seen Indiana is that she got a part in the new play "Bye Bye Birdie" and has been at practice every day after school until about 7 pm. Poor kid and Junior year is the absolute hardest as far as school work and getting ready to apply for college.
Indy will be playing Mae Peterson in the play which is a great character role. The play happens on April 8th, so in about 3 more weeks the whirlwind will be over….at least temporarily.
The home move and finishing Volume 2 of the Coffee Mug eBook really set me back in my eBay business. I was unable to get to my goal of 100 new auction listings each week for most of February. Happy to report that I am back on track and have 100 auctions listed!
I have also been listing more items that my grandmother gave me. It has been fun to try them at auction and then price them super high and let them sit in my eBay store. I have about 18 months until Indy will be going off to college and I want my warehouse and my home to be relatively empty. My goal is to be able to move my eBay business back into my home.
Here is one of those items that my grandmother gave me. She was a very serious collector of cloisonné both Chinese and Japanese.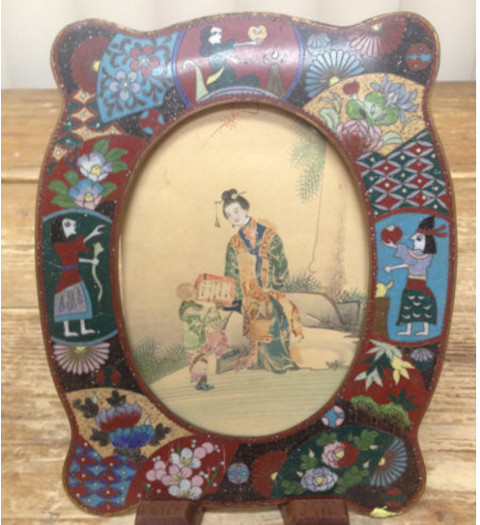 Click here
 to see this auction.
The Queen's Court challenge for March is March Madness Mens and Womens Clothing listing frenzy. My personal goal was to list 100 clothing items during the month of March. So far I have listed 55 with great results! By listing clothing at auction it has helped me to sell clothing that had been listed for a while at fixed price.
At auction I have sold 4 of the 55 clothing items listed at auction. A 7.2% sell through at auction is very impressive and I sold all four items for the high starting price of $19.99. There are many reasons that I am trying to get more into selling clothing and encouraging my QC members to do the same.
It is easy to find and usually reasonably priced
It is easy to store
It is easy to ship
The right brands have high ASP's (Average Selling Prices)
It sells even when overall consumer sales are slow…people will always need clothing and will want to buy it at bargain prices (on eBay) when the economy is not great
Here is one of the items that just sold at auction. These were khaki shorts that I bought for Houston (on eBay) to wear as part of his Xavier uniform and they didn't fit. Those were in his closet for a while!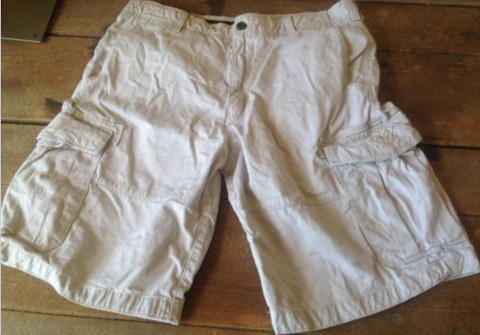 Click here
 to see this auction.
But back to moving and trying to redecorate a new home floor plan…fun but also very time consuming! I have been on the hunt for a pair of pedestals to use in our new living room to put a shelf between and set our TV on it.
I have been to Loews, local consignment stores and local thrift stores. Have not found them yet. Another one of my estate sale dealer friends suggested the Alley. I may try that next. But the fun part has been the shopping I get to do for eBay at those locations.
At Revivals in Palm Desert they were having a storewide sale to celebrate their 5th anniversary. Seriously, I can't believe that the Revivals in Palm Desert has been open for five years. Time is going by waaaaaay too fast. I swear it was just Christmas and now Easter is around the corner. I want time to slow down a bit 

.
Anyway, at the Revivals 50% off sale, I found 7 super cool Preppy plates by Sigma Tastesetter. Kind of keeping with the QC clothing challenge for this month 

.
There were three different plates in the series that I bought that day. This one is my favorite and it sold for my high starting bid price. The acronyms on this plate cracked me up. OOC stood for Out of Control. Gone Borneo, I had never heard of but looked it up and apparently it means super drunk. Glad we never used that term!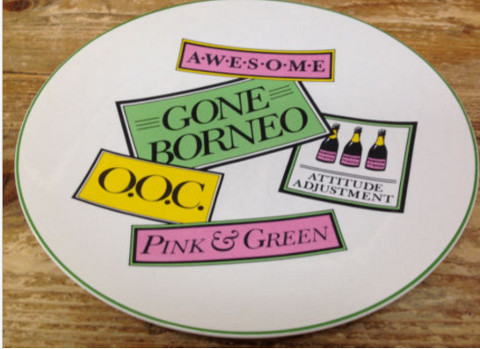 Click here
 to see this auction.
The plates totally took me back to my days at USC and how after moving from Washington state to California it became very obvious that every sorority girl had tons of pink and green in their wardrobe. Not me! But that would soon change.
In fact, the USC sorority girls also owned matching slickers, rain shoes and umbrellas…doesn't the saying go…"It never rains in California".
And here I was, coming from super rainy Washington, who had never so much as owned an umbrella or rain shoes. My friend Annie insisted that we go out and buy me a pink rain slicker and matching duck shoes. I can still picture those duck shoes and text her the other night with this….
"Annie, what were those crazy rain shoes we wore at USC along with the pink slicker you made me buy….what brand were they?"
She text back "LOL…Haha! I can picture both the duck shoes and the slicker! Maybe LL Bean?"
I did my Google research and found them….they were called Sporto and can be found on eBay for a good 1980's vintage Preppy price! Keep your eyes peeled for these and buy them and list them if you find them! There were absolutely NO pink ones available so if I ever find pink ones like I owned I will list them starting at $99.99!
Check out these Kelly Green ones I found listed on eBay.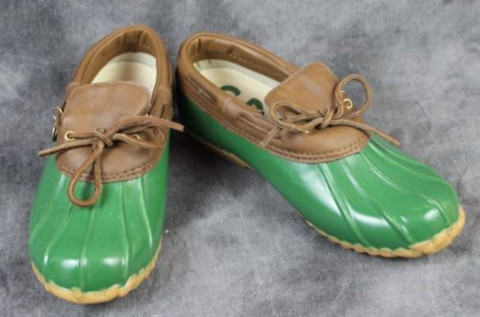 Click here
 to see this auction.
Then I found one of the slickers that we were all wearing. Of course mine was pink but this Kelly green one is reversible with whales on the inside. LOVE it!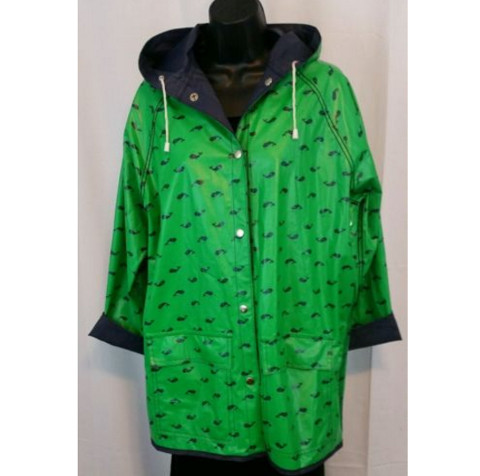 Click here
 to see this auction.
I text Annie and said "Haha I think I found them sportos".
She text back and said "Yes, that's it! Too funny. What made you think of them?"
I text "Laughing about our "rain costumes" from the preppy era with a friend of mine from Pasadena who is trying to help me ID the acronyms on a plate I am going to sell on eBay. Haha. Those were the days!"
"Those were the days" is the perfect segue into what Indy and I did this past weekend. We drove to Malibu for a special reason. Pepperdine is very well known for its Songfest competition. Songfest is typically a large musical production where Fraternities and Sororities pair up and perform in a competition.
Of course, I was in Songfest at USC with my sorority ADPi. We performed something to do with Little Red Riding Hood and the forest and I was a tree. Yes, I wore a seriously amazing tree costume (along with about 30 other trees) and danced, twirled and sang in the background when we performed at the Shrine auditorium. Yes, I have actually been on that stage 

.
We didn't win. Probably had something to do with my singing ability or lack thereof. But Indy and I couldn't wait to see Houston's Delta Tau Delta Fraternity perform with Pi Beta Phi in their "Chinese New Year" act.
The theme for Pepperdine this year was holidays. Here are Houston and Indy when we first arrived on campus in front of the Smothers Theater.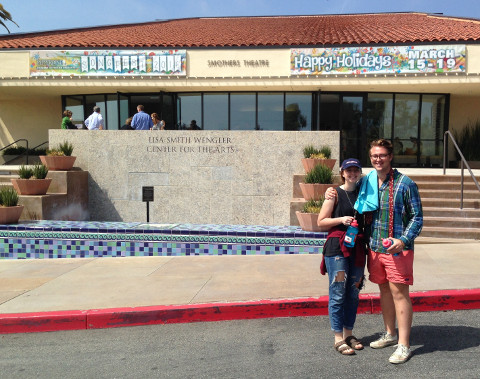 We grabbed a quick lunch and then Houston had to head to makeup and Indy and I made our way into the theater to find our seats. It was an AMAZING performance. Seriously….the hosts (actually the 5 hostesses had the most incredible voices) and all six of the groups competing were awesome!
At the end, all of the groups got up on stage….along with alumni….to end the show with a special song. Check out one of Houston's frat brothers taking a group selfie during the final closing song. No photos were allowed but I sneaked this one. Those are the 5 hostesses in the long dresses in front.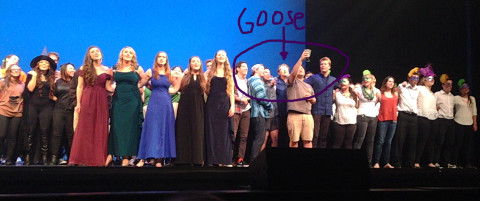 OK, I must tell you about a cool score that sold while we were at Pepperdine. You gotta love the fact that you can be chilling in Malibu in 60 degree weather while your stuff that is back in your 90 degree office keeps selling on eBay.
Sold three of these dinner plates and with shipping it came to over $110. Yay for eBay!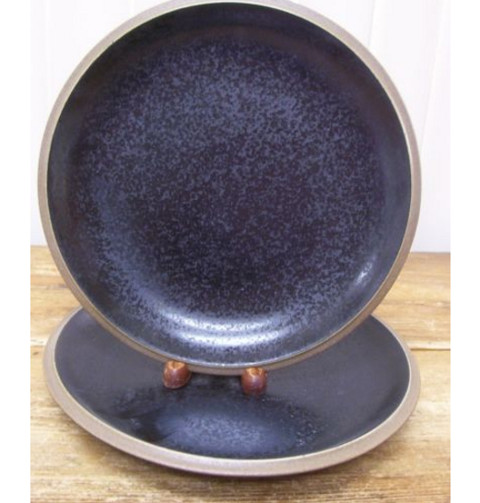 Click here
 to see this auction.
Indy and I had purchased tickets to see both the matinee and the final evening performance and I am really glad we did. Houston had a few lines and danced his heart out. He was AWESOME and looked so happy to see us in the audience. After the matinee, we posed for a selfie and then it was off to find some dinner before his next make-up call.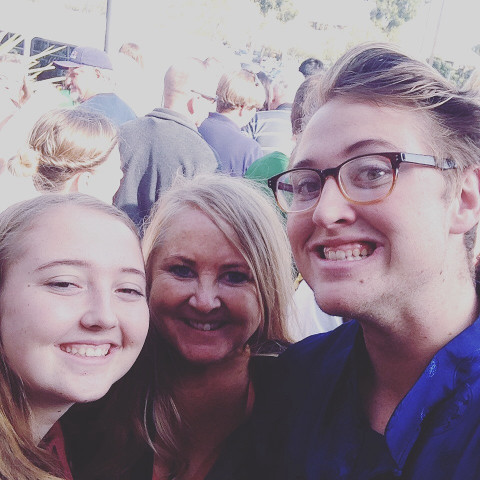 During dinner we discussed all aspects of the show and it was really interesting. The producers for the six different groups start work in September writing the scripts, getting the songs picked out and choreographing the entire 12 minute performance. The actual participants start just two weeks before the show starts and can only practice from 10pm to midnight every night. WOW!
I also asked Houston if he felt left out because we hadn't brought him flowers. Most of the parents in the audience were holding flowers for their kids during that matinee performance. He said it was probably the only time he would be performing in a production as professional as this and that flowers would be nice.
It is funny because every time Indiana is in a performance I try and make sure that someone from the family sees every single one and that she always gets some type of flowers or candy gift afterwards. Note to self…get Houston some flowers before the final evening show.
Well, I forgot 

 until Indy and I were in our seats for the evening performance and I saw (once again) all the parents with flowers. I said to Indy, "should I miss a little bit and run out and get him flowers?" she said Yes! His group didn't come on until after intermission so I had plenty of time.
I got back quickly with my bouquet and hardly missed any of the show. Houston's group didn't win the sweepstakes but they had won the last two years in a row and weren't expecting it. The group that won did a great job! After the show, I took an action shot of Houston holding his flowers and Indy cracking up. Such joy!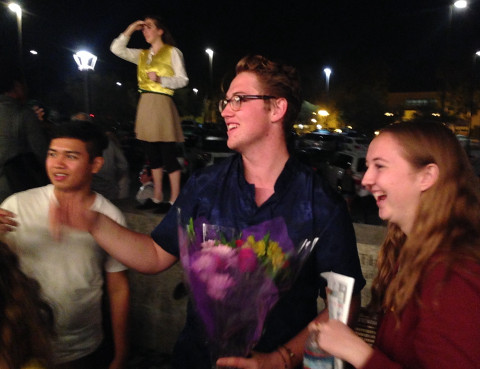 The next morning the kids wanted me to take some photos of them around the hotel….they really miss each other. Well actually it is a motel but still costs $150-$200 a night. Malibu!
So I had them pose at the bottom of the stairs. They thought it was strange and both put their heads down. Whatever!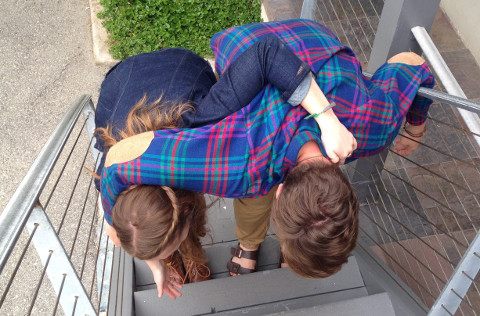 Then I got a great shot of them with their heads up.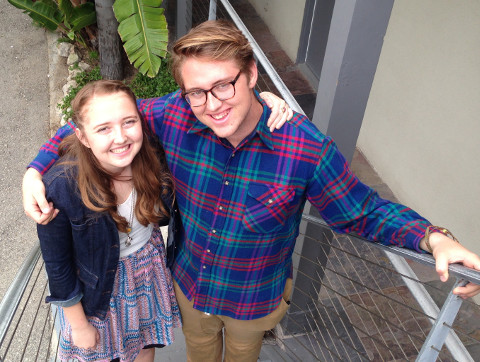 It was really cute after Songfest, Houston said to Indy in the car….(and he has never encouraged her to go to Pepp)…"Indy, I am not trying to persuade you in anyway but if by some random chance you did decide to go to Pepperdine and were in Songfest your Freshman year, I would be back from my year abroad and we could be in the same Songfest group.". That was soooo priceless!
After our photo shoot it was time to hit the road back home. Indy and I said goodbye to the Goose after dropping him at his dorm and we hit the pavement. Indy needed some props for her play and I needed to do some serious thrifting/sourcing so we hit a few garage sales in the Palisades…Pacific Palisades.
It was crazy, one of the sales was on Iliff street and that street name sounded so familiar. I said to Indy, I think my USC grad school friend lives on this street. I send her a Christmas card every year. The street was darling and we met this really nice bunch of ladies at the sale. They were super creative and had amazing stuff!
For $30 Indy and I were able to purchase two vintage suitcases (think circa 1950's-1960's) for Bye Bye Birdie. I will sell them on eBay after the play is over.
Here is Indiana with Kelly (the lady holding the sale) and the suitcases. If you are ever on Iliff street in the Palisades and see a sign for a sale…you must check it out 

.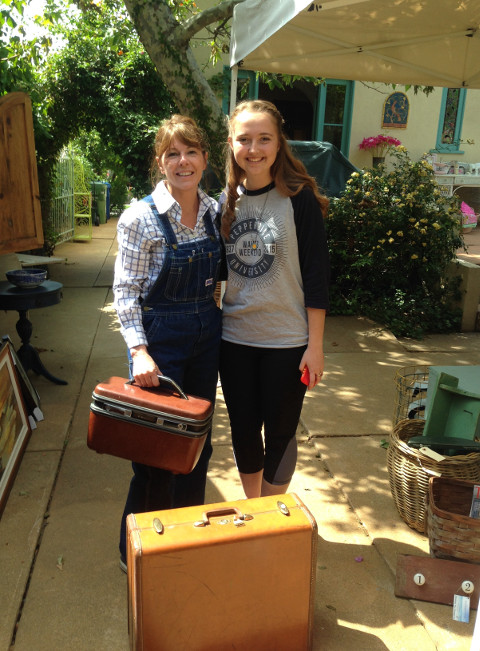 I also bought a Noritake Fjord Platter from them that is already listed on eBay. I am a creature of habit and already had two of these listed so it was fun, I got to do one auction listing for 1 platter and another for 2. Luckily the platter I bought from Kelly was much cleaner than the two I had in the back warehouse 

.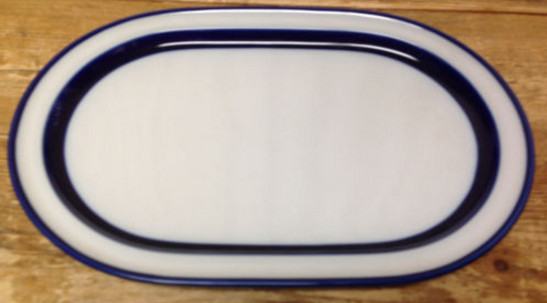 Click here
 to see this auction.
After the garage sales we hit the Goodwill in my old neighborhood of Brentwood…Barrington at Santa Monica. I found 5 Guy Buffet Williams Sonoma dinner plates in the Chef Series for $3.99 each. They had been out for sale since January. Wow!
They are worth about $50 each. Here is one of my listings.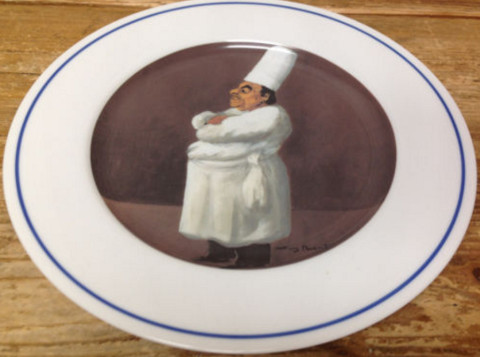 Click here
 to see this auction.
Indy also found a few UGLY vintage dresses that may be great for her character Mae Peterson in the play. We also found a piece of luggage that may work (since they need about 10 suitcases) but when we asked the price it was $19.99 and it was a piece of plastic crap. At least the ones we got at the chic garage sale were definitely saleable afterwards! The one at the Goodwill was an epic fail.
We had spotted a Cat rescue thrift store across the street from the Goodwill and after my haul of baskets, dinnerware, Starbucks coffee mugs etc. from that location we knew we would need to park close.
BUT, there was absolutely no parking. I finally went behind the building and found a doctor's office that had about 18 spots and was closed on the weekends. He had tow away signs all over but what kind of person would tow your car while you are in a cat rescue thrift store? Well, I was about to find out.
My Indy is definitely a rule follower and I am a rule bender. Not too much of a difference…. but enough. She was like "mom you can't park here" and I am like "Yes I can…we will be here for 10 to 20 minutes…show me a tow truck that can get here that fast?"
In any event I took a photo of Indy in front of their darling sign for the stray cat alliance. What is better than a lost cat licking an ice cream cone?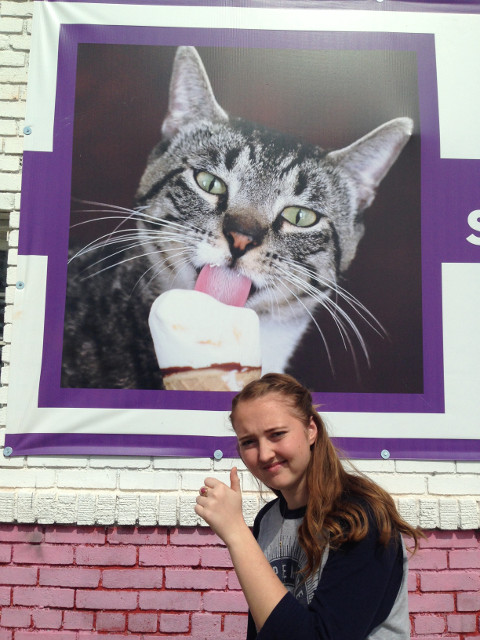 Then we went inside and found some cool stuff. I said to Gabriel at the front desk, "You really need parking….what a nightmare…we had to park in that doctor's office." He said "NOOOOOOO" you must run out there immediately and move your car. A tow truck may be here already. Seriously?
He explained to Indy and I that the Doctor sits home on the weekends and watches cameras of his parking lot. Apparently the Doctor had a contract with a towing company and they must split the money because Gabriel said they are record fast at towing cars.
How mean to leave 18 empty parking places that could help an animal shelter group like stray cat alliance's thrift store. But it takes all kinds. I threw the SUV keys to Indy and said go out there and start the car and I will finish paying.
By the time I got out there a lady in a red car had pulled in and Indy she would need to move immediately. Indy had already backed out of their "precious" parking space. Indy was visibly shaken but I could only shake my head and wonder why why why?
Here is one of my listings from that darling store…..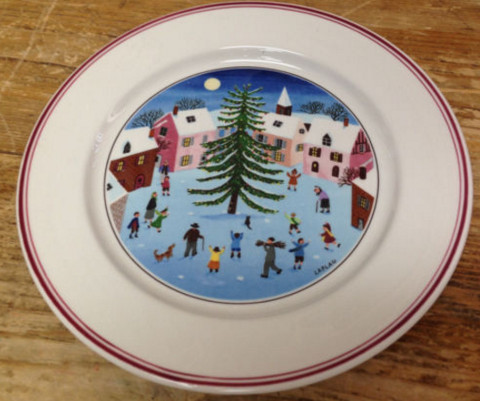 Click here
 to see this auction.
We finally got on the road after our adventurous weekend and it took us about 2 ½ hours to get home. Indy slept the whole way. It was crazy, but around the Cabazon Outlet malls, I saw traffic come to a standstill on the westbound side. Thank God we were going eastbound.
The gridlock continued for about 20 miles until the Palm Springs turn off. It was bumper to bumper and completely stalled. I couldn't figure it out until I realized that the BNP Paribas had just finished and the 500,000 people that were out here for the event were all heading back home to the west.
I shot a lot of pictures because I just couldn't believe that this type of gridlock could go on for 20 miles. Here is one of my favorite photos because it shows how beautiful it is for us when we come up over the peak and see those windmills against a blue sky. AND then see the gridlock on the other side. It is so good to be HOME.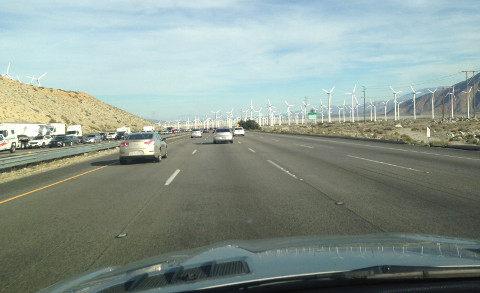 As I mentioned in the begging, both Volume 1 and Volume 2 of the Coffee Mug eBook are finished! Yipppeeee. There is still time to pre-order at our current price before the price goes up when the final Volume 3 is released in April.
Check out this email I just got from MissyM.
"Lynn,

I have already read Volume 2 and learned some great info! Especially the part about the *** dinnerware mark. My girls love that store – we just shopped at the Texas store over Christmas and I still didn't realize some Ebay pieces I have listed are that brand! Also loved reading about the Ohio potteries, we are big pottery collectors living in Ohio as it is so plentiful around here.

Thanks, as always, for helping to motivate and educate me in a fun way! Now I'm psyched to get the 1000 coffee mugs in my basement listed…there may be some real gems down there! I'm impressed with your selling prices too, I might go in and raise prices on my listed mugs that have been around awhile. Thanks again Lynn! Missym"
And from William….
"Hi Lynn, I enjoy reading about you, the family and the many ways to be successful on eBay. We sell in different arenas but I find some of your methods can be applied to my area. Many thanks for all of your suggestions and comments in the Coffee Mug eBook! Sincerely, William"
And this from another reader….
"Hi Lynn–I was very excited to get both Volume 1 and Volume 2 of your Cash for Coffee Mugs. I have read through Volume 1 several times and couldn't wait to get Volume 2. It certainly didn't disappoint. It is very informative and entertaining. I will definitely be listing more Coffee Mugs on ebay in the future. Thank you for your informative book. I have read several of your books and you have definitely been an inspiration to me on selling on ebay. Keep up the good work. Jean Mackey"
How in the world did I sell this coffee mug for full asking price and to whom?
It's a great story and I can't wait to add it to Volume 3!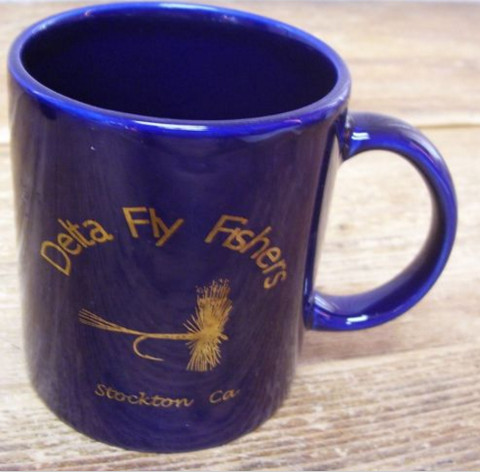 Click here
 to see this auction.
I received this email from Marianne….
"Hi Lynn, Yes I received Volume 2 and read the first number of pages. Can't wait to find the time to read the rest. I'm going on a "buying" trip next week, so it came just in time. I especially appreciate the Do Not Buy list! Thanks. Marianne"
And then this one….
"I just received Volume 2 and read it twice! Informative and a good read! Beth"
I got this email from Ina Lee….
"Hi Lynn, Got both Volumes of Cash for Coffee Mugs. I am enjoying reading. So much to learn!! Appreciate your promptness. Ina Lee Cooke"
Then I asked her if I could share her testimonial with you all…..I love her response-what a sweetheart…. "Of course, my dear. Looking forward to Volume 3 & hitting the road for some mug hunting 🙂 Ina Lee Cooke"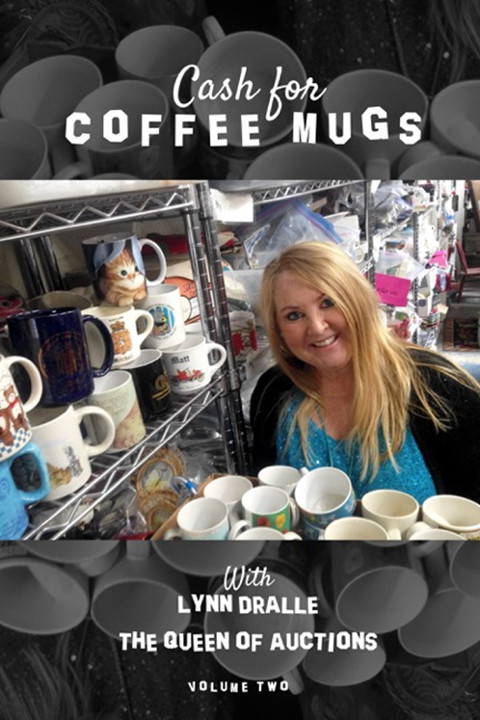 I am with Ina Lee and am ready to hit the road for some mug hunting. Good thing because in our final volume, Volume 3, I am going to put what I have taught you to the test! I can't wait.
Here is a photo of all of the mugs that I have purchased that will be in my personal Coffee Mug challenge included in that final volume. I have spent about $27.50 for these mugs…..drum roll please….let's see what I can turn that into on eBay!
Here is a link to order now at the current low rate.
Many of you have asked for more details. I think the best way to answer you all is to share my rough draft outline. So here it is:
Volume 1…already completed (125 pages)
Introduction
Overview
History of Coffee Mugs
What You Need to Know About Coffee Mugs & Licensing
Rise of Coffee Mug Demand
My Numbers.–Inventory by Year etc…
Where to buy?

Estate Sales
Thrift Stores
Garage Sales

What Should You Pay?
What to Look For:
Volume 2….already completed (150 pages)
Questionable Brands
Garage Entrepreneurs (yep a new addition…couldn't help myself)
Brands to Never Buy
Volume 3…..Coming soon
Great Subject Matter
How to Price?
Shipping
How to Assembly Line List
Sizes and Ounces
Promotional Strategies
Let's Put this to the Test
Conclusion
I can't wait to finish this eBook and get Volume 3 out to you. Those of you who are brave enough to be early adapters will save money on this eBook! If you remember, my flatware eBook started out at $77 and ended up at $219. This eBook will also pay off if you order it early.
And I must share the funniest testimonial I got was from Paula Swenson, A retired Guidance Counselor…..
"I read Volume 2 and there is only one thing worse than a *** mug or a *** mug. Of course you already figured it out. It's a **** mug!"
You will just have to purchase the coffee mug eBook series to find out this BIG secret! AND it is just one price for all 3 volumes!
This ezine was all written but then I found a super cool item at a thrift store next to my doctor's office yesterday. I emailed my web guy and said "Can I still add something"? He didn't email back so I am adding it and hope it makes it into the completed product. I paid $75.00 for this. Pretty spendy if you ask me!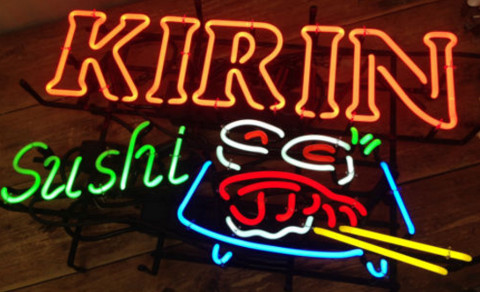 Click here
 to see this auction.
Here is one last score before I wind this up. These figural cat salt and pepper shakers sold for full asking price! Maybe it is karma since we just spent money at a cat rescue charity 

.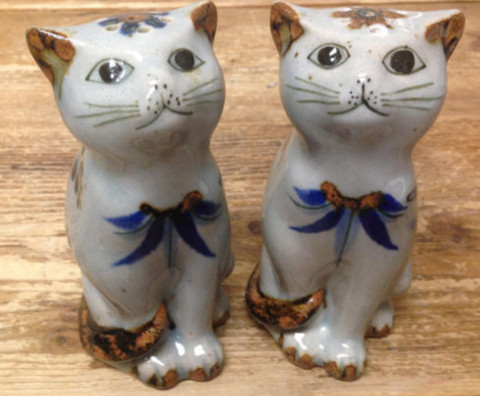 Click here
 to see this auction.
I want to end this ezine with a very Happy Spring, Happy Easter and Happy Passover.
Thanks for reading my ezines! I appreciate it!
Happy eBaying!
Lynn
---
Lynn is an experienced eBay Power Seller, author and teacher. If you want to know the eBay tips, tricks and tools that Lynn uses for buying and selling at online auction click here.
Some links in my emails to you may be affiliate links. You can be confident that I only partner with companies that I fully stand behind.