Hi!
It is my New Year's resolution to get back to writing an ezine twice a month! So far so good 

.
It has been a crazy past two weeks and I am deep in the midst of doing my income taxes. I have to get them done super early this year so that Houston can qualify for financial aid to college. I can't believe he will be leaving so soon! In fact, as he gets ready to fly the nest, the coop, whatever you want to call it, I think that I am resorting to my youth.
Check out this dollhouse that I just had to have (for myself) by the way, at a garage sale a few weeks ago. Isn't it darling? Dan, the guy having the sale, was very sweet and let me have it for $15. Yipppeeee! It has already found a home in my office and I will soon be decorating it with all the dolls and furniture that I have listed on eBay like this cool item.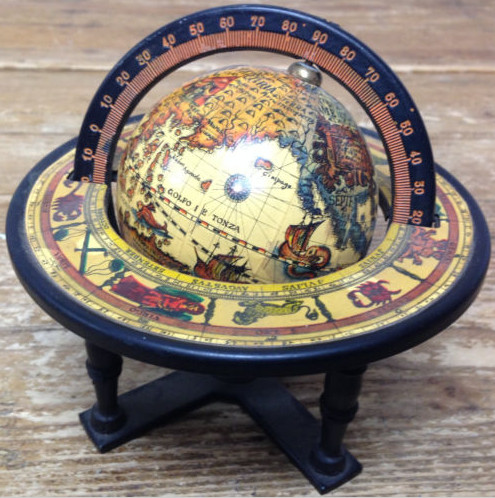 Click here
 to see this auction.
What fun!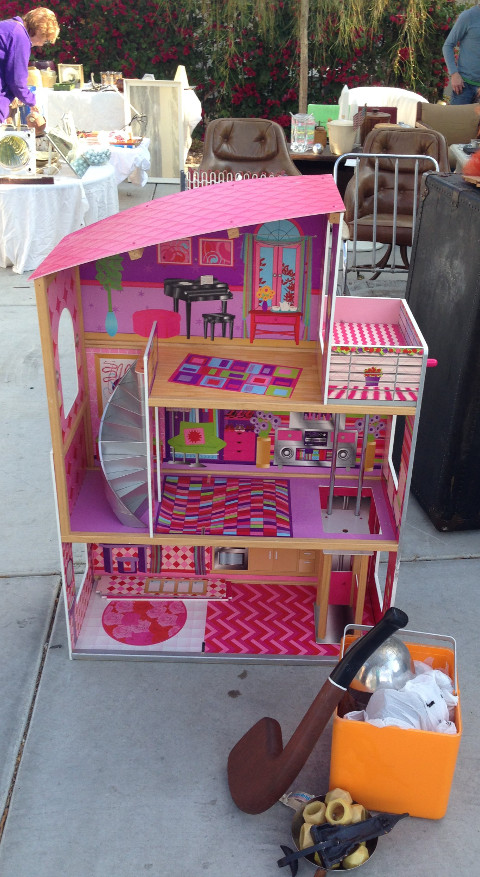 That is my pile of stuff on the ground in front of the dollhouse that I bought from Dan that I will actually sell!
In fact, here is one of those listings.
Click here
 to see this auction.
This listing is funny because it was something that Dan gave me for free to pack up my items (instead of a box). As we were walking out of the sale, my mom said "the best thing you got was that orange ice bucket". I was like "maybe, maybe not?" We will see! I do LOVE my dollhouse 

.
Here is another really neat and unusual item that I found at the "dollhouse" sale. It is a printer's block from The French Connection. I had to hold it up in front of a mirror to actually read what it said!
I am really focusing on the more unique and OOAK (One of A Kind) items because I find that I can get much more money for these items on eBay. And it is all about raising my ASP (average selling price) this year as I shoot for a 10% increase in my gross sales.
Click here
 to see this auction.
And, you will never believe who my mom and I bumped into at this sale? Sallie, one of our live Executive Summit Students. It is a small world.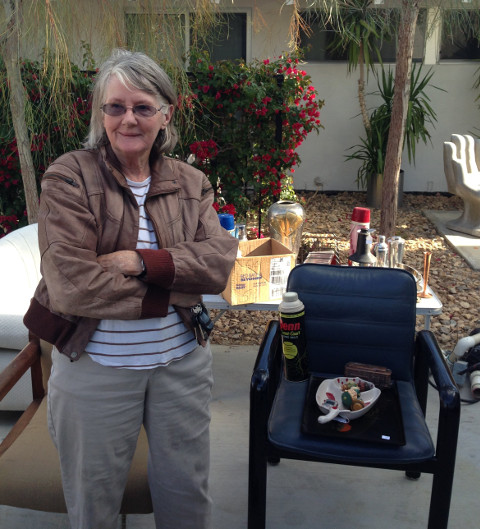 She already had a small pile picked out and you can see it on the chair next to her. I was super proud of Sallie for choosing such awesome items and was very happy that she had learned so much as a student at our Executive Summit. We got to reminisce quite a bit that day and it made the shopping even more fun than it already was!
Since, I like to start my ezines with a score, let's start this one with a very strange one! Well aren't they all strange? After my serial shopper from the last ezine, when I heard the "best offer" sound on my phone go off eleven times, I figured it was him again.
It wasn't! It was a different serial buyer who was only interested in flatware cases. Huh? Do you remember several month's back when I made the Queen's Court challenge for the month flatware? Well, that challenge motivated me to list every single wooden case in my office. And believe me, there were plenty!
The offers on 11 of those cases added up to over $550! Sold! I accepted the best offers and immediately went to send an invoice.
Uh oh… he lived in China. This was going to cost a small fortune to ship. We went back and forth and I was finally able to ship all 11 for $400. It was a great sale for me and I was very happy to get them out of my office 

.
Here is one of those cases.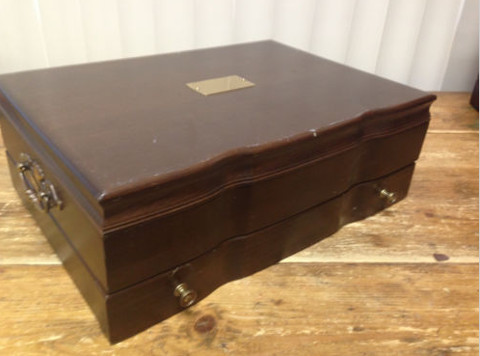 Click here
 to see this auction.
I was talking to my mom about why in the world this man would want all of these cases in China, and she said, "they are probably going to use them as samples to manufacture new flatware cases for export". Smart Mor Mor!
We sell approximately 85% of our eBay items through best offer out of our eBay store and for those of you who do not have our eBooks on eBay stores or best offers, we are offering them in this ezine for a super special low price to give your business a kick start.
Speaking of kick starts…. As many of you know, both of my kids are very involved at their schools, and sports is a big part of that. Houston has been out of baseball for the past several months with a shoulder problem. He finally got an MRI last Friday and we are praying for good news.
But in the meantime, the Xavier Varsity soccer team lost a few of their key players and coach Hunter (one of Houston's favorite teachers) asked him and three of the other baseball players to play the season. Seriously? Houston played one season of soccer in his life and he was about 7. He was on Mo's son Kelly's team and it was so much fun! But he is not a soccer player 

.
But fast forward to today. Houston is filling in as goalie. Here he is after he blocked a goal and just kicked the ball back to Xavier territory. It has been a blast to have another fun sport to go and watch!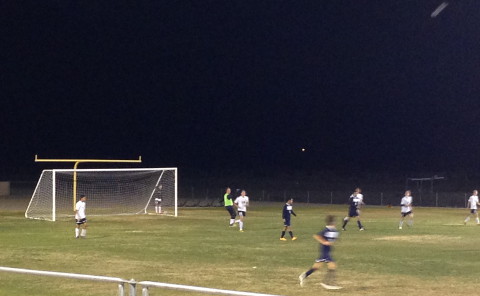 Speaking of sports, I must give a shout out to our Seattle Seahawks. What a game! It reminded me so much of Houston's small school's win over their cross team rivals in overtime. It brought back nerve wracking memories and a wonderful result!
Here are Houston, myself, Coach Molyet and Indiana on the field before that nail biter of a game. Since it was the last game of the season they had the parents go out on the field with their sons and Indy joined us!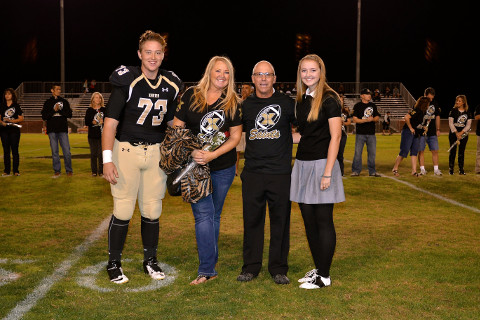 Here are the paper headlines the day after the Xavier vs Palm Desert game!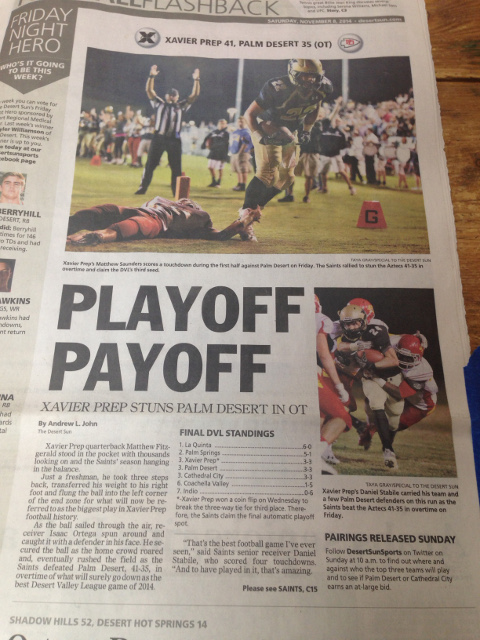 Good luck to the Seahawks as they head into the Super Bowl! Go Hawks.
The morning of that Seahawks playoff game, I had been out thrifting. What is new? At one of my favorite stores, I saw this item sitting on the shelf.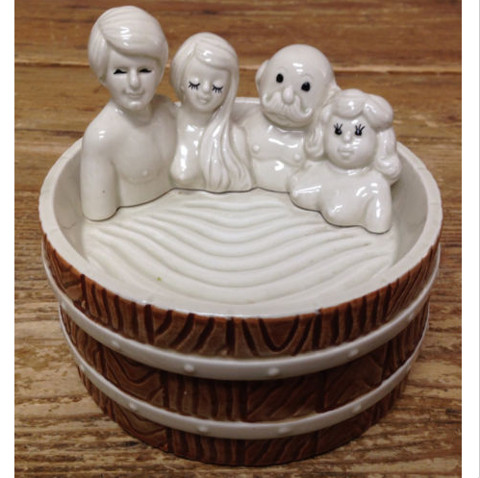 Click here
 to see this auction.
Total double take. I was like "is that for real?" I turned it over and could not believe my eyes when it was signed Enesco. OMG.
It was $11.99. I pose a question to you, would you have bought it? My Queen's Court Members were mixed on their reactions. I just hope it sells for a fortune! My experience with eBay has always been, the weirder, more unique and hard to find, the better.
Since we can't always find super unique items like my nude hot tubbers, I want to tell you about my good friend Julia Wilkinson's updated eBook that shows 20 common items that you can flip for $50 and higher. Just the title got my interest! I can't wait to start reading my copy.
Julia is Publisher of the Yard Salers newsletter, writer for auctionbytes.com and author of the award-winning eBay Price Guide (named Best of Reference 2007 by the New York Public Library).
Here are Julia and I at an eBay Live event a few years ago!

I am really excited to let you know that Flip It Again Version 2.0: 20 Common Items You Can Sell (and Resell Again and Again) for $50 & Up is now available for purchase and instant download.
After 12 years of selling online, and writing about it, Julia has developed a roster of all-star, "under the radar" items that are often passed over by other sellers. Some of them are unassuming looking, others are more in-your-face, but they are her favorite things to find and sell again and again and again.
Julia thought off and on over the years of compiling them into one ebook, but she was hesitant to divulge all these gems in one place. But then she realized there are plenty of sales to go around and she wants to share these tips with you.
Now you can enjoy this instant downloadable information in her updated eBook, Flip it Again, that is 43 pages of straight information and images.
To learn more and order now, click here.
OK time for another sports update. Indiana has been excelling at basketball and having a blast. It has been a joy to watch her grow and learn from that very first game (when she didn't know what she was even doing on the court) to last night's game where she rebounded, guarded, fought, made a basket and played like a pro….at least in her mother's eyes. That would be me.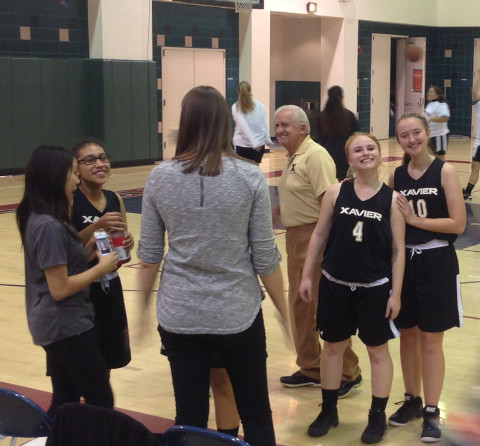 The team we played was the same one that we had lost to 52 to 2 (and Indy had scored the only basket). This second time, Xavier scored 16 and that other team 44. Xavier is getting much better!
And we only had 5 girls on the bench. What this means, is that all five girls had to play the entire 32 minute game (8 minute quarters)! That is hard and I know I couldn't run up and down that basketball court more than once without being exhausted. Oh, the beauty of youth 

.
Selling on eBay is also hard work. Don't let anyone tell you any differently. But if you love thrifting, sourcing, buying and selling and it is your passion, then it is the job for you. I can't believe that I have been doing this JOB (OK it is not a job, but an adventure) for almost 17 years.
Yes, I began selling on eBay in September of 1998. When I look back at my numbers for the past 17 years it is approaching 2 million in sales. That is crazy!
But it is scores like this one that make it all worthwhile and keep us going.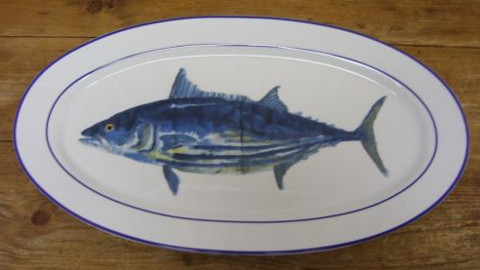 Click here
 to see this auction.
Here is the back story on that fish platter. I went to a garage sale where they had really nice stuff. A Lynn Chase Vase was marked at $50. Can't pay that. Another Lynn Chase piece was $100. Can't do that either.
Then there was this fish platter (ginormous by the way). I think ginormous is a word that I learned from my nephews and something you NEVER want to have to ship. But I made an exception. It was Williams Sonoma after all and only $5. Score in the making!
It sold for best offer of $150 right after New Years. They never paid. I relisted it in my store and I got an even higher best offer. Yippppeeee! In case you have forgotten, the majority of our items sell out of our eBay store for a best offer. Remember, my two ebooks on this subject are on sale for my ezine readers until Monday.
Another wonderful thing about eBay, is that we can set our own hours. Here is an example, just last Tuesday, the day before my mom flew back to Washington, we decided to take out a boat on the lake and invite my good friend Kelly and her mom. It was the perfect day (except it was super windy) and I almost didn't make it back to dock the electric boat….but life is always an adventure!
Here is Kelly and her mom Kay taking a picture of me and my mom after we had safely docked the boat.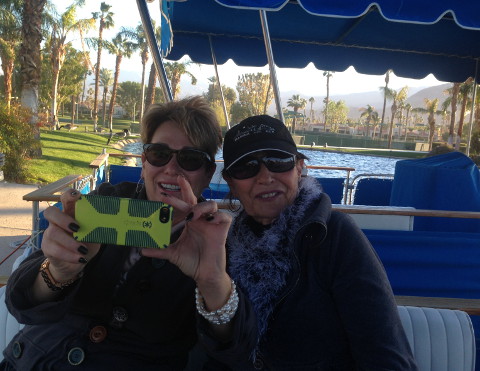 Here is that picture of me and my mom that she was taking.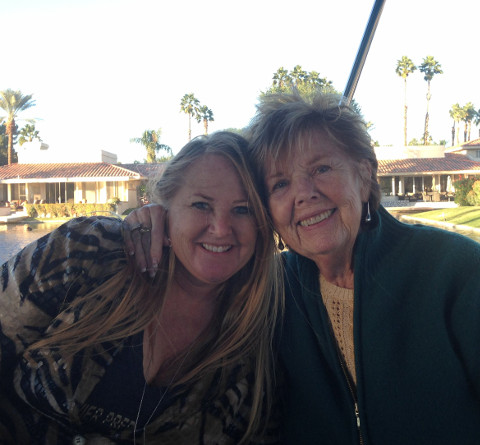 I really wished that we had done a selfie of the four of us but I think I was just too frazzled from steering the boat through the wind. I know it doesn't sound scary but this electric boat only goes 4 miles per hour and the winds that day were between 7 and 10 mph. Not a good idea! But a day we will always remember 

. My mom even made the best appetizers….asparagus wrapped in prosciutto. Amazing!
OK back to my New Year's Resolutions. As you know, one is to write an ezine twice a month, another is to increase my eBay business by 10% and another is to eat more healthy. I already work out four days a week, but I don't have any extra time to prepare healthy foods. I just grab a lean cuisine or whatever is in the fridge.
I am trying to change those habits and buy more fresh ingredients. My college roommate, Juliette, recommended a 14 day Dr. Oz jump start diet to me. I am on day 5 and so far so good. Ask me about it on day 10 ?. Just kidding. Here is a link if you want to learn more.
I start my day with warm water and a squeeze of lemon. My kids are all for this new healthy way of eating. They are also reaping the benefits. Fresh healthy salads, fish, chicken and brown rice dinners. They have always been very healthy eaters because they have more time to prepare their meals, but I am trying to learn and play along 

.
OK, a recent score and a heads up. Items with lemons on them usually sell. Don't ask me why, but they do. Check out this recent sale and the price!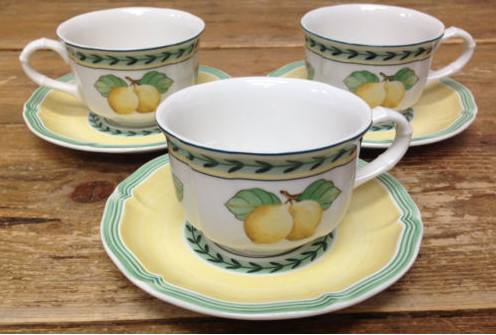 Click here
 to see this auction.
Here is Indy shaking the lemon tree across from our house to get me those fresh lemons for my breakfast. Pretty awesome that I don't have to go to the store to buy lemons!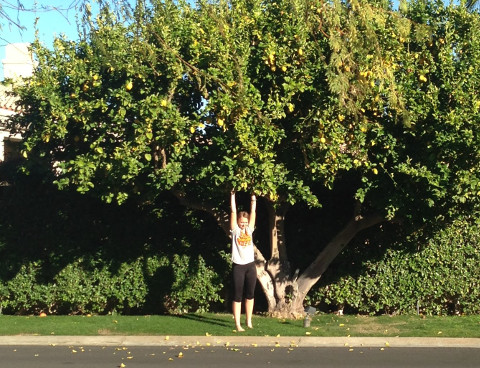 I just wish I didn't have to go to the grocery store for everything else. I HATE any kind of shopping unless it is for resale on eBay. I am serious. I LOVE shopping for merchandise to sell, but do NOT like any other type of shopping. Weird or not?
Time for me to vent…but just a little. This past week was a little trying as far as our vehicles are concerned. My SUV went into the dealership on Wednesday for two leaks. I was so thrilled to get it back on Wednesday night and that I was able to make it to Houston's soccer game.
After the game, we walked out to the SUV and the entire front end had dropped. I called the dealer and they said drive it home if it is less than five miles and then call service in the am.
Well, of course it was nothing simple. It had to be towed back to Palm Springs and they had to take it completely apart and order parts (thank God I paid for the extended warranty that goes out three years from date of purchase).
I did not have a car Wednesday (as you already know) and then Thursday and Friday. Do you have any idea what it means to share one (old) car with two teenagers for three days? I seriously hope NOT!
It was fine, but I have never been happier then when I got a phone call on Friday night to tell me that it was ready for pick up. I couldn't make it to Palm Springs before they closed at 7 pm and still make Houston's soccer game, so I emailed my great friend Lori, Garage Sale Lou's wife, to see if she wanted to go thrifting/garage saling in Palm Springs on Saturday morning and drop me at the dealer.
Well, she is just as busy as I am (if not more so) but "like a good neighbor (friend)" State Farm is there"…NO I mean Lori is there!
We had a blast, but she picked me up at 9:15 am and kept me out until 2:30 and I was so exhausted that I took a three hour nap. Seriously, I do NOT have time for naps but she is the energizer bunny and we did NOT stop. We found some great stuff!
Here is one of the items I found for $1.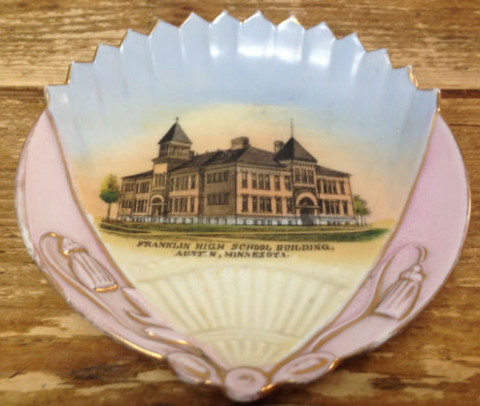 Click here
 to see this auction.
Lori and I were cracking up all day during our garage saling/thrifting because her phone kept going off with the "kaching" noise for a bid on eBay.
Turns out it was for a new in package Yugio set that I had bought for $10 at a garage sale before Christmas. You may be asking yourself now why HER phone kept going off with the "kaching" sound instead of mine? Great question! Here is that set on eBay.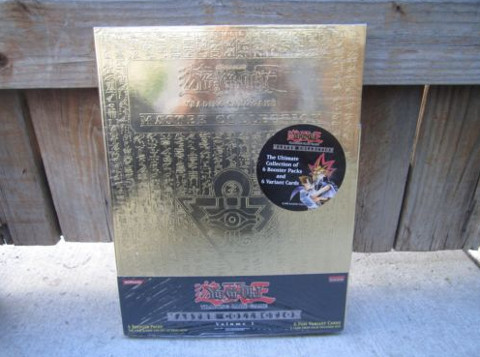 Click here
 to see this auction.
Here is the back story. I saw the set at a garage sale before Christmas and was hoping that it was a NIP (new in package) Pokeman set for my nephews who are Pokeman crazy.
But no, it was Yugio and Lori's son Hunter is really into Yugio (OK he is 23 but boys never grow up do they?). So I called Lori and asked her if she wanted me to buy it for her for the $10 asking price so she could give it to him for Christmas. She said "Yes!"
Hunter loved the gift but last week, he decided he needed the money more than the set of cards to pay back his student loans (he just graduated with honors from Chapman) Go Hunter! So he asked his mom to list it for him.
It's the circle of life…or eBay! BTW, just before Christmas Lori also happened across a set of Pokeman cards that she bought for $1 for me to give my nephews….they LOVED them.
Since we are still on the subject of Lori's family which includes her husband Garage Sale Lou, son Hunter and daughter Paige (Indy's best friend since pre-school), I have a great story to share! They were invited to appear on Pawn Stars and all drove out to Las Vegas to be filmed this past summer.
Here is a link to the segment where Garage Sale Lou was featured with his English Tradesmen's bicycle.
Rick offered Lou $100 and Lou was smart enough to turn him down. Go Garage Sale Lou!
Two weeks after they were filmed for the episode, the bike sold on July 6th (my birthday ?) for $1,100 on eBay to a buyer from Northern California who drove down to Palm Desert to pick it up herself.
Here is Lori's original title: "RARE 1950's English Phillips Tradesman's Delivery Bicycle w/Emblem Badge England".
OMG, I thought this bike was from 1850 not 1950. Lori just told me that the badge (the gold plate on the top) was one of the reasons for the high value. The buyer was going to display this bike in front of her business. Now, what is the bike buyer's business? Lori, get back to me will you please?
Just a heads up ….what you see on T.V. is not necessarily reality. And as we all know, we can make WAY more money selling our items on eBay than selling our items locally, pawning them or consigning them. On eBay you have a worldwide (instead of regional) marketplace and perceived value wins out time and time again!
And here is a recent listing that I hope will be a score. Just remember perceived value and price high.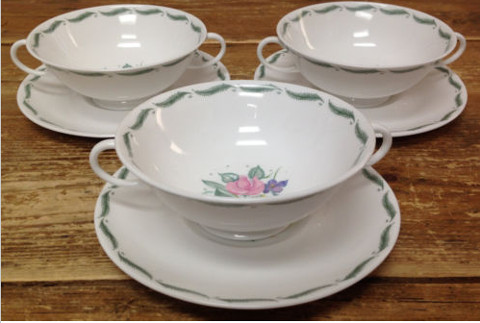 Click here
 to see this auction.
I priced these cream soups high because they were designed by Susie Cooper for Wedgwood. She is a very famous Mid Century designer and her dinnerware goes for big bucks. There was NONE of this pattern listed on the United States eBay site and the only pieces available are in the U.K. I paid $50 for the set and should do very well with it.
Ok, time to end with an awesome score and a funny one! The lady buying these offered me $55 with the condition that if the boots didn't fit she could return them and then sweetened the deal for me by saying that I didn't even have to clean them before shipping! Yipppeeee! I paid $1 for them at an estate sale and there was still fresh garden dirt on the soles. Let's just hope they fit!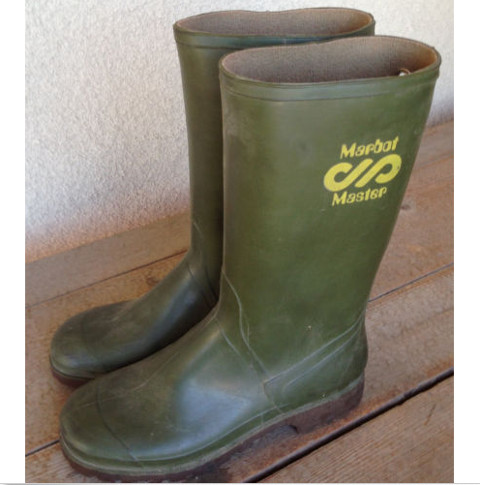 Click here
 to see this auction.
Thanks for reading my ezines! I appreciate it!
Happy eBaying!
Lynn
---
Lynn is an experienced eBay Power Seller, author and teacher. If you want to know the eBay tips, tricks and tools that Lynn uses for buying and selling at online auction click here.
Some links in my emails to you may be affiliate links. You can be confident that I only partner with companies that I fully stand behind.