Hi!
Happy Labor Day and Happy Back to School! Our back to school has long since passed since the kids had to go back to school on Monday, August 25th. Seriously? Way too early 

.
Here they are in their traditional first day of school picture.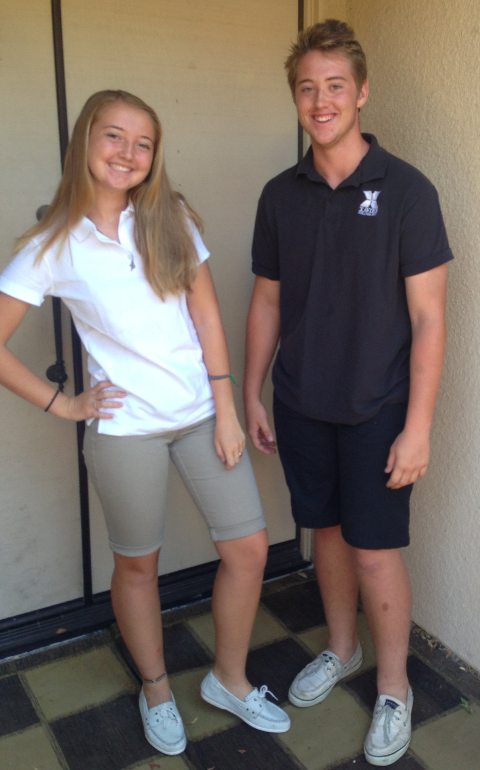 It is very bittersweet for me as it is Houston's "last" first day of school before College. Yikes! How did they grow up so quickly?
In the meantime, let's start this ezine off with a score like we usually do. Since the last ezine started off with a St. John's score, I think we will start this one off with a St. John as well.
But, this score belongs to my mom. I was at a very high end estate sale and the lady had six St. John outfits for sale. She was asking $100 each. Since my mom is the clothing expert, I thought she should have first crack at them. I called my mom and said, "I think you should invest in these, but let's try and get them for a more reasonable price." She agreed and I was able to broker a $400 deal for my mom 

.
She just sold one of the couture suits a few days ago. Here is a link to the listing.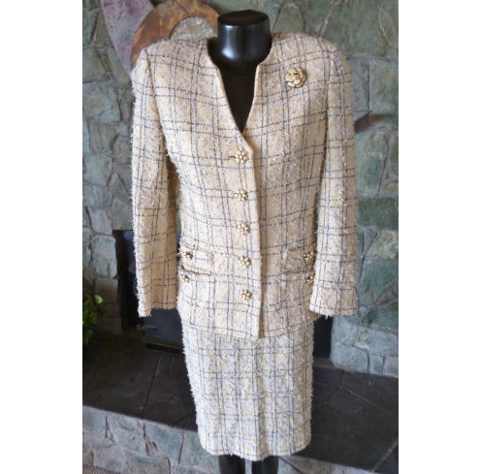 Click here
 to see this auction.
She took a best offer for this suit that was almost as much as my suit sold for in the last ezine. My mom has a great attitude with expensive clothing. She doesn't spend the money received from the sale until she knows it is not coming back as a return. I got an email from her late Friday night as Indy and I were driving home from Houston's first football game with this note…..
"Whoooooppee!"
"Dear seller,
Just wanted to let you know that the suit arrived today. It is a perfect fit and I absolutely LOVE, LOVE, LOVE it! I will get a lot of wear out of it. Glad I took a chance thanks to your return policy. I will leave positive feedback. Thank you!"
Very interesting! My mom's return policy helped to seal the deal. Keep that in mind with eBay's new changes to their return policy as explained in their Fall Announcements.
If you missed the fall seller announcements, here is a link. My take on all of these changes is that offering a liberal return policy can HELP YOUR sales.
But back to that football game in Riverside that Indy and I were returning home from at 10:30 pm. I miss baseball! Baseball games are typically during the day and I don't like driving home late at night, especially on the Friday night of Labor Day weekend, when the roads are crazy! The last baseball game I sat at was waaaaayyyy back on July 27th. So sad!
But, while sitting at that game, I took a best offer of over $100 for this armoire. Amazing!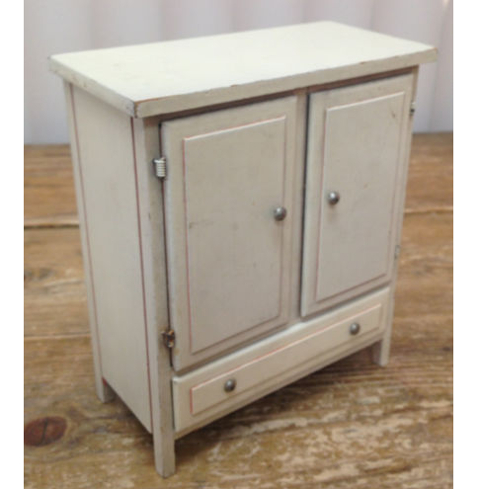 Click here
 to see this auction.
I was sitting next to my good friend Christy and I asked her "Do you think that this buyer knows that this is not a life size piece?" We laughed. But I do have to admit, that the entire time I was wrapping it to be shipped, I was worried that the buyer didn't know it was for a dollhouse. But not to worry, she loved it!
And, I have to admit (DO NOT Tell Houston this) that I am starting to love football as well. Darn it! It goes against my better judgment as a mother who is worried about her kid's safety. But Houston never fails to remind me that he did break his arm playing…..baseball.
The first game of the year was in Riverside on the RCC (Riverside Community Campus) against another private high school, Notre Dame. We ended up losing 27 to 21 but it was super exciting! (Remember don't tell the Goose 

).
Here is a photo of him making a great tackle. He is the one with the gold arm sleeve.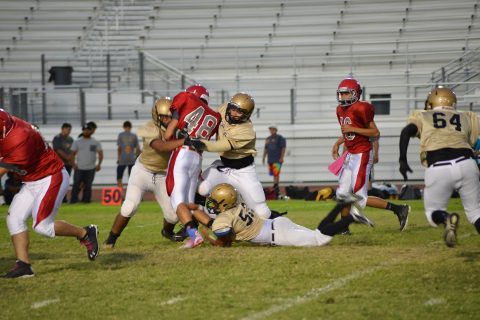 It was also really fun because Houston's good friend, Garrison, who plays baseball for RCC, came to watch the game. Here is Garrison, one of Indy's good friends, and Indy in the stands. Indy is the best!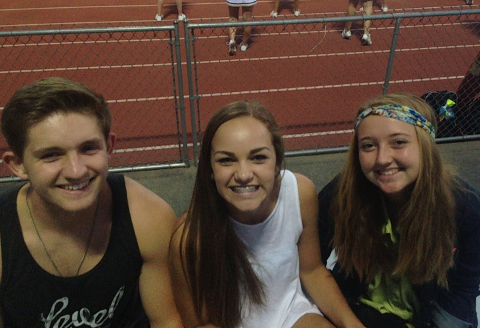 In honor of my new love of Xavier football, I took a best offer on this Pottery Barn football themed plate the other day.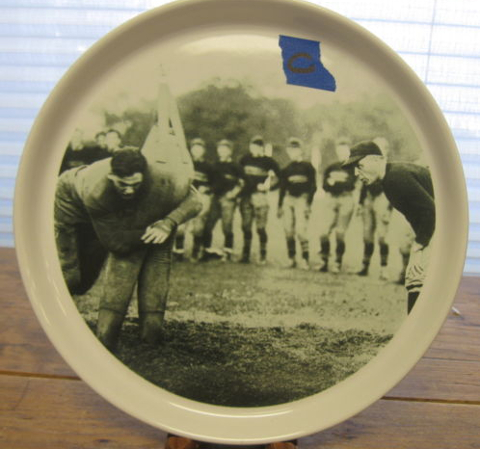 Click here
 to see this auction.
Unfortunately, the buyer has not paid yet and an unpaid item (UPI) notice has been sent to them. Hopefully, they will come through with the money 

.
I think one reason Houston wanted to play football this year is because the entire Xavier football team is traveling (by plane) up to Seattle in September to play a football game against Seattle Prep. What?
The team has been fundraising all summer. If you want to learn more about that trip please check out this awesome video that one of the football players made.
Soooooo cool!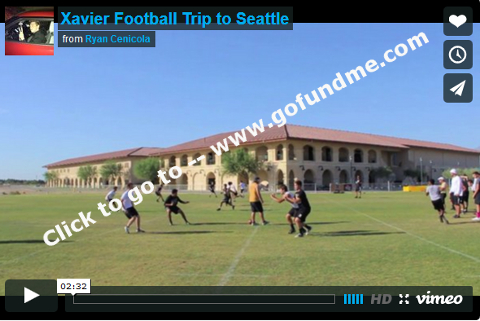 Indy, Houston and I haven't been back home to Washington in almost three years. Indy and I have decided to join in and we will fly home for a few days and get to see the football game on Saturday, September 20th in Seattle, Washington against Seattle Prep. If any of you are in the area and want to come out and support Xavier College Prep, I would love to meet you and have you help us cheer!
One of my sorority sisters from USC attended Seattle Prep and so did her husband! They live in Seattle and their daughter attends SP now. They will be at the game! One of my best friends from High School's daughter also attends Seattle Prep and she will be at the game as well! How cool is that?
Oh yeah, my brother is flying up from LA for the game and my mom, my dad, my nephews and their dad will also be there! I can't wait. The only person from this photo that will be missing is my sister, Kiki. But I know she will be there in spirit rooting for her little Goosie.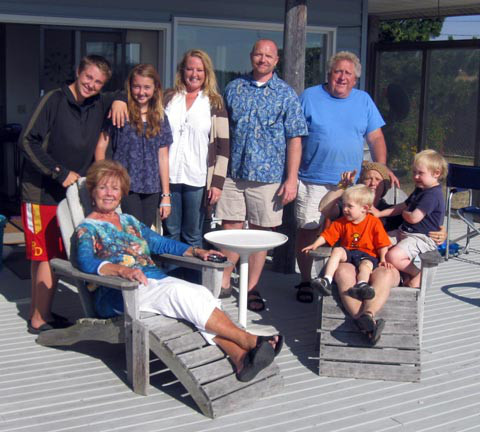 Goose, aka Houston, is super excited because he just found out yesterday that he is the starting Center for the offense. My dad is even starting to come around to support this whole football "charade" since he played Center for Bellingham High School back in the day! I wish I could find a photo of that from the yearbook.
OK, cool! One of my mom's best friends, Kay, from high school just emailed this photo of my dad from the 1952 BHS yearbook (although it is not a football photo it is still so awesome). Seriously, do he and Houston look alike? I think so. All Houston and Indy could say when they saw it was "He looks so young" 

.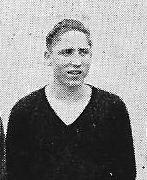 Kay also sells on eBay and has even attended one of my live events. Here is a link to one of her current listings for a hair receiver. Do you know what a hair receiver was used for? This is from Wikipedia….
"A hair receiver is a small pot, with a hole in the lid, kept on the dressing table in the Victorian era to store hair removed from brushes and combs. The hair was recycled in a number of ways—notably for stuffing small bags, about 8–10 centimeters across, called ratts, used to bulk out women's hairstyles. Human hair was also used for stuffing pincushions and small furnishing cushions."
Please check out Kay's store!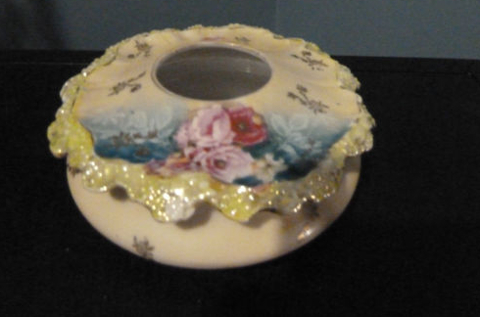 Click here
 to see this auction.
Speaking of live events, Houston is the class of 2015 and Indy will be the Class of 2017 and in honor of both of my kids, I have been inspired to do a live event this year. Yay! I am super excited about it and it has brought more briskness (is that a word?) to my life 

.
Four seats are already taken. Don't miss this one because we don't know if we will do another!!!
I am excited to announce our first live event in over three years. I hope you will join us in Indian Wells (The Palm Springs/Palm Desert area)! The time has FINALLY come to bring together a small and exclusive group of students. This select group will consist of just ten executives. Yes, you are an executive because no matter what level you are currently selling (beginner, intermediate or advanced) you are still President & CEO of your own business! That is the beauty of eBay. The American Dream! This new event will be held in a lush private room with incredible views at the Indian Wells Miramonte Resort.
Here is a photo from the balcony of the room where the executive summit will be held.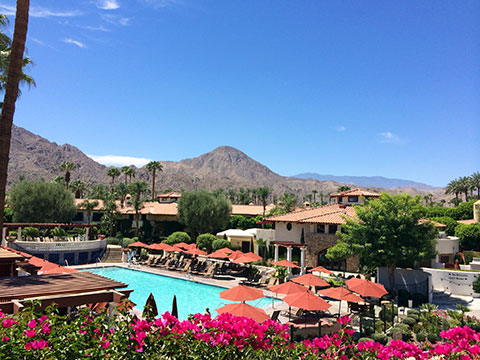 Back to School, Class of 2014/2015, is named in honor of my kids and the remarkable experience that they have had at their private school. The smaller group environment that a private school affords has benefited my kids in ways beyond explanation. And, now I want to offer that same experience to a select group. Even though we are in an exclusive setting, don't worry; it will still be all about the fun involved in selling on eBay.
We will be sourcing (thrifting and garage saling) and revisiting all of the basics including, assembly line listing, shipping, running an eBay store and day to day tasks. We will bond, network and learn how to improve our eBay business all in one action packed weekend. The biggest difference is that the Class of 2014/2015 is going to leave with the ultimate graduation diploma. A written business plan for the year ahead to guide you month by month, all based on your individual needs.
For the final day of the event, we will graduate to an executive boardroom complete with a huge conference table to gather around, plush chairs and wireless Internet.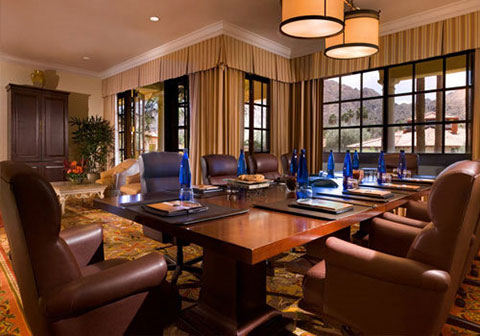 Four of these chairs are already reserved. One for a student from California, one from Ohio, one from New York, and one from Georgia. Don't wait too long to reserve your seat!
Check out some testimonials from past live events.
This is what Kimberly had to say
about
Live Boot Camp 2010: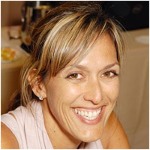 Hi Lynn,

Thought you'd like to know about those Terra Cotta plates you showed me at the thrift store. I bought the set for $12.50 and listed them in my store yesterday. I woke up and they all had sold. I still have to list the 3 bowls, but the gal who bought the plates already requested to purchase any other pieces I have.

So far (w/o the bowls) I've made $111.89. I listed the dinner plates at $9.99. Anyway, thanks for showing those to me!! I went to Goodwill yesterday and bought more Home plates. Hopefully they'll do as well.

Also, Serena recommended that I buy a glass drinking Jelly Jar. I bought a clear glass one and then found some cobalt blue ones at the last thrift shop. I listed the cobalt ones for $9.99 and one sold today! I bought them for 75 cents.

I went to work out and MORE stuff has sold!! Life is GOOD!!! Thanks so much for your WISDOM AND ENCOURAGEMENT!!!! SO APPRECIATE YOU!!!

Kimberly
This is what Serena Lee had to say
about
Live Boot Camp 2010: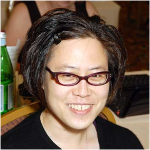 I want to thank you again for putting on such a great Live Boot Camp for all of us. The 2nd time was really the charm. I really enjoyed learning from you, Houston, Indy, and my fellow attendees. It was such fun going to all those thrift stores and garage sales, "working in the field," so to speak. Thank you, too, for all the great laughs, esp at the restaurant, with the White Elephant. That was a definite highlight of this year's Boot Camp .

I know you had a lot of help with Live Boot Camp, so please extend my sincere thanks to your Mom, Lee, Mo, Carmen, Jason, Deborah, and of course, Houston and Indy, for putting on such a jam-packed weekend of learning and laughs. Like wine, you all get better with age .

Coming back and attending eBay On Location, I feel really good about my eBay business. I know now, more than ever, that I can do it. I know what I need to do now to have a good, solid business. "I see the light," so to speak .

So, thank you, Lynn, from the bottom of my heart, for sharing the Dralle Method with all of us, so that we can have successful eBay businesses ourselves. I know I'm not alone in saying that your generosity and spirit know no bounds. It's so special to see your Grandmother's spirit, enthusiasm, and love of life carry on in you and your business. I know she is looking down on you with great pride. You are indeed answer to many people's prayers, for all that you do and all that you are!

Take care. Looking forward to learning more from you for many years to come!

Serena ("Is that a puppet?")
We are limiting our new executive program to just ten students. The dates are Friday, October 10th, Saturday, October 11th and a half a day on Sunday, October 12th. Make sure you sign up quickly because this event will sell out. The class of 2014/2015 is responsible for their own travel and lodging expenses. Meals will be provided except for Saturday dinner. Keep an open mind and be ready for a WOW executive experience. I can't wait to start working with and finally meet the ten students that will become the first graduates of my Class of 2014/2105 in October.
Reserve your spot now.
This is an investment in your future. It is my goal that you will begin to see results as soon as you return home – not only financially, but mentally, inspirationally and motivationally.
I am going to put everything I know from my sixteen years of selling on eBay, my business undergraduate and my Masters in Business Administration into simple eBay speak so that we can all put our best business principles and practices to work during the coming year.
Remember, as a business expense, this unique experience is tax deductible (as always, consult with your accountant.) We hope to see you there!
One of the things that we will learn at the executive summit will be how to deal with problem sales. Remember this SCORE from my last ezine?
I took a best offer of over $150 for this one figurine. Well, it turned into a problem.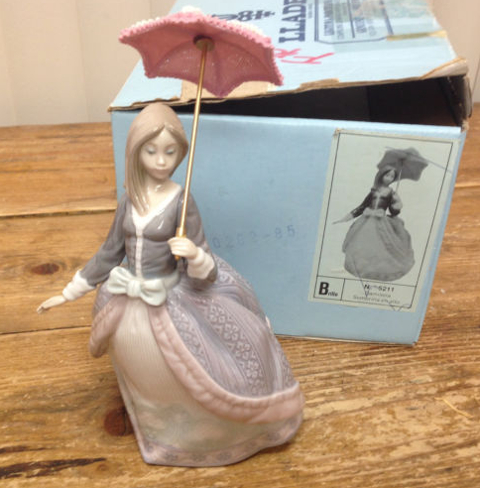 Click here
 to see this auction.
It arrived broken and the insurance that I had purchased through shipsurance would NOT pay the entire amount of the claim. They would only pay a percentage unless my customer took a hammer to what remained and sent photos of the destroyed item. I was APPALLED.
Regardless, I did NOT ask my already upset customer to destroy the item. To learn more about how to handle problems like this, the executive summit is the perfect place for you.
If attending this very special live event does not fit into your plans this year, I highly recommend joining the Queen's Court where we discussed this issue in detail.
This month on the Queen's Court I also issued a flatware challenge. I encouraged every member to list all those sets that they were avoiding 

 and even added flatware storage cases to that challenge.
Here is what all of my flatware cases looked like before I listed them. Scary!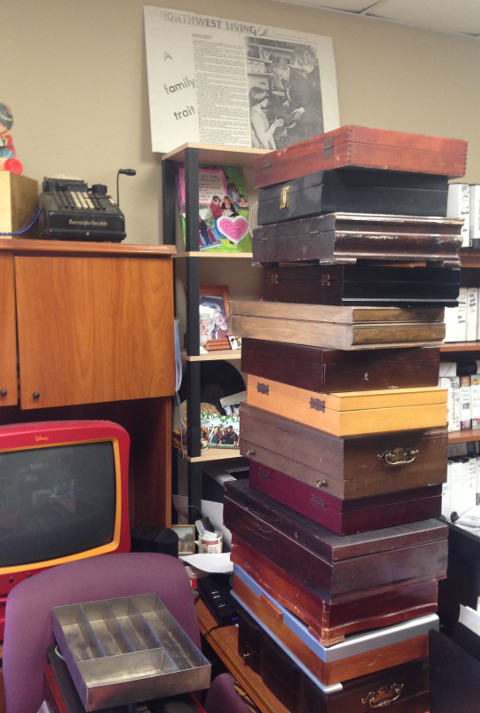 I actually sold one of the flatware cases. Yay! Here is the one that sold.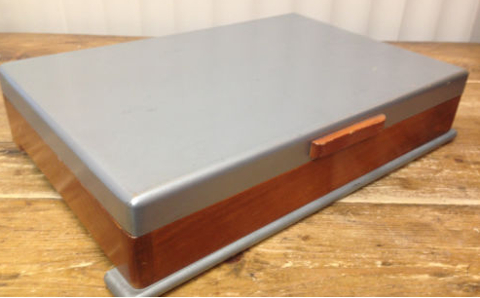 Click here
 to see this auction.
Friendly challenges are fun and encourage you to do your best. Do you remember the table full challenge that I issued to my mom in the last ezine? If not, you can read about it here.
Here are the results so far and I think my mom is winning! Although, she thinks I am. OK. I am going to let you decide.
Me: I have only sold 2 Hutschenreuther cup and saucer sets so far. $11.99 at auction.
Here is one of my current listings for some of that same Hutschenreuther set.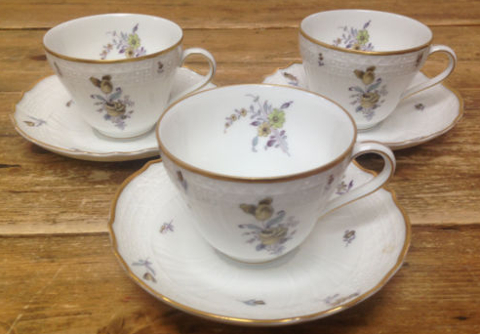 Click here
 to see this auction.
I did get a question today that said, "I would like to buy everything you have in this pattern, what would be your best price?"
I responded and said "It all adds up to $687.54. What are you offering?" Still haven't heard back.
By the way, Mo just got this set re-listed in my store on August 31st so maybe I don't have them listed at high enough fixed prices?
My Mom: B&G Butter pats $22.99, B&G Crescent Side Salad Dish $35.00 and B&G $40.00 triangular plate.
Here is a link to one of my mom's current listings for her B&G items. I want to help her sell something! See, this is a friendly competition.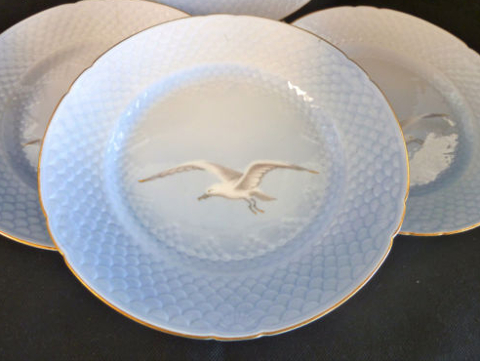 Click here
 to see this auction.
However, the reason my mom thinks that I am winning is that both the B&G crescent dish and the triangular plate arrived broken and now she is out more money than she has received. She is still waiting on her insurance claim. I hope they pay the full amount this time! Unlike my Lladro 

.
We will keep you updated as this challenge continues. We both have tally sheets going and it is a fun thing to talk about when we chat each morning.
Another thing my mom and I talk about each morning (on my way to the gym) is how Houston's college search is going. I just can't believe that next year he will be gone. I am dreading it already.
Mo and her husband just drove their son back to ASU for his sophomore year in college. Yikes! We offered to watch their darling dog, Suey. He is such a sweetheart. Here is a picture of Indy with Suey.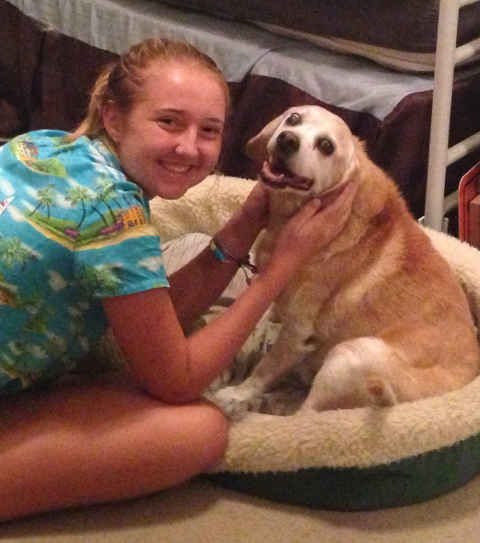 As I observed Mo prepare for her son leaving for college this year and saw her buying up furniture for his first apartment, I decided it was time to update some of Houston's furniture before it is crunch time. Yes, I know he won't be needing apartment furniture for a few years but it can't hurt to upgrade now, can it?
This is one of our BIG perks from selling on eBay. We get to see a lot of high end furniture for sale at bargain basement prices. I bought Houston a beautiful pine dresser last Sunday for $45 and as I was leaving I saw a pile of clothing for $1 each. Believe it or not, one of the items was a London Fog raincoat.
Houston loves trench coats. Not sure why he does, but for $1, I just couldn't pass it up. I tried to find the size but didn't locate the tag (BTW, a lot of men's jackets and coats are not tagged with sizes) but I knew I couldn't go wrong for $1.
I got the jacket home and it fit him perfectly! Check out this photo that I took of Houston when he got home from an Xavier rally. He still has purple paint on his face from supporting his & Indy's house, Gonzaga.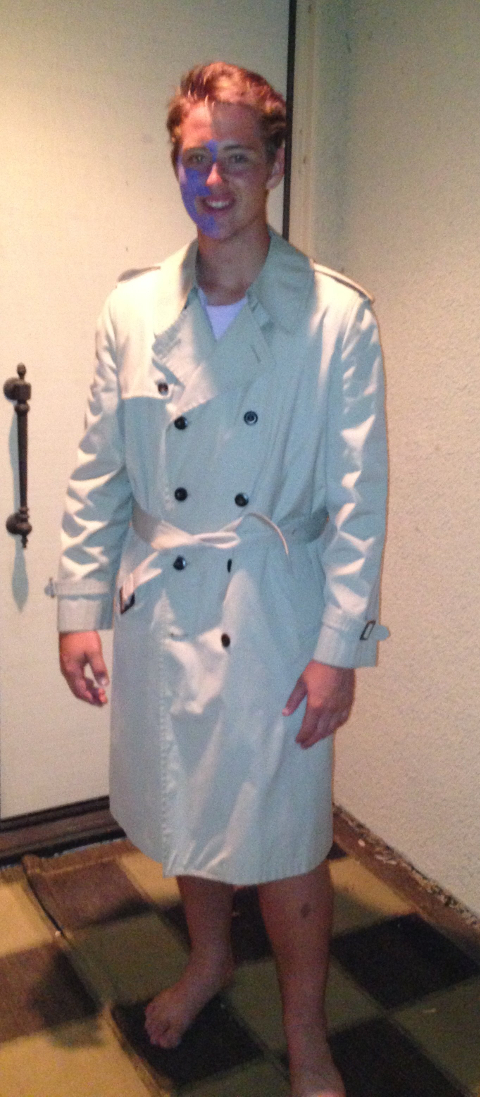 I sent the photo to my mom and dad and they both said "He looks so thin". That is what playing football in 120 degree weather will do to you. And my mom also said, "I immediately checked the photo to make sure the arms were long enough as most times Houston's arms are too long for a regular size. This one passes my inspection." My mom is such the clothing expert!
As I was leaving for the office/shop the next day, I happened to notice the trench coat crumpled up on the couch. Boys! It was hanging open and I spotted a size tag. The tag was way down on the left hand inside seam line. NEVER would have thought to look there!
It was a 44 Long which just happens to be Houston's perfect size. Wow! And it was only $1. He is planning on taking the coat up to Washington in a few weeks for our trip. All three of us are so excited to go back home and have already started packing!
We are ready to travel! It has been almost three years since we have gone anywhere by plane. Yay!
Speaking of travel, I mentioned to Houston and Indy that I was thinking about opening a pack-n-ship in the front part of my office space for the holiday season. I often brainstorm out loud and was explaining to the kids that the office space is zoned commercial and I have paid for all the required insurance and licenses. We have all the packing supplies in stock necessary, so why not offer this extra service for the short, but profitable, holiday season?
The kids thought it was an awesome idea. However, I was still thinking out loud, and said "but we would need a notary, maybe a traveling notary." Houston said, "I'll do it".
Next thing you know, he had googled all of the requirements (which included posting a $10,000 bond, passing a course, being age 18 and then taking a rigorous examination). He decided he would jump in and go for it. Something that I encouraged.
He actually followed through. I was amazed and Houston took his notary test this past Saturday very close to LAX. I emailed my brother and said, "I think we will be in your neck of the woods for Houston's notary test. Can you meet us for lunch?" "Of course" he replied. We haven't seen Uncle Lee in a while. We miss him!
Houston's test was pretty serious. He had to bring his course completion certificate, passport photos, a letter of admittance and a completed application along with a check. Many of the candidates were turned away because they didn't have all of their items. I was nervous for him.
Here he is when he completed the test and met me in the student lounge where I was listing on eBay. See my computer behind him? What else would I be doing?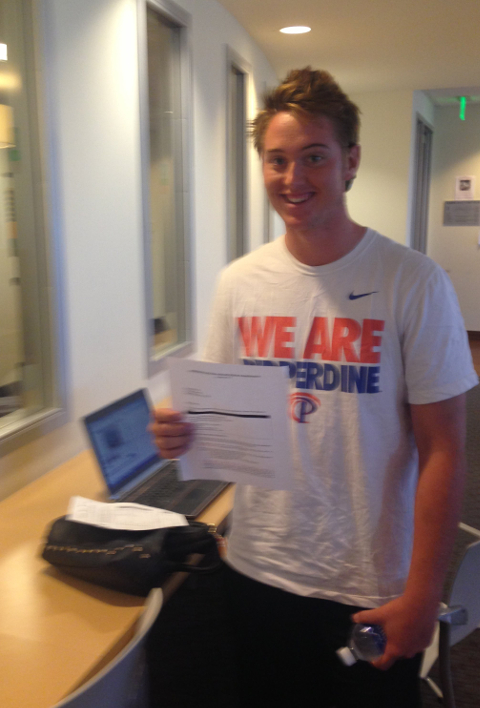 While he was taking the test, I listed an entire set of Fostoria Jamestown. Here is one of those listings.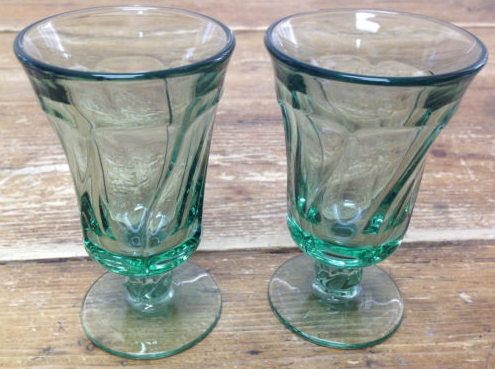 Click here
 to see this auction.
After the exam, we meant Uncle Lee for lunch at one of his favorite restaurants. The restaurant is called Mendocino Farms and their food was beyond fantastic! Here is a link to learn more about them.
Here we are in front of the restaurant.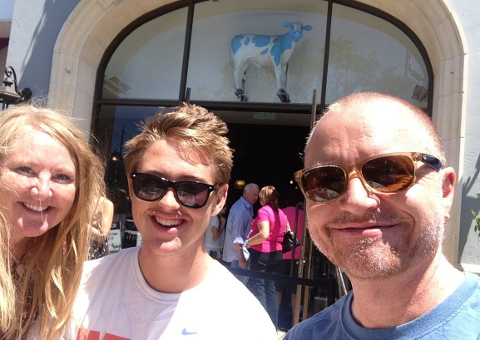 During lunch, Lee asked Houston, "When are you authorized to notarize?" I saw Houston's eyes grow really big and as he turned his head to my brother, I realized, Houston may just be a mini me. He said, "Authorized to Notarize? I love that. I can see that phrase on t-shirts, as my business card and as my website". Next thing you know, Houston and my brother were googling during the entire lunch to figure out the best website to purchase.
We all decided on A2notarize.com, which is short for Authorized to Notarize, which we all thought was way too long for a website. As we were walking to the car, I said to my brother, "Grandma would love this business name". He laughed because he knew where I was going with this.
My grandmother AWLAYS insisted that your business name MUST start with an A so you would be first in the phone book. She had started her antiques business in 1950 when there was absolutely no competition in town (or anywhere within 100 miles) and she named her business Cheryl Leaf Antiques. Her name. That is what the original dealers did. Gotta love that history!
I remember when my grandma was helping one of her protégé's start his own antique mall and he needed a name, she suggested Aladdin's Lamp Antique Mall because it started with that A. Here is a link to his current website and he is still in business – http://www.aladdinsantiquesandrecords.com. She was always an amazing mentor.
But back to Lee's and my conversation about phone books. Seriously? There are no phone books anymore, but our grandma would appreciate the effort for Houston to name his new business A2notarize.com and when we got home he also purchased A2no.com. Smart kid!
As usual, I must end this ezine with a score. Too many fun ones to pick from this month but I finally decided on this one. I had never seen a table lamp with a removable glass font. If any of you know more about this, please let me know. But it sold for much more than the $10 I paid. Actually, about 20 times as much!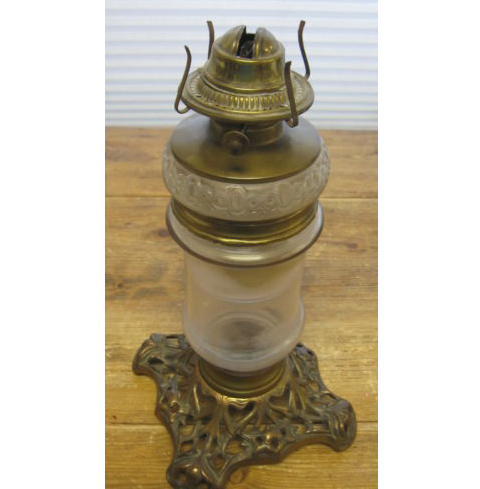 Click here
 to see this auction.
Thanks for reading my ezines! I appreciate it!
Happy eBaying!
Lynn
---
Lynn is an experienced eBay Power Seller, author and teacher. If you want to know the eBay tips, tricks and tools that Lynn uses for buying and selling at online auction click here.
Some links in my emails to you may be affiliate links. You can be confident that I only partner with companies that I fully stand behind.