Hi!
I am writing this ezine as I sit in urgent care with either a broken foot or a sprained ankle. Here is hoping for the latter! On Sunday, thinking that I am still in my twenties, I challenged Houston to a game of tennis. Bad idea from the get-go. Apparently, I am still super competitive and went for a ball that I shouldn't have. Here I am in my better days of playing varsity tennis for Sehome High School in Bellingham, WA.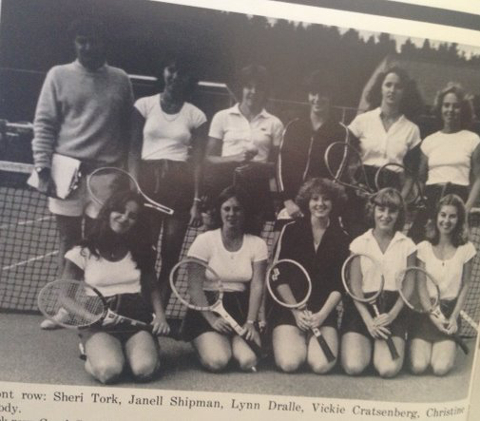 I was using the exact same type of tennis racquet on the day I injured myself. A vintage Donnay that I had picked up at a thrift store

.
Well, the doctor just came back in and, it is in fact, broken. Oh boy!
Since I started writing this ezine on Monday, I will still need to go to the office and attempt to ship the 37 items that have been paid for over the weekend. Not quite sure how I am going to accomplish that one?
Here is a screenshot of what awaits me.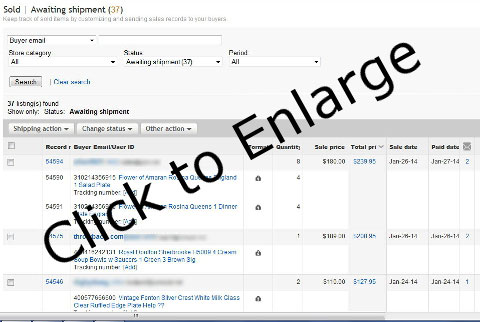 Notice that dinnerware is still at the top of my sales numbers and continues to drive my business.
Speaking of dinnerware, I bought a set of Red Wing from some of my good estate sale friends J&J for $250. I am not a big fan of Red Wing and wished I hadn't bought it. Oh well! The set was huge and instead of having it stare me in the face for the next few months, I decided to list it ASAP. Nothing motivates me more than spending a lot of money

.
Here is a photo of the red wing set.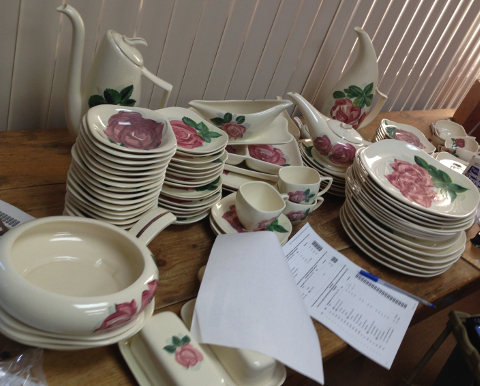 I got it all listed and was thrilled when some of it actually sold! The item that sold for the most money was what I like the least out of any dinner set. But this cup and saucer set sold for a great price! Yay.
Please note: eBay now redirects completed auctions to a different auction to sell you a similar item. You now have to click the link near the top to see the original completed listing, then click the See original listing link.
Click here
 to see this auction.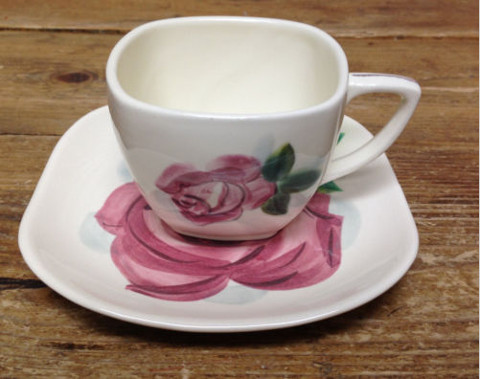 Having this broken foot is really cramping my style. Using crutches to get to the kitchen for my morning diet coke has become a nightmare. It takes me about five minutes to crutch into the kitchen. Then if I open the diet coke and have a sip, I have to stop at every crutch step, move the pop from one point to the next, and crutch step again. This takes a good 15 minutes. Twenty minutes later I am seated at my desk with my diet coke and my day can begin. What a nightmare!
Thank goodness for Jane S., Queen's Court Member, and a good friend. After three days of crutches and not being able to do much of anything, I decided I needed a scooter. I immediately emailed Janie (because I knew she had foot surgery last year) to ask her advice on brands. She immediately put me in touch with a rental company and for $35 a week, I rented an awesome model. The scooter has made life much more manageable! It even came with a basket

.
I was able to go thrifting for the first time on Saturday with Houston driving! Yay for the scooter and the Goose! Here I am in the thrift store with my boot, my scooter and my Bing & Grondahl score on the counter being boxed up!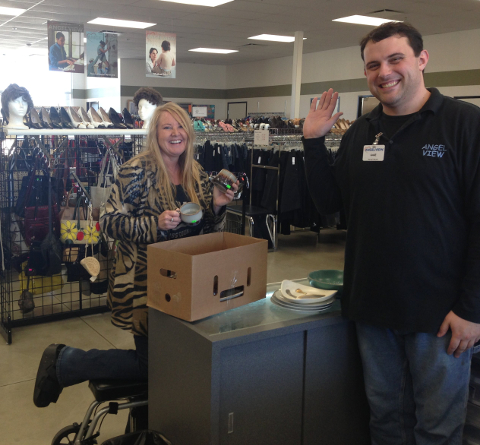 Yes, I think that after my week, I did deserve a score. The first thrift store I walked into (ok scooted into), I found nothing. But I forced myself to keep looking. I saw a beautiful baking dish but another lady had just picked it up and was looking at it. I turned my scooter around and pretended to be looking at the coffee mugs that are now priced at $1.99 each. Seriously?
Finally, she set it down and I wheeled over. BTW, NEVER show interest when someone else is looking at a piece you may want. For some reason, your interest will make that person buy it even if they had no intention of doing so.
The baker was $19.99. Whatever! Then I turned it over and saw B&G. YAY! My heart skipped a beat. Then I turned it over and saw that the price was $19.99 with "set" written below. Major excitement.
I asked one of the clerks where the rest of the set was and he said "It is here somewhere. Actually, I am surprised it hasn't sold because it is so beautiful". He found it. There were two cups, two bowls, a casserole, a gravy boat, creamer (with chip), a sugar bowl, and the original baker. SOLD!
Here is the baker listed on eBay. I have already had one question about the pattern and have high hopes for my 8 listings. They add up to $440 on eBay right now. I will (of course) raise the prices if they don't sell at auction.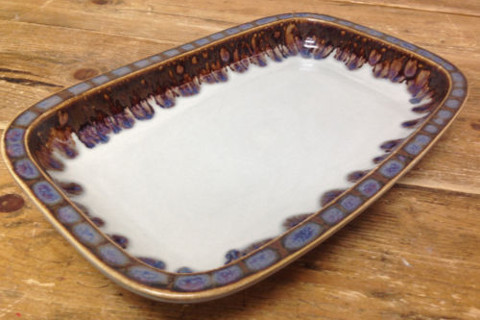 Click here
 to see this auction.
By the way, if you don't have my dinnerware ebook yet, it is on sale for our K.I.S.S. sale that ends on February 13th at midnight. Get it here now for a great price. YOU MUST be selling dinnerware.
Since we are on the subject of my K.I.S.S. sale (Keep It Simple Silly), most of our great products are on sale. The sale is in honor of Valentines day and buying something nice for yourself or a loved one.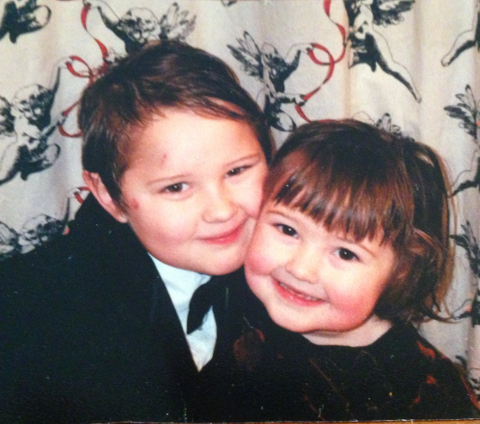 This is a photo of my kids before one of our super fancy parties…. in the old days when we lived in Bellingham. Houston has on a tux and Indy is in a taffeta dress. They were 5 and 3. So sweet!
To learn more about our K.I.S.S. sale, click here
Speaking of sweet, I got the most incredible email the other day. It made me realize that although I sell on eBay to make a living, there are so many other great reasons for doing so!
I sold this coffee mug for the regular asking price. Nothing unusual here. Until I got this email.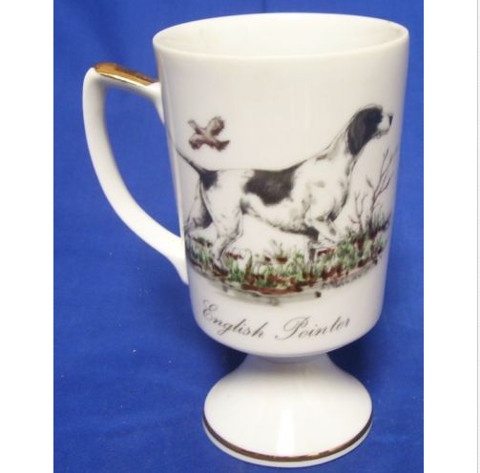 Click here
 to see this auction.
"Lynn,

Ok, i paid through paypal!

Just wanted to share why i am buying this.

About 6 years ago I was driving my daughter home from school and we had just had a big rain storm so the ditches were all overflowing.

She yelled for me to stop! She saw this cup in the ditch! Not a scratch or chip! She adores animals so she was very excited. She has drank many a cup of hot tea in it since then.

Well, to my horror, i broke it this morning. She about burst into tears saying, "i will never find another one just like it!" It has been so special to her. She had always thought that it was a special gift from God. I was so upset so i turned to ebay and you are the only one who had one for sale.

Thank you. This is so much more than just a cup!

Blessings!
Amy B."
OK, that one made me cry! Doesn't it make you all realize why we do this? Why we continue to list coffee mugs and everything else…. even when we think the item may not be anything special?
Well, it could be VERY special to someone. So KEEP ON LISTIN. Kind of like "KEEP ON TRUCKIN" from the 1970's. Whatever that meant? Of course, I had to check…from the Urban dictionary….
"general phrase of encouragement meaning to stay focused on a particular job or in general."
"you're doing a great job, keep on trucking."
I think it is such a cool new phrase; I just bought the www.keeponlistin.com and www.keeponlisting.com domain names. Not sure what I am going to do with them, but I can definitely see a t-shirt with Keep on Listin….. How fun!
Or maybe we can put "Keep on Listin " somewhere on Houston's Christmas present. It was a Letterman's jacket and it is so awesome! They are really nice these days.
Here is Houston wearing it when he took me to the doctor's office to get me fitted for my boot. Yes, I now wear a huge black boot. Very attractive

.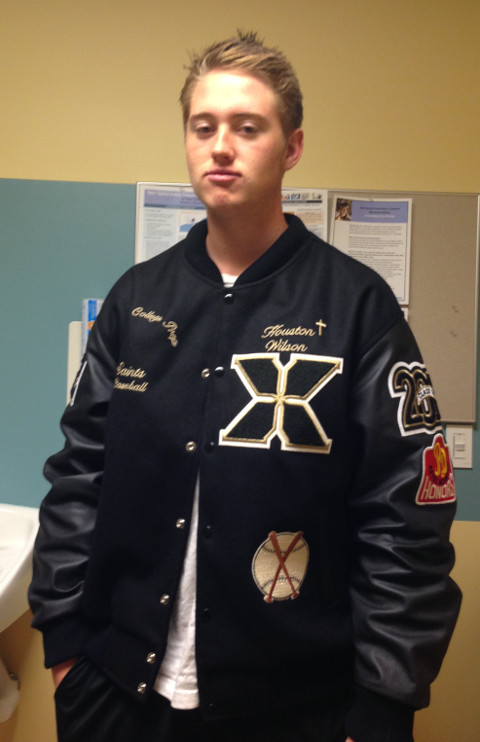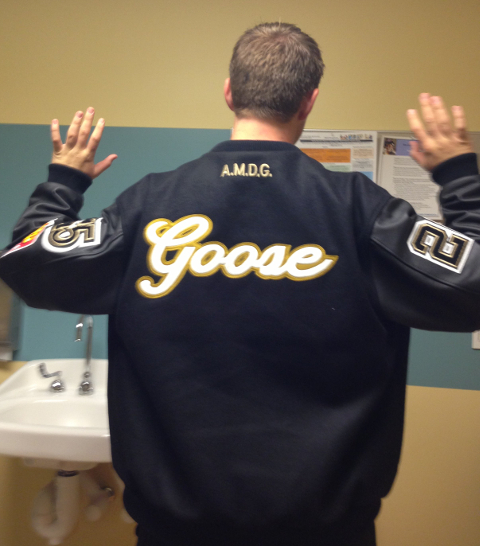 I guess it is a neat thing for kids these days to put their mom or dad's letters on their jackets. Indy has her dad's Webb letter (from Cross Country) for her letterman's jacket someday and I gave Houston my Sehome Mariner S for his. It will be added soon. Kind of a fun tradition!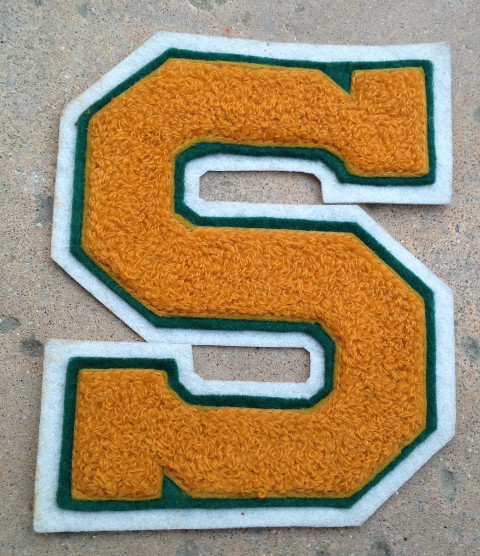 Houston's new jacket and that tennis picture from my yearbook reminded me of how hard I worked for my letter and my Letterman's jacket back in the day. My dad and I used to go to Fairhaven park every morning before high school and play tennis—it was dark and cold in Bellingham at that hour. What a great dad! He was super competitive and would always beat me at tennis, but it spurred me on to make varsity.
Apparently, I come by my competitiveness honestly ?. No wonder I wanted to beat Houston last Sunday. Interestingly enough, my dad was 47 when we were playing tennis in Bellingham and he always won. I am about that same age now. I still have a shot!
Believe me, I will be back on the tennis courts and I will triumph….just give me a few months. BTW, we all know that tennis isn't even Houston's sport. He doesn't have a service whatsoever. All I had to do was stand there. Regrets, I've had a few…..
A Frank Sinatra song leads me to the kid's Winter formal dance last night. The theme was "Fly me to the Moon" and it was held in the Palm Springs Air Museum. How cool is that?
But before we get to that, let's share a few nostalgic scores. First, is a vintage dash Hula Dancer. However, this one was original. Not one of the new knockoffs, so it sold for quite a few clamshells. (I have been watching a lot of Gilligan's Island late at night when I can't sleep because of the foot pain).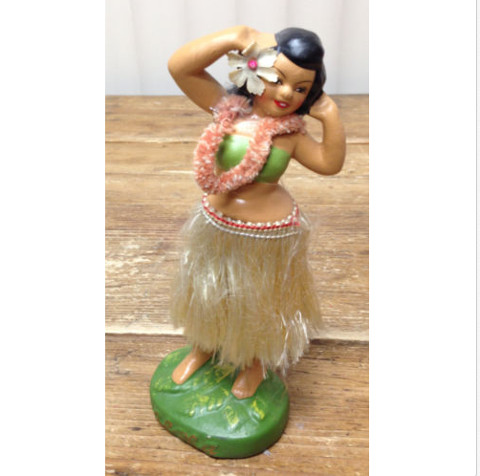 Click here
 to see this auction.
Then, there was the awesome bathing beauty figurine that was completely shattered and VERY AS-IS that I bought for $1 with the Red Wing Set that I shouldn't have purchased for $250. OK, we are back to that…. Regrets, I've had a few….
However, this one helped make that original regret just a little less painful. Check it out. It is super awesome with a hidden surprise. You MUST look at all of the pictures in the listing. PLEASE.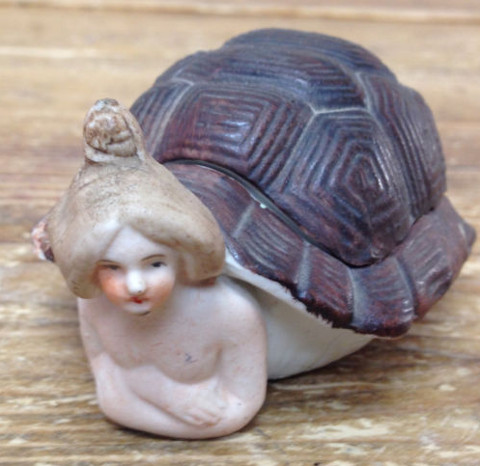 Click here
 to see this auction.
OK, now we are back to the Winter formal. Indy went with a bunch of friends and her dress was amazing! She found it a "super secret special store" in Palm Springs where everything is only $16. She is an awesome shopper—just like her mom. It does help that she has an incredible figure.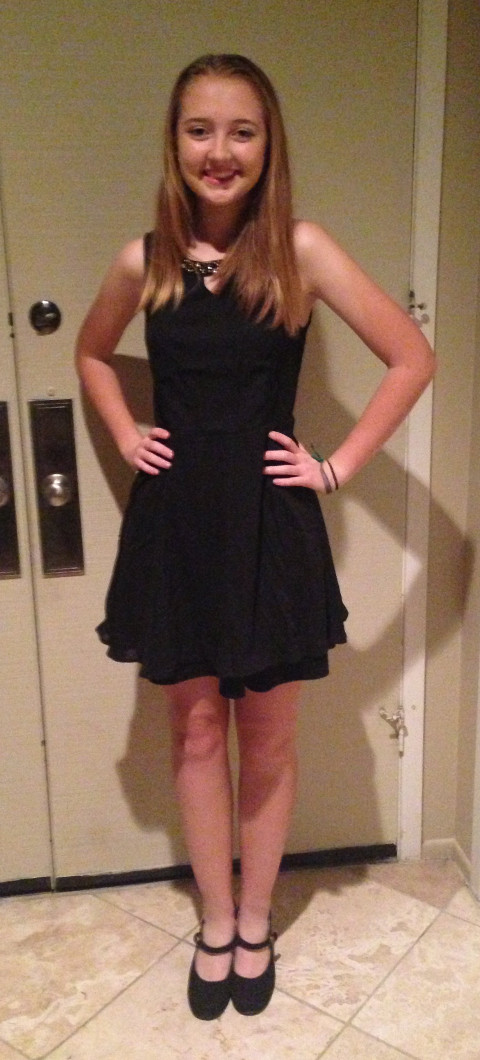 Houston went to the dance with his girlfriend Riley. They are so cute.
Here are Houston and Riley.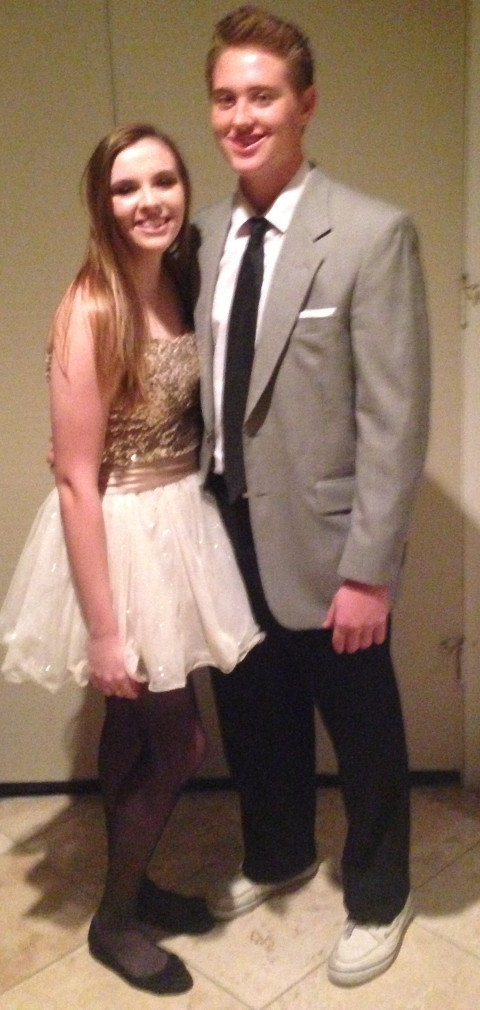 Houston is really starting to look like his grandfather (my dad) at the same age, which freaks me out.
Here is a photo of my dad at about 17. Do you see the resemblance? Mo has been saying that Goose looks like my dad for years, but I just realized it!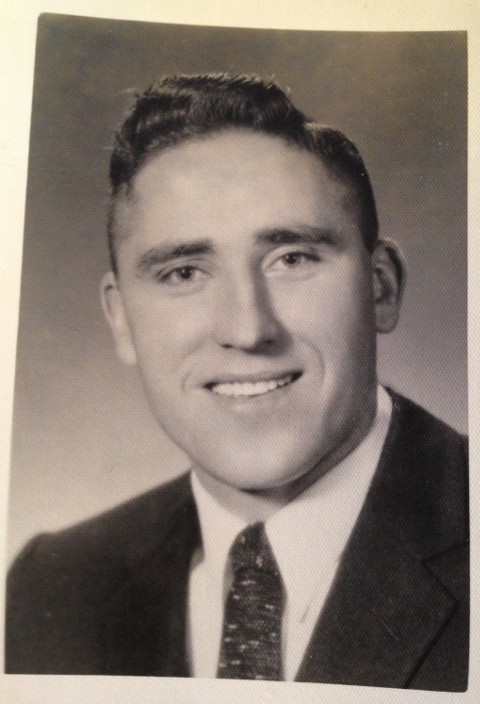 Back to the Winter formal and Fly me to the Moon. Riley's dress is so precious and the ruffles remind me of a Dresden lace figurine. Robin posted a Dresden-type figurine on the Queen's Court for us to identify this week.
Bev in Mt. Vernon had some awesome info to help Robin ID it. I was really interested in helping her pack it correctly for shipping. I reached out to some Dresden Lace eBay sellers and asked some questions. Here is the answer I got from one very kind seller.
But first, their amazing Dresden figurine is up for sale. Isn't it beautiful?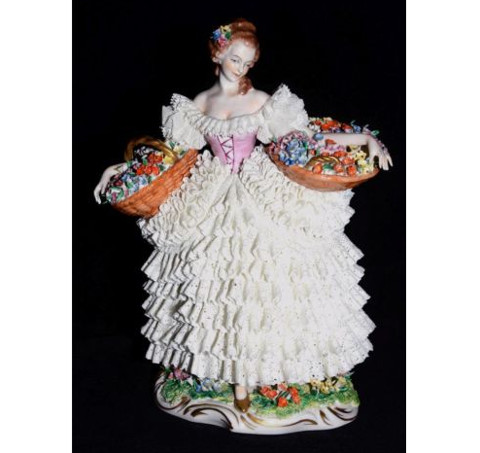 Click here to see this auction.
MY QUESTION

Hi there, I have a question and if you don't want to answer, I totally understand. I am not interested in purchasing this item (sorry :)) but have shipped many Dresden lace pieces over the years and find them extremely tricky to package. Just wondering if you have any packing tips? I would appreciate any new ideas. BTW, this piece is fantastic and your photos are wonderful. Thanks! Lynn

THE ANSWER

Hi. The key to packing these is to first wrap the entire piece in toilette paper covering every inch of it and wrap as many times as you can stand. This will create a soft mummy cushion that, unlike bubble or anything else, will not snag and damage the lace or other.

Always handle the piece by grabbing the head and then slipping your other hand under the base, never grabbing anything else. Make sure as you make the tissue cocoon you remember where delicate features are such as hands and fingers so you can indicate their location later to the person that will be opening on the other end.

After there is a good soft tissue covering you can then place wrapping tissue and bubble wrap under the piece and then surround front and back and tape on top. Do another underneath and wrap up to cover the two remaining sides and tape on top and then the corners together.

Next I mark the wrap with red marker indicating the location of the head, base and any other areas needing delicate handing. I then place it in a box that is at least one to two inches bigger around the entire piece and then loosely fill the entire box bottom, top and all side with foam peanuts. Tape and mark the box to indicate which side is up and any other cautions to the receiver.

Finally, I then seal and place this box in a larger box with at least 2-4 inches of space around the inner box and cushion all the spaces with paper or foam. Mark the outer carton with "this side up" and FRAGILE on every side and on the top.

Obviously you still want to insure everything . I would avoid FedEx unless you baboon proof the package. I have shipped very fragile pieces to Russia and all over the world this way, mainly through USPS. It is really pretty easy after the toilet tissue is on and it is great to see these beautiful pieces arrive safely. Good luck. Bargain-buy-Texas.
What great new shipping ideas! Love it. I had to laugh about the FedEx baboon comment. Cracked me up! BTW, the USPS did raise rates on 1/26 and my updated International rate chart (download version) was the QC gift for January.
If you would like to purchase my international rate cheat sheet you can learn more about it here or buy a shipped laminate copy here.
On a fun ending note. In my first foray out back into civilization (aka thrift stores/garage sales), one of my favorite thrift stores had all of these mannequins for sale at $50 each. I just may buy one since clothes are fun to sell and ship!
Check them out.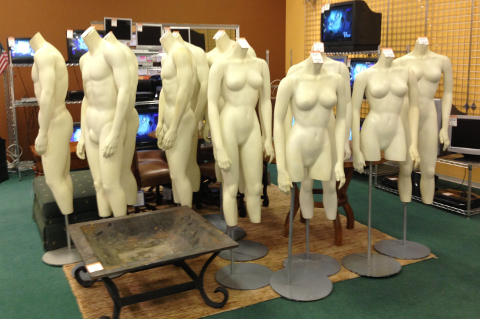 Check out this brand-new jean jacket that just sold for a great price. I have one just like it and so does Indy. It is a super clothing piece and thanks to Steve and Mel for their clothing teleseminars and their helpful advice for selling new clothes.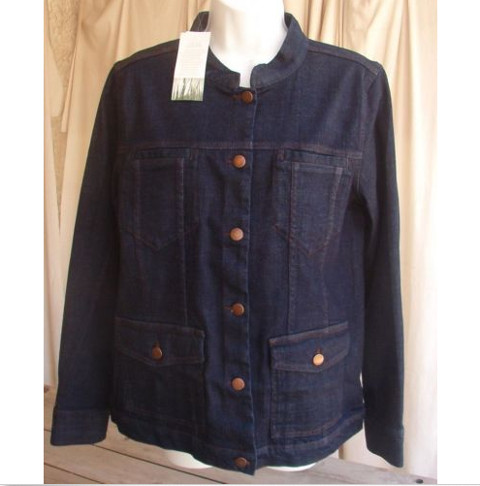 Click here
 to see this auction.
And on that happy note… and the fact that the Seattle Seahawks under the guidance of Mr. Pete Carroll (former USC coach) won the Super Bowl…we are out.
OK, one last story. It has to do with Houston meeting the awesome Pete Carroll

.
Here is Houston with Pete.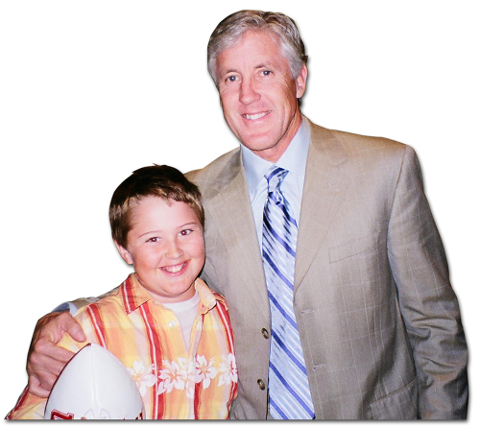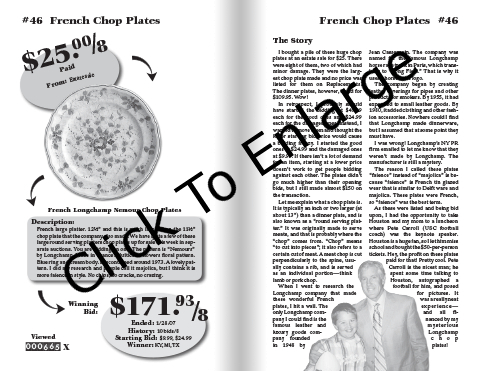 Thanks for reading my ezines! I appreciate it!
Happy eBaying!
Lynn
---
Lynn is an experienced eBay Power Seller, author, and teacher. If you want to know the eBay tips, tricks, and tools that Lynn uses for buying and selling at an online auction click here.
Some links in my emails to you may be affiliate links. You can be confident that I only partner with companies that I fully stand behind.