Hi!
I can't believe it is already the middle of October and once again I am remiss in writing my promised two ezines a month! Please forgive me . The most recent ezine (from last month) that honored my Grandmother seemed to resonate with quite a few of you. I thank you for emailing me if you did…. It was very touching to me to hear from so many of you.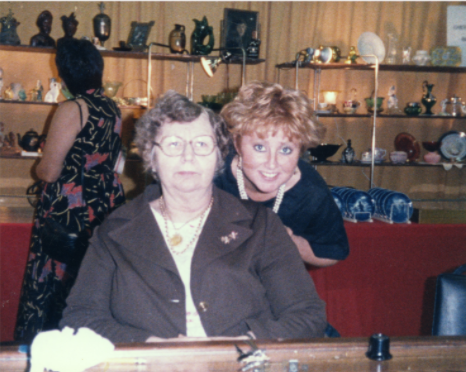 For prosperity, I must include this photo of my Grandmother and I manning an antique show booth at a Portland, Oregon Antique Show, circa 1985.
Check out the email I received from my mother…." You look so much better with your hair short" etc., etc. I was like "Really mom", I was about 25 years younger then, do you think that has anything to do with it?
I want to explain why my grandmother looks mad. She wasn't! but she hated to show her teeth in photos so she rarely smiled—she thought her teeth were still crooked—even though she had worn braces. I told my mom I am keeping my long hair as long as I can. Plenty of years left (I hope) to go with the short hair alternative.
And another ezine reader wrote in who happens to be a Bellingham resident. This email made me cry….
"Good Morning, Lynn,

What a wonderful tribute to your Grandmother. I knew her well as I managed the local, annual Whatcom County Antique Show and Sale for years. This benefitted Children's Orthopedic Hospital in Seattle. Perhaps you remember it. You were usually there with your Grandmother. The committee always wondered if this "little kid" would be a problem to our show. You never were. Your Grandmother adored you and loved having you there not only for assistance but for support. Your E-zine truly brought back wonderful memories. I just wish your Grandmother and my friends, Shirley Maconaghie and Delores Brown were alive today to share it with me.

Again, thank you for sharing. Your Grandmother would be so proud of you.

Donna B"
Loved that email! I was crying when I read it and asked Donna if I could share it and she said "of course". Apparently, I was that "little kid" who might be a problem. So relieved to hear I NEVER was!!!!
Then I got an email from someone who is still doing the flea market/antique show "song and dance". Love this…
"Lynn, I am late reading this because I was at the Springfield, Ohio Antique Extravaganza helping my best friend from 4 years old (I am now 67) do her tent space. 2,000 venders and 20,000 visitors. Her booth was called Pick-Fair.

Oh my gosh we did everything just like you described every day, the packing, the loading, the driving, the unloading in the torrential rain, all furniture, heavy and big. Then working the show. What a LOT of work not to mention all the farm auctions, painting, repairing and reusing enough stuff to fill a 25′ by 17′ tent that she had been doing all year.

It was great fun… but when she said she signed up for the May 7th one next year, I wanted to run. I had flown up from Florida to help her.

I give you so much credit> for doing antique shows as a young girl. The love between you and your Grandmother was so special. You were learning every minute and now you teach us. So thank goodness for your beloved Grandma!!

Thank you for that wonderful ezine! Here are some photos from our adventure…."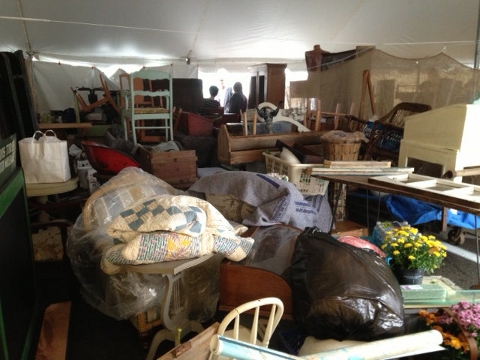 After unloading in the rain, and throwing it in the tent, we couldn't' get from one side to the other for most of the day.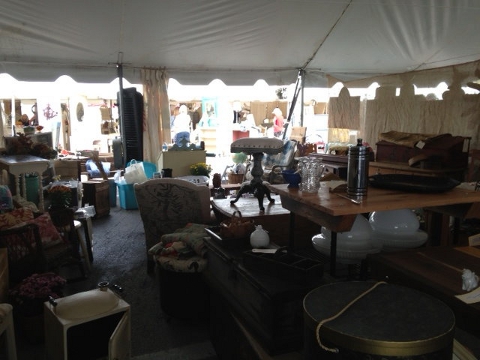 Seven hours later and 30% had to be displayed outside and had to be brought in and out each day!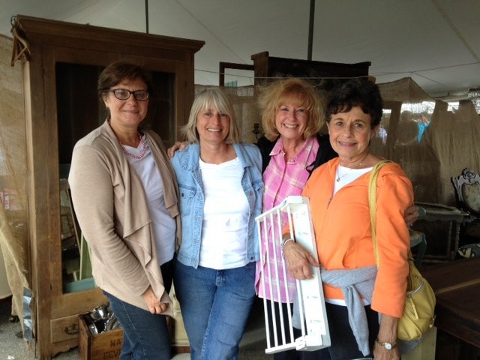 Elsa in the middle with gray hair, her antique partner Robin tallest on the far left, Me the blonde in the pink shirt and my college friend Darlene who I roped into helping me. It was a great week!

Thank you for all you do!
Jeri"
Wow! I can't believe people are still doing this business the hard way, but I agree with Jeri, it was a lot of fun. I wouldn't trade those memories of the time with my grandmother for anything.
But let's check out a score that makes selling on eBay all the more PERFECT! I paid $2.50 for this on the final day of an estate sale. It was priced at $5.00 and was ½ price on that last day 

.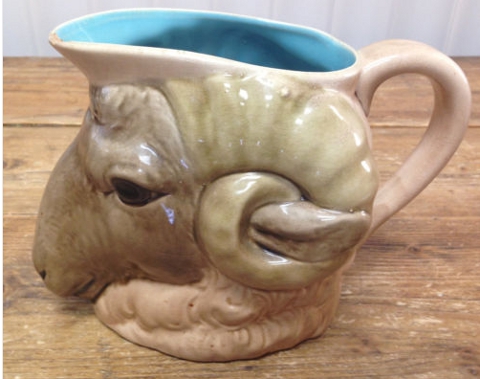 Click here to view this auction on eBay!
I can't believe the final sales price! Also, it had 14 bids from over ten unique bidders (all from France). I made sure I emailed the buyer immediately to make sure he knew it had a chip. He had also asked me right after the sale to "Please double box it". I HATE double-boxing items and think that it can be more dangerous in some cases.
Here is our email exchange.
"Dear eBay Buyer,

Thank you for your prompt payment. I want to be sure you read the description and saw the edge chip in the photos. I will double box and ship tomorrow.

Thanks. Lynn"
His response….Very French!
"Yes I saw on the pictures. I'm antique dealer and majolica pitcher specialist this pitcher will be repaired …I have a good restorer …

Thanks. Nicolas"
Pretty crazy to compare this one sale to those antique shows I did with my grandmother where we would typically only sell $1,000 to $2,000 per show and work like dogs. eBay is AWESOME!
Houston still hasn't been released to play baseball. It has been really hard on him. We see the doctor again on the morning you will receive this email, so please think good thoughts for us! It has been 10 ½ weeks since he broke it.
He is doing physical therapy and his awesome doctor recommended using a JAS supination – pronation brace. The brace was quite expensive so I decided against it until I heard how much the physical therapy sessions were going to be, $350 each! I found a much cheaper physical therapy place and Houston and I talked about it and decided the brace was the way to go.
I called the Chicago office of JAS and they assured me we could have the personalized brace by Friday, October 4th if I could get Houston's measurements within the next 20 minutes. It was 1:15 pm on a Tuesday. I raced down to his school, met him outside of his math class (boy did he have a weird look on his face when he saw me) with a tape measure around my neck, got the measurements, and raced back to my office. You have got to love a private school! They told me exactly where to find Houston and when. That would NOT have happened at the public high school.
I called the Los Angeles sales rep, gave him the measurements and we agreed to meet in Beaumont on Friday morning if the package arrived from Chicago. CRAZY! Well, the brace did arrive, I grabbed Houston out of mass (he didn't even have to miss school) and we jammed to the McDonalds in Banning to meet the amazing sales rep.
Here is Houston getting fitted for the brace at a Mcdonald's. I thought, Really? Life just doesn't get any crazier than this with two teenage high school students in the house. I wouldn't trade these days for anything

.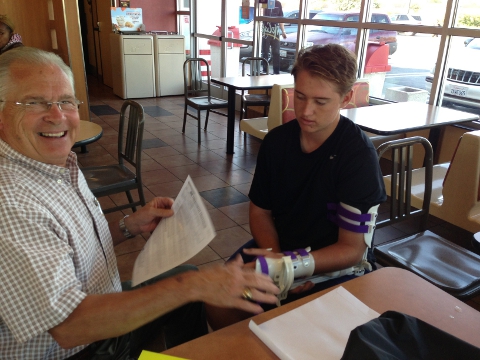 As soon as Houston got back to school he would be leaving for the weekend to be a counselor for the Sophomore class retreat. It was an honor for him to be chosen and somehow we made it all work. The brace has really been helping so hopefully he will get the A-OK to start playing baseball again as you are reading this!
I have been busy writing a new eBook regarding eBay stores. It had been on my to-do list for a long time. While writing the eBook and doing my research, I realized that 85% of my sales volume comes from my eBay store and NOT from auctions.
Here is a recent store sale that sold for full price—close to $100!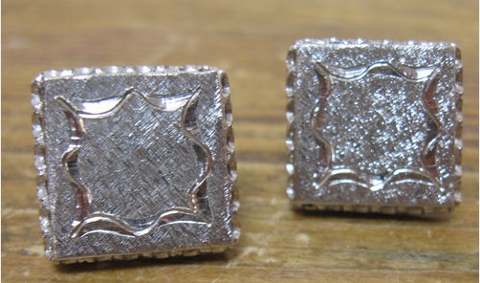 Click here to view this auction on eBay!
The new eBook is over 110 pages and full of great insider information. It is available for immediate purchase and downloads at the low introductory price until midnight on Thursday, October 24th. Here is a sampling from the introduction and the rough draft table of contents. The TOC has changed a little bit but not much.
I was debating whether to rewrite my original eBay Store Report or start fresh. As I waded through my pages of original information, I realized that just too much has changed on eBay in the past five years and my outdated information was confusing me and causing me to have writer's block.
Then I went into the kitchen to grab some water and ran into Indy. She was telling me about a school project she needed to be working on but was having a mental block. She needed to write a children's book about the happenings in a lake. Boy, could I relate! We were both in the same place. Blocked!
I gave her some ideas for her children's book revolving around the habitants of a lake, suggesting she write about the lake right outside our door (since we live on a lake). Talk about the swans, the ducks, the bass, the algae, etc. that were right in front of her.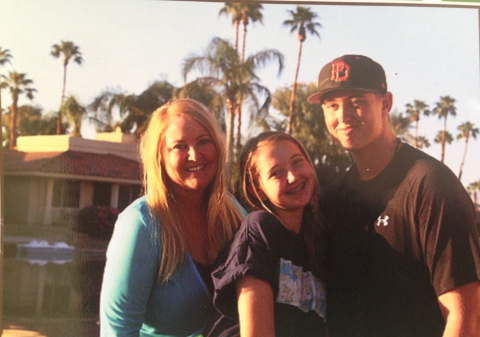 Then it dawned on me! I also needed to simplify my new eBook by starting fresh, with what was right in front of me….a blank computer screen. And I loved the children's storybook idea. So, instead of an eBay Store Report, we now have a Store eBook (Story Book

). Problem solved.
Let's get started….
Table of Contents:
Introduction
Sales Analysis
Why use the Auction Format at All?

Never Leave Cash on the Table
Drive Traffic to Your Store

Auction Pricing Strategies
When are you Ready to Open an eBay Store?
Which Store Level Subscription Best Fits Your Business?
How to Open an eBay Store
Anatomy of a Store
Store Pricing
How to easily Move-Item from Auction to Store
Store Features to Utilize

GUC
Internal Categories
Professional Logo
Store Banner

How to Jump-Start Your Store Sales

Top-Rated Seller
Markdown Manager
Email Marketing
Always Grow your Inventory
Don't miss out on the Story Book! The price will be going up on Thursday, October 24th. It is a downloadable book that will be immediately emailed to you. If you are a Queen's Court member please don't forget to use your discount.
I sold another one of the dolls that I bought at that "interesting dollhouse" sale a few weeks ago for a GREAT price. I knew right away from looking at this doll that it was a Bradley doll, even though it didn't have a maker's name on it.
The reason I knew this was because I own one of these funky mod dolls that is also a redhead and came from my grandmother's personal collection. My little sister always called it the "Lynnie" doll because she thought it looked like me. I couldn't pass this doll up and was shocked when it sold for well over $70 with 6 bids!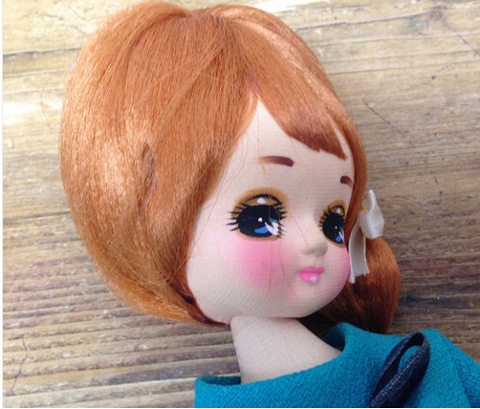 Click here to view this auction on eBay!
When I did my research on Terapeak, none of the individual Bradley dolls had sold for anywhere near this amount. And most sold in groups of four to six. I still don't know why mine was such a score but if anyone knows, please clue me in!
Cross Country is STILL taking over our lives. When there is a vacuum (no baseball), it will be filled with something else! Indy had a tough race two weeks ago Saturday and strained her hamstring during the start. She took it really easy the week after that and we didn't know if she would be able to race five days ago (a Saturday again—no more garage sales for me for a while ). I got to San Berandino at 8:30 am for the Inland Empire Invitational Challenge.
Indy was racing in a division called SS JV Girls. This means it was for small schools, junior varsity and you don't need me to tell you this but….. it was for girls only. I was at the starting line, yelled her name, gave her a huge thumbs up, smiled, and hoped for the best. There were about 20 girls in her race and it was one of the smaller races, as there were over 1,800 racers running that day.
Cross Country is crazy! It is not like baseball, where it is generally your team and one other. Cross country races almost look like a county fair with all the people, tents, food vendors, etc.
After the race started, I walked back to the Xavier tent to wait until the runners would be visible right around mile one. I was standing with Coach Lyons by a white picket fence when I saw a gold Xavier jersey coming. I said, "yay, Coach, a Xavier girl is in the lead". He said, "That is not just any Xavier girl, that is Indy". I said "Get out" and hit him (but not hard

). He was right! She was in the lead. I could finally recognize her and saw that it really was her with her hamstring wrapped.
Here is when she took the lead in the race and I got a photo.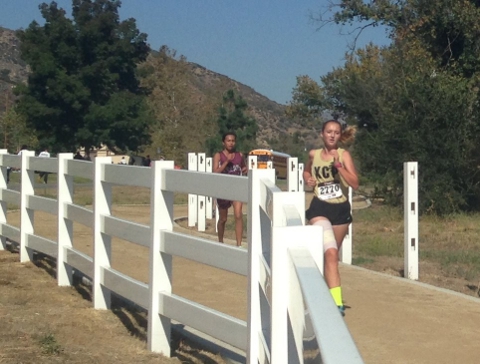 I was so excited for her. I was jumping up and down. I didn't care where she finished because for the first time EVER, she had the lead. Remember, Indy has never participated much in sports. She played a season of soccer and softball but not much more than that. And she had only been running since June.
I ran back to the Xavier School tent so that I could wait until the girls returned for the final portion of the race. I was standing there when she turned the corner and came up the hill. She was still in the first place. I was so PROUD of her. I yelled, "finish strong Indy" even though there was no one anywhere near her.
What a great experience to watch her cross the finish line with a first-place win. I don't think I have EVER seen her grin so much and I was pretty much still jumping up and down. Her time was 25:00:05. A personal record for her that day on the three-mile course.
Remember the hatpin collection that I bought for $500 last month? Well, here is a reminder and a photo of all the hatpins once they were listed on eBay.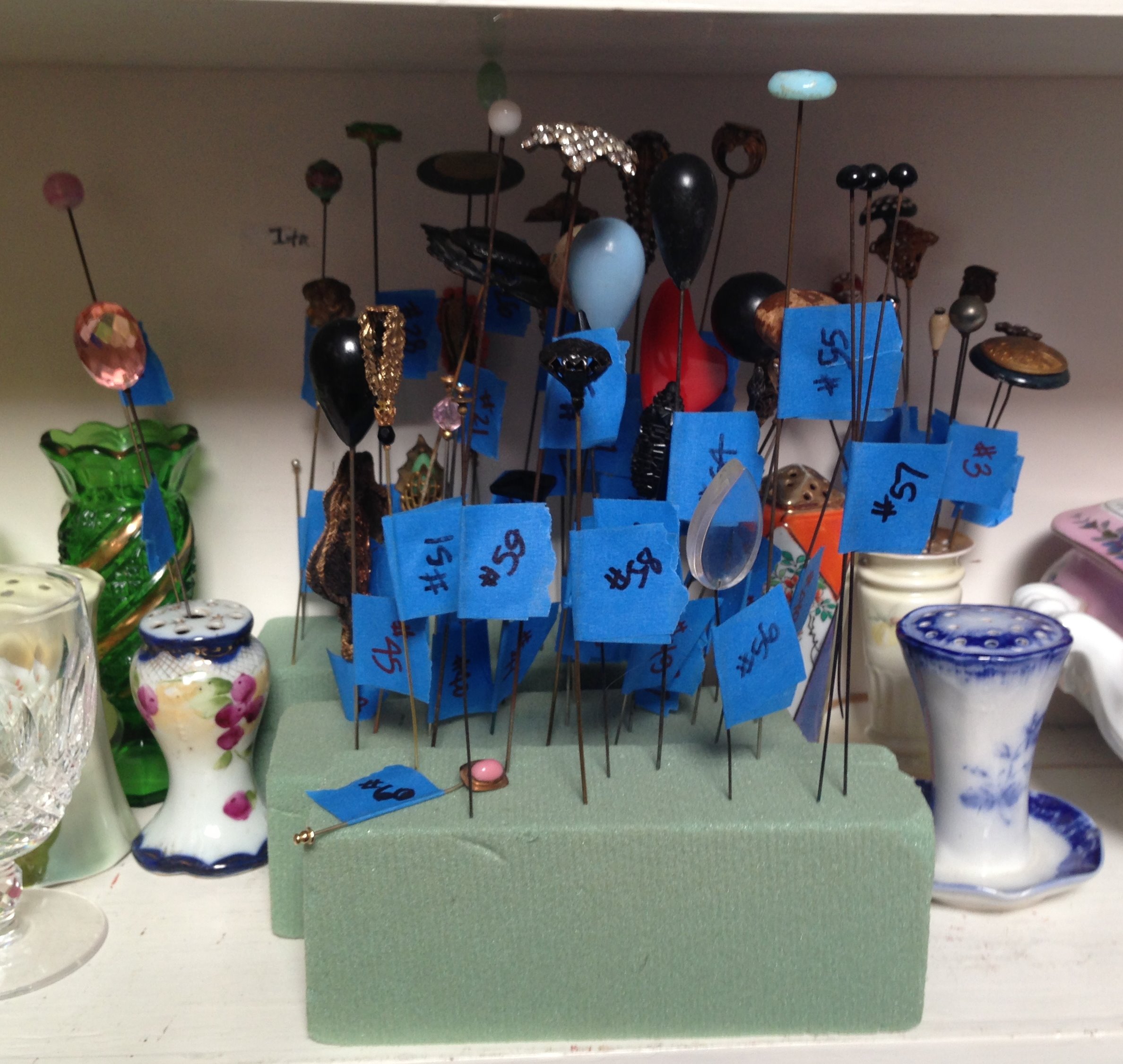 I recently sold another one, hatpin #28, for the full price out of my eBay store. Well, it was marked down 11% with markdown manager.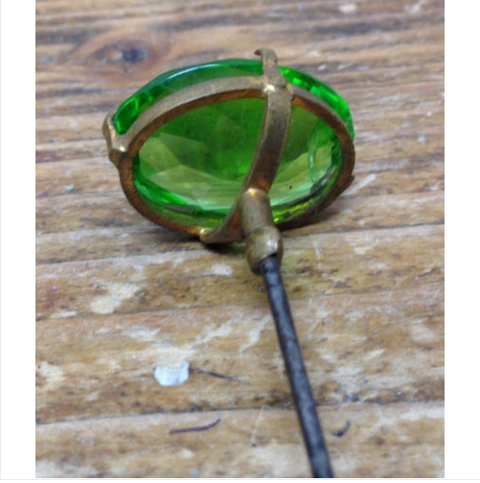 Click here to view this auction on eBay!
You can learn much more about my pricing strategies, how I utilize my eBay store and markdown manager to the fullest, and how I sell 85% of my eBay $ volume at a fixed price in my new Store eBook "Story Book".
Good news! My dad is in town! We haven't seen him since last December because we didn't go home to Bellingham this summer. This was WAY too long. He arrived on Monday, and by Tuesday had already worked five hours at the office and made a HUGE batch of his world-famous spaghetti for the cross country pasta feed on Tuesday night. Poor guy! Here he is with Houston and Indy at the pasta dinner that the cross country parents do three times a year the night before the DVL (Desert Valley League) races.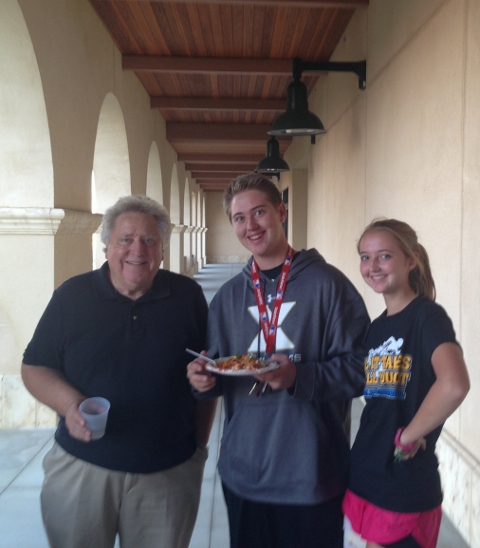 While my dad is here on his "busman's holiday", he is working on a special project for me at the office. OK, I must explain what the busman's holiday means first. My grandmother always told me when I came home to visit from California that I was on a "busman's holiday". I was like, "Grandma, what are you talking about?". She explained that in the old days, a bus driver would take a vacation and drive his family around to see the sites. Even though it was a "holiday" he was still working by driving. Funny! Because all I usually did when I came home was to work in the shop. But of course, I loved it!
But back to my dad's holiday job. My dad has a doctorate degree in education from Indiana University. Hmmmm, wonder where Indy's name came from? For part of his career, Dr. Dralle was a librarian. So, I asked him if he would help me make sense out of the mess that my book inventory had become.
Let me backtrack. One summer a few years ago, I asked Houston to do a special project for me. He would move all of the books out of the huge warehouse and place them on special "book only" shelves in the front office. He was also assigned the job of labeling the shelves. Guess what? Not a great job for a teenage boy. I can NEVER find a book easily when it sells in the new headquarters.
My dad is going to catalog all the books by title so that I can easily find them. This is going to be awesome and save me so much time! But it is a huge undertaking and I really appreciate his help

.
Now for a recent book/catalog/ephemera score. I LOVE books and other paper goods (ephemera) because they are so easy to store (once done correctly) and even easier to ship 

.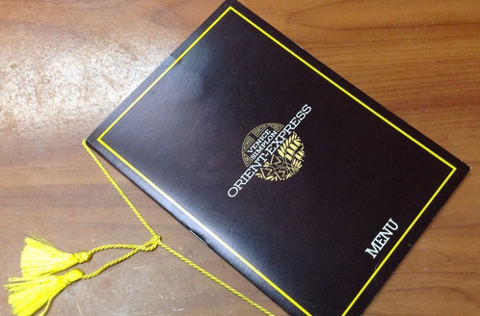 Click here to view this auction on eBay!
Sold for the full price out of my eBay store! Don't forget about the eBay Store eBook.
After the pasta feed for the cross country team, Houston and I attended the College Fair that was held at Xavier. There were over 80 schools there. It was really fun and so interesting! We got to see a lot of friends from around the desert that we haven't seen in a while.
As Goose and I were standing there, one of Indy's teachers came right up to us and said "I am really enjoying your daughter this year". I said, "She LOVES your class and is also really enjoying this school and you as her teacher".
Then on the way home from the College Fair, Houston said to me, "Mom, what did you do as a parent to make sure we did so well in school and life? Whatever you did when raising us, it has made us want to get good grades and I am really grateful because I have a high GPA and will be able to get into so many awesome schools".
I said, "I was just always there for you and made sure you were both my priority". He said, "It is probably genetic also". I said, "of course it is", and I had to laugh.
My backhanded compliment was shut down that quickly. Oh, well, at least for a second, I saw that he appreciated my parenting skills. AND, I am very proud of both my kids for their efforts and I am still smiling about how great this private school experience is turning out for both of them. They have always had each other's backs. It is evident in this photo of them when they were five and three.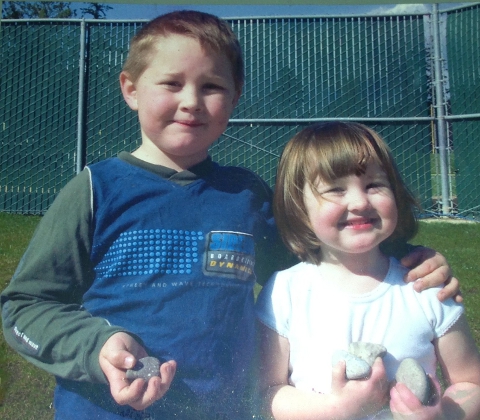 And it is still evident today at ages 17 and 15.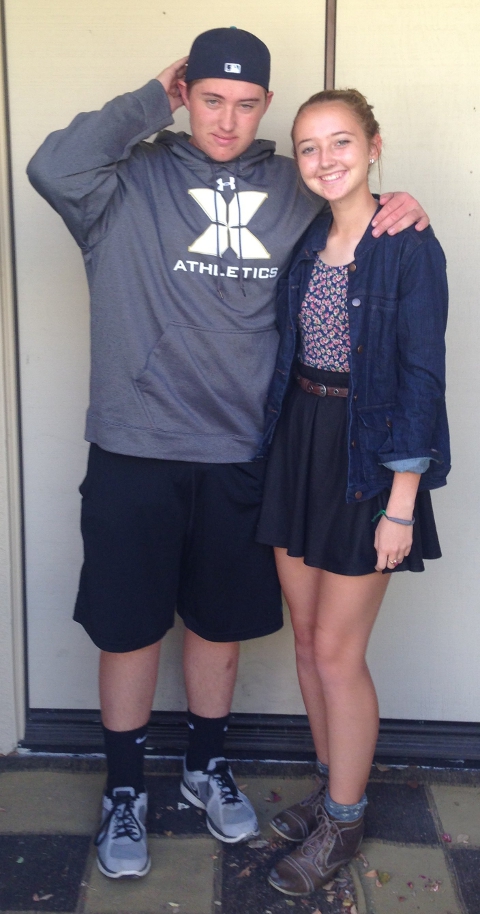 Now, let's end with a fun score that will make you smile. A Jim Shore figurine called "Fly with Me for a Spell". Sold for a lot of money! Close to $100. Happy Halloween!!!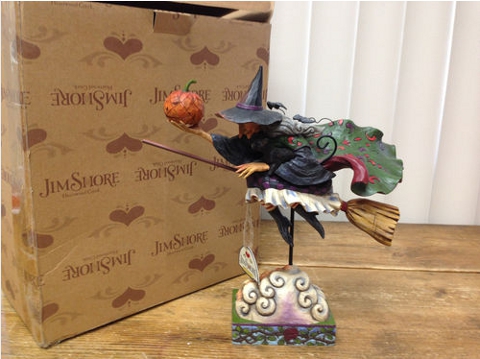 Click here to view this auction on eBay!
Thanks for reading my ezines! I appreciate it!
Happy eBaying!
Lynn
---
Lynn is an experienced eBay Power Seller, author, and teacher. If you want to know the eBay tips, tricks, and tools that Lynn uses for buying and selling at an online auction click here.
Some links in my emails to you may be affiliate links. You can be confident that I only partner with companies that I fully stand behind.