Hi!
We just returned from a whirlwind baseball trip to San Diego. It was so crazy busy I didn't have time to let anyone know we would be there. Sorry Joel! Houston played three games and had a blast. The team didn't do so well, but it is a joy to see Houston back on the field.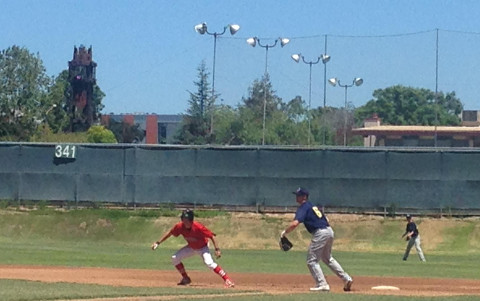 As Indy said in her Snapchat artwork shown here…"Goosie G putting in work". They both crack me up 

.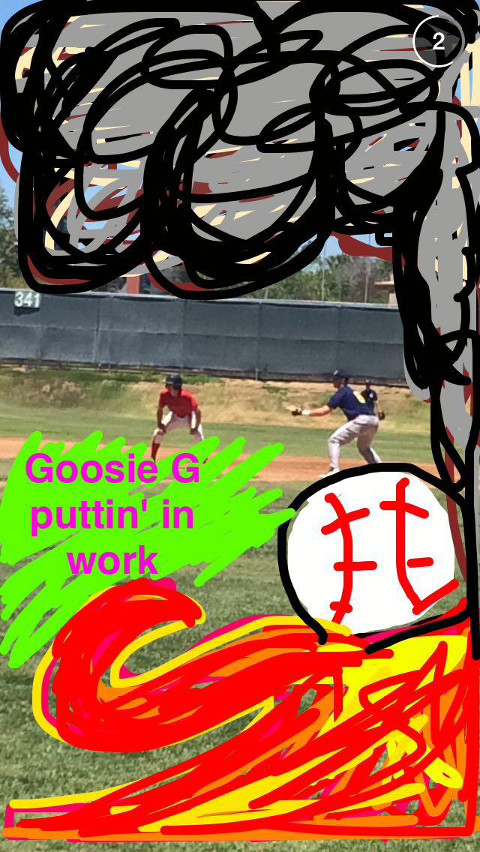 But before I get into more about our time in San Diego, let's start this ezine off with a score. Check out this leather box that I bought at an estate sale for 25 cents. Yes, 25 cents. Everything in the garage was 25 cents and I LOADED UP. Seriously, it was all really great stuff. I have probably told this story before (and will again), but I got a pair of Ray Ban Aviators for Houston for 25 cents at that sale. Seriously cool!
As you all know, I price HIGH. So I put a big ticket price on this item and it sold for full price. Over $100! Yipppeeeeee!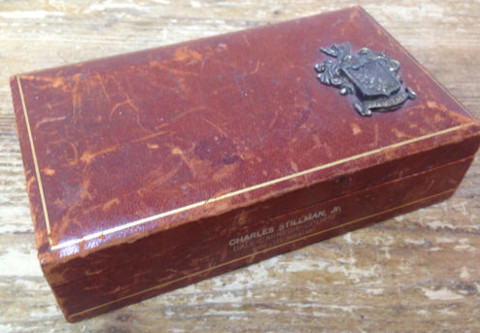 Click here
 to see this auction.
An update on that flatware set that I bought in Bellingham. Three of my listings sold at auction and added up to $59.94. I will take that on a $10 investment! And I still have 23 pieces left to sell. Yipppeeee! Gotta love flatware.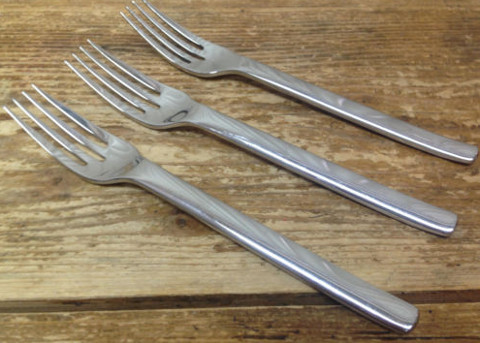 Click here
 to see this auction.
While we were still in Bellingham and we were "Taking Back My Mom's Independence" for her we got to a box of doll wigs and doll house accessories. I think my mom was feeling a little overwhelmed on that particular day and she said to me, "I will never get those listed… do you want them?" Don't have to ask me twice.
Here is a photo of just a few of the doll house accessories. Score in the making! I have already listed 10 wigs and 20 of the doll house items.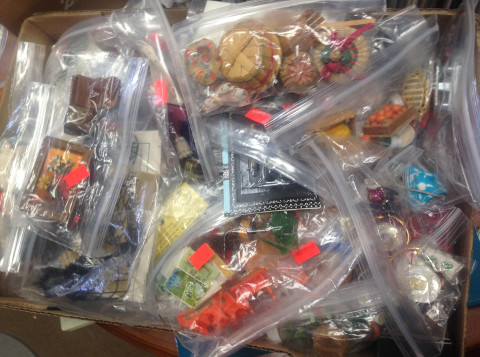 Here is a link to a listing that may turn out to be a serious score….or not! It had 81 page views and 4 watchers with two days left in the auction.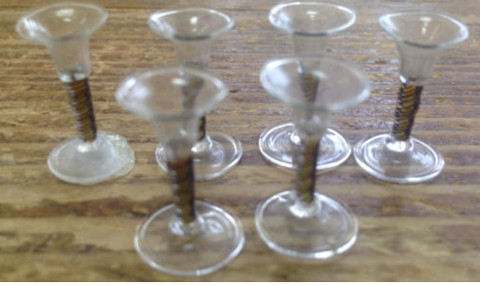 Click here
 to see this auction.
Here is one of the items that I got listed that will definitely sell because it has a bid! It also has 9 page views with 3 watchers.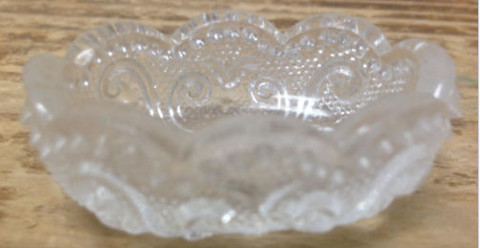 Click here
 to see this auction.
Thanks Mor Mor! Just so you know, I am more than willing to take doll house items off of your hands!
OK, now I am going to have to figure out what the idiom "take off of your hands" really means. My grandmother used to use that saying quite a bit. Apparently, take off of your hands means "to relieve someone of the burden or bother of someone or something. " Well, I definitely relieved my mom of the burden of all those doll house listings!
I have to admit though, the wigs are creeping me out.
Here is a link to one of the wig listings.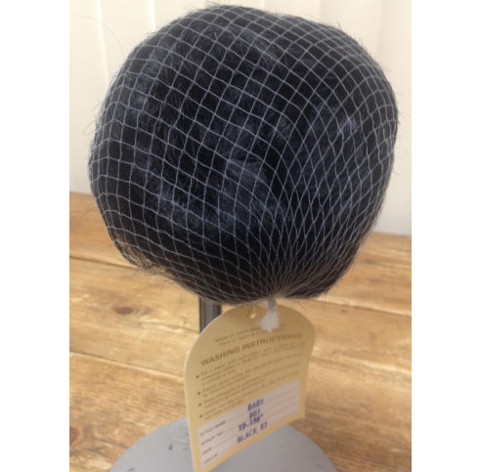 Click here
 to see this auction.
Oh my goodness, I can't believe I have waited so long to update you on my mom's fabric score from the last ezine! Seriously, I thought I had goofed up big time with my advice to her on this one.
Here is the snippet from my featured Queen's Court member's story (my mom 

) if you forgot it…. "And today I listed a piece of fabric which I purchased at a local estate sale in Bellingham on June 13th, for $1. I started it at $24.99 and immediately had an offer for a BIN of $200. How fun is that??? You just never know!
Lynn told me to turn it down and let the auction run its course, but just to be sure she emailed another Queen's Court Member (Vicki who has been specializing in fabric) for her opinion.
Here is what Vicki said, 'I would say No too…. She's got a large amount of the fabric and I have never heard of this manufacturer's name before… So thanks. LOL, I love that you are asking ME questions!!'
So, I turned the lady down and am hoping that it sells for much more than the $200 offer!"
My mom and I were talking on the phone while this listing was ending. It had 7 seconds left to go and was only at $77.00. I said to my mom, "NEVER listen to my advice again".
I felt so bad that I had told her to pass up the $200 offer. Then with 3 seconds left it went to $203.50. Thank you LORD! I was right after all. In the last second it went even higher. You must check out the listing to see where it ended up!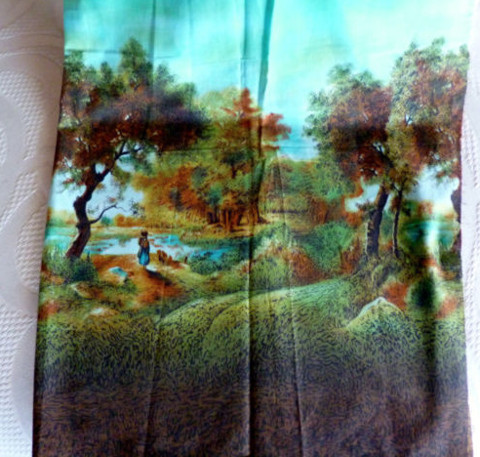 Click here
 to see this auction.
I think what comes around goes around. My mom helped me out A LOT with free wigs and doll house stuff and my advice got her more money! Right on!
Speaking of Queen's Court members it is time for another Charter Member (Lynnette Seymour) to be featured in this month's ezine since it is still our Birthday this month! Happy Birthday to the Queen's Court as we start our 9th year!
I LOVE Lynnette and her husband Curtis. She came to my very first Live Boot Camp Ever after I tried to talk her out of it. I basically told her since she was selling new commodity items she should not waste her money. She still showed up! And boy am I glad she did! Here is her story….
"How I started on eBay: Started with selling high end hair care products with a friend who owned a salon. She sold her salon and there went my products! Nearly at the same time I had purchased a bundle from eBay experts and included was an article from Lynn Dralle and I signed up for her newsletter. A couple of months later, June 2006, I received an e-mail from Lynn announcing her very first bootcamp. After much thought and prayerful consideration I signed up. It was the BEST learning experience I could have asked for. Curtis came along to Palm Desert and agreed to be my Shipping Manager.

Here is a picture of Curtis and I at Disneyland.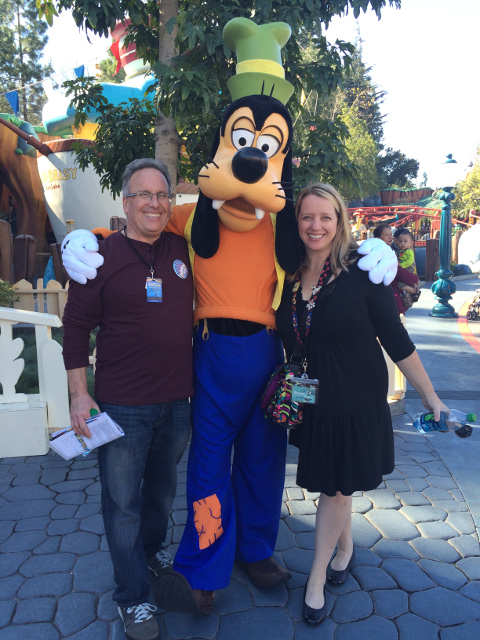 What I love about the Queens Court: Secretly, I take credit that the Queens Court was my idea. LOL I love that it is an ultra positive place to learn and share ideas and information on every aspect of ebay. The members there are truly friends and I've had the pleasure of meeting many of them offline and in person!

Lynn-isms:

– Sell Internationally – This was the very first piece of advice that Lynn Dralle gave me personally when we spoke on the phone about Live Bootcamp. She told me I HAD to, it wasn't hard, and I was leaving money on the table. So glad I took her advice! My two highest sales were international. I sold a Playmobil dollhouse for $999.99 to a new seller in Greece and a Disney Tiki mug to the United Kingdom for $1140.99.

– Everyone can't know everything – I frequent a local thrift store that in my opinion is typically overpriced. But since it is a charity store of a cause I love, I usually try to find something there to be supportive. They look up a lot of things on ebay for pricing which is a red flag there are no bargains. However I purchased a small set of Block China. It was 18.95 for 18 pieces. I've sold 14 of those pieces for a total of $580.60. So yeah, they don't know everything!

– There is more than enough for everyone – I remember this when I see a million yard sale signs on a day I'm not available to shop. There really is more than enough for all of us. The number of things that is in my personal "alps" is a tribute to that.

– Leave your taste at the door – a Lynn-ism from her grandma. We just like to say that all the time.

Here is an auction that I'm excited about –I asked you for advice on it a couple of years ago on the QC. I had it on "display" here at the house – because you know we are dog people – and finally listed it a few days ago. We bought it while on vacation in San Diego.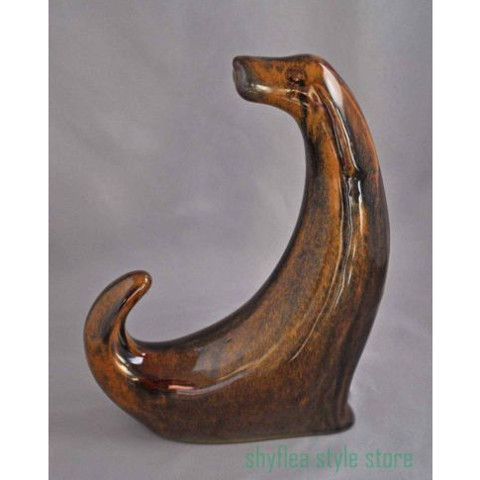 Click here
 to see this auction.
I am grateful I attended that first bootcamp and am a member of the Queens Court. My eBay business took a fun and different direction because of it. And others in turn have started their ebay businesses as a direct result. Four family members as well as my friend who owned the salon all run their own ebay businesses today.

(Lynn butting in now….Here is an item listed in their eBay store that happens to tie into another story in this ezine! How cool is that?)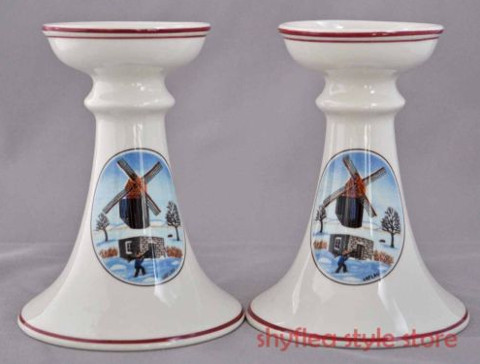 Click here
 to see this auction.
What we do when we are not ebaying: Curtis is a 4th grade teacher and I am a meeting planner. We love selling fun birthday shirts for kids on etsy: modellababy.etsy.com I spend a lot of my free time volunteering for two organizations. Love photographing and being a Super Aunt to my nieces and nephew. We have two adorable mutts: Rooster and Otter. We love to travel and thrift during every vacation!"
After I read this I had to email Lynnette and ask…." Lynnette this is sooooo cute. Just like you! Do you have any auctions or listings for me to share? Maybe I missed them in the email. Did you really suggest the qc and I am not giving you props? I would feel awful. Remind me please!!!!"
Lynnette wrote back, "The details are fuzzy on the suggesting – that's why I *secretly* take credit for the QC. However I'm sure you already had it in mind. I take credit for the highest selling stuffed animal QC Christmas gift . . . it wasn't me, but you give me credit every year and I take it cause I like to get a mention in the Christmas letter. ha ha ha ha!!!"
Lynnette totally cracks me up! Here are my nine students and myself at the first EVER live boot camp that Lynnette attended.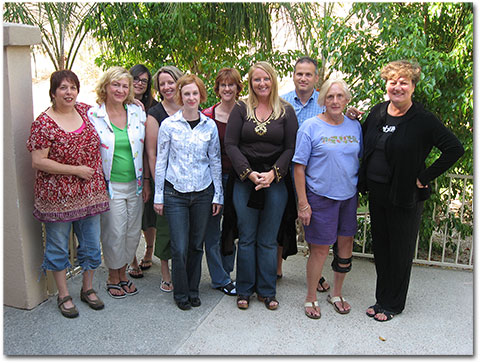 Here is the story from "The Fourth 100 Best Things I've Sold on eBay" Book to go along with that photo.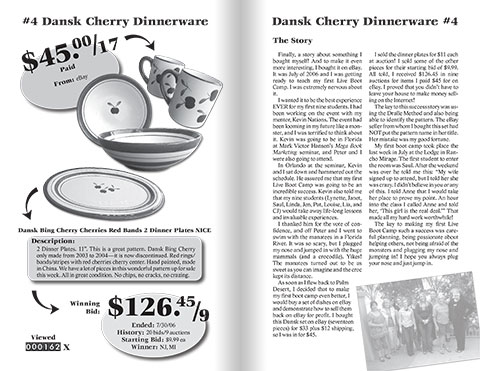 Before I forget, the price of Take Back Your Independence goes up $22 tonight at midnight. Don't miss out on this new video. Here is more info…..
It's Time for Operation Remodel!
We are Excited to Announce our Newest Video:
Take Back Your Independence!

Take Back Your Independence is the newest video in our training series. My mom, Houston and I had a blast filming this with Indiana, and now Indy has edited this 110 minute video with her great eye and fun sound effects.
It is interesting to see what three generations bring to Take Back Your Independence and how we all learned from one another. Well, we learned the most from the members of the youngest generation! Isn't that always the way? Kids these days!
Take Back Your Indpendence will walk you through the remodel we did in a seven-day period on my mom's eBay space and her business. It was quite the operation!
In this video, you will learn:
Lynn's Top Tips for Remodeling Your eBay Space
What Types of Shelves & Clothing Racks Work and Where to Buy Them
How to Refresh Old Listings
The Quickest Way to Sort and List Books
How to Repurpose Older Listings of Dinnerware and Flatware Sets
How to Control your Space so it Doesn't Overwhelm You
Why you Should Retire some Listings and Donate those Items to Charity
How a Free Box on the Sidewalk Makes Unwanted Items Disappear
How to Have Fun While you Work!
Also Included How to Make a Rhubarb Pie and Kayak in the Ocean 
All of these tips and tricks will help Keep Your eBay Business From Overtaking Your Life and Will Save you Money on Stale Listings.
We haven't ever done a video like this and I hope it inspires you to rethink your ENTIRE eBay Operation 

. I almost felt like we were filming an episode of "Property Brothers" but it was a "Three-Generational Operation eBay Makeover" with a very short deadline.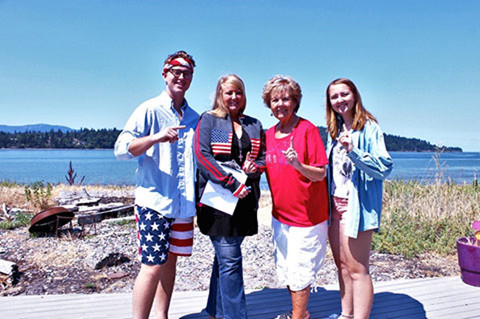 Since we are DEFINITELY not having any more Live Boot Camps, it is my hope that these training videos will keep you all updated and knowledgeable.
Take Back Your Independence is available for online viewing or download NOW. Order your copy of our new video Take Back Your Independence at our low introductory price.
In this new online and downloadable video, we show my mom's garage (where she houses her eBay business) on day one of our project. VERY SCARY!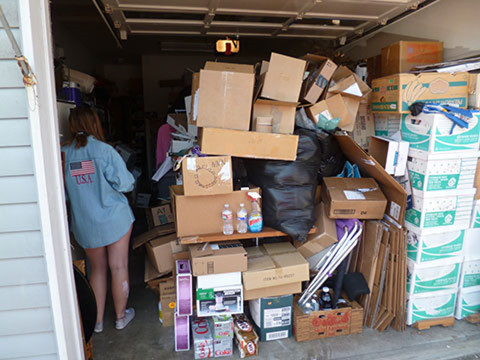 Then we show you our progress on Days 1, 2, 3, 4, 5, 6, and on the final day 7! Check it out.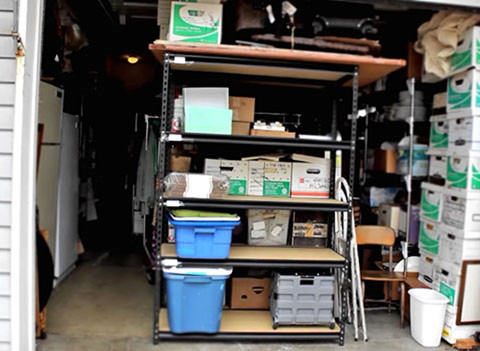 And you must read this super nice email from my mom thanking us a few days ago.
Subject line: This Morning

"I was driving home down Haxton, and I felt so much peace and well-being, like I was in control and could handle anything. Then I thot—-

The difference——my neat and orderly storage with empty shelves and racks!!!! Not totally over-whelmed as I normally am.

Amazing!!!! What a difference it makes. Thanx ten million!!!!

Have a good day——I know I will!!!!

Luv ya, Mom"
Take Back Your Independence is here! Don't miss out!
To order now, click here.
Check out this item from my eBay store that had been listed since 2009. We ended that stale listing and refreshed it using tips we teach in this video. It sold within two weeks from my eBay store at three times the original price we were asking! Refresh and Renew your eBay business with this new video!
It's about time for another score….Seriously! For those of you who were at eBay Radio in Las Vegas last month you may remember this necklace. Here is the slide from my ppt presentation featuring that necklace.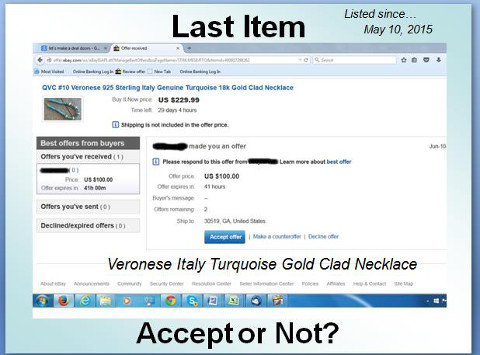 My question to the audience was "Should I accept this Best Offer of $100 or not?" I was asking $229.99, it had been listed since May 10, 2015 and I paid $5. Well, the audience roared with "NO" and they were right! I did not take that best offer.
raised my price to $299.99 and waited. Didn't have to wait long. Check it out here!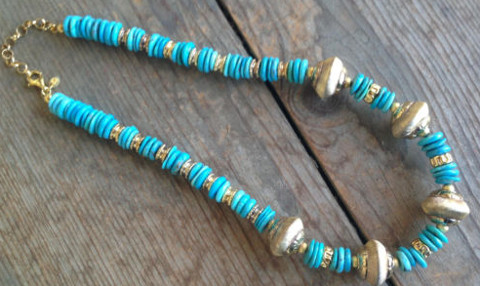 Click here
 to see this auction.
Thank you to QC member Sherri for introducing me to QVC jewelry. You are awesome!
Finally, let's get into more detail about our San Diego trip this past weekend. Houston had three games to play. One on Saturday and two on Sunday. Hotel rooms in San Diego are super expensive for a Saturday night this time of year. I finally found one for $270 with all taxes and extras included. Not a bargain! But I figured it would cost me $100 and 5 hours to drive home and back for that one night. Also, it would make for a fun mini getaway and a thrifting opportunity. So I splurged!
We stayed in the Gas Lamp district and really enjoyed walking around before choosing a place to eat dinner. We stumbled upon "Analog" (as opposed to today's digital) and it intrigued us. Their prices were great and it was not overly crowded, nor loud.
As we sat down and started to check out our surroundings, we started to notice that it was very 1970's. There were ferns hanging from the ceiling in macramé holders, vinyl throwback stools and actual record album covers and cassettes covering the walls. The three of us decided that Mor Mor would love it! Houston said "All that is missing is shag carpet" and we all agreed.
Later on I noticed a faux living room set up on a platform that actually had shag carpet! I asked if I could take a picture of the kids in the vintage room and they said "of course". Houston and Indy were kind of embarrassed but whatever!
Check out the furniture and the dark green shag carpet. Reminds me of when one of my chores was to rake our bright orange shag carpet (thanks mom ).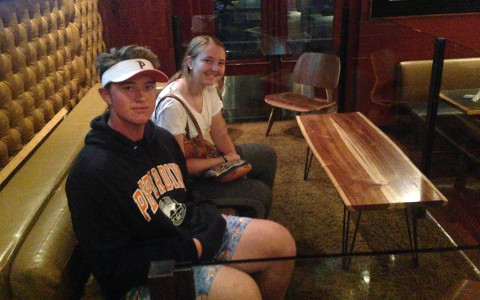 Here is more from the Analog website….
"With a throwback vibe in the chicest incarnation, analog has brought together the best qualities of a sleek downtown lounge with design elements of a wood clad 1970's recording studio, an eclectic New York City dive bar, and a true foodie-destination."
The next day, Indy and I hit a ton of thrift stores. At a newer Goodwill east of Downtown, I saw this set of Villeroy & Boch Naif. The asking price was $300 and they had a copy of an eBay print out prominently displayed inside the cabinet. Ughhhhh.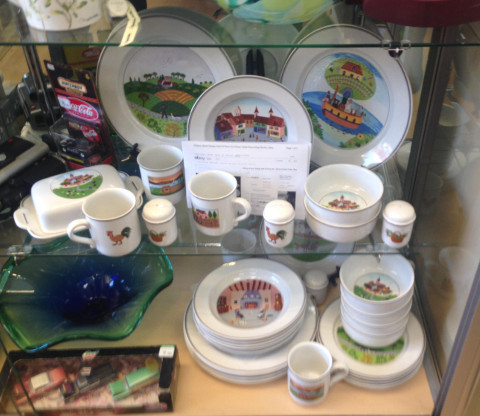 I checked it out very carefully. There were six place setting and it all looked to be in absolute perfect brand new condition. Like it had never been used. I couldn't get cell service so called my mom and asked her to read me some prices.
The covered butter dish alone goes for $159.99 on Replacements. I did some quick calculations and figured it was about $1000 at high retail. I asked if there was a student discount and yes, if Indy had her id with her, I would save $30.00 and there is no sales tax charged at the Goodwill.
Very interesting, my hotel room was exactly $270.32 and this set would cost me $270.00. Would you spend $270 for a hotel room or a set of dishes? I posed this question to the kids on the drive home and in unison they said, "Both". Haha!
V&B Naif has been made for over 30 years and I have done really well with it in the past. In fact, back in September of 2013, I had spent $275 for a very used set of the same stuff from a gal named Kristen who was also battling cancer (like my sister Kristin had). I overpaid because….well, you can probably figure it out.
Here is a copy of an I sell sheet from that purchase with the price I paid and what it added up to at high retail on Replacements, $1151.00. Very similar…but this time the pieces I would be buying were in impeccable condition. Quite a difference.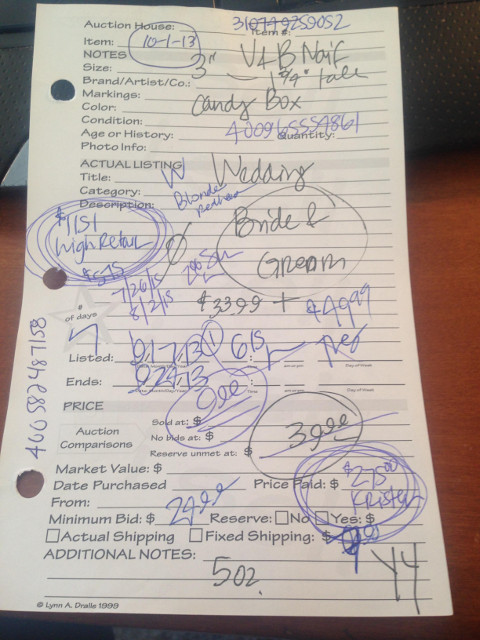 I had sold almost all of the Naif that I bought from Kristen but still had about 10 listings left. Since the Queen's Court and I are all about Refreshing and Repurposing this month (and always) I knew that if bought this new batch, I could repurpose and relist those old items. By using this strategy, I would generate more interest in both lots.
I took the plunge! Worst case scenario, I would double my money and pay for both the dinner set and the hotel room! Gotta love eBay.
Here is one of my old listings (actually the exact piece shown on the I Sell Sheet above) that already has a bid! Super cool.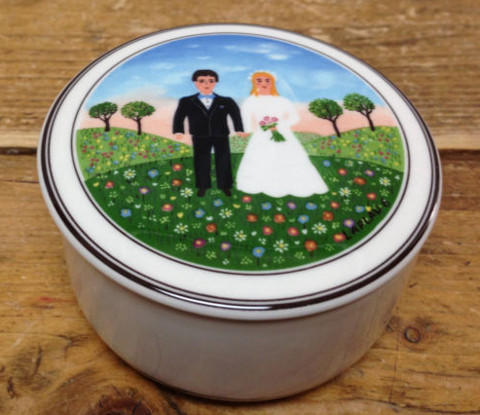 Click here
 to see this auction.
And here is one of my new listings.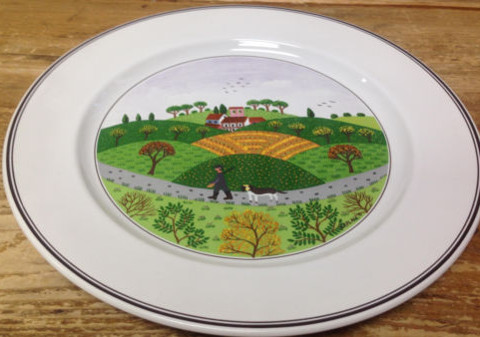 Click here
 to see this auction.
And if you remember the item I shared earlier in Lynnette's story, she also has a Villeroy & Boch Naif listing. Keep in mind that there are three variations in the Naif line.
Design Naif (which is mainly what I have…country scenes), Naif Wedding and Naif Christmas. Lynnette's listing was Christmas and the one old listing that I have a bid on is Wedding. Always a must buy if the price and condition are right.
After a weekend of family bonding, it was time for Indiana to go to Church camp. She has been going to a lot of camps this summer. Vision at Notre Dame in June, this Palm Desert Community Presbyterian Church Camp at Forest Home Ministries this week and she will do an East LA immersion retreat in August. I can't keep track of that girl and all of her activities!
Here are Houston and Indy at Panera for lunch with me before he dropped her off at the Church. She is part of the "green team" at Church Camp and found those crazy green pants while thrifting with me in San Diego. Perfect! Especially if she does eventually attend Notre Dame. Her dream school at the moment 

.
Oh my gosh, do I have to go through the entire college application and decision process again? I don't know if I can take it! Just kidding…kinda sorta.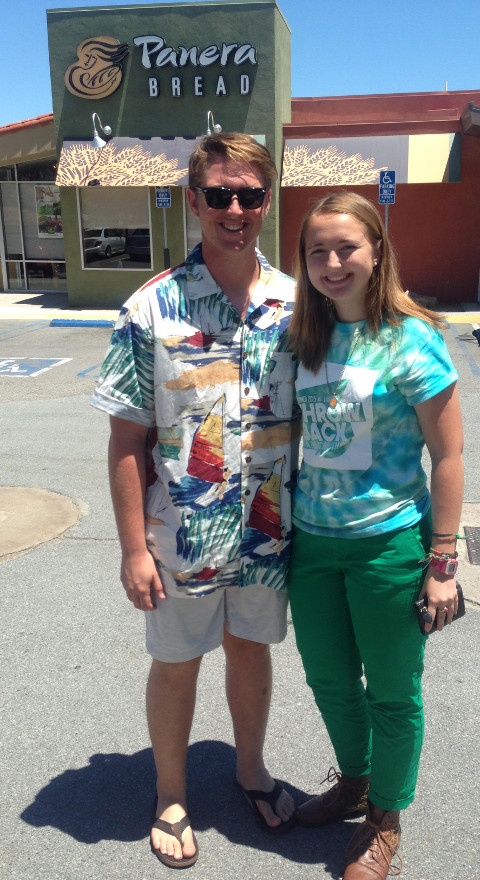 Indy has been going to Forest Home's Camp for about five years in a row now. I have made it a tradition to try and send her a care package to arrive every day. She got a little sick of getting so many packages a few years ago and asked me to lay off. She said it "was embarrassing". This year, while we were in San Diego, she hesitantly asked me if I would please restart the tradition. Of course! I love making my kids feel special.
This time she was going to have to help me. We rushed to a $1 store before the first baseball game and she picked out everything she wanted to receive. Not as much fun as getting a surprise, but better than nothing. The next day, in between games, we found a post office and actually got it mailed off. Exhausting…in addition to thrifting along the way. I think I need a vacation 

.
Luckily, my mom had also gotten the message and she sent a care package off as well. I think my dad also sent her a greeting card with some "green" inside to use at the camp store. Go Mor Mor and Papa! You guys rock!
Today, I was able to send another care package from Palm Desert. As tradition would have it, I usually send something creepy. Ratso, the puppet from my office, has made the trip there and back several times and this time Indy begged me, "Please don't send Ratso".
OK fine, I texted Mo…."What can I send instead of Ratso? The witch?". Mo texted back, "That would be soooo funny or you could just send that mask". I asked Houston today when we were doing the eBay shipping and he said "The witch is way too big, send the mask".
Here is the mask on top of Indy's other treats and then I closed the lid to the box. Can you see the Cheetos peeking through? Scary, but she will be expecting something! I wrote all over the box. Do not open with a knife. She is going to scream! Love it.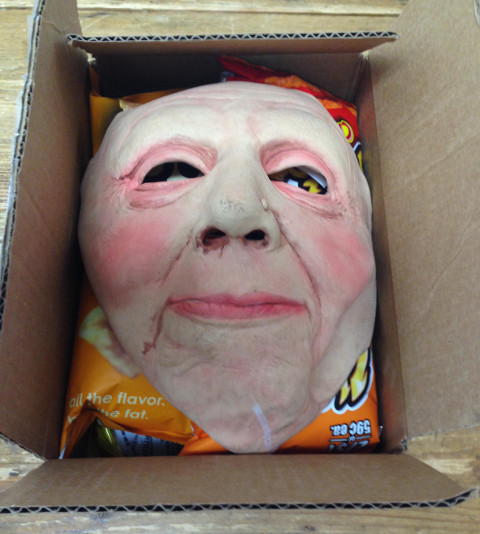 Let's end this ezine with a score! I bought this back in January of 2014 and paid 50 cents. It didn't sell at auction for $24.99 so I priced it high at $59.99 in my store. Had a ton of offers over the past year and a half from $1.00 to $15.00. I am very patient.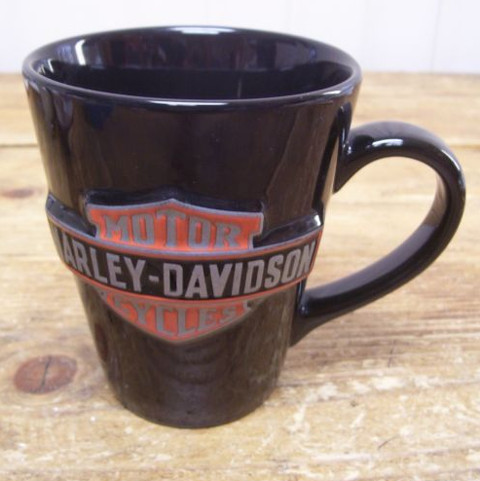 Click here
 to see this auction.
It paid off to the tune of $35.00. You know…Patience is a Virtue!
Thanks for reading my ezines! I appreciate it!
Happy eBaying!
Lynn
---
Lynn is an experienced eBay Power Seller, author and teacher. If you want to know the eBay tips, tricks and tools that Lynn uses for buying and selling at online auction click here.
Some links in my emails to you may be affiliate links. You can be confident that I only partner with companies that I fully stand behind.