Hi!
I can't believe that May is almost over and I have only written this ezine. Well, I have a pretty great excuse. Houston is graduating from high school in two days on May 30th! I am very proud of him and the month of May has been action packed.
I never thought my life could get more hectic than it had been, but boy was I wrong ( I say this every ezine—I know I know)…..
We started May off with Senior Pictures on Sunday, May 3rd. Indiana, as our photographer in residence, was scheduled to take them and I tagged along to make sure they were awesome. We left the house at 5:30 am to catch the right sunlight. By the time we climbed up the first hill, I was exhausted, but the "behind the scenes" photo opportunities for me were too much fun to miss.
Here is a photo of Houston on top of another hill, reaching out his hand to help his sister climb up. I thought this was priceless and such a testament to their amazing friendship & relationship!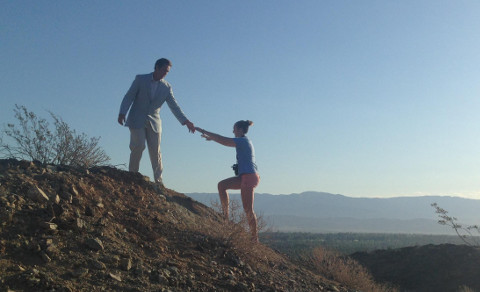 After the more serious photos on the hill, we headed off to a park close to our home and I love this photo of Houston in the air…contemplating his life to come in college. Just kidding!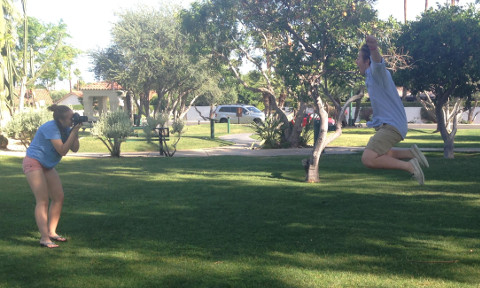 But I am veering off course and MUST get back on track by starting this ezine off with a score as usual! Check out this awesome vintage Ronson Lighter/Cigarette Holder Case that I sold for over $150.00.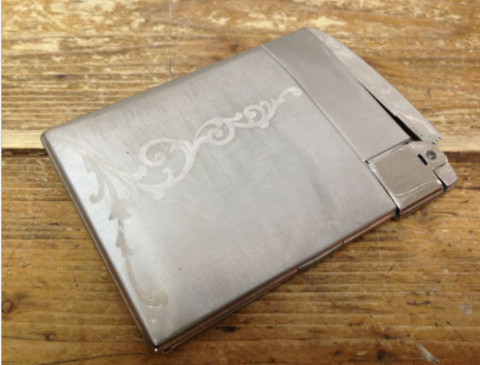 Click here
 to see this auction.
I paid $2 for it at a garage sale and my buyer turned out to be a super sweet first time buyer (0 feedback points people) and he was buying it to replace the one his fiancé had lost. What a sweetheart! Zero feedback buyers can be some of our BEST! Don't forget that. You were a Zero feedback buyer or seller at some point. Am I right? Or am I right?
In the last ezine, I shared that Indy was running for House President. Unfortunately, she didn't win, but as Indiana always does…she saw the silver lining in the whole process. She was happy that a junior (next year senior) had won and knows that when she runs again next year as a junior (next year senior) she will have a better chance of winning. Indiana always sees the positive side of life . Love that about her.
Indiana has been having a tough month dealing with the thought of Houston going off to college…actually I think/know we both are. He is such a huge presence in our house, life, activities, laughter and love, that he will be missed very much. But, on the other hand, Indiana and I are also ready for him to leave and be able to have a very clean house, clean kitchen and clean shared vehicle.
Baseball was amazing these past few months. The Xavier Boys made it to the CIF wildcard finals and then won that game to make school history and advance to their first EVER CIF (California Interscholastic Federation) Division 3 Round 1 Playoffs. WOW! They lost in a very close game 4 to 2 and it was very bittersweet. Here is a photo of the graduating 8 senior boys. Almost the entire team!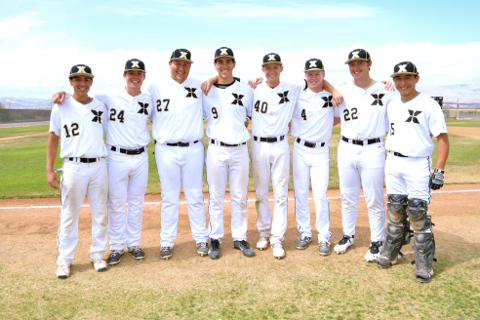 Then it was the baseball banquet that I (foolishly) agreed to help coordinate with my friend Valerie (well I call her Celery) but that is a long story. We had to buy coaches gifts, Senior gifts (8 of them if you have already forgotten), plan centerpieces, collect money, hire a caterer and then Celery's daughter Rhiannon and Indiana (who are both sophomores and great friends) baked Cup Cakes. It took all weekend!! Like I have time for this? Just kidding.
Here are the girls baking, writing on the senior gifts and cracking up.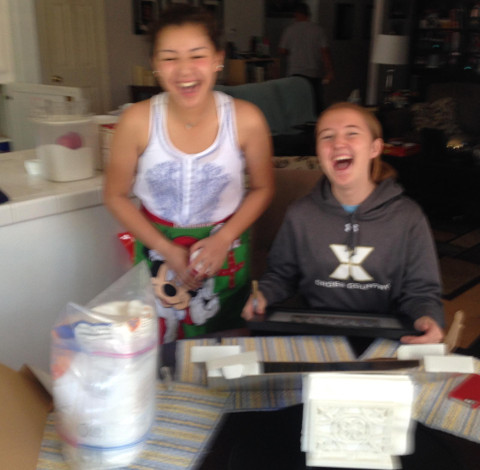 OK, now a photo in better focus—but I have to admit, I like the cracking up photo the BEST!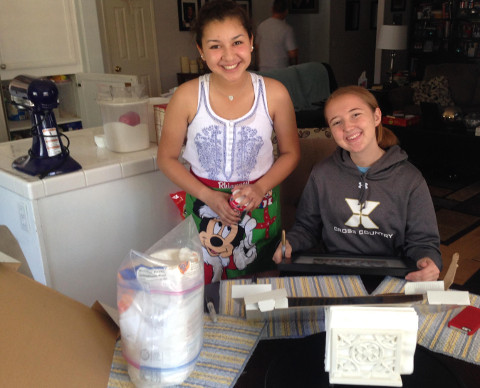 The Baseball banquet went really well and Houston received the Academic Athlete of the Year Award and in addition, his teammates and coaches voted him the "Heart of the Xavier Baseball Team". So sad…so bittersweet! I am very proud of him and the heart he brings to everything he does.
Here he is with his coach and his awards.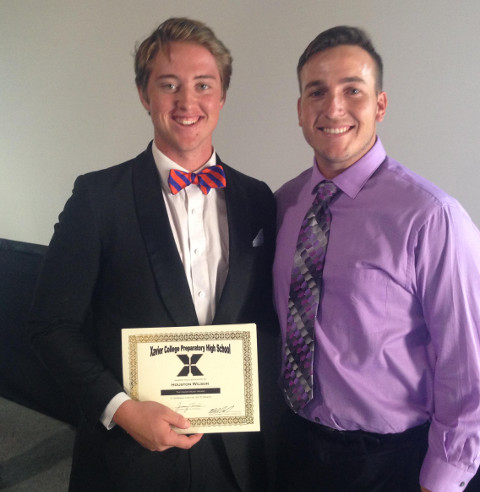 With all of this going on, I was still able to go out and buy a few things to sell on eBay. Funny how that works! Actually, I had a great month of buying.
A few days after Houston's senior photo shoot I got a phone call from one of my office mates (well a new friend of mine that owns a flooring company in my building)…she had been to a house to quote a job and the guy had a ton of stuff from his mother's estate to sell. Mostly chickens. Ughh. I wasn't that thrilled to go and look (but it was a super nice referral) and luckily it was Mo's day off and she went with me.
Check out these chickens….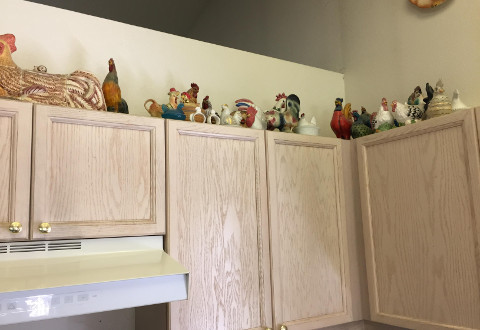 It turns out that they had about 300 chickens and he wanted $1,000 for them. NO Thank you! They were all above the kitchen and you know what that means…greasy, grimey, gopher guts. Do you remember that song? We used to sing it on the playground back in the late 1970's. Apparently there were quite a few versions and the one I remember went something like this…
"Boys are made of greasy grimy gopher guts chopped up monkey meat all the boogers you can eat french fried eyeballs….and I can't remember the rest."
I was singing this a lot today trying to remember the exact lyrics (and I must admit having a great time doing so), while my mom was in the office shipping for me. At one point, she got really mad thinking that I was just having fun, but in reality I was working….working on my ezine which is currently part of my job description.
Once she knew it was for the ezine, she was OK with it, but she didn't like hearing "greasy grimy gopher guts"…much like she & my dad must have hated hearing it when my brother Lee & I sang a version of the same song in our house at 700 Sacre Lane Monmouth, Oregon.
OK, back to Greasy ….Check out this episode of our reality show where I bought Wizard of Oz items from the top of a kitchen (just like the Chickens). It was quite the ordeal and they were SUPER GREASY, GRIMEY….Gopher Guts!
But back to the chicken sale, I did end up buying a set of Franciscan Apple which had some unusual pieces like a piggy bank and a thimble. Can you believe that a thimble was made in this pattern? And it isn't cheap. Check it out. Still waiting for the right person to add this to their collection!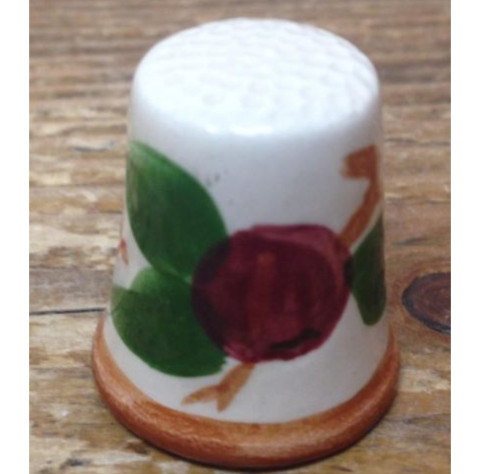 Click here
 to see this auction.
Here is the lid to a soup tureen from that same set that I sold for very close to my asking price.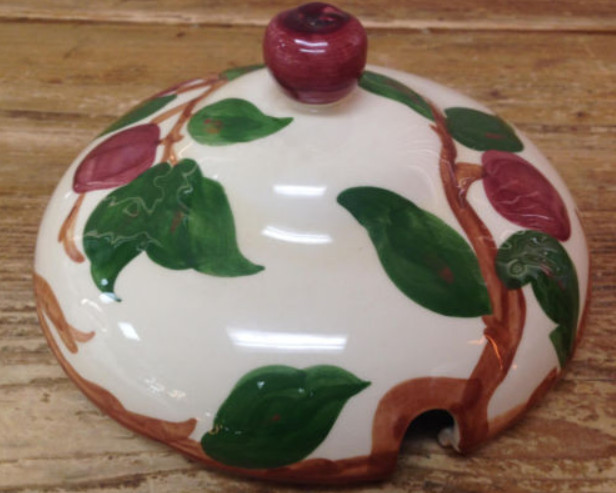 Click here
 to see this auction.
Well, the chicken saga was far from over….as most sagas in my life are…they just never end. Check out these texts back and forth regarding those $1,000 chickens. The seller just wouldn't give up. He knew that Mo liked them and that she wanted to list them for me over the summer, just like those 500 pigs she had listed years ago.
The Seller….
"Hey Lynn, these chickens keep calling out your name and it's really sad because they want to come and live with you. 200+ chickens can be yours for $300. Give me a call."
Me….
"You are too funny! Thanks for the lower price. I appreciate it but they will require soooo much work. Elbow grease to clean them etc. I can't pay that much. Good luck to you and your sister. Thanks again."
The Seller….
"OK Lynn, the Chickens are crying out for a new chicken coup. They are down and packed in bubble wrap and boxed. They can find a new home with you for just $100. If not they are on their way to be donated to charity"
Me…
"When do you need my decision?"
The Seller…
"Tomorrow".
I have to tell you that I DID NOT WANT those chickens. I texted Mo and said "should I buy them if he delivers for free?" She said, "That is asking too much—you need to pay him to deliver them". So here was my final text to the Seller.
Me….
"My assistant Mo says OK. She is the one that loves chickens. Could I pay an extra $20 and have you deliver them to my office tomorrow? Thanks."
And guess what? I am the proud NEW owner of 200+ chickens. Cloth chickens, stuffed chickens, pottery chickens, wooden chickens, chicken plates and chicken cookie jars…. What fun! Just kidding.
I must admit that I am learning that the more you don't want something, the cheaper the price gets. This can definitely be used in our favor when out buying. NEVER want anything TOO badly or you will make poor buying decisions. As my grandmother always used to say, "If you have money to spend, there will always be a place to spend it." Ain't that the truth?
My mom was here visiting back in March and she and I went to a garage sale by mistake. It was in an apartment building complex's parking lot and there wasn't anything that looked great. For some reason, I decided to check out some clear glass flutes which I usually don't do, but I had a hunch about these. There on a table in an apartment parking lot were 6 Waterford Flutes. I asked "How much?" They were $1 each or six for $5. Sold!
One of the six was chipped but that was OK. While writing this ezine I just sold a perfect pair for full asking price. Gotta LOVE eBay!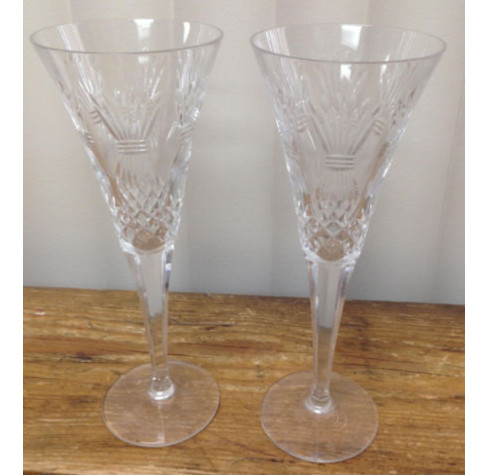 Click here
 to see this auction.
My mom just flew into Palm Springs yesterday for Houston's graduation and my dad will be arriving soon. I am very excited for Houston to graduate and continue on his exciting journey. He is still very torn in his choices of schools, so as of today, we still don't know if he will be attending Loyola Marymount or Pepperdine. I will let you know as soon as I know .
But one thing we do know, and this is super exciting, Houston was chosen as Prom King! Seriously, how awesome is that?
Houston and his buddies planned to cook their prom dates dinner. Houston actually made an itinerary of where everyone should be, with what ingredients, and when. It was hysterical. Part of the itinerary also included a time for Indiana to come and take all of the pre-prom photos and luckily parents were invited to join in the fun. Indiana did an amazing job and hand edited each and every of the 93 photos that she published!
Here is Houston with his buddies before the dance. I MADE them jump in the air (they really didn't want to do it at all) but what an awesome photo!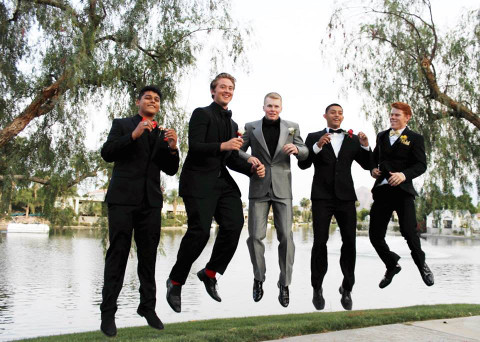 Here are the guys with their dates.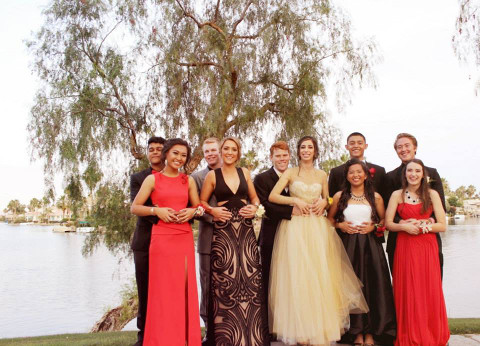 I have not been able to find a photo of Houston getting crowned King at the Prom which was held at Bighorn Country Club so here is Houston after the prom still wearing his crown and sash. By the way, he has decided that he will be taking the crown and sash to college with him .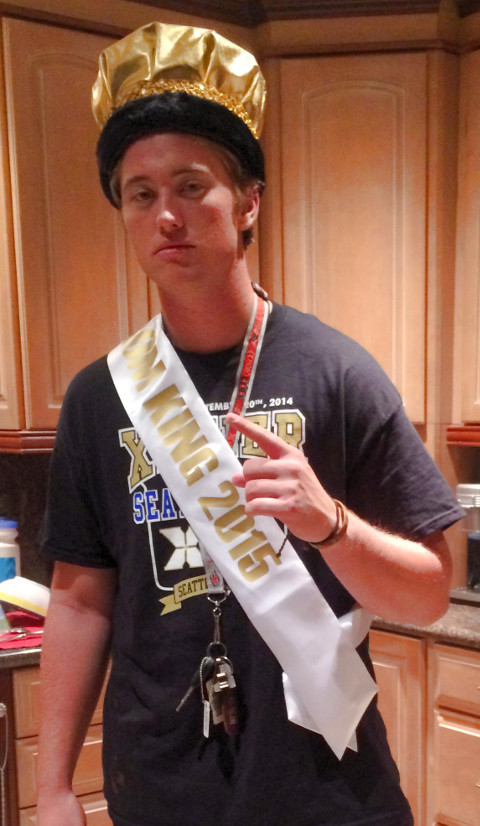 Speaking of a King, leads me right into the Queen's Court and it is time for our featured member of this ezine, Missy M! I love Missy M (even though she pocketed my camera at an eBay Live event—Of course she sent it back to me ) and she is a charter member of the Queen's Court from way back when it was started in 2007. Yes, we are on our 8th year! Here is Missy's story….
"I got into eBay selling because of you! I stumbled across your ezine in 2006, subscribed to it and then started buying your books. I began selling part time in late 2006, opened my store in Feb 2007 and attended my first boot camp in September 2007.

I'm one of the original Queen's Court members and love being inspired by the CDs of our informational calls in my car going to and from my day job. Finally in 2012 I retired and could devote more of my time to Ebay, it's been so much fun!

My user ID is SugarCreekCorner. I live in Sugarcreek Township in Ohio and our house is on a corner so that's what I went with!

Here's a recent score:

Click here to see this auction.

It is a ceramic Mexican sleeping man taking siesta in his sombrero. I like these and pick them up whenever I see them. I had accumulated about 8 of them (all alike) and they were a slow seller, then I sold one recently, then another one, then someone came along and bought all the rest! Now I'm looking for more to restock…lol

I went on to attend another boot camp in 2010 and was proud to attend and graduate from the 2014 executive summit.
OK Lynn speaking now….Here is Missy in her graduation Cap and Gown from our Executive Summit this past October….go Missy!)
Here is one of my current store listings. I bought this for $24.99 at a St Francis Thrift store. It isn't signed but I hope it's an authentic C Jere. I remembered you talking about looking for them as a great mid century bolo. Be On the Look Out (BOLO).

Click here to see this auction.

Here is a Mother's Day pic of me and my daughters, Amanda (28) and Jess (23). Both of them are experienced eBay sellers and Jess is the Queen of inventory organization!

Here is one of my current auction listings that I hope to turn into a score!"
Click here
 to see this auction.
Thank you Missy M for sharing! We LOVE YOU….even if you do accidentally "borrow" cameras .
Getting back to scores, check out this flatware that I just sold for over $100. Yep, 7 spoons brought in over $100!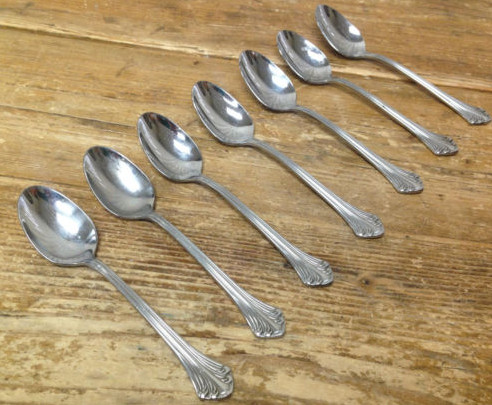 Click here
 to see this auction.
---
Don't miss your chance to get
Cash From Cutlery
Before the Price Goes Up $30
Tomorrow Night!
!
---
I'm super excited to let you know that Cash from Cutlery has already helped a lot of you and we still have one call left!
During Call #3 (Which I think was one of our best CALLs of any type EVER), I wasn't seeing any emails with questions or comments coming in from our listeners.  That always makes me a little nervous…So I gave a shout out…"Is there any one out there?"
Check out the subject lines from the emails that poured in…
"I'm Here and Learning LOTS!"……Bev Helton
"LISTENING…A Lot of GREAT Information!"……Staci
"Awesome session! Learning SO much!! Thanks!"……Gail Nowak
"Call Sounds Great Today……! Fascinating Stuff!!!"……Sheila
"Listening and Taking Notes, Really GREAT Information!……Thank You!" ……Melanie in Colorado
Wow! That made me feel great and so happy that I poured my heart and soul into our teleseminar series, "Cash from Cutlery". The price is going up on Friday Night, May 29th at midnight. Don't miss out! When I emailed Sheila to ask if I could use what she said as a testimonial…look what I got back 🙂
"Of course! You may also add that having listened to the webinars so far has increased my enthusiasm for selling in general. Sometimes I think I get a bit jaded when I'm plugging away on my own.

Seeing your success makes me realize that I can do it too. Since last week's episode I have set up some email alerts and I have even got a silverplated set from a consignor that I may buy outright. So I am going to practice what you preached in the last 2 episodes!

In addition, I have sold some Oneida Community Frostfire forks that I listed and sold since your first webinar. That's the 2nd lot. First sale of 3, and then this sale of 2!!

Sheila xx"
I am super excited for Call #4 (our last call) that takes place Thursday, June 4th at noon. But don't worry if you can't listen live, it will be recorded for you to listen to at your convenience.
But why are we calling it Cash from Cutlery? Cutlery is what flatware is called in Europe…the origin of our flatware, silverware, and all sorts of eating utensils…whatever you want to call it…Cutlery is the original western word!
In the past 90 days on eBay I have sold $2,785.49 in cutlery/flatware. This translates to $928.49 per month. Please keep in mind that these numbers are not as high as my dinnerware numbers for several reasons.
First, my average sales price for a dinnerware order is $33.42 and my average sales price for a flatware order is $26.03. Secondly, I have 6,234 listings of dinnerware and 2,532 listings of flatware. Lastly, a good set of dinnerware will run you $200 to $1000. A good set of flatware will run you $10 to $100.
To recap the benefits of selling flatware/cutlery:
You invest much less money when purchasing flatware
Cutlery is faster to list than dinnerware
Flatware takes up less space
Flatware is a breeze to ship.
After my kids both leave for college, I am seriously considering focusing on flatware. It is a joy!
Check out this flatware that I found last week at a thrift store. No maker's mark. Would you have purchased the two bundles for $9.99 and $14.99? I will be explaining more about these cutlery pieces on Call #4 and whether or not you should buy them. Don't miss out!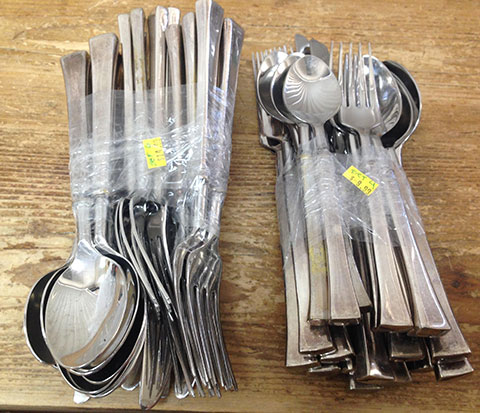 The Flatware Success eBook is one of our top-selling and most helpful tools of all time; I am really happy that it has done so much to increase your bottom line profits.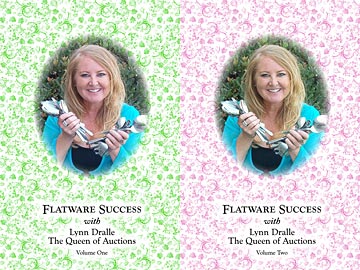 Since the flatware eBook came out in 2011, there have been major changes to my system of listing and selling flatware. It has evolved and improved over the past years. The improvements include CHANGES to:
Brands to always buy
Tricky brands
Brands to never buy
Research and new sources for doing so
How to structure and strategize your listings (this has completely changed)…Markdown Manager, Best Offer, etc.
How our flatware selling strategy has changed with eBay's new defect policy
Shipping pricing, materials and methods
So without further ado, I am very excited to tell you more about our newest teaching tool "Cash from Cutlery". Think of it as an updated companion resource to the Flatware Success eBook, but it is audio instead of the written word.
My new audio and slide series is seriously the BEST thing I have done in a while. I have poured my heart and soul into it and I think you are CRAZY to not buy it at the current price. But that is my opinion. Reserve your spot here before the price increases $30 on Friday, May 29th at midnight.
Check out this email I got from Denise with the subject "So excited!!!" as soon as we announced this new series….
I was listening to three of the four calls from the "Dinnerware to Dollars" series driving a U-Haul truck from Indiana to Florida and I was thinking the whole time, "Man I hope Lynn does this same format with flatware!!" And WA-LA two days later here is the email I have been waiting for!! I hope I am one of the first to purchase your new "Cash to Cutlery" series because I was so psyched about your "Dinnerware to Dollars" series!! I would tell everyone, DO NOT HESITATE TO BUY ONE OR BOTH OF THESE SERIES, AS THEY WILL PAY FOR THEMSELVES IN ONE SOURCING TRIP!!! I love the simple format of these series- What to buy, what to stay away from and how to price them!! Thanks Lynn for another winning series that I can't wait to listen to and profit from!!

Denise Hunter!!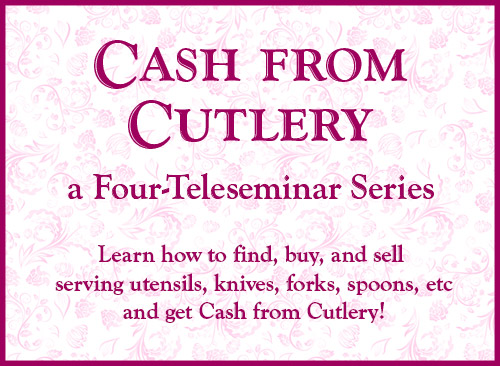 The current price for "Cash from Cutlery" is a bargain and a fraction of what I sell each month in flatware. Join me in enjoying the benefits of this fun and profitable eBay category. Order now.
As an example, check out this listing for 3 salad forks that just sold for $60.00. Yay!
Check out the listing here.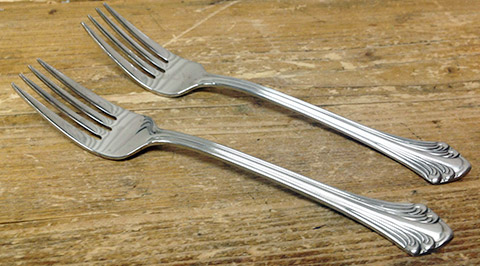 You will have access to me for 70 minutes a week during the series. Every Thursday at noon Pacific Daylight Time we will have a 70 minute phone call where Mo and I will go over the major changes from the past few years and also answer YOUR questions regarding these changes.
We will also wrap up with a final call two weeks after the first three calls to circle back around and look at some of your listings, critique them, and answer new questions that have arisen.
Flatware Call #1: available for immediate download when you sign up for the series
Flatware Call #2: available for immediate download when you sign up for the series
Flatware Call #3: available for immediate download when you sign up for the series
Flatware Call #4: Thursday, June 4th Noon Pacific
Once you sign up, you will receive an email with instructions on asking your questions.
Click here and get started now.
The sky is the limit. Ask me how much you should pay for a sterling silver set you have had your eye on or maybe you shouldn't buy it at all? Ask me how much you should price a Dansk serving spoon?
The more questions I receive, the more up-to-date and informative this Cutlery to Cash Series will be for all of us! I can't wait. But you shouldn't WAIT….The price goes up $30 on Friday, May 29th at midnight.
OK, I must share a score from our Dinnerware teleseminar series that was called Dinnerware to $$'s. These cup and saucer sets were one of my examples. I just sold 6 of these for over $300.00 to South Korea! And I had purchased them as an example for that call series! Super exciting!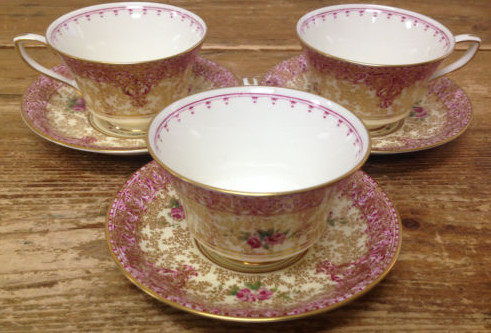 Click here
 to see this auction.
To celebrate, I think all of you should join us for the eBay radio party in June. I have been asked back to speak at the eBay radio party in Las Vegas, June 16th to the 18th. This event is always a ton of fun and sells out quickly. So I encourage you to buy your tickets and make your plans now. As you know, Lee says "If it ain't fun we ain't doin' it".

For more information, click here – Radio Party in Las Vegas Event.
OK, back to life in Palm Desert, at Xavier's Year end Awards assembly, I was getting teary eyed listening to all of the wonderful stories about the seniors and the faculty that would be moving along next year. Then it came time to announce the Sophomore winners for Loving & Compassionate. Here is how that award is described:
"By the time of graduation, a Xavier student is well on the way to establishing his or her own identity. The graduate is also on the threshold of being able to move beyond self-interest or self-centeredness in relationships with significant others. In other words, he or she is beginning to be able to risk some deeper levels of relationship in which one can disclose self and accept the mystery of another person and cherish that person. Nonetheless, the graduate's attempt at loving, while clearly beyond childhood, may not yet reflect the confidence and freedom of a mature person."
And the sophomore girl winner….Indiana Wilson. I must admit that I screamed (just a little bit) but not like I yell at baseball games . Go Indy, go Indy!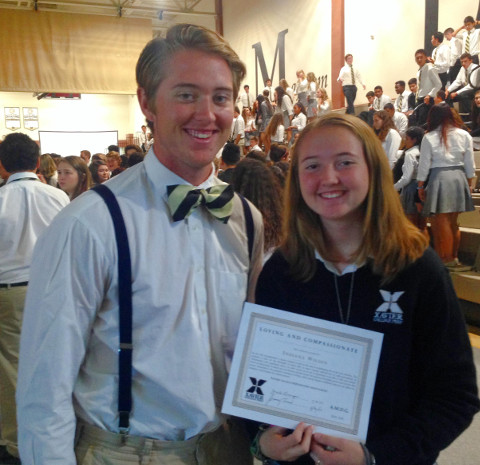 OK, let's end this ezine with a potential score. I really know nothing more about this item then what the signatures tell me, but I do know that it is BEAUTIFUL. Check it out here and give me your feedback….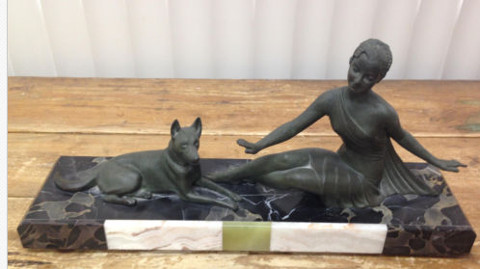 Click here
 to see this auction.
Thanks for reading my ezines! I appreciate it!
Happy eBaying!
Lynn
---
Lynn is an experienced eBay Power Seller, author and teacher. If you want to know the eBay tips, tricks and tools that Lynn uses for buying and selling at online auction click here.
Some links in my emails to you may be affiliate links. You can be confident that I only partner with companies that I fully stand behind.