Hi!
Here it is… my third and final eZine from Europe! As you know, I wrote three of these during our 12 days abroad. There is one for each portion of our trip; London, England, Heidelberg, Germany and Kraków, Poland. It was my goal to keep you updated and also to use this as my family's travel journal! Goal accomplished! 

My last ezine left us getting out of our private car at the Frankfurt airport. We would be flying Lufthansa for the next leg of our journey from Frankfurt to Kraków, Poland. Houston thinks Lufthansa is the "bee's knees." Translation, sweet and good or in today's lingo "cool."
The slogan comes from the yellow jacket bee which flies from flower to flower gathering nectar which sticks to their knees. Since the nectar is sweet and good the term "bee's knees" originated. I had heard my grandmother saying this quite a bit over the years but never knew its history. Pretty cool! Aka Bee's Knees 

.
Speaking of bees, I have a coffee mug listed with a bee on it. I think it is pretty special so (of course) I priced it quite high. Check it out here. If you don't have my Coffee Mug eBook you should also check that out.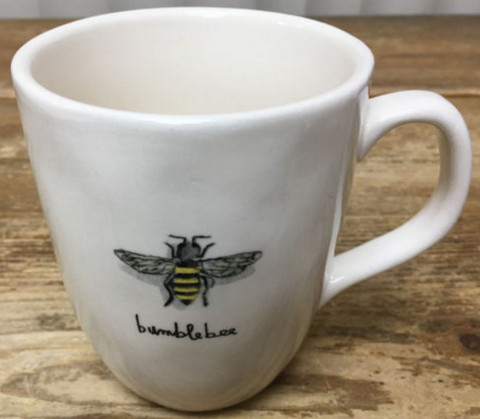 Click here
 to see this auction.
Here is a question I got about that mug today… "Is the pricing correct? $49 for one mug? I have the exact one that I bought at TJ Maxx? Thank you."
LOL! I answered "yes it is correct ."
When we got out of our luxury ride at the Frankfurt airport and proceeded to check in with Lufthansa, we got a rude awakening! Remember, all four of us had fallen asleep in the car . Lufthansa does not offer one free checked bag per person.
Each bag we were checking would cost us 30 Euros. Seriously? What a bummer! I had to pay for Indiana and my bags which cost me about $65.00. Hadn't planned on that! Luckily, Houston is skilled in this European travel thing and his HUGE backpack went right on the plane with him. No charge and it was definitely oversized.
We were taking a super late night flight, 9:20 pm local time on Thursday, February 23rd, from Frankfurt to Kraków as Houston had to attend class earlier that day. I know this isn't the greatest photo (don't be mad Indy & Mor Mor), but I just had to share. As soon as we settled into our airline seats, my mom and Indy fell asleep again. They actually have quite similar noses.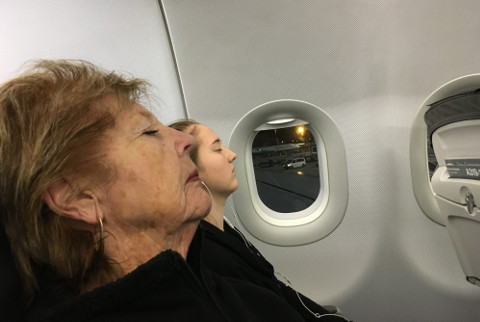 The flight was 2 hours and 30 minutes but we gained an hour from Germany to Poland, so when we landed at 10:50 pm we were all pretty exhausted.
My mom's really great friend Izabella Wodzicki is originally from Kraków and that is one reason we chose to visit it. In addition, Houston is currently studying Nazi Germany and he wanted to tour Auschwitz. Isabella has four children and her son Wojtek was in my graduating class at Sehome High and I was also good friends with her daughter Halinka. Small world! Her other two children's names are Misha and Stefan.
Here is a great picture of my mom and Izzie (aka Izabella).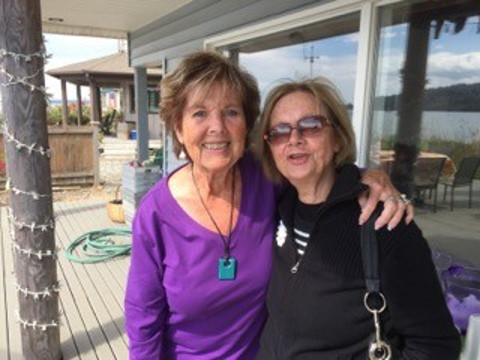 Izabella highly recommended that we visit Kraków. Here is a blurb that my mom emailed to me about Kraków that I think must have come from Izzie…."Kraków combines the loveliness of Prague with the quaintness and relaxed pace of a smaller city. Its cobblestoned streets and beautiful historic buildings tend to simultaneously enchant and inspire visitors. The city's beauty and storied past have made it a symbol of the Polish nation as a whole. Also it the place of Schindler's List and there is a museum there."
Here is a Polish Pottery bowl that I sold back in January for about $70.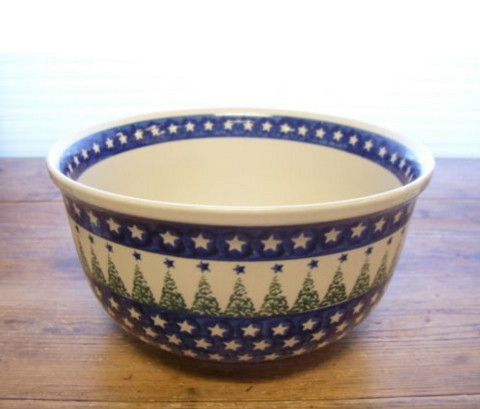 Click here
 to see this auction.
In addition, Izabella recommended that we stay at Hotel Wentzl. Well, she was spot on with all of her advice! Hotel Wentzl is located right in the main square and it was quite reasonable. Of all the countries we visited, Poland was the most reasonably prices. Check this out, we only traveled to three different European countries and of course we had to pick three countries that all use DIFFERENT currency. Seriously?
We had to have Pounds for England, Euros for Germany and Zlotys for Poland. Could it have been a little bit easier? NOPE!
Hotel Wentzl was a joy to work with. They arranged for two adjoining rooms overlooking the square. Here is a photo of Hotel Wentzl from the square. Our rooms are circled.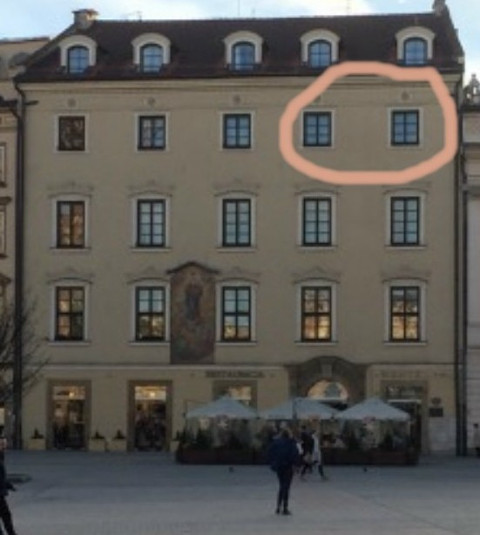 The hotel even offered to provide transport from the airport for 90 Zlotys. That is about $20. Bargain! When we got off the plane in Kraków, there was Roddik waiting for us with a sign that had my name on it. We LOVE Roddik.
Here is a photo of Roddik that I took later on in the trip. He made quite a few appearances during our short 4 day stay.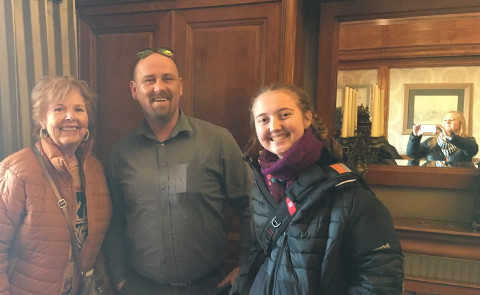 It was cold in Kraków when we arrived to the hotel late that Thursday night. It was about 20 degrees. The kid's room was decorated in crazy black (or it could have been a dark brown) and white geometrics and had really interesting (insert creepy) photos on the walls. The kids were both a little freaked out and wanted to switch rooms with Mor Mor and I. Not gonna happen! Here is Indy putting on her boot in front of one of those "creepy" photos and trying to zip up her suitcase at the same time. LOL!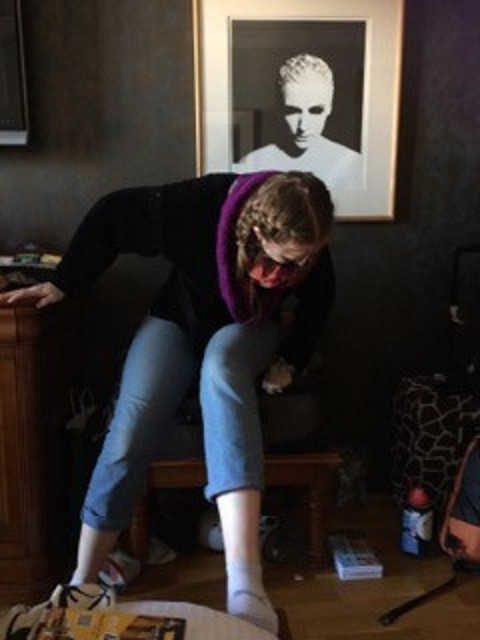 We had decided to try and visit Auschwitz either Friday or Saturday, as Houston had to fly back to Heidelberg early Sunday morning to study for a midterm. He has been a stellar student this year and made Dean's list and got straight A's last semester all while taking 18 units and being in Europe. Super proud! When we got settled in our rooms, I insisted that Houston come over to our room and book the tickets for the tour.
Since we were coming up on the weekend, Friday was already sold out so we bought three tickets for a bus tour to Auschwitz – Birkenau for Saturday. My mom was having some trouble walking and the tour said that you would walk about four miles. She opted out. In addition, she had visited Dachau in Germany many years ago, and the experience had never left her….as I was about to discover why.
To lighten the mood a little bit here is a recent score of mine. I bought this pillow by the famous California designer Trina Turk at a storage unit sale about 6 months ago. I sold it for close to $50 and probably paid $1. It really reminds me of the geometric wall pattern in the kid's room at Hotel Wentzl.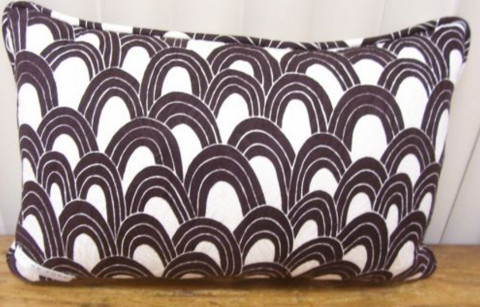 Click here
 to see this auction.
We all slept in a bit the next morning (except my 80 year old mother), who is always up at the crack of dawn and has more energy than all of three of us combined. She was itching to get going so we all piled on the layers (it was freezing) and headed out into the square to find some breakfast. After breakfast, we would make plans to visit museums.
Here are the kids and I fighting the bitter wind and cold in front of the Kraków Cloth Hall. This photo cracks me up because my hair color almost exactly matches that pom pom on the top of my hat. And yes, for anyone that cares, my hair color is natural and real! Amazing, but true. Luckily, I have not had to color it yet. Fingers crossed that it last for many more years just the way it is!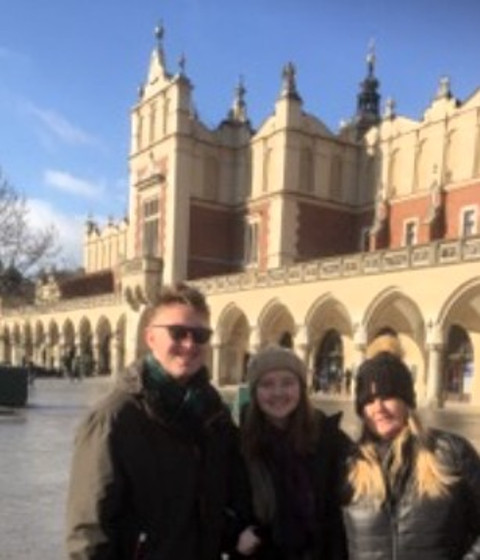 I have to apologize that some of these photos seem to be out of focus. My mom took them and we just figured out today that the lens on her camera phone was dirty. Ughhhh. But at least you get the gist.
The wind was biting cold and we realized that if we walked through the vendor stalls in the Cloth Hall we would all stay a bit warmer. Not much though. I noticed that tons of tourists were taking photos in the aisle and insisted on one of my mom, Houston and Indy.
Houston hates it when I take too many photos and act like a tourist, but whatever….maybe someday he will thank me (wishful thinking). That is the reason that you usually see him with a goofy face.
But, in case you missed his AWESOME haircut in the last pictures from the Heidelberg travelogue, check it out here. Handsome son, darling daughter and beautiful Mor Mor….all of them….both inside and out. I am blessed.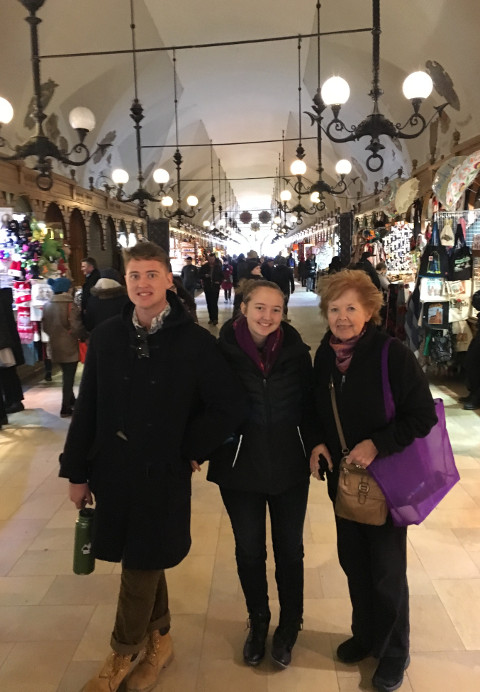 Amazingly enough, that day, February 24th, I sold $618.54 on eBay. And another blessing was that Mo and Carmen were back in the office working like crazy to get everything shipped out.
Here is one of the items that sold that day.

Click here
 to see this auction.
We had a wonderful breakfast at Lozas and then headed off to the ticket office to purchase tickets for the Main Square underground tour and Houston's pick of the Schindler factory tour.
We would tour the archeological dig under the main square at noon and then we had a reserved time for the Schindler factory at 3:30 pm. It was going to be a busy day!
The history of the underground museum is fascinating. Here is some background from Wikipedia…..
The museum was INCREDIBLE. I am fascinated by history and you just wouldn't believe the graves and artifacts that were found in this amazing archeological dig that left all the remnants exactly where found in the underground museum. Here is a photo of the square from our hotel room.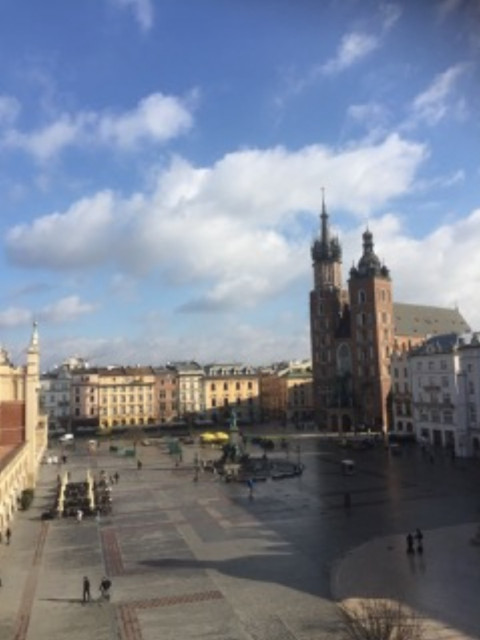 Here is a photo of the square during the archeological dig that created this museum that was able to leave each and every find in its exact location. Amazing.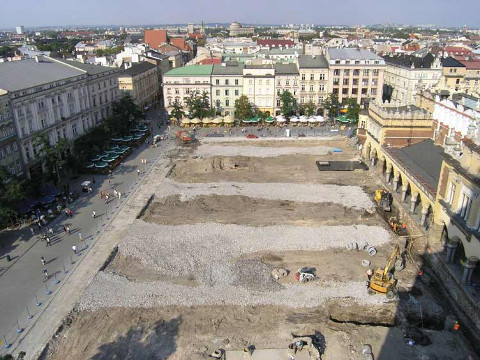 Here is a recent relic (because it had been listed on eBay since 2011) that I sold which reminds me of some of the items that we saw in the museum. There were all kinds of tools of the different trades. Blacksmiths, fabric weavers, jewelers, cutlery makers etc.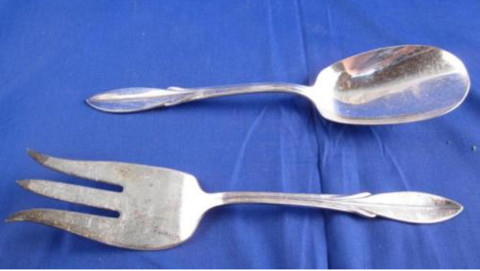 Click here
 to see this auction.
After visiting that fascinating museum it was time to grab a cab and head into the Jewish sector to visit Schindler's Factory. I MUST watch Schindler's List again now that I have been there. The museum is located in and on the original site where Oskar Schindler saved many Jewish lives.
It is a very powerful and thought provoking exhibit. It is very well done and quite state of the art. You walk through many different areas, the rubble from Auschwitz, the cobblestone of the main square, and the black leather that represents the burning of the Jewish sector. The museum was packed and it was hard to stay together. I think the walking was really hard on my mom, but she was a trouper. That night we had made special plans. It was going to be another long, but fun day!
My mom's friend Izabella had told us about a special restaurant, but said it may be too expensive to eat dinner there. She did suggest that we stop in for an appetizer and drink. It is called Wierzynek and was founded in 1364, the oldest restaurant in Poland…maybe even the world. We had inquired about reservations first thing on Friday morning, but were told that an entrée was about 100 Zlotys. Not being accustomed to Zlotys yet, we thought it was too expensive and decided not to make reservations.
After our tour of the Main Square underground where we had watched a documentary about this restaurant and the massive two week feast that took place there in 1364, we realized that 100 Zlotys was only about $25 and we could even share an entrée. When we got back to the hotel, we requested a reservation for 7 pm and luckily, we were accommodated! It was truly one of the high points of our trip.
Another high point, was selling this item that very night that would pay for my, Houston and Indy's dinner. Memories being made thanks to eBay!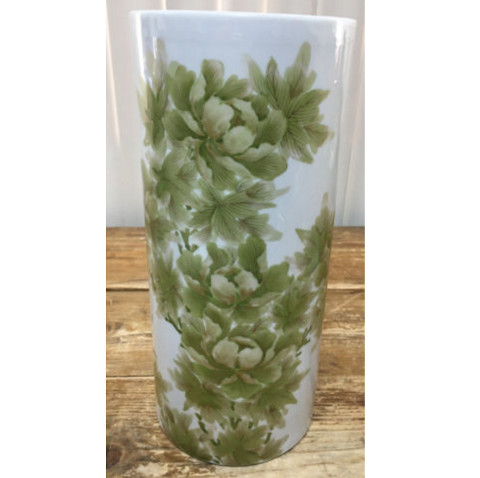 Click here
 to see this auction.
The restaurant was white gloved heaven! White tablecloths and very hush, hush, snooty. When Houston was little one of his dreams was to eat in a restaurant with white tablecloths. Little did he know that we would have white tablecloths and white gloves!
Before we even ordered, I insisted on a photo. I knew that once the restaurant got busy the kids would not stand for it. Here is my instagram post. The comments are hysterical .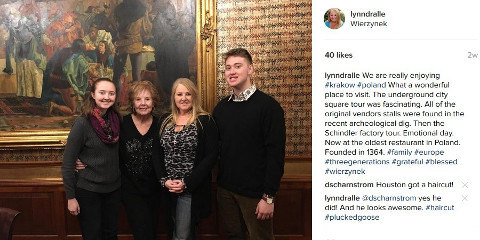 Since not all the comments would show in my screen saver, I had to add a few of them in a different photo. One from Queen's Court member, Coco and one from a favorite baseball coach of Houston's.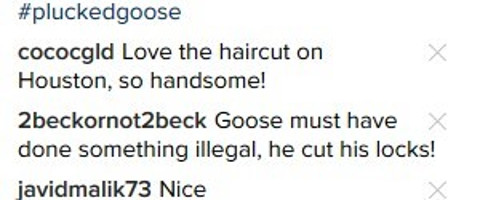 We got our photo out of the way! Whew! Then it was time to order. Indy and I got the fillet, Houston had pheasant and Mor Mor had beef cheeks. They brought us a complimentary first course of "pigeon." Seriously, I thought I was going to throw up.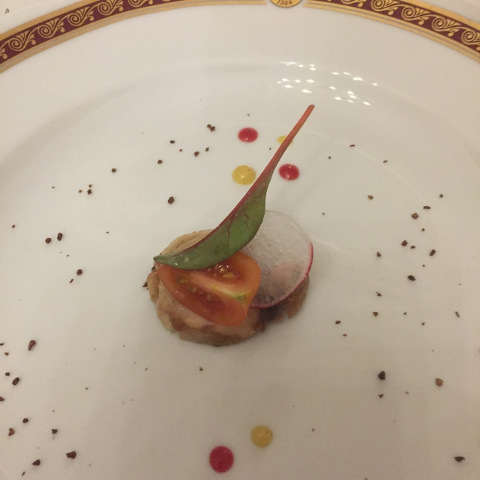 I took one bite of the pigeon and decided I would NEVER eat pigeon again. But since I didn't want to be rude, I messed up my plate to look like I had eaten some of it. Smart? Probably not. Polite? Maybe. Let me know what you think??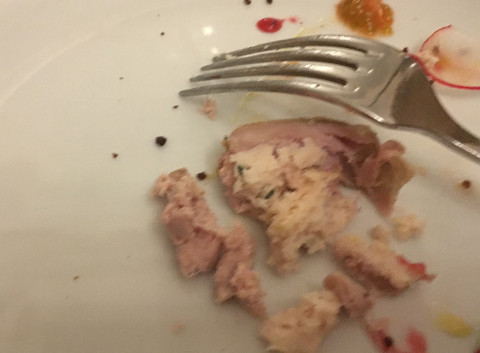 In keeping with the bird theme, it is time to share a bird score! This item sold for full price right before our trip. NEVER pass up cribbage boards and NEVER eat pigeon. LOL.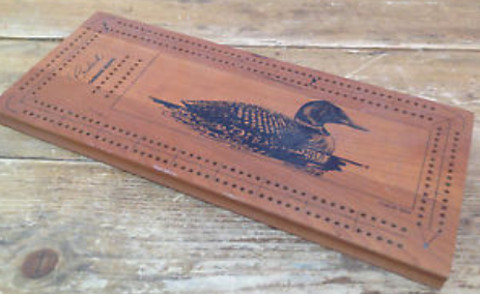 Click here
 to see this auction.
After the pigeon, but before our main course arrived, I took a great photo of the kids that shows the rest of the amazing private room we were seated in behind me. BTW, I think they put us in this very back room in case we were a bunch of rude American tourists. I sincerely hope that we were not and I do think we were all on our best behavior.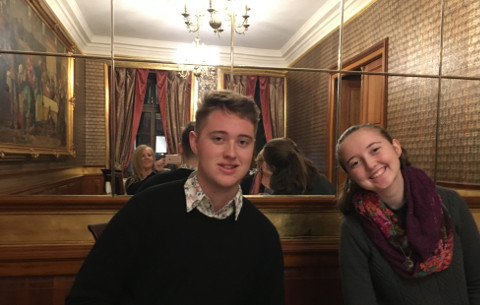 When the main course arrived it was quite the presentation. Two servers arrived, who were both wearing white gloves, and they took the four silver domes off of our plates at the exact same time and made a clanging sound. It was one of the COOLEST things I have ever seen! I was having a blast.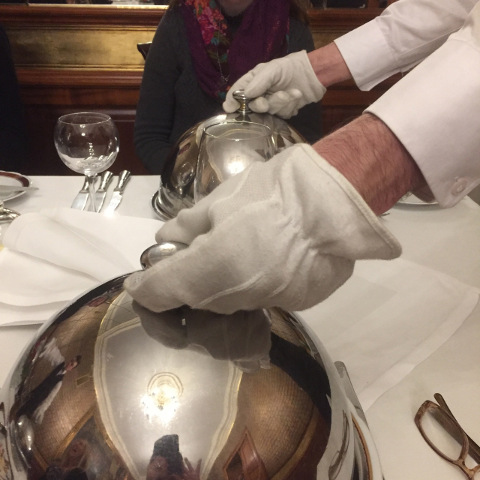 We ended up ordering desert and it was also spectacular. While at dinner I got a phone call and message from my bank. They knew I was in Europe, but there had been a questionable charge on my Visa. I excused myself and went to the bathroom to call them and sort it out. I have Tmobile and their international plans are incredible. Free text and data and only 20 cents a minute for either outgoing or incoming calls while traveling internationally.
Quickly got it handled and was back at the table to pay the check but Mor Mor had already taken care of it. What a doll! Icing on the cake! The perfect end to the perfect day. On the way out of the restaurant, Mor Mor took a great photo of me and the kids. I LOVE this photo because it shows how much fun we were having and how much Indy loves spending time with her brother.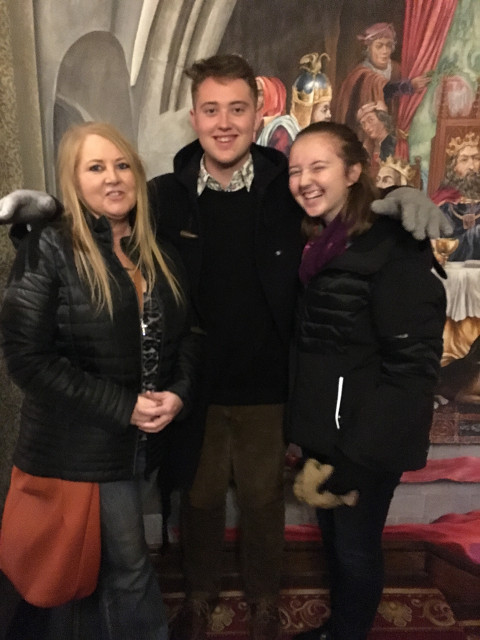 When I reflect back on our trip and the three different countries we visited, I have a highpoint and favorite memory from each place. From England it was the front row seats to "School of Rock", from Germany it was the dinner with Houston and his best buddies at the Schnitzel Haus and from Poland it was that dinner at the expensive restaurant. BTW, even though my mom paid for that dinner, it was only about $45 per person which included drinks, dessert and a hefty gratuity. Pretty reasonable if you ask me. A dinner in LA or Palm Desert can cost you that much!
Thinking about dinner and how important that meal can be for family, friends and togetherness makes me realize even more why dinnerware is my "hands down" best selling category. I sold over $30,000 worth of dinnerware on eBay last year. I am not including flatware in that number, just good old plates, cups and serving pieces. Thank goodness for my dinnerware sales on eBay!
Here is a recent score of Villeroy & Boch. You all know from the Germany travelogue ezine that I tried to buy some at their factory store in Heidelberg. NO WAY could I pay those prices and ship it home. I recently found a set at a local consignment store that I paid $200 to bring home (free of any shipping charge in the back of my SUV). I ended up selling $150.00 of it at auction. Quite a rarity…most does NOT sell at auction and I still have about $1,500 listed at fixed price in my eBay store. Gotta love dinnerware. If you don't have my dinnerware eBook you are missing out.
Here is a sandwich tray that sold for $69.99 at auction.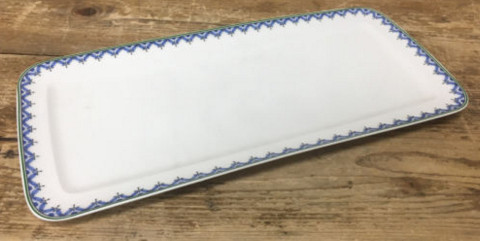 Click here
 to see this auction.
The next morning was the tour of Auschwitz for the kids and me so we called it an early night. We woke up to snow falling and it was quite the somber morning as we walked to the meeting place for our group tour. Houston and Indy had specifically asked me NOT to take any photos or selfies that day and I totally understood. It was going to be a day of reflection and silence.
Here is a snapchat post that Indy did that morning. Can you see from that photo how depressing the day was going to be? I certainly can.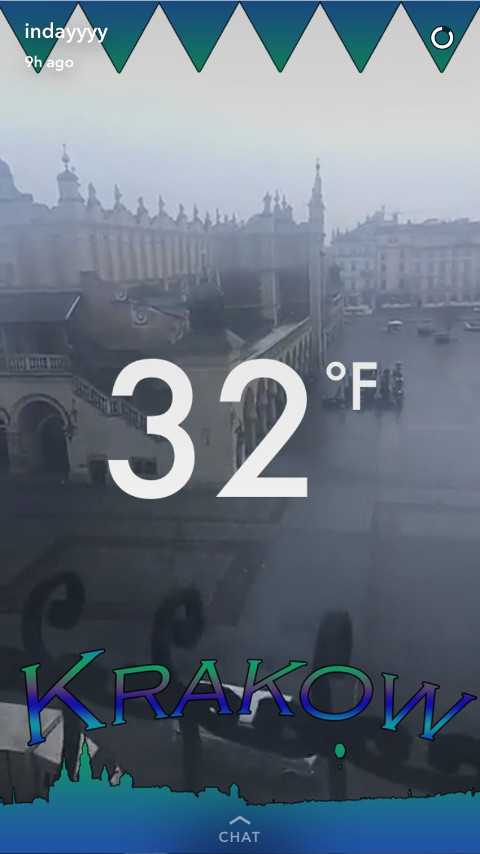 Indy's broken foot had recovered enough that she was able to start wearing shoes with solid heels (as per doctor's orders). She was wearing the darling black boots that we had both bought in Norwalk, CA and unfortunately as we walked towards the meeting place, the boot on her right foot (the broken one) would not zip up and was literally falling apart. She and the Goose decided they had better scurry back to the hotel and get her walking boot cast or she wouldn't make the day walking over 4 miles.
Thank goodness the boot that fell apart was the one where she could replace it with the walking boot. If it had been the other way around, I don't know what we would have done. My black boots were a full size smaller so that wouldn't have helped.
The ride to Auschwitz in the tour bus was very quiet. The video that they were going to show didn't work and we all kind of dozed off. When we arrived on that cold snowy windy morning to tour the Auschwitz museum, no one spoke much.
After passing through security, our tour guide gave us head phones to wear so that we could hear him conduct the tour in English. At least 1.4 million Jews were killed at Auschwitz and each year there are over 1 million visitors to the site which is called a museum. I wouldn't call it a museum, but rather a place to NEVER forget what happened to these completely innocent people and to make sure it NEVER happens again.
I only took two photos that day. One at the gate to Auschwitz, which I can't even imagine ever having to pass through as a prisoner and another later in the day.
Here is the gate at Auschwitz.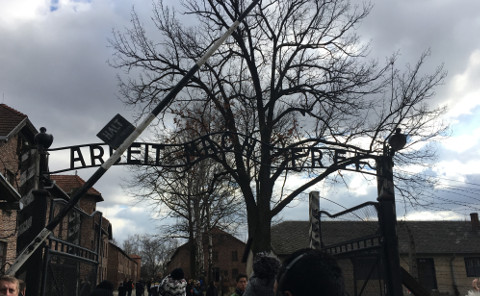 The wrought iron sign says "Arbeit Macht Frei" which means "Work sets you Free." What a terrible, terrible place. The tour was long and cold. I was exhausted from walking up and down the worn stairs, seeing the torture chamber, the execution wall and walking through the gas chamber. If I couldn't handle a four hour tour, how did the people who were sent there even survive?
It made me realize how awful this place was and what a dark place it must have been for its inhabitants. I almost threw up in a few of the rooms. Seeing what these poor, innocent people went through on a daily basis is too much to even comprehend. But I do realize how important it is to recognize that this can NEVER happen again.
After Auschwitz, we went to see the camp at Birkenau where the Nazi's would bring in trains full of Jews to get rid of in their gas chambers. It was eerily large, empty and very depressing.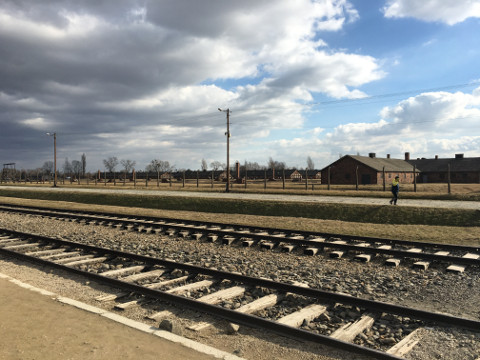 I will NEVER forget that day and the people that lost their lives for NO reason. I said many prayers that day for them and could feel their presence. It was eerie.
My mom's friend Izabella was also sent out of her native Poland back in 1939 for being Polish (you didn't have to be Jewish to be banished). She and her family were shipped off to Siberia in train cars. After Siberia, they were moved to Iraq and then they moved to Africa where Izabella grew up in the shadow of Mount Kilimanjaro.
At some point they relocated to England where they rejoined her father. Eventually, the family was reunited and they moved to New York when Izzie was in her 20's. It is a terrible chapter in the world's history and the trip to Krakow was very important for all of us to experience.
After the tour, we rode the tour bus back in silence and most of us fell asleep. When we arrived back in Krakow, I took the kids by a local mini-market to get some snacks and we made plans for dinner.
Here is Houston walking down the aisle, does he look European or what?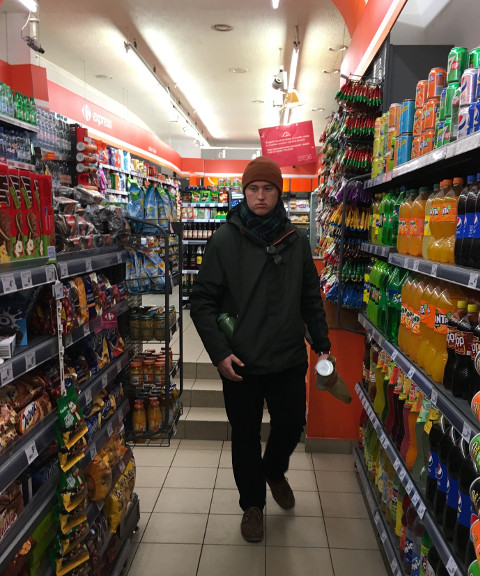 But before dinner, I had spotted a Benetton store across the main square that was having a 70% off sale. I used to love to shop at Benetton when I was in college. It was a store for people who care about the world. Their slogan is "United Colors of Benetton." And I couldn't wait to introduce my kids to my 1980's world.
Apparently, the Krakow store only carried women's items but luckily we found a pair of really AWESOME shoes for Indy that were 70% off and only cost me $19. SCORE!
Here is another clothing score that I recently sold on eBay. It sold for more than double what the Benetton shoes cost.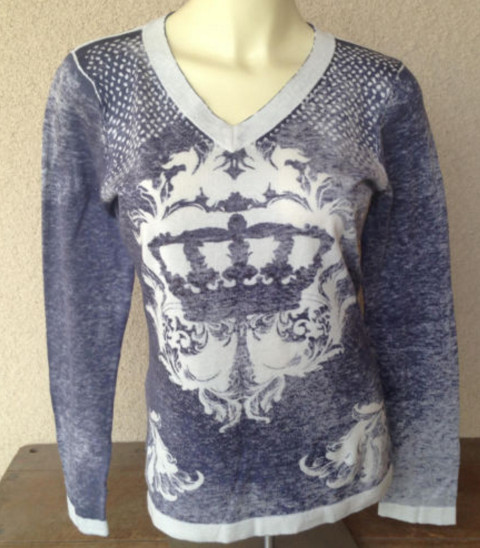 Click here
 to see this auction.
Then we went to dinner at Spaghetti. I had been walking by a restaurant named Spaghetti for 2 days and since I was on the Weight Watchers diet I was seriously ready for some carbs. We got an amazing table in the basement and Houston did a crazy hand trick in the fire. LOL. Just kidding. It was an optical illusion.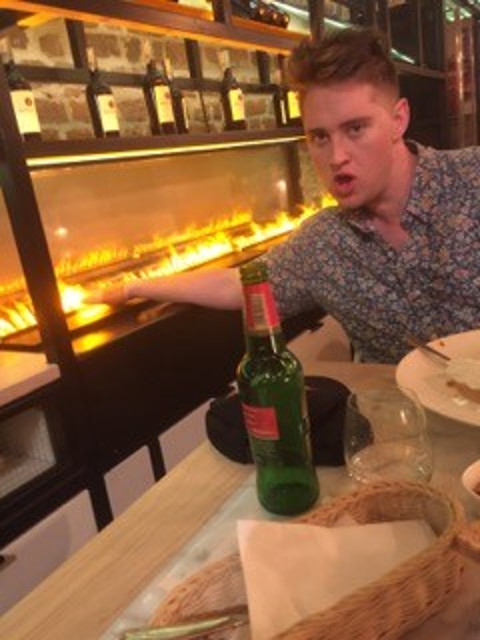 The next morning Houston would be getting picked up by Taxi at 9 am to fly back to Heidelberg for his studies. So we all got up really early…like 8 am and tried to find a place to have breakfast. LOL. The only places open were a chocolate shoppe and McDonalds. I opted for an Egg McMuffin and everyone else just had coffee and croissants.
We cracked up when we got back to the hotel and in the lobby waiting for Houston was none other than Roddik. The best driver in all of POLAND!
I had given Houston 100 Zlotys for his ride and asked him if he was going to tip the driver since it was only 80 Zlotys. He said "NO WAY! I can buy breakfast in the airport with the extra Zlotys." OK, no problem, it was his money to spend.
I took a bunch of pictures of Houston and Indy in the plaza before he left. I LOVE this one because you can see her new, awesome Benetton shoes and it shows how much they love one another.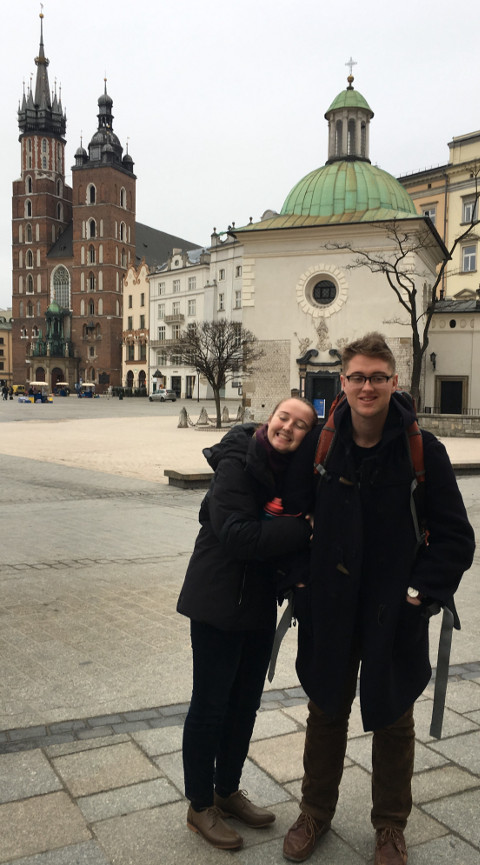 Let's check out another recent clothing score I had. You do realize that eBay is what makes this life work for me? It has changed my world and I hope yours as well.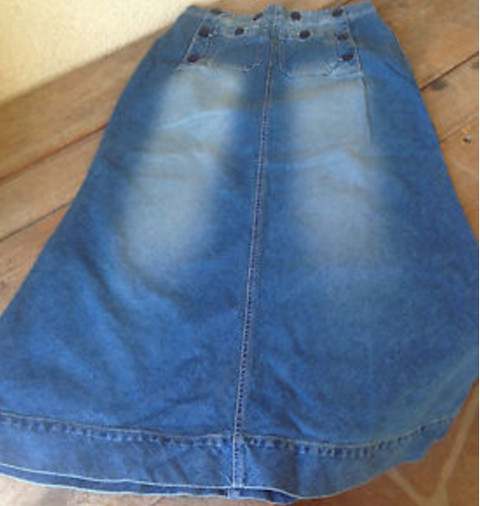 Click here
 to see this auction.
Well, this mini travelogue is turning into a long dissertation, so I had better finish it up or it will never get to you!
After Houston left to return to Heidelberg, Indy and I both took naps. Later that day, we toured an amazing museum which is located right behind St. Mary's Church and it showed what different room settings looked like in Poland in the late 1800's! It was fantastic.
Here is Indiana reading about one of the bedrooms and my mom listening. Please notice the chamber pot under the bed which was made by Villeroy & Boch. When I pointed it out to Indiana she went "oooooh."
For those of you who don't remember the Indiana chamber pot story you can read it in this past ezine.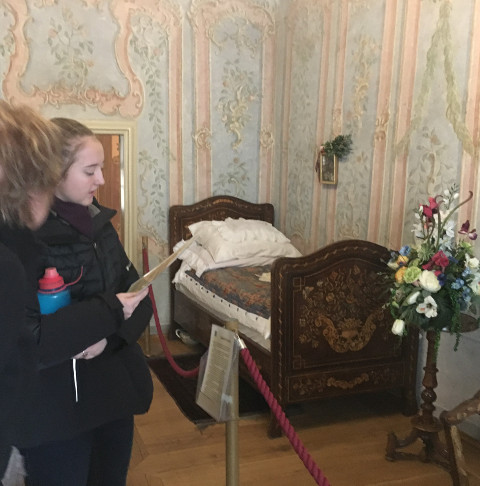 I will be sharing many more photos and more information in my Antiques from A to Z book. After that tour, Indy had a headache since she had to read all of the informational cards to me and my mom. So, she went back to the hotel to take another nap and my mom and I went to see St. Mary's Altar. It was seriously amazing!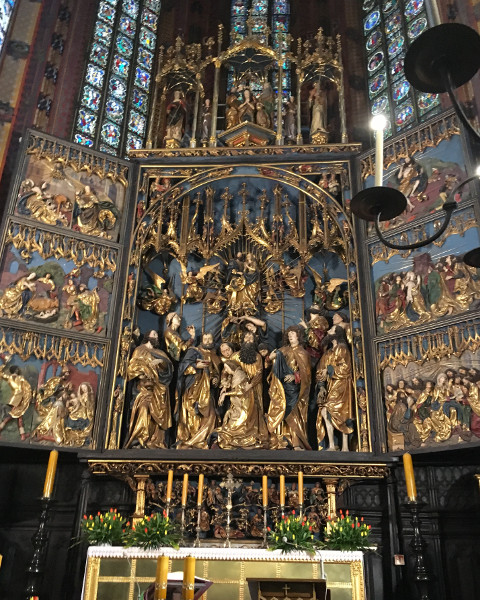 Speaking of Churches and Mary, check out this recent listing on eBay that I had listed as Mary and Joseph's carriage. I just got an email that it may just be May and Joseph. I think I am a little overworked .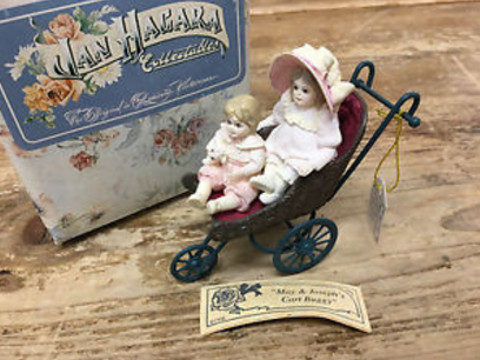 Click here
 to see this auction.
That night Indy, Mor Mor and I had dinner at Marmalade. A wonderful Krakow restaurant. The next morning my mom and I packed up our room since we had to check out at noon and Indy had the "weird creepy" room until 2 pm. We moved all our stuff over there.
Then we had breakfast in one of those heated outdoor restaurants that is enclosed in plastic. The day was supposed to get up to 62 degrees so we were super excited to finally have some nice weather.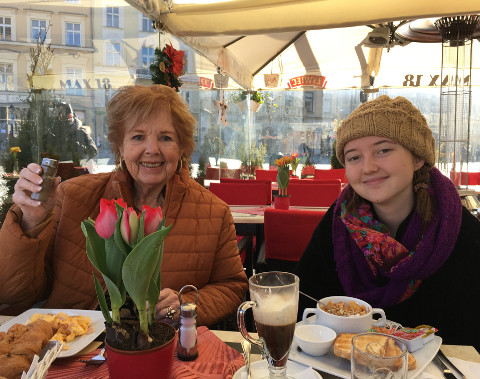 We had also arranged for a golf cart tour of The Former Jewish District….. Kazimierz – the district south of the Old Town between the Wisla River and ul Dietla and then we would head up to the castle before we needed to grab our ride with Roddik to the airport for our 7 pm flight to Heathrow.
The golf cart tour of the Jewish District was amazing and very touching. The main plaza with the empty metal chairs brought tears to all of our eyes. When Nazi Germany emptied out the Jewish District they had everyone gather in that main square. It was just the elderly and children that were left from section B…the part that was too old or too young to work. When the children saw the elderly standing uncomfortably, they went back to their homes and brought out chairs for them to sit down in and at least rest before they were taken to be killed. TERRIBLE!
The memorial is very touching and a wonderful tribute to those who lost their lives for NO REASON.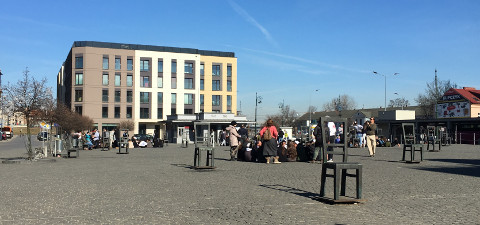 The very nice golf cart tour driver dropped us off at the top of the hill where the castle is located. Unfortunately, the castle is closed on Mondays. Major bummer! So we were not able to tour any of it nor see the famous Da Vinci Oil painting, Lady with ermine which hangs there.
The closest we got were to some souvenirs in the castle gift shop.
Here is a panoramic photo that Indy took on Mor Mor's phone of my mom and me in front of the castle and the church.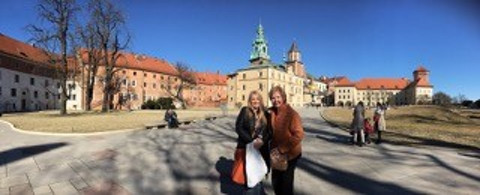 Speaking of castles and princesses, here is a figurine of Rapunzel that I recently sold. I had purchased it at an Angel View on our way to the eBay radio party in Las Vegas several years ago and it sold for $59.99 in my 50% off sale. Yipppeeee!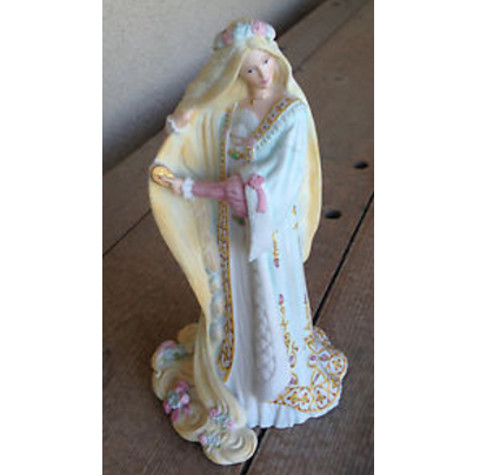 Click here
 to see this auction.
Here is a selfie that we took behind the castle overlooking the river. Even though it was in the 60's there was still a chilling wind.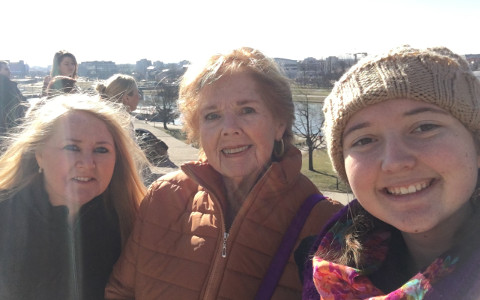 We left the castle and walked back down the hill to our hotel. Arriving just in time to put our luggage in storage and head out into the sunny square to have lunch. Fun!
It was packed and crazy busy! We had the same waiter, Damon, two days in a row .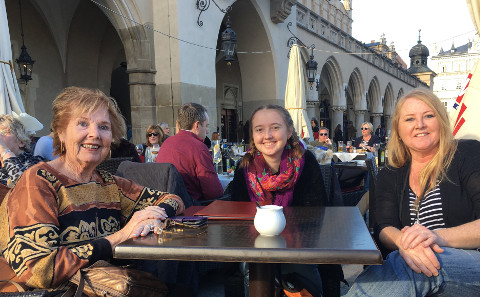 Lunch was quite enjoyable in the sunny square and at 4 pm we walked back to our hotel where we were picked up by Roddik!
On the way to the airport we were chatting and I asked Roddik if he and Houston had a nice visit. Roddik said that Houston wanted to talk about politics and communism. Interesting! I just had to ask "Did my son tip you?" and guess what he did! That's my boy!
Our flight from Krakow was scheduled for 6:50 pm that night, Monday, February 27th and we would be returning to London to spend one night before flying out the next morning back to LAX.
My mom got the special wheelchair treatment to our flight and this time we got to ride in a lift that took us up next to the right hand side of the plane. It was fun! There was a special little boy named Harry who was also riding in the lift with us. He was returning home to England from outside of Krakow (close to the Pope's hometown) where he had just been for a week of physical therapy. He was more exited to go home than we were!
We really enjoyed meeting him and he made us all laugh because he was so positive and yet poked fun at his parents and us! It was a joy to spend time with him.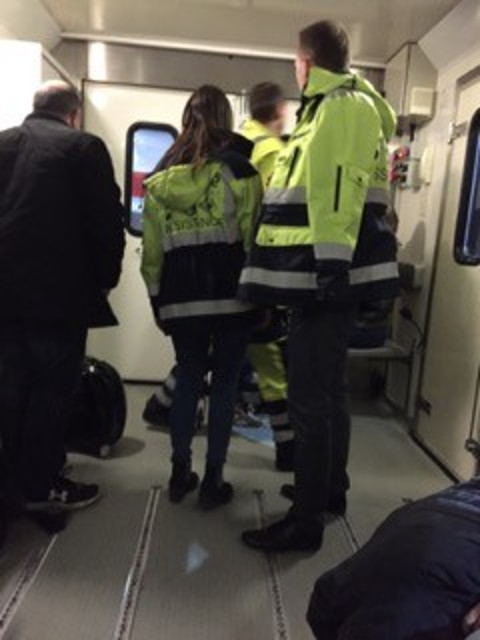 Upon arrival at Heathrow, we bid adieu to Harry and his parents and were thrilled to find that a cab ride to our Heathrow hotel would only be 25 Pounds. Yippppeee! It was about 10 pm and we hadn't had dinner so I went down to the restaurant to grab some food and I took my computer so that I could finish writing the Germany portion of my ezine.
Indy was too tired to leave the room, so I ordered her a child's meal of pasta and ice cream and my mom borrowed a rolling cart to take it up to her in the hotel room. Thanks Mor Mor!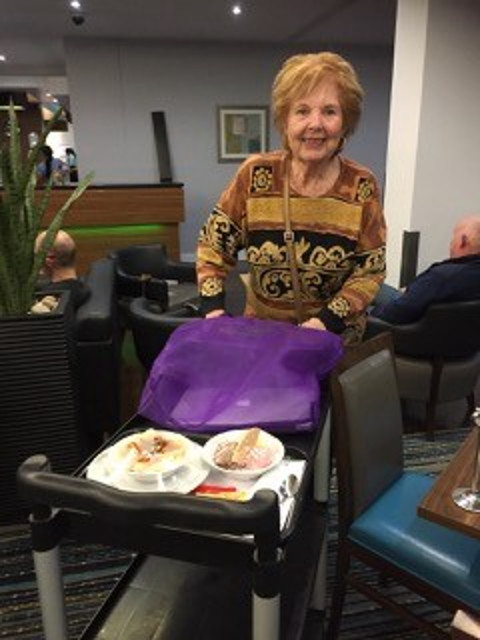 Pasta bowls sell very well on eBay. Especially those made by Williams Sonoma. Check out this one that sold for full price during February.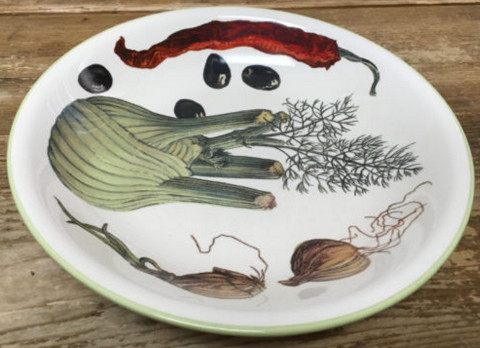 Click here
 to see this auction.
I ended up staying in the restaurant until 1:30 am to finish the Germany ezine. Needless to say, I was exhausted when I had to wake up the next morning at 8 am to head back to Heathrow. Here are Indiana and I with all our luggage (that just kept expanding) walking into Heathrow for the final leg of our trip.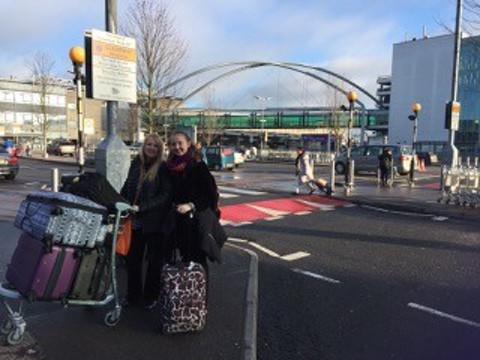 I was texting back and forth with my brother quite a bit and I said that we were sad to go home, but it was time. Twelve days of togetherness was enough! And it wasn't really a vacation because we were constantly in motion. My brother commented that the sign of a perfect trip is when you are sad to leave but happy to return home. Mission accomplished!
Just as our plane was taxing to take off, I remembered to text Lee that we would be arriving at LAX on American Flight 909 at about 2:40 pm and if he could possibly sneak away from work to meet us and drive me to Parking Lot C, that would help us immensely. I also mentioned that Mom had a small gift for him .
Our return flight was amazing. It was practically empty and Indiana and I got our own row of four seats and my mom had an empty seat next to her as well. I watched three movies, slept a bit and before we knew it we had landed at LAX. Getting through customs was a breeze and as we came out, there was my brother with a big smile on his face!
What a sweetheart . My mom gave him his gift, a box of chocolates, and I got a great picture of them just as two of the chocolates fell to the ground in front of the International terminal.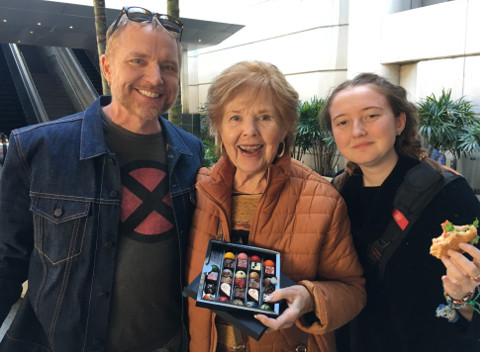 My mom was going to pick them up to eat and Lee said "NO! There are too many germs in this terminal from around the world. Do not do that." I had to laugh because you know, "Mama always said life is like a box of chocolates. You never know what you're gonna get.
Lee drove me to my car (luckily we found it with GPS) and even more wonderful it started! You just never know after not driving for 13 days what your car is going to do. I drove back into LAX to pick up my mom, Indy and all the luggage and we got on the freeway to head back to Palm Desert.
It was about 4 pm when we left LAX. It ended up taking me 4 hours driving in traffic and I don't know how I did it but somehow a few diet cokes and my mom staying awake and chatting helped us arrive safely.
It was back to reality! Luckily we only had 20 things to ship the next day, Wednesday, March 1st (my dad's birthday) thanks to Carmen and Mo's hard work while we were gone. Business had been great while we were in Europe and it has continued into March. For the past 31 days on eBay, we have sold $12,784.68 which puts us up 9.7% over the prior 31 days and a 39.9% increase over last year. Wow! I am extremely grateful to eBay for allowing me to live the life that I do.
With that, I will end with one final score and a big thank you for reading along and joining us on our European Vacation!
I paid $5 for this darling doll and just thought I was getting a trunk type suitcase for an American Girl Doll. What a surprise when I found out what was in the bottom of the trunk and that these sell for over $100. This one actually sold at auction. I started it $99.00 and it got 18 bids. Yippppeeeee!