Hi!
Merry Christmas! Happy Holidays! Happy New Year! Happy Hanukah!
Here is a sneak peak of our Christmas Card this year.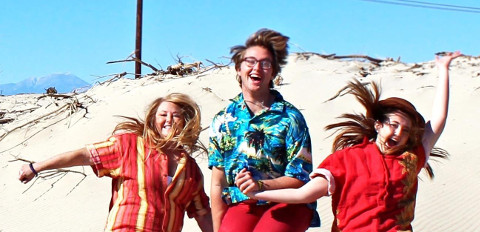 Indiana decided that she must outdo herself every year with our Christmas card design. So this year she picked out Hawaiian shirts in Christmas Colors…from my inventory of course  and we were going to drive up Highway 74 to take the photos because there was snow there.
Here is a link to the shirt that I HAD to wear. I wouldn't typically be wearing a Men's Tommy Bahama shirt.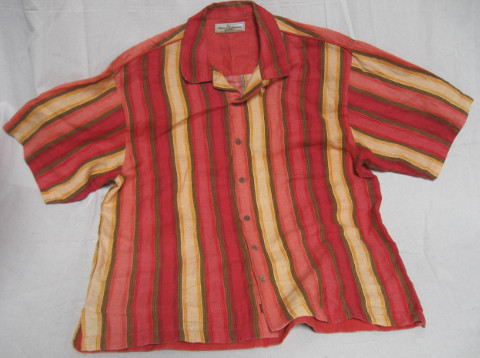 Click here
 to see this auction.
Someone please buy this shirt!
She and Houston thought it would be hysterical to be in Hawaiian attire for a Christmas card scene in the snow. Well, we waited one day too long and the snow was gone.
Indy needed a new idea ASAP….She dressed us in the same shirts, but added fun colorful pants, a hat for herself, and even made me wear Birkenstocks. UGGGGH. She called our attire "hipster". Then we drove out into the desert by the kid's school. All the pictures were taken with a self-timer. What a challenge!
The jumping photos were hysterical. After 50 jumps in the air, my knees were killing me. We won't be doing a repeat of this card EVER. We were laughing so hard that it made for a super awesome day. What started out as a little grumpy day (no one had the time) ended up with us all having big smiles on our faces.
Here are the kids walking back to the car after the photo shoot with all the gear.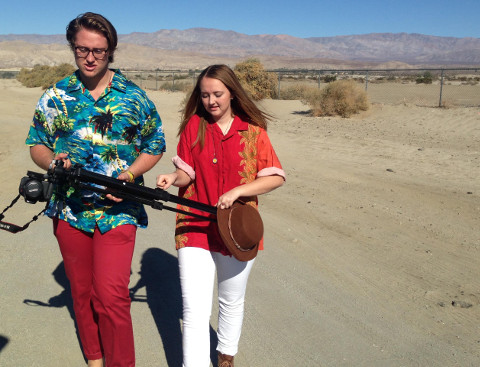 Now that we have the story behind our Christmas card out of the way….Let's start this ezine off with a holiday score!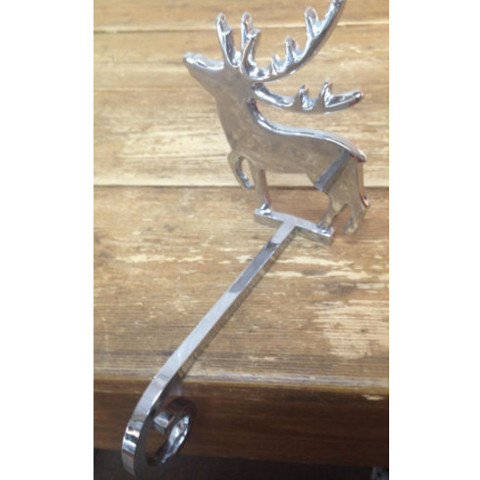 Click here
 to see this auction.
I sold 2 of these for $169.98 plus $24.95 shipping. Seriously? Yes I did. I paid $1 each at a garage sale in Palm Springs about three months ago. They were not signed at all but I had a feeling that they were Pottery Barn or Williams Sonoma. Merry Christmas to me!
Since my last ezine was written right after the BMW died and before Thanksgiving, I have a lot to update you about.
First, the play that Indy played Dr. Zubritsky in was a HUGE success. She did a fantastic job. Here she is after opening night with Mor Mor and I.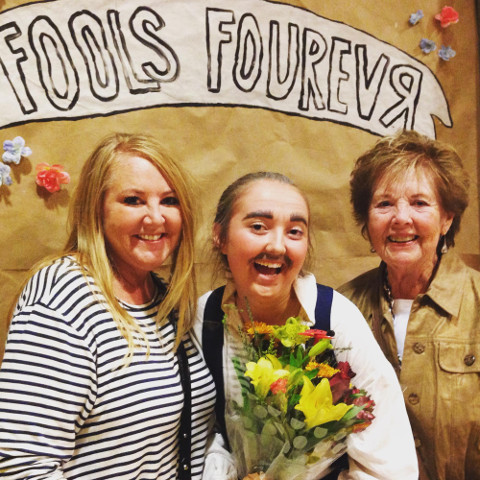 The play was "Fools" by Neil Simon and it was set in a small Russian Village. We have all been speaking with a Russian accent for over two months now 

. While Indy was extremely busy attending play practice every day after school from 3 to 8pm (overkill if you ask me), I was frantically searching for a new car for her.
I have the most amazing mechanics out here in the desert. Seriously, I have been taking my European cars to them since we first arrived in 2002. When the BMW died, Indy was super sad, she said "Paul, Lilly and Joseph won't be our mechanics anymore". Then she realized that I still had my Mercedes so that was going to be OK.
I called my friend, Lori (GarageSaleLou) on eBay and was talking with her about where I was going to get a car for Indy within my budget. $2k to $4k…not a lot of money for a car. She said to me…."You MUST find a car your mechanics can work on because they have been so good to you". Great point. Lori always has great advice when it comes to cars and I hope that I provide her great advice regarding eBay in return.
Here is one of Lori's recent flatware scores which I suggested she sell individually but she decided to sell at a set because she wanted them GONE. She paid $5 and turned it into $199 in a week. Go Lori!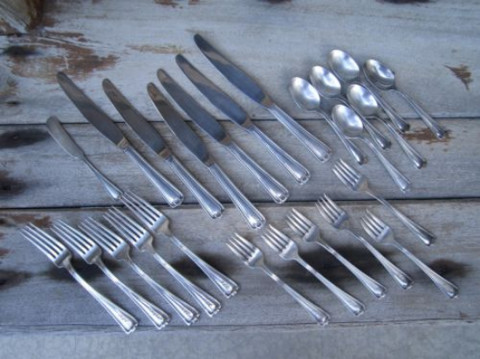 Click here
 to see this auction.
An example of Lori's great car advice was when I traded in the gold BMW (the one that just died) back in 2010 for my Mercedes. They only gave me $2k in trade in value and she was like…."Get that car back right now. Houston will be driving in 1 ½ years, your parents are always in town and that car is awesome…you need a spare". Boy was she right! That old gold BMW saved us for the past 5 years.
So I was on a mission to find a European car. I found an OLD Mercedes in Cat City from one of my favorite estate sale dealers. I took an Uber over to get the car and drive it to my mechanics. He called me 30 minutes later and said "no". I said "why?" and he started naming everything that needed fixing. OK fine, I get it. I am not very good at finding used cars.
But, let me share a score from that same favorite estate sale dealer before I get on with my story. Remember that Tonala Mexico dish set of 118 pieces that I bought for $450. Well, here is the first sale from that huge bunch. By the way, I still HAVE NOT gotten it all listed and will NEVER AGAIN by a 118 piece set of dinnerware that is ALL different. Different painters, signatures and minor design variations…..spells nightmare for listing.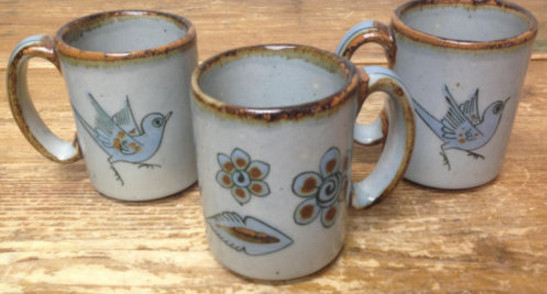 Click here
 to see this auction.
I took a best offer for full asking price with free shipping. At least it is about $75 towards my $450 purchase price 

.
So back to that old car and my mechanic. I went back to pick it up and said to him "I need a car that you can work on". How about an old VW? An old BMW? An old Mercedes? An old Saab? All were no's. He said "hold on, let me walk the back lot".
He came back and said "How old is Indy"? I said "16 almost 17". He said perfect. Follow me. He showed me an Audi TT 2003 convertible that he had completely redone and would have given his daughter but had already found her a car. It was DARLING but I knew I couldn't afford it. Then he named the price and it was definitely doable. I said, "I will call you later today when I round up the money". Called him at 4:30 pm and said I would take it.
The entire process was hysterical. I had to get the money and pick up the car without Indiana knowing about it. I parked it over by the clubhouse and since it hadn't been driven in quite some time, I had to drive it about 200 miles before it would pass smog. I visited Smog Dog in Palm Desert about 6 times. Also an awesome guy. Took me four days. Finally it passed smog and we wanted to surprise Indy when Houston, my mom, Lee, and I were all in town.
Well, that had to be during her play "Fools". Houston did not make it to town on time, so it was my brother Lee, my mom and I that went to pick her up in between her Saturday Matinee and Saturday evening performance on November 21st. What great "subterfuge" we pulled off. Great word Mor Mor . Check out the video for that one…..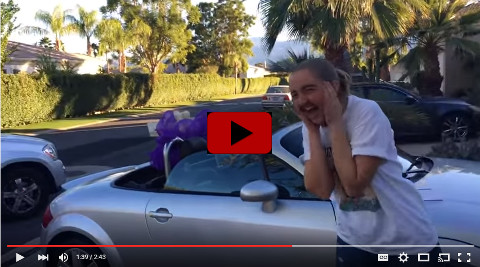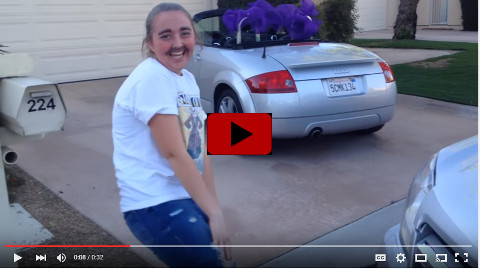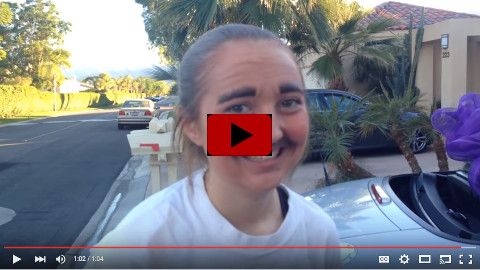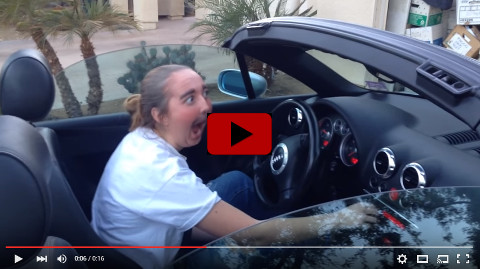 Still can't believe this is her darling car! You deserve it Indiana.
Indiana's real 17th birthday was on December 15th. Check out this sign I put up at her school so she would see it when she drove in.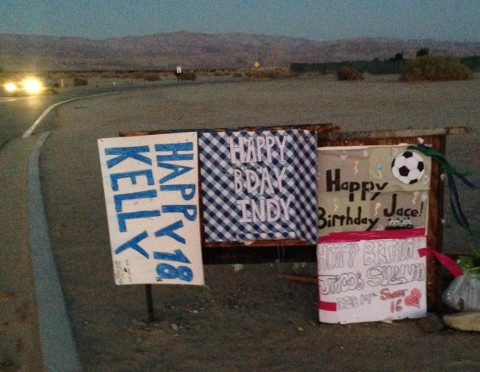 My dad was in town for Indiana's birthday. He couldn't decide between her birthday or flying in to see her play. He has made it a point for the past 17 years to NEVER miss a birthday so that is when he came to town.
Here are Papa and Indy at Islands on her actual birthday.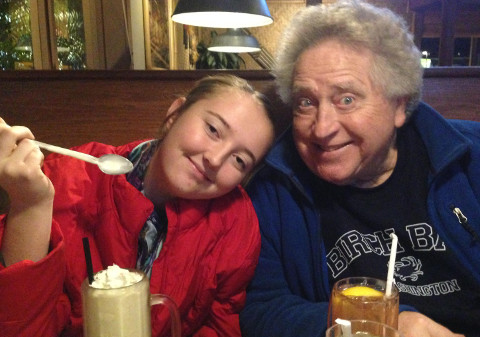 Her official birthday celebration with friends will be on Tuesday, December 29th on our patio. Yes, outside at night. We have a fire pit and it is AWESOME!
Here are my mom, my dad, Indy, Indy's friend Hayli, Houston and I outside around the fire roasting marshmallows.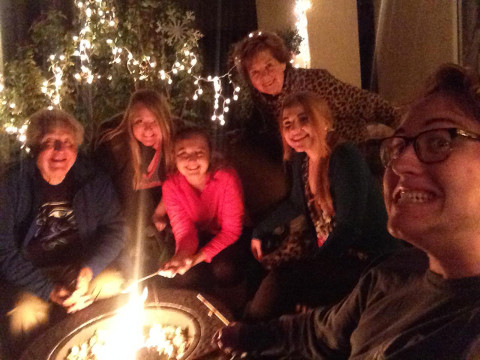 She is in my room right now doing her invite list and she is inviting about 60 kids. I told her only about 20 to 40% will show up so we are all good.
Since the play was over the weekend before Thanksgiving, Houston made it home super late on that surprise Saturday night to see her play. He had to leave early the next morning so I hardly saw him.
Luckily he came back home for Thanksgiving the next weekend and that is when we took our Christmas card photo. It was awesome to have him home for four days and it almost felt like he had never left. Almost 

. Until he did leave and his room was as messy as usual and I HAD to clean it up!
While he was home, I sold a Turkey Myott platter for almost full price for a best offer of $199.99. It was a few days before Thanksgiving and I emailed the buyer to say "If you want this before Thanksgiving it will definitely not arrive by the UPS shipping method I quoted. To assure that it arrives before thanksgiving, priority mail won't do the trick either…it will have to go Priority Express. That would cost an additional $22.07 over what I charged. Would you like to do that? Thanks!"
She emailed right back and said "I would love to have this by Thanksgiving. I didn't even think it was an option. I will pay the extra right away".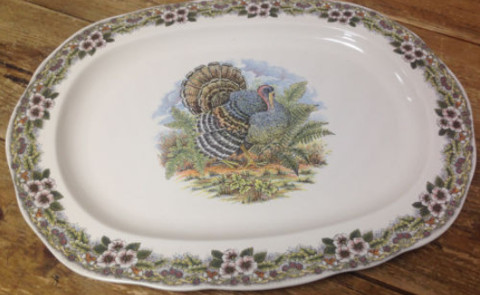 Click here
 to see this auction.
My mom and I packed it up while holding our breath. Seriously, USPS has been breaking so many things this year and it had to arrive in perfect condition. Well thank the LORD. It arrived safe and sound two days later. Yippppeeee!
Check out her email to me….."Lynn, it arrived today in perfect condition and has made our Thanksgiving table complete. It is especially significant because my 85 dad will be here spending the day with us. Thank you for going above and beyond! It is much appreciated. Happy Thanksgiving!"
Speaking of shipping quickly, Our Queen's Court challenge for this month was Shipping A$AP. Just like the rapper A$AP. Here is what I posted on the Queen's Court Forum….
"Since December is going to be our best month in sales EVER (positive thinking folks) I want you to focus on ASAP Shipping. Kind of like the Rapper A$AP Rocky .

I don't really know who that rapper is but he showed up in the most hysterical Carpool Karaoke with Rod Stewart on the late show. Watch this…it cracks Mo and I up…..

https://www.youtube.com/watch?v=5ndj6xn2P0c

But back to business. I am encouraging all of us to make that extra effort to get those packages out as soon as possible….A$AP Rocky! Maybe even on the day that the buyer pays! What a concept! I am usually pretty laid back about my shipping but this month I am going to ship ASAP.

Let's keep each other updated regarding how many packages we get out on our busiest days and post photos of the piles ready to be picked up.

Let's buckle our seatbelts and get ready for the busiest month of the YEAR! Happy Holidays! Let the fun begin. Lynn"
The Queen's Court has had fun with this contest! Here is one of my pictures of my packages going out. See if you can see the diet coke that I put in the box as a surprise for my mail carrier. She LOVES when I do this!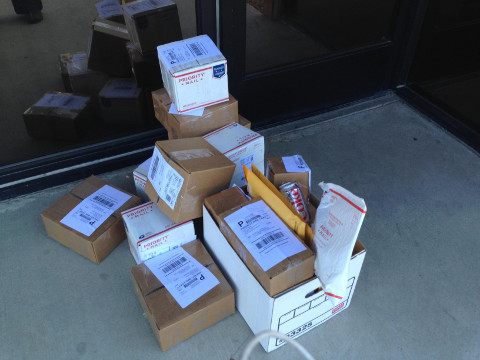 And speaking of Queen's Court members, you have got to check out ONE of our amazing QC members Michelle.
"Hi Lynn,

Here's some info about me. Hope it is interesting! I started selling on eBay in 1999. The first thing I ever listed and sold was a Care bears Cousin Braveheart Lion plush. I paid .80 and it sold for $77.00! This was HUGE for me. I was hooked. Continued for a few years with 70-80's toys being my niche. Was able to get myself out of credit card debt AND buy a new washer/dryer set with my eBay money.

After my divorce in 2002, I took some time off and then picked back up on eBay off and on over the next few years. Then in 2012, I was looking for new ideas/niches to sell. Somehow, I came upon your website and read up on your dinnerware and flatware successes. Then I joined the queen's court and I have been building momentum ever since. I do this full time now.

My niches have changed over time. I do well with dinnerware and flatware (need to list more!). Thank you for your help in this. I have also started carrying lamp supplies. I am an authorized Aladdin retailer and enjoy collecting old antique lamps. In 2016, I plan to do away with a few old categories and will be adding in some new ones in February when the seller performance ratings change. I am very excited to try out some new categories.

As for what I love and hate about eBay, well, I am an eBay cheerleader. I truly love eBay. I can't say that I really hate anything about it except for maybe the seller defect ratings which are going almost away next year. HOORAY! I do detest when we get PITA buyers and liar buyers, but I also understand that's part of business.

My past scores are not as great as many of you on the QC, but I have had a few. About a year ago, I listed a painting of a tropical storm somewhere on a beach. Very 70's. I could not make out the artists last name. I researched like crazy. No one I showed it to recognized it either. I threw it on eBay for $499. I paid $9.99 at a local charity thrift. It sold within 48 hours. Buyer had sent a BO and before I could decide to accept or not, went ahead and paid full price. I figured I had probably priced too low, but I was happy and so it led me to take a chance on another piece of art.

I was at an auction and they had a very large oil on canvas of a fox hunting scene. I recognized the artist and paid $400 for it. I priced it competitively with the few others of his that were out there and it sold for full asking price as well- $1250.00- within a month. Boy was it a pain to ship, but FedEx got it there safely. Another score I remember was a rubber stamp that I listed at auction and it went for around $56, I believe. I didn't pay more than $1.00 if that for it. It was a Kliban cat stamp.

I am trying hard to list all of the inventory that has been sitting in my warehouse for the past 2 years. So any future scores will be complete surprises for me.

Here is a link to a "Gone with the Wind" Lamp that I typically do really well with on eBay.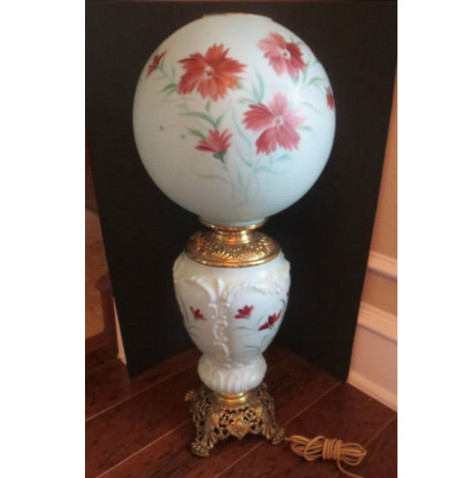 Click here
 to see this auction.
My family life: I am a mother of four kiddos. Two are grown and two are still in elementary school. They were all raised in thrift stores, garage sales and auctions and while they have a good sense of value, they HATE shopping for eBay with me. LOL.

If the two younger ones misbehave, I tell them if they don't straighten up, we will go thrifting. It works every time. I have been married to my husband, David, for 12 years. He's not too crazy about me being on the computer so much with eBay, but he understands that's how it works and he LOVES to go shopping with me for stuff to sell. He has a pretty good eye too.

Here is an art item that will typically sell well for me on eBay.
Click here
 to see this auction.
Here is a family picture of me and hubby and the two youngest. They featured us in our HOA magazine when we first moved into our home about two years ago.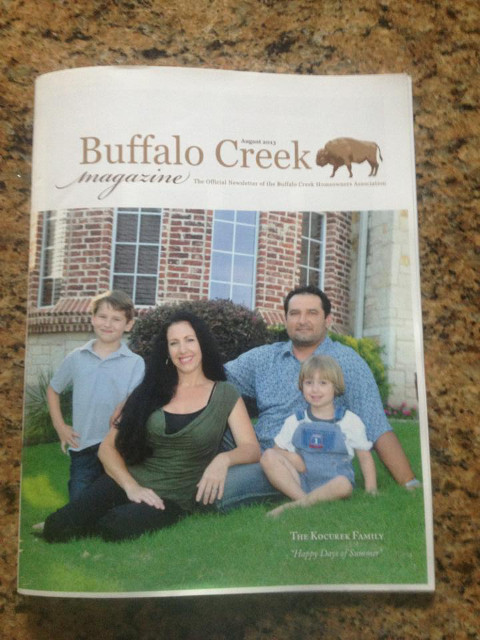 This past summer, I spent a full month in the Czech Republic. I checked out thrift stores, antique stores, and a flea market that was about 20 minutes from my mother's home. The thrifts are nothing like ours here. 99% clothes and really no house wares, collectibles, etc. Disappointed in those. The antique stores are JUST LIKE OURS. Nice selections but HIGH priced. Nothing I could resell.

Here is a photo of me with my two younger boys (my older son is behind us) in front of my mother's home in her little village. She lives half the year in the Czech Republic and half the year here.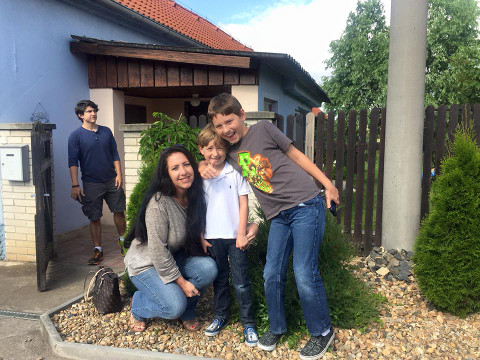 Then there was my good old flea market. This was fun and I bought ALOT there. Some was for sale and some I kept for myself. Being Czech, I have tons of Czech items and this trip added more. It was so much fun, I can't wait to go back.

Here is a picture of the flea market that I bought so much stuff from (where you see various shoppers and stuff all over the ground).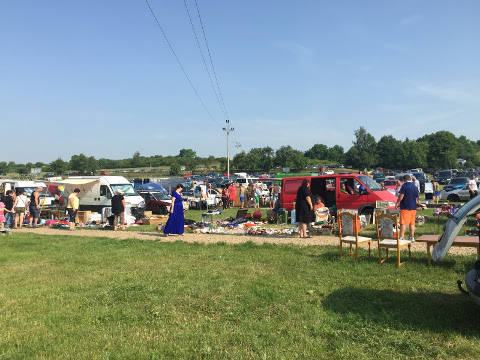 Here is a link to an item I bought in Europe.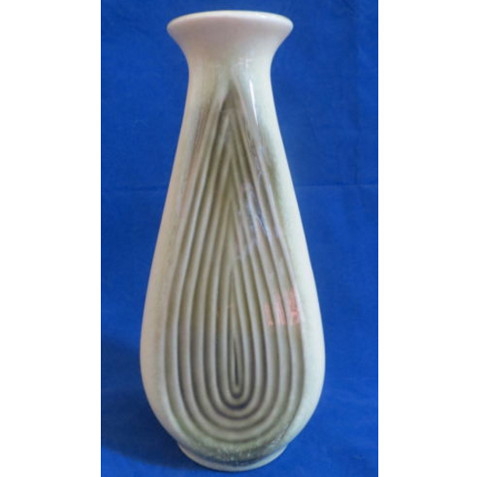 Finally, a photo of me and my mom at a friend's house. The greenery is his back yard! It was like a scene from a fairy tale.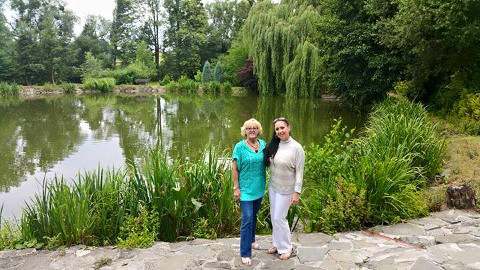 Here is a link to Michelle's store.
Yay! Michelle, thank you so much for sharing! You definitely didn't bore any of us! Love your story and your darling family! I want to live half the year in Europe and half the year here. Sounds amazing.
Also, remind me to pick your brain on the QC about art. Looks like you have a knack for finding what type of paintings sell and art has always intrigued me. However, the items you shared look like a "bear" to ship!
Speaking of shipping, I was packing items like crazy in my office a few weeks ago and I get a text from Vicki Pene Pasta (Queen's Court member extraordinaire) and she says
"HI! Was Houston ever on People's Court? Interviewed on the street? My friend Mindy said she thinks it's him on the show right now."
I emailed back…"That's funny. I don't think so"
Then I text the Goose what Vicki asked and he text back…."OMG Yes! We were on Third St Promenade in Santa Monica for my fraternity pledging and they interviewed me and my pledge bro".
Vicki text back and said "Wow, cool. I was able to watch it…I was going to say if it wasn't him he's got an identical twin?
Here is a photo I took of the screen.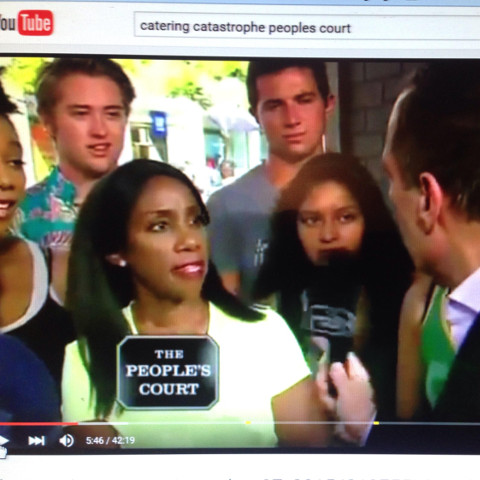 OK, time for a score. I have been selling TONS of flatware this holiday season. Check out these three dinner forks that sold for $120. Yep, over $100 for flatware. If you don't have my flatware ebook yet you should seriously consider getting it.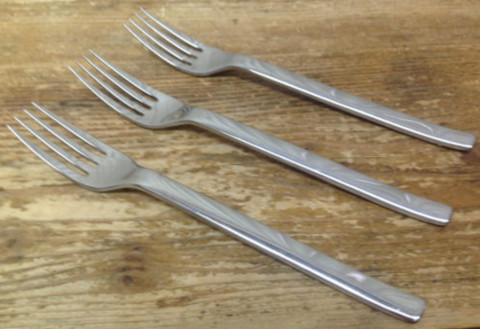 Click here
 to see this auction.
Since my dad was in town for Indy's birthday he offered to ride with me to Pepperdine at 6:30 pm on December 17th when we could go and pick Houston up from school. That was a late night. We drove up to his dorm about 9 pm and there was the Goose with all his stuff. We started loading it up and I asked him how everything was going and he said "College suits me". For some reason that just struck me as perfect 

.
He is really thriving at Pepperdine and as you may remember Houston has been chosen to lead a Project Serve Mission to Waco, Texas over his Spring Break. I am extremely proud that he is the first freshman EVER chosen to lead a Project Serve mission.
Here is a photo of the Goose and his group that he is leading to Waco, Texas to work at the WHR World Hunger Relief Farm.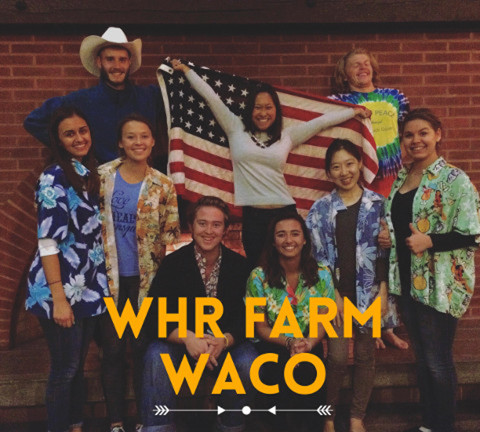 Please watch this video as it is very powerful and brought tears to my eyes. Just the fact that these kids give up their spring break, fundraise to pay for everything and then spend that time helping others in need, makes me very proud of my son and all the kids who volunteer. Go PROJECT SERVE!
https://impact.pepperdine.edu/project/1241
Houston and I will be putting up some donated items on eBay in the next week or so to help the group reach their fundraising goals. Please watch for a special email from me with a link to those auctions. Thanks!
After our late night adventure to Pepperdine my dad was exhausted (as was I) but he was still willing to help out and took care of a lot of "odd" jobs for me. This is one he would really call "odd"…..wrapping the QC Christmas gifts. Thanks Papa!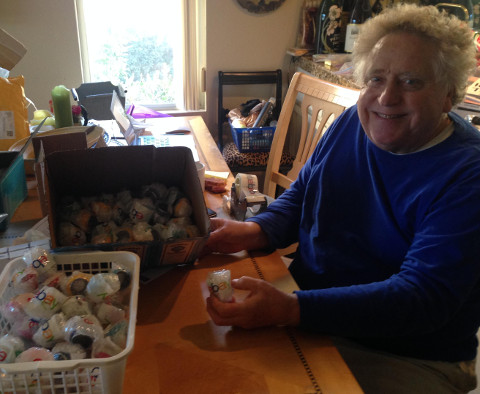 With the holidays upon us it has been super fun to have lots of friends and family in town. My mom and I were hanging out at the office when I got a text from Tina Burke Brown (my awesome high school friend) that she and her sister-in-law wanted to stop by the office and shop. Come on over! Tina's brother is Billy Burke the actor (Revolution, Twilight etc.) and his wife Pollyana was going to help Tina shop for his birthday present.
Well, we found Billy the perfect ashtray (he is a Saggitarius) and Pollyana found an awesome pair of Foo Dogs.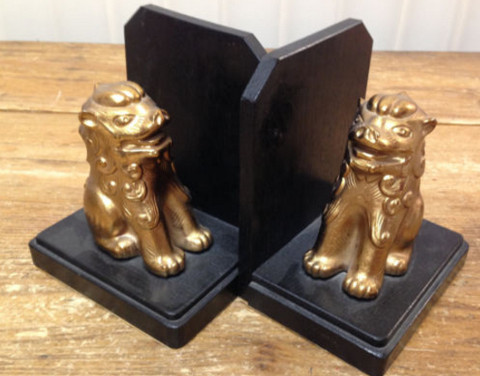 Click here
 to see this auction.
Our UPS driver happened to drive up when we were all here and I thought it was time to take a selfie. This photo cracks me up! Pollyana with the Foo Dogs, Tina, me, my mom, and Aaron.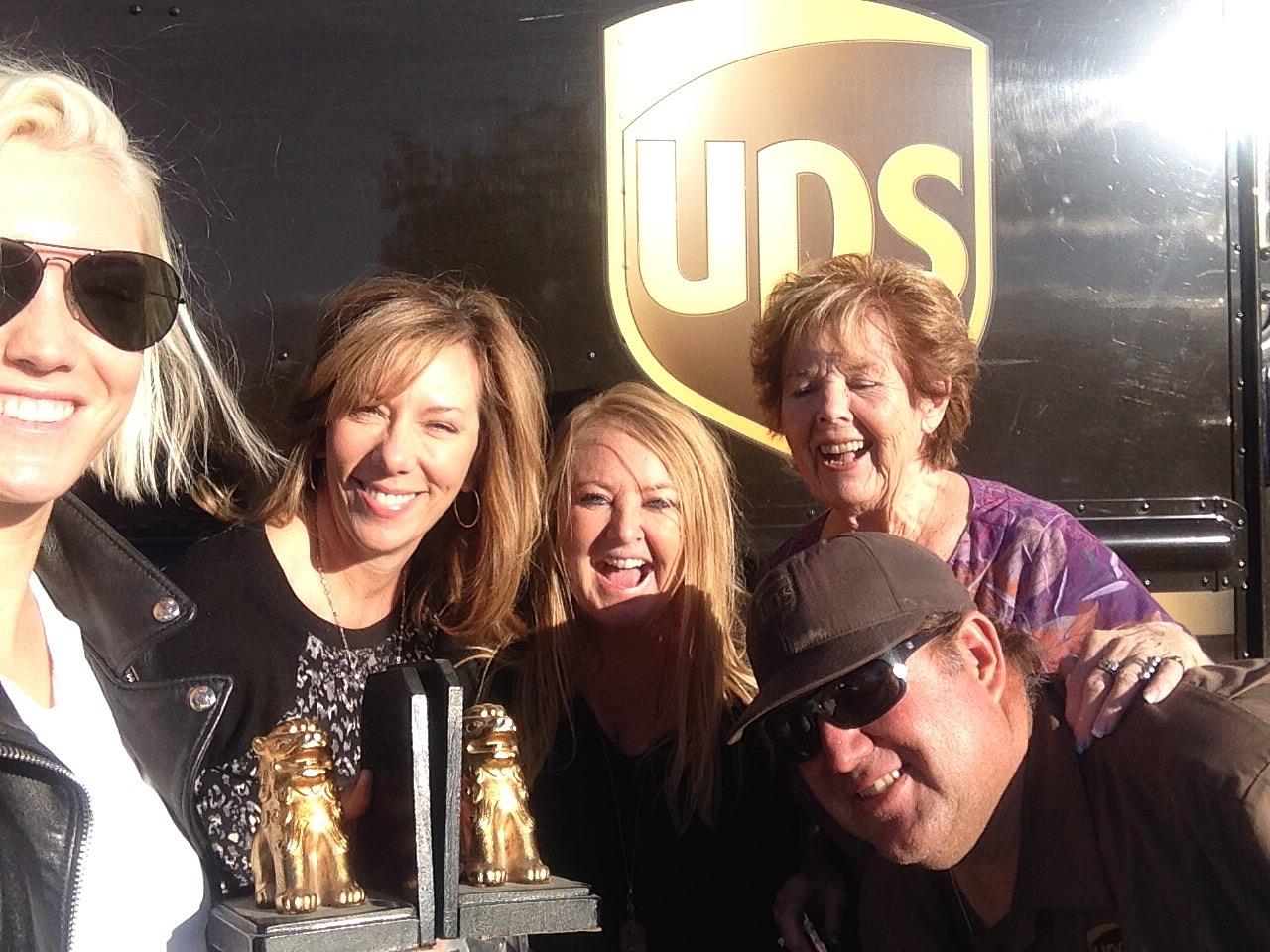 But the story gets even funnier if you ask me. Tina sent the photo to her little sister Julie (who also went to high school with me, my brother and Kiki) and Julie said to her "How old is Lynn…she is your age right?" And T was like "yes why?" And Julie said "She isn't aging very well. She looks like a 65 or 70 year old woman".
OMG, Julie thought my mom was me and that I was Indiana. I think we have all been laughing about that one for at least a month. Compliment to my mom and I for sure!
Speaking of Mor Mor, here is one of her recent scores. At a sale in August, she purchased a bunch of clothing and it was mostly plus sizes for $6 each.
Here is one sale from that batch: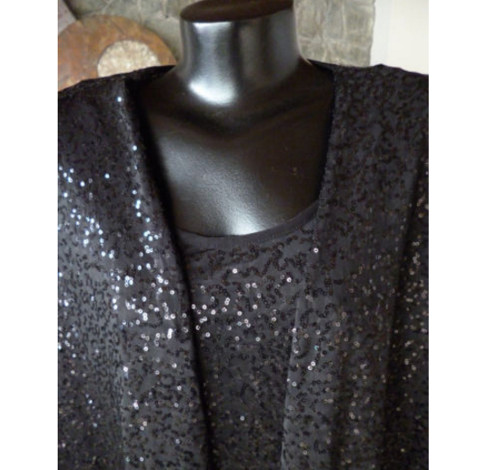 Click here
 to see this auction.
It sold for over $150! Way to go Mor Mor.
I have been attending quite a few holiday parties and my accountant Joanne's party was one of the best so far! She had caterers and a bar tender and her house was decorated to the max! Actually it was decorated by her friend Max! It was so fun and here I am with my Max at her party .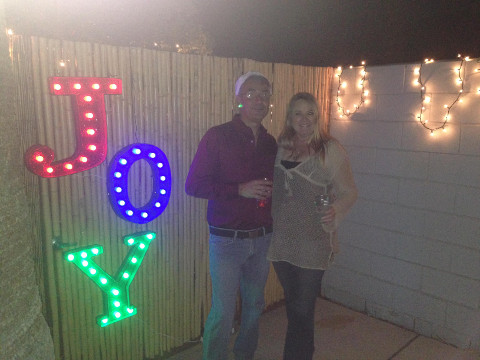 Indiana was in a competition recently held by the World Affairs council of the Desert called Academic World Quest. It is a live trivia event that is actually very serious. It was in the same auditorium as Indy's play had taken place. So I felt right at home watching it. There were 16 high schools that competed and each team had four members.
Indy's team was an all girl team that won "Best Dressed" and "Most Improved Score". I was really proud of her.
Here is a picture of the girls.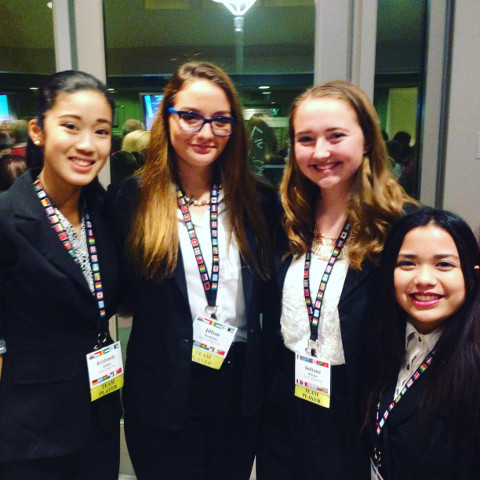 My dad was "supposed" to fly back to Bellingham on December 20th at noon. We got him to the airport an hour and 15 minutes early and he still wasn't able to make it through security and catch his plane. Ughhhh. My poor dad. We had dropped him off at 10:30 am and had to go back to pick him up at 12:30.
Here he is with the kids when I dropped him off.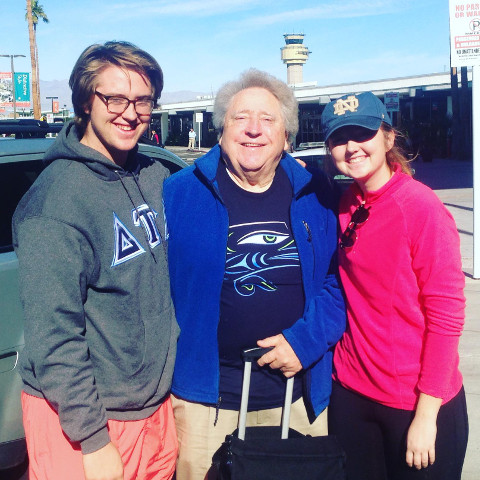 The bad news…he missed his plane. The good news…he got to spend another day with us and he and Houston went to Roc's Firehouse and got to watch the Seahawks game. My dad is a SERIOUS Hawks fan and he was going to have to miss the game because he would have been flying during it. The Seahawks won!
Speaking of winning, I went to an estate sale recently and did really well! Bought about $300 worth of stuff and it was all priced to move. Don't you love sales like that? They are few and far between but when they occur, I am more than happy to whip out my checkbook! Yes, I still pay by check . Old school!
Check out this Royal Albert that I sold for about $100. This is the coffee mug listing but included in the sale were also six salad plates.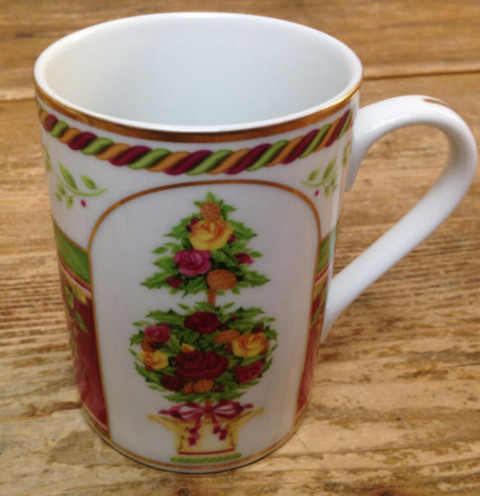 Click here
 to see this auction.
I am very excited to announce that section one of the Coffee Mug eBook is ALMOST finished! For those of you who pre-ordered you will have it in your email in box by late Christmas Day.
This eBook will teach you how to generate Cash for your Coffee Mugs. As you probably read in one of my past ezines, Marsha sold one coffee mug for $2,500! Isn't that awesome and inspiring?
If you missed out on the pre-order pricing I suggest you get it now before the price increases again. Here is a link to pre-order now at the current low rate.
Please keep in mind that when I offer introductory pricing for an eBook, I tend to over deliver. If I were you, I would buy this now before my 50+ page eBook turns into 200 pages and the price hits the $100 or more mark.
Click here to pre-order now.
Many of you emailed me to get more details about this new eBook. I think the best way to answer you all is to share my rough draft outline. So here it is:
Introduction
Overview
History of Coffee Mugs
What You Need to Know About Coffee Mugs & Licensing
Rise of Coffee Mug Demand
My Numbers.–Inventory by Year etc.
Where to buy? Estate Sales Thrift Stores Garage Sales
What Should You Pay?
What to Look For:
Brands to Always Buy
Questionable Brands
Brands to Never Buy
Great Designers/Artists
Great Subject Matter
How to Price?
Shipping
How to Assembly Line List
Sizes and Ounces
Promotional Strategies
Let's Put this to the Test
Conclusion
I can't wait to finish the second section and get it out to you soon!
If you remember my flatware eBook started out at $77 and ended up at $179. This eBook will also pay off if you order it early.
Click here to pre-order now.
Here is one last coffee mug score before I wind this up. It is fitting because it is a holiday mug and the buyer was thrilled to receive it. She wrote to say "This is the perfect retro gift to put under the tree for my husband".