Hi!
OK, I can't believe that I didn't write an ezine in August. Actually, I can believe it! August was all about getting Houston (the Goose) ready for college. I am beyond exhausted, sad and overwhelmed. It is hard to explain, but for those of you who have gone through it….there really are no words to describe it.
Here we are arriving at Pepperdine on Tuesday, August 25th.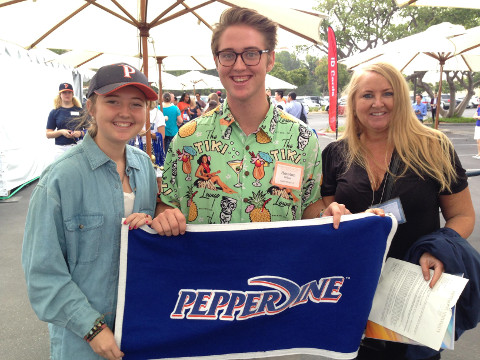 But before I get into more about dropping him off at Pepperdine, let's start this ezine off with a score. I have sold 3 complete flatware sets on eBay in the past 30 days. It is the strangest thing and I have never had this happen before—having buyers email me to buy EVERY single piece and wanting me to make just one listing for them to buy.
But all of the sets sold for over $400 and I am happy to accommodate anyone who wants to give me $400 for a flatware set that cost me $25-$45. Yipppeeee Skippeeeee! The first one was a set of gold Stanley Roberts also known as Rogers. Here is the email I received from the buyer.
"Hi, I have noticed that you have several pieces of the golden melody available. I am wondering if this was a set that has been separated? I am looking for 8 knives, 8 teaspoons, 8 dinner forks, 8 salad forks, 8 soup spoons, at least 1 cold meat fork, 1 pierced tablespoon and 1 solid serving spoon but not the butter knife or sugar spoon.

I am only interested in pieces that are in very, very good condition and not missing any of the electroplate finish. I would like to assemble the set from what you are offering but the numbers are odd and even giving me either too much or two little of the desired pieces. Would you be willing to assemble what I have requested with a possible price? I see that you have best offer available so this made me wonder if this could be a possibility? I am trying to double my set that was purchased for me years ago and on a whim decided to try tonight after many unsuccessful attempts in the past. I am very interested. Thank you for your time."
I did assemble a set for her and here is the link….then you must read on later for the back story. It is ADORABLE!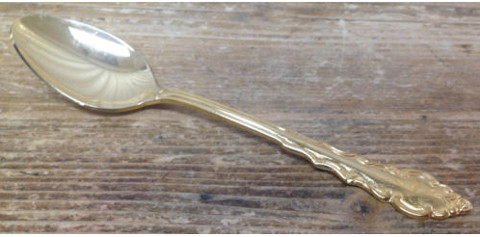 Click here
 to see this auction.
"Hi Lynn, I really would like to purchase the flatware from you not because it is valuable but because the set that I have is one of the last things that my dad purchased for me not too long before he passed away. It came from a store called Service Merchandise. I have only used it a total of 3 or 4 times all of these years and was hoping to find another set without my boys knowing so that I could divide the set between the two and they would think that the entire set was purchased by their grandfather for me. I found the sugar spoon and butter knife at an antique store about 10 years ago but no other pieces.

I was beginning to think that I would not ever find another piece. You seem like a nice individual who would possibly consider my request, after all, you did consider my request for the combined pieces. I would like to offer you $440 for everything. It would be paid through paypal so you would not have to wait for your money. Please say yes. Thank you so much for your time and responding to me so quickly. God bless. –xxxxx"
Of course, I took her offer and shipped it off hoping it would be in as great of condition as I thought it was. She received it and was thrilled beyond belief to finally find those missing pieces. Awesome!
So let's get back to Pepperdine. Our little house here in Rancho Mirage has been preparing for Houston's departure for months. I put a clothing rack in the family room, with a box of extra hangers, for him to make sure all his items would fit in his 4' 9" closet.
Well…I must report for the first time in his life he actually put his clothes on a hanger. Praise the Lord! Then he actually sorted them by style and color. Oh my GOSH….did I do something right in raising this kid?
Here is a photo of the pre planning.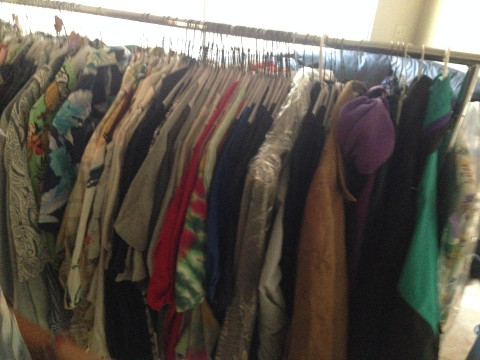 Speaking of clothing, time for a clothing score! I bought a bunch of Fila Tennis Clothing from the Indian Wells Tournament from a thrift store that they were donated to for $3 each. This one sold very quickly for over $60.
Yippppeeeee!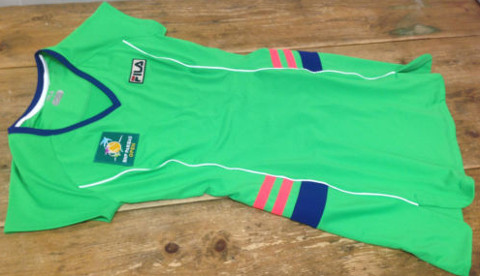 Click here
 to see this auction.
Then we went to Bed, Bath and Beyond with a graduation gift card from the Flanagans and loaded up on bedding supplies. Check out Indy and Houston. They are soooo cute!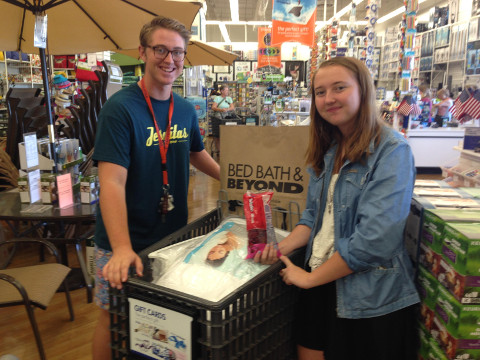 Speaking of the Flanagans, last Sunday was my friend Kelly's mom's 80th birthday. We absolutely love Kelly's mom, Nina, so Houston, Indy and I got to the party at 11 am to wait with the other 50 guests to surprise her.
It was the BEST Party EVER and Nina (Kay) was so surprised.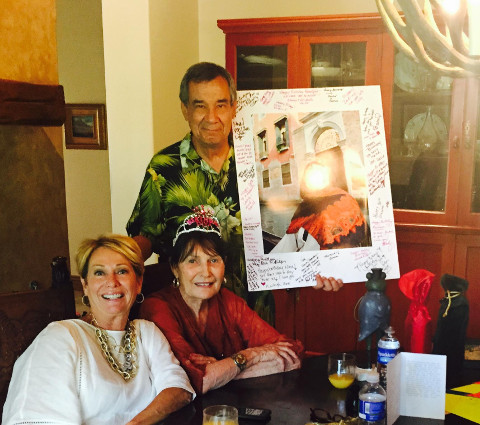 Since I haven't written in so long, I must digress….Houston played in one of his last baseball tournaments (I hope it was just his last baseball game for this year and he plays next summer, but it could have been his last game ever…I'll explain more later) but in between games we went to the beach in Del Mar. It was wonderful.
Here is a photo of Houston and his buddies Bradley and Brian hitting the waves with boogie boards.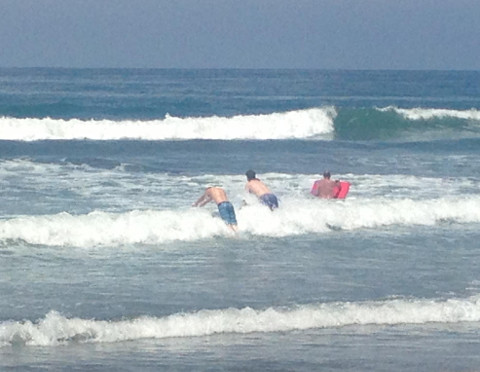 Here is Houston at one of his last at bats.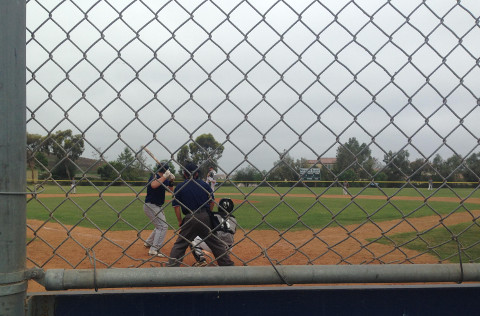 Even though this may be one of his last at bats….but for now….he IS trying out for the Pepperdine Rugby Football Club.
Here he is after his first day with the Rugby boys.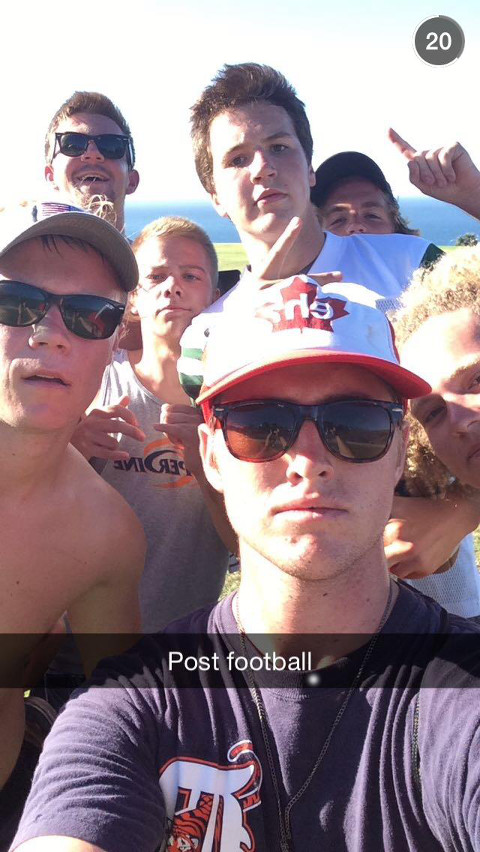 While on that trip to Del Mar I sold this baking pan for full price and the buyer paid an extra $42.95 (almost the exact same price it sold for) to get it shipped to Sweden. If you are not selling internationally you are MISSING out on a huge opportunity.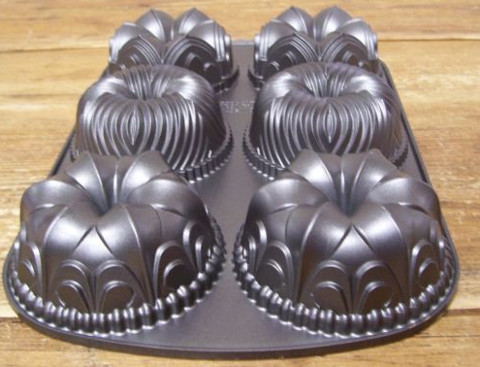 Click here
 to see this auction.
While in Del Mar (in between games) I was able to visit a local Goodwill Boutique. It was the classiest thrift store I have EVER seen. Check out this picture.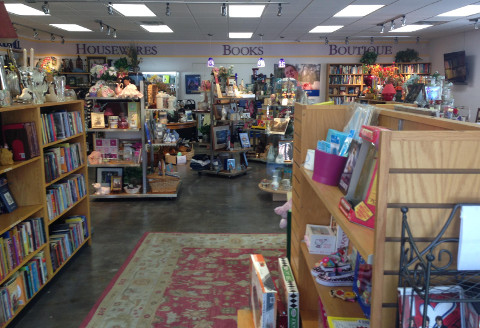 I bought a HUGE set of blue Arcoroc glass dinnerware that day and it was only $30. I think I will at least make 10x if not 20x my investment on that set. Here is one of the listings. Anything Cobalt Blue in glass is a SURE BET!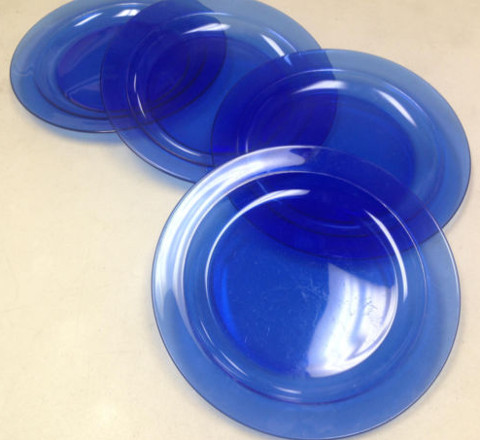 Click here
 to see this auction.
Indy wasn't able to join us for that Del Mar trip because she was on an east LA immersion trip that same weekend. Here she is with a bunch of girls before the trip. She is so darling and if she wasn't still here with me I would be SOOOOOO SAD.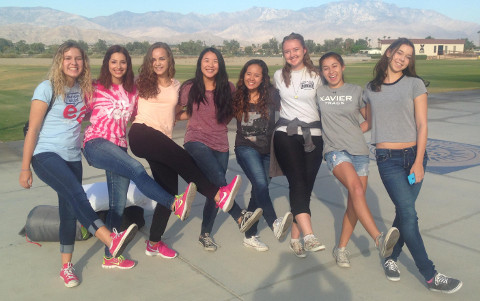 Houston is seriously being missed and we left him for good about eight days ago. Our little three person bond was strong and I hope it will stay strong. But Pepperdine has kept him so busy that he hasn't even texted or called me yet 

. All good though….that is how it should be…I think? Here is a selfie of Indy, Houston and I after we set up his dorm room.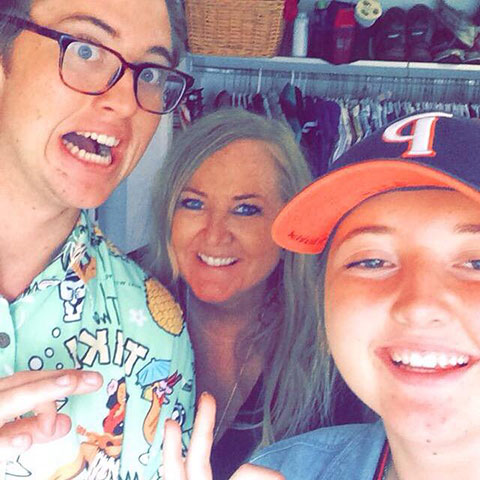 Here is a photo of his dorm room before we attacked it.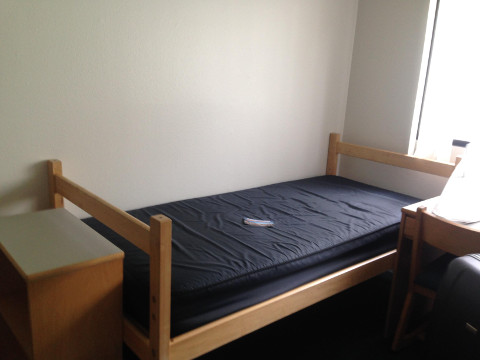 Here is a photo of Indy giving the thumbs up sign after it was decorated and organized.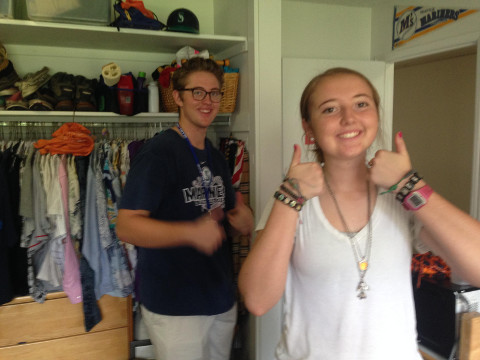 And here is a picture of the kids sitting on his bed after Houston had hung all his wall art. Way to go kiddos!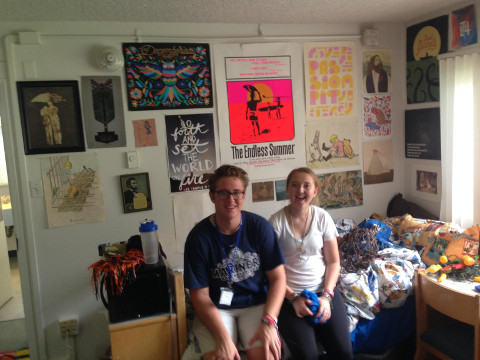 After we decorated his room, it was time to go to lunch. Something super special happened at lunch, but before I tell you that story, I think it is time for a score!
On Tuesday, August 25th while we were moving the Goose into his room I sold 5 of these Lemon & Orange Citrus bowls from The Cellar for over $100. Seriously?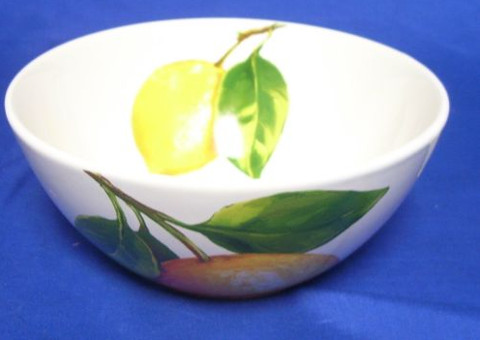 Click here
 to see this auction.
And the best part of that sale was that the bowls had been listed since 2011. Ok, I will admit it. I do let items sit in my store for 3-4 years before donating and repurposing. I learned this from my grandmother who was an awesome business woman.
She taught me that our inventory did not depreciate in value….many times our inventory, as antique & collectibles sellers, would indeed APPRECIATE with age. And that is exactly what happened with these bowls! And by the way, the same lady that bought these bowls had also purchased dinner and salad plates in the same pattern from me a few days earlier, and that order added up to over $200.
Thanks Grandma! Love your tidbits of Wisdom that I still rely on. If you haven't seen the "Let's Make an eBay Deal" Video you are missing out on her tried and true sayings that are woven into my eBay Radio Presentation from this past June.
OK, now for details of the special lunch that Indy and I had that first day at Pepperdine. Indy, Houston, his new roommate (Alex) from Yakima, WA, and I were eating our delicious buffet luncheon in the amphitheater when it started raining. We stayed in the rain for a while because, being from Washington (originally), we were all used to it. Finally, we jumped up and headed under the trees. Houston and his new roommate ran off to meet some girls and I wanted to take some photos. It was my goal (as a parent) to document every moment of this milestone event 

.
Indy and I needed a place to set down our plates to take those photos and there was a very well dressed gentleman eating his lunch alone, who invited us to sit at his table. I didn't want to intrude so kept saying no. Finally, Indy and I realized we needed to set our plates down and agreed to join him. This really nice man asked how move in was going and I said "stressful". "Why?" he asked.
I replied "Because my son won't let me do anything to help….he has to do it all his own way." He laughed and I asked him "How is move in going for you?" He chuckled and said that he had been working at Pepperdine for 31 years and I asked him where he was from. He said he was originally from Kansas….. MAJOR FLASH BACK.
I suddenly put 2 and 2 together and remembered that the Pepperdine President's speech at Admit Day was about the Wizard of Oz and how he had wound up at Pepperdine from Kansas. I said "Wait….Are you the President? And he very humbly said, "Yes". What an awesome President!
He told us that his wife Debby gently chides him for not being more outspoken about his position. He explained that if he walked around with PRESIDENT on his jacket, he wouldn't get the opportunity to hear from moms like me who can say "Move in is stressful" because they don't have to say the politically correct thing. It made a lot of sense to me and I began to realize, just how special a place, Pepperdine really is. Everything in life starts at the top and works its way down. Dr. Benton (the top) is known as the "Student's President" and they all call him AKB (his initials). Pretty darn awesome!
Here is Indiana with President Dr. Andrew K Benton.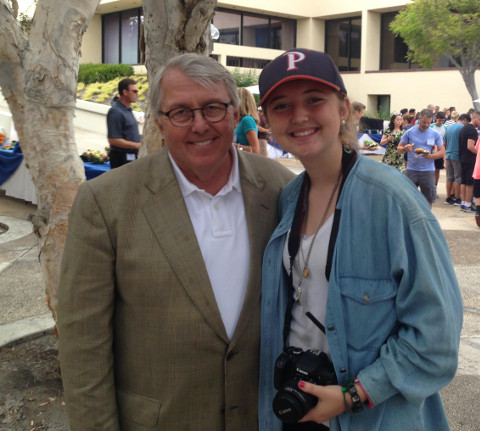 He told us some great stories and made me cry…more than once. One story was about a mom waiting in line to meet him after his Welcome speech. She was about 5' 3" and her son was 6' 3". Dr. Benton said she was crying and when she finally made her way to see him, he said to her "Is this your first child to go away to college?" And she said "It is my only". AKB (as the students call him) said to Indy and I, "At Pepperdine we treat every student like an 'only". Yep, I started crying!
The entire experience was surreal and made me realize that nothing happens by chance. Indy and I were meant to have lunch with AKB that day and Houston was destined to attend Pepperdine. I asked Dr. Benton if we should call him Mr. President and he said you can call me Andy, but your daughter should call me Mr. President. It was priceless!
Speaking of priceless, it is time for another score! I sold everything I owned in this pattern yesterday. It added up to over $400. This was a small set of mostly cup & saucer sets and dessert plates that I bought as a teaching example for the dinnerware teleseminar series. Dinnerware to Dollars. If you don't own this yet you must check it out during our Back to School Sale that ends on Thursday, September 3rd at midnight.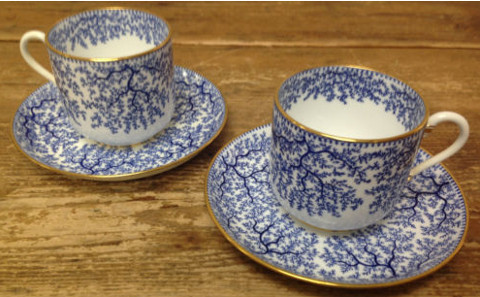 Click here
 to see this auction.
Here is some more info about our Back to School Sale and check out this darling picture of Indy and Houston on Indy's first day of school. Her first day of school was WAY before Houston's first day of school. What happened to the rule that no kid goes back to school until after Labor Day? I miss that rule .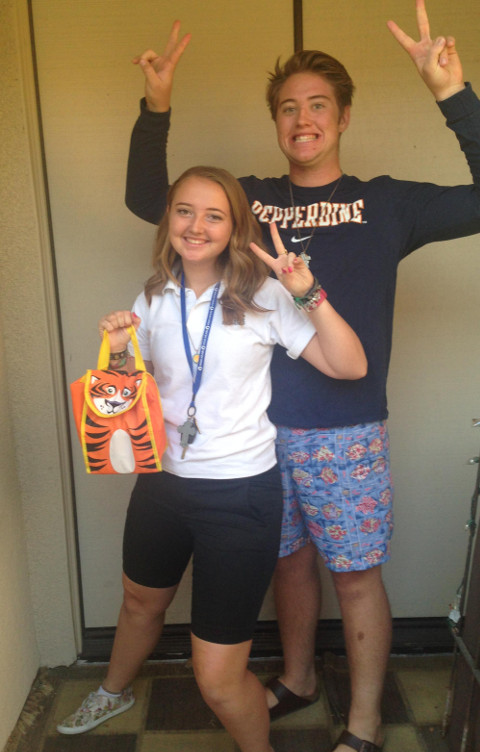 Back to School 25% Off Sale!
Let's celebrate this exciting time with great learning tools for all of us and the positive changes that eBay is making. eBay is once again focusing on the small business owners like us who sell Unique One of a Kind Items. So let's celebrate OUR Learning and how lucky we are to be Entrepreneurs with our Back to School Sale!
It's time to commit to making positive changes going into the most profitable 4th quarter. I can't wait to see how all our hard work will pay off! I believe 2015 can be one of our BEST years ever.
Last year my 4th quarter accounted for 28.7% of my years sales. I plan to make it at least 30% of this years total gross sales! Are you in? Say YES!
If you are committed to making 2015 your best year ever then don't miss out on our back to school coupon sale on these important resources…
Take 25% off everything on our website (except for I sell products, live events and Queen's Court memberships.) This a SERIOUS sale. If you are a Queen's Court member don't forget to stack your 15% discount.
Be sure to enter our 25% off coupon code: SCHOOL2015
Check out all of our products here: http://bit.ly/qofafs
We have included links to some of our more recent and most helpful products, most importantly, the seven videos in our teaching series. They are helping many of you to grow your business. That makes me super happy.
Here is a list of the downloadable videos so far. Remember, each of these is a key step in learning how you can use "Assembly Line Listing" to ramp up your eBay sales for 2015.
Be sure to enter our 25% off coupon code: SCHOOL2015
Don't forget all of our ebooks, like:
Be sure to enter our 25% off coupon code: SCHOOL2015
And two of our most recent AWESOME teleseminars:
OK, there are so many more great products and if you can't find what you are looking for, please email me at Lynn@thequeenofauctions.com so I can point you in the right direction!
Happy eBaying! Remember, this 25% off coupon sale will end at midnight on Thursday, September 3rd, 2015.
P.S. Queen's Court members, don't forget to stack your discounts.
P.P.S. Even one thing that you learn can more than pay for your purchase. Be sure to enter our 25% off coupon code: SCHOOL2015
P.P.P.S. Our Back to School Sale will be ending on Thursday, September 3rd. Place your order today to lock in your savings. Don't forget!
P.P.P.P.S. Remember, Time is Money. Learn how to do more in less time with The Queen of Auctions!
Speaking of Queen's Court members (and their extra discount) it is time for another Member to be featured in this ezine. Diana has always been such a positive and knowledgeable QC member, I wasn't sure she had the time to share her story in the ezine. I am very grateful that she did because her life is extremely interesting! Seriously, her first experience on eBay was purchasing a Mercedes Benz Convertible! Please read on…..
"OK, Lynn, Getting started on eBay Hmmm Let's see the first day I was on eBay I purchased a 1998 Mercedes Benz 500 SL Nice convertible!! What was I thinking sending money ahead of seeing it? Made transportation arrangements and the rest is history.

We actually started selling some of my husband's old gold clubs that we had hanging around and we were pretty successful so then we purchased some golf merchandise from a golf store that was closing its door. We did an inventory at the store, looked up some prices – golf clubs, shoes, accessories – Spent $4000 on the lot and ended up selling everything with a profit of $12,000. That worked pretty well.

Here I am with my husband dancing.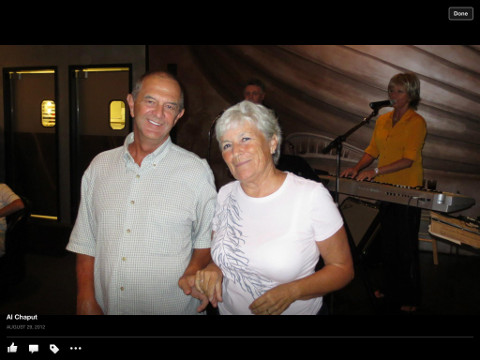 By that time, we had enough experience to list much faster and work through some mistakes. I then saw on eBay the Trading Assistant Program (which no longer exists) but I was only 1 of 2 in our area that was selling on eBay. So I picked up some people to do consignment selling for them.

I was also going to garage sales and we also had some store outlets nearby. I would go to the back of the stores where the sale merchandise was and pick up a few things – always making sure I could return them. Then several of the people in the community where I live learned about my eBay business because they would see the packages out by my mailbox ready for pick up.

Everybody wanted to know what was I doing!!! So the word spread. I now have 45 people that I do consignment selling for, plus my own things that I find at garage sales. I have sold cars, boats, toilet paper rolls and everything in between. What a variety!!!! Never a dull moment here.

My husband does the packing and shipping which helps tremendously. I have recently hired a gal, in her 20's, who is interested in internet sales, join my team. She now has her feet wet with over 100 listings.- which she did in a week. She has been listing record albums up to this point, but she is going to help me with listing some clothing next week. She will be dressing and undressing manikins and taking measurements, while I list. Currently, I have 4000+ listings getting ready for the 4th quarter.

Scores – talking about record albums This one was sitting in my attic.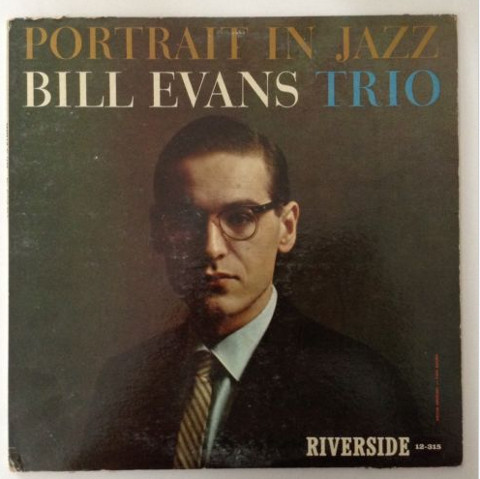 Click here
 to see this auction.
Not bad for starting the listing at $30.

Another score.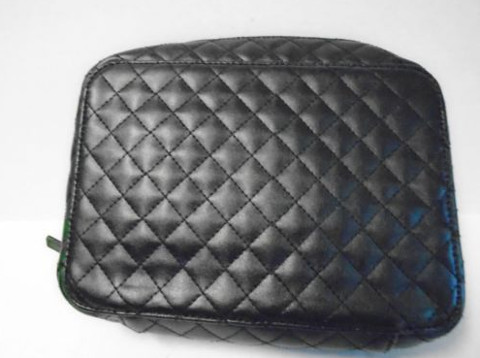 Click here
 to see this auction.
I purchased these make up bags and make up from a gal at a garage sale. I have been back to her 4 times now and I don't think she has anything left. I purchased this bag for $5.

Current listing that is one of my consignment items
Click here
 to see this auction.
Love my eBay business. Love working with those who consign to me. Love learning about new things. Love being a part of the Queens Court. Love life."
Diana, just from reading your story….I think it is safe to say we ALL LOVE YOU!
And I hope you don't mind that I share your P.S. This next part is back to Diana Speaking 

.
"P.S. Again I am so honored to do this. You really are the best!!! Let me know about the pix and I will send them right away.

P.P.S. Jason Day the golfer (our friend) won today. Last 4 tournaments he has been the winner in 3!!! The announcer – Jim Nantz mentioned where I live two times in the broadcast (Belfair). We had a huge welcome homecoming for Colin Swatton – Jason's caddy, swing coach and father figure and best friend -( quite the story they have but I can tell you that another time!!!) who is a neighbor. He is a good mate from down under. Upon his return from Jason winning the PGA championship two weeks ago we did a surprise homecoming where over 200 of our community turned out and lined their golf carts down our avenue of the oaks to welcome him home and celebrate their win.

Here is a photo of us getting ready for Colin's homecoming!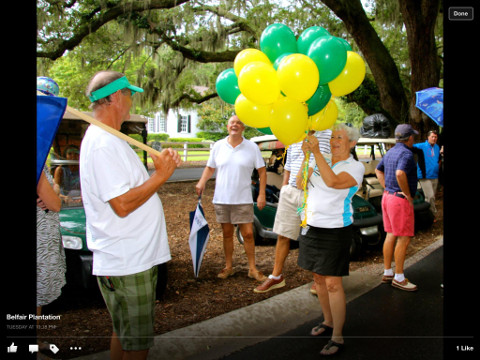 It was so AWESOME! Ok so I won't tell you who organized it!!!!!! Not sure what the next celebration is but that will be hard to top!!!

Talk soon….That is enough for me this evening!!!! Diana"
Here is one last photo of Diana and her husband doing the bridge walk in Sydney Australia. Diana, you and your husband are soooooo cute! Thank you so much for sharing a little bit of your life with us!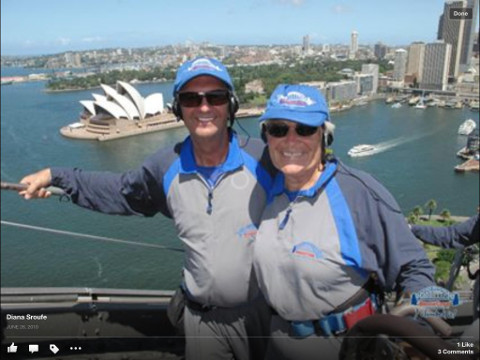 OK, It's about time for another score….Seriously! This time the score is from my mom, Mor Mor, as she is affectionately known. My mom is going to join me and Mo in San Jose for eBay's 20th Anniversary Celebration about a week from today. Yay! I am so happy Mor Mor is going to be there and my dad is flying into Palm Springs to take care of Indy while we are out of town. Mom and Dad you ROCK! And for once, my dad gets his own bedroom for his visit. ONE good thing about Houston being gone is that his room is now THE GUEST ROOM 

. One bad thing…Indy and I have to clean it!
Since we are on the subject of my parents….My mom has been rocking the dinnerware category lately. She usually calls me to ask if she should buy certain patterns and since she is my Mom, I am always available for her. This Spode purchase was a no brainer though. However, I did encourage her to raise the prices and boy was she glad she did!
These plates sold for almost $400. Check them out. Go MOR MOR!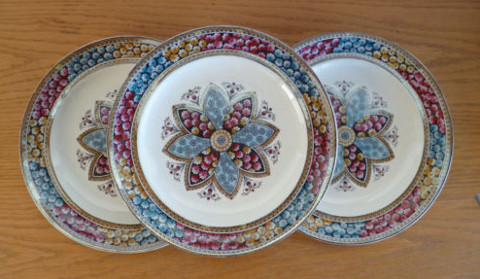 Click here
 to see this auction.
I must share some precious eBay buyer experiences with you before I end this ezine. YES I AM AN EBAY BUYER AS WELL AS A SELLER 

. We shopped for most of Houston's room décor on eBay. He wanted a duvet cover that was a very soft brown like the one he has at home. I found a pottery barn Chenille Twin XL duvet on eBay NIP (new in package) and made an offer.
Here is the duvet cover.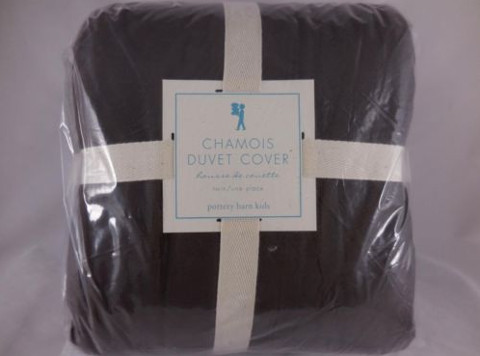 Click here
 to see this auction.
Check out this email from the sellers…..
"Dear thequeenofauctions,

Lynn, This is great! I am accepting an offer from you on EBay and sending you an email about sending me a link for a recent purchase on a video on my other screen! I get Lynn's attention twice in one Day. I am all fired up now.

You will not remember Brenda and I but we met you in Atlanta at an EBay Live event years ago and you have been my hero ever since. I have purchased just about every course you have sold.

Hope all is going great with the kids. We see your updates and keep up with you that way.

You are wonderful, Steve and Brenda Glenn"
WOW! That warmed my heart and the beautiful thing is that Houston is taking both that duvet cover and another one that we bought on eBay to college! Gotta love the eBay community 

.
So here is a photo of Houston's dorm room (Sorry Steve & Brenda but he decorated the first wave of his dorm room with the OTHER duvet cover…yours will be next 

). Don't forget… that it is the Pepperdine WAVES….that is their mascot.
OK, I must add here, that although Goose is at college, he is still such a kid. He has a teddy bear needlepoint throw pillow in front and a Mickey Mouse plush stuffed animal, over to the left hand side, that my grandmother brought back from Tokyo Disneyland and gave to him when he was about two. I love this photo of his dorm room bed set up for so many reasons…..including the yellow pillow sham in the back.
Once Houston decided on the dual duvet scheme (plush brown and Hawaiian) we found the Hawaiian postcard duvet and then I was on the lookout for shams. Found this listing for yellow shams.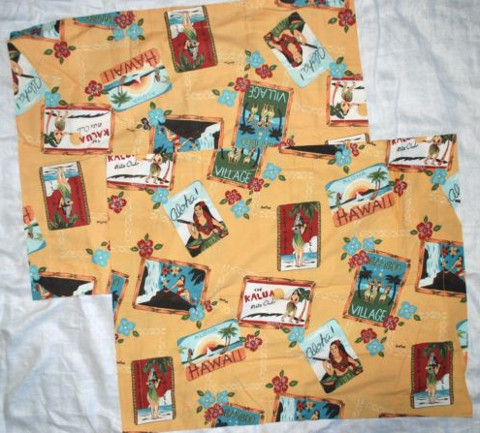 Click here
 to see this auction.
I emailed the seller and asked if they would sell one of the shams or consider a best offer. I NEVER buy anything on eBay without at least asking if they will consider a best offer. Just a heads up for you BUYERS who buy without at least submitting a BO.
Here was their response….
"Hi Lynn!
I did a triple take at my phone when your inquiry came in this evening. I couldn't believe it. I have been reading your newsletters for years and have purchased a few of your training materials. Your bootcamps were happening at a time that I was still at a 9 to 5 job and never made it, but very much thoughtfully considered it a few times. Since last december I am now a full-time Ebay seller and I really have to say that you've influenced and guided many decisions along the way.

I very much appreciate what you do and the positive, uplifting guidance you provide. Of all the email I receive (and delete without opening) your newsletters are one of the few things I read from top to bottom…every single time. There are so many nuggets of gold hidden in each one.

In my first year, full time, I'm on pace to profit more at my ebay business than my college degree-earned marketing salary that I walked away from. I'm so grateful for you and the community you've built.

I'd be honored to send you these shams out of appreciation, please just provide an address you'd like them sent to and I'll ship them out for you.

Kind Regards,
– miss_clawdy"
Wow! I was ready to cry AGAIN. Been crying a LOT lately. I asked her if there was a book or video I could send her in trade for the shams and we MADE an eBAY Deal.
If you don't have my Let's make an eBay Deal video check it out here.
So, during this hectic last month, my really, really, really, awesome friends, the Wallace family were in town. I HAD to make time to see Kimberly and her husband Mike and their daughter Ari. My dad absolutely LOVES Mike Wallace because they all used to live in Bellingham (that is where I met Kimberly) and anytime he needed an able bodied young man to go crabbing with him, Mike was a willing volunteer. I must thank Mike, in writing, for helping to keep my 80 year old father SAFE! The Wallaces now live in Huntington Beach and I get to see them quite often.
Here are the four of us in my office.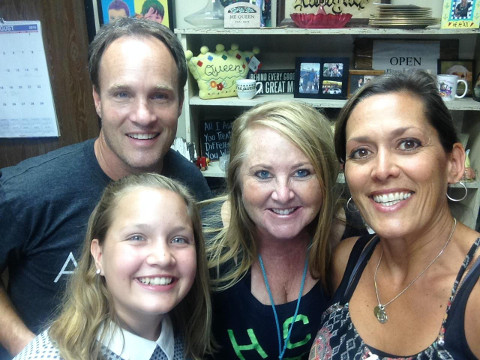 While Kimberly and her family were visiting she told me that I must start an Instagram account. OK, really? I never post on Facebook, twitter or any social media. Although, I did post on the day I took Houston to school and Jason (Thrifting with the Boys) wrote and said this "You are posting on FB. I almost fainted. Wish him luck from me". Then later he posted "Are the locust coming?" in reference to the end of the World. So cracked me up! Love you Jason and Staci!
So, while Indy and I were waiting for the President of Pepperdine's (our new friend AKB) welcome speech, Indy opened an account for me and posted some photos on Instagram. It is actually kind of fun and I am enjoying it. Not as difficult as Facebook and not as fleeting as Snapchat. Here is a link to start following me https://instagram.com/lynndralle
Oh my gosh, before I forget, I must share a recent score of some dinnerware I bought for $150 while thrifting with Mo. It was an entire HUGE set of Mikasa Santa Fe and here is the photo in the thrift store.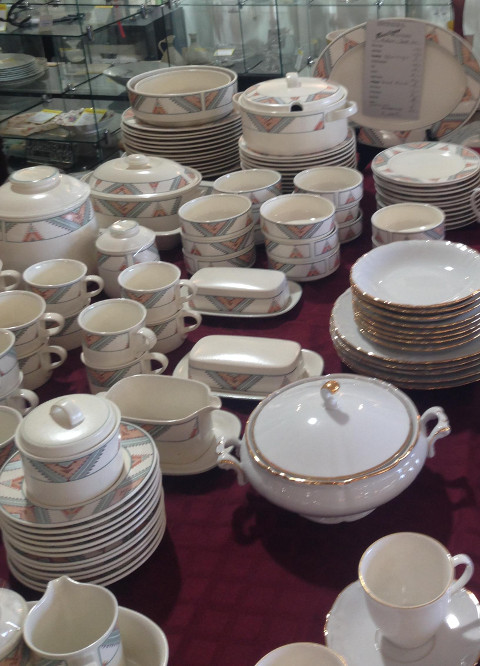 And here is one of the listings from that set. I should make at least 10x on my initial investment of $150. YAY!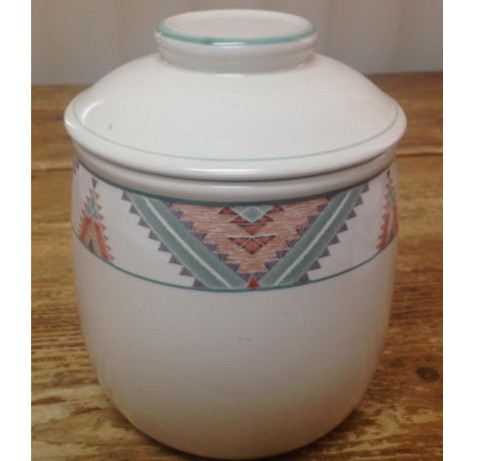 Click here
 to see this auction.
I just realized that I haven't told you much about the three days I spent at Pepperdine for Houston's orientation. Well, the first day was AWESOME…move in and lunch with the President.
Then Indy and I attended the President's speech that evening where he likened the incoming freshman's time at Pepperdine to a song by OneRepublic. "I Lived". Here is a link to the video for that song. It was really interesting for Indy and me because the President had told us a little bit about his speech during our lunch. And the entire time AKB was speaking Indy and I kept hand bumping because we felt like we had some "insider" information.
https://www.youtube.com/watch?v=3k009TIxQc8
After the President's speech Indiana and I had to leave as the Freshman had another event. Indy had to run and find Houston to say her final goodbye. She ran to give him a hug and we left. She started hysterically crying in the car. I didn't blame her at all. Thank goodness she was the one crying out loud and not me. I ended up taking her to a 7-11 and buying her $27 worth of ice cream and snacks for the both of us to get us through that first night.
The next morning I had to drive Indy back home so she wouldn't miss any more school. Luckily, she had a friend meet her halfway so the trip that morning only took me about 4 ½ hours. I was exhausted when I arrived back at Pepperdine but was able to sit in on a few informational sessions and meet Houston's seminar leader, Lorie. Lorie Goodman is awesome and Houston is so blessed to be attending this amazing institution. That night Houston and I had a great dinner together with some other students and their parents. Here is a photo.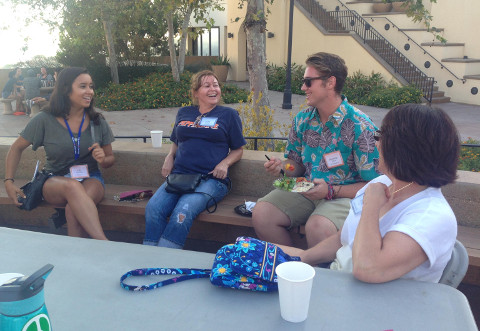 The next & final day was very busy. The parents (me included) did a prayer walk all over the campus to bless it for our kids, then we had a great barbeque on the lawn above the Pacific Ocean. Houston and I had a lot of fun and when I met up with him he had a new group of friends with him. I took as many photos as I could because I think a lot of these kids will become his best friends in the years to come.
Here he is with the kids he met walking down the hill to the barbecue. I only remember the name of the girl next to him because she was from Anacortes, Washington and she was darling! Her name was Jenna. Sorry for not remembering the rest of the kids names.
After the lawn barbecue, it was time to head into the gym for the ending ceremony. They passed out stationery for each parent, family member and student to write a letter to their child or their parent/family member. We were supposed to tell them what we hoped and wished that they had accomplished in the next 8 weeks and put their name and address on the front and seal them. At the end of the ceremony we were told to drop them in bins and they would be sent in exactly 8 weeks. That task, right there, made me start crying

.
The campus chaplain spoke and then they had some parents come to the front to also speak. They recounted reading letters that their son had written at the beginning of 6th grade and at the beginning of 9th grade where he stated that it was his dream to attend Pepperdine. Then the chaplain asked the mom where her heart was at this moment, and she said "it is sitting in the stands with my son".
Guess who was sitting next to that boy? ME. I was crying silent tears at this point…maybe not so silent but that poor kid…he was really crying. I watched Houston reach over and pat him on the knee and say "God is with you". MORE TEARS.
Seriously, I don't think any of this was an accident. I know, in my heart and soul, now more than ever, that Houston was meant to be there, at Pepperdine. Then the Chaplains asked all the incoming students to stand in the middle of the gym and they were surrounded by faculty and current students while we all prayed over them. Then the kids prayed over the parents. It was beyond surreal and very special. Here is a photo and I have circled Houston in his orange baseball hat looking back at me.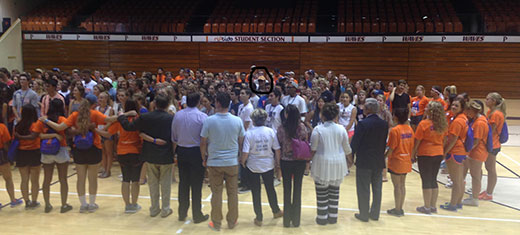 After that, Houston walked me out, gave me a hug and I was on another 4 ½ hour road trip back to Palm Desert. In those 3 days I spent 14 hours driving and at least another 14 hours crying. He started class on Monday, August 31st and I still haven't spoken to him by phone. I guess it is time for him to fly. GO GOOSE!
Thank you all for going on this journey with me for these past 12 years or so since I started writing this ezine. I feel like you have all watched he and Indy grow up and you can feel my pain and my joy. SO THANK YOU for being here with me!
TIME TO GET BACK OUR HAPPY, so let's end this ezine with a score! $50 for a USED neck pillow! Sweet!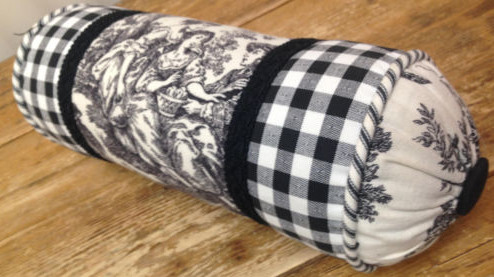 Click here
 to see this auction.
Thanks for reading my ezines! I appreciate it!
Happy eBaying!
Lynn
---
Lynn is an experienced eBay Power Seller, author and teacher. If you want to know the eBay tips, tricks and tools that Lynn uses for buying and selling at online auction click here.
Some links in my emails to you may be affiliate links. You can be confident that I only partner with companies that I fully stand behind.