Hi!
First of all, Happy Cinco de Mayo! My mom used to have the best Cinco de Mayo parties ever. I will have to find a photo from one of those.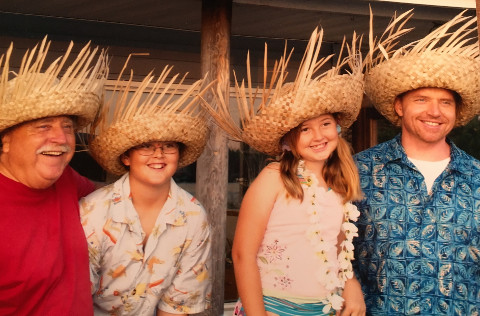 I did not write even ONE ezine in April and I am sooooo sorry! But I did finish Cash for Coffee Mugs and it is 435 pages. OH MY GOODNESS!
That is the same amount of writing as putting out 25 ezines and an ezine takes me about 8-10 hours to write. I am relieved and happy to be finished and have it in the hands of my readers! I can't wait to hear your coffee mug scores 

.
Here is one of my recent coffee mug scores! I did accept a best offer like I do when I sell most of my mugs, but there is an interesting story about this mug.
Click here
 to see this auction.
The day I took the best offer was the same day that I sold something that I had purchased up in Idyllwild. For those of you who do not know very much about the area in which I live, Idyllwild is a mountain town about an hour and a half away from Palm Desert. A lot of people that live here in the Coachella Valley have second homes in Idyllwild….to escape our summer heat.
My friend Kelly had rented a cabin up there last summer and over Labor Day weekend I went up to see her and attend the biggest city garage sale ever! Idyllwild holds two of these each year, one over Memorial Day Weekend and one over Labor Day weekend.
Here is the plate that I sold the exact same day that I took the best offer on the Idyllwild Coffee mug. I am telling you, eBay is strange that way  but all in a good way.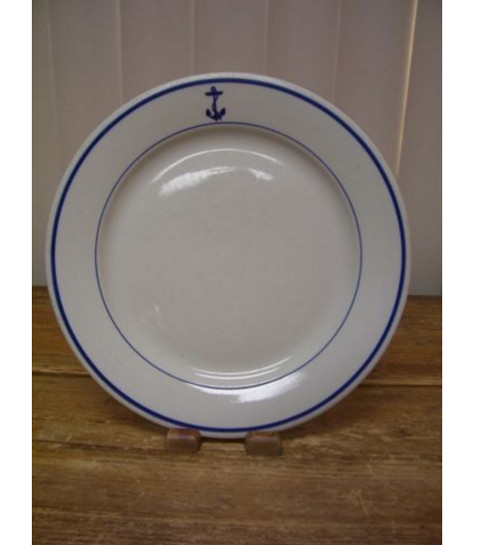 Click here
 to see this auction.
I had purchased this plate in a set of Buffalo China from a local thrift store in Idyllwild for $10. This one plate alone sold for a best offer of $28.00 and I shipped it on the same day as the coffee mug. Weird.
For some reason, while writing away on the coffee mug eBook, I signed up for a business mentor at our local SCORE SBA office at the suggestion of Carmen…gotta love Carmen. She knew that with Indy leaving in about a year, it would be good for me to consider an additional business venture.
I met with the most awesome mentor (and it is free) Dick for a month or so but unfortunately, he had to resign for health reasons. It had been such a cool experience to have someone to mastermind with that I continued on with his suggestion of an alternative, Debbie (who is also awesome). The three of us met on numerous occasions and brainstormed business ideas to compliment my eBay branch. We eventually came up with the idea of a consignment store.
They are HUGE out here in the desert. I am not kidding. The successful ones are moving high end merchandise through like crazy. I have really been missing our retail store "Cheryl Leaf Antiques" and this would give me a way to open a store without spending a lot on inventory, but still keep my eBay business going.
It has been a lot of fun searching for retail space and then figuring out if I really want to do this or if I just want to continue with eBay (which gives me soooo much flexibility). Also, I have been talking about relocating closer to the coast so not sure if I want to open a retail store here.
I had my mind set on Malibu, since when in the 6th grade, we were asked to write a paper about what our dream life would look like. I wrote that I lived in Malibu, drove a yellow corvette and worked for Disney.
Hahahaha. LOL. Don't want a corvette in any color (especially yellow) and I did want to work for Disney but after grad school I chose to run my grandmother's retail store instead. And, thank God Houston went to live in Malibu for me, because I am over that dream. Malibu is too hard to get to and isolated. I need more action and places to source eBay inventory.
The other day I sold a dinner plate that I had bought at a garage sale on Coronado island and I flashed on the idea of living there. It is an awesome place and right across a bridge from San Diego. So, if that is where I am meant to wind up, not sure I want to start that retail dream here.
OK enough of that day dreaming, it is time for a serious score. I have been listing more and more of my treasures as you know. Things I have been "hoarding" to decorate a home or a consignment store or something 

.
Actually, I kept thinking that I would find the 4th matching shade to this set of 3 matching shades. Instead, I listed them on eBay for a HUGE price and wound up getting quite close to asking. I LOVE eBay!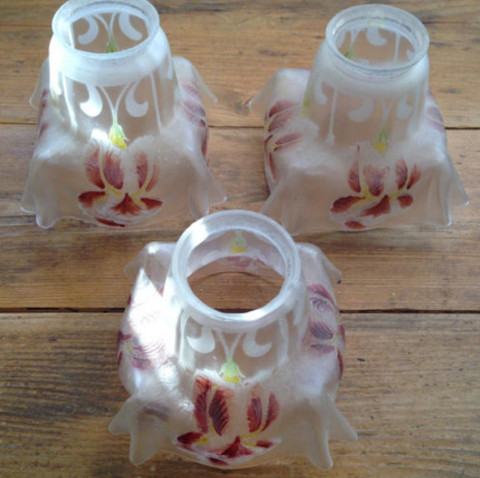 Click here
 to see this auction.
But let's head back to Malibu. Houston became a confirmed Catholic on Saturday night, March 26th during the Easter Vigil Mass at Our Lady of Malibu Catholic Church.
This was the weekend after the Songfest trip, so Indy and I trekked (and believe me it is a trek…usually 4 hours each way) back to Malibu for that special event. Indy needs to learn how to drive on the freeway so I let her drive the first 50 miles. She did an awesome job! (But do you see how my obsession with Malibu just may have been cured?).
Before the ceremony, I headed down to the Malibu Country Mart to get a Chinese Chicken Wrap (AMAZING by the way) and as I was walking out to my SUV I noticed that my tires looked super smooth. "Oh it must just be the light I thought", but as I got closer I was freaked out!
Here is what those tires looked once they were taken off the car and replaced. Holy ****! And I let Indy drive on those tires…. if she would have had a blow out I never would have forgiven myself. I was in shock.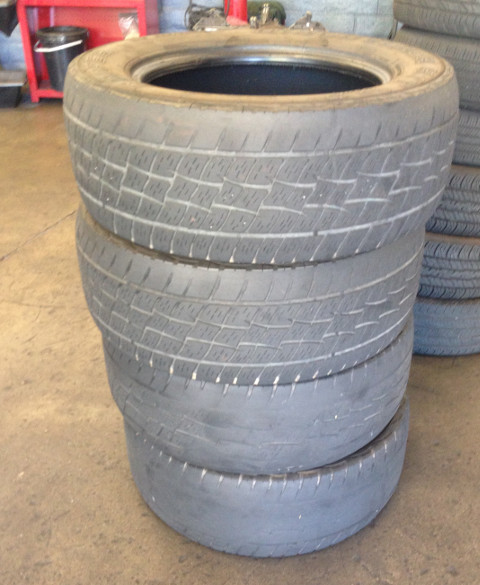 Usually when tires get that bad somebody tells you. Another driver, your mechanic, a friend, a relative, a valet parker, a fellow garage saler….someone, Hello? No one told me and I had not noticed. The last thing I am usually looking at when walking out to my car are my tires. I usually have my hands piled high with boxes of stuff and can't even see my feet .
But back to reality, it was Saturday night at about 5 pm. I couldn't miss Houston's confirmation ceremony and where in the world was I going to get a set of tires on Easter Sunday? Well, I started dialing and Thank God I found a tire place in Thousand Oaks called Just Tires and was able to make an appointment for the next morning.
Houston's confirmation was to take place during the Easter Vigil ceremony. The vigil is a very very very very long church service and at the end, Houston went up to the front with four other catechumens to become confirmed. It meant so much to Houston and I was very proud. I am still a very proud Presbyterian but I understand that he has chosen his own path.
Somehow, Goose was able to rally quite a large group of friends to attend this vigil/confirmation. I was astounded when we all gathered on the front steps after the ceremony to see how many of his friends and fellow classmates came out to support him. Out of the 25 or so people there, only two to three were actually Catholic. All the rest were there just to support my son.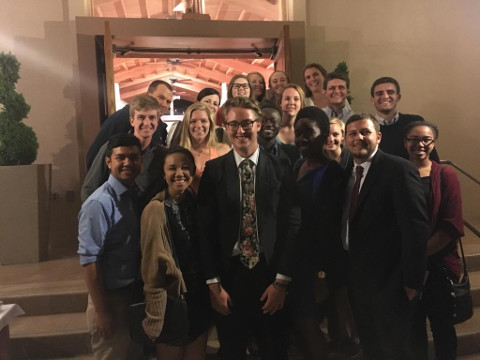 It was incredibly touching. The current Pepperdine Student Body President was standing next to him, next to her is next year's vice president and behind Houston is Pepperdine's incoming Student Body President. Then there were his frat brothers, his RA, a former teacher from Xavier (his sponsor) who flew in from Ohio and me and Indy. WOW. It was an incredible night.
I loved this picture after the ceremony with the five new confirmed Catholics and their mentor, Sister Brigid (very Irish). You gotta admire her and I love the way she and Houston looked at each other. Pretty special.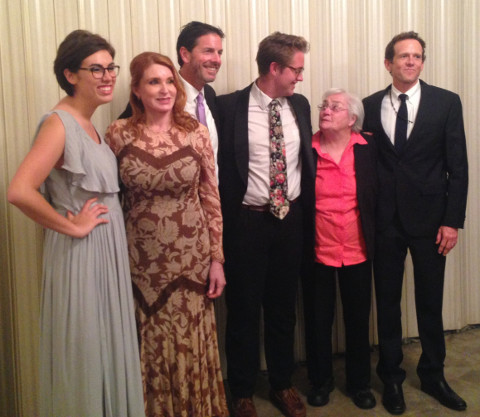 The next morning was Easter Sunday. Indy and I made a quick getaway. We checked out of the motel/hotel and raced up to say goodbye to Houston. Then it was over Malibu Canyon to Thousand Oaks. I was holding my breath the entire time hoping we wouldn't have a tire blow out and be sailing, (not garage saling) but actually sailing, over the canyon guard rails.
Thank goodness we arrived safe and sound at Just Tires and left the SUV to go and grab lunch at CPK (California Pizza Kitchen). I was able to do a little work, Indy studied and about an hour later we had a new set of tires and were on our way back to the desert.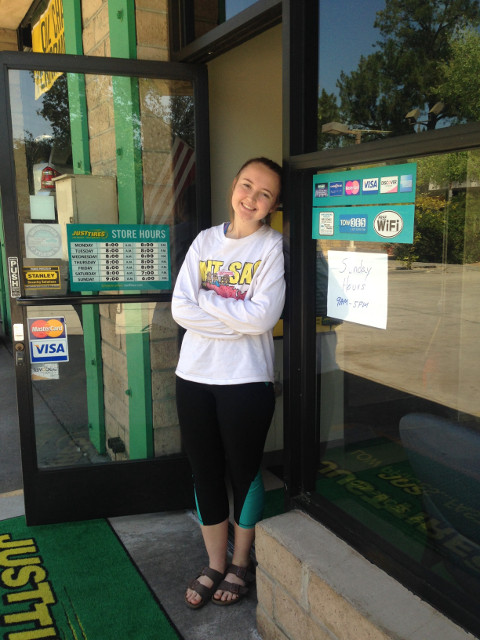 While in Malibu for the confirmation I was able to spend about ten minutes with Lee chatting about the consignment store idea on our way to the ceremony. He was like "Lynn, you know retail, you are a natural, you have got to do this…it is such an awesome idea…go for it! It is the perfect complement to your eBay business just like it was when you ran Grandma's store." My dad was even behind the idea. It was pretty exciting and yet scary at the same time.
But once Lee and I spoke, I thought I would continue with the research process and give it shot if the numbers worked out. Then, my brother decided to redo his entire house. I mean….his entire house. Lee called me on Monday, April 4th and said "OK, I have this and this and this and this…furniture, etc. and it needs to be gone by Thursday as I am getting new floors.
You can use it in your consignment store, you can sell it on eBay, I don't care what you do with it but it MUST be gone ASAP or I will donate". Ughhhh…..don't ever say those words to a hoarder like me…..and how did my brother suddenly get over his inherited "hoarding" instincts?
Well, I have a theory about that. I think when you unload your "hoarded" items on another family member who also cares about those items, I don't think it is "really" considered "letting go".
So with everything going on and I do mean "everything" I started trying to figure out how to get several cabinets, a table with chairs and a lot of boxes moved out here. To rent a truck and drive 300 miles round trip was $19.95 for the U-Haul plus 75 cents per mile. Not gonna happen.
Then it dawned on me…..Max! I text him my outrageous request and two days later on a Wednesday morning, Max was at my brother's doorstop and ready to load up. It ended up costing me about $300 and Max is a doll!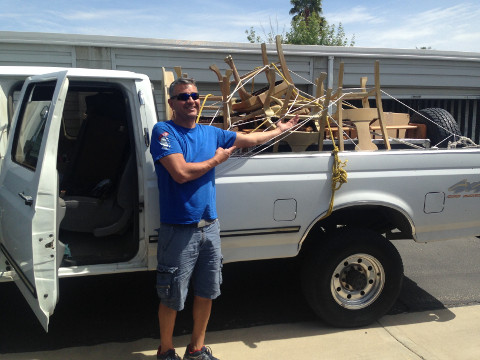 My brother seriously sent some awesome stuff! I found a tiny box filled with some of our grandmother's special antiques. These were all items from her personal collection. Check out this box.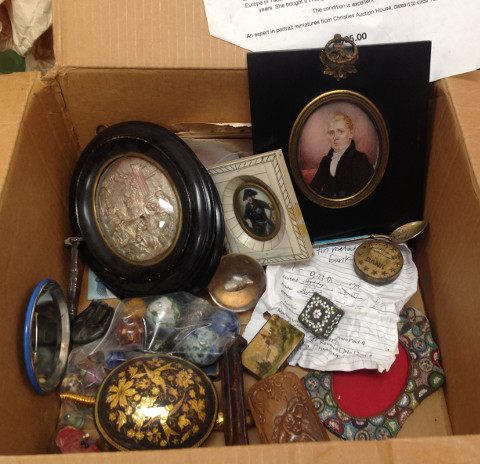 One of the items even had an I Sell sheet with it. The item had been written up and listed at auction back in 2001. Can you believe that? Fifteen years ago and here it was, once again in my possession. Ughhhh. Time to get more of this stuff listed and actually sold this time!
My brother was really cool about our terms. He said that whatever I felt was fair to pay him he would be fine with that. Nice. That is the type of person you would be happy to sell for on eBay 

 Right?
One of my Queen's Court members spotted some sulphide marbles in the box when I posted that photo on the QC. She said that she had paid for the down payment of her home by selling her marble collection. Wow! I knew that I wasn't going to get that much for those sulphides but I did quite fine with them.
Here is the fish sulphide listing and it sold for it's opening bid price. Nice! Almost paid for Max to bring all that stuff out here 

.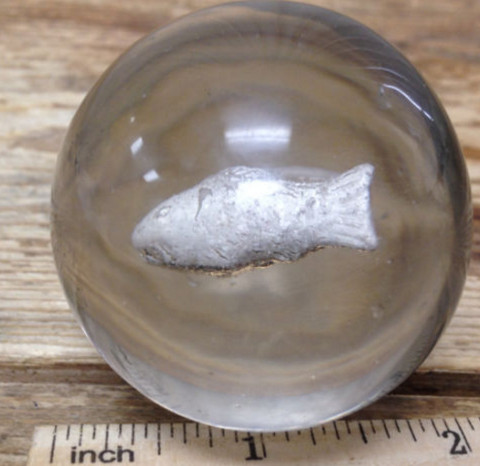 Click here
 to see this auction.
While writing the Cash for Coffee Mugs eBook, attending never before attended Catholic ceremonies, getting new tires, dreaming of a new retail store and selling on eBay, I also had Indiana and her new play to keep me occupied. The play was Bye Bye Birdie and as you may remember she was to play Mae Peterson (the overprotective mother). I think that sometimes I am like Mae and the song that Indy sang cracked me up!
The play took up so much of Indy's time that I never saw her unless we were scrounging around my eBay warehouse or our home looking for "free" props. I think that at least 50% of the props on stage came from us!
Indy did such an incredible job. I was able to attend three of the performances. I always try to have at least one family member at each show but my mom who was going to fly down for it had to have her hip replacement during that time. UGhhhhh. Poor Mor Mor but she is recovering quite nicely and will be visiting us when you read this ezine.
I was able to sneak some photos during the show but there are not very good and I apologize. Here is one of Indy twirling during the telephone number where she also played one of the teenagers.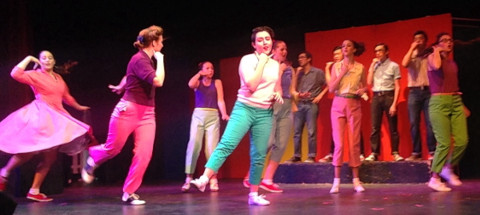 Here she is as Mae Pederson with her hands on her hip talking to her "sonny" boy.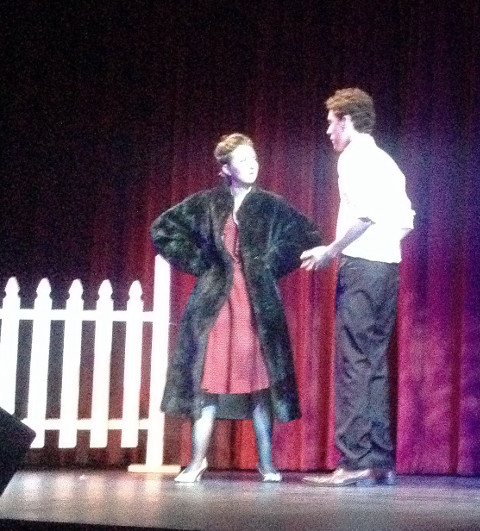 Here is the entire cast after the last performance.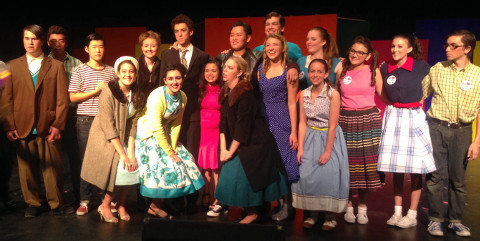 Houston wanted to drive in from Malibu to see her play but he couldn't find a car to borrow until 3:15 on a Friday afternoon and it was raining. Ughhh. Luckily, the show was sold out and very late starting (it was opening night). When Houston arrived at 8:30 pm it was intermission. He was able to see her perform her song and he was definitely the loudest one in the audience cheering for her.
Here they are after the play.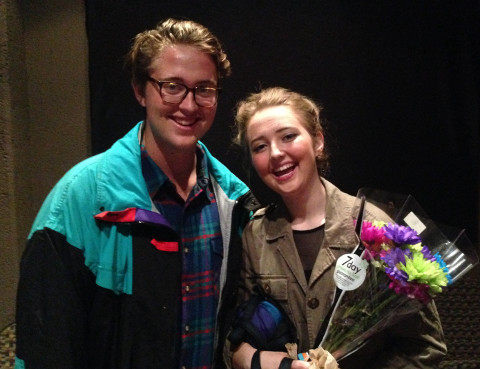 Bye Bye Birdie is such a colorful and fun play it reminds me of a Peking Glass bowl I just sold. It sold for over starting bid price and is going to China so fingers crossed that the buyer likes it.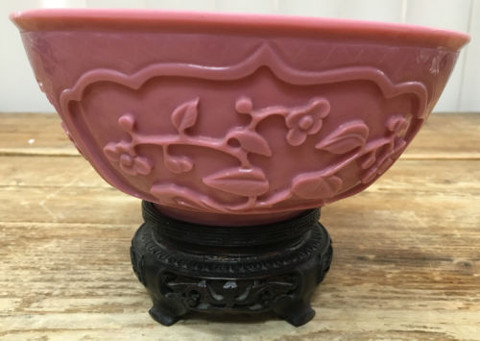 Click here
 to see this auction.
The Monday after Indy's play I get a phone call from my brother. "Rut roh" (Scooby Doo's Uh oh) what now? He has decided that the one piece of our grandmother's furniture that he was going to keep (her rotating bookcase) he now wanted to get rid of it.
Seriously, he couldn't have decided to do that the week before when I had paid Max to pick it up. I told Lee that I would see what I could do as I really wanted that book case. Again, another ultimatum. It must be out of his house by Thursday when his new floors were getting installed. Ughhh.
Here is what one of those bookcases looks like in perfect condition. The one we inherited from our G (grandmother) has some minor damage but I think I may get it repaired and keep it. It is a super neat piece.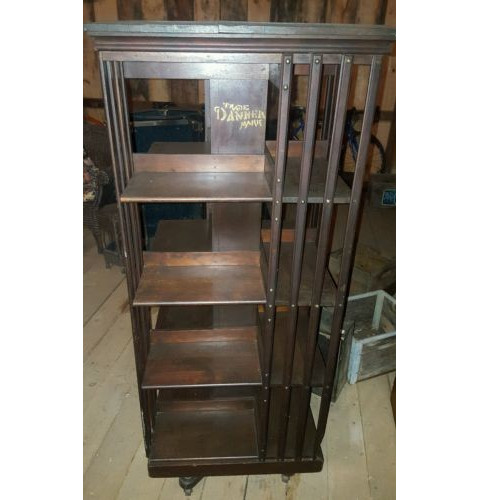 Click here
 to see this auction.
I knew that I would be going in to pick up Houston soon to come home for the summer, but that wasn't going to be during this critical week. In addition, the Goose took sooooo much stuff with him to college that there would be no way to add a bookcase to that load.
Then I had a brilliant idea….Roadie! I immediately posted a "Gig" and then text my good friend Marc Gorlin.
Here is a picture of Marc and me at the most recent eBay get together. Marc is awesome and super smart! He is always starting fantastic companies like Kabbage and now Roadie.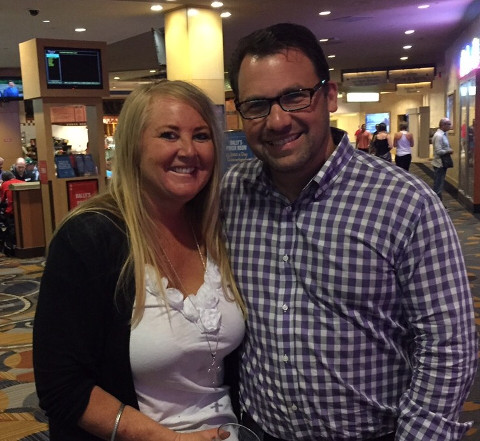 Here is what my text said…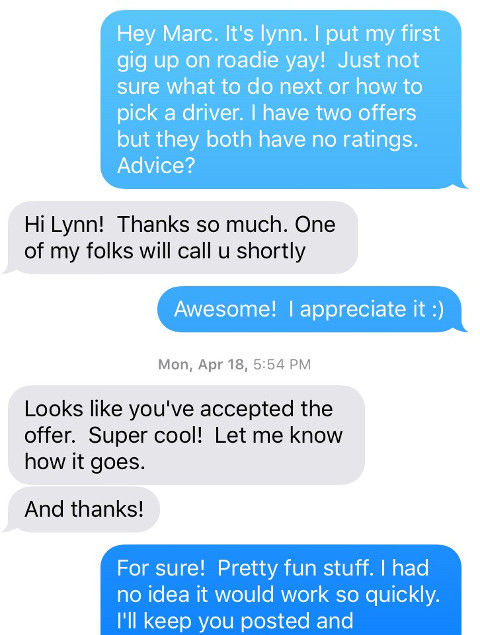 After I posted that initial "gig" and already had two offers to bring it out, my brother called and said, "OK, I have about five extra boxes of stuff. It is the best of the best (my dvds, cds, collectibles, etc.) that I was going to keep but have decided it must be gone by Thursday." I told him to take a picture of it so I could post it on Roadie.
Luckily, I knew that I could call Roadie and get help from Marc's team that is located here in the US. What a concept ! I called them and they helped me cancel my initial gig and post the new one with the bookcase and 5 boxes of random stuff.
It was only going to cost me $101, which included $2,000 worth of insurance, for me to get all that crap (well we didn't know what it was yet) out here. Seriously, what a bargain. The gas to drive into LA ONE WAY is at least $50 in my SUV.
Here is my revised "gig". Notice that my brother didn't even have to pack it correctly. If we had packed up all the loose items he ended up sending correctly in shipping boxes and paid for USPS it would have cost over $150 with insurance just to get those five+ boxes out here. Not to mention the bookcase.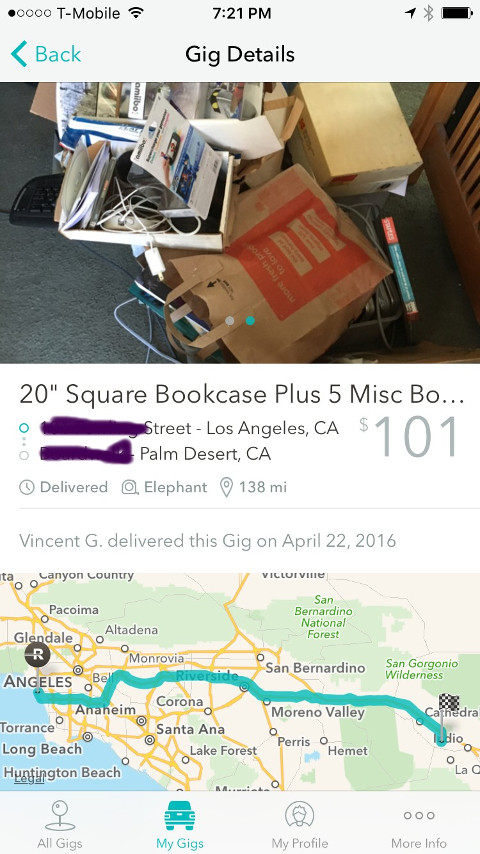 I immediately got another offer from a Roadie named Vincent who had 5 stars. I accepted his offer (which is basically the $101 price) and let him know that we needed it by Thursday/Friday.
Vincent was amazing! My brother loved him. He packed everything with care and even took more than the 5 original boxes. He ended up bringing out artwork, more boxes and who knows what else!
Here is a photo of Vincent and I in front of my office. I tipped Vincent an extra $20 because he was such a lifesaver. Roadie Rocks! I had no idea it could work so fast or so well. Thank you Marc and the Roadie team. I am a FAN for life! Can't wait to use it again for an eBay sale.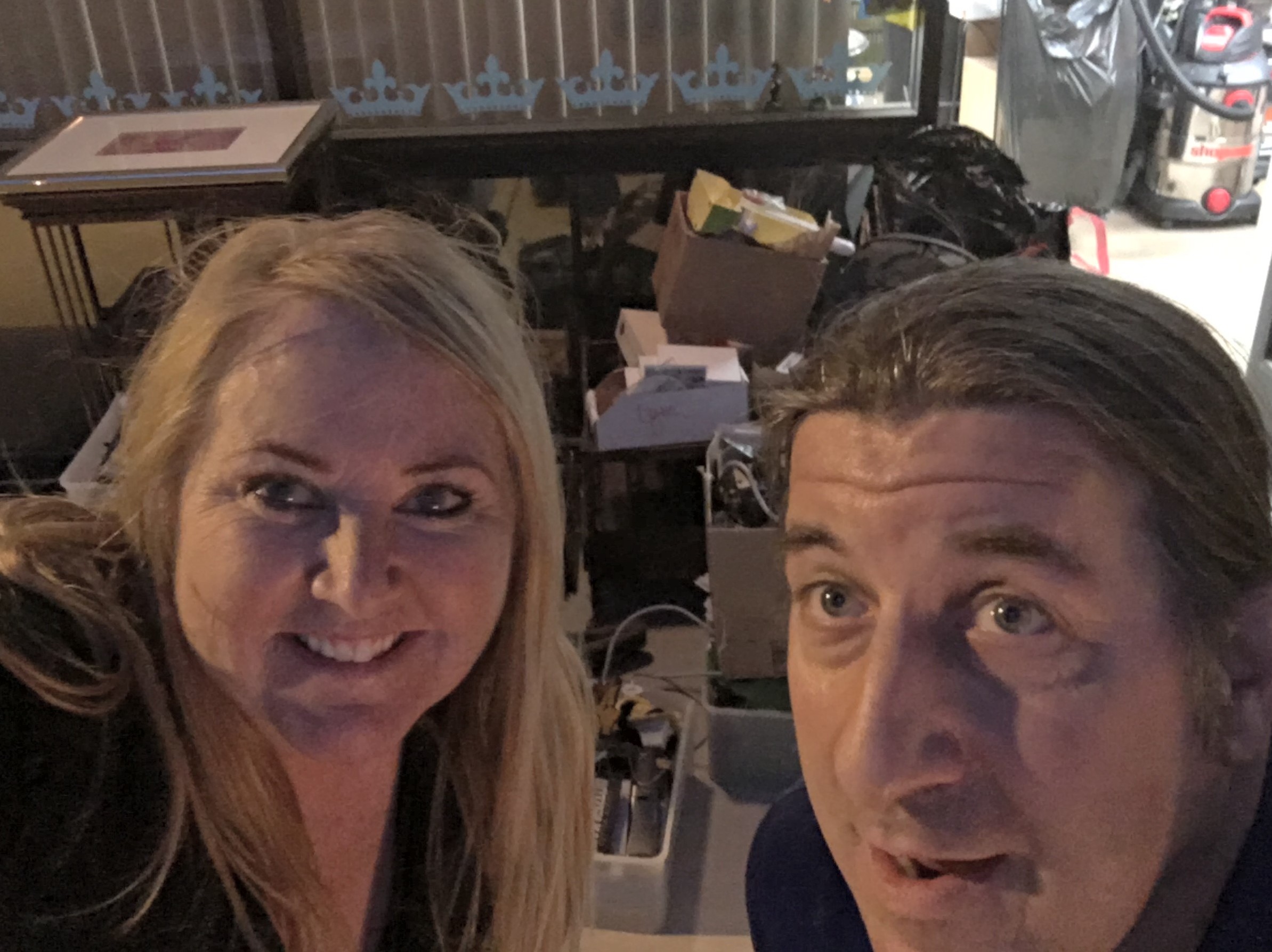 If you haven't signed up for Roadie yet, here is a special incentive to do so from Marc and the Roadie team. Sign up now at www.roadie.com/download and input promo code QUEEN10 which will give you $10 off your first gig! The coupon code will expire on June 1, 2016 so get those Gigs posted now. Get the app on your phone and be ready to ship large or small items from city to city or state to state. I can't tell you how much this service meant to me!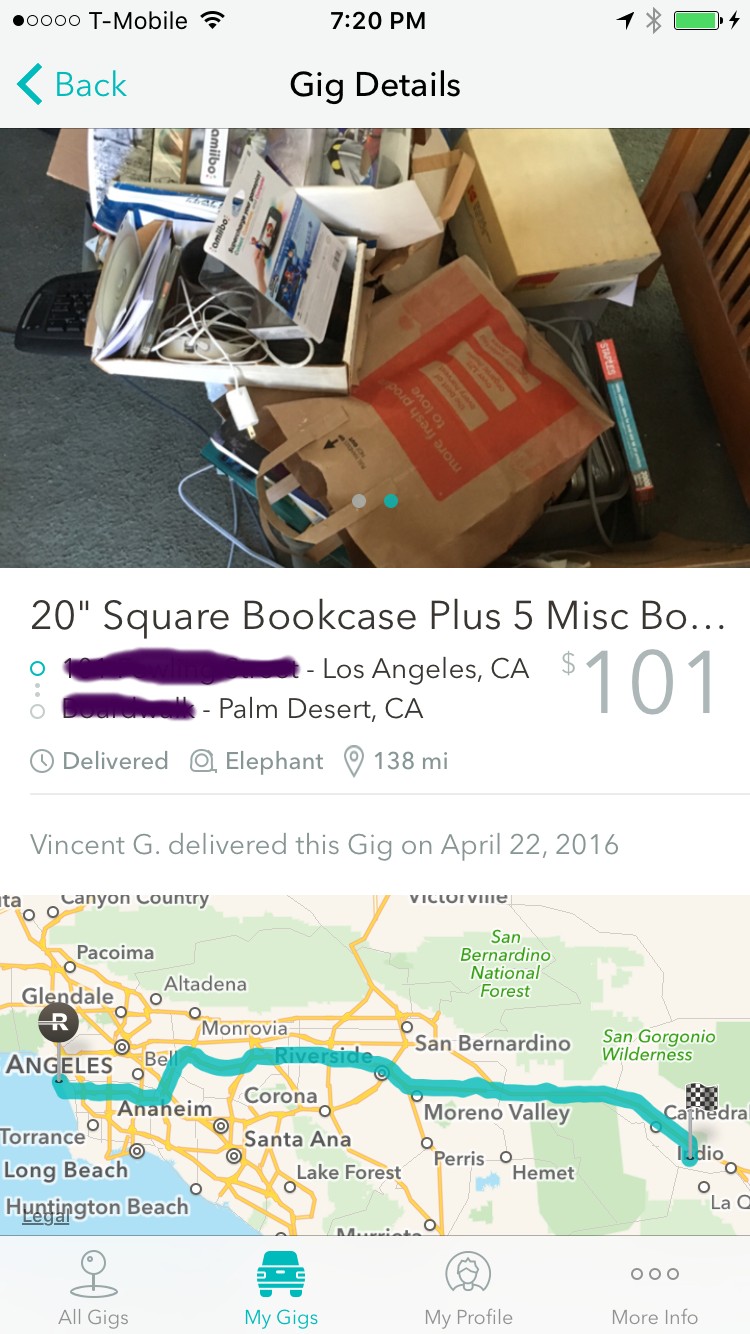 I not only was able to save all of my brother's awesome stuff from being "donated" but I have already sold over $200 worth from that Roadie "gig" plus I have the rotating bookcase safe and sound in my garage waiting for restoration. My brother's house must look amazing now because from this recent photo, his floors are AWESOME!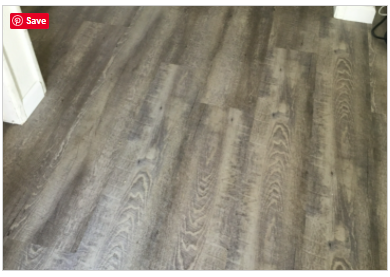 Here is one of my brother's video games from that gig that sold for a lot just this past week.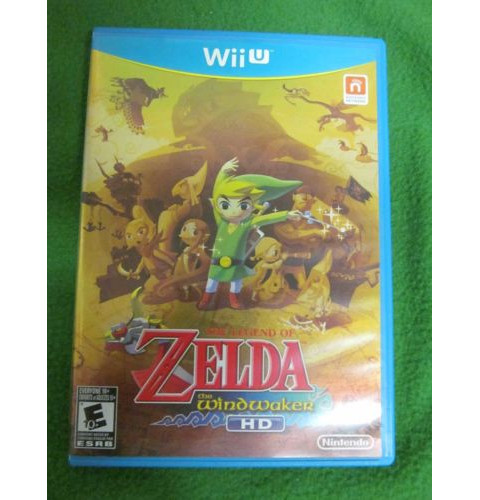 Click here
 to see this auction.
As I mentioned earlier, my Cash from Coffee Mugs eBook is finally finished! It was a long work in progress and I am very proud of the way it turned out….all 435 pages of it!
Check out this email I just got from Ruthann,
"Lynn, I think you outdid yourself on the Coffee Mug eBook. So very interesting. I could not stop reading! Thank you!"
Click here to order now http://tinyurl.com/cashformugs at the current low rate. The price will be increasing $50 to its final price of $127 on Sunday, May 8th, Mother's Day.
And this email,
"Hi Lynn–I was very excited to get your Cash for Coffee Mugs. It certainly didn't disappoint. It is very informative and entertaining. I will definitely be listing more Coffee Mugs on eBay in the future. Thank you for your informative book. I have read several of your books and you have definitely been an inspiration to me in selling on eBay. Keep up the good work. Jean Mackey"
Volume 1…(125 pages)
Introduction
Overview
History of Coffee Mugs
What You Need to Know About Coffee Mugs & Licensing
Rise of Coffee Mug Demand
My Numbers.–Inventory by Year etc…
Where to buy?
Estate Sales
Thrift Stores
Garage Sales
What Should You Pay?
What to Look For:
Volume 2…. (150 pages)
Questionable Brands
Garage Entrepreneurs (yep a new addition…couldn't help myself)
Brands to Never Buy
Volume 3….. (160 Pages)
Great Subject Matter
How to Price?
Shipping
How to Assembly Line List
Sizes and Ounces
Promotional Strategies
Let's Put this to the Test
Conclusion
Cash for Coffee Mugs is finished and ready for immediate download! Click here to order now http://tinyurl.com/cashformugs before the price goes up in the next few days.
Check out another email I received from William….
"Hi Lynn, I enjoy reading about you, the family and the many ways to be successful on eBay. We sell in different arenas but I find some of your methods can be applied to my area. Many thanks for all of your suggestions and comments in the Coffee Mug eBook! Sincerely, William"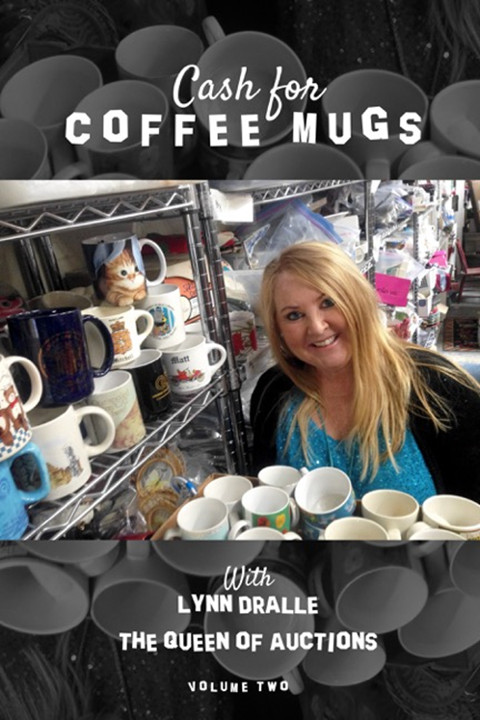 Here is a link to order now at the current low rate.
And I must share the funniest testimonial I got was from Paula Swenson, A retired Guidance Counselor…..
"I read Volume 2 and there is only one thing worse than a *** mug or a *** mug. Of course you already figured it out. It's a **** mug!"
You will just have to purchase the coffee mug eBook series to find out this BIG secret! AND it is just one price for all 3 volumes!
Click here to order now. The price will be increasing $50 from its current low price of $77 to $127 on Sunday, May 8th (Mother's Day) at midnight. Don't miss out now. One coffee mug score can more than pay for this eBook. Plus it is pretty fun reading!
Check out this recent coffee mug score from my new eBay friend (Anthony L. Draper, Esq., Chesapeake, VA) who let me share one of his scores in the eBook.
Click here
 to see this auction.
And this awesome email just came in as I was finishing the ezine,
Hey Lynn! Thanks for this final volume of Cash for Coffee Mugs, it was great reading and VERY informative. I will be actively looking for those 'must buy' coffee mugs and can't wait to see if my new pricing strategy attracts more sales!Thanks again for this and your monthly ezine!

Regards, Janice Berg (MamalamaNC)
There is so much to tell you when I haven't written an ezine in over five weeks. Some of it will have to be left unsaid and unwritten for now, but one thing I must share is a story about a very special Queen's Court member.
Mandy from Canada has been a QC member for a very long time. I am pretty sure she is a charter member. Mandy was fighting a health issue a few years ago and I happened to find an amazing hand painted banner that said Mandy on it and was even matted for only $2.99.
I bought it for her of course  and had everyone in the office sign it. Houston (he was still in high school), Indy, my mom, Mo and myself. I tucked it away to be shipped and finally found it a few weeks ago when Coco was helping me clean the office.
We rolled it up and got it shipped off to her….finally! Coco wanted to know why I didn't take off the $2.99 price tag? I thought that made it special ! Do you agree or disagree?
Here was her email when she received it.
"Hi Lynn… The banner came today! It is sooooo sweet! Love it! Box was battered and broken, but the banner was safe 🙂 I'll try and get a proper photo with it when I make space big enough (yes my inventory problems are THAT BIG LOL!) or I'll just stand in front of my stacks of bins with the banner. Talk to you tomorrow (QC call).

Mandy"
Here is a photo of Mandy in the cold Canadian outdoors holding up the banner. We love you Mandy! Prayers still coming your way.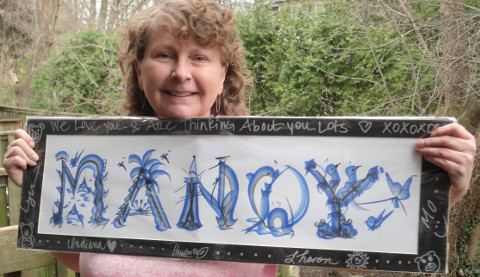 Houston was finished with his Freshman year on Friday of last week. I just can't believe it to be honest. It went by sooooo incredibly fast.
His "stuff" arrived home before he did. That kid has all the luck. Somehow, he got his dad to drive home his "stuff" and he got to stay behind to attend graduation and Indy and I picked him up on Saturday in Chino Hills at a friend's house.
Here is all his stuff.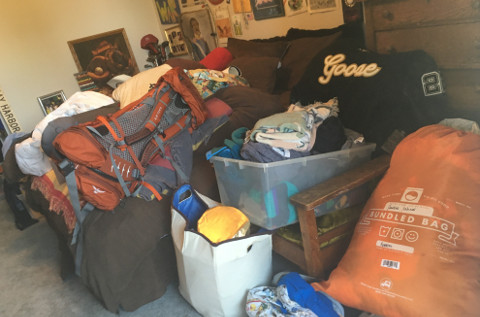 It's nice to have the Goose home and he seems to like the new house just as well as the old house. When I asked him he said "I like it a lot". It is bigger than our old house and his room now has a walk in closet which is great for him to dump tons of "stuff" inside and still have a relatively clean room 

.
Here are Houston and Indy sitting in one of our new "living rooms" while Indy does homework. We have a formal type "living room" and then a more casual tv room. Just like in the old house, I turned the traditional "dining room" into a more useable space. The casual tv room with the leather couches had enough room to also house the dining room table, so why waste space?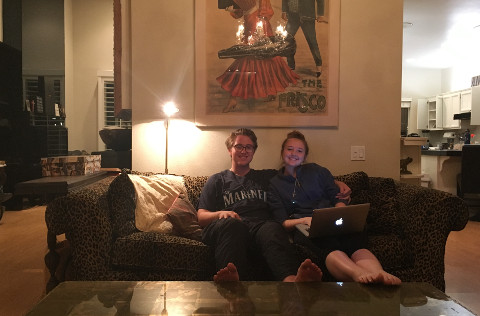 Houston will be leaving on June 1st to make the "Pilgrimage to Camino de Santiago" in Spain with Pepperdine for the summer. At least we get him for 30 days. As he was packing up to leave school, I suggested that he ask all his friends for their textbooks that they were leaving behind. He did a brilliant job and showed up with a few boxes full.
I told him that selling them on eBay would yield him some great "free" spending money for his summer trip to Europe and his entire year abroad in Heidelberg for his sophomore year.
Here is one of his listings that has a bid. Not too bad for an amateur.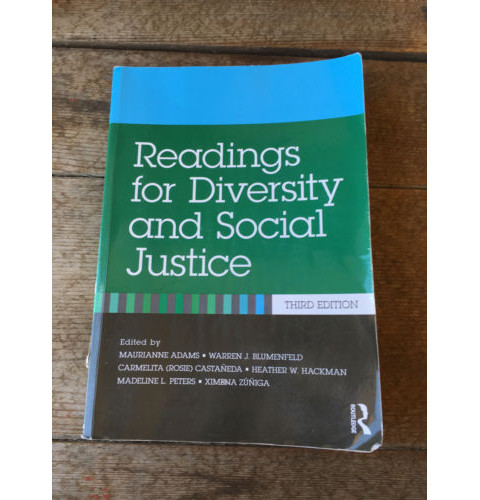 Click here
 to see this auction.
Back to my Consignment/Retail dreams. I helped my new mentor Debbie list her first item on eBay. She and her husband Mel had traveled the country buying Mahjong sets in the early 1970's and 1980's and she was ready to sell some of them.
In the SBA score office one day last month we finally got her first listing up for sale. It took about two hours and 15 minutes since she didn't have an eBay account, etc. etc. But since she has been so wonderful to help me I thought "turnabout is fair play".
Here is a link to that listing that sold for well over her starting bid price of $499. Yay for Debbie! Her user name is DebbieMahjong by the way. My suggestion 🙂
Click here
 to see this auction.
Here is a photo of Debbie and Coco in my office when we were helping her wrap it up to ship.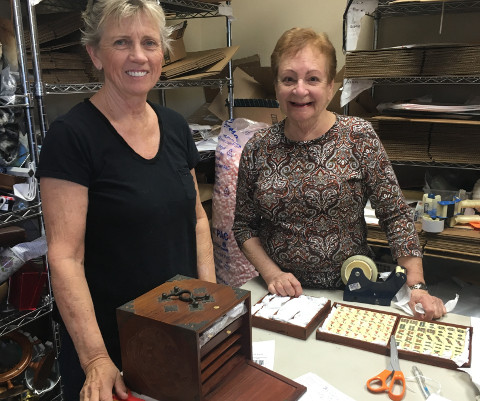 Here is one last listing before I wind this up. It is not necessarily a score but is something that could "potentially" be worth some money. Not really quite sure because I can't find any other thing like it at all. All I know is it is "Jane Picking Corn" from Dept. 56.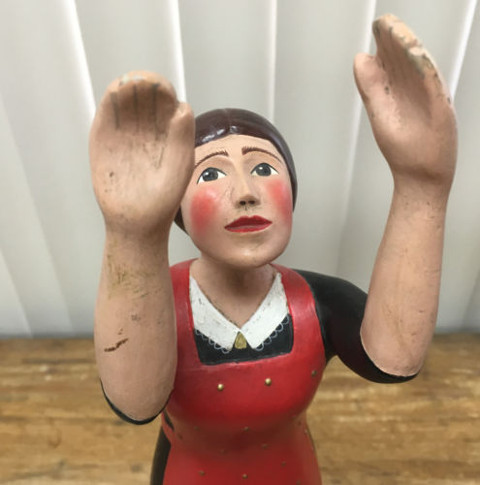 Click here
to see this auction.I want to end this ezine with a huge thank you for being patient and waiting for an ezine! I will be back on track now and writing at least two ezines a month…fingers crossed !
Thanks for reading my ezines! I appreciate it!
Happy eBaying!
Lynn
---
Lynn is an experienced eBay Power Seller, author and teacher. If you want to know the eBay tips, tricks and tools that Lynn uses for buying and selling at online auction click here.
Some links in my emails to you may be affiliate links. You can be confident that I only partner with companies that I fully stand behind.