About Lynn's Consignments in Ventura, CA
My grandmother, Cheryl Leaf, opened her antique store in Bellingham, WA in 1950 in a corner of her home. Cheryl Leaf Antiques, Gifts & Coins. Back then it was rare for a woman to open a business and she was a trailblazer in the antiques industry.
She carried Fenton, Imperial and other gift lines from the get go. My grandmother also began importing containers of antiques from Europe in the 1960's. In the 1970's, she helped to found the NADA (National Association of Antique Dealers) and was a charter member.
I was always in awe of my grandmother and her shop. It was like a magical land to me and I was hooked. From the time I could walk, I was polishing silver, helping her with customers and just learning everything I could soak up.
I worked for her throughout middle and high school and even ran the shop all by myself during a few summers when she would travel around the world on buying trips. My grandmother did 18 antique shows a year up and down the pacific coast from California to Seattle. She was amazing and continued to do this well into her 80's. It was always a treat for both myself and my grandmother when I could miss two days of school to accompany her and do all the heavy lifting.
We could set up the booth with lighting, electrical, table clothes, display cabinets (ask me about the tinie cabinet in my store) and unpack the merchandise in record time. Here is a photo of my grandmother manning our booth back in the day. The tinie cabinet is to her right.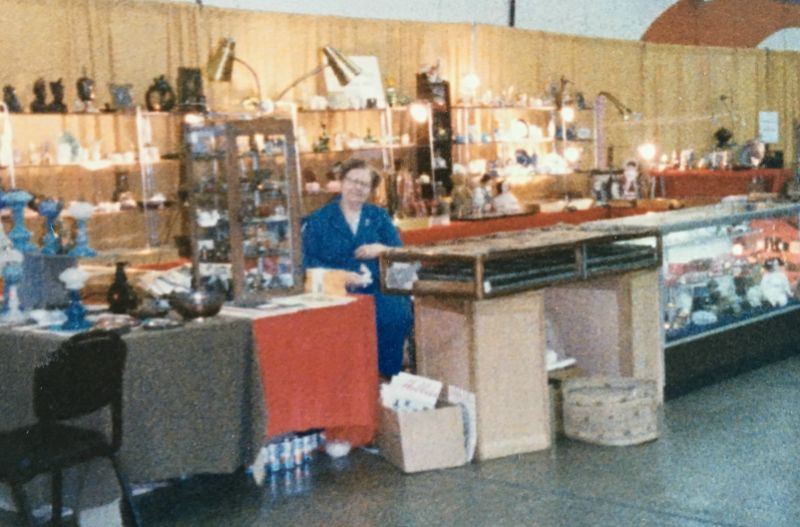 Even though I loved working with my grandmother, once I graduated high school, I wanted to get out of the rainy weather. My high school friends had always called me LA California Dralle. LA are my first two initials and I was destined to move to LA and attend USC (the University of Southern California. Fight on! Go Trojans! I pledged Alpha Delta Pi Sorority and became an official hostess for the university.
I received my BS in Business Administration with an emphasis on Entrepreneurship in 1985 from USC. Much to my grandmother's disappointment, I decided to pursue a career in retail in Los Angeles. I was chosen as part of the May Company California's executive training program for 1985. After two months of training at the corporate offices, I spent a year as the housewares department manager in store #2 at Wilshire and Fairfax. What an experience! That building is now the Academy of Motion Pictures Museum. How cool is that?
I was promoted to assistant buyer of kitchen electrics (department 74) right before Christmas of 1986. Thank GOD! as retail with a major department store on the sales floor during Christmas can be miserable. I spent a year as an assistant buyer and then was promoted to buyer in training of vaccums (department 73). About six months later, I became the comforter and bedding accessories buyer (department 41). Such fun!
We traveled to New York several times a year on buying trips and would be wined and dined and driven around in limos. Those were the days!
After five years with May Co Southern California, I knew I wanted to go back to school to get my MBA (Masters in Business Administration) and again I was accepted into USC and spent the next two years there getting my degree with an emphasis in both Marketing and Finance. I was named "Outstanding Student" by the Beta Gamma Sigma Academic Honor Society 1992.
In 1993, I got a phone call that changed my life. I had wanted to pursue a career in the entertainment industry, but when my grandmother called and said she had fallen and broken her hip, I knew it was payback time!
I returned back home to Bellingham and ran her store (with her by my side). We had a blast! Totally remodeled the original pepto pink and turquoise store (mid century modern… it was the 1950's when she opened), added new gift lines, and started selling on eBay. WOW! Did that ever change our business model? Our sales tripled. ☺
While selling Beanie Babies both in the store and on eBay, my brother and I had an idea to write a book about collecting them. The first book would be "The BOOK of Beanie Babies" which was a loose leafed notebook to keep track of your collection. It was an instant hit! Our book was named the top selling book in the category "Pop Culture" for 1998 by Amazon. What an honor! It also led to my brother and I writing a Beanie Book for Scholastic that sold over 150,000 copies.
In 1994 I got married and in 1996, our son Houston was born, followed by our daughter Indiana in 1998. Those were fun days! During that time, I also designed a line of greeting cards featuring vintage postcards and postage stamps. The line was picked up by Barnes and Noble and eventually Sunrise (now Hallmark) took over distribution.
In 2000 my grandmother passed away at age 88. She lived a wonderful, long and event filled life. I still miss her every day but know she is watching over me ☺. At that time, I also decided that life was too short to stay in a bad marriage and I got divorced. It took my family and me two more years to liquidate the inventory that my grandmother had acquired over her 80 years of collecting. We closed the store on August 2nd, 2002 on the 2nd anniversary of her passing.
At that time I had made the decision to return to Southern California to raise my kids. The rain and gloom in Bellingham had gotten to me again. I had always loved Palm Desert so once my house sold in Bellingham, I purchased a beautiful home there and continued to sell on eBay, so that I could be a stay at home single mom.
It was the best! I could still make a great living but attend every baseball, soccer, and basketball game…not to mention all of the other important events. In 1998 I had invented a system for keeping track of your eBay sales called the "I Sell Book" and once back in California began writing a book to honor my grandmother. It was called "The 100 Best Things I Have Sold on eBay"…that lead to writing deals with McGraw Hill for "How to Sell Antiques & Collectibles and Make a Fortune" and with Wiley for "The Unofficial Guide to Selling on eBay".
I also began writing an ezine in 2005 that went out to about 20,000 loyal readers where I shared tips and tricks about selling on eBay. I also wrote about my kids and my CRAZY life! Many of my readers would come up to me at eBay events and say how they feel like they know me, my kids and my family. It is a joy to hear.
Raising Houston and Indy in Palm Desert was the right decision and once they were both away at college, I decided that it was time for me to return to my one true passion, that of owning a brick & mortar.
I was planning to re-open that store in Bellingham, WA as a Cheryl Leaf Antiques & Gifts version 2.0 and had been negotiating for retail space for most of 2017. I had finally found the perfect spot and we were close to closing the deal. The main reason for my moving back to Bellingham was in order to be closer to my dad, my stepmom, my mom and my nephews (who were 8 and 10 at that time).
However, my dad, who was a father figure to my kids was opposed to me leaving them in the LA area without a home base. I also wanted to be back in Bellingham for my nephews, because their mom, my sister Kiki, had passed away from cancer on March 12th, 2012 after a year battle and left her boys, then 3 and 5 without a mother. I wanted to be back home to help fill that void and also be closer to my mom and dad.
However, on March 16th, 2017, I got a phone call from my dad that completely changed my life. He had been diagnosed with pancreatic cancer while in the hospital for side pain. My dad was my biggest cheerleader and always supported my business endeavors, all the while being extremely proud of me and the two kids I raised as a single mom. How could he also have this terrible disease that took my little sister's life at 42?
The next few weeks were crazy with plane flights back and forth from Palm Springs to Bellingham, WA. No treatment could be offered and he passed away on May 5, 2017, just 7 weeks after the diagnosis. I was devastated, but I believe he guided me to open my store in Ventura to be closer to my kids. Also, when he passed away, my nephew's dad, decided to move them out of Bellingham and down to Everett, Washington so that he could be closer to his work at Boeing. All my reasons for moving back to Bellingham were disappearing.
My mom flew down from Bellingham in August of 2017 to help me move my daughter Indiana into her dorm at Pepperdine. We were talking to some employees on campus and one said that he lived in Oxnard and the other said that she lived in Ventura and that they commuted each day. Hmmmm, maybe Oxnard and Ventura were worth checking out? I could be closer to my kids because once they both left, I really missed them! Who knew that could happen?
The next afternoon, my mom (who in 1957 had been offered a teaching position in Oxnard & always wondered about the town) and I drove up the coast on a scouting adventure. We both fell in love with Ventura, especially Main Street. My mom mentioned that she could see herself living there. My wheels started spinning and I decided to check out retail space.
I needed at least 4,000 square feet to start. The most successful furniture consignment stores in the Coachella Valley have between 8,000 to 20,000 square feet. My location at 1975 E. Main Street is the perfect place to start and may be all I need if I can turn my inventory as fast as I think I can. I also spoke to a woman at the Assistance League Bargain Box Thrift Store (who occupied my new space for over 26 years) who told me the story of the building's owner, Allyn, and how much they all loved him. She mentioned that he had lived upstairs at 1975 E. Main and passed away at 97. He sounded like a wonderful person and someone that reminded me very much of my grandmother who was born in 1912.
My niche has been my expertise in fine antiques and vintage collectibles along with the skills I have of taking newer items and mixing all of these together to create a fun and unique shopping experience. I will also continue to sell online.
We have strived to make Lynn's Consignments a fun and special place to shop. The kind of place where you will want to stop in at least once a week to see what is new.
Just like my father, I always make it a point to remember everyone's name…whether they are parents of my kid's friends, my grocery store clerk, my post office worker or a server in a restaurant. My store is that place (just like Cheers) where everyone knows your name .
I really felt my dad's hand in all of this. My lease in Palm Desert was up on March 1, 2018 and my dream to have the grand opening of Lynn's Consignments on Thursday, March 1, 2018 came true! My dad's 84th birthday. Thank you VENTURA!
The first four years of the store were amazing (and we even survived Covid) LOL. On March 1st of 2022, we opened Lynn's Fun Fashions back in the original upholstery shop that belonged to Allyn (the man that built my property). It was basically a workshop and storage area, so with a little bit of vision, some grit, determination and money, we added hardwood floors, painted it all white, threw up some chandeliers and voila, we had a clothing boutique!
It has been a fun ride and we are learning as we go. Please stop in and see us soon! You don't know what you are missing! People tell us all the time that my store, is their favorite store ever. Can't wait for you to make it yours!
Don't Forget, as my 9 year old nephew said back in 2017, "Everyone Wins When They Shop at Lynn's". Brilliant! Out of the mouths of babes.