Hi!
OK, the ram was worth more than the blonde but less than the crow. Does any of that make sense to you? If it does, you actually read my last ezine. If not, you can check it out here.
The blonde was worth exactly a "single red cent" less than the ram. How weird is that? But I guess it is a man's world.
Click here to see what the blonde ended up selling for.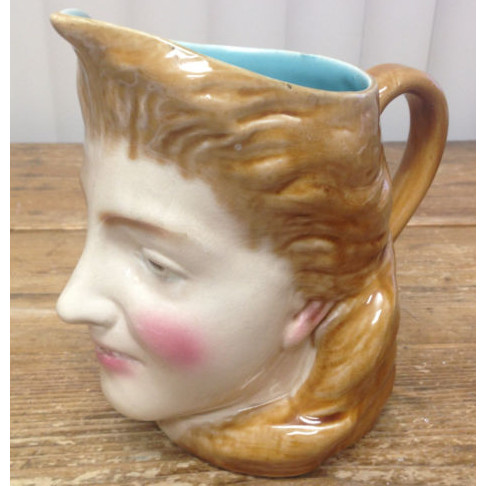 Click here
 to see this auction.
Just what does "red cent" mean, anyway? Apparently, it comes from the fact that:
the penny is made of copper, which is red
a one-cent coin – a penny, the smallest amount of money
Whatever, the reason, I am beyond thrilled that the blonde sold for only a "red cent" less than the ram!
I had a wonderful Mother's Day, as I hope you did as well. The kids (well let's be honest, it was most likely Indiana) made me this super cool collage.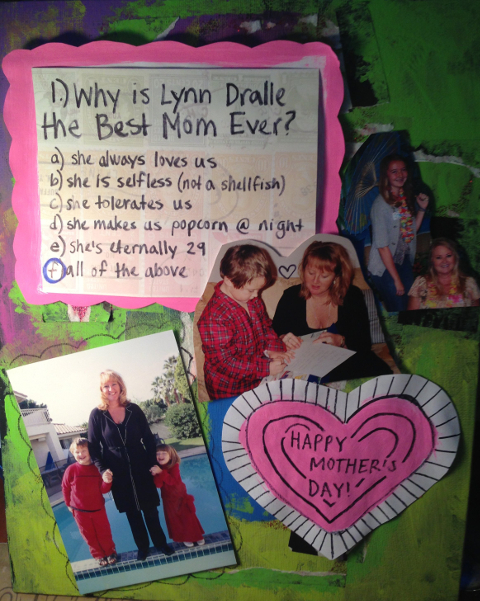 In addition, my mom had driven down to spend a few weeks with us so it was super fun to spend time with her, my brother Lee and the kids.
The night before Mother's Day, my mom treated us all to a Mod Com Event (Mid Century Modern) Western-themed dinner at a home in Thunderbird Country Club. Indy was at her church's annual hike to the cross, so it was just Houston, me, my brother, and Mor Mor.
Here is a photo that I was obviously taking so Houston pretended that I was in the picture. Pretty funny.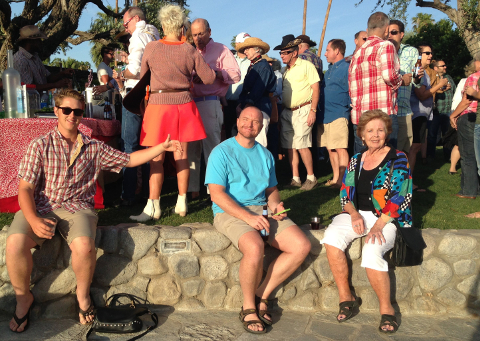 The Mid-Century movement has had a very large influence here in the Coachella Valley and the examples of architecture are inspiring. A few days after that dinner, I was at an estate sale with my friend Lori and I found a dollhouse mid-century modern replica.
Lori and I often spend Fridays doing garage sales and thrift stores together. We have a blast! It is one of the only times I get to see her. She is Indy's best friend, Paige's mom, and sells on eBay under Garage Sale Lou.
Here is that Mid-Century Dollhouse sized replica that I bought with Lori. Check it out here. I paid $2 for it and it already has a bid of $49.99. Let's hope it sells for more!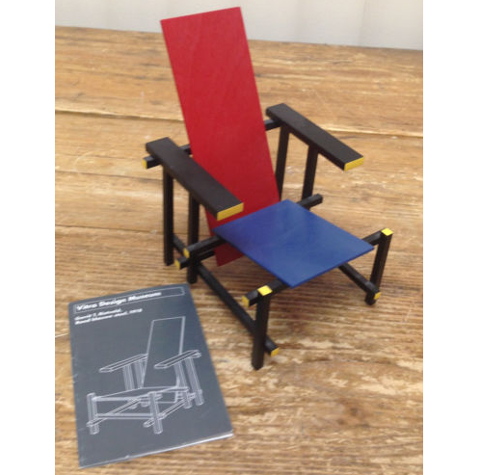 Click here
 to see this auction.
My mom and I have both decided that having a Mid-Century Modern Doll House would be AWESOME. So I googled it. Check out some of these images from my search. It will help you learn more about the Mid-Century (1947 to 1969) Architectural and Design movement. Items from this period can bring big bucks on the secondary (ie "eBay") market.
OK but back to that fun day of the garage and estate saling with Lori. Of course, we also hit some thrift stores. I found the most amazing Spittoon at one of the thrift stores and Lori found a sign that said: "The Panic Room" and a black umbrella.
Here is Lori with her "The Panic Room" sign & umbrella. She hasn't decided yet if she will hang the sign in her eBay room or her son's bedroom. It is a toss-up but I am going to guess she goes with the eBay/Laundry room choice

.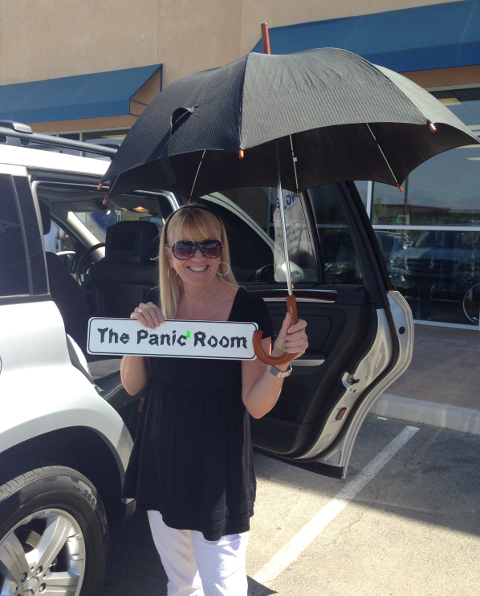 Here is my spittoon that I paid $11.99 to purchase on that same day with Lori. Spittoons were very common back in the day when chewing tobacco was as common as chewing gum. Unfortunately, it isn't worth as much as I thought it would be. But I should still make a nice (R.O.I.) return on investment.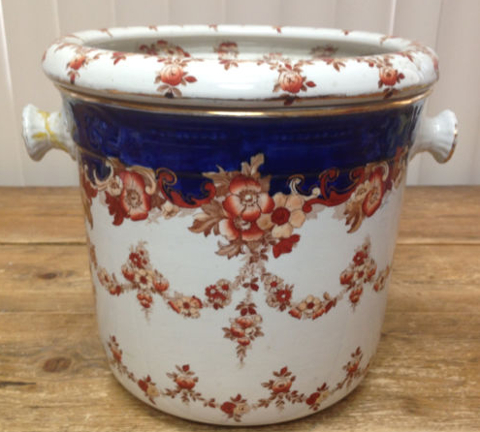 Click here
 to see this auction.
For those of you who missed my Griff and Lee interview from last week, you may listen to it here. It was a really fun interview because Griff and Lee asked me to stay on and take some listener's calls. I haven't done that in a long time and it was a blast!
Listen here – eBay Radio Audio File – (you may get a warning pop-up, please ignore – it is safe 

).
One thing we talked about quite a bit was the eBay Radio Party in Las Vegas next month. I am very excited to see many of you in person and teach a class. The title of my presentation this year is "The Price is Right" eBay Style! Hopefully, it will be a fun and interactive presentation!

The event is sold out but there is a standby waitlist here.
One of the things we talked about on the open phone portion of the call was how my flatware eBook had changed an eBay seller's life (or business model ). What a sweetheart for calling in!
If you have forgotten, we are in the middle of our biggest coupon sale of the year and it includes the flatware eBook. In addition to that product, get 25% off everything on the website, except for Queen's Court Memberships and I Sell products, until Midnight on May 27th. That is soon! Don't miss out. Here is more info…
---
---
My mom left to go back home to Bellingham last week on Wednesday. It was a sad day! She had driven down to fill her car up with awesome merchandise. Houston, Indy, and I helped her load her car and once it was loaded, I could still climb inside. Well, I am an expert packer don't you know?

 I told her she couldn't leave because she didn't have her Honda Fit filled to the roof yet. But alas, she left anyway.
Pretty incredible that a 78-year-old woman can drive 1250 miles in two days down to Palm Desert, stay for two weeks and turn around and drive those same 1250 miles back home to Bellingham in the same amount of time…only two days. Go, Mor Mor!
Here is a picture after we finished loading her TINY car.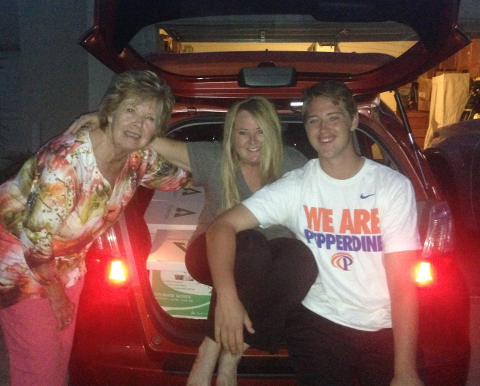 On her way down, my mom hauled some items from Bellingham that my dad gave me to sell on eBay to help pay for Houston and Indy's private school. Both my mom and dad are AWESOME grandparents. I probably don't need to say that, but I will.
Here is one of the lamps from my dad and mom that I have listed at auction that used to hang in our dining room when I was growing up. It is really "as is" so I did local pick up only.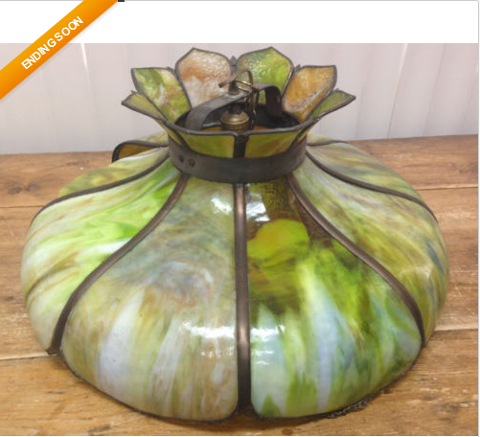 Click here
 to see this auction.
Every once in a while, those in my immediate family get an email from my brother Lee. The title is "Photo of the day". BTW, I LOVE these emails.
The one that came in this week was priceless! At least I thought so. It is Indiana at age 2 ½, right before we left Bellingham to move to California, and she is in our large Edgemoor house peering through a window from the "playroom" into the formal living room. She looks so worried and pensive, like "Are you really going to leave me in here with all of Houston's Thomas the Toy Trains?"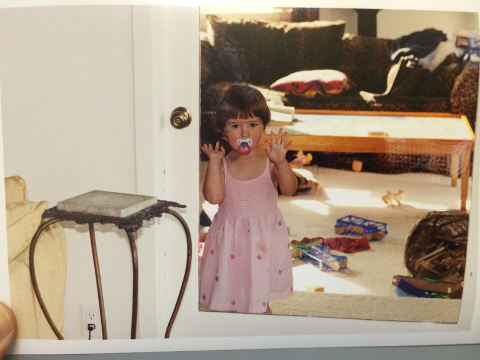 When I got that photo, I had to send one back to my brother. It is of me, my mom, and my grandmother, Cheryl Leaf, the day we left the hospital with Lee. My dad took this photo. I was obviously beyond excited to have a little brother. My mom is amazingly beautiful (especially for just giving birth) and my Grandma, is well, just Grandma. She has her babushka on and is carrying a large straw basket. It must have been before she switched to her leather handbag, which she purchased in Europe, that she carried for over thirty years.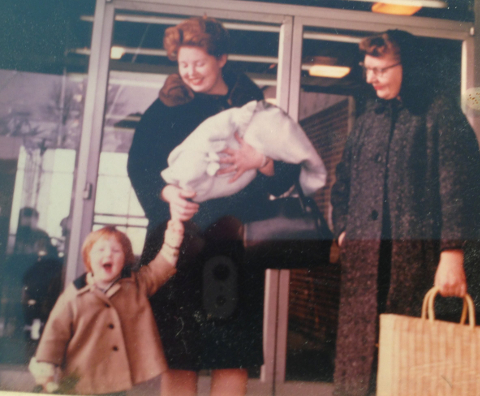 My brother, sister and I were very close growing up (thanks for that Mom and Dad) and we still miss our little sister "Kiki", who passed away from cancer in 2012, more than I can ever explain.
Here are Lee, myself, and Kiki at my wedding in 1994. The date was May 21, 1994. Almost 20 years to the day from today, exactly. COINCIDENCE? I think not.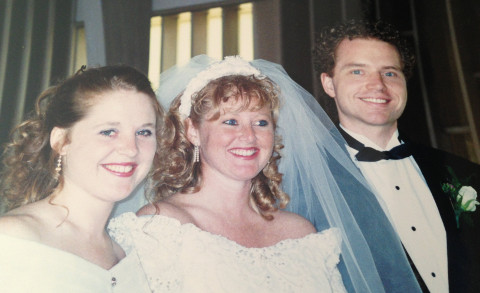 I am hoping that my family has instilled that same sense of "family importance" not only in Houston and Indy but also in my sister's kids, Zach and Kai.
I do know that H & I love their high school and are beyond happy being a part of the Xavier tradition. In the spirit of family, I must show you the Xavier "Happy" video. Houston has a semi-solo as he is strapped in a splint in sports med (couldn't get out of it 

) and Indy is in it with a group of girls. It is a fun look at their amazing school.
Most of the schools here in the Palm Desert area, whether public or private, are amazing. I was at a garage sale this past Saturday and the lady holding the sale was Houston's 2nd-grade teacher, Mrs. Cox. I was so happy to see her that I gave her a big hug.
We chatted for a while, I bought a pile of stuff (she gave me a great deal) and she told me that when Houston graduated high school next year she had a special gift for him. Really? It was a story he wrote in her class that she has been holding onto for 9 years so far.
What an amazing lady. Love her!
Here is one of the items I bought from her sale. It is a Rabbit in a Tuxedo Cookie Mold.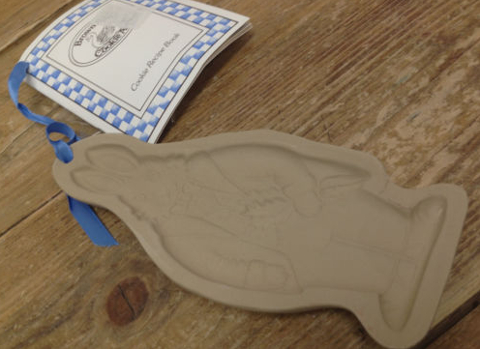 Click here
 to see this auction.
OK, the rabbit in the tuxedo is timely for a few reasons. Of course, it is. First, it was Houston's first prom this past Saturday, and secondly, he wanted to wear a tuxedo. Do you know that a tuxedo rental these days is about $200? Not going to do that….
So, here is my family's recipe for "How to dress for prom on a budget". First, from Houston's eyes.
Let your grandma (Mor Mor) find a tuxedo jacket at a local consignment store for $5. Praise the Lord that it fits due to your amazing workout regime! Next, pair it with your Mass dress white shirt and black pants. Ask your mom (me) to either iron or dry clean (I chose the latter). Then add the bow tie that came in the pocket of the tux. Finally, have your mom (me again) buy you a belt for $3.99 at the goodwill. Offer to wear your used, worn loafers, that you wear to Mass. You don't really care about shoes, do you?
OK, now my point of view. I couldn't let a perfect outfit go to waste with "trashed shoes". So, on Saturday morning (after garage saling) I called the Goose and said, meet me at Marshall's in ten minutes or miss out on new shoes—I had found a pair at a thrift store with Lori the Friday before but they were $24.99 and used. GROSS!
Houston is a great kid (just like Indy) and arrived before me. He picked out a pair of winged tip lace-ups for $45.99. Done!
Prom on a budget….Tuxedo $5, belt $3, shirt and pants from the closet (or floor… don't remember where they actually were)+ dry clean $7.29, and new shoes $45.99. Finally, borrow your mom's mid-century modern Hamilton gold watch (a gift from her grandmother) that doesn't work but is a wonderful accessory. $61.28 or in other words…..PRICELESS!
Check it out. Can you tell we did this on a spaghetti string budget? I hope not!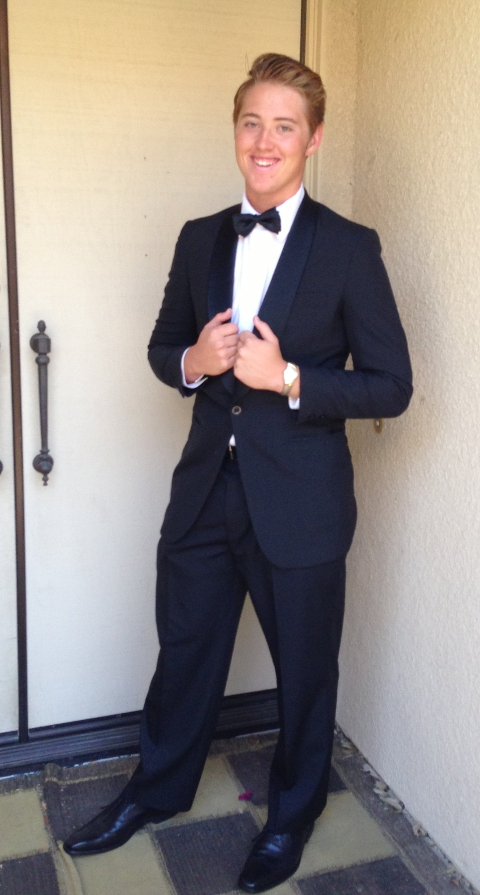 I won't go into as much detail for what it costs these days for the entire prom, but to give you an idea….. Tickets ($65 each), corsage ($35), dinner, transportation, how much his date had to spend to get ready….. etc. But let me tell you, it is out of the world!
Houston and his girlfriend had broken up recently, so Goose decided that he would go with a friend, Jordan. Here is a photo of them that I love. It makes me smile.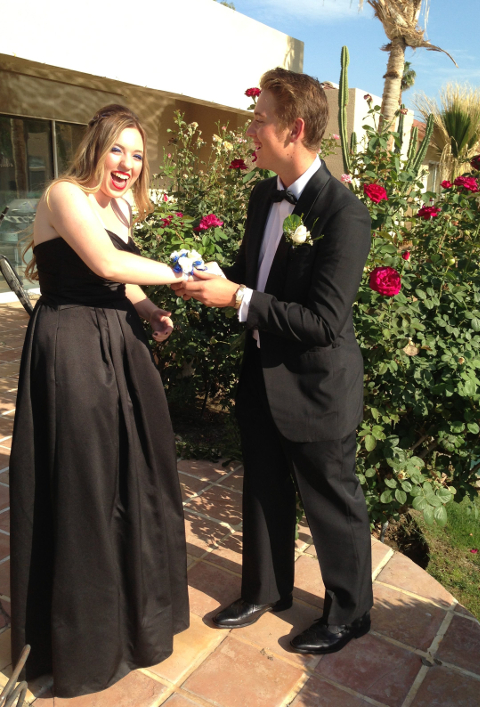 The day after prom I was exhausted. What do you think? But I decided I would list 50 items that day, in addition to attending the baseball and track end-of-the-year banquets. Really? Do we have to do both on the same day? The baseball one was from noon to two, but I was there at eleven am to help set up. Track one was from five to eight pm. But remember, I was going to list 50 items that same day. OK, I only listed 35, but give me a break!
Here is one of the items I listed this past Sunday. An amazing set of acrylic green grapes that are mid-century modern! Maybe that is a theme for this ezine?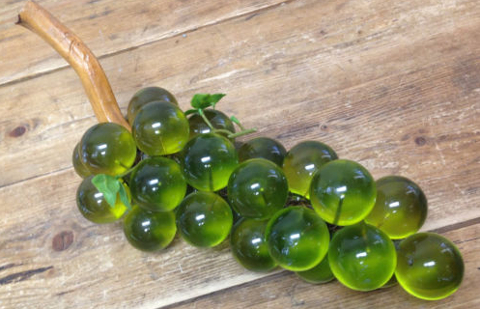 Click here
 to see this auction.
The baseball and track banquets were great—I have to admit. My friend Tracy set up the most awesome centerpieces for the baseball banquet with my friend Kelly's design help. Kelly is an interior designer and pitched in with vases, ideas, and American flags. Go America!
Here is one of the centerpieces.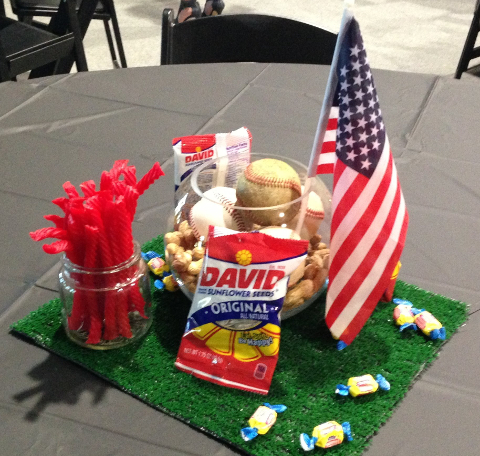 Houston and Indy both got awards. Houston lettered again and was honored as Academic Athlete of the year for baseball (WOW—tied for highest GPA on the team) and Indy got her first-ever JV track award. I am so proud of them both!
Here are their awards. Pretty cool.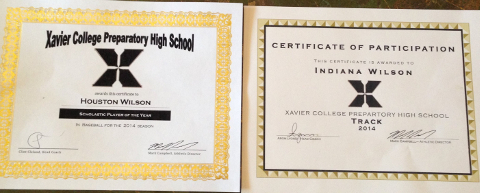 Here is Indy getting her JV award—she looked so pretty. Her good friend Ali is standing next to her and has a video monitor showing words on her face. Really people? Turn the projector off!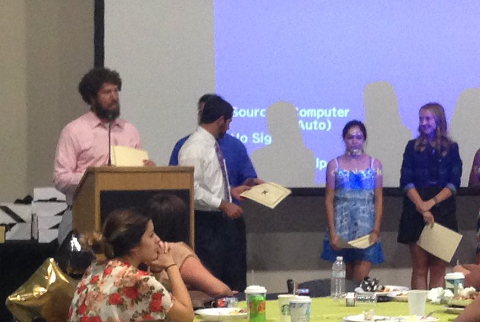 Here is Houston with his teammates and standing next to him is Justin (his mom is Tracy (centerpieces) my good friend)) who tied him for the highest GPA on the team. Love Justin who is 6'5". Makes Houston look short, doesn't it?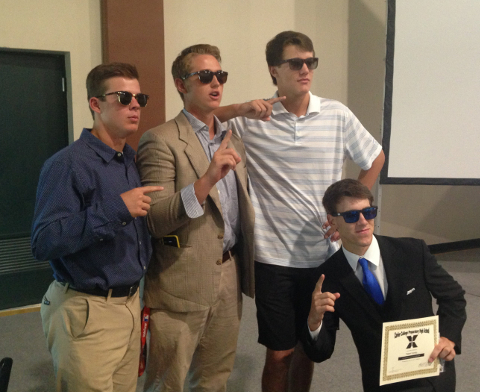 As you know, I always like to end with a score. This score ties back into my rule of listing at list 100 new items each week. The more you list, the more you will sell. I can't say that enough. Plain and simple! I sold 11 of these Pharmacy bottles that I bought a few months back at 50 cents to a dollar each. They sold for much more than that.
Here is a photo of the 11 that sold.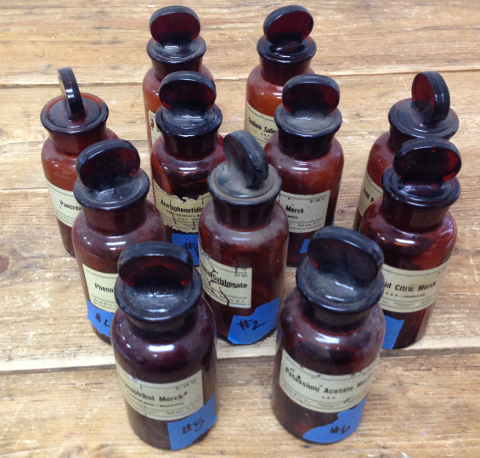 With shipping, I got over $350 in my Paypal account for that one transaction. Here is one of the individual listings.