Hi!
I can't believe it is August already. Oh my goodness! The summer is almost over and my kids start back to school in less than three weeks. Wow! It is Houston's Senior year and I can't imagine how fast this year is going to go by.
He has already applied to one college, The University of Iowa, and here he is with the letter from U of I and holding his new football helmet (I am not happy he is playing football this year). But, did he get accepted or not?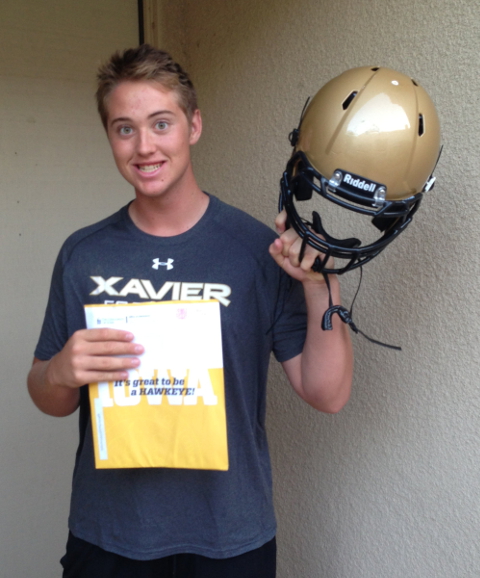 I will tell you more about that later….
In the meantime, let's start this ezine off with a score like normal. Remember that St. John's outfit that I bought with Mo on one of our thrifting days? If not, here is a photo of Mo in the thrift store trying on the mourning hat that I also bought the same day.
I thought that this thrifting day took place about two months ago but it was way back in February (when I was still clumping around in a boot for my broken foot)! Time goes by so quickly 

. I paid $64.99 for the St. John Suit (it included a jacket and a skirt) as it was marked ½ off from the original thrift store price of $129.99. Way too high!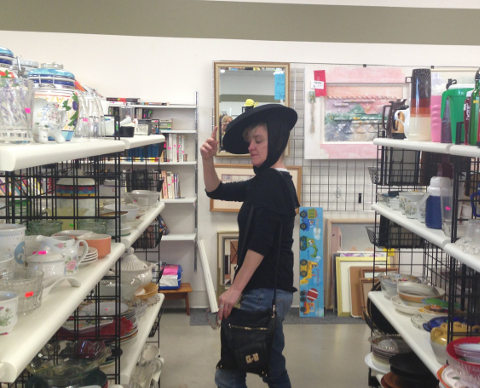 I took a best offer of over $300 for both pieces a week ago. Yay! Pretty great return for just five months!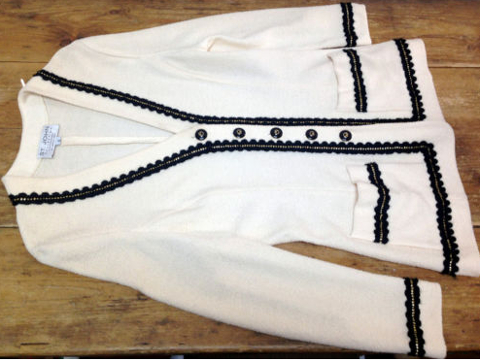 Click here
 to see this auction.
My dad was here in mid July for Houston's 18th birthday. He only stayed for five days and couldn't wait to get out of our 110 degree humid weather. It was miserable! The day after he got home to Bellingham, he called to say that he had lost 10 pounds in just 5 days. Why doesn't it work like that for me? It was such a whirlwind trip that the only picture I have of him with the kids was when we were dropping him off at the airport. At least I have proof!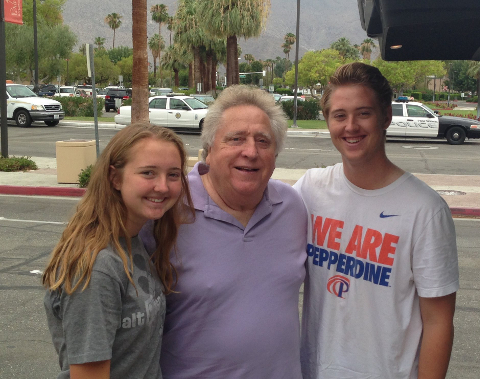 Business has been brisk. What does that even mean? Of course, I am going to check it out. When I first googled "business has been brisk" wouldn't you know that a Facebook post came up for SEATAC airport—Seattle Tacoma. This is an airport that I have flown in and out of for most of my life 

. Maybe "business has been brisk" is a Washingtonian saying or not?
Not! The definition of brisk is chilly weather or something energetic, lively and fast-paced. OK, I am changing my lead-in sentence to Business has been awesome and my life (as usual) has been brisk! Fast paced, energetic and lively is the epitome of my life with two active teenagers.
The reason business has been awesome is that stock is flying off of the shelves. I have sold a bunch of the items that we used to illustrate our video series. In fact, the Pilluvuyt nesting turkey that we used in Shooting Gallery and All or Nothing just sold for a best offer of more than $150. I LOVE eBay!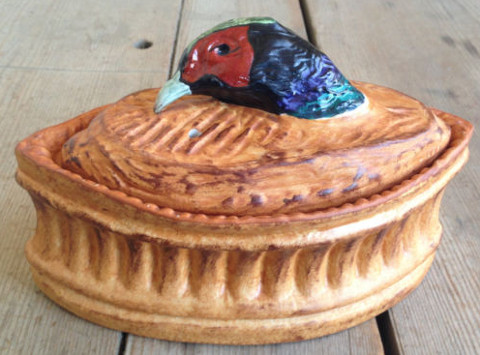 Click here
 to see this auction.
If you haven't checked out our instructional video series, you can learn more about the steps in our assembly line listing process here.
But back to brisk and those two crazy teenagers. I was talking to my friend Katelin in Kettle Bell class today and I was telling her that Indiana was in Mammoth for a week with her cross country team. Katelin is so funny, she rolled her eyes and said "Your kids have a better life than you do!". It is soooooo true!
When my dad arrived in town, Indy was at church camp at Forest Home which is up in the mountains below Big Bear. Here is Indy preparing to leave with her friend Claudia. I just love Claudia because she calls me "mom". Luckily, Indy came back from camp in time to see "papa" (my dad) for three days.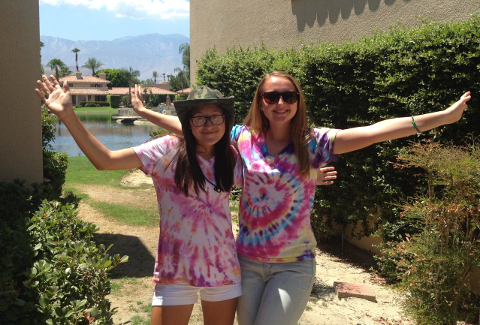 Another example of how brisk our summer has been is this recent one. Indy spent a week in San Diego with her friend Brigitte's family at a beach house on Mission Beach. Houston and I went down for the last weekend of Indy's stay for a baseball tournament, to thrift and to bring Indy home.
Here is a picture that I took of the kids out to dinner at a cute little restaurant in Mission Beach.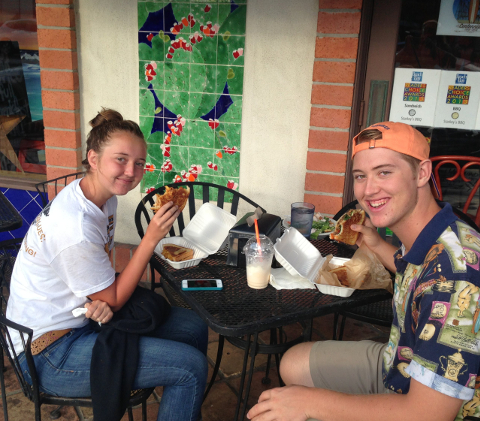 Turns out Indy didn't even ride home with us! She was having soooo much fun with her friend Brigette's family that she decided to come home with them 

. The good news is that I was able to thrift like crazy while in San Diego. Awesome, because there hasn't been much to be found out here when it is 110 degrees and humid.
All of the Salvation Army stores were ½ price on the Saturday that I seriously thrifted in San Diego. Yay, when that happens! Here is one of my finds and it was in a little thrift store (I think it was Father Joe's) in El Cajon. Who knew? I love it when I can find Deruta Italian pottery for a bargain. I got 3 demitasse cup and saucer sets plus two extra saucers for only $7. Yippppeeee!
Click here
 to see this auction.
Since we are talking about thrifting and sourcing, I want to share a link with you for an article that eBay business wrote that was pulled from my eBay radio presentation! Pretty cool.
Let's get back to my brisk life! After one day back in Palm Desert after returning from San Diego (a Monday of course) and tons of shipping, it was time to head up to Big Bear. I haven't been to Big Bear in ages and certainly not in the summer. I had only been there for skiing. Turns out Big Bear is darling, charming and a great escape from our heat.
My friend Kelly invited our friend Katelin, myself and the kids up for a night to celebrate Katelin's birthday. Kelly's daughter, Kaileigh is a good friend of both Houston and Indy, so it was really fun for all of us. Their family rents a cabin in Big Bear every summer and it is like a second home for them.
Upon our arrival, we immediately headed out to the lake for some "tubing". Houston and Indy went first and look scared and yet excited in this photo.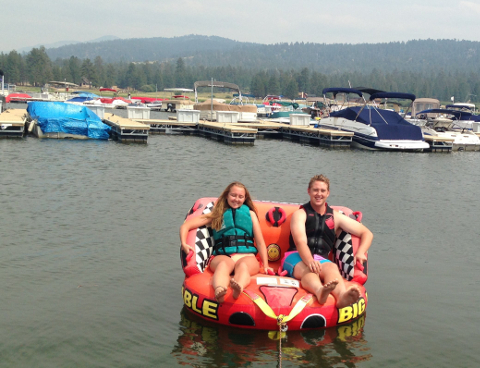 I was a nervous for them to tube for the first time (as most parents would be) but was in charge of the red flag. If the kids went into the water, I was to wave the flag in the air so that oncoming boat traffic would slow down and acknowledge that there were people in the water.
Luckily, we were still in the no wake area and hadn't hit open water yet when the tube started sinking. I was filming and immediately freaked out! I grabbed the red (actually orange flag) and instead of waving it in the air, it flew out of my hand and into the water with the kids. Here is that short 10 second video if you want to see it. Warning: a swear word is uttered.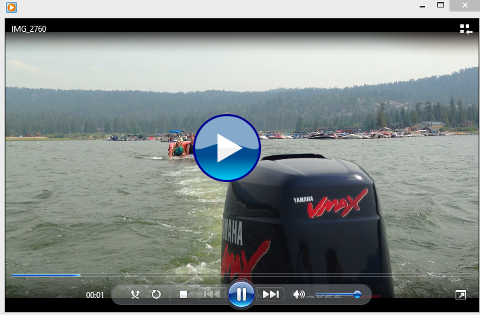 It was super scary then and also bizarre that I had accidentally filmed it. I later learned that they weren't in any immediate danger, but my heart was beating like crazy and I was ready to jump in the water to save them.
After that incident, Kelly taught me how to properly handle a flag before we hit the open water where boats drive much faster. The kids had a blast but they were exhausted after about 20 minutes of serious tubing. I have to admit, as a parent, I was very relieved when they climbed that ladder back into the boat. Doesn't it feel like your heart isn't in your body anymore when your kids do scary things? Like tubing, playing football and driving (Indy is now driving with me and her permit—yikes)?
The next day, we went thrifting in Big Bear. What an experience! Katelin found a Skipper carrying case complete with clothing on the inside for $15 and Kelly found some neck rests for one of her design clients. I was bummed that I hadn't found anything great, but I was too busy focusing on their dinnerware because they had Replacements.com sheets printed out and posted by every dinner set. Seriously?
And their best dinner set was a Farberware set. Get out of town! Or get out of Palm Desert and head to Big Bear for some entertainment 

.
Here is a photo of that display. I was in shock!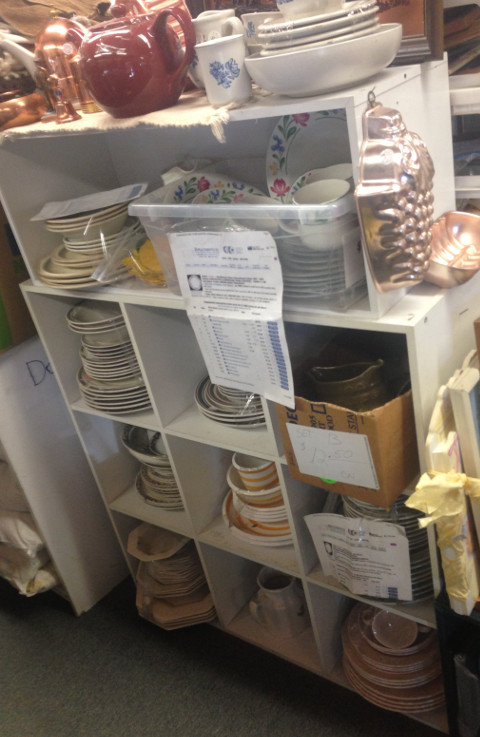 On the way out of the store, the girls showed me a Barbie case for $20 that I had missed seeing. I looked at it up close and it was in "desperate need of a wash" as my grandmother would have said. It was then that Katelin told me that it was full of clothes. OK, maybe. The lady running the store said how about $18? Sold.
Here is a photo of the Barbie case (that is actually a mid-century modern dollhouse) and the clothing… along with a Francie doll that was inside.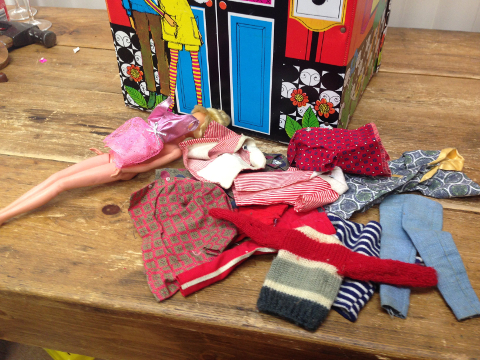 Houston was working at the office the day I was going to list this and I had him scrub the plastic case (that turned into the house) and set up the furniture for a photo to use in the listing. You have got to see the way he set up the house and furniture. It still cracks me up! Boys!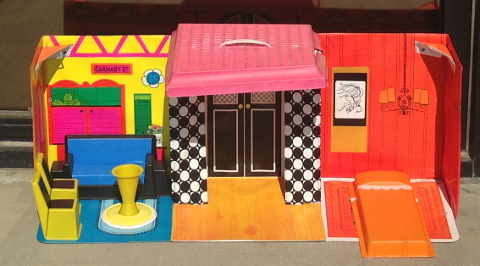 When I showed him the correct set-up, he was like "Oh, that mushroom upside down thing was a table". Actually, he did a pretty good job on his own 

. I had cheated and done some research on eBay so I knew what it was supposed to look like.
I also found out that the houses with furniture are worth about $50 to $75. Normally, I would have sold everything separately, but the house had a cracked roof. I figured the only way to monetize the case, was by including the furniture.
Here is my listing.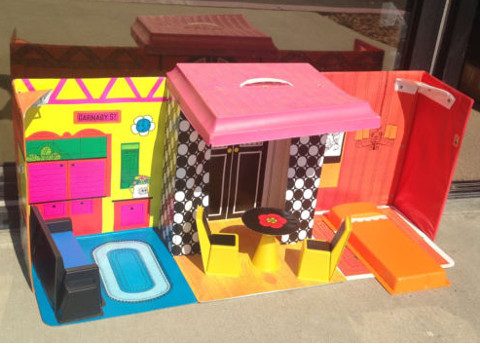 Click here
 to see this auction.
OK, so did Houston get accepted or not to the U of I? He did! I am so proud of him. He had a great ACT score, awesome grades, stellar activities, etc. and it is the first of many (I hope) universities that he can choose from.
Houston is the class of 2015 and Indy will be the Class of 2017 and in honor of both of my kids, I have been inspired to do a live event this year. Yay! I am super excited about it and it has brought more briskness (is that a word?) to my life 

.
Four seats are already taken. Don't miss this one because we don't know if we will do another!!!
I am excited to announce our first live event in over three years. I hope you will join us in Indian Wells (The Palm Springs/Palm Desert area)! The time has FINALLY come to bring together a small and exclusive group of students. This select group will consist of just ten executives. Yes, you are an executive because no matter what level you are currently selling (beginner, intermediate or advanced) you are still President & CEO of your own business! That is the beauty of eBay. The American Dream! This new event will be held in a lush private room with incredible views at the Indian Wells Miramonte Resort.
Here is Houston taking a photo from the balcony of our executive meeting area: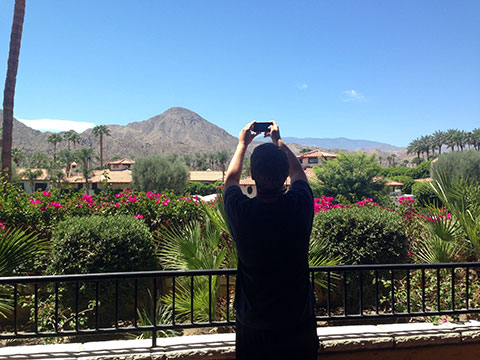 Here is his photo of that view: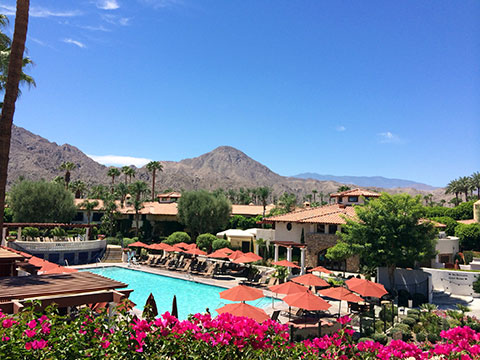 Back to School, Class of 2014/2015, is named in honor of my kids and the remarkable experience that they have had at their private school. The smaller group environment that a private school affords has benefited my kids in ways beyond explanation. And, now I want to offer that same experience to a select group. Even though we are in an exclusive setting, don't worry; it will still be all about the fun involved in selling on eBay. We will be sourcing (thrifting and garage saling) and revisiting all of the basics including, assembly line listing, shipping, running an eBay store and day to day tasks. We will bond, network and learn how to improve our eBay business all in one action packed weekend. The biggest difference is that the Class of 2014/2015 is going to leave with the ultimate graduation diploma. A written business plan for the year ahead to guide you month by month, all based on your individual needs.
For the final day of the event, we will graduate to an executive boardroom complete with a huge conference table to gather around, plush chairs and wireless Internet.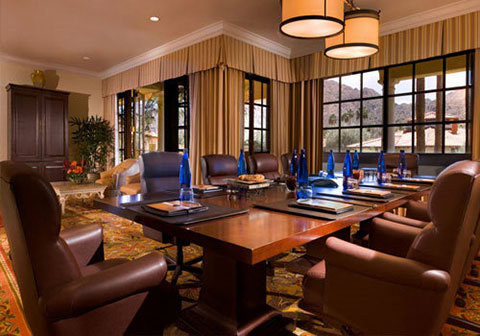 Four of these chairs are already reserved. One for a student from California, one from Ohio, one from New York, and one from Georgia. Don't wait too long to reserve your seat!
We are limiting our new executive program to just ten students. The dates are Friday, October 10th, Saturday, October 11th and a half a day on Sunday, October 12th. Make sure you sign up quickly because this event will sell out. The class of 2014/2015 is responsible for their own travel and lodging expenses. Meals will be provided except for Saturday dinner. Keep an open mind and be ready for a WOW executive experience. I can't wait to start working with and finally meet the ten students that will become the first graduates of my Class of 2014/2105 in October.
Reserve your spot now.
This is an investment in your future. It is my goal that you will begin to see results as soon as you return home – not only financially, but mentally, inspirationally and motivationally.
I am going to put everything I know from my sixteen years of selling on eBay, my business undergraduate and my Masters in Business Administration into simple eBay speak so that we can all put our best business principles and practices to work during the coming year.
Remember, as a business expense, this unique experience is tax deductible (as always, consult with your accountant.) We hope to see you there!
As most of you know, I have been writing this ezine since 2001 or 2002 (can't remember exactly). In any event, the sign up rate has been off the charts the past few days. It is crazy! I finally texted my brother, Lee, today and said (this is literal) "Any idea why I am getting so many ezine sign up?"
He responded "Nope. Nothing show up on Google ?" I have no clue how to check Google so I figured it was a fluke.
Then, about four hours later, as I was writing this ezine, my dad called. He said, "Did you know you were in Consumer Reports Magazine?" No, I did not! Now it is all making sense!
My dad is so cute! He read the entire article to me, but first he had to ask his wife Sue to hand him his glasses. Precious! I get interviewed by Consumer Reports quite often (and by the same awesome lady) but am usually just featured in their online reports. This was the first time I have had my name in print for Consumer Reports Magazine – on page 23 of the September Consumer Reports edition. Remember, my dad is a former librarian and I bet this made his day. It surely made mine!

OK, here is an eBay best offer that made my day (a few weeks ago) as well. It really made me mad at first and I quickly declined the offer until I realized the signature of the offerer. Then I went back to respond.
Here is the best offer….. Hi thequeenofauctions,
Want to sell this item fast? Xxxx has just made a best offer to buy it. Here are the details of the offer:
Offer price: $1.00
Buy It Now price: $30.79
Your terms: Not really making an offer… you hardly ever see this mug on here. Forrest Pasky 
Offer expires: Jul-16-14 10:43:12 PDT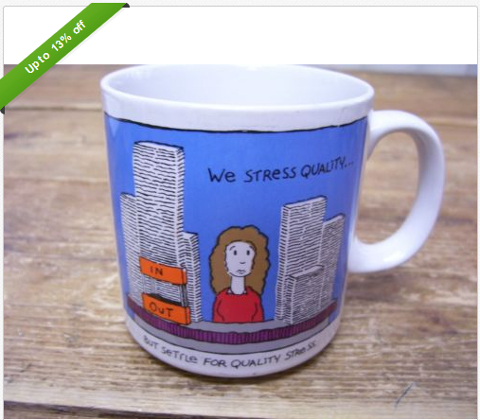 Click here
 to see this auction.
After I declined, I had to email Forrest. What a cool guy! Here is my message to him (and he did tell me it was fine to share all of this).
"Dear xxxxx,
So, you were the artist for the mug? That is soooooo cool!!!
Lynn Dralle,
The Queen of Auctions"
He wrote back….
"Dear thequeenofauctions,
Nice to meet you Lynn. That's me…here a link to some of the art work/portfolio…you'll see the original promo for set of 4 mugs. It made my day seeing this…they don't come up that often. http://forrestpaskygraphicartistportfolio.wordpress.com/
Best regards,
Forrest"
I wrote back (gotta love eBay and the people you meet 

)
"Dear xxxx,
Forrest, this is soooo awesome! I am sitting here with my assistant Mo in the office and we checked out your web page and we both want the "I love my job, they want to test me for drugs" mug—that is so funny! We were laughing hysterically because we both love our eBay job (but it isn't really working) so people think something is wrong with us!
Do we have to look for those mugs on eBay? Also, can I use this story in my ezine? I write an ezine that goes out to a bunch of people and it is free. I just think this is such a great story. You can check it out here www.thequeenofauctions.com. Thanks!"
His final response was:
"Hi Lynn,
Feel free to use any of this…I'm an engineer for the most part now…but still do a lot of graphic art/writing. I'll google "Forrest Pasky" from time-to-time to see what images are coming with art work. It was a surprise to see the mug, which took me to Ebay. The last time one was on Ebay a friend bought it…about 5 years ago…to get me to sign it. The mugs are pretty scarce since the production run was like 1988. If/when they come up it's tempting for me to buy them as a signed mug makes a nice gift for a friend. (Of course, I have a secret stash from that production run in storage.)
Best regards,
Forrest

"
What a nice man! And he made my day ….both on and off eBay. Don't forget, Life is "brisk" both on and off eBay!
OK, I meant to share this in the last two or so ezines and kept forgetting. I finally remembered. I was writing about my kids and their incredible high school experience and I got an email from Kathy Flood, the Antique Trader's Jewelry expert. She gave me the AOK to share this. It is really a humbling story. Makes me appreciate the times we live in now.
"Lynn,
GREAT ezine! (Here is a link to the one she was talking about). Your kids are amazing (and so are you). Know I told you before, we are a Jesuit family too (high school and college!) Anyway, Houston probably won't find this too fascinating, lol, but attaching pix of my dad as a sophomore at the Jesuit high school (SLUH) here in St. Louis, which is still a great school today.
My dad is in the center of the front row (it's his homeroom). What I thought might intrigue Houston is, just to think about it, these boys came back the following year for their junior year … and then that was it! My father and his friends did not get their senior year … because they all left to fight in WWII.
My dad signed up for the Navy Air Corps and became a pilot and was off to fight in the Pacific. Tell Houston just to imagine not getting a senior year of high school. I've always thought it was sad. My dad played varsity football and tennis (no idea why he wasn't on the baseball team) and I imagine he couldn't wait for sports during his senior year in 1944. So, here's something else for Houston to be grateful for!
Know you're going to have a fantastic summer, Lynn. It already is!
Sincerely,
Kathy Flood."
Here is that photo and a big thank you to Kathy for sharing the reality of how blessed we all are.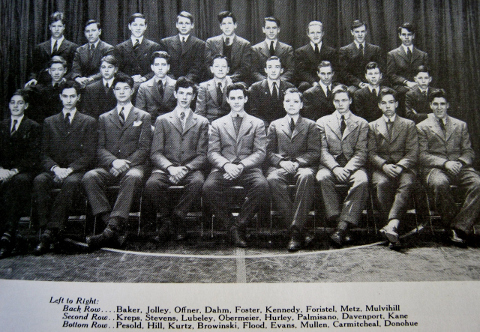 It is always this time of the year that I feel especially blessed because of my Queen's Court members. We started this special forum back in July of 2007. Hard to believe we are into our 8th year. It is really incredible! Thank you to all of my amazing Queen's Court members! We have a new lower monthly price and some great updates to share with you.
Happy Anniversary, Queen's Court!
The QC is changing for the better thanks to you and your wonderful suggestions!
Here are the basics outlined with the new changes…
These will not be changing:
LIVE Monthly Question and Answer with the Queen
Online Digital Audio Recordings of each and every call via live streaming or MP3 download
Private Online Access to the Inner Circle for networking, brainstorming and making great business contacts
Access to Lynn's Antiques & Collectibles Knowledge, giving member's insider information to help identify items
15% off of my products (live events and QC membership excluded)
These are the new changes:
A Special Surprise Bonus every season, but at least four times a year! (instead of every month)
A Special Forum Thread "Ask Lynn" where you can Directly Access Lynn with up to three Questions per Month (not just limited to the ID thread anymore–ask away )
New operating platform that is more user friendly for the QC forums (migration by September) Yay!
In addition, the monthly price of the QC is decreasing to $29.95 per month. Click here to subscribe.
I am happy to offer a special yearly rate of $299.50 if purchased by August 8, 2014. Click here to purchase the yearly plan.
My mom emailed me this past weekend to show me a table full of B&G Seagull that was for sale for $395.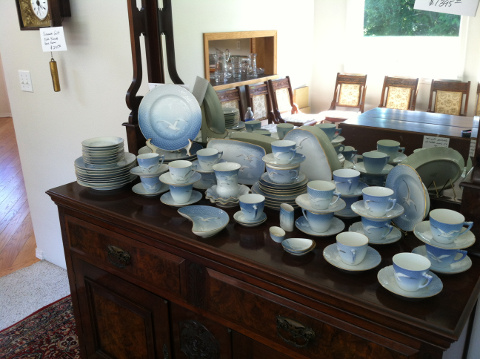 She was going to miss the first day of the sale because she was taking the little boys (my nephews) to see the hospital where their mom (Kiki) had been born and the house she came home to after the hospital. Kind of a sad trip but very good for the boys. After that very special tour they hit the Oregon Coast.
But back to that Seagull china that fits in perfectly with the ocean! I told my mom to just buy it now and not wait until she returned! I told her she should pay full price. My mom is not as impulsive as I am and she decided to wait until she returned home on Sunday and get it for ½ price. I personally would not have taken the risk. Well, my mom is super smart. She got all of that china for $200. I am jealous 

.
Here is a photo of the little boys on the beach. I love this shot because it reminds me of one of my kids at about the same age that I used for our Christmas card.
My nephews, Zach and Kai.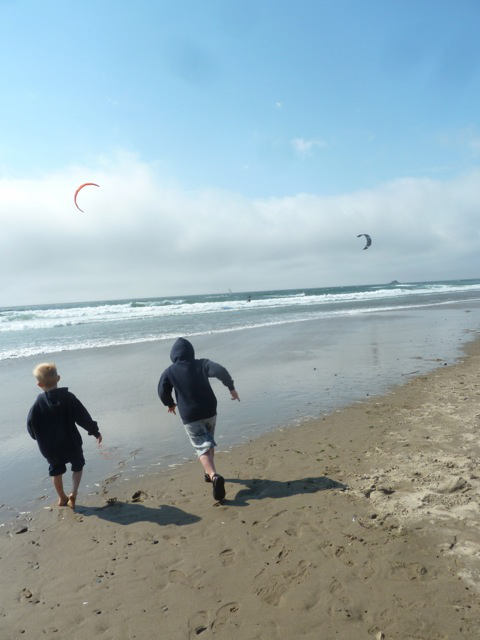 My kids, Houston and Indy.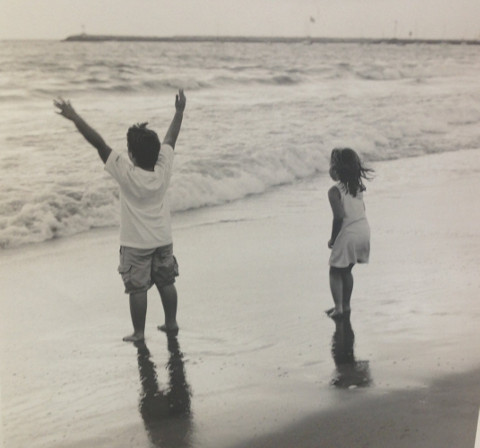 While my mom was playing on the beach and saving $200, I was out at an estate sale here in Palm Desert. I bought this entire table full of china and figurines for $260.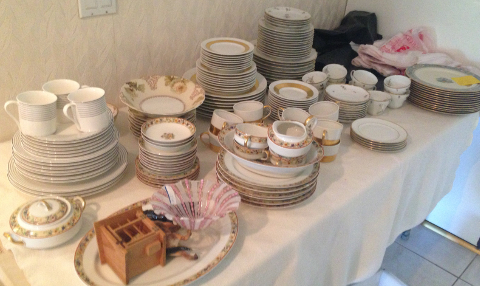 And the challenge is on! Who will make more on their china? Me or my mom? I am guessing the B&G and my mom will win out.
Here is one of the figurines from my table that is Royal Doulton.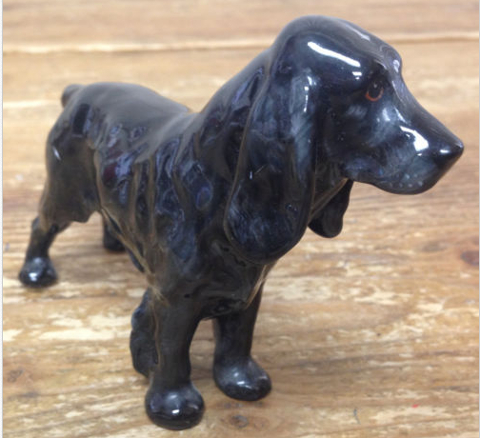 Click here
 to see this auction.
Here is some of the china that I already have listed.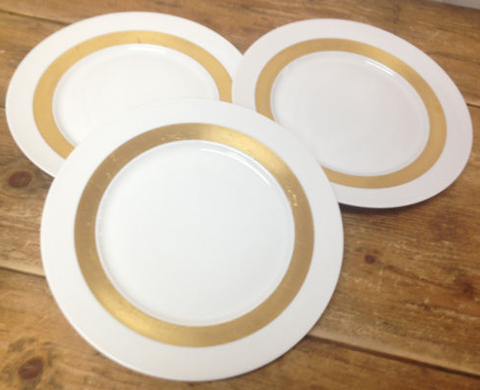 Click here
 to see this auction.
Well, I am ahead of my mom in this challenge (that she doesn't even know about yet) because almost all of my table full is already listed!
Now, to properly end this ezine, I must share a recent score! I went to an estate sale on the second day of the sale. I missed the first day because I chose the gym over the sale. Something is wrong with me!
I ended up buying a bunch of Lladro for $250. Listed all the 20+ bells and 7 figurines at auction and none sold. Mo just got the figurines listed in my eBay store at higher fixed prices on August 1st. On the same day I took a best offer of over $150 for this one figurine. Yay! I have almost recovered my initial investment.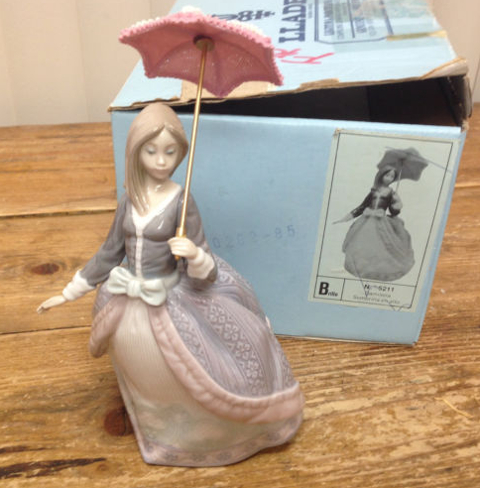 Click here
 to see this auction.
Thanks for reading my ezines! I appreciate it!
Happy eBaying!
Lynn
---
Lynn is an experienced eBay Power Seller, author and teacher. If you want to know the eBay tips, tricks and tools that Lynn uses for buying and selling at online auction click here.
Some links in my emails to you may be affiliate links. You can be confident that I only partner with companies that I fully stand behind.