Hi!
Can you believe it is almost Thanksgiving! Only one week from today so HAPPY THANKSGIVING because I know I won't be writing an ezine next week because I am nose to the grindstone working on the Coffee Mug eBook. This will be the last ezine until that eBook is finished!
Let's start this ezine off with a holiday score! I chose this particular listing because it is Winter and Christmas related. A Snow Baby!!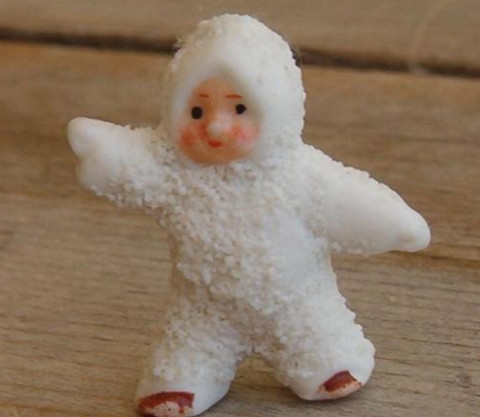 Click here
 to see this auction.
I sold 4 of these antique German Snow Babies to the same lady for $250.37. Yes, you read that correctly! And they are only about 1″ tall

. Back in the late 1940's my grandmother had a chance to buy a HUGE quantity of these made in Germany Snow Babies for about 10 cents each. She told me that she got an apple box full. My grandmother's motto was if "One is good, 1,000 are better". She always bought every single piece when she saw a great deal.
For those of you who are wondering what an apple box looks like or measures….I must share more about my grandma and my really great friend Audrey. Audrey was my first employee when I took over my grandmother's antique store in 1993. My grandmother taught Audrey quite a lot about the antique business and in particular apple boxes

.
My grandma kept apple sized boxes around the store that she hoarded because they were a great rectangle shape with handles and we used them to pack for antique shows. She called all boxes of that size and shape apple boxes because my grandmother grew up in Cashmere, Washington which is apple country! Audrey quickly came to learn that "apple boxes" or the favored "snoboy" boxes were NEVER to be thrown out or given away.
Audrey now works at Trader Joes in Bellingham. My mom stopped by Trader Joes on her way to an estate sale last month and ran into Audrey. She asked Audrey if she had any apple boxes in the back that she could take to the sale with her. "Of Course" and Audrey came back with some nice boxes but she told my mom "I am sorry that they aren't snoboys". Well that made us all LOVE Audrey even more than we already do.
When my mom called and told the me story, I went out into my garage, took a photo of a "snoboy" box that I had bought at a garage sale for 50 cents and just text the photo to Audrey. Her reply was three hearts! Gotta love private jokes and great friends!
Here is a photo of that snoboy box that is not really an apple box but was used for Sunkist oranges. BTW, don't those snoboys look like snow babies? Coincidence? I think not!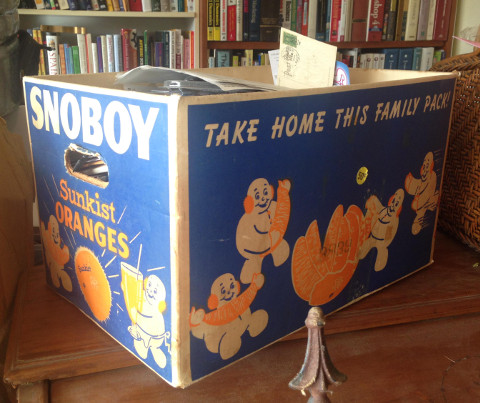 OK, now I must share this story about Audrey from my 1st 100 Best Things I've Sold on eBay book. Here is a photo of Audrey, my grandmother and I behind the jewelry counter circa 1995. I look a little bloated because I was pregnant with Houston

. Such a long time ago!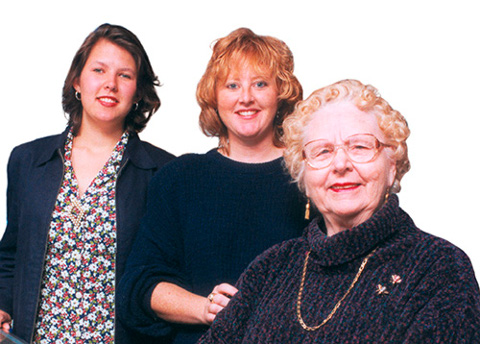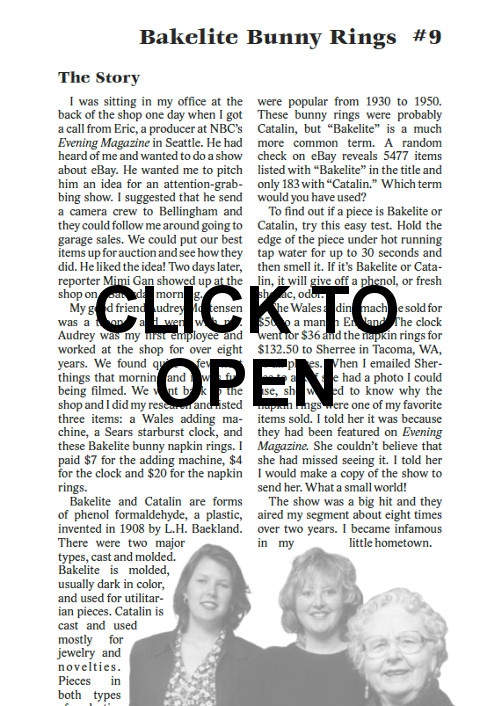 OK, before I forget, Tiki Pug Jason and his wife Staci were in MY town the first week of November for vacation. It was a blast to have them here! We also filmed one of his "Thrifty Business with Jay and Nay" episodes live from my office. And we showed the snow babies in scale. If you haven't watched it yet, you must do so! Jay and Nay's show is AWESOME!
Here is a behind the scenes photo. Jason is sitting at MY desk with Staci cracking up sitting on a green couch behind him. That green velvet couch belonged to my great grandparents, then my grandma and now it is one of my proudest possessions. BTW, I collect couches

.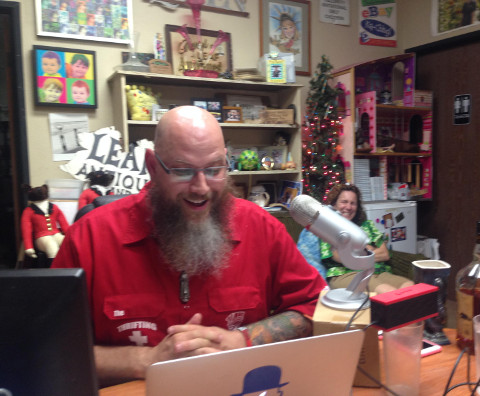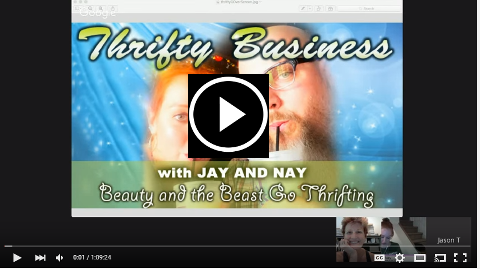 https://www.youtube.com/watch?v=3xShL4pRbdo&feature=youtu.be
As you can imagine we had a LOT of fun with Jason and Staci. On the final Friday of their stay, we went garage saling and thrifting. Much madness ensued. At one sale, I found 6 pairs of cufflinks that I bought for $20. Here is one that has a bid already so I know this is a score in the making!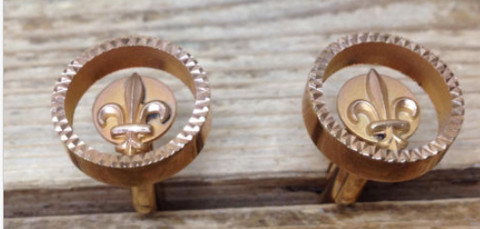 Click here
 to see this auction.
While Jason and Staci were here, we also took them out on my lake for appetizers and a sunset tour. Seriously epic and so much fun!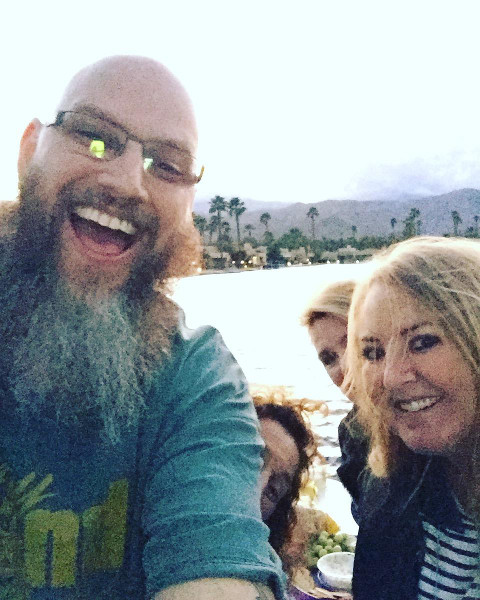 Here is one more thing I bought when out garage saling with Jason and Staci. I hope it turns into a huge score…..but I priced it high because I know nothing about it…apparently I can't read Russian.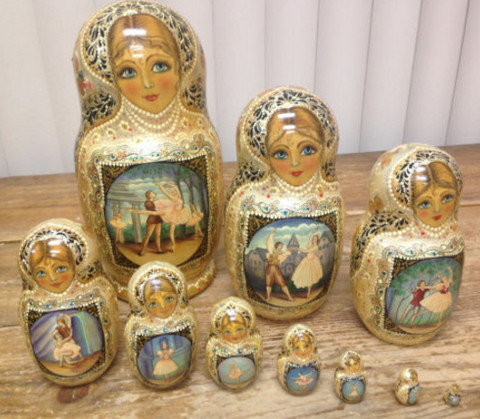 Click here
 to see this auction.
After our thrifting and garage saling escapade, Jason backed his SUV into my driveway and we easily unloaded from rig to rig (slang for vehicle I believe). He is one smart guy. We were sad to see them go and I had Indy come out for one last goodbye pic. Hope to see you soon Jason and Staci!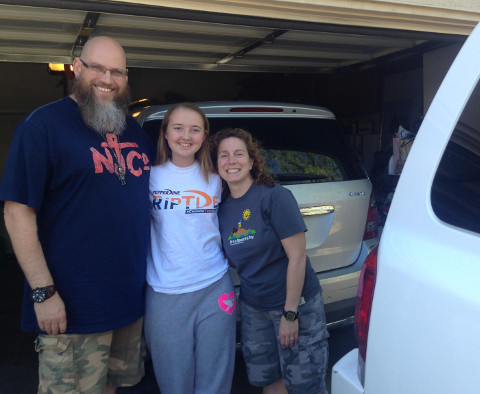 Speaking of Russian…,Goose (aka Houston) has been extremely busy applying to foreign exchange programs for next year at Pepperdine. Pepperdine is such an awesome school and they advocate that every Sophomore go abroad for the entire year. They offer great scholarships and really make it affordable. Love me some waves!
Houston applied for the full year to Germany. Unfortunately, he didn't get chosen. Apparently they had 160 applicants for 45 spots. He was on the wait list, but decided to apply for his second choice, Buenos Aires. Praise the Lord he was accepted. I am beyond excited for him. If you want to learn more about the Pepperdine Buenos Aires experience, click here .
He will live with a host family and of all the year abroad programs, this is typically the most affordable. Yay for that!
I am super glad that he is doing a year abroad because most of my best memories and friends came from my Junior semester abroad in Spain while at USC. In fact, this past weekend was a huge college reunion milestone and those of us from the Madrid program planned a tailgate reunion.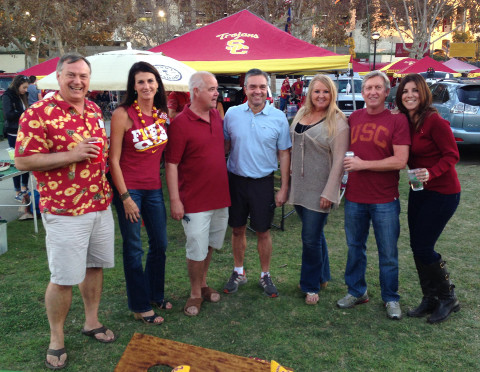 From left to right. Jim Arnett, Joanne Carolan, Stephan Naud, Hank Maarse, me, John Crowell and Juliette Capretta.
OK, time for a score before I tell you more about my college reunion. Check out this listing for one cream soup bowl from Lenox. I ended up selling 6 of them to the same buyer who wanted them sent to her sister for a Thanksgiving present in her new home. I bought a $1 card at Trader Joes and put it in the package. A little extra work for a $200 plus sale goes a long way.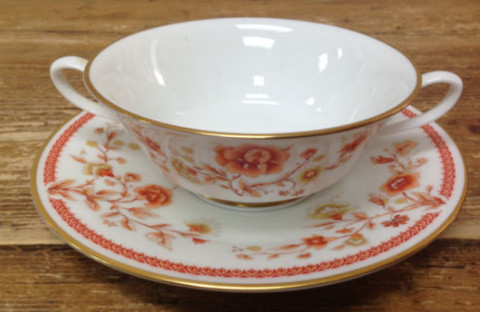 Click here
 to see this auction.
OK back to college reunions and what a small world it is. I was talking to Jim Arnett's (he is on the far left in the photo) daughter Valerie who is a senior in high school in the San Diego area. I asked her where she wanted to go to school (USC of course) and that my son was at Pepperdine. She said "I only know one girl who goes to Pepperdine and she is like a big sister to me. I love her". I asked her what her name was. "Holly".
Well, Indiana went to a church camp this past summer and one of the counselors was going to be a Freshman at Pepperdine. Guess what her name was? Holly. Yep. Then Houston had just been asked to the Pi Phi Formal by that one and the same Holly. Yep. Small world!
Here is the way Holly invited Houston to the formal….super cute.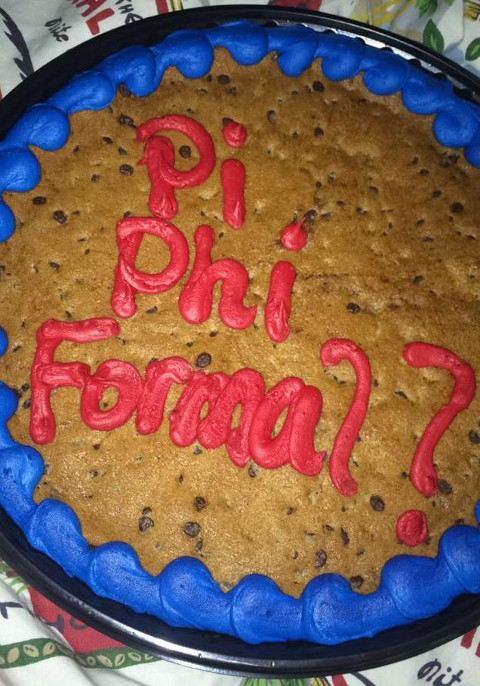 And here is a picture of them all dressed up. How cute is it that his tie matches her dress? Love all these wonderful Southern California connections and that Houston is enjoying being in a Fraternity.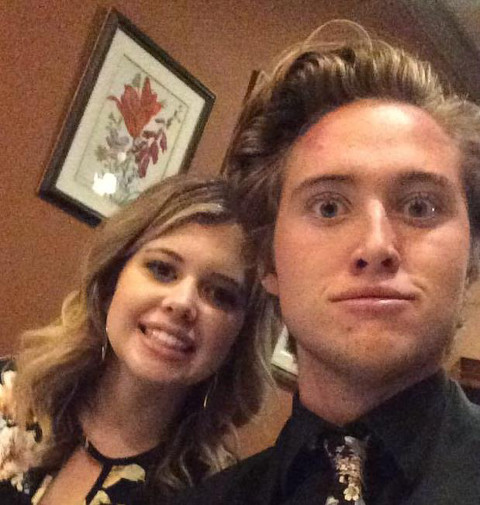 And while at USC for our college reunion, Juliette and I had to walk the Greek row and take photos in front of our sororities. Here I am in front of the Alpha Delta Pi house. It has been fun following Houston through rush, the pledging process and finally initiation. It gives us something in common to discuss

.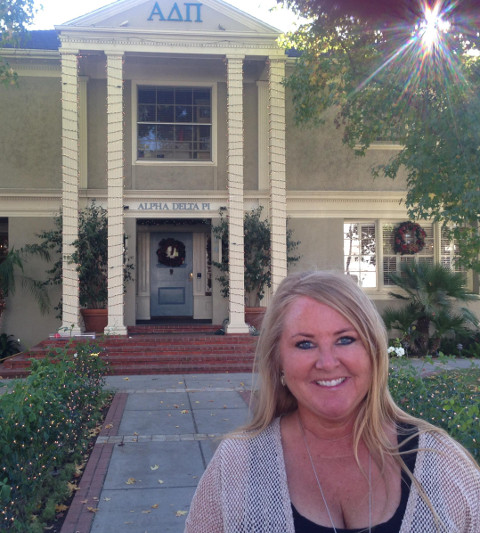 OK, time for another score before I continue on with some of Houston's Pepperdine exploits (of which there are many) and then I must get to Indiana's!
Right after I listed this "elephant" from the QC challenge from October, it sold for a pretty decent best offer! Gotta love BO. That sounds really gross doesn't it?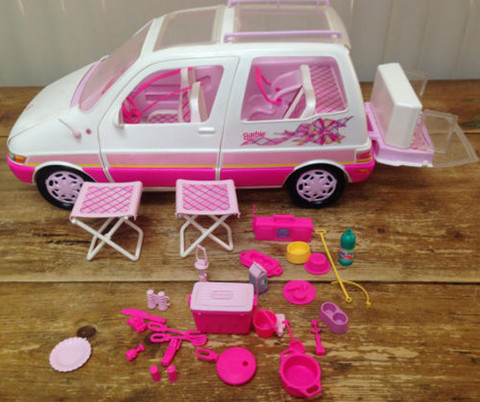 Click here
 to see this auction.
Ok, Houston's final escapade so that I can get to Indy's AWESOME ones. Well, Houston's are AWESOME as well. I am very proud to announce that Houston has been chosen to lead a Project Serve Mission to Waco, Texas over his Spring Break. While I am extremely proud that he is the first freshman EVER chosen to lead a Project Serve mission, I am very sad that he is probably never coming home again. Just kidding kind of sort of.
Here is a photo of the Goose and his group that he is leading to Waco, Texas to work at the WHR World Hunger Relief Farm.
Please watch this video as it is very powerful and brought tears to my eyes. Just the fact that these kids give up their spring break, fundraise to pay for everything and then spend that time helping others in need, makes me very proud of my son and all the kids who volunteer. Go PROJECT SERVE!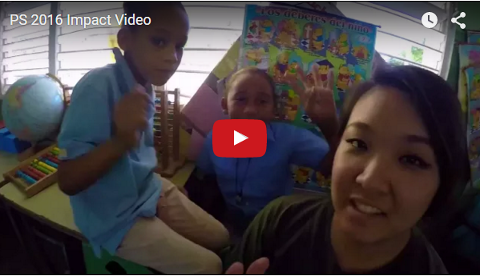 https://impact.pepperdine.edu/project/1241
OK, great transition into Waco bringing tears to my eyes and the fact that I am sad that Houston is rarely coming home anymore. Drum roll please, Indiana was "Sadness" from Inside Out for Halloween. Seriously, that girl was amazing when in character. We bought her entire costume on eBay. Go eBay!
Indy as Sadness on Youtube. You have got to watch these and check out her voice and timing. She is sooooooo funny!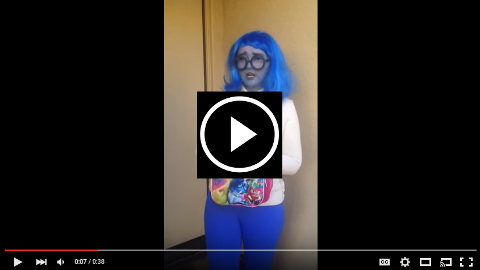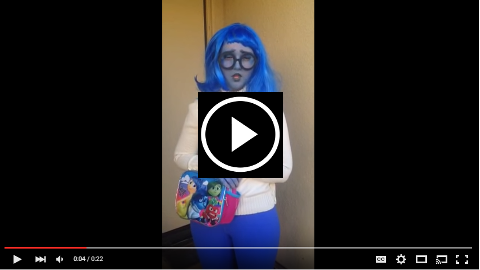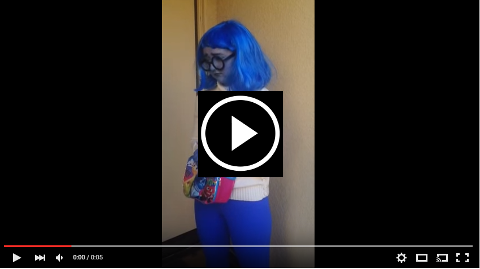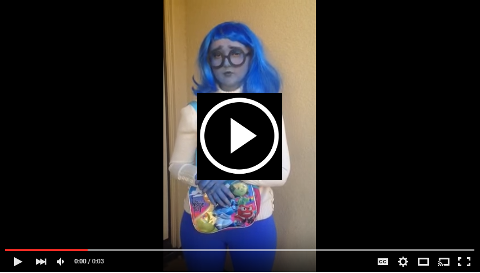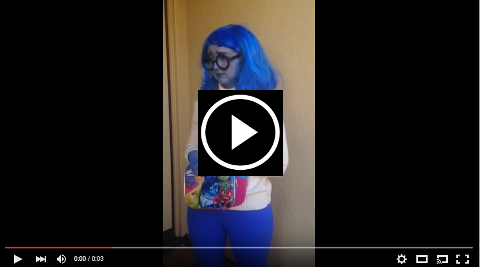 OK, now for some happy news! And an awesome score!
This was one of the t-shirts that I bought for the Queen's Court Christmas gift last year but since I overbought, this one got listed and sold for full price at over $50. Yes I did say over $50 for a USED t-shirt.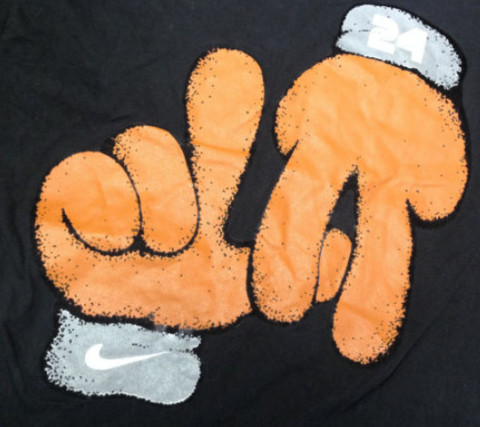 Click here
 to see this auction.
Speaking of Queen's Court members and Happy, may I please introduce you to Charmaine. She is one of the most positive, wonderful, helpful girls on the QC and I absolutely LOVE her.
Here is her story….
"Hi my name is Charmaine and I've been selling on eBay since 1998–my current store is Sweetsurprises4all.

How I got started on ebay: I was in the antique business for 10 yrs with my mom-we sold our items in 4 locations in 2 states. At the same time I was also working full-time as an office clerk. One day my mom called me and said she wanted out of the business so she was either going to call a thrift store to come pick up everything or else everything was going to be delivered to me.

Two days later the moving trucks brought me all of the inventory to deal with. There was so much stuff that I sold that house and bought the big 250 year old house across the street.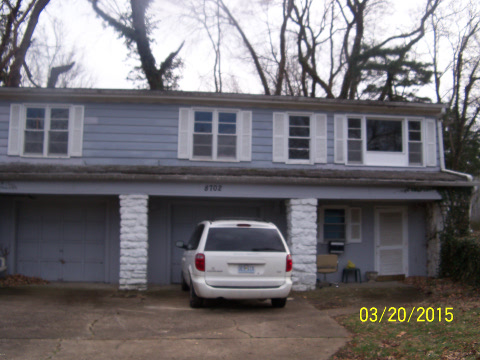 Lynn here now…. Here is a darling photo of Charmaine in Tahiti. Check out the Turkey inspired pillow behind her head. I thought it was the perfect photo with Thanksgiving a week away.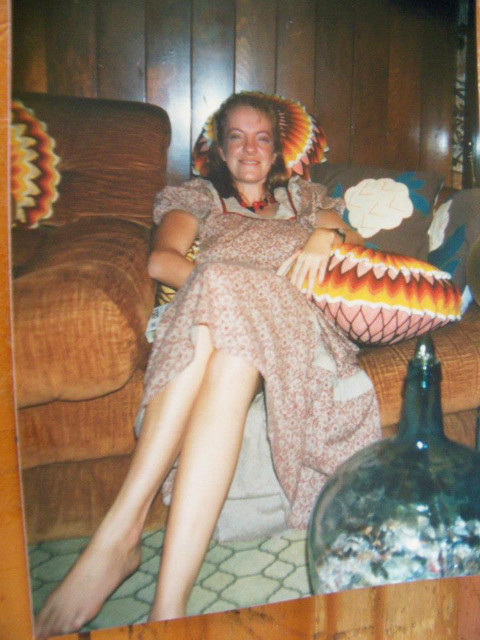 Back to Charmaine……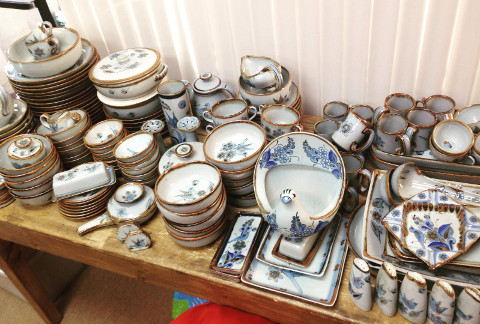 I paid $450 but let me tell you how much work it has been to list… seriously! Almost every single piece must be listed separately because of the different handiwork of each artist.
Here is a photo of Kate delivering it to my office. I think she was just as excited to drop it off as I was to get it….until I realized just how much work it would take to get it off my listing desk.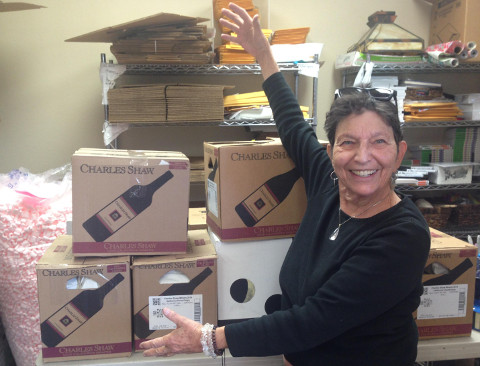 Here is a link to a current Tonala auction that I hope turns into a mini score (since I have 181 pieces) but who ever really knows? It is all about who is watching auctions that week and how badly those customers want that item at that particular day and time. I am sure you know what I am saying.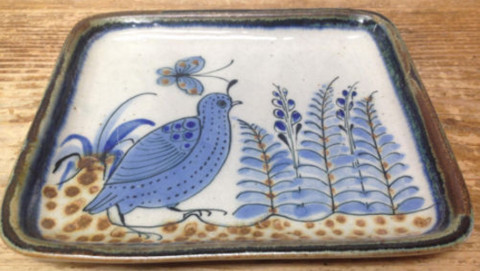 Click here
 to see this auction.
On another sad note (since this ezine has been filled with happy and "sadness" aka Indy), the 1998 BMW 528is that I bought in 2000 and pretty much raised my kids in, then it was Houston's first car, and then Indy's first car has been "put out to pasture". RIP Cashmere (it's color and name).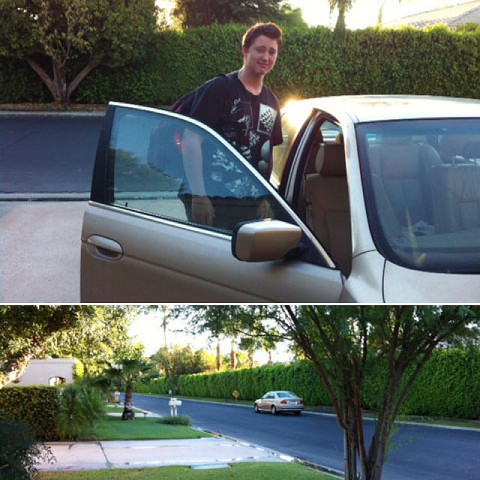 Here is the back story. The BMW was making strange noises so we dropped it off at my mechanics without an appointment.
I called my mechanic five times over three days since I dropped it off and he never returned the call. So I left a message saying I would come in and get it. When I walked in the receptionist said "Hi Lynn" and left the room. Then my mechanic walked in and said please come into the office.
I felt like I was in trouble for calling so many times. He pulled out an estimate sheet and looked really sad. He said I have been trying to patch work this together and get you an estimate but there is just too much wrong with it. Tires, shocks, power steering, starter etc… and he said it is un-drivable.
He said this is the first car EVER that he started working on 12 years ago that he has had to say "it's time to go". I swear he had tears in his eyes. Probably just my imagination but I LOVE my mechanics

.
So the BMW is in the driveway waiting for Houston to come home and say goodbye (probably never going to happen since he hasn't been home ONCE since leaving in August). But we are going to miss miss that awesome BMW aka Cashmere!
Now to find a replacement….Anyone know of a great used car for a great price in my vicinity? I am in the market.
Two more things I have to tell you about before I end this long overdue ezine. Sorry that the ezines have been few and far between but it is high holiday season and I had 27 things to ship this past Thursday. I sold $754.69 on Wednesday. The Holiday has officially hit…..Rock on eBay!
Very important news….Indiana has one of the lead roles in a Xavier High School production of Fools this weekend. If you are in town or live in this area, please come and watch her. I am soooo excited for her and can't wait to see her act as Dr. Zabrinsky (a male doctor with a mustache…not enough boys tried out

. Here is a flyer with dates, times and prices. Thanks for supporting my Indy…I will be there and so will my mom and apparently Houston plans on attending one of those performances. We will see about that! Fingers crossed.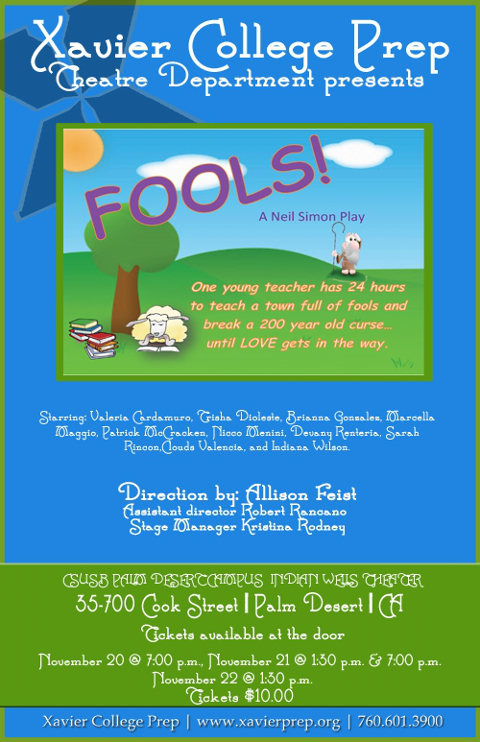 And last but not least, my really good friend Kelly had a garage sale this past weekend. Here is a picture of her and her mom in front of their immaculately set up sale. Very "designerish" and the sign is off the charts cool!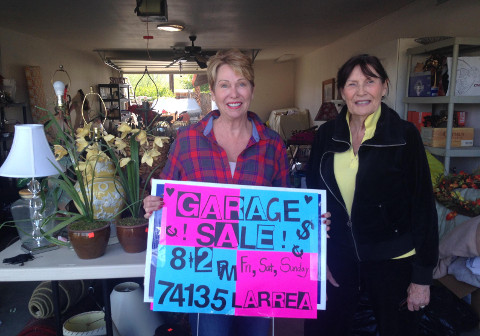 Let's end this ezine with a potential score from Kelly's garage sale. It is a Harley Davidson Limited Edition Barbie.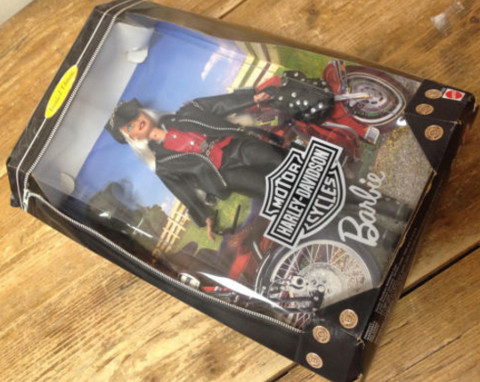 Click here
 to see this auction.
OK, I must add one more real score because it is coffee mugs and as I slave away at the coffee mug eBook, I want you to have one more chance to order at the intro pricing before it is finalized.
I am very excited to announce that I am in the midst of writing my Coffee Mug eBook which will teach you how to generate Cash for your Coffee Mugs. As you probably read in my last ezine, Marsha sold one coffee mug for $2,500! Isn't that awesome and inspiring?
I can't wait to share all my tips and tricks with you in my new eBook which will be out in November/early December. Here is a link to Pre-order now at the low introductory rate.
Please keep in mind that when I offer introductory pricing for an eBook, I tend to over deliver. If I were you, I would buy this now before my 50+ page eBook turns into 200 pages and the price hits the $100 or more mark.
Click here to pre-order now.
Many of you emailed me to get more details about this new eBook. I think the best way to answer you all is to share my rough draft outline. So here it is:
Introduction
Overview
History of Coffee Mugs
What You Need to Know About Coffee Mugs & Licensing
Rise of Coffee Mug Demand
My Numbers.–Inventory by Year etc.
Where to buy? Estate Sales Thrift Stores Garage Sales
What Should You Pay?
What to Look For:
Brands to Always Buy
Questionable Brands
Brands to Never Buy
Great Designers/Artists
Great Subject Matter
How to Price?
Shipping
How to Assembly Line List
Sizes and Ounces
Promotional Strategies
Let's Put this to the Test
Conclusion
I can't wait to finish this eBook and get it sent out to you all by the end of November/early December. Those of you who are brave enough to be early adapters will save money on this eBook!
If you remember my flatware eBook started out at $77 and ended up at $179. This eBook will also pay off if you order it early.
Click here to pre-order now.
Here is that last score….over $60 for two glass coffee mugs. Seriously? Plus shipping? Yep! And only listed for 6 weeks at full price. They are paid and on their way to the buyer.