Hi!
Now that it is official, I can seriously say Happy Spring! It is hot here in the desert. Close to 90 degrees already today. Not ready for it to be this hot!
Check out this score that sold for a very good best offer recently. It is a flatware storage chest that reminds me of Spring.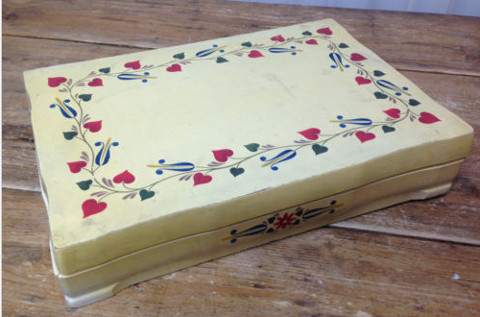 Click here
 to see this auction.
New beginnings and hope are the messages that Spring and the Spring holidays traditionally bring. I hope that your eBay business is going great for you!
Speaking of Spring, eBay recently announced their Spring updates. For most of us, it is a time of trepidation but with much joy I can seriously say that these are the best Spring Updates I have seen in over 10 years!
I emailed my eBay contact and said "Am I dreaming?". He laughed and said, "Nope, these are relatively mild this year". Thank God!
I will share my take on the Spring updates later in the ezine. But for now, let me catch you up on how crazy hectic our lives have been.
Houston has been battling a shoulder injury since this past December due to repetitive throwing. That is why you have not heard much about baseball. He is slowly recovering with physical therapy and is now back playing 3rd base and pitching a little bit. I have missed watching the baseball games.
He played a week ago against the 29 palms team and did very well. Here he is pitching one of his five out of six strike-outs 

.

Xavier almost had a no hitter, when Houston left the mound after the fifth inning, they were on their way. Check out this newspaper clip.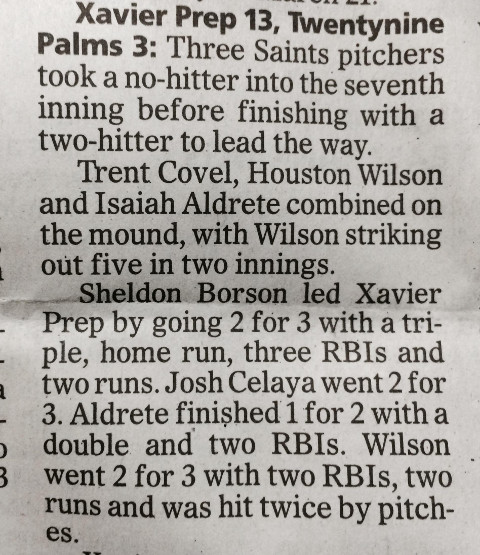 The Xavier baseball team had just returned from a road trip to San Francisco….but before I tell you about that, I must squeeze in a score or my story telling will go on and on and on.
OK, check out this HON (hen on nest) but it isn't really a HON it is more of a QON (Quail on Nest) that was featured in one (or more) of our recent training videos. I think it might have been in Shooting Gallery and ALL or Nothing.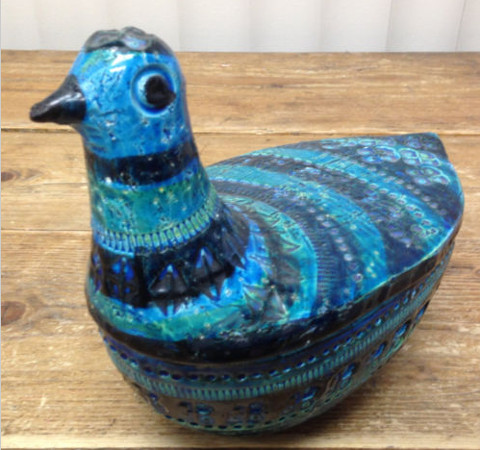 Click here
 to see this auction.
It sold for an awesome Best Offer and if you can believe it…I shipped it to a buyer in Palm Springs. About 10 miles away from Palm Desert. eBay is very strange!
As you know, in every ezine we are going to feature a great product at a special price. In honor of the famous QON selling, we are going to offer….
…at very special prices.
Speaking of special prices, I have been buying a lot of items for 25 cents lately. I don't know what it is with that price point, but I am having some incredible scores.
I was at a sale last week and I bought about $400 inside but when I went out to the garage and saw that everything was 25 cents each, I went nuts. There was some great stuff out there. I ended up piling 147 items on the washing machine for the estate sale person to count and bag for me. $36.75 for some awesome merchandise!
I got a pair of Ray Ban vintage aviators for 25 cents…unfortunately, those went right to Houston as he has been wanting a pair . I also got Ugg boots, a Barbara Barry writing pen, brand new picture frames, gift books and a pair of JP Tods mens shoes.
Check out these JP Tods shoes. I priced them high. They are very strange looking but handmade in Italy.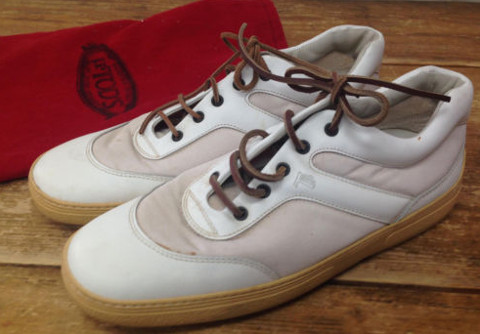 Click here
 to see this auction.
The Uggs sold for $49.99 at auction but the buyer hasn't paid yet UGGHHHs. And the Barbara Barry writing pen had quite a lot of bids. Check it out here.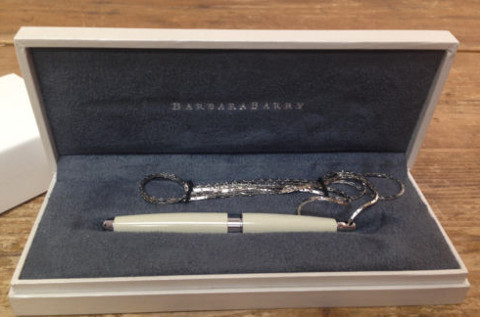 Click here
 to see this auction.
It has been paid for and is on its way to Canada. The pen sold for more than what I paid for all 147 items!
My point is NEVER PASS up the 25 cent piles. You just don't know what you will find in them. Another case in point, about a year ago I was at a sale and they had a stack of playbills and programs from musicals. Most were from Australia and some were from Las Vegas shows. They were all 25 cents each. I bought them all.
Just sold one this morning for a best offer. I price items really really high and that way I can accept lower best offers. Works like a charm.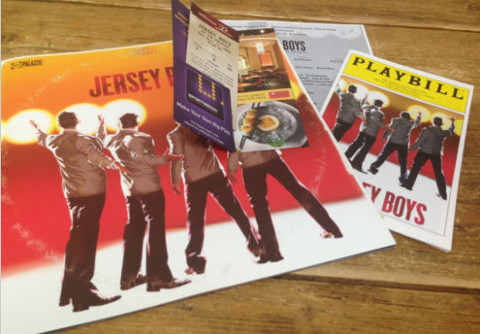 Click here
 to see this auction.
Saturday, March 7th was one of my busiest days on recent record. Let's see, garage sales first thing and then hair cut at 9:00 am. Jump in my car to race to San Bernardino for baseball game that starts at 11:00 am. Once it is over, head back to Palm Desert to barely make it to the girl's basketball banquet which started at 3:30.
It was worth it! Indiana had a blast this year playing JV basketball and during the awards banquet she received the JV Saints Heart Award. The Xavier Heart Award is given to the athlete who embodies the heart and soul of the team. That's my Indy Girl!
Here she is with her coach.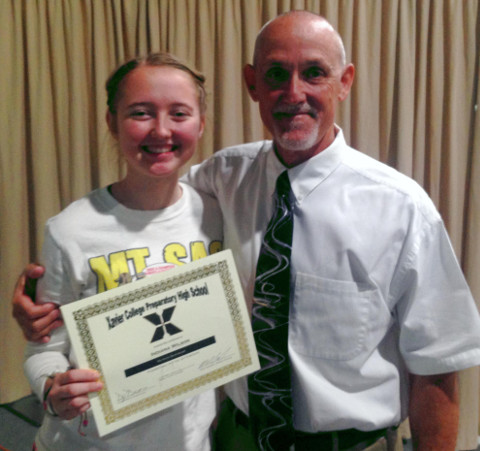 But my long day was far from over. My good friend Coco, aka Recycled-Sporting-Goods, and her husband Jerry had given us 4 tickets to the opening night at BNP Paribas to see McEnroe play a charity benefit. Couldn't pass that up! So after the banquet, we headed out to the tennis gardens.
Here I am with my good friend Lori, aka GarageSaleLou , trying to take a selfie and laughing hysterically. We had a blast but when I got up on Sunday morning, I just couldn't figure out why I was SOOOOO tired. Elementary my dear Watson.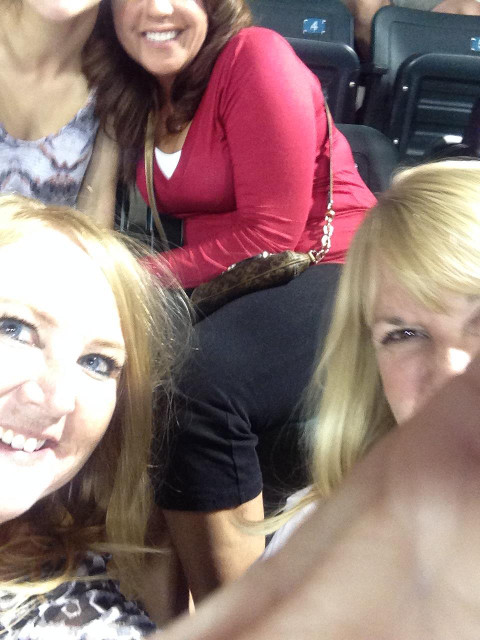 Since we are on the subject of sporting events, if you can believe it another one of those Adidas Jackets that I bought recently sold a few days ago for full price. It was on sale with markdown manager but they didn't even make an offer, just bought it for my asking price.
But here's the rub. OK, you know me well enough by now and I must explain that idiom. Here's the rub or therein lies the rub come from Shakespeare's Hamlet. The meaning is a particular problem that makes a situation difficult or impossible. What is difficult with this transaction is that the buyer only has 3 feedback points and has NOT paid yet. Fingers crossed.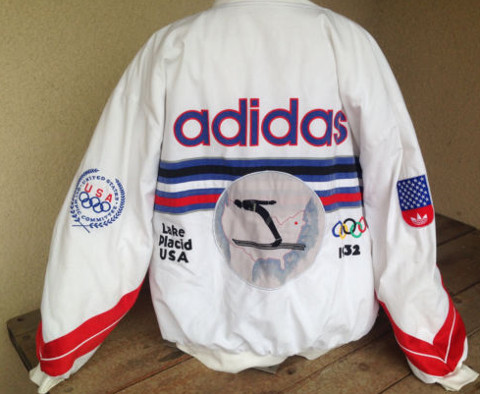 Click here
 to see this auction.
Houston has been accepted into 8 universities! Congratulations to him! He is still waiting to hear from 3 of his top 4, but he did get accepted into a few that he is very excited about.
Santa Clara and Pepperdine are his top choices today. I am routing for Pepperdine as it has been my dream to live in Malibu since I was a kid. If he and Indy both end up going there (which I can see as a huge possibility) I would probably follow them.
Here are Indy and Houston at Gladstones at the beach after we toured Pepperdine last year. BTW, Houston has worn that "We are Pepperdine" shirt A LOT. Such an exciting time in his life!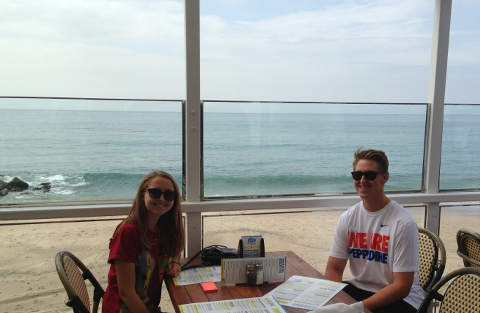 Before I forget, an exciting thing in my life is coming up this June. I have been asked back to speak at the eBay radio party in Las Vegas, June 16th to the 18th. This event is always a ton of fun and sells out quickly. So I encourage you to buy your tickets and make your plans now. As you know, Lee says "If it ain't fun we ain't doin' it".
Radio Party in Las Vegas Event
As I write this ezine, it is another busy day for me. Shipping at the shop, then a baseball game at Xavier and at 5:45 pm both my mom and dad fly in for a visit. Yay!
Indiana is in the spring play and they are both coming down to support her and enjoy Xavier's take on Godspell.
Indiana made this flyer for the play and used photos of the actors for the background. I can spot Indiana….can you?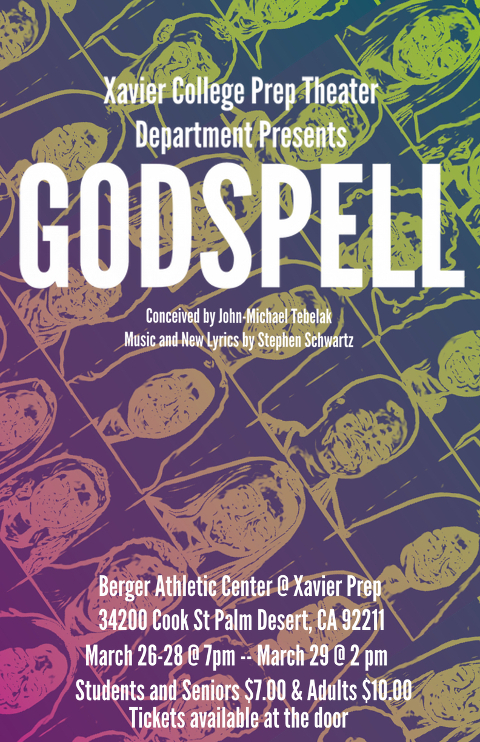 Many of you wrote to let me know that the link for the Zebra in the last ezine was not working. It has been corrected here. OK, I paid $50 for this zebra because A. It was awesome B. It was Halcyon Days and C. I knew it was a good investment. I didn't think I would make 10 times my money, but I knew it would sell for a good profit in a relatively short period of time. It sold in less than four months. YAY!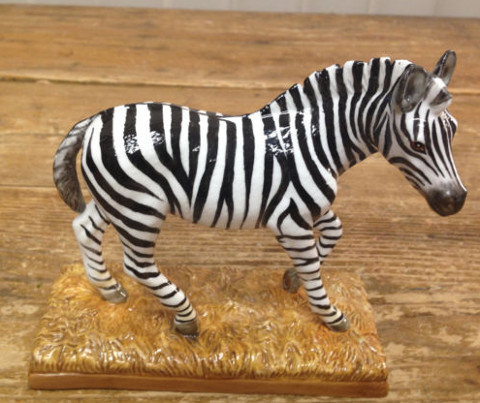 Click here
 to see this auction.
It is time for a dinnerware score and a BIG reminder that Dinnerware to $$'s price goes up $20 tonight at midnight. This 4-week teleseminar was awesome and an incredible reminder for me to be more picky with my dinnerware purchases. We have also added a 3 part payment plan to make it more affordable. Check out this score!
Click here
 to see this auction.
All of the calls in our Dinnerware to Dollars series have taken place. Yipppeeee! And they were AWESOME. The best news is that they were recorded for you to learn at your leisure. This training series turned out to be more than I even imagined it could be! Now's the time for you to join in and reap the benefits of adding this awesome profit center to your eBay business. Our price is going up $20 on Friday, March 27th at midnight.
Check out some of the comments I received:
---
"Lynn –

I have to tell you… I just listened to the first three calls and I have learned so much more than I could have imagined! I was skeptical that it wouldn't be worth the money, but the printable lists alone are GOLD! I have already bought two sets of dinnerware that I wouldn't have even looked at before!

Thanks!

-Cheri Read"
---
"Lynn –

Dinnerware 2 Dollars was your best seminar ever! I was unsure about the format, but the web notes and teleseminar format worked great together. I learned so much (as always) and your handouts and links are (as always) worth the price of the seminar! You share so much about running a business – the shipping chart will keep me busy updating listings for weeks!

I am reinvigorated with dinnerware as a category. Thank you for providing this powerful resource for eBayers who sell china.

Thanks for a great time and fun learning experience.

-Kathryn Dokas"
---
"Dear Lynn,

I have been wanting to share this with you since the calls but I have been so busy looking for dinnerware…I think I am obsessed. I purchased a small clump of Mikasa dinnerware for $8.00 at the thrift store. They sold last week for over $300.00. Over a 4000% return on investment thanks to the "Dralle Method" of doing business.

Can't wait to consistently increase my income because I want to join your Queens Court.

Thanks again for sharing your experience with us…..I love that there is enough to go around for all of us so we can be a team.

-Debbie Leach, OHIO

PS…..I have changed my shipping costs!
PPS….I am now listing at auction as suggested to recoup my investment!….You Rock!"
---
To help more of you afford this training, Lee and I decided to offer a 3-part payment plan before our final price increase. This series will be going up $20 on Friday, March 27th at midnight.
If you order now, you can pay in three payments. Click here for the installment plan: http://bit.ly/DD4ptTS3pmt
Click here to order now in one payment: http://bit.ly/DD4ptTS
Some of the major changes to my system of listing and selling dinnerware that has evolved and improved over the past five years include CHANGES to:
Brands to always buy
Tricky brands
Brands to never buy
Research and new sources for doing so
How to structure and strategize your listings(this has completely changed)…Markdown   Manager, Best Offer, etc.
How our dinnerware selling strategy has changed with eBay's new defect policy
Shipping pricing, materials and methods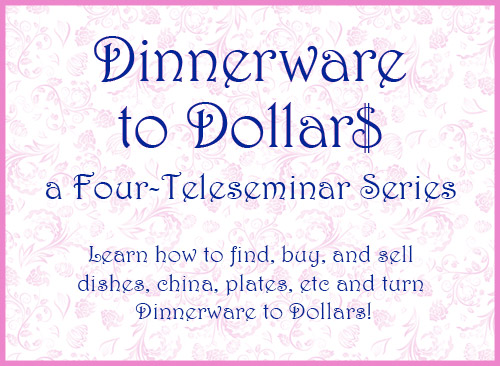 The current price for "Dinnerware to Dollars" is an incredible bargain considering that I sell $150 worth of dinnerware a day on eBay. The current price will be increasing $20 this Friday. Don't miss your chance to order at the current price.
Click here to order now: http://bit.ly/DD4ptTS
Click here to order in 3 payments: http://bit.ly/DD4ptTS3pmt
In the past 24 hours, I sold $219.96 in dinnerware on eBay. How can you pass up the opportunity to learn from someone who has mastered the art of selling dinnerware on eBay?
Once you sign up, you will receive immediate access to the four calls. Don't let this opportunity pass you by. Dinnerware 2 Dollars is for those of you who want to make your eBay hobby a serious business or for those of you who are ready to take it to the next level.
OK, another dinnerware score that amazes me because I got very close to the Replacements asking prices for these salad plates. I sold mine for $23.49 each and Replacements is asking $25.99 each. If you want to learn how to consistently do this, you need to invest in Dinnerware to $$'s before the price goes up.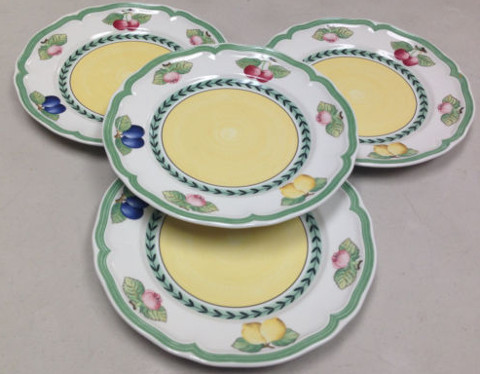 Click here
 to see this auction.
Finally, it is time to address those Spring Updates. Something I usually dread, but not this year!
On first read, I thought I must be dreaming. These were the best updates I have seen in a long time….They are very pro collectibles, antiques and oak items. For once it is all good for us! Seems like eBay is getting back to what originally made them a success……sellers like us .
Just don't use any 1 to 3 day auctions or you will pay an extra $1 per listing but none of us should be using that feature anyway. I have always advocated for 7 day listings.
The best part is that eBay is now giving us a refund for an auction insertion fee if it sells…so what they are doing is suggesting that we start at lower prices. However, I will NOT change my auction starting price strategy.
eBay is finally rewarding the antiques and collectibles sellers. My mom was a little concerned about the "collectibles" category not covering antiques etc. for the 100 free auction listings but when I researched further…here are the categories that do count as collectibles.
Collectibles categories are as follows:
Antiques
Art
Coins & Paper Money
Collectibles
Dolls & Bears
Entertainment Memorabilia
Pottery & Glass
Sports Memorabilia, Cards & Fan Shop
Stamps
Toys & Hobbies
And eBay did NOT say anything about stopping the free auction listing day promotions, so as far as I can see….we are in the best position we have been in for the past ten years with the seller updates. A round of applause for eBay….clap clap clap. Actually, it should be a standing ovation!!!
I almost forgot to tell you about the Xavier baseball team's trip to San Francisco. They were gone for five days and we really missed Houston. Indiana and I will have to start getting used to him not being here 24/7. But even when he is here he usually sleeps 24/7 so maybe we won't miss him so much . They played against two SF teams, St. Ignatius and University High School. They lost to St. Ignatius 9 to 4 but beat University 12 to 0.
Here are the boys looking tough as they toured Santa Clara and USF.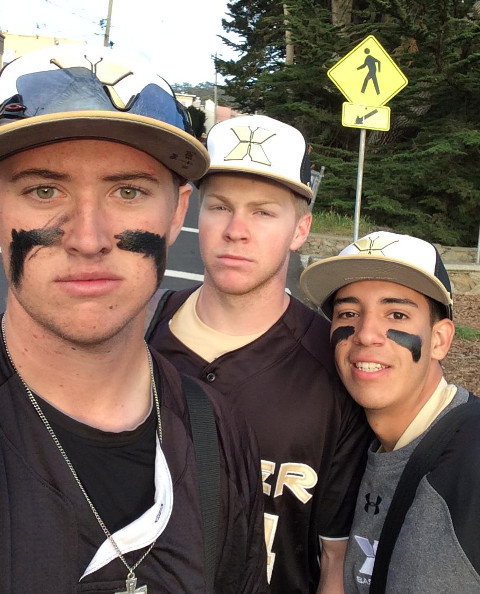 While Houston was in San Francisco, I sold a liddle kiddle prince doll. Check him out here.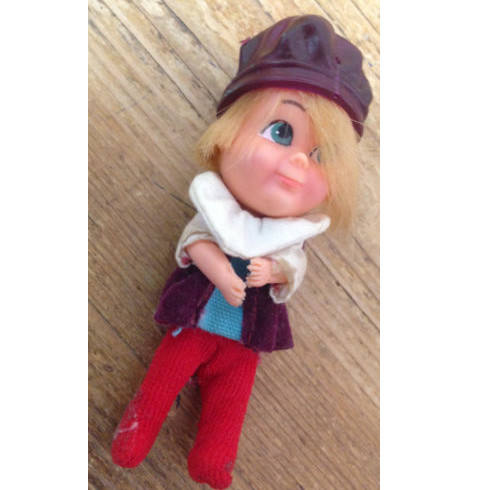 Click here
 to see this auction.
He sold for full asking price of over $50. You have got to read the description in this listing because as all of my Queen's Court Members know, Mo can't stop making fun of me and laughing about it.
While in San Francisco, the little princes (the baseball team) also got to take in some city sights. Check out this awesome picture Houston took of the Golden Gate Bridge.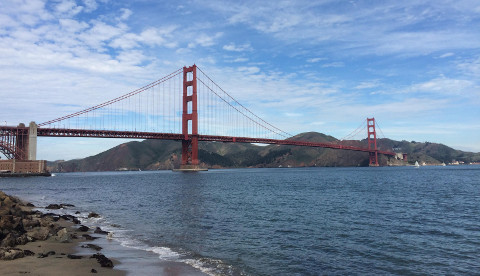 But back to the Queen's Court, my featured member for this ezine is Lynn Hudziak. Lynn H (as she is affectionately called) is a very positive member and I actually got to spend time with her when I was in Chicago for eBay on Location. She picked me up at the airport and hosted me for the day. I got to meet her mom and tour her home based eBay business.
I LOVE Lynn H's spirit. Last week she posted a banana tray on the QC forums for identification help. When she told us that her dog Max had a banana costume and it could be a skateboard to carry him around…. I just KNEW she must be in this ezine. Here is Lynn H's story…..
"Wow I must say I was extremely flattered when Lynn D contacted me to be her featured QC member. I guess a good place to start is at the beginning of me & eBay.

I was working as a chiropractic office manager when I first heard of this website called eBay back in about 2001 or so. My boss's wife told me stories about things she had sold for extra money. Well I had to check it out.

At that time, I was pursuing a homemade dog treat business and thought "Hey what a great way to sell my treats"! So my first item sold on eBay was indeed doggy treats! My ebay ID is actually after my sweet dog Daisy (dazy-dog62) with my store name being Dazys Treasures.

In 2002 my life changed immensely. My mom had some health issues and my former boss put me in the position of having to choose between helping my mom or working for him. Notice I said former? Well, I ran from that office and never looked back.

The dog treat business didn't quite turn out the way I had hoped, but what I discovered is something bigger & better then selling treats on eBay. I discovered that people will buy just about anything.

So I quickly began gathering up stuff from around the house and 'boom' it would sell. Hmmmm where to get more stuff became the question at hand. Hence, I started garage sale shopping, thrift store shopping, attending auctions, etc etc.

The excitement of telling my mom and dad "hey guess what I just sold this for?" contributed to their being bit by the eBay bug as well.

Dad would ask "so what is that item up to now?" And he would laugh and shake his head in disbelief over some of the prices that would come through. He quickly became my thrift store tag along, helping me find those hidden treasures. Dad was the one to drag me out on Wednesday evenings (even in blinding snow) because one of the thrifts had senior day and he could get me a discount!

Sadly, I lost my Dad in September of 2005 after a battle with lung cancer. However, eBay allowed me to work from home and still be able to care for him to the very end.

My mom quickly jumped into place, helping me search for those hidden treasures to list on eBay. Oh how she loved church rummage sales! Mom had some health issues of her own and mobility became an issue for her.

However, we found out a Mom with a walker almost always gets you to the head of the line at a church sale! Ha Ha. There were many sales that Mom would say "I'll just sit here in the corner and you bring me the stuff and I will guard it"! And guard it she did!!

When walking became more difficult, Mom would go along in her wheelchair, often becoming my "pack mule" with stuff piled high on top and bags hanging from the chair handles!

She also loved the stories of what items sold for. However, when the eBay app came out and Kachings began to make noise you would hear her excitedly say "OOOOOO What did we sell now?"

I am very saddened to say that my Mom went to be with my Dad on February 27th of this year. I had Mom under hospice care at home for a month. It was the best & worst month all rolled into one. Thank God for hospice and my big brother Rich, for without them, I wouldn't have been able to care for her the way I did. I will once again say thank goodness for eBay and the ability to work from home.

Here is a photograph of my parent's on their wedding day .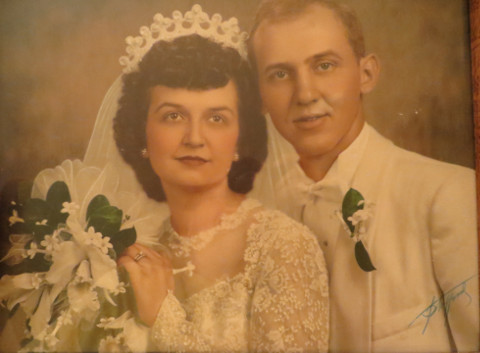 I have often been asked "What do you sell on ebay?" My answer is pretty simple "Anything that I can make money on".

I recently found a very unusual item and something that I have not yet found the right words to describe. It's been called everything from a banana skateboard to a rolling banana split dish.

The uniquely shaped dish caught my eye because of the banana theme. My little dog Max is crazy for bananas. He even has a banana Halloween costume. Here is Max in his banana costume with the banana dish. Not yet listed on eBay because I may have to keep it for a while .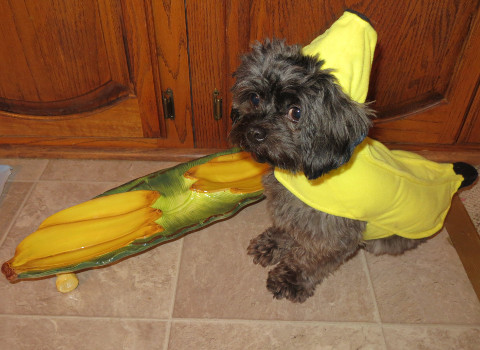 Since we are talking fruit, here is a recent score item. I found this pitcher at a local thrift store and put it into my basket just as another lady spotted it. I could not believe it was only $3.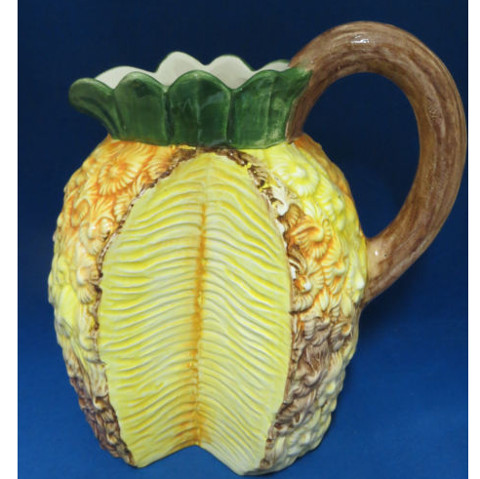 Click here to see this auction.

I love searching for Christmas items. I have learned that Christmas sells all year long. I found this unique Santa at a thrift store having an after Christmas sale. With the post holiday discount, I paid a whopping .50. I just love the opportunity to turn .50 into $50.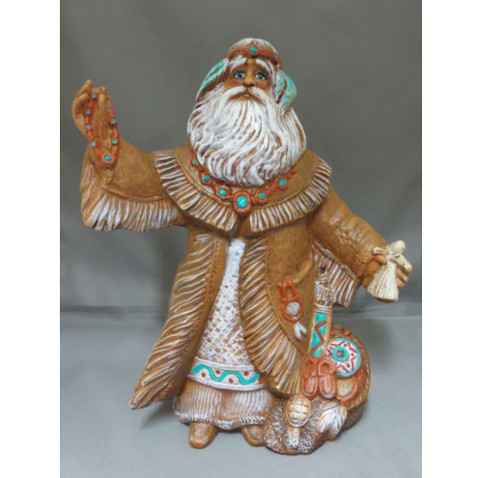 Click here to see this auction.

One of my most recent favorite finds is a cute sand castle tissue box holder. It actually looks & feels like an actual sand castle. I paid $2 and hope it results in a bidding war.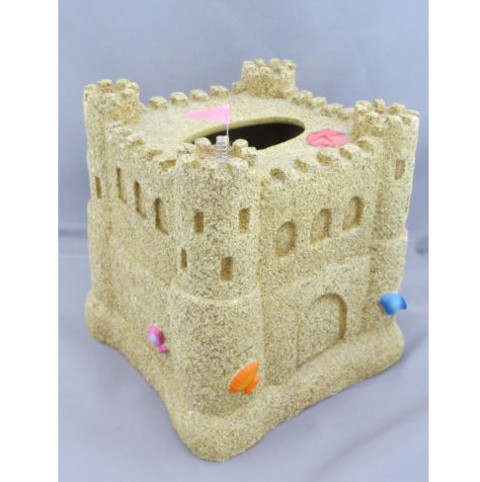 Lynn H, we hope it results in a huge bidding war for you. Thank you so much for sharing your story. I don't think a more devoted and loving daughter could be found. Your mom and dad were so lucky to have you as their advocate and we on the Queen's Court are so lucky to have you as a member. Thank you for being you.
Here is a score of mine in progress to end the ezine with. These gloves were part of my 167 piece 25 cent purchase. They already have a bid. Gotta love that ROI!