Hi!
September has flown by! It has been a whirlwind. I have been finding lots of great items recently to sell on eBay! What has been very strange is that they all have roots pointing back to my Grandmother and my working for her.
I guess you could call this ezine a tribute to Cheryl Leaf. Thank you Grandma for all you taught me about life, business, and antiques! OK enough of that mushy stuff, let's get back to business.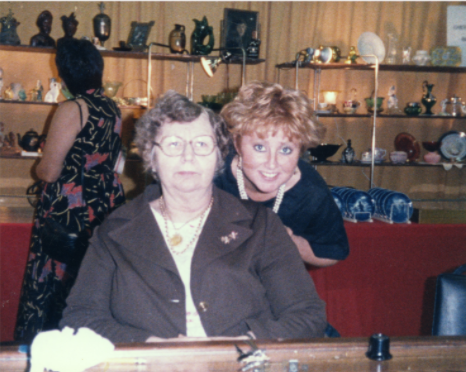 This photo is of my Grandmother and I manning an antique show booth at a Portland, Oregon Antique Show, circa 1985.
We had so much fun spending time together at these shows. And I learned a lot. An antique show was a LOT of work! And we would typically only sell $1,000 to $2,000 per show—compare that week of work to what you can make selling on eBay. I don't want to hear any complaining about eBay fees, how much work eBay is, etc. when I can compare it to the REAL work of an antique show! I am sure many of you (who have been in the business for a while) can relate.
To give you an example of the workload required, I would spend four or five days picking out and wrapping items to take from the shop. Then on a Wednesday night, I would load her van with the boxes of merchandise, shelving units, display cabinets, lighting, table cloths, bags, tissue paper, etc. I am a "master packer" if I do say so myself!
Here is an example of a SCORE I sold recently that would have been a typical item to pack from my grandmother's antique shop to take to show in Portland!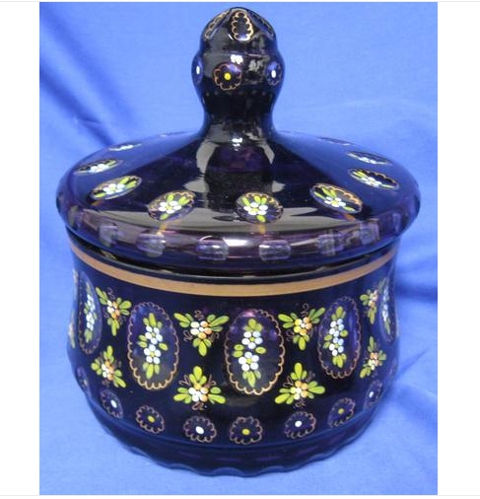 Click here to view this auction on eBay!
This beautiful piece of glass sold for the best offer of almost $200! Awesome! I paid $15 for it at an estate sale. Don't let me forget about the best offer later in this ezine because I have some really exciting news about BO's!
OK, back to the antique show routine. Then on Thursday morning my grandmother and I would leave at the crack of dawn (usually about 5 am) to make the five-hour drive to Portland. We would arrive at the Lillian and Jim Raines' Antique show at the Portland Convention Center around 10 am. We would drive right in and the helpers would unload the van putting all of our boxes, display cabinets, tablecloths, lighting, and shelving on the floor in the middle of the booth.
Then it was crunch time! We would plan out the table layout first, then we would put the table cloths on the tables and put up the risers and the shelves. Then we would lay the electrical cords and place the lighting. We would also place the tinie cabinet and the front jewelry case. It took a good hour to just set up the background stage.
Then the fun began! I loved unpacking all the treasures and placing them where they looked nice. My grandmother would unpack the jewelry and I would start with the glass and porcelain. I always did color themes by shelf and would have a green shelf, a pink shelf, a white/clear shelf, a blue shelf, etc. And if I do say so myself, it looked beautiful!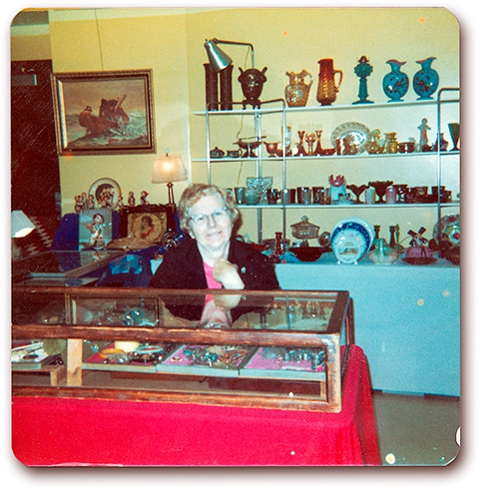 Then I would attack unpacking the Christmas plates, new reference books, primitives, miscellaneous, and finally the dolls. We would finish at about 9 pm and if we had worked really hard, my grandmother would take me to Black Angus for dinner along with a group of other dealers. What an experience for a kid! So much knowledge sitting around that table.
Then it was three days of hard selling from 10 am to 9 pm and until 5 pm on Sunday. Then we would break it all down, pack up the van and make the long drive back to Bellingham. My record for breaking it down and getting the van loaded stands at one hour thirty minutes. I dare anyone to beat that!
But let's get back to those dolls. I grew up around dolls because my grandmother loved them, collected them, and sold them. All kinds…bisque, plastic, new, antique, porcelain, plastic, doll parts, doll clothes, and dollhouse pieces. It was totally normal to me!
Here is a picture of a window in my grandmother's living room. Yes, her living room. Check out the row of antique doll heads along the bottom. Totally normal to me 

.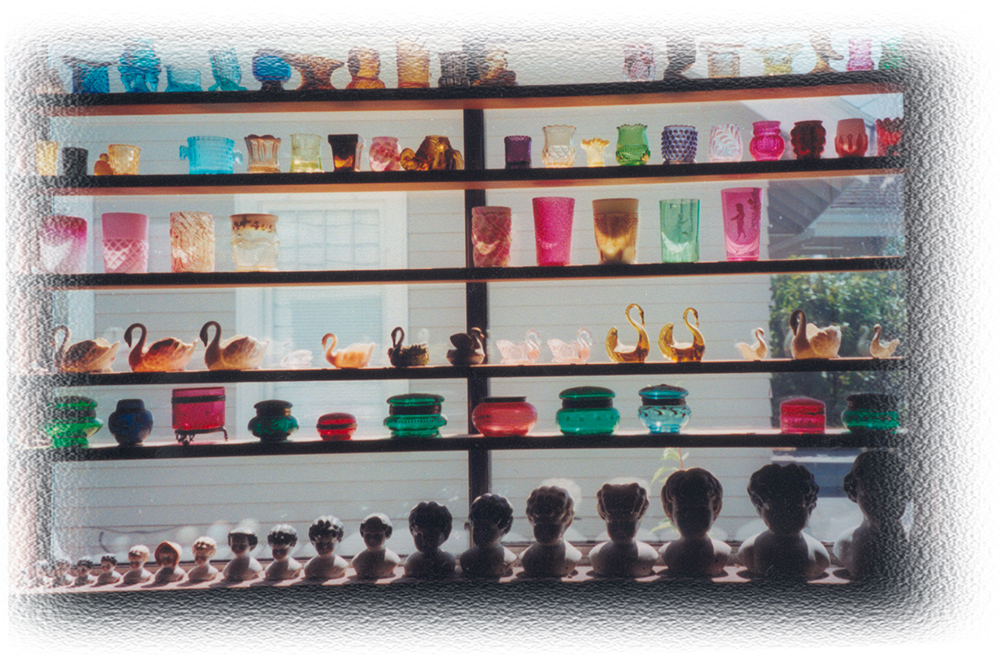 The reason I bring this up is that last month I went to a very creepy estate sale where there were 1,000's of dolls lining every room in the house. My point is that it takes a lot of dolls to make me creeped out and this sale did it. I was so freaked out I didn't buy anything and left in shock. I was in such shock I couldn't believe that I hadn't taken a photo. Darn it!
Fast forward to last Friday, well it was Friday the 13th, and my friend Lori and I stumbled upon this same house but the new estate sale was being held by someone different—a dealer that I had worked with before. 75% of the dolls were gone and it was much easier to comprehend.
There were still dolls staring at you from everywhere. However, I did manage to covertly snap a few photos this time. Here is one of them.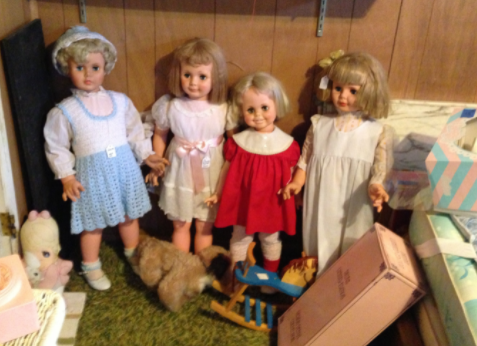 With the majority of the dolls gone, I was able to focus and actually purchased three bisque dolls. I LOVE bisque antique dolls—a serious Thank YOU shoutout to my grandmother! I got these three dolls for $375.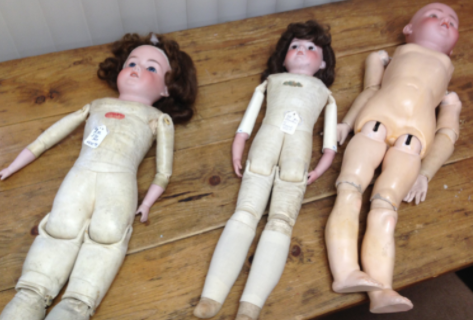 As Lori and I were unloading our purchases, she said, "OH my gosh, everything smells like smoke". We had forgotten that the house had belonged to a smoker and the dolls, toys, etc. that we purchased would carry some of that smell. Darn it! Not a good thing to forget.
Luckily the items Lori purchased were new (well new old stock –nos) in plastic. Here is one of the neat retro/vintage sesame street items that she has listed. It is the Cookie Monster and Lori tells me the Cookie Monster is no more and that they were going to change him to the Veggie Monster or the Carrot Monster. Is it true? Apparently not according to Snopes.com.
"One of the most endearing and memorable of Sesame Street's Muppet characters has experienced a bit of an epiphany regarding his eating habits in recent years as the lovable, blue-furred Cookie Monster has been mastering the fine art of moderation with regard to his favorite food. Yet he has not given up cookies entirely, nor are there plans for him to do so – whatever the rumors to the contrary, he is and always will be the Cookie Monster."
I say, Long live the cookie monster! "Me Want Cookie"!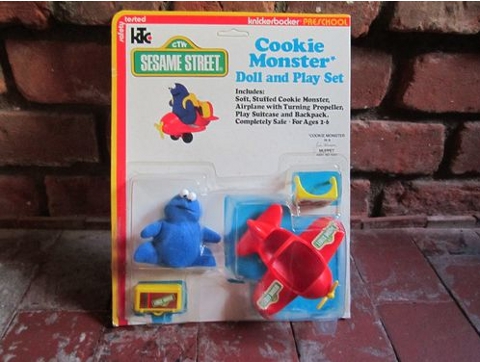 Click here to view this auction on eBay!
Sorry for that detour but I found it quite interesting. Back to my dolls. Fortunate also for me was that my bisque dolls could be stripped down and sold without their smoky clothes or wigs (none of which were original). I ended up taking off the doll clothes and the wigs and what I found was really strange. Yes, ladies and gentlemen, it gets stranger.
These dolls were originally manufactured with sleep eyes. Sleep eyes allow the doll to have her eyes open when she is sitting or standing up, but when she is laying down, her eyes automatically close due to a weighted mechanism.
My three dolls all had their eyes PLASTERED in the OPEN position. I called Lori and said, "OH my gosh, the lady who collected these dolls NEVER wanted her dolls to go to sleep. AAAAAGGGGGHHH!" It was Friday the 13th I must remind you!!
Once I collected myself from the shock, I realized three things.
I paid too much for dolls from a smoke-filled home.
I paid too much for dolls with their eyes plastered open. Who had ever heard of such a thing? I should have checked them by laying them down to make sure the sleep eyes worked, but who knew?
eBay would be the perfect place for me to sell these dolls to a doll lover who could restore them to their original beauty by getting rid of the plaster behind their eyes.
Luckily, my dolls were in excellent condition other than those issues. No chips, no cracks, no crazing. Two were Armand Marseille and one was a Kestner—all German made. My grandmother had sold a lot of A&M and Kestner's over the years so I was quite confident that with the correct positioning these would sell to a great home and I could make some type of a profit.
Please check out the Kestner that already has multiple bids. Yay!!!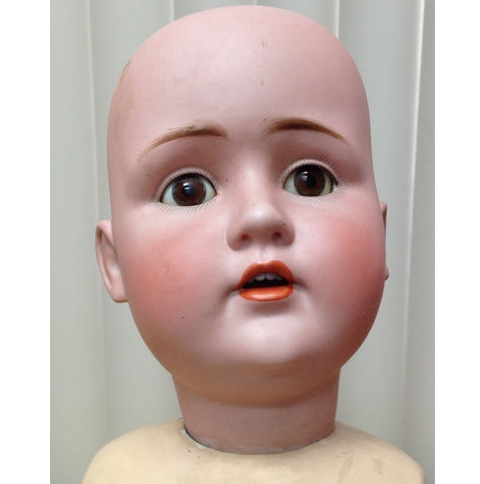 Click here to view this auction on eBay!
Houston got his big cast off on August 28th. Unfortunately, they found another fracture. Originally, he had broken the distal radius and that is what they had set. However, the Doctor found a fracture in the ulna after the cast was removed. The reason he hadn't seen it before was that it was such a fine fracture that it wasn't visible until new bone started to heal around it. Our Doctor brought in another specialist and I almost fainted. I had to leave the room.
They are hoping for the best and we will see in two more weeks. The worse case is that they will have to rebreak the ulna and set it with pins. That is when the room started spinning for me. I do not handle doctor's offices or hospitals well. And I will be back in a doctor's office this morning with Indiana because she has the flu. Oh, the joys of parenthood!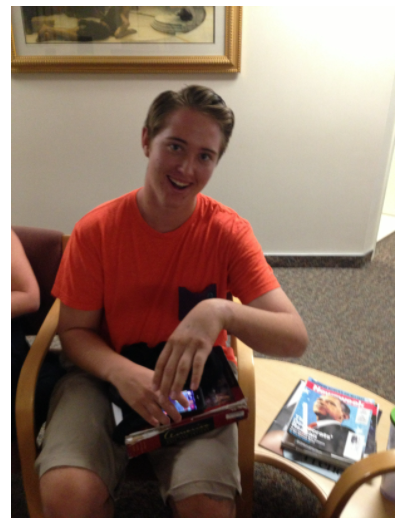 Here is Houston with his arm out of the cast. He has been wearing a brace on it since they took off the big cast.
Cross Country has overtaken our lives. Where there is a vacuum (no baseball), it will be filled with something else! Indy has been practicing every day but Sundays at 6 am and after school for the past three weeks. I had to attend a Cross Country meet at 6:30 am in La Quinta one Saturday morning. Really? 6:30 am. I don't even get up that early for garage sales.
After the practice ended at 9:30 am, I dragged Indy to a few garage sales. Turnabout is fair play, no?
I figured she owed me big time for all those rides at 5:30 am. I am NOT a morning person! We ended up at a sale up in the La Quinta Cove and I found a belt buckle for 50 cents. That is all I purchased that morning but it turned out to be quite the score and I still can't figure out why?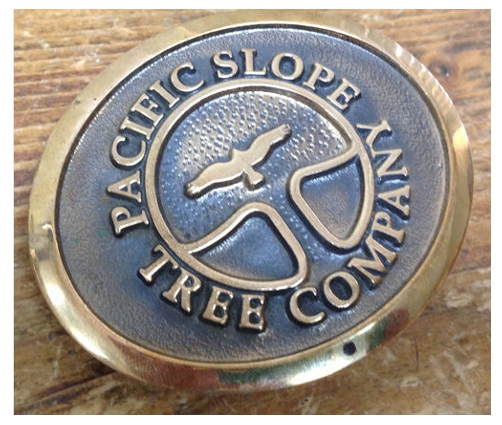 Click here to view this auction on eBay!
23 bids and it sold for a lot!
Indy ran in her first official race on September 6th. I was nervous for her. Here is a photo of her before the race and she looked so confident but after I took her photo, she came over, hugged me, and said, "I am nervous". I told her she would do great!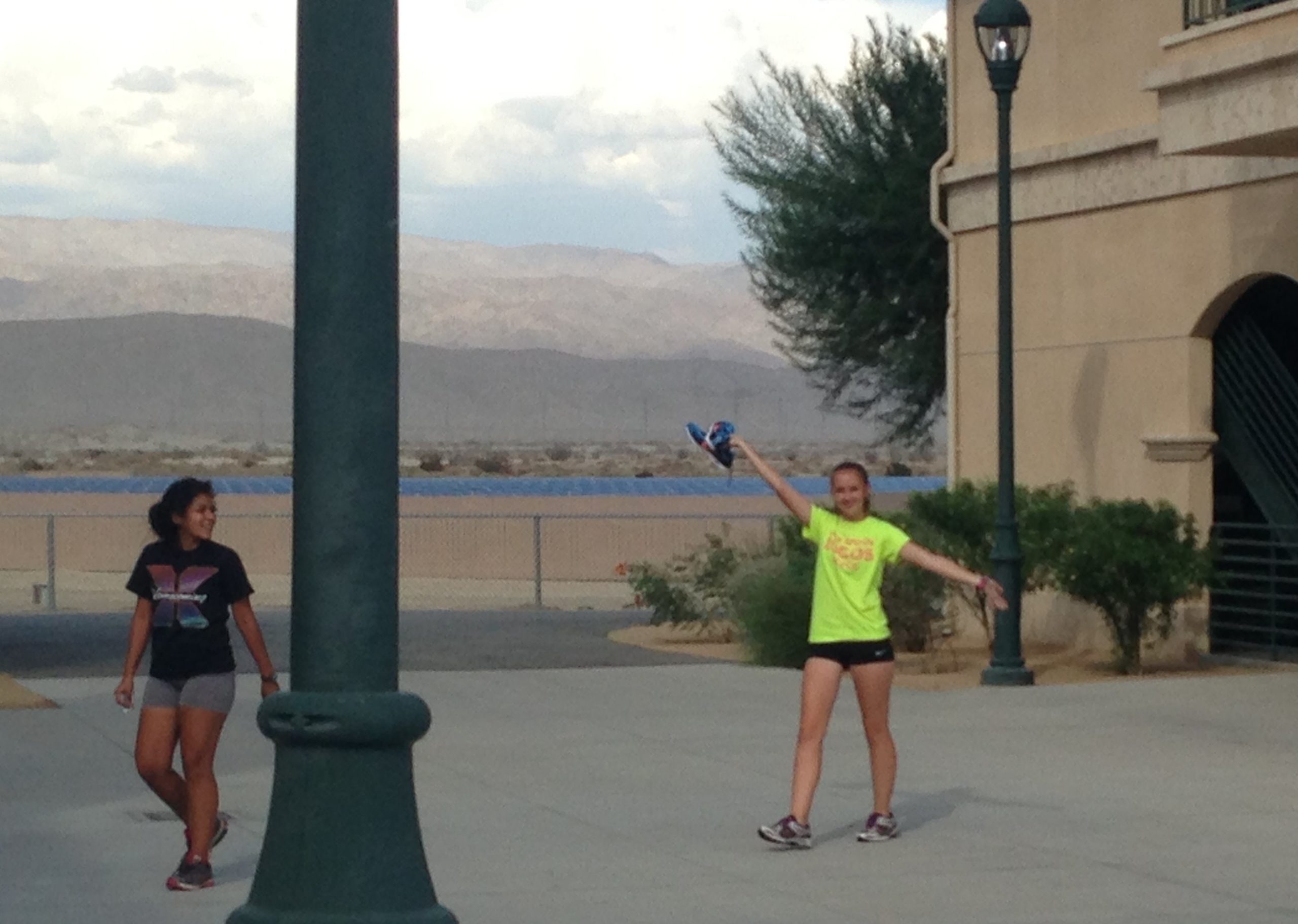 She did more than great! During the race, I was saying to one of the moms—my friend Susan, "I just don't want Indy to come in last this time like her first beach run in San Diego." Susan said, "She will do much better than that, just watch." Susan was right!
Out of a field of 100 or more, Indy took 14th place for the girls. I was so proud of her! Go Indy.
Here she is after the race with all of her Freshman teammates. What a ham! She is making an X for Xavier.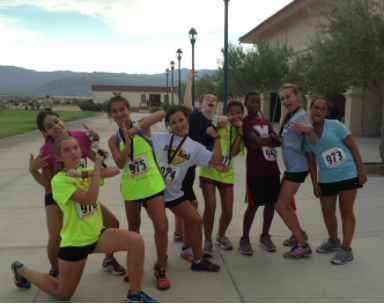 OK, back to the theme of this ezine, which is the wonderful antiques & collectibles that my grandmother taught me about.
On that same Saturday that I bought the belt buckle with Indy, we went to one of our favorite thrift stores. I didn't buy anything that morning but I did spot this hatpin collection in the front case.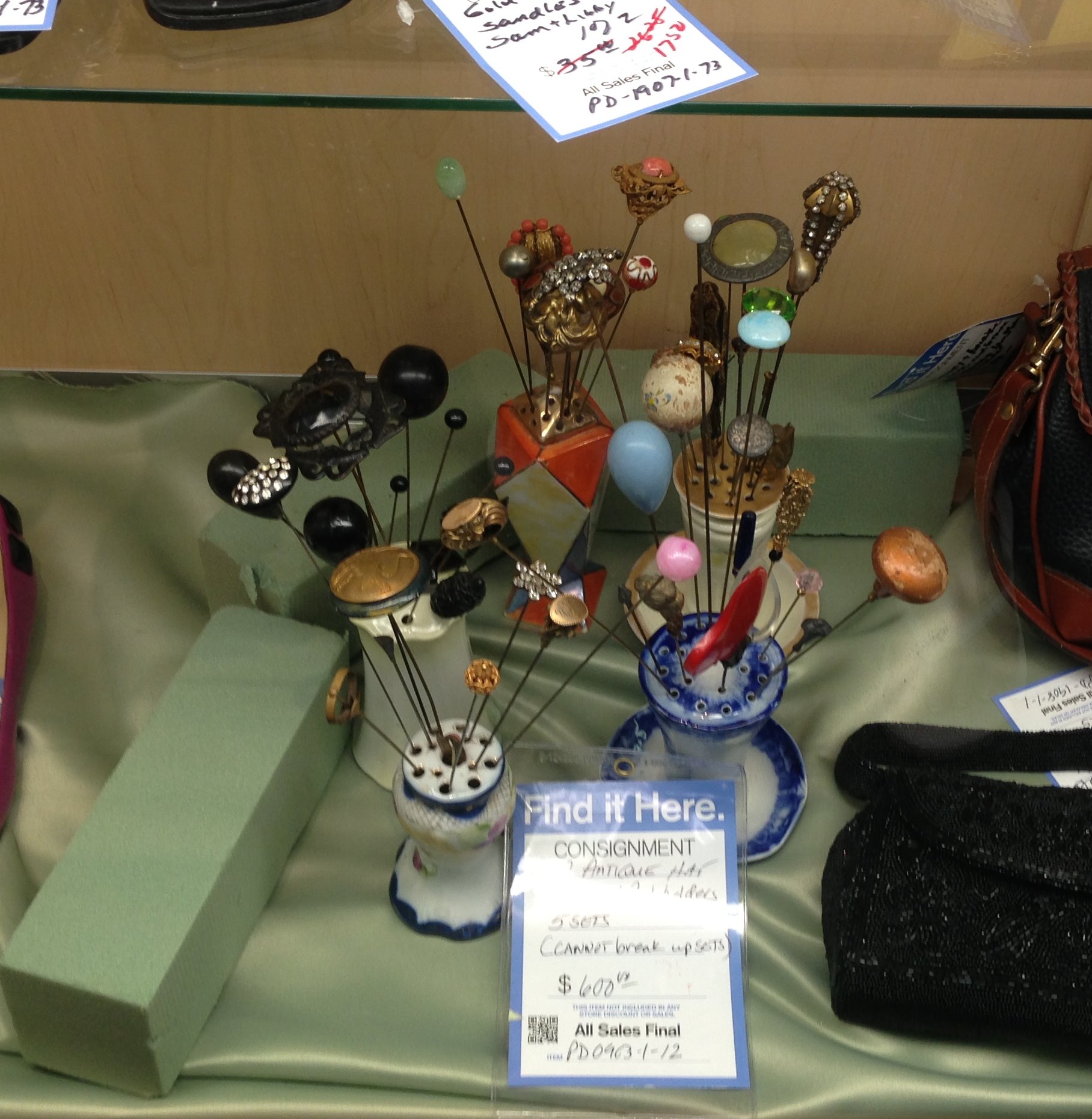 I fell in love with it immediately. Yes, I know I am a strange one. But I grew up with hatpins all around in the antique shop. I knew that this collection of 62 hatpins and 5 holders was a goldmine. However, it was priced at $600. A little steep. I spoke to one of the managers and asked how long it had been there. Only two days. Also, it was a consignment. He suggested that I check back in two weeks when it would be marked down.
As I left the store, I knew in my heart that this wonderful collection would NOT still be there in two weeks. I ran some numbers in my head. Approximately 60 hatpins at an average of $30 each, would yield $1,800. I figured an average of $50 for each hatpin holder, yielding $250. Grand total, $2050. Not my usual 10 times but still something to consider. I couldn't wait to get home to double-check my research.
I jumped on Terapeak (I LOVE LOVE Terapeak even more since the Queen's Court webinar last month) and checked hatpins for the past 90 days. The average sales price for a hatpin was $29.32. Terapeak is great and apparently, I am not so bad myself!
Then I checked Terapeak for hatpin holders, the average sales price was $43.04. I was pretty right on again with $50! I started plotting and planning on how I could get these hatpins for less money and sooner than two weeks away. I figured it couldn't hurt to ask, so I planned on being there when the store opened at 10 am that Sunday morning.
Luckily, when I arrived, the manager was working and I said to him "I know these are consignment, but do you think I could get them for any less?" He said, "I will call the owner and ask". The owner came back with $500 and I said: "SOLD"!
I listed all 62 hatpins and the 5 holders at auction for initial asking bid prices. They added up to $2,172.33! If they don't sell, I will raise the prices and put them in my eBay store.
Here is one that already sold.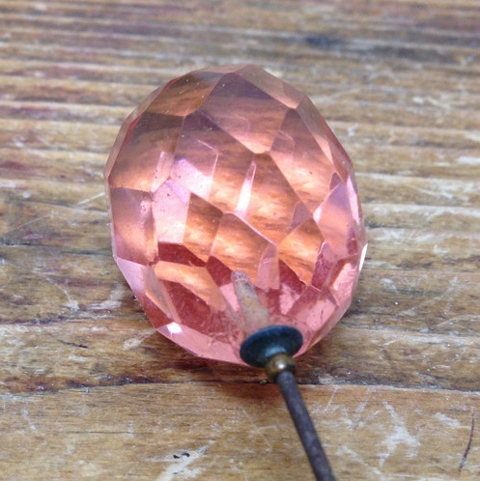 Click here to view this auction on eBay!
I finally got all of the hatpins listed on 9/12. The day before my scary Friday, the 13th escapade. Here is a photo of what they look like on their shelf in my warehouse. All nice and neat and ready to SELL and SHIP.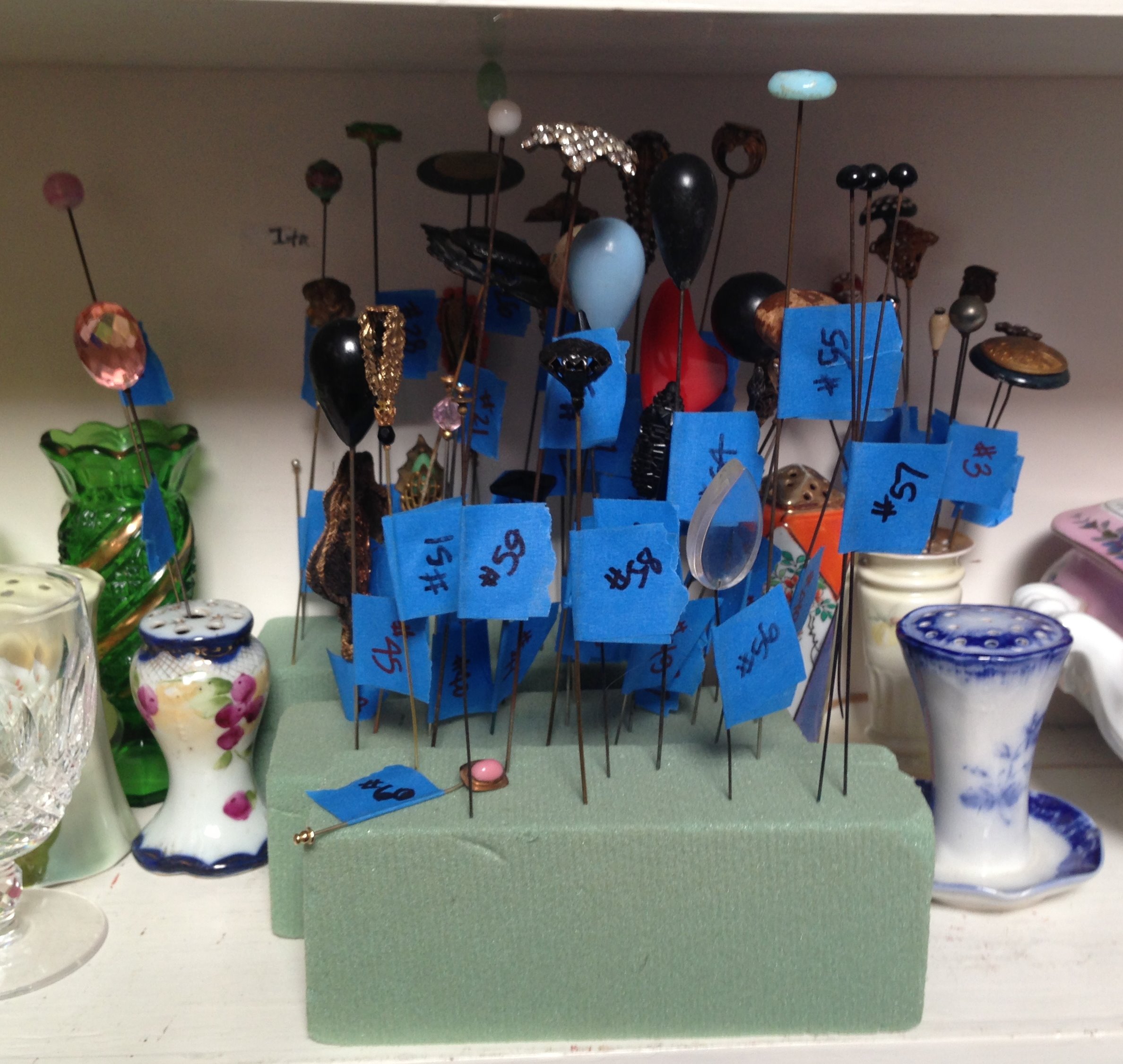 So far, about 29 auctions have ended and my running total for sales is $173.71. There are still 38 auctions left to finish. It is my goal to sell $500 worth immediately at auction to pay back my initial investment. Then, I am happy to wait until the rest sell from my eBay store at much higher prices.
Here is story #2 from Home Run. It tells the history of hatpins and their relation to my grandmother. Also, I made Indy wear a wimple for the side story. I guess I owe her a few 5:30 am rides for that.
Click here to enlarge the story below.
One of the hatpins that didn't sell at auction was 14k gold and done by a famous designer in the late 1800's, Enos Richardson.
Here is that hatpin. Isn't it beautiful?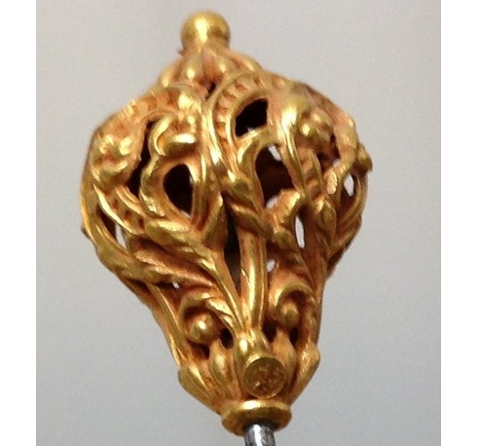 Click here to view this auction on eBay!
I will raise the price on this in my eBay store to $129.99 and wait for a decent best offer. When the auction ended today with no sale, I received an email with the best offer of $60. No thanks! I will wait for closer to my new higher asking price.
Speaking of Best Offers, I have written a new e-Book!!!! Yay!
I haven't written an eBook in a while and it was awesome to be back writing one. My mom calls me every day (which is a good thing) but most days she has a question to ask about a "best offer" (which is not always a good thing when I am in a rush).
My mom just can't figure out when to say yes to "green light", when to proceed with caution "amber light" (or in her case, call your daughter) or absolutely not "red light". Actually, she is pretty good about the "red light" cases but often wonders how and if she should counter them.
My mom is constantly suggesting that I write an ebook to explain the wonderful word of "best offers". I am finally taking her up on that suggestion, because as all of you know (especially Houston and Indiana), "Your mother is always right"!
It is my hope to make the world of best offers easier for all of you (not just my mom), by showing you quite a few examples and my strategy behind each decision.
Click here to order now at the low introductory pricing.
And it is not a pre-sale, it is actually finished and ready to be delivered. It is also the Queen's Court Gift for July, so if you were a Queen's Court Member in July, you should have already received it.

Click here to order now. The price will be increasing on Thursday, September 26th at midnight.
Best Offers account for 55% of my gross sales. This is a HUGE number. Don't miss the boat on how to deal with the best offer once you receive it. This is a huge opportunity for you to boost your holiday sales.
But let's get back to the thread that is holding this ezine together! My grandmother. It has become some type of tradition around the desert for me and my friends, that in the hot Summer and early Fall months, we go out to estate sales and thrift on Friday since there are literally no garage sales on Saturdays until the season starts.
A week before that fateful Friday the 13th, Mo and I went out to lunch and then thrifting. It was a blast!
We stopped at a high-end hospital thrift store and I spotted a soup tureen in a glass cabinet. No, not a latrine! I knew the maker without even seeing it up close. Royal Crownford. How did I know this? Because my grandmother carried Royal Crownford collector's plates in her antique store. Of course she did! And, they never sold for a whole lot, neither in her shop nor on eBay.
Here is one I have had listed on eBay since 2009. One can always keep on hoping, can't they?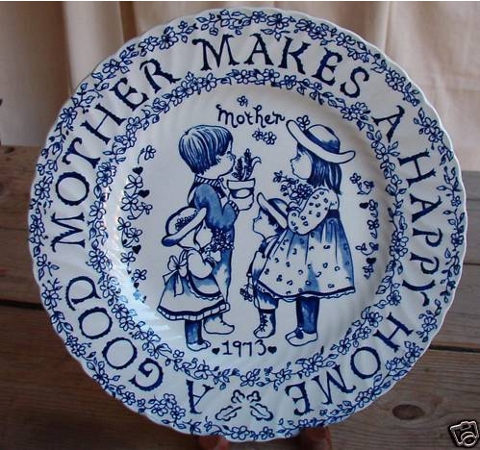 Click here to view this auction on eBay!
I immediately recognized the pattern (Calico) and the maker, Royal Crownford, but also knew that the dinnerware and the collector's plates NEVER sold for much. Too much in the field experience, I guess. But a soup tureen, that was a different story and the price was only $35.
I asked to see it and when the lady brought it out of the cabinet, Mo recognized the pattern also. Since it was only $35, I took a risk. I did my research and the tureens usually sold in the $100 range, but I took another risk and priced it higher at auction. It sold! Rock on Fridays in thrift stores and Creepy estate sales!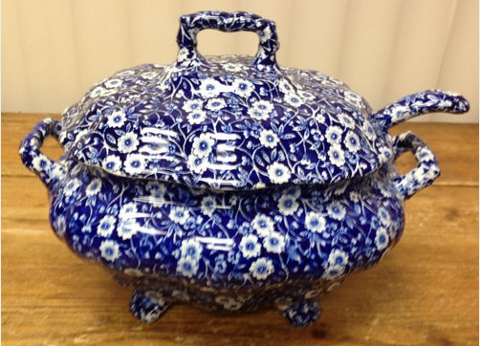 Click here to view this auction on eBay!
On that same Friday that I bought the soup latrine (I mean tureen) while out with Mo, we also stopped by a thrift store that usually doesn't have much. Mo had cornered the coffee mug section so I moved down to check out the Christmas. My grandmother's favorite holiday (besides her own birthday) was Christmas! And she collected Santa Claus figurines. What didn't she collect? Not much!
There were two miniature House of Hatten Christmas Figurines on the shelf for $1.99 each. I threw them in my basket. Guess I should have been a little more careful. Mo listed them for me and check out this one Santa that already has a BIG bid. I was shocked when I saw how high Mo started the auction.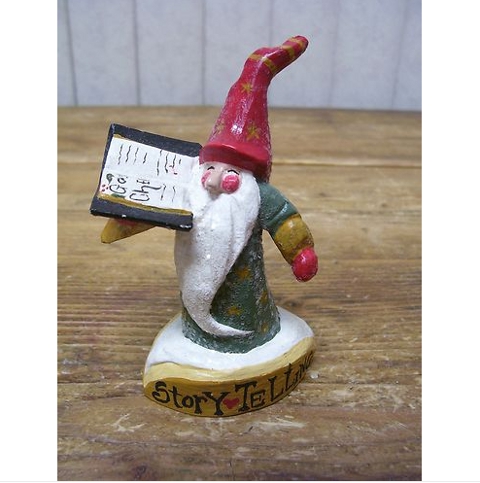 Click here to view this auction on eBay!
Since this ezine is a tribute to my grandmother, how fitting to end it with something else she influenced in my life….my love for travel!
Cherl Leaf loved to travel and instilled that sense of adventure in her entire family. At the drop of a hat she would round us up and say we are going…..fill in the blank. I am extremely grateful for that wonderful lesson.
One Saturday, Lee (my brother) and I were sitting around pricing with our grandmother and she said "would you like to go to Hong Kong?". We both said YES! Literally, two weeks to the day later we were all on a plane to Hong Kong. Back then you had to purchase plane tickets two weeks in advance or we would have left that Saturday afternoon.
Here are my grandmother and I in Hong Kong.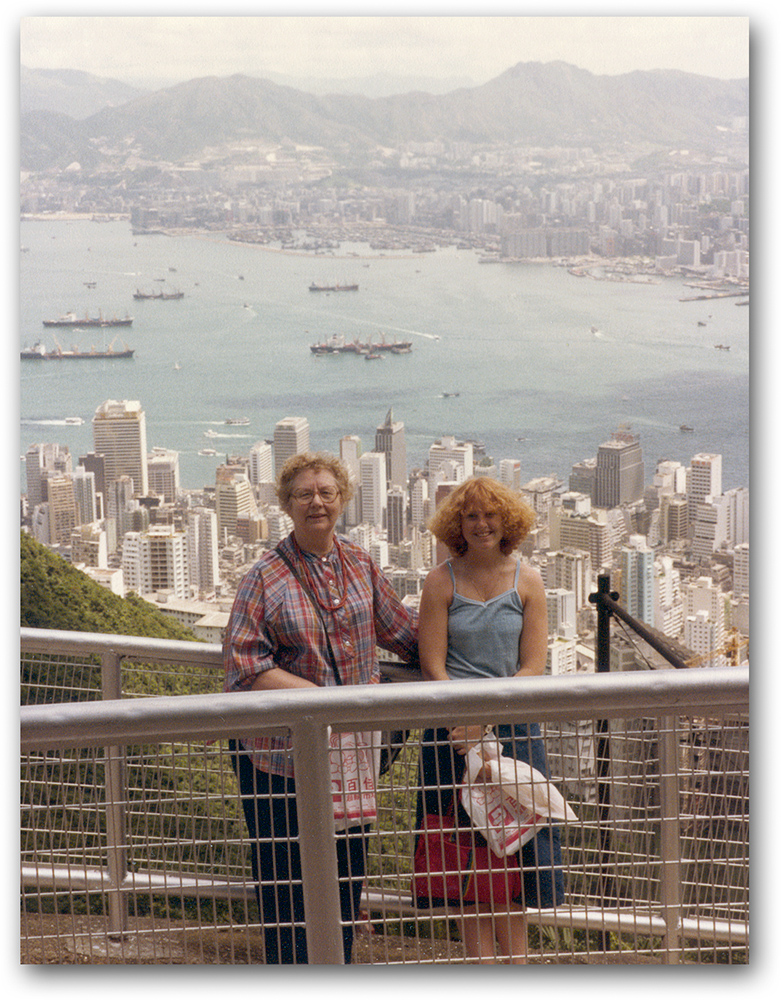 My love for travel influenced my buying (or not buying) at an estate sale recently. On the dining room table were a bunch of vintage (30-year-old) travel brochures, menus, and tickets. I scooped them up and asked the dealer "How much"? She said, "just take them". Seriously? So I did!
Here is one of the coolest ones that I finally have listed at auction. A menu from a 1983 flight of the Concorde!
Click here to view this auction on eBay!
I thought that this was the end of the ezine, but I just got an email from eBetsy with a press release that is very fitting for my Cheryl Leaf tribute…….This is great news and I must share in my own words since my Grandmother was a breast cancer survivor!…..
"I am so excited to announce that Bling My Bra will be back this October. All funds raised from the eBay auctions for unique hand-crafted bras will go directly to breast cancer research. Let's help find a cure. Watch my next ezine for links to auctions you can bid on to help support this amazing cause!
In Loving Memory of Cheryl Leaf!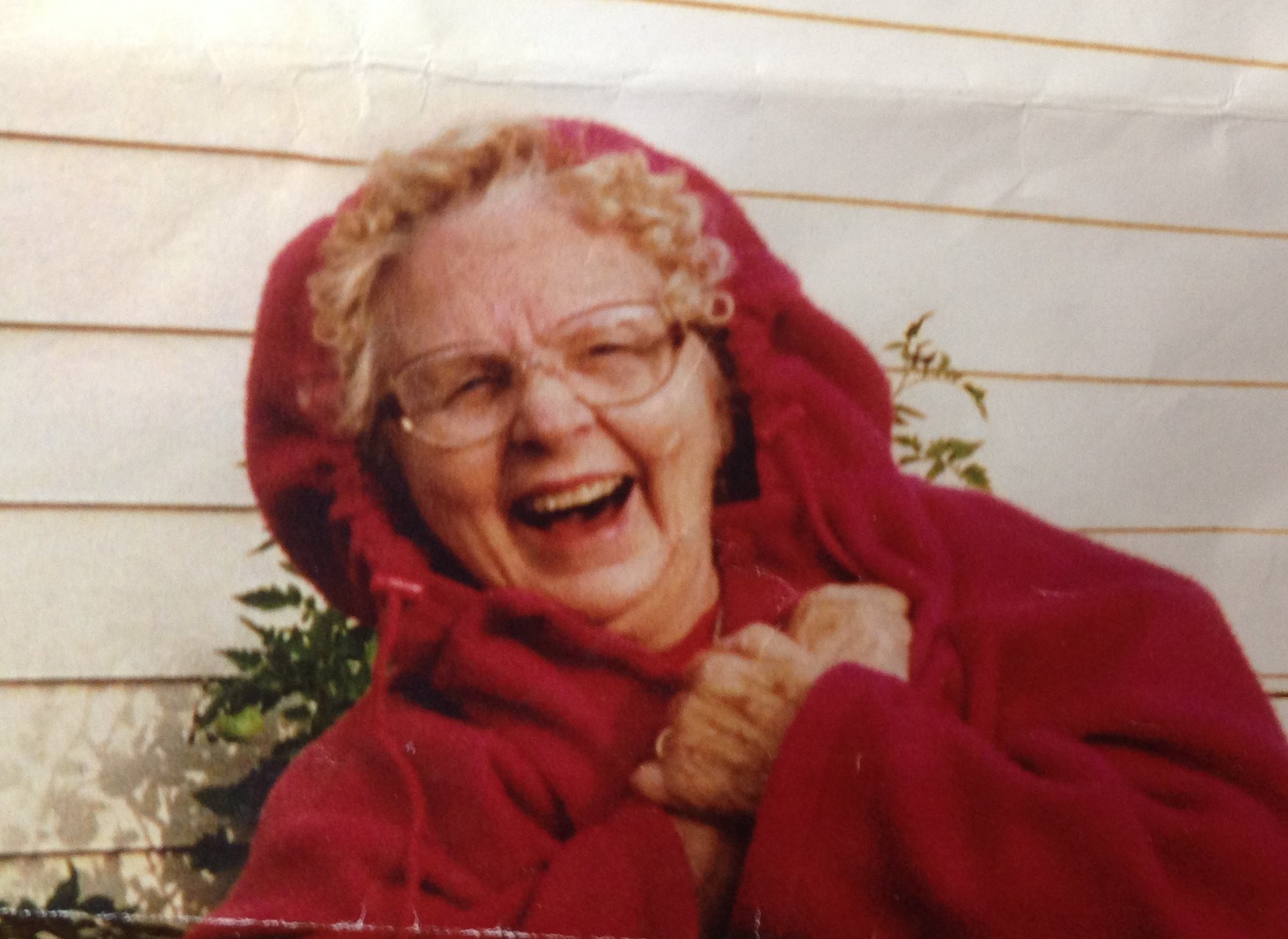 The world's best grandmother! At least to me.
Here she is taking one of the first "selfie" photos…she was way ahead of her time!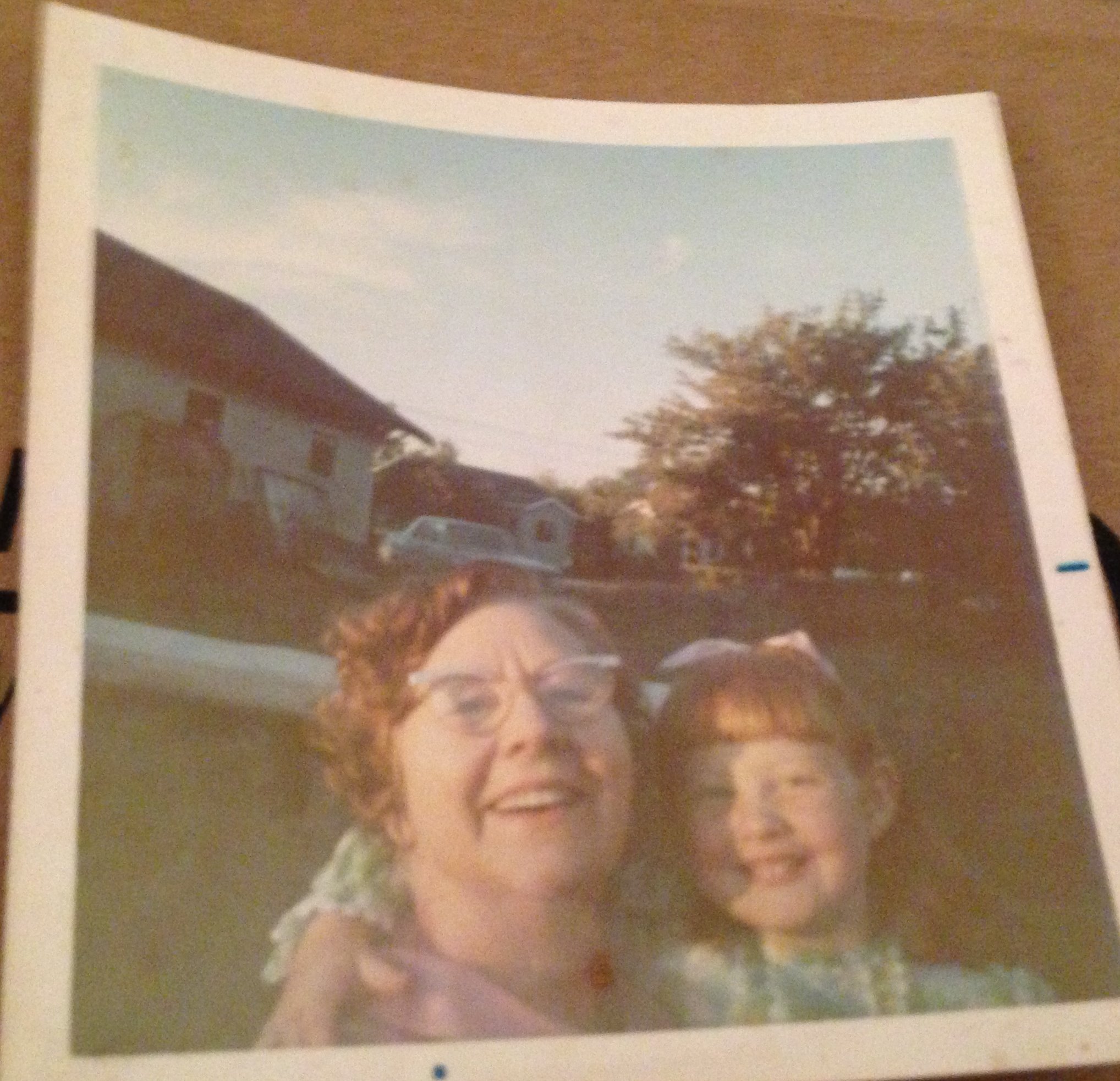 Thanks for reading my ezines! I appreciate it!
Happy eBaying!
Lynn
---
Lynn is an experienced eBay Power Seller, author, and teacher. If you want to know the eBay tips, tricks, and tools that Lynn uses for buying and selling at an online auction click here.
Some links in my emails to you may be affiliate links. You can be confident that I only partner with companies that I fully stand behind.