Hi!
I can't believe that it is already the end of June! So much has happened in the past three weeks. First there was baccalaureate and then Graduation. Houston actually graduated and with honors—meaning he had over a 4.0…way to go Goose!
Praise the Lord! My mom, dad and brother were here for the celebrations. Here is Houston at baccalaureate with my mom and dad.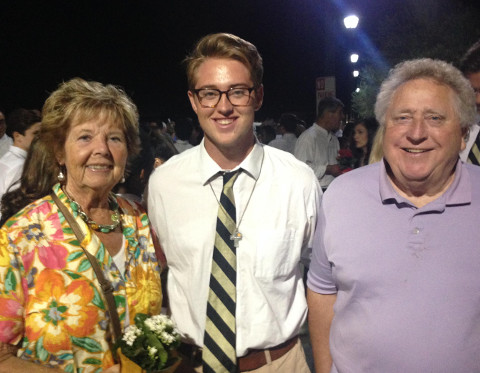 But before I get into all of the graduation details, we had better start this ezine off with a score. Check out this program from a musical that sold for over $50. I paid 25 cents! Don't pass up paper goods or ephemera as they are properly called.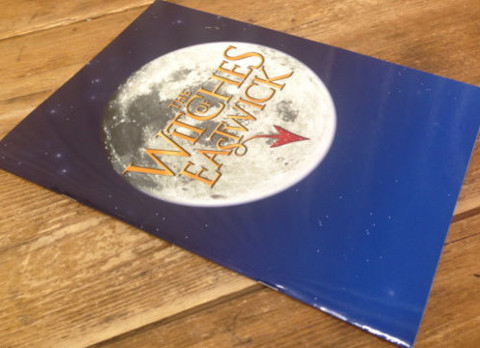 Click here
 to see this auction.
Do you remember all those chickens that I bought in the last ezine for $100? Well, Mo has decided to attack them with a vengeance and sell enough to at least cover my cost of goods. Check out one of the new listings here.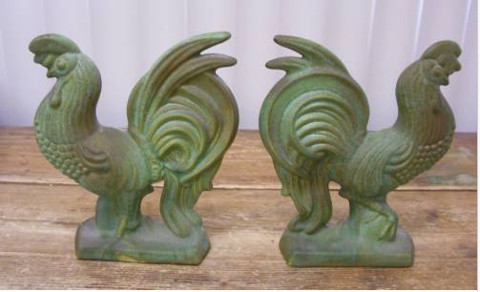 Click here
 to see this auction.
Seems like the roosters may bring more money than the hens, but who knows. Indiana has her eye on quite a few of the roosters because she is an avid watcher of Rhett & Links YouTube show "Good Mythical Morning" and they use roosters at the beginning of the episodes.
Here is Indiana with two of the roosters I took home for her. I do believe that is Rhett and Link in the background…she is a huge fan! If anyone knows them please tell them about their biggest fan Indiana 

.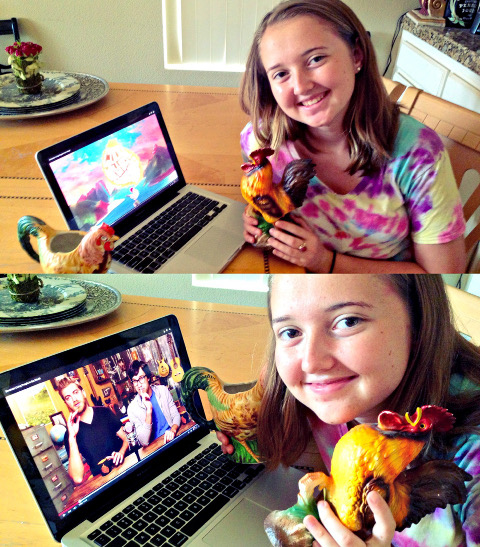 I was out thrifting with my mom during the whole graduation extravaganza week and I found 14 Mikasa dinner plates for 99 cents each in the pattern, Magical Meadow, which totally reminded me of Rhett and Link's "Good Mythical Morning". I quickly researched them on my phone and realized that they went for $39.99 each on Replacements. A Must Buy. Check out our dinnerware series here for more Must Buys.
I listed them at auction and was very happy to sell 6 of them at auction for $120.00! Good Mythical Magical Meadow Mornings to me!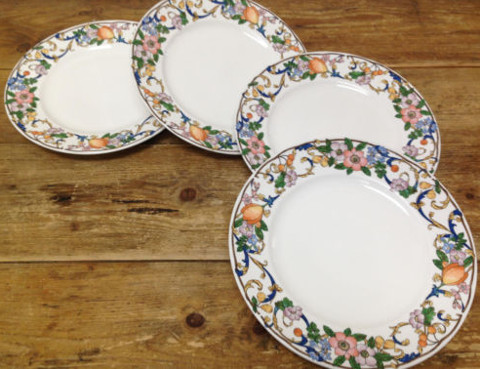 Click here
 to see this auction.
By the way, Rhett and Link are HYSTERICAL and I actually enjoy watching their show as well. One of my favorite episodes is "Will it Deep Fry?" Although, I must say watching it is a HUGE time waster.
Speaking of time wasters, this month's challenge for the Queen's Court was FOCUSED listing. What this means is that members would log in to the forums to let us know how many listings they got done in a specific period of time.
This challenge encouraged all of us to turn off the cell phone, stay away from social media and concentrate on listing for short periods of time, even 15 minutes to ½ an hour and see just how much can be accomplished! It was a huge eye opener to the daily distractions many of us deal with as stay at home businesses.
OK, let's get back to graduation. Here is a photo of me, Houston and Indy after the ceremony. It was a great day!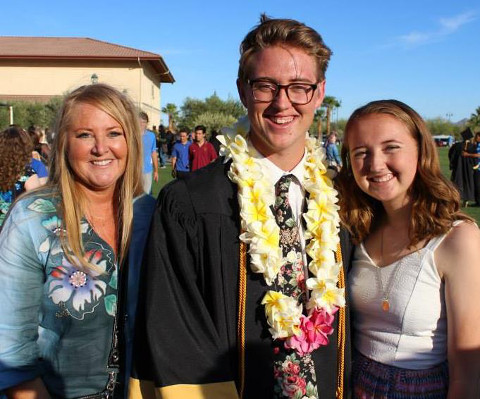 My brother even made it on time. In our family we have a saying "Lee o'clock" and this means that just when the food is being placed on the dinner table or something important is beginning, my brother will arrive just in time (JIT).
Well, I called my brother at 2:45 on the Saturday of graduation and he was still driving. Graduation was to start promptly at 4:00 pm with the doors being shut at 3:45 pm. I asked him where he was and he said "on the 60 freeway". That is a very vague answer 

.
I was like "are you kidding me?" he said "I have plenty of time because it doesn't start until 4:30". Uggghhhh! Well, my mom, dad, Indiana and I left for the school and hoped for the best.
At five minutes to 4 o'clock he texted me to say he was in the parking lot. He ran to the Berger Center and I met him at the door. I showed him where our seats were and I am not kidding…Literally, the second he sat down they started to play Pomp and Circumstance. You don't get any more lucky or JIT than Lee Dralle.
Houston had invited his favorite teachers from over the years to the ceremony and three of them attended. It was very, very special.
Mrs. Cox, his 2nd grade teacher was there and she brought a very special gift. Copies of his writing that she had been saving for over 10 years to give him at his graduation. It was so touching! Guess what? His dream in life was to become a baseball player and play for the Seattle Mariners. Too cute!
Here are my mom, me, Houston and Mr. Tony Harvey (his 7th grade social science teacher and a sweetheart) looking at the papers.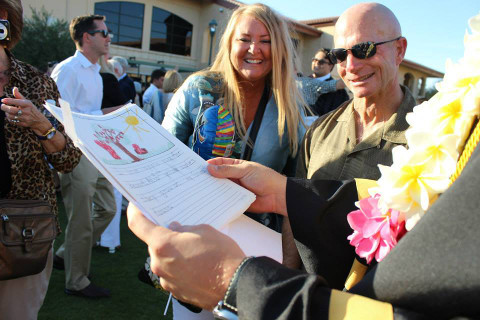 Here is Houston with Mr. Harvey and Mrs. Cox.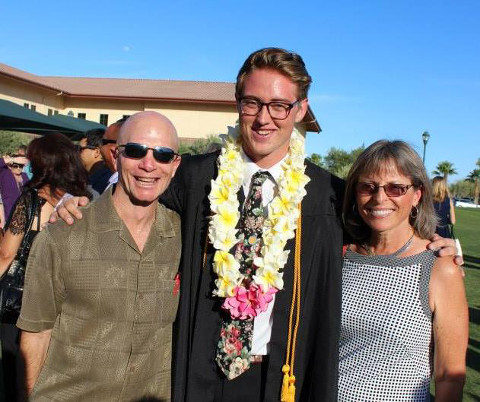 In addition to those two wonderful teachers attending, he and Indiana's 5th grade teacher Wendy Jonathan was also there with her husband Sabby. Wendy and Sabby are USC alumnus and I have known them far longer than the first day we walked into her 5th grade classroom for Houston to meet his teacher 

.
It was super special for them to attend and even better, they had seats reserved right behind Houston since Sabby is our city councilman!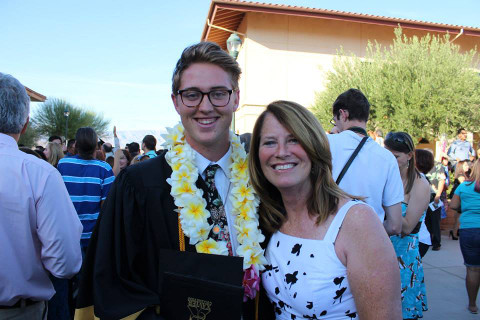 It was a super day and it was followed by a fantastic graduation dinner at Morton's Steakhouse. Lori (Garage Sale Lou's) wife and Mo also joined us.
Here we are during dinner. At Morton's they always take a photo of the table but isn't it funny looking? It almost seems like Mo and Lori are not in the same room!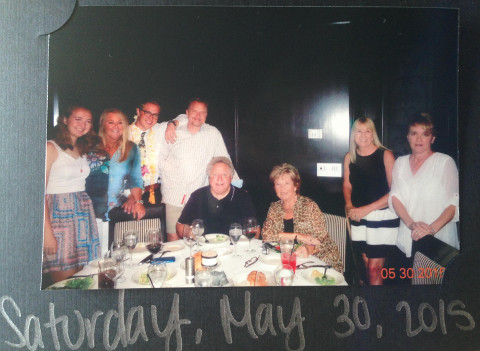 Speaking of tables and dinner, leads me right into the coolest score of the month for me! I bought a vintage chrome kitchen table back when I lived in Bellingham for $50 at a garage sale.
I used it in our antique store for display and then later in my house. Our new house is not as big as the last one so I decided to sell it. But, keep in mind I still LOVE this table and it was really hard for me to part with it.
Check it out here.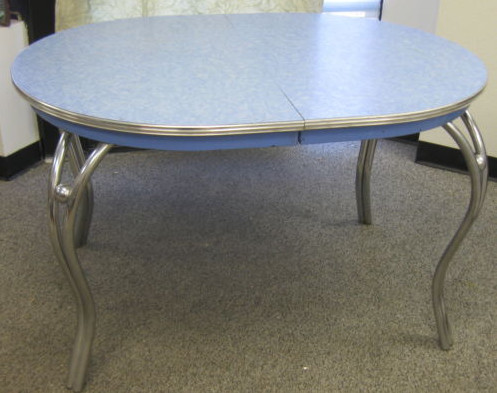 Click here
 to see this auction.
But there were two things that made my parting with the table OK. 1. I got almost $700 for it and 2. Check out the RETRO kitchen where it will be living. Seriously? How awesome is that?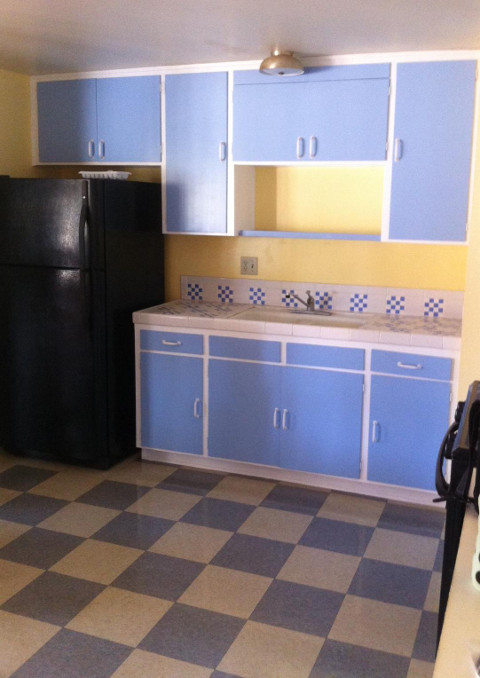 After all the craziness from graduation quieted down, it was time to get ready for eBay Radio on June 16th in Las Vegas. Indy and I worked like crazy on the powerpoint at the office while Houston shipped for me.
While Indiana and I were working on the ppt, she came to a slide that said "there is no free shipping". I said to her "what are we going to use for a photo" and she had an idea.
Here is a photo that she staged with Houston who was right across from us shipping and that we actually used in the powerpoint presentation.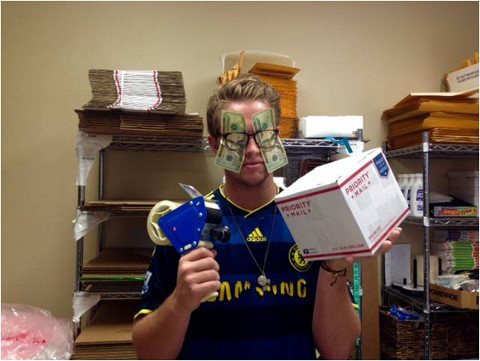 Just remember, there is NO SUCH THING AS FREE SHIPPING.
eBay radio was a BLAST as always! The kids went with me and so did Mo. A big shout out to Lee, Griff, Melissa, Elisa, Betsy, Jon, Donna & everyone that makes it possible! WE LOVE YOU!
So in standard eBay radio procedure and since the kids were there, I must start out with a photo of us with Griff.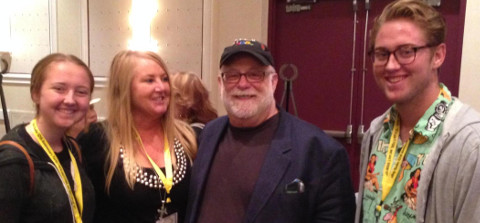 And here we are all are years ago. This is the oldest photo I could find of the kids and I with Griff. I am guessing it was 7 or 8 years ago but am not sure.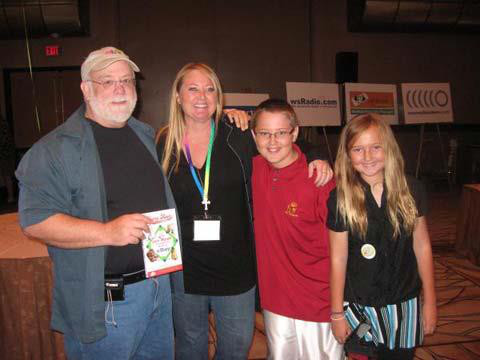 The first day we arrived in Las Vegas just in time to hear the VP of Pinterest speak. It was awesome. While we were listening, Houston actually opened a pinterest account and started a page.
Here they are at the conference. Mo is in the background and does not look happy. She actually looks "Pinterested off".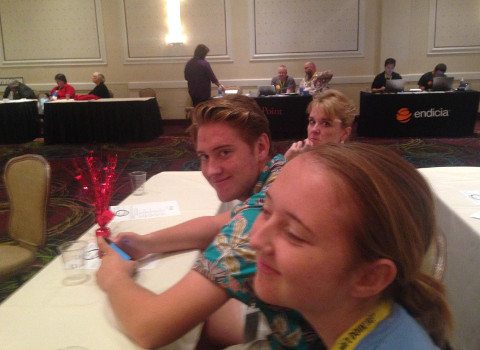 During that presentation I actually sold a shirt from the BNP Paribas Tennis Tournament Indian Wells at auction. These shirts were donated to local thrift stores after the March event but were priced at $10 each. Too high! I waited and waited until the price came down. Finally, I was able to buy about 14 remaining pieces for $2.50 each. Patience is a Virtue!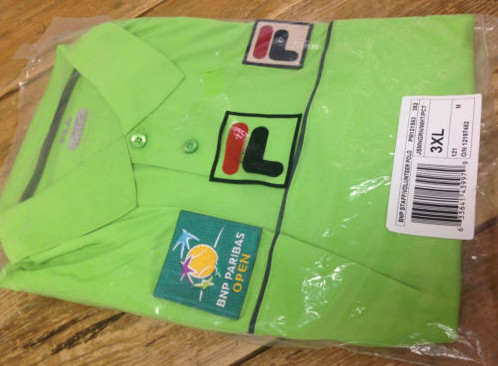 Click here
 to see this auction.
After that Mo and I got dragged to Frankies Tiki Bar with Jason and his crew. Yikes! But so much fun!
Here I am with Jason and Audrey Tracy from eBay at Frankies.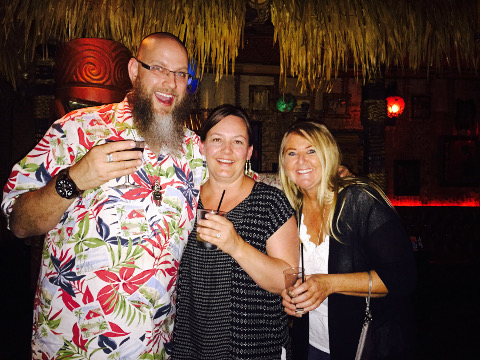 OK time for another score. On our way to Las Vegas, we stopped in Yucca Valley at a thrift store and I found a stack of Noritake Royal Orchard Plates for $9.99. Yes, just $9.99. This is a score in progress!
Check it out.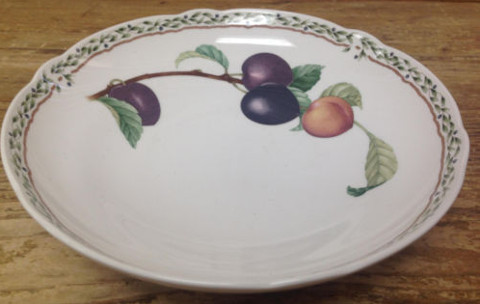 Click here
 to see this auction.
After Frankies Tiki Bar, it was back to Bally's for the Meet and Great. Always fun. Check out Jason and Will from Worthpoint behind all of the Queen's Court Members.
At that mixer, I got to reconnect with Marc Gorlin from Kabbage. He had taken a leave from Kabbage to start a new company called Roadie.
Here are Marc and I at my eBay LOL event back in March of 2011.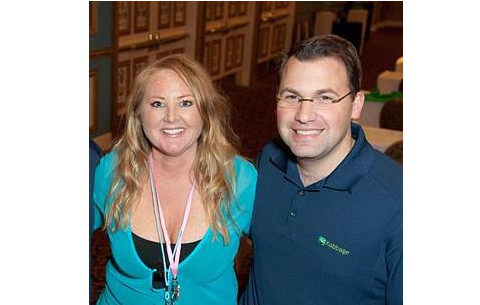 As he was telling me about Roadie, I realized I had already heard about it on NPR or another station. I couldn't believe that he was the same Roadie that was modeled after UBER. You could drop off hard to ship items at a Waffle House or other public location and pay to have them carried cross country for a fraction of the shipping cost. Here is more info from Roadie.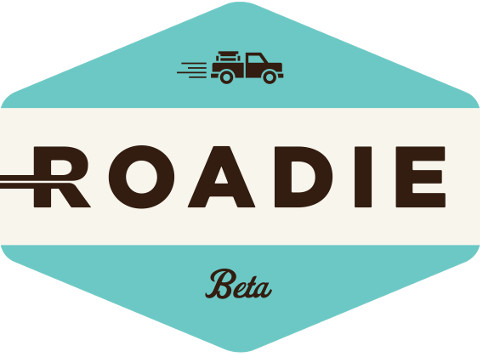 Bought something on Craigslist and don't know how to get it? Need golf clubs in Charleston by tomorrow? Chances are, for about the cost of gas money, a Roadie driver can lend a helping hand. No bidding or bartering. Just create a Gig and we'll connect you with someone who's headed in that direction. Need to send something out-of-the-box? The Roadie app isn't just the best way…sometimes it's the only way!
Join Roadie using this referral link to get a $10 credit on your first Gig.
---
Think of it as carpooling for cargo.

Forget the styrofoam peanuts and packing tape. A trusted Roadie is the next best thing to driving it there yourself.

It's safe and fun!

Roadie drivers know you love your stuff, so they do their best to treat your precious cargo with care. Just in case, we insure every Gig up to $500.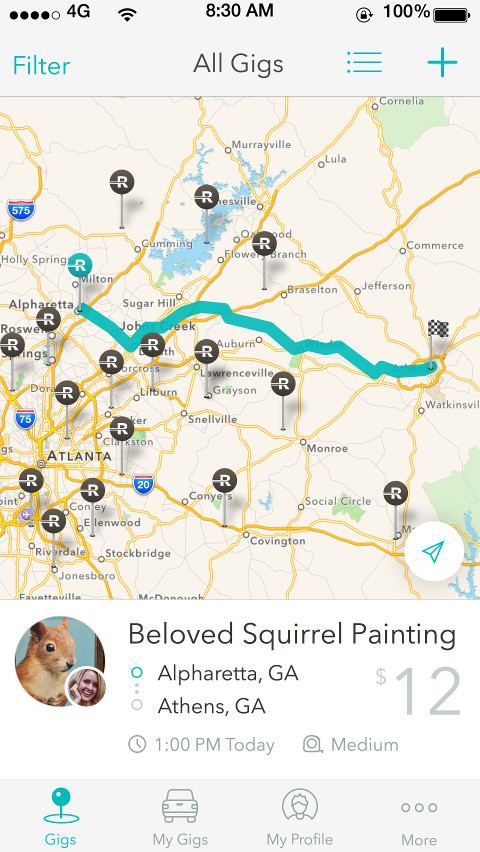 I am super excited for this new option to sell large items across the United States. Congratulations to Marc! Super smart dude.
The next day I spoke and it was super fun during the Q&A because Indy and Houston grabbed microphones and ran around the studio (oops eBay radio) audience fielding questions. They were such a hit that one of the questions was from Jason, "Hey Lynn, Can I borrow your kids for our presentation tomorrow?" For sure!
That night all the Queen's Court members who were in town plus their spouses (Louise & Herb, Diva Dawn and Diva Dude, Nancy Nelson & Holt) and those without their spouses (Marianne and Mandicrafts) in addition to Eric Nash, Joel Elad, Jeff Terrell and Audrey Tracy from eBay all met up at Carlos and Charlies before the Worthpoint bash.
Check it out!
The next day we listened to awesome presentations and tried to get some listing done. Here are Houston and Indy on the floor next to our table during that day. It reminded me sooooo much of the old days when I would travel (started when I was 6 years old) to antique shows with my grandmother to help and be so exhausted that I would take naps under the clothed tables. Those tables looked just like these ones 

.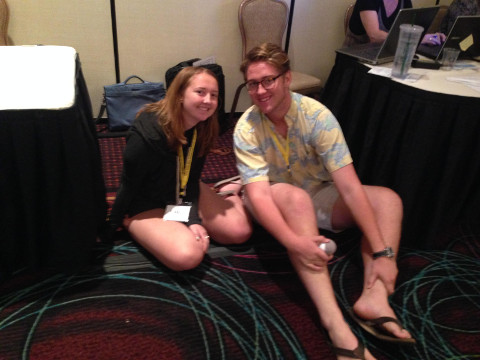 In the background you can see Mo listing. One of the items she listed there is a shot glass that is up to $31.00 as I write this ezine. The auction will be over when you read this so check it out here and see what it actually sold for. Pretty cool!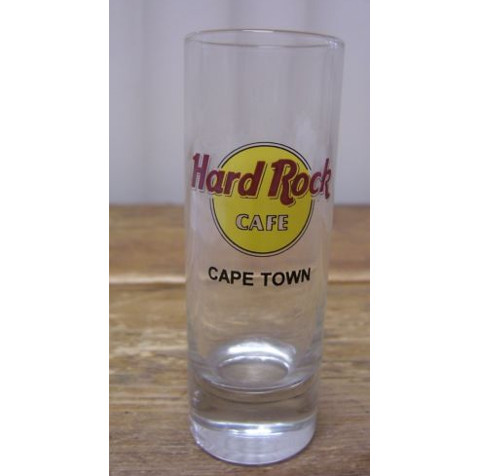 Click here
 to see this auction.
After eBay radio wrapped up we all headed to Jason's house to participate in his AWESOME new youtube show "Thrifty Business with Jay & Nay"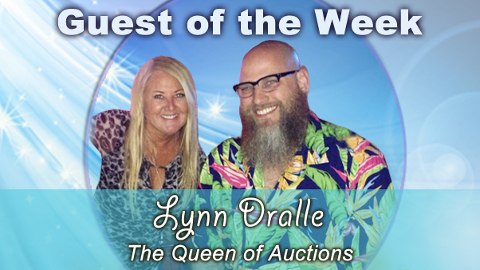 You can check out that episode here.
During the episodeI share one of my scores. Here it is again.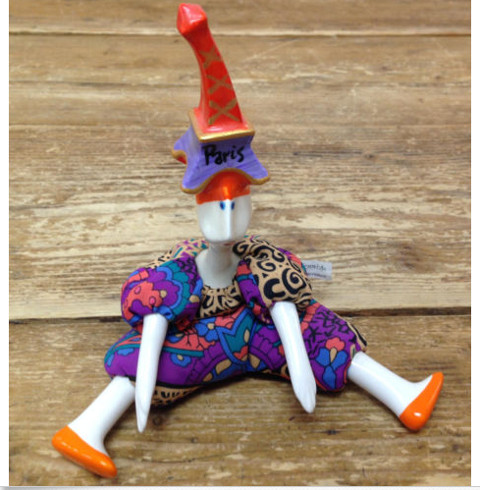 Click here
 to see this auction.
Can you believe that this broken doll sold for over $100 and was shipped overseas? Seriously, gotta love eBay and Jason's new show!
Getting back to scores, check out this flatware that I just sold for over $70 and it went to Korea. Pretty awesome!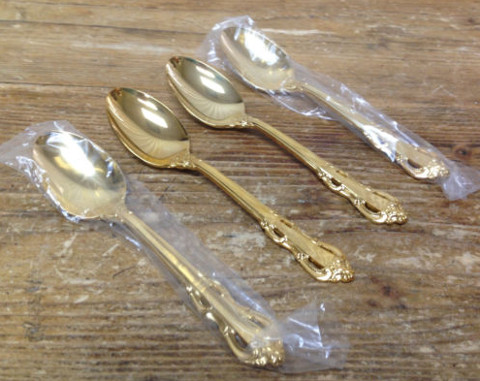 Click here
 to see this auction.
---
Don't miss your chance to get
Cash From Cutlery
Before the Price Goes Up
Tomorrow Night!!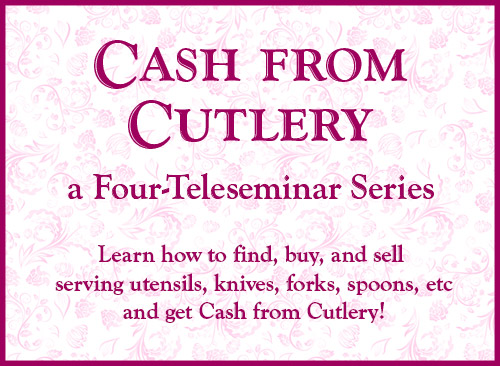 I'm super excited to let you know that Cash from Cutlery has already helped a lot of you !
All of the calls in our Cash for Cutlery series have taken place. Yipppeeee! And they were AWESOME. The best news is that they were recorded for you to learn at your leisure. This training series turned out to be more than I even imagined it could be! Now's the time for you to join in and reap the benefits of adding this awesome profit center to your eBay business. Our price is going up to its regular price on Friday, June 26th at midnight.
Check out some of the comments I received:
---
"Lynn – I just finished listening to the last cutlery call and it was OUTSTANDING! So much fun with you, Mo and your Mom all being there! I've thoroughly enjoyed every session and learned so much! – Pam Clayton"

---

"Lynn – Cash from Cutlery was a WONDERFUL series — I learned so much! Thank you so much for all that you do! Take care – Mindy"

---

"Congratulations on a stimulating and successful teleseminar series. A big thank you for all your hard work! Lynn, you make everything fun! I Learned a lot Thanks! – Fran Rawden, Vermont"

---

"I wanted to let you know that since your Cash for Cutlery calls started I have sold 9 pieces of flatware with the help of your GREAT methods! So I am off to a great start with flatware. Thank you! – Melanie Gray"
---
To help more of you afford this training, Lee and I decided to offer a 3-part payment plan before our final price increase. This series will be going up to its regular price at midnight on Friday, June 26th.
If you order now, you can pay in three payments. Click here for the installment plan. Or, you can click here to order now in one payment.
Wow! That made me feel great and so happy that I poured my heart and soul into our teleseminar series, "Cash from Cutlery". The price is going up on Friday Night, June 26th at midnight. Don't miss out! When I emailed Sheila to ask if I could use what she said as a testimonial…look what I got back 

.
"Of course! You may also add that having listened to the webinars so far has increased my enthusiasm for selling in general. Sometimes I think I get a bit jaded when I'm plugging away on my own.

Seeing your success makes me realize that I can do it too. Since last week's episode I have set up some email alerts and I have even got a silverplated set from a consignor that I may buy outright. So I am going to practice what you preached in the last 2 episodes!

In addition, I have sold some Oneida Community Frostfire forks that I listed and sold since your first webinar. That's the 2nd lot. First sale of 3, and then this sale of 2!!

Sheila xx"
But why are we calling it Cash from Cutlery? Cutlery is what flatware is called in Europe…the origin of our flatware, silverware, and all sorts of eating utensils…whatever you want to call it…Cutlery is the original western word!
In the past 90 days on eBay I have sold $2,785.49 in cutlery/flatware. This translates to $928.49 per month.
To recap the benefits of selling flatware/cutlery:
You invest much less money when purchasing flatware
Cutlery is faster to list than dinnerware
Flatware takes up less space
Flatware is a breeze to ship.
After my kids both leave for college, I am seriously considering focusing on flatware. It is a joy!
The Flatware Success eBook is one of our top-selling and most helpful tools of all time; I am really happy that it has done so much to increase your bottom line profits.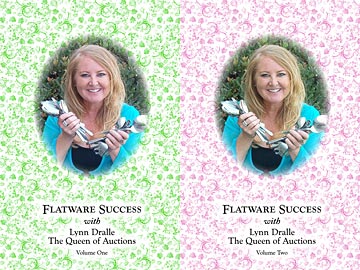 Since the flatware eBook came out in 2011, there have been major changes to my system of listing and selling flatware. It has evolved and improved over the past years. The improvements include CHANGES to:
Brands to always buy
Tricky brands
Brands to never buy
Research and new sources for doing so
How to structure and strategize your listings (this has completely changed)…Markdown Manager, Best Offer, etc.
How our flatware selling strategy has changed with eBay's new defect policy
Shipping pricing, materials and methods
My new audio and slide series is seriously the BEST thing I have done in a while. I have poured my heart and soul into it and I think you are CRAZY to not buy it at the current price. But that is my opinion. Reserve your spot here before the price increases to its regular price on Friday night, June 26th at midnight.
Check out this email I got from Denise with the subject "So excited!!!" as soon as we announced this new series….
I was listening to three of the four calls from the "Dinnerware to Dollars" series driving a U-Haul truck from Indiana to Florida and I was thinking the whole time, "Man I hope Lynn does this same format with flatware!!" And WA-LA two days later here is the email I have been waiting for!! I hope I am one of the first to purchase your new "Cash to Cutlery" series because I was so psyched about your "Dinnerware to Dollars" series!! I would tell everyone, DO NOT HESITATE TO BUY ONE OR BOTH OF THESE SERIES, AS THEY WILL PAY FOR THEMSELVES IN ONE SOURCING TRIP!!! I love the simple format of these series- What to buy, what to stay away from and how to price them!! Thanks Lynn for another winning series that I can't wait to listen to and profit from!!
Denise Hunter!!
The current price for "Cash from Cutlery" is a bargain and a fraction of what I sell each month in flatware. Join me in enjoying the benefits of this fun and profitable eBay category.
If you order now, you can pay in three payments. Click here for the installment plan. Or, you can click here to order now in one payment.
Time for another score. This is an awesome MCM (Mid Century Modern—thanks to the Queen's Court for that acronym) Bagel and Lox tray that I bought at an estate sale for $10. Check out what it sold for! Gotta love Lucite, MCM and the Queen's Court.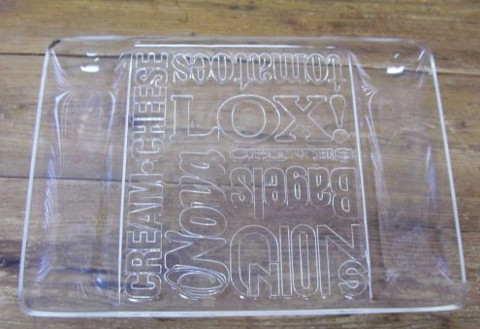 Click here
 to see this auction.
Speaking of the Queen's Court, It was so much fun to hang out with several members at the eBay radio party! I spent quite a bit of time with Louise and Herb so asked them if they would please be my featured member this month. They said Yes!
Here are Herb and Louise.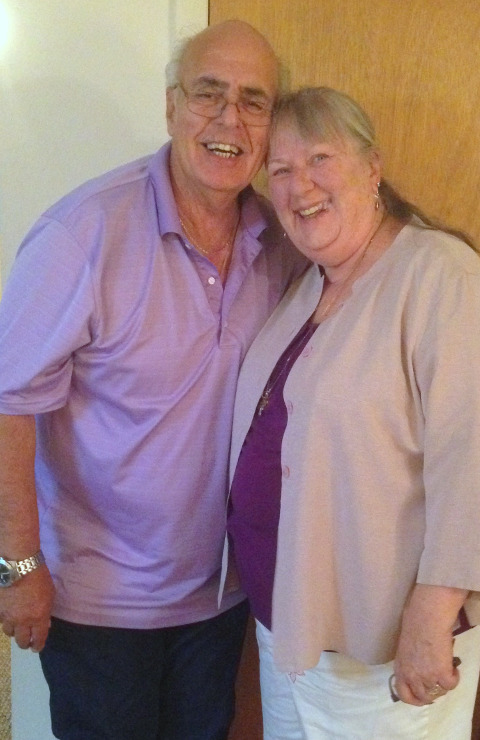 Here is Louise's story.
"We have been on eBay since 1997 but started selling in 2000 when we moved from New Mexico back to the house I grew up in, on Long Island, NY to help my mom. We inherited the house and 60 years of 'stuff'. In June of 2005 we moved back out west to Colorado and now we had a semi load to sell. In 2008 eBay Live in Chicago was announced and there was special seating and perks for PowerSellers. We were determined to go as PS. It was accomplished and have been power sellers, top rated and top rated plus since the beginning.

Next events we attended were the Kansas Jubilee. From the huge thousands at Live to the smaller 100 attendee events we were wooed by the feeling of community. In 2008 another seller and I started a sellers group in Colorado Springs. I dropped out but took it over in April 2012.

Now we have the meetup group in Colorado Springs and a smaller, newer one in Albuquerque, NM. (Lynn here I will be a guest via skype at Louise & Herb's meetup group in Colorado Springs on Sunday, October 18th at 12:30 pm….Boy does Louise plan ahead! She is AWESOME).

In Jan. we opened a 2nd ID in Gene's name to disperse some of the 900 listings so could reduce fees for the 400+ over the 500 free listings. "Gene's" account is more oriented toward man cave, bar, jewelry, neck ties, mugs and more. Our main ID has the collectibles, ladies scarves, sun visors, umbrellas, eBayana, lots of other stuff and of course our over 200 different rubber ducks.

Recent sales – from main account: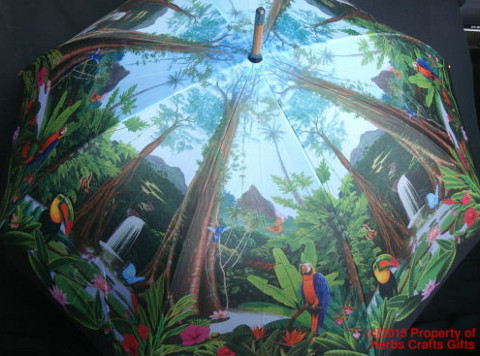 Click here
 to see this auction.
We buy the umbrellas wholesale.

From Mom: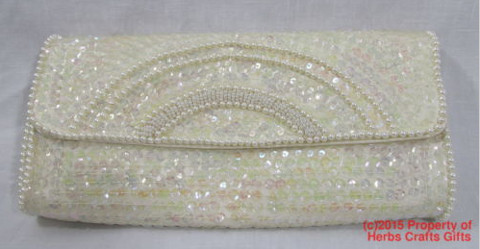 Click here
 to see this auction.
From Gene's Treasures: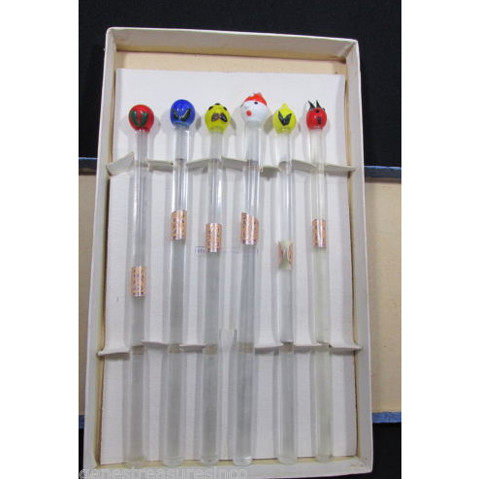 Click here
 to see this auction.
This item was from Mom's house so we have no investment in these and one of the things we felt like it was good to sell and move it out rather than wait for a higher price. Trying to build feedback in the new ID to get over 100 also.

Thrifted for $2.00: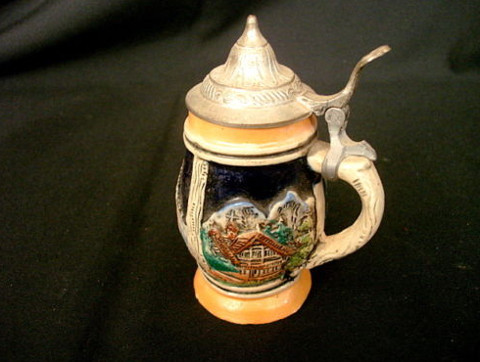 Click here to see this auction.

Gene is jokingly and lovingly called my shipping department, but in fact he does so much more. Early on we decided that we would pretend I was working outside the house in a 40 hour + job. So he runs the house and does most (if not all) of the chores I would be doing if I were not working plus the shipping and inventory storage. We found a gal who cleans for us every two weeks. Besides cleaning, it forces us to put things away that seem to creep out of their home.

Gene was retired medically from an accident and I had to take care of him so I quit work. Now with social security, eBay makes our life comfortable. Once we have listed / sold all of what we have, we have ideas for other product lines, which is a main motivator to get all this stuff gone.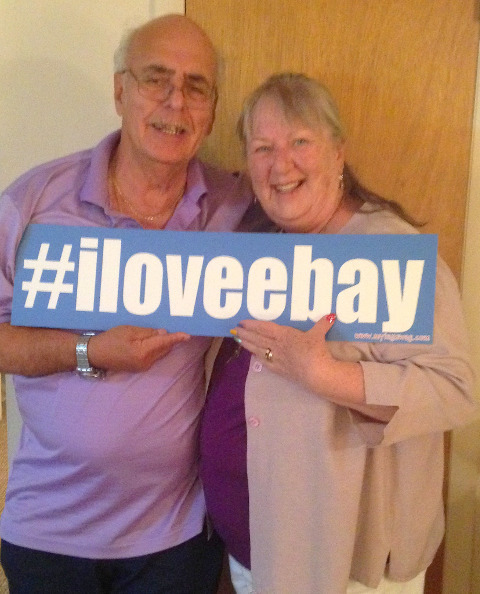 Thanks Louise! I am exhausted just reading how much you two accomplish. You really are the dynamic duo! Thanks for sharing. Loved hanging out with you both!
I wanted to wrap this ezine up with an overview of what I learned at eBay radio. Luckily, Cliff Enico did that for me with his weekly "Succeeding in Your Business" Column! Thanks to Cliff for sharing 

Here is it….
OK, let's end this ezine with a potential score. I paid $5.00 for this at a thrift store. I know that sounds like a lot but I think it may do well and if it doesn't sell at auction, I will raise the price to $49.99 or higher in my eBay store. Remember, try and always make 10 times your purchase price!