Hi!
A few crazy weeks and a lot more fun stories! It's been a blast with my mom here but still super busy .
Let's start off with a score! This wonderful piece of art was one of the pieces we used during our what to buy segment held during our Executive Summit in October of 2014 and it finally sold for a best offer of over $200! Yippeee Skippppeee.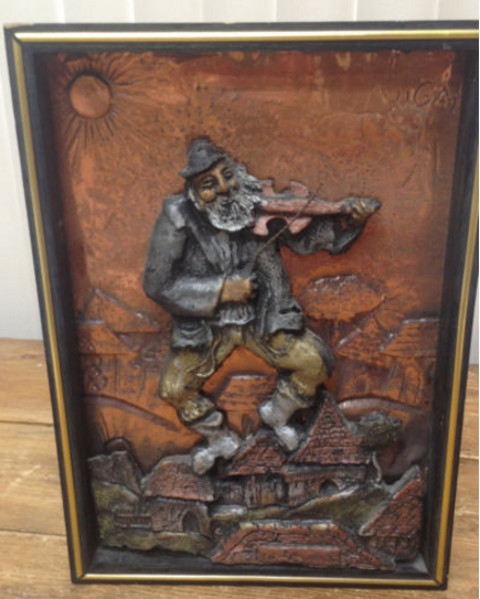 Click here
 to see this auction.
My mom flew into town on May 4th, just in time for Mother's Day. We ended up taking out one of the yacht club's new boats and having appetizers with one of Indy's good friend's Hayli and her mom.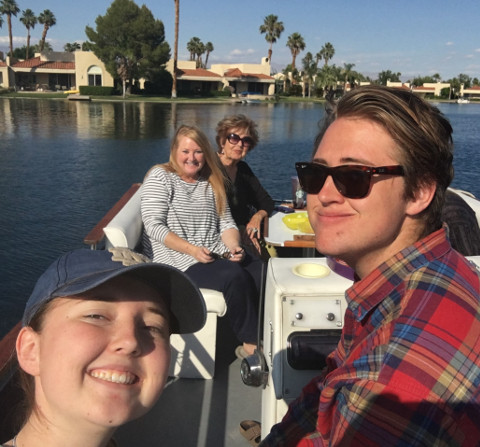 Mor Mor is recovering from hip surgery but she kept up with the three of us like a champ. On the Friday before Mother's day, Mor Mor and I went to an estate sale very early in the morning. OK, I love having my mom in town but seriously she wakes up at 6 am and is ready to go….I am NOT a morning person but at 7:30 am we left the house for the estate sale.
Well, I am certainly glad that she encouraged me to get up early for one of the sales. I can't believe I said that out loud. Check out this Lalique piece that I bought. I think I paid about $5 for it. It didn't sell at auction and I honestly don't care. It is a beautiful piece that will only increase in value. Check out what I have it priced for in my eBay store. I welcome all "reasonable" offers!
Click here
 to see this auction.
At a different sale that same day I found a beautiful flashed ruby red glass plate with pomegranates etched into the design. I thought it was Russian but before I listed it I posted it on the Queen's Court to see if anyone could help me out with the identification.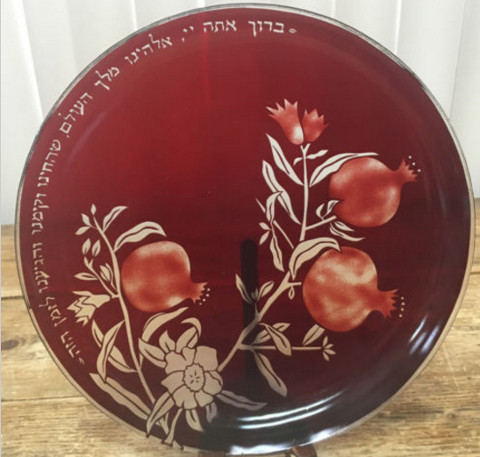 Click here
 to see this auction.
Immediately I heard from QC member Nancy Kanter (love her) and here is what she had to tell me.
"It is a Hebrew prayer. In English it translates to: Our praise to You, Eternal our God, Sovereign of all; for giving us life, sustaining us, and enabling us to reach this season. It is said at all life cycle and other joyous events. It is called the Shehecheyanu. The pomegranate is Judaism represents righteousness, fruitfulness, knowledge, learning, and wisdom. It is a beautiful plate."
WOW! Thanks Nancy! I immediately got it listed and started the auction at $99. About an hour later I got a question from an eBay buyer that said….
"Hi! Would you do a Buy it now? Please get back to me. Thank you" I didn't respond and she emailed two more times. Her final email said this…."You had just listed it, I would offer $200. I really love it and would love to get it"
I explained that we don't do bins after an auction has launched and then I revised the listing to start at $199. I felt bad for raising the price but I have to keep reminding myself that even though I pour my heart and soul into my eBay business…it is just that…a business.
And if she was willing to buy it an hour after it was listed for $200 it may be worth a lot more. Well, if you looked at the link to my listing above you can see that it did not sell at auction. My plan backfired and I lost that interested buyer. But I have raised the price and hope to find a much more interested buyer 

.
OK time for another score. Coco (QC member and friend) has been helping me list some things and also to purge merchandise from my inventory. Mo has been super busy with her other job and it really helps me out to have Coco stop in one day a week.
It was over a year ago that I was driving Houston to a baseball tournament and saw a garage sale at a house on the way to drop him off. After I dropped him off (boy do I miss those baseball days) I went back to the sale and tried to find something to buy to pay for our gas. I saw a little kid's moto cross racer outfit but it was $20. I know NOTHING about sporting goods. I decided to buy it anyway since the lady holding the sale said it had cost a lot of money when new for her son.
Fast forward to a few weeks ago. Coco listed it for me because she is a Sporting Goods expert! It sold at auction for a great price. Way to go!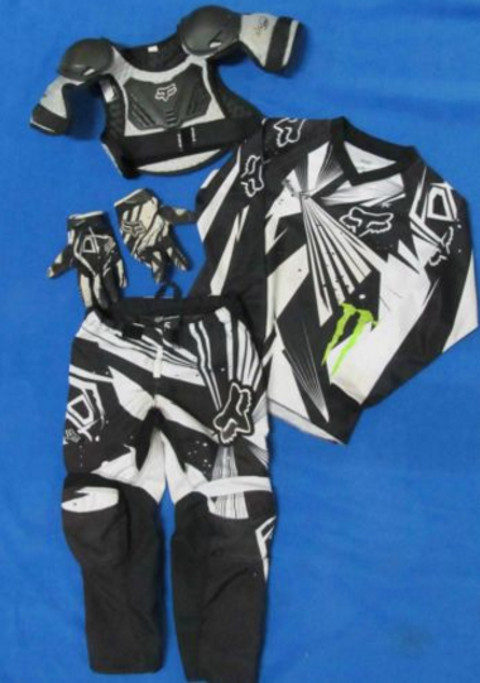 Click here
 to see this auction.
It has been interesting for me to see another successful eBay seller's strategies up close and personal in my own listings. Coco usually starts her auctions very low and knows that she will get the demand to increase the final selling price. She is lucky because her area of expertise (sporting goods) has a lot of demand.
In the antiques and collectibles business our items don't always have multiple bidders. In most cases they may have JUST one bidder….if any. That Motocross outfit got 515 page views and 15 bids. That will NEVER happen for a rare antique unless it is the "holy grail" of collectibles.
Case in point. Last week I bought an "as is" Rookwood ewer at an estate sale. It had a huge chip out of it but I didn't care because it was beyond beautiful. I was going to bring it home and put it in my living room cabinet but decided to leave it at the office and list it. I was going to start it at $9.99 or $24.99 and see if I could get over 500 views and over 15 bids on it like the motocross outfit but I knew better.
My mom and I discussed it and I knew I had better start it at the exact price I would be willing to let it go for. I started the auction at $199.99. If it didn't sell for that I would raise the price and put it in my curio cabinet and wait for the right buyer and if it did sell, I would be happy with that price.
Here is a link to the listing. It did get a bid early on and I hope it goes higher. It was actually hand painted by one of the most amazing Rookwood artists who eventually became head designer. I LOVE the HISTORY behind all of these antiques. My point being is this…even though a sporting good item may sell for a lot of money and have a ton of demand, my heart just isn't in that genre. I CAN'T make myself like golf clubs, motocross outfits and snowboards. On the other hand, I intuitively LOVE antiques!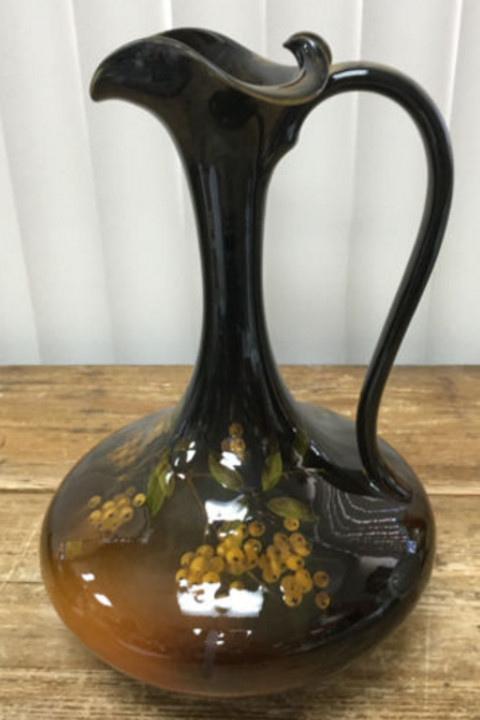 Click here
 to see this auction.
I have had some crazy fun run ins with my ezine readers lately. Seriously! Can you believe that I have ezine readers in Australia? Well, yes I do. One of them, Wayne was going to be in San Diego visiting his son this month and he emailed me back in January to ask if we could meet up. I said "for sure" if I am not super busy.
He emailed me once he arrived at his son's home in San Diego and I asked him to pop by the office to see my mom and I during one of our work days. What a treat! He was so nice, kind and sweet and even brought gifts for us. Shirts for Indy and Houston and a beach towel for me.
Here are me, Wayne and my mom in my office.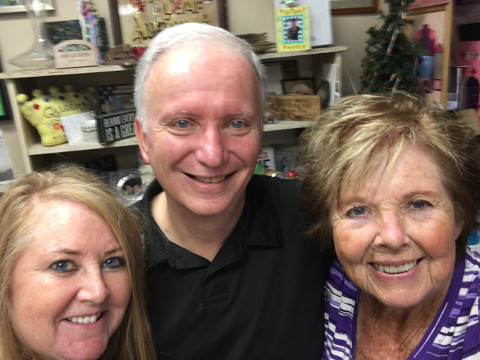 While my mom was here we got to attend a preview sale from the estate of Lita Baron & Rory Calhoun. No clue who there were but my mom knew those Hollywood legends for sure! It was super fun. I bought a bowl from the St. Regis Hotel that had belonged to them. The items were high priced and I paid $30 for that bowl.
Luckily it sold at auction but I did NOT make my usual 10x investment rule.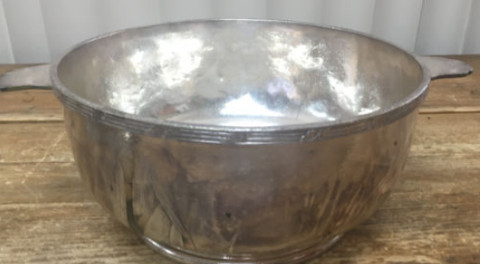 Click here
 to see this auction.
That same week, Tiki Jason and Staci were in town for a Tiki event. I am not kidding…Our lives here are CRAZY busy but so much fun 

. My mom must be happy to be back home and resting.
The first day Staci and Jason got to town we went to brunch at Sherman's Deli with Houston (the Goose) who had recently landed back home for part of the summer. It was super fun to catch up with these two characters.
Here is our after brunch selfie. Gotta love Jason's long arms.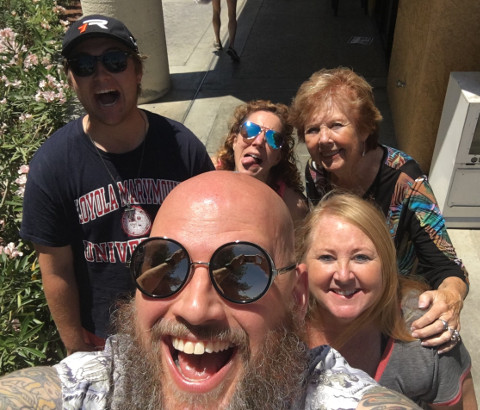 The next morning my mom and I hit some estate sales in Palm Springs on our way to the Tiki convention to hear Jason's talk on Tikis at 11 am. At 10:30 am my mom and I hit a sale very close to the convention location and the guys had some awesome stuff! I asked, "do you have any flatware?" "As a matter of fact, we do" one of the guys said with a smile. He pointed at his partner and said "He just doesn't know that we are selling it yet…shhhh…don't tell him".
It was a 20 piece place setting of Sterling Silver and he was asking $700. That was at least 100 pieces of Sterling for about $7 each. That $700 price was probably less than the melt value. I jumped at the chance to purchase it. I asked if I could leave a $100 deposit and come back after Jason's speech to pick it up. Absolutely!
I took a handful of dinner forks with me as "insurance". It is something I learned from my grandmother. When she bought something (like a desk or dresser) that she couldn't take with her, she would always pull out a drawer or other crucial piece to ensure that no one else could buy it after she left. Smart lady!
Here are some of those dinner forks now listed on eBay at prices comparable to Replacements high prices. None sold at auction but the pieces I do have add up to $6,697.55 at high retail. It is an almost perfect 10x investment. Yayaya!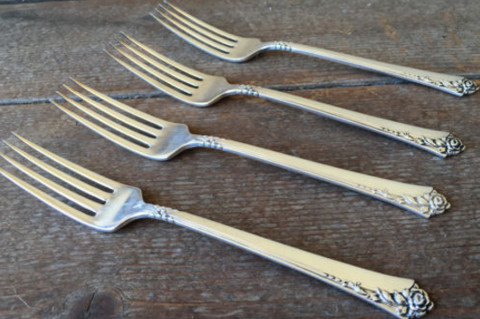 Click here
 to see this auction.
Speaking of my grandmother, I think when Indy graduates high school in exactly one year I AM going to open a home consignment store in conjunction with my eBay business and I am going to do it in (drum roll please)……Bellingham, WA. Yes, I am thinking about moving home to be closer to my parents, my sister's boys and all of my friends from growing up in a small town like Bham
Let me know your thoughts on that idea if you have any suggestions, etc. Oh my gosh, that reminds me that one ezine reader who had owned a consignment store emailed me after the last newsletter and offered to talk to me by phone and answer questions and I totally forgot. Super nice ezine reader….please email me again.
But back to rushing away from my sterling silver flatware set to hear the "Tiki Talk". Jason and Staci did an awesome job and I learned some new things! Way to go you two 

.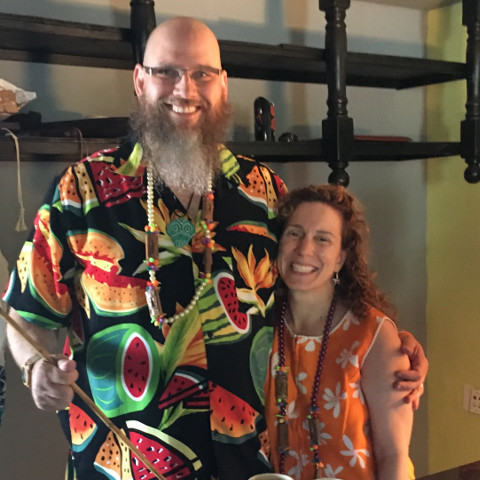 After our fun day with the Smith family and my sterling silver purchase in Palm Springs, we headed back to Palm Desert to watch Indiana get ready for prom. The Xavier school JR/SR prom was that same Saturday night and Indiana had decided to go with a bunch of her friends. She found a dress online from Forever 21 for a great price, we bought some shoes at DSW and Indy had her friend America do her makeup. Seriously, my Indy girl looks beautiful in whatever she wears but she looked especially awesome that night!

Here is Indy posing with her brother in front of our "new" door. Throughout the five plus years that we have lived here on this faux lake, I have always taken pictures of the kids in front of the front door since the lighting is always the best.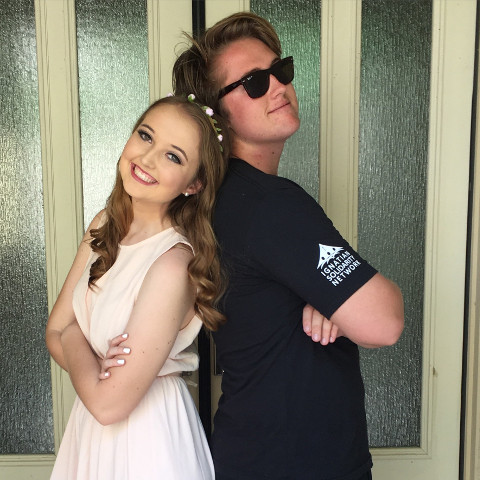 And here is a flashback photo of the kids in front of our "old" front door about five years ago during Halloween of 2011.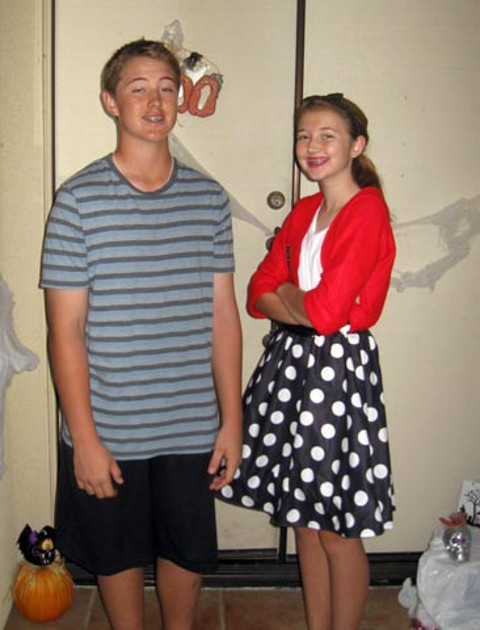 They both had braces back then. Wow, have they grown up!
Having Houston home has proved interesting….to say the least. I don't think I needed to miss him as much as I did. He eats a lot, sleeps a lot and keeps a messy room. He leaves for Spain soon to Walk the Camino de Santiago from southern France to Spain (about 450 miles) and eventually wind up where St. James is buried. I think I may be ready for him to "hit the road" Jack…..
Speaking of Jacks…the Xavier Priest, Father Jack, asked if he could bless Houston for his "Camino de Santiago" in front of his parish this past Sunday and I thought it was beyond sweet. My mom, Houston, Indy and I all showed up. Father Jack is one in a million and he asked Houston to come to the front to be interviewed.
Here is Houston being questioned by Father Jack in front of the small congregation.
As a thank you to Father Jack we invited him to our house for pizza and a boat ride. Unfortunately, the weather was super unpredictable on that particular night. The forecast called for rain and high winds. You can't take an electric boat out in a big manmade lake when the winds are stronger than your boat can run.
As Indy and I drove over to pick up the keys to the boat, Sam at the front gate handed over the keys and said "good luck". As we drove the boat to our house, it was raining. Indy said "this is not a good idea." I said "if it doesn't stop raining we can just park the boat at the house and have dinner inside."
As soon as Father Jack arrived at the house, the rain subsided. I just had a feeling that the skies would part for him  and us. Check out this photo from our evening and how dark the sky was all around us. God works in mysterious ways!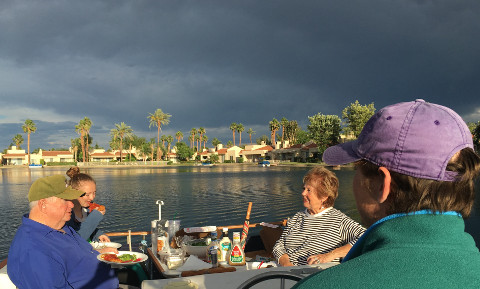 It was super fun. Here is a photo of us in the living room after the boat ride.
May has been a crazy great selling month for me on eBay. We are on track to sell about $10,000 this month. That would be one of my best May's ever! My challenge to the Queen's Court this month was to raise their ASP (average selling price). My ASP at the beginning of May (for the past 90 days) was $27.92. By the end of May I expect it to have increased quite a bit.
One reason is this set of 16 apothecary bottles that I sold in one lot for over $1,000. The buyer asked me to combine all of the items into one listing. Nice! A great way to raise my ASP for May!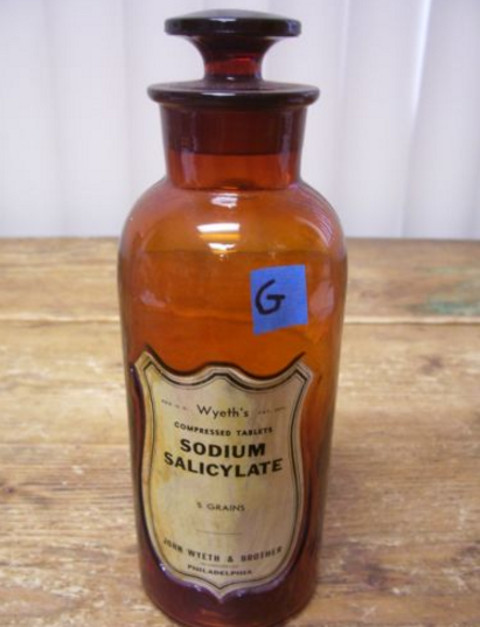 Click here
 to see this auction.
May has also been really hectic just like most months of the year and I must thank Houston for bringing home his "Magic" hammock from Pepperdine. Every night between 6 pm and 7 pm I take a glass of wine outside, read a magazine and chill. It has been wonderful and that is why I call it a "Magic" hammock. Here is Indy in the "Magic" hammock.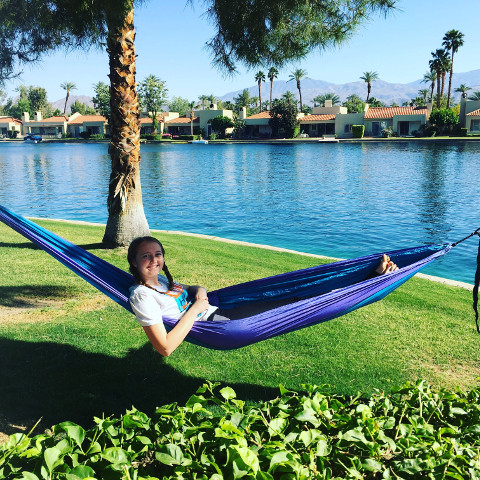 That hammock has helped to lower my stress levels. In addition, my mom did all of my shipping for the 2 ½ weeks she was here visiting. That was a huge stress reliever and time saver! We figured she probably shipped about 180 items based on this stack of isell sheets she shipped that I had her hold for this photo.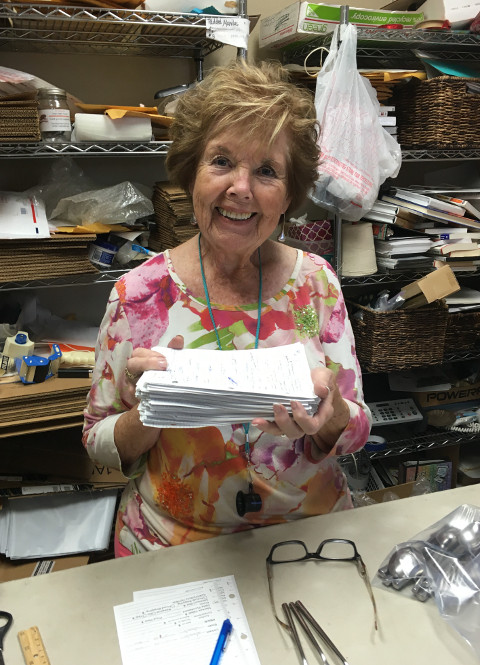 Way to go Mor Mor….who by the way…will be 80 years old this August. We plan on having a birthday party for her sometime around August 13th on her deck in Bellingham. Anyone in the area is welcome to join us and celebrate her life 

 so far…there is much more to come!
While out sourcing at garage and estate sales with my mom this past Saturday, we ran into Lori (Garage Sale Lou's wife) and decided to caravan to several sales. It was a hoot. We even got breakfast together during our travels by doing the McDonalds drive through with my mom and I in the car ahead of her and she following us behind. Breakfast with your friends but in separate cars. LOL. It still cracks us up.
At a sale right after our breakfast we ran into a lady who said to me "I know you…I read your newsletters." Wow! How cool is that? Her name was Paula and she was here in the desert from San Diego. We took a selfie but without Tiki Jason's or Houston's long arms it really didn't turn out so well.
Actually it is hysterical in all of its awful splendor. Thanks for saying hi to us Paula!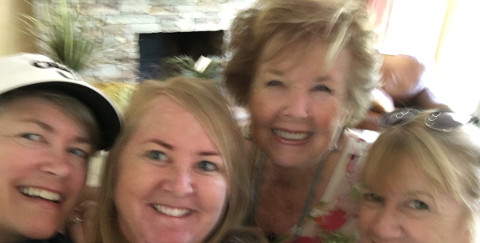 That one Saturday garage saling with my mom and Lori, I bought three flatware sets. We got back to the office and I started researching them to get them listed. It was crazy but out of the three sets not ONE of them had an actual name, just numbers. Seriously? I was 3/3 with unnamed flatware sets. Unbelievable.
I had a gold Towleset that was TWS96 (sounds like a flight number doesn't it?), a Wallace set that was W93 and a The Main Course Set that was MNF11. Here is a listing for some of The Main Course teaspoons.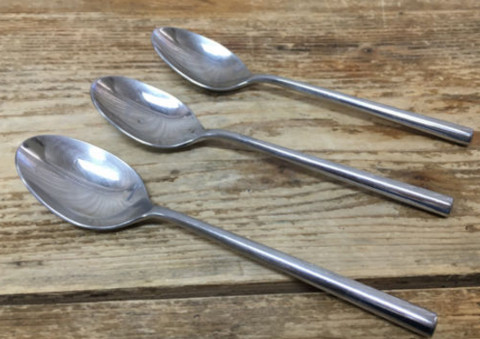 Click here
 to see this auction.
Even with just the pattern numbers these flatware pieces will sell…eventually!
A total treat for us this past Sunday was to go and see the Coachella Valley High School Honor Band perform at the McCallum Theater. Indy's best friend since pre-school and Lori's daughter Paige was performing on the flute.
Here is Paige on stage with her flute waiting to perform. I tried to draw a purple arrow to show you where she is standing. Obviously, I am not so great at drawing arrows on pictures . The Coachella Valley Honor Band played with the world famous H Robert Reynolds of USC conducting. Fight on! So proud of Paige!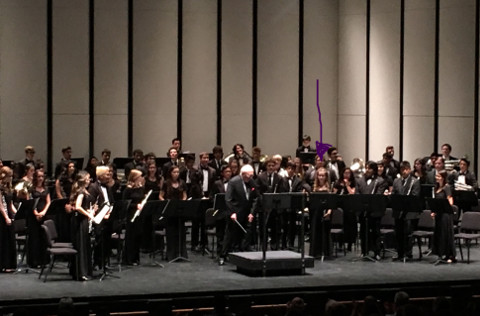 Here are Indy and Paige goofing around after the performance pretending that they are on the red carpet.
After the performance Indy and Houston left in her convertible. My mom and I happened to pull up next to them at a stop light and they had the top down. My mom was like…."quick quick get a photo" but I was driving and it was too late. They looked like they were having so much fun in the desert sunset singing out loud to a Killers song (yes that is one of Indy's favorite bands…the Killers…anyone know Brandon Flowers so that she can be introduced to him? He is from Vegas…Tiki Jason…anyone?)
Luckily that night I saw that they had posted a snapchat of their drive. Well Indy filmed the snapchat while Houston drove and it was priceless. She took the video in black and white and here is a screen shot that I was able to capture.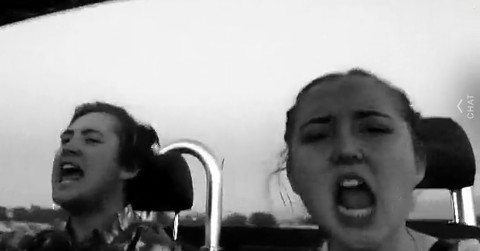 Time for some coffee mug scores. The Coffee Mug eBook was a huge hit and made quite a few of you some serious money! Yaya! One of the people was my own mother. Yes, she did read it and thanked me for this score.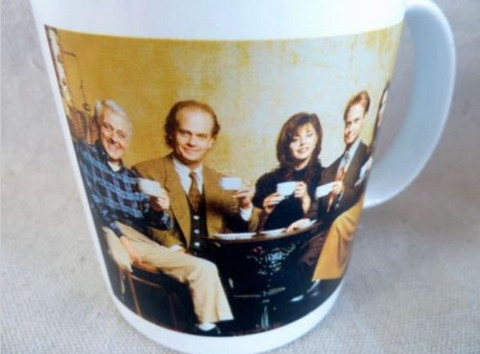 Click here
 to see this auction.
Another email I got from a coffee mug eBook reader said this…
"Thank you so very much for so much information and such a wonderful book and fun read! I have already made money back from selling two coffee mugs for over $30 each! The day after I read volume 3 I found this at a yard sale for $0.25!!! I priced a little high and I hope it will sell soon!
Justine"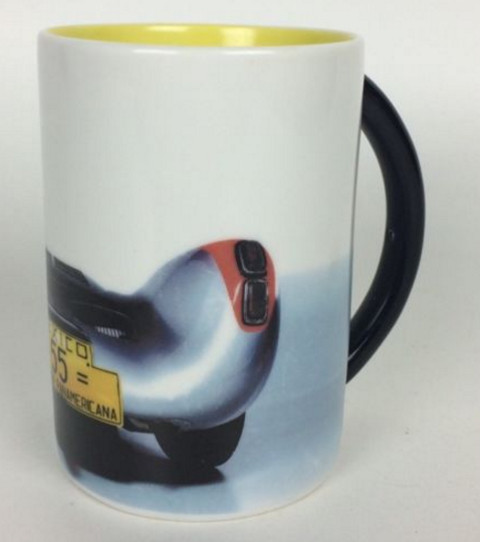 Click here
 to see this auction.
For those of you who have not purchased the Coffee Mug eBook yet it is still a great buy at regular price. What are you waiting for?
Last Wednesday was award day at Xavier. It is a very important day for the students and their parents. The students don't know if they are winning an award and neither do their parents. It is always a crap shoot as a parent to decide whether to attend. You want to be there to support your child's friends who do win awards and your child if they happen to win one but you also don't want to look like "that parent" who thinks that their kid is getting an award. Ughhh. What to do?
I made a decision beforehand. In Houston's three years at Xavier he received one award. In Indy's past two years at Xavier she had received two awards. There was NO way she was going to win another award so I decided to go because I wanted to support her friends and the seniors who were graduating.
My mom and I got there early because I had to meet with a counselor before the ceremony. We grabbed seats in the front row and (of course) Houston arrived late but we were happy to see him and so was Indiana. Unbelievably, Indy was awarded the "Committed to Social Justice Award" for the Junior Class. OK, I was a little bit proud . OK a lot proud.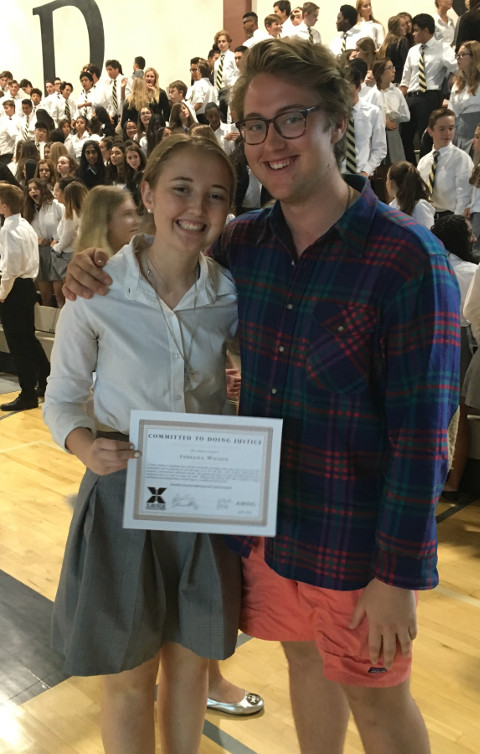 Here are Houston and Indy with her award. If you haven't noticed it yet, Houston only wears one shirt all the time. I think it is because he is too exhausted to unpack his clothes from Pepperdine or it is really his favorite shirt. I haven't quite figured it out yet but I am getting a little tired of the long sleeved red plaid shirt. Do you hear me Goose? Hello?
OK, one last score before I wind this up. Houston sold another textbook. He wanted me to list this at $79.99 in the store and I did not listen to him and I listed it at $149.99. Took a best offer today of over $100. He was happy!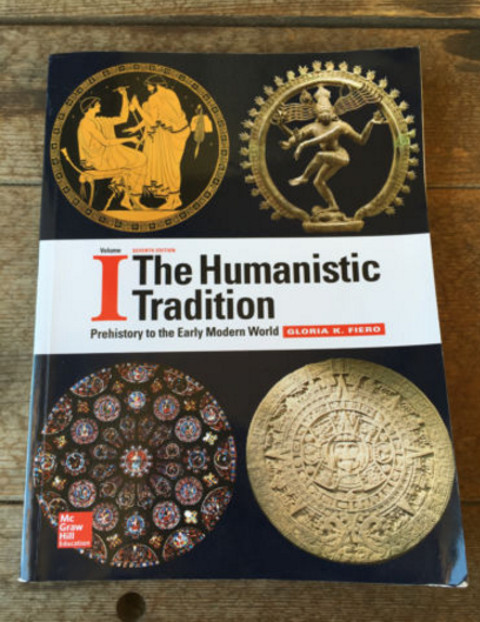 Click here
 to see this auction.
OK, one last hysterical listing. After our boat ride with father Jack, Houston came out of the house wearing a cap and gown that I had bought at an estate sale for $10. I was so happy he did because I was able to get all of the photos I needed right then and there. I know you shouldn't show a person or your kid wearing the clothes in an eBay listing but seriously I don't care and he is 19 years old and it was the easiest way to get my pics!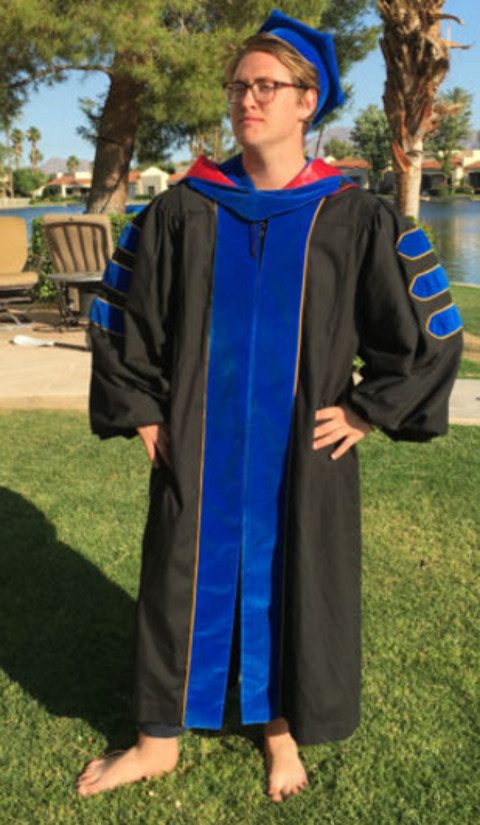 Click here
 to see this auction.
Thanks for reading my ezines! I appreciate it!
Happy eBaying!
Lynn
---
Lynn is an experienced eBay Power Seller, author and teacher. If you want to know the eBay tips, tricks and tools that Lynn uses for buying and selling at online auction click here.
Some links in my emails to you may be affiliate links. You can be confident that I only partner with companies that I fully stand behind.