Hi!
I can't believe it but today is Houston's 18th Birthday! Happy Birthday Goose. How did he grow up so fast?
The only sport he isn't playing this year was basketball! And the sport we chose for his 8 month photos. Ironic 

.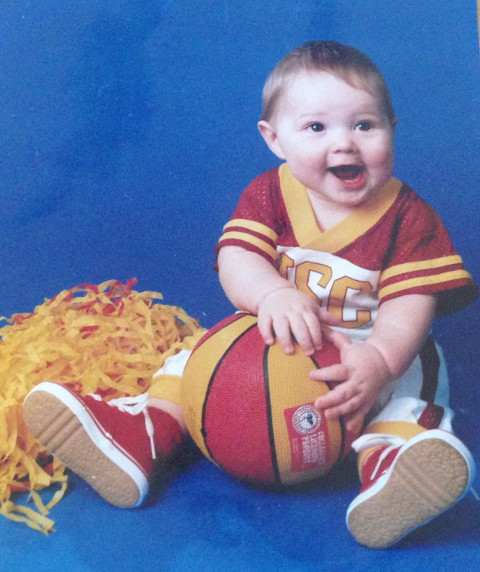 Houston is still doing baseball and football. He attended a baseball showcase at Pomona Pitzer a few weeks ago and the coaches liked him. Pomona is a great college so we are excited!
I must share one more photo of the Goose when he was little.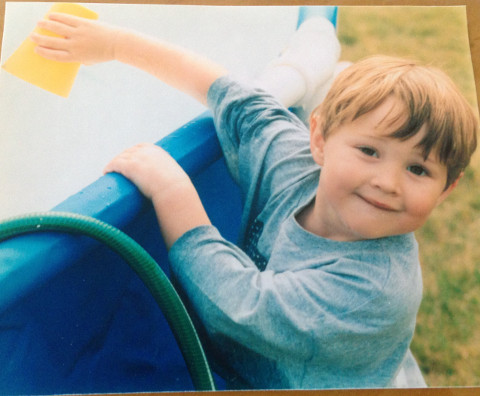 This photo was taken at his 4th birthday party in Bellingham, Washington and I bought an above ground pool for the party. I was filling it with the hose and Houston was adding hot water from a cup with hot water from the sink….he thought it would make the entire pool warm but the pool was 4 feet tall and 12 feet in diameter….not going to get warm 

. But boy is it warm here…110 degrees and humid. I hope your weather is a little more palatable.
Since I usually like to start my ezines with a score, here is an item that sold over the 4th of July weekend. Happy Birthday to the USA as well as to Houston!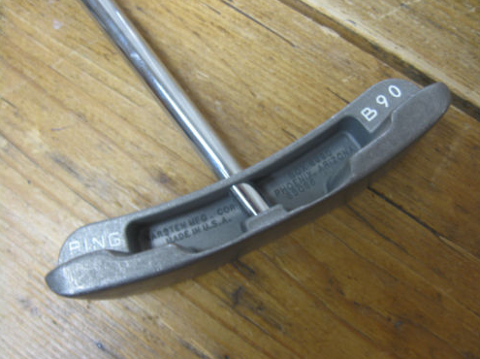 Click here
 to see this auction.
I bought this Ping Putter for $5.00 and with Coco's help I was able to get it listed on eBay correctly. I took a best offer of $80 for it and called her for shipping help. Thanks Coco!
Coco, not only brought over the box, but she also packed it for shipping. She is awesome! She wouldn't let me take her picture packing it up, so here is Houston pointing at Coco's great workmanship.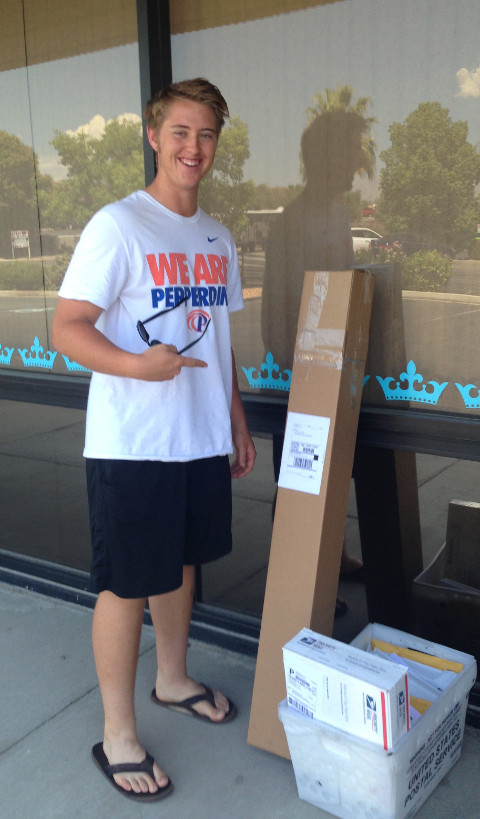 If you missed our Sporting Goods Secret Teleseminar that Coco and I did in May, you can still purchase it here.
I am hoping you have lots of SCORES this Summer! My June sales were down about 4% from last year. But it is Mo's and my plan to have July increase by at least 4%. We are listing like crazy! As I write this ezine, I have 224 items at auction. Yay!
I told my friend Lori that I have 224 items at auction and she said "Seriously (she started laughing), that would take me at least three years to get that many things listed at auction!"
Lori needs to order our assembly line listing videos. Here they are in chronological order so far…
It was my intention to write at least two ezines a month for the rest of the year. And then right after the last ezine, it was the eBay radio party. What a great experience it was this year!
I think Betsie, Lee and Griff hit it out of the park! The information was timely, informative and the attendees were the best EVER.
Here is my annual photo of Griff and I. Minus the kids. Bummer! They both couldn't make it.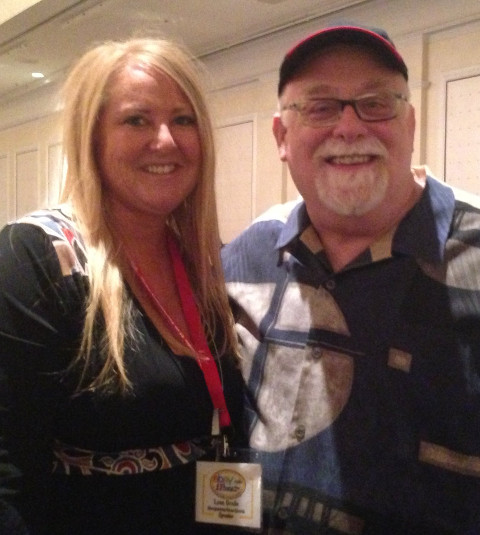 Here I am with Eric Nash of Stamps.com, Ginger Leishman from eBay mobile and Jason, well does Jason need any introduction? If so, he is Jason of Bryan and Jason from Thrift Hunters.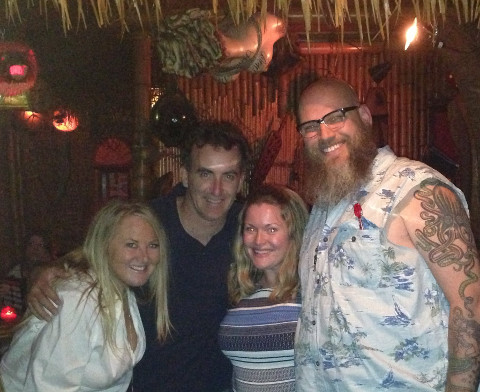 Thrift Hunters was picked up for a 2nd Season! Congrats to the boys! I had a blast filming with the boys while they were in Palm Springs over the Summer. We will see if I end up on the cutting room floor or not? Or naaa? As the kids these days are saying. Here we are after our Thrift Store challenge.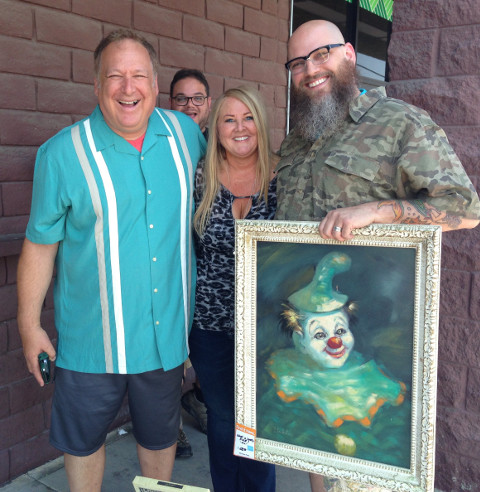 But please check out this item that was part of the filmed challenge—which probably won't make the show, but it was fun anyway 

. Thanks to the boys!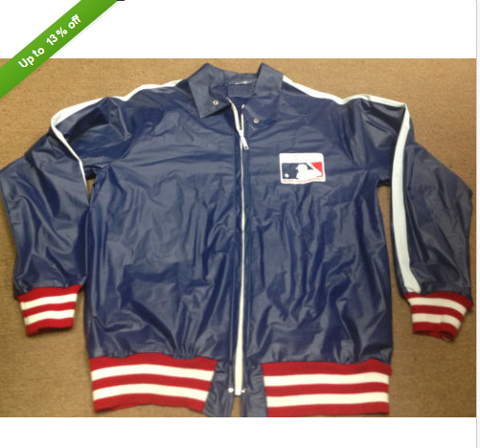 Click here
 to see this auction.
Back to eBay Radio, here I am with some Queen's Court members that were in attendance.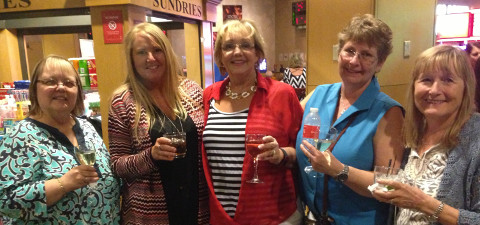 That is Diva Dawn, me, Robin M, Mandicrafts and Sheila from left to right. Love the Queen's Court.
Speaking of birthdays (not only is it Houston's and America's) the Queen's Court turns 7 this month. Congratulations to all of the wonderful members and a HUGE thank you for making it the amazing place it is.
We are going to announce some awesome new changes to the QC in the next few days, so please watch for an email. We are very excited that as the Queen's Court ages, it also gets better! I hope that I am also getting better with age 

. Oh yeah, I had another birthday this past week as well.
My actual birthday was really fun! I got up early and watched the Wimbledon's Men's tennis finals. It was such a great match, but my favorite Roger Federer did not win. Oh well!
Then my awesome new friends from the gym, Katelin and Kelly (along with her husband Tom & daughter Kaileigh) took Houston, Indy and I out for breakfast. What a treat!
My mom gave me some very nice gifts in addition to some cash to treat myself to a spa day. Well the day after I received the gift, I just had to go garage saling and take that cash with me. Of course I did 

. Lets see, did I save it for a spa day or spend the money making more money? What is your vote….?
Save for spa?
Spend for stock?
Spend for stock wins EVERY TIME!
The seller had this set of dishes marked at $60 or $160—I couldn't really tell from the writing on the tag.
Here is that price tag on my I Sell sheet.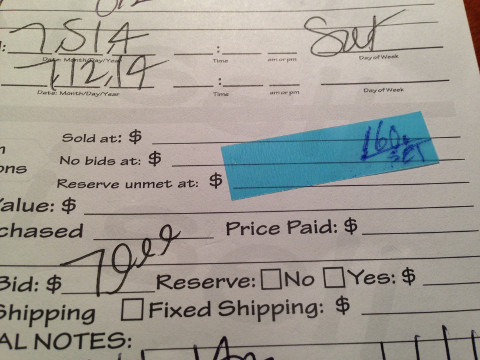 It almost looks like he added the 1 later. So I asked him if he would consider taking less so that I wouldn't act like I couldn't read the price on the tag.
OK as I age, my vision is not the best. I did have my loupe around my neck but typically don't use that to read price tags 

. Also, when in doubt while reading the price of an item, and don't want to assume, it always helps to ask if they would take less and encourage them to quote the price. Then you know their true starting price. More about this later. Don't let me forget why it is important.
He said "$80", so I knew he was originally asking $160.
I said, "All I have left from my birthday money is $60 (I had already spent some) and it is in a birthday envelope in my purse from my mom". He said fine. Yay!
I already have it all listed and it adds up to $474.81 at low ball auction prices. That means if it doesn't sell at auction and I will raise the prices to double in my eBay store. I stand to make almost $1000 on my $60 investment. So perfect! And the best Birthday present ever! Thanks Mor Mor.
Here is one of the listings.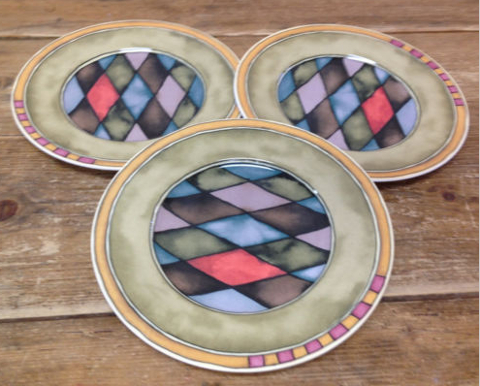 Click here
 to see this auction.
Getting back to the eBay Radio Party, I had to leave the party early to get home because Houston was getting his 4 impacted wisdom teeth out while I was teaching and my nephews flew in the same day. Life is crazy! And I hadn't seen my sister's little boys in two years.
While driving on the back roads home from Vegas, I got a text from the manager of my office building. He was on his way to Las Vegas for the Electric Daisy Carnival. Apparently, it is a huge celebration of famous Electronic DJs. I LOVE my office manager, Max, so we arranged to meet each other while passing on the back roads and pull over for a photo op.
Here are Max and I. Notice his daisy head band 

.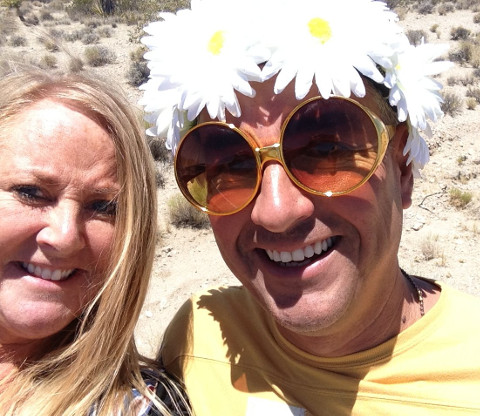 Then he had to put on his entire costume (which lights up btw) to show me. He is one crazy and awesome dude!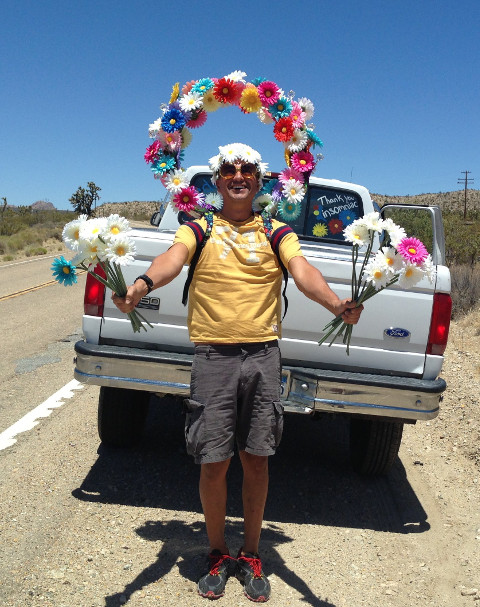 When I did return home later that afternoon, I was overjoyed to see my nephews and my kids. Houston was doing just fine and it was one big crazy house full!
A few days later my kids and Mor Mor piled in the car with the little guys to head to Disneyland to meet my brother.
The photo of the salad plates I bought with my birthday money reminds me of a hidden Mickey. A hidden Mickey Mouse is any three circles that look like Mickey's head. It is an urban legend or something like that for Disneyphiles (someone who truly loves Disney).
I think my entire family could be classified as Disneyphiles. So it was only fitting that they all went to Disneyland, stayed at the Disney Hotel and did a Disney Hotel pool day complete with a Cabana, while I stayed home to work. I was bummed, but had just been in Las Vegas for three days so I had to catch up. The reality of being an eBay seller!
Here is the crew (as my brother called them) in the Disneyland Hotel Pool Cabana. I absolutely LOVE this photo. Thanks Lee!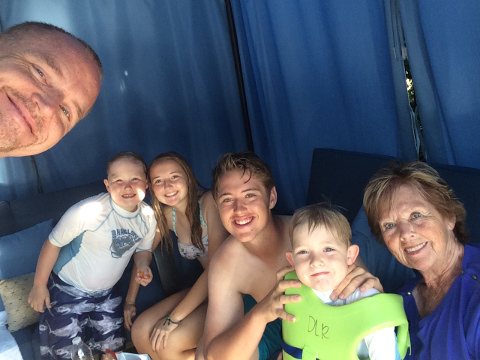 Then, they spent the next day at Disneyland and California Adventure. They all said it was one of their best Disneyland adventures ever. It is always so fun to go with little kids, as it makes everyone see the park with new eyes. My sister's kids are beyond precious and we were so blessed to spend 2 ½ weeks with them. Thanks Mor Mor for making it happen!
Here is the classic Disneyland shot of them all at the entrance.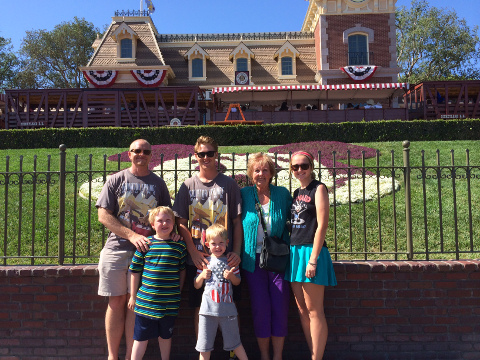 But let's get back to business. Remember, I said to remind me to talk about not knowing what the price tag really says. Sometimes at an estate or garage sale, they mark things 10 or 25. This could mean $10 or $25 or it could mean 10 cents or 25 cents. I hate it when they don't use currency signs! This happened to me last week when I was looking at some programs from Broadway style plays.
The programs were vintage, in great condition, and most had the play bills and a ticket stub with them. I couldn't tell if they were marked 25 cents or $25 each. Sometimes you just don't know. The price tags just had a 25 on them. No currency sign. HELP!
That is when I put a pile of 30 together and went up to the front desk and said, "Can you please make me a deal since I am buying so many?"
"Of course" they said and I waited with baited breath. Or is it bated breath? You all know me and I had to look it up and share the meaning with you.
From The Phrase Finder…
Meaning: Breathing that is subdued because of some emotion or difficulty.
Origin: Which is it – bated or baited? We have baited hooks and baited traps, but bated – what's that? Bated doesn't even seem to be a real word, where else do you hear it? Having said that, 'baited breath' makes little sense either. How can breath be baited? With worms?
There seems little guidance in contemporary texts. Search in Google and you'll find about the same number of hits for 'baited breath' as 'bated breath'. In one of the bestselling books of all time, Harry Potter and the Prisoner of Azkaban (whose publisher could surely have afforded the services of a proof-reader), we have:
"The whole common room listened with baited breath."
As so often is the case, help is found in the writings of the Bard. The earliest known citation of the phrase is from Shakespeare's Merchant of Venice, 1596:
What should I say to you? Should I not say
'Hath a dog money? is it possible
A cur can lend three thousand ducats?' Or
Shall I bend low and in a bondman's key,
With bated breath and whispering humbleness, Say this;
'Fair sir, you spit on me on Wednesday last;
You spurn'd me such a day; another time
You call'd me dog; and for these courtesies
I'll lend you thus much moneys'? "
Awesome. I learned something new! And the seller said, "How about $5.00 for the stack?" Yipppppeeeee! That is when I knew for certain that it was only 25 cents each. But you don't want to show your uncertainty in the pricing and let the seller know that they may have priced them too low. So, please play it cool and let them name the new, lower price.
Here is the program that I think will sell for the most because it was one of Hugh Jackman's first stage appearances in Australia. How cool is that?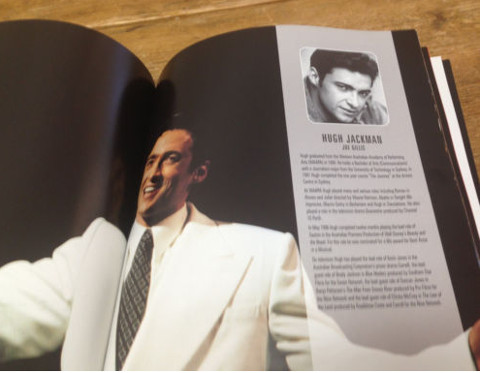 Click here
 to see this auction.
OK, time for another score. I sold something from the awesome "Ashley" just yesterday. Yay! If you haven't checked out her blog, you need to – www.lilblueboo.com.
Here is what Indy and I bought from her right before she moved!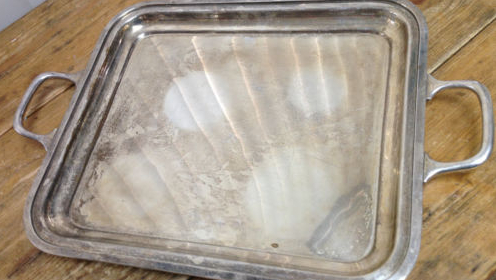 Click here
 to see this auction.
This is a very interesting fact behind this sale. Ashley had this item for sale on her website at $69.99 for the entire 5 piece tea set. I decided to sell the tea set separately (as I often do) in five separate auctions. The tray alone sold for over $100. Please believe me when I say that the parts, can and will, sell for more than the entire set!
OMG, Indy turned 15 ½ this past month. Do you know what that means? It is time to get your driver's permit if you live in California! Yippeeee! Hopefully, I am going to have two drivers soon.
I made Indy's written test appointment at the DMV for 3:45 on the Friday after eBay Radio and she and Houston met me there. When we got to the DMV we were immediately shown to the front of the line, because we had an appointment. Yay!
But, we quickly realized that Indy had forgotten her certificate for completing the online course (which you have to have to take the written exam). Indy and I sent Houston home to get it while we waited (sweating bullets) as there would be no written tests administered past 4 pm…..or so I thought 

.
Houston arrived with the certificate at 4:10 pm and we rushed it inside. When we handed it to the appointment lady she didn't say anything about it being too late. So, I was kind of relieved. But still worried as Mom's often are.
Here are Houston and Indy as she waits to get called up for payment of the exam. After I snapped this photo, Houston exited stage left. Is that from the Pink Panther or Snagglepuss? I love that saying.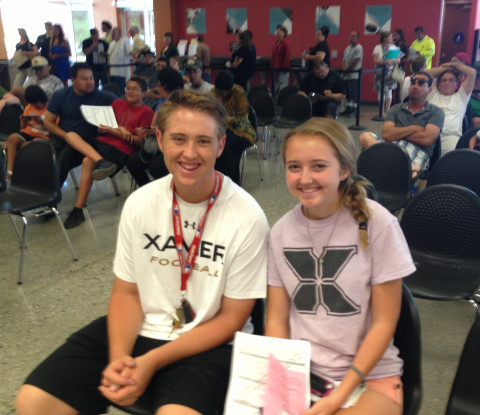 Indy hadn't slept the night before the exam as she had been editing the wedding video she filmed in Temecula. Seriously, I told her she should just reschedule for a different day but she wanted to give it a shot. There were about 60 questions and she couldn't miss more than 9.
After she took the exam, she said, "I know I missed at least 8 and if I miss one more, I don't get my permit". I tried to assure her that it was all O.K. whether she got the permit or not. They finally called her name and I waited (with bated breath again). The smile on her face told me volumes.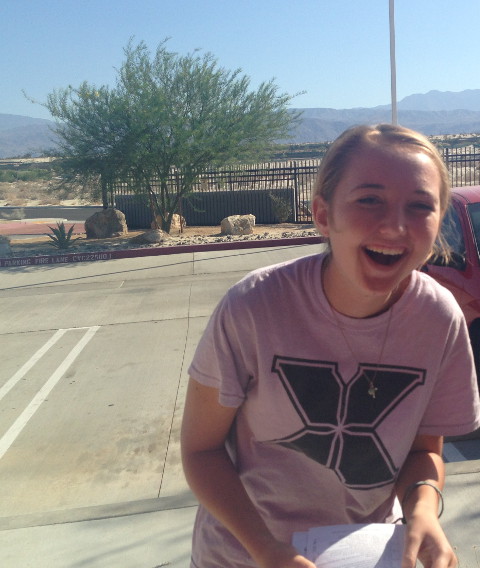 It said joy, disbelief, relief and gratefulness all wrapped up into one crazy photo! I don't know which of those emotions came first or last so they are not in any particular order 

. But she only missed 7 (not her usual M.O.) and passed! Go girl 

.
While the little boys were here I sold some lamps to a gentleman from Palm Springs. Here is the back story on the lamps. These lamps had hung in the dining room and kitchen eating room of the house where Lee, Kiki and I grew up in Bellingham, WA. My grandmother had given them to my parents. These lamps were very special to all of us–especially me (being the oldest), but in serious disrepair.
My dad had been cleaning out his garage in Bellingham and offered the lamps to me as a gift to sell on eBay or Craig's List to help pay for the kid's private school. What a sweetheart! And my mom put them in her car and drove them down for free when she visited us in May. Another sweetheart! My parents are AWESOME!
Here is one of the lamps when I had it for sale on eBay.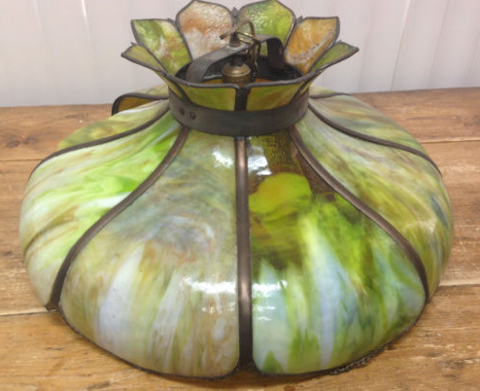 Click here
 to see this auction.
One day, I got an offer from a man in Palm Springs. It was for $200 for both lamps. I told him that I would wait for a higher offer.
Reality started to set in. The lamps were in terrible condition and let's be honest, there weren't many people in my neighborhood who would pick them up and repair them back to their original, beautiful condition and that was important to me.
I emailed my mystery buyer and asked if he would go any higher. He that he would go to $250 and to please call him. I told him that I needed to check with my dad and I would call him the next day.
I talked with my dad and he said to do whatever works out best for you and the kids. I called Robbie and we agreed upon the price.
Robbie asked me if I knew the restaurant called Billy Reed's in Palm Springs. "Of course", I told him. It was one of my parent's favorite restaurants and they both absolutely loved the liver & onions. GROSS (to me….my mom used to serve liver once a week….must be an older generation type thing).
Robbie told me that he owned Billy Reed's and if I would deliver them, he would buy me lunch. This deal was getting better and better 

. Gotta love eBay and Craig's List.
I said to Robbie…."There is a slight problem, my mom and nephews are in town and I will probably need to bring them". Robbie immediately said "I will treat them to lunch as well". I was so excited. I knew my mom would be thrilled. Then I had to say….."My two kids will probably also want to join us, but I will pay for their lunches". He said fine.
The day of delivery came. Houston slept through lunch time because of football practice at 6 am. So I just had Indy as a plus one. Then I invited Mo. It was going to be a super fun day. Until we tried to get all six of us and the lamps into one car.
Mo agreed to ride in the very back and secure the lamps. Here she is practicing. Just kidding. We ended up taking two cars 

.
We got to Billy Reed's and they welcomed us with open arms. Such a fun day! I put Mo and Indy on a separate check so Robbie (the owner) would only pay for the four of us that he agreed upon.
Here are my mom, me, Indy and the boys with our thumbs up for Billy Reed's restaurant. It was sooooo fun!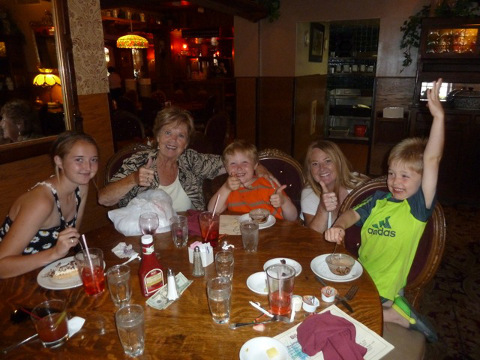 When I asked for the check, Kathy (our amazing server) told us it had all been taken care of. I was completely taken aback and yet, seriously grateful. They wouldn't let us pay for any of it. Mo and I left an awesome tip for Kathy.
We still had the lamps to deliver and we drove around to the side to unload them. Here is a photo of the actual "Billy Reed" to the left, me and Robbie (the owner) unloading the lamps.
I asked Robbie to please restore one of the lamps to hang in the restaurant instead of selling it in his antiques store in Palm Springs called Robbie and Daves…. 440 South Indian Canyon Dr.
He said, "You never know, I tend to be a better buyer than seller." I said "we love buyers like you". Let's hope that one day this lamp, from my childhood dining room, will be repaired and hang forever in Billy Reed's restaurant 

.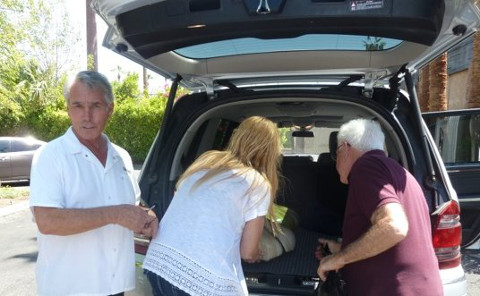 It was an amazing day and I know my sister's boys had a great 2 ½ weeks with us. We miss the boys already and I can still feel how much they will always miss their mommy. It was wonderful to have them here and yet, bittersweet.
Here I am with Zach and Kai trying to show them a part of their mommy's love.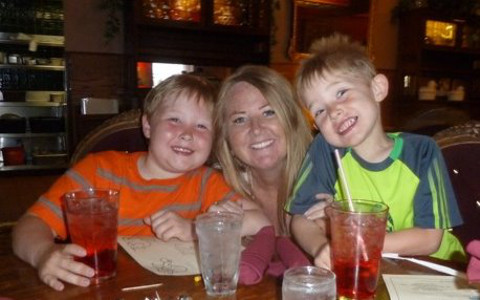 Because today is my baby boy's 18th birthday, I will begin closing out this ezine with one of my favorite photos of him and a story from the first "100 Best Things I've Sold on eBay" Book.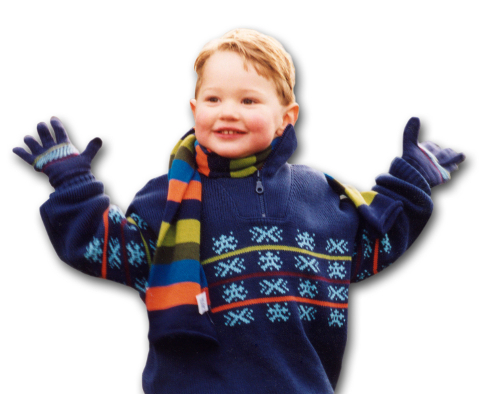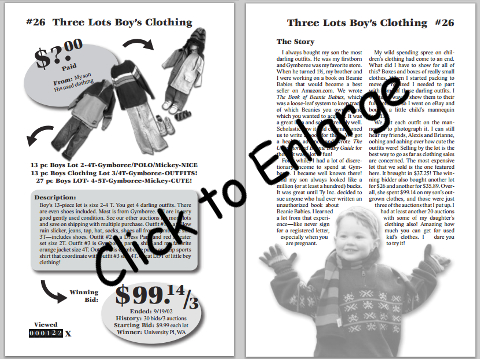 BTW, Houston decided to start his own business this summer and is working towards becoming a registered Notary. I am so PROUD of him. He has taken the online course and will take the test (in person) in San Bernardino in the next few weeks. You have to be 18 to be a Notary. He is going to market himself like crazy and focus on the fact that he is a traveling Notary. An entrepreneur in the making!
Now, to properly end this ezine, I must share a recent score! I just sold some of the flatware that I shared in last month's ezine. This combined order added up to $170 and only included 6 pieces of flatware….that works out to over $28 per spoon or fork. Yay! If you don't have my flatware ebook, check it out.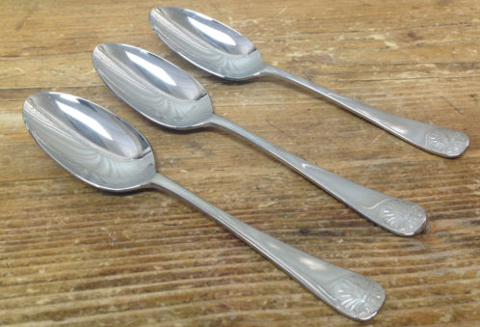 Click here
 to see this auction.
Thanks for reading my ezines! I appreciate it!
Happy eBaying!
Lynn
---
Lynn is an experienced eBay Power Seller, author and teacher. If you want to know the eBay tips, tricks and tools that Lynn uses for buying and selling at online auction click here.
Some links in my emails to you may be affiliate links. You can be confident that I only partner with companies that I fully stand behind.