Hi!
Happy Belated Valentine's Day! I hope yours was great and that you are selling TONS on eBay. Our February is off to a record start on eBay…. for a number of reasons that I will discuss later!
As you read this my mom, Indiana and I are on our way to LAX to fly to Germany to visit the GOOSE! I am SOOOOOOOOOOO excited as I haven't been to Europe since 2003 and Indiana has never been. In addition, I miss my little Goosie and can't wait to see his Pepperdine classrooms, the house he lives in and meet his friends and professors.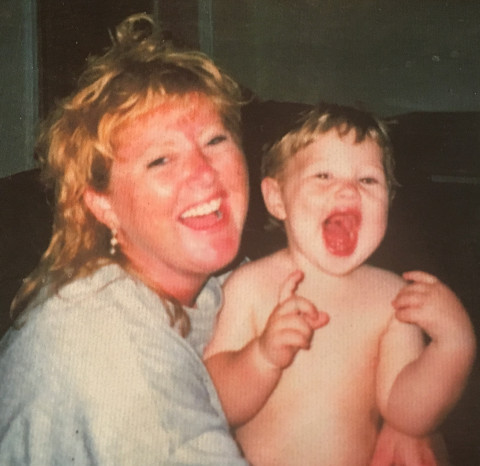 What a treat! And this is also a serious business trip as I can't wait to purchase Villeroy & Boch, Henckel and other great German brands to bring back to sell on eBay. I also look forward to making some amazing business contacts that I can purchase from in the future. My grandmother brought back many containers of wonderful antiques from Europe back in the 1960's and I can't wait to follow in her footsteps…again .
OK, we had better start off with a score before I start telling more stories! I sold this right before Christmas. Isn't it amazing? It was made in Europe and actually handmade in Ireland. Seriously, anything vintage/antique from Europe that I can pick up for a great price…will be coming home with me.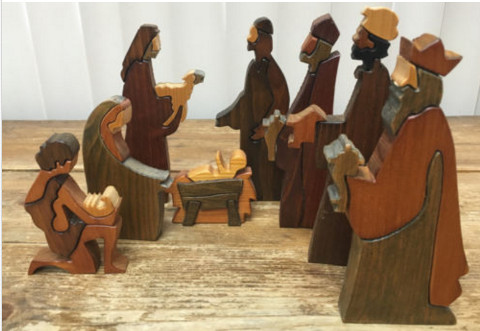 Click here
 to see this auction.
It sold for a best offer of $150.00 and was part of one of our Queen's Court Challenges from last year. Since revamping the Queen's Court a few years back, I think my favorite change has been the challenges. They have seriously motivated me and many other QCers to make positive changes in our lives and our businesses. The challenge that led me to this score was the one where you needed to attack your "junk" "dumping" table that we all have. This amazing Creche set was on that table.
BTW, I normally sell all creche sets individually but this one was so special it just couldn't be broken apart.
The Queen's Court challenge for February has been hysterical. The Queen's Court members were asked to pretend that they are Lynn Dralle and that they are moving THEIR ENTIRE EBAY business out of their current space (my warehouse) and into smaller quarters by May 31st. What an AWESOME challenge! I have loved reading all the posts and responding to the amazing progress being made.
Of course, I dove head first into this challenge because I am Lynn Dralle and this is my LIFE. I have been running 50% off sales on my older inventory and my sales are through the ROOF. I am worn out from shipping, but it has been awesome. As I write this (the Sunday night before this ezine gets to you as it must go to my programmer to be formatted etc.) I have over 40 things to ship tomorrow which is Monday, February 13th. YIKES!
OMG, February 13, 1977 was the birthday of my favorite dog EVER. Springdale Buffington, also known as Buffy. What a sweet Cocker Spaniel he was and so weird I remembered that on the 40th anniversary of his birth. Life works in mysterious ways.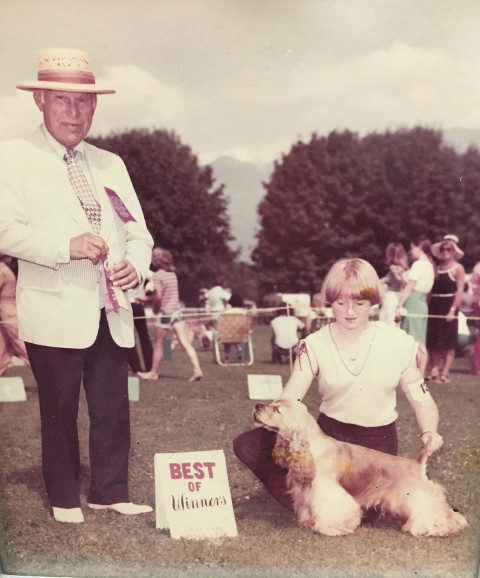 Crazy that I am talking about my ASCOB (Any Solid Color Other than Black) pedigreed AKC show dog and I just sold one of those "other" Black Cocker Spaniel figurines from Royal Doulton for A LOT. Like over $100!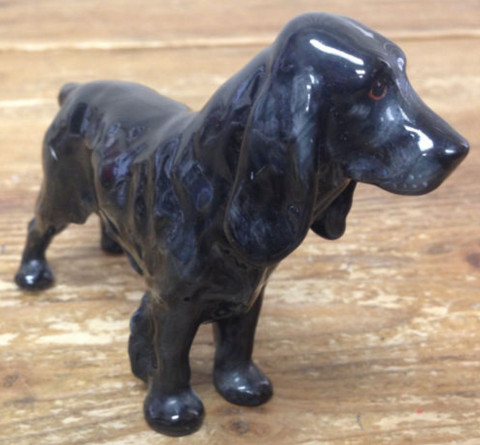 Click here
 to see this auction.
And keeping with the dog scores, our fellow Queen's Court member and great friend Coco, gave me some dog figurines a few months ago because she only does sporting goods. Thank you, Coco!
Check these out!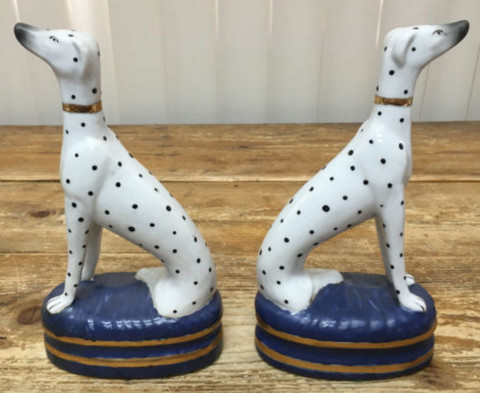 Click here
 to see this auction.
As you read in my last ezine (which was January 7th…way too long ago!) we had a wonderful Christmas! Houston had requested a Levi Jean Jacket on his list for Santa (with an eBay link included). I have taught my children well! Used and eBay are just as good, if not better than new!
Here is the one I got him. Since it didn't fit, I emailed the original eBay seller and asked her if I could use her pictures to relist it, since as a seller, I prefer not to return things. It is such a hassle for us as sellers and she was very grateful and said…."Thank you so much for relisting it. Yes, using my pictures is fine. Have an awesome day!"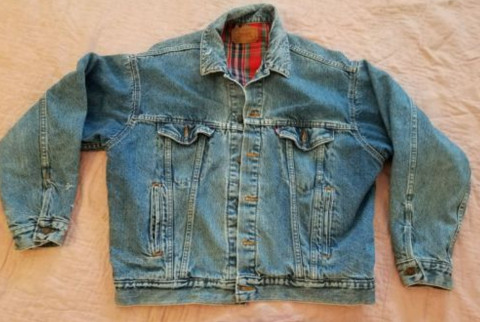 Click here
 to see this auction.
Since it was a little short I thought…."Hmmmmm, my grandmother had a Levi Jean Jacket that she loved and wore all the time." What a cool Grandma and cooler Great Grandma that wanted to wear a Levi Jean Jacket. I had been saving it for years for someone and maybe that someone was Goose. I pulled it out of my closet and of course it fit him perfectly! Again, life works in mysterious ways.
Check out this picture of my grandmother holding Houston in her wheelchair in her kitchen at 2828 Northwest Avenue and she is wearing that very same Levi jean jacket and Houston is matching her in his tiny Mickey Mouse Disneyland jean jacket. I LOVE this picture.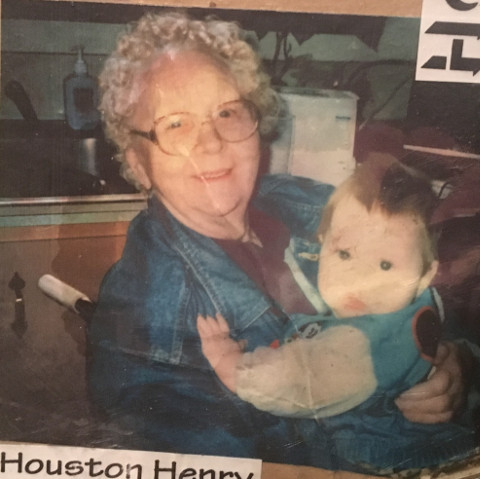 Sorry the quality is so bad but it is part of a collage on a hat box lid & base that I made for him when he was two years old (actually I made one of these for each of my family members…wow! I used to have extra time to do other things than work—those were the days). I can't find the original picture, but I still have that hatbox & the lid.
Here is the lid.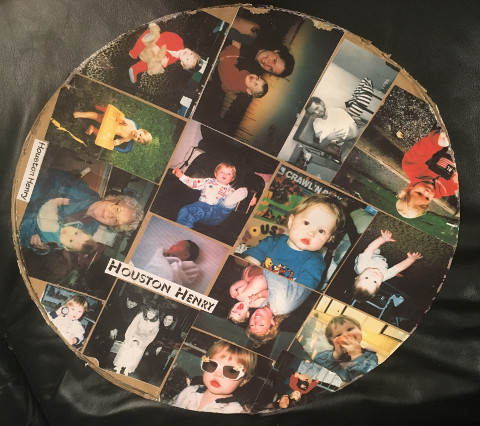 Here is a photo of part of the side and the names that I added were Goose H.H.W. and Goosie! He has had that nickname FOREVER! Check out that photo of him in his footie pajamas and cowboy boots. That is Kiki holding him up and we were on vacation in Mexico (before Indy was even born) and I bought him those darling black cowboy boots at a market in Puerta Vallarta. I still have them displayed in our home. Can you believe it? LOL…I am sure you can .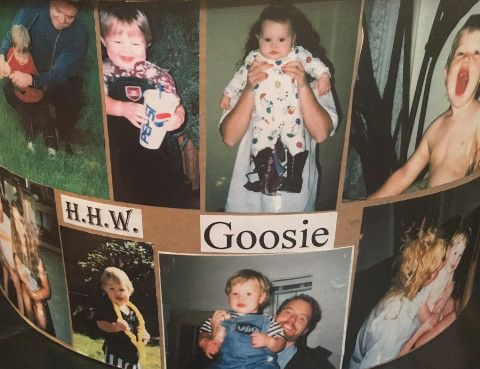 Speaking of Disneyland, boy do I have some fun stories about our recent trip! My brother gave my mom, Houston and Indy a two day trip to Disneyland with an overnight at the Disneyland hotel as their Christmas gift. Yikes! That was super generous as admission tickets to Dland are about $200 a day these days. Unfortunately, it was the day before Houston aka the "Goose" had to fly back "home" to his native land aka "Germany".
I usually don't accompany them because, to me, Disneyland is a major hassle but since it was the day before Houston had to leave, I was compelled to do so. Again, God works in mysterious ways.
It turned out to be one of my absolute favorite days at Disneyland. Trust me, in the old days, before crowds and lines, Disneyland was one of my favorite places. So it was so refreshing to have such a great experience at the park this trip.
The kids seemed to be very happy that I chose to go and we all got along great. The wonderful thing about visiting Disneyland on January 8th this year was that the Christmas decorations and celebrations were still happening. Here we are at Cars Christmas Photo area. OMG, check, check, check this out! Houston is wearing his Great Grandma Cheryl Leaf's Levi Jean Jacket. Love this!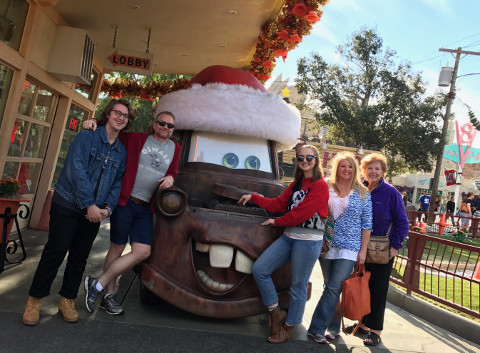 I went on Space Mountain (used to be fun but I won't do that ever again–too jerky), Mickey's Rocking Roller Coaster (Love it!) and Cars for the first time. Cars was awesome! We went on a bunch of other rides as well but those were the highlights or lowlights. LOL.
While at Disneyland, I took a best offer on this bear that I had bought at that weird dusty and dirty sale a few months ago that I talked about in the last ezine. The best offer was for $100. Nice!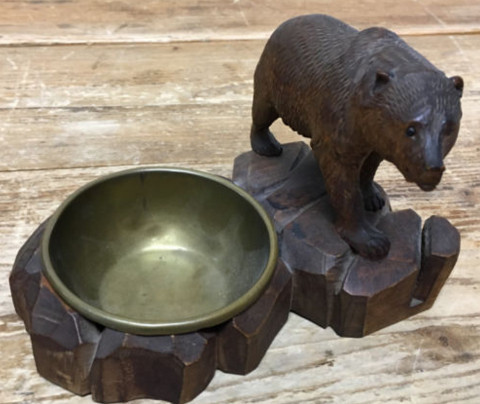 Click here
 to see this auction.
The next morning my brother and the kids went swimming. Seriously? They were crazy…it was about 55 degrees. While swimming, I sold a Disney item for full price that I had recently purchased. Love Disney items!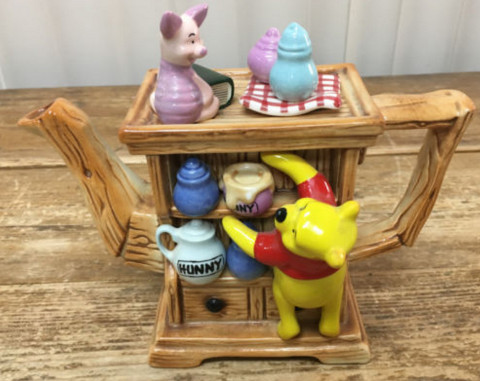 Click here
 to see this auction.
After their swimming adventure we headed to LAX so Houston would be there in time for his January 9th 5:45 pm Virgin Atlantic flight to London which would arrive the next day, January 10th, at noon. Well, I TOTALLY messed up (as his self-serve travel agent) and had bought him a plane ticket from London to Frankfurt on January 11th at 12:30 pm so that he could spend a night in London and head back to Germany.
Problem was that you LOSE a day going east and Houston was going to arrive in London at noon on the 11th and the Lufthaunsa flight was just 30 minutes later. There was NO WAY he could get through customs and make that flight in just 30 minutes.
But our two days at Disneyland had been magical and our trip to the airport was as well. Everything just flowed perfectly–no problems getting into LAX, no problem checking baggage and we got to hang out before and chat.
I had told Houston, try and make that original Lufthaunsa flight. Many flights are late and they may feel sorry for you and put you on the next commuter short flight. And as a precaution, I had already bought him a hotel night and a different plane ticket but as I dropped Houston off at LAX I said "May God bless you on the remainder of this journey as he has so far". Well, God lived up to his word .
Here is my instagram post of dropping Houston off.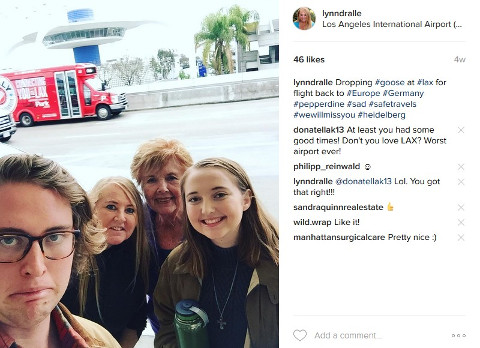 Houston ended up arriving an hour early into Heathrow and his original Frankfurt flight was delayed 2 hours. He made that original flight. Again, God works in mysterious ways!
So far this ezine has been very Houston centric. Time to change gears and focus on my Indy girl! She had been cast as "Anybody's" in West Side Story for Musical Theatre University and was beyond excited. It is not one of the leads, but is a great character role and she was beyond excited.
I was so proud of her as it was the role she wanted and she went for it and got it! About a week into rehearsal during a dancing scene, she landed on her foot wrong. It was at the end of the day and she figured it was just a sprain and she would be fine. The next morning, January 12th, she text me at 6 am and said "it really hurts and I think I should get it checked out." My mom was taking her to get her passport that morning and I told her I would take her to urgent care after that.
Ughhhhhhhhh, the look on the doctor's face when she walked into the room after the x-ray said it all. The foot was broken. I have never seen such sadness and devastation on Indy's face before and I hope I never do again. As many of you may know, West Side Story is almost all dancing and running etc. I think Indiana realized she was going to lose her part in the play.
Tough day. Here is the x-ray and I have circled the tiny break that is really hard to even notice. Amazing that something so minor could make it impossible to walk.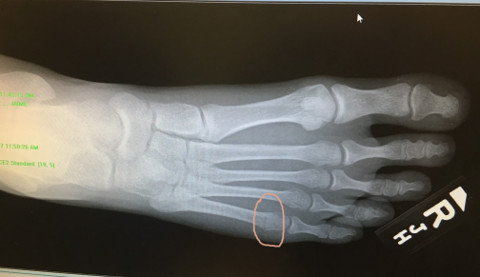 Somehow, Indiana soldiered on and eventually got a boot instead of a cast and I rented her a scooter. On January 21st, it was time to drive her into LA for some musical theatre auditions. Finally, something positive! She had Azusa Pacific University at 10 am and Pepperdine at 12:15 pm.
On our drive-in, I sold this darling Horse figurine for full price. I know I price extremely high and never really expect to actually get full price…but this time I did. It was a good omen for the day to come.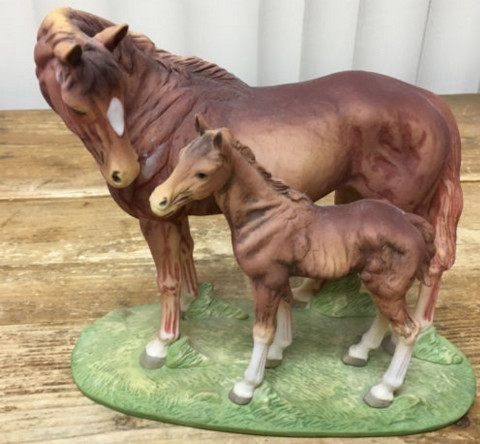 Click here
 to see this auction.
Azusa was her first University Theatre audition EVER and I was so nervous for her on that drive into LA. She was practicing her monologues in the car and her 16 bars of the song she would be singing. It was a little stressful.
The recruiter at APU, Kristina, was beyond kind and sat with us for about 15 minutes before the audition. I made the stupid mistake of asking her how many students would be accepted into the "one of a kind BFA" (Bachelor of Fine Arts in Theatre) program and when Kristina said "we are looking for a class of about 28" my jaw hit the floor. I had NO idea that theatre was as competitive as baseball. Sorry for asking that question Indiana. My bad.
When the head of the Theatre Department Jill (who had recurring roles on Boston Legal, The Gilmore Girls and Desperate Housewives) arrived for the audition…off Indy went on her scooter and I sat there petrified for ½ an hour. Seriously, it was beyond nerve wracking!
Luckily, both Indiana and Kristina came out laughing and smiling and I thought this is all GOOD. Indy was beyond excited about how much fun the process had been and really liked both ladies. Here is Indy in front of the building where she auditioned.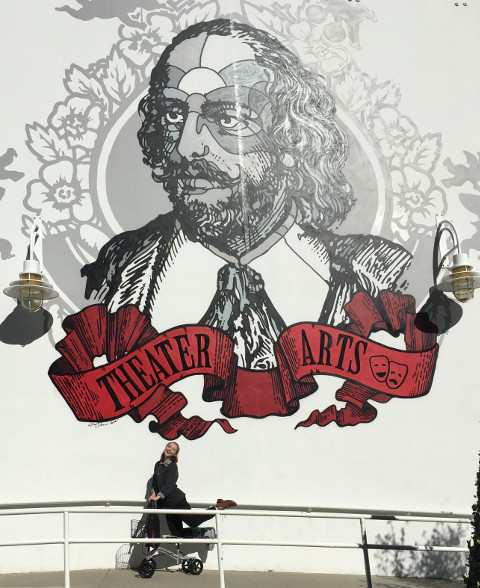 Then it was a mad rush to Pepperdine. We were supposed to be there for a 12:15 pm audition and we only had about an hour to get there. The day before, I had received an emergency phone call from the Pepperdine office of emergency alerts that the campus was closed and all were told to evacuate due to the terrible rain. I was fearful that PCH might still be closed at the Getty Museum and we would not make it there in time so I had called ahead to warn them.
Again, we were extremely blessed and breezed right through LA, got to PCH and hit no traffic and arrived at Pepperdine at 12:05. We were given instructions to the audition location and unfortunately, there were no elevators and Indy had to jump up 6 stairs. We arrived at the top of those stairs, pushed open the door to see about 7 nervous kids waiting to audition and a theatre major calling "Indiana Wilson"….LOL! Talk about God's perfect timing.
She wheeled herself into the room and I could hear immediate laughter through the door. I think the Pepperdine faculty was amused at the fact that she had broken her foot during rehearsal. Talk about dedication to your craft 

. The door was paper thin and everyone in the waiting room could hear what was being said. I couldn't bear to sit there and listen so I walked down the hall to wait. She was only supposed to be in there for 10 minutes but about 20 minutes later she emerged with a HUGE grin on her face. She loved them and said she felt "at home" with them.
I asked her why it went over the time limit and she said that the Dean of the department had asked her if she was bummed that she had lost her part in West Side Story because of her broken foot and Indiana (being Indiana) said "God is Good." The Dean of the program, Cathy, looked at Indy and said "Wow, I need to remind myself of that more often". Both Pepperdine and APU are very religious universities and I think both would be perfect places for Indy.
In addition, since they knew that she had been "cast" (no pun intended) in West Side Story they assumed that she must be able to sing and did she have her music to sing for them? (Quick back story, unfortunately when Indiana had signed up for her audition all of the musical theatre spots were taken and she couldn't get a singing audition spot). Indy said "I don't have my music, but I would love to sing acapella for you." She started belting out her 32 bars from "The life I never led" a song from Sister Act. They looked at her and said "That was great."
I was so happy to hear that she was able to showcase many of her talents and also got to joke around with the interview team. We left that building feeling that it had been a great day. We decided to go and eat lunch in the Pepperdine café since we love the campus and feel very at home there.
For some reason we could not find a ramp nor an elevator down to the cafeteria level. Pepperdine is also known as "stepperdine" since it is literally all steps . I randomly walked into a room where about 9 guys were studying and said "Can you guys help me, my daughter broke her foot"….and before I could finish saying…."and we need to find a way down to the cafeteria", they were all on their feet rushing to help me. I said, "Oh no, calm down, it has been broken for a while but we need to get to the restaurant." One super nice kid said "I will walk you down there myself."
So as we were walking and Indy was scootering, I explained to Chris, (the nice Senior who was helping us) that my son attended Pepperdine. He said "what's his name?" I said "Houston Wilson." He looked at me with the strangest look on his face and said "Goose?" I was like "Yes." Chris said "I thought you two looked familiar. I love Goose! He is my frat brother!" Small world and again, God works in mysterious ways .
Here is my Instagram post from that encounter. LOL!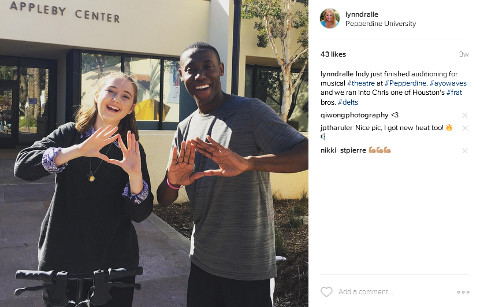 So, let's get back to some eBay business. My sales have been off the chart for December, January and now even February. Check out this amazing Photography book that I sold for full price recently.
Click here
 to see this auction.
And in even more fun (and seriously heartwarming) eBay news, I got this email a few weeks ago…..
"Hi Lynn, my wife and I live at Sandy Point in Ferndale. My wife, Jan has been a BIG fan of yours for many years and has incorporated your system. She tells me you may be moving back to Bellingham this year but at the moment we are in Palm Springs. She has corresponded with you a number of times but it's been her wish to meet you sometime. I know you must be busy but I would like to surprise her. One of our favorite restaurants in the desert is Spencer's. We are here for a week and if you are available any day I would love to surprise her and have you join us for lunch. Just let me know what day you are available. If that's not possible it's no problem, I'm doing this on a whim. If it's not convenient it's no problem, she will catch you sometime in Whatcom county. I've included my business email so you know this is legit! Please let me know. Thanks"
I couldn't believe that someone's husband would do this for them. What a kind and thoughtful man. I wasn't sure if we were being invited to lunch or just being invited to meet up with them. In any event, I said to my mom (who was still here visiting) we have got to do this. Even if we have to pay for our own lunch, anyone that does something like this for their significant other is a gem.
We set up a day and time and when my mom and I walked into the restaurant, Jan just looked at us and said to her husband "that is Lynn and her mom" and then we proceeded to sit down at their table. Jan thought it was a little presumptuous of us (LOL) until we explained what Alex had set up for her. I think they both teared up a little bit and my mom and I were very blessed to spend time with both of them. It always warms my heart to see a couple that loves one another so much that they will go out of their way to do something to make the other happy or surprise them. What a gift these two have .
Here is my Instagram post from that day. I have to tell you, I love Instagram because I can look back and figure out if I did anything important on a particular day .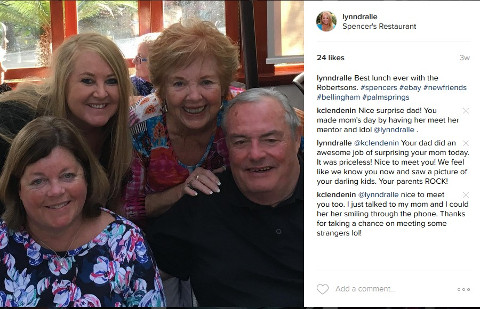 Here is one of Jan's listings that I hope becomes a great score for her!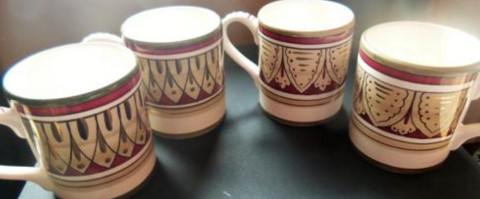 Click here
 to see this auction.
One thing that Jan and I discussed at lunch was that she MUST start shipping Internationally. By the end of our three hour lunch, she had agreed. Thank you! It really does account for a lot of our business. Statistics from last year show about 20-25% of our business is done by shipping internationally. If you are not shipping internationally, you are missing out.
I recently sold this gold ring to Canada (Thank you Sherri Mertle for your wonderful teleseminar on selling gold jewelry…I have sold 4 rings "thanks to you" in the past 2 months).
Click here
 to see this auction.
I took a best offer of $120.00 on that ring and it was far above the gold price.
Jan has also become a new member of the Queen's Court. I love all of the Queen's Court members and consider them family. I have been dreading this announcement, but I want to honor and cherish a dear charter of the Queen's Court, Bobbie Quandt, who recently passed away.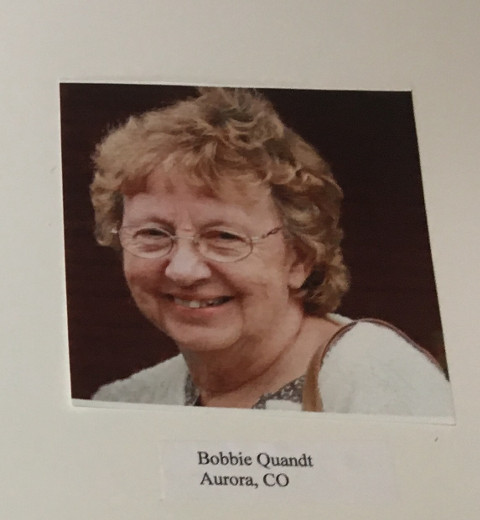 Bobbie had an amazing sense of humor and I will never forget her. I was so fortunate to spend quite a bit of time with her in person as she attended 3 of my live boot camps. In addition, if I was ever in Denver, I would get to see her and spend time with her. I remember the last time I was in Denver for a baseball tournament with Houston, something prevented us from meeting up, but I will always love her and if I am this sad, I can only imagine what her family is going through.
I contacted her daughter Kari and she let me know that it would be OK to share this YouTube link of a photo memorial that she made for her mom.
https://www.youtube.com/watch?v=ptk_QN7XPAo
And also this link to her memorial page. For those of you who knew Bobbie, and I know that there are a lot of you, please reach out to her family and post your memories because I know that it will mean a lot.
http://www.newcomerdenver.com/Obituary/129320/Bobbie-Quandt/Denver-Colorado
When I asked Kari if it would be OK to let you all know in this ezine, she replied with this…
"I would be happy to have you do that. Just share it with me too, please. You can include any links to mom's obituary or slideshow. I love people loving mom and remembering her. It makes me feel not alone".
OK, I am crying again. Here is one last photo of Bobbie at our final live boot camp at headquarters. You gotta love her with her hand raised in the air, a smile on her face and having the time of her life. Bobbie Q, forever in MY HEART.
OK, I was dreading that part of the ezine. Wanted to share the sad news, but didn't want to lose it and start crying, which I did anyway.
Let's move on to some happy news. Indy broke her foot, but there was a silver lining or bright side to that. David Green, the incredible founder of MTU, asked Indy to be the stage manager for West Side Story. Seriously? MTU has two tracks of study…one for performing and one for behind the scenes (aka stage manager). I thought to myself, why in the world would he ask her two weeks before production to manage the entire stage?
Apparently, David Green is smarter than I ever thought he could be! Indiana dove in head first and took it so seriously and was so determined to learn the lingo and make everything perfect that I think it took her mind off of the broken foot. (David, you are a genius and a super kind man). I didn't really know what a stage manager was but here is the description from Wikipedia….
"a person responsible for the technical details of a theatrical production, assisting the director during rehearsal, supervising the lighting, costuming, setting, prompting, etc., and assuming full responsibility for the stage during a performance of a play".
Indiana called the entire show during the 4 live performances. It was crazy! Apparently, she did a wonderful job. She was super stressed before every performance and thought she would mess up some of the code names for raising curtains, changing light, moving scenery and calling up actors. I really don't know how she did it, but WOW!
David Green, founder of MTU, asked Indy how she thought she did after the third show and she said "pretty good." And he said "you nailed it." That's my Indy girl!
Here is a photo of Indiana up in the control booth during the final show and of course from an Instagram post. Houston text Indy and said "Mom's post was hysterical and it made it look like you were locked in the booth and couldn't get out." LOL. Thanks Goose! Can't wait to see you in a few days. We are all sooooooo excited for the trip. But so busy trying to finish shipping, listing, writing an ezine, writing Antiques from A to Z and not even thinking about packing.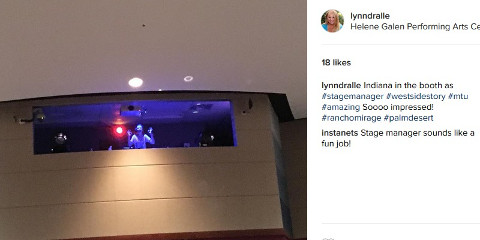 Actually, after I look at the post, I think Houston was right!
Time for a score. Check out this darling miniature tea set that I bought at an estate sale for $5. Sold for over $100. Rock on!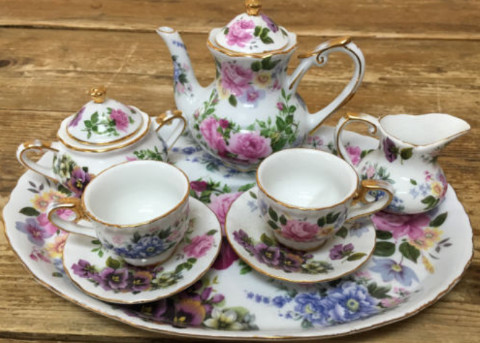 Click here
 to see this auction.
Our Queen's Court challenge for January was "sorting." Somehow, we got onto the topic of packing peanuts and I must share these two posts, one from Sherri Mertle and one from Lizzie (a new QC member from the UK).
Lizzie's…..
"Enjoying this challenge! Have put out 3 BIG bags of rubbish / recycling from attic so far… I mean how many old sheets and covers need to be kept as potential painting 'drop cloths' really!!!? …and what a build-up of useless cardboard, goodness me. I've re-stocked up on bubble wrap, newsprint cutoffs and as you can see from the pics, packing peanuts… that box only just fit through the door. Should last quite a while. My 12 son, George, enjoyed them more than his Christmas presents ."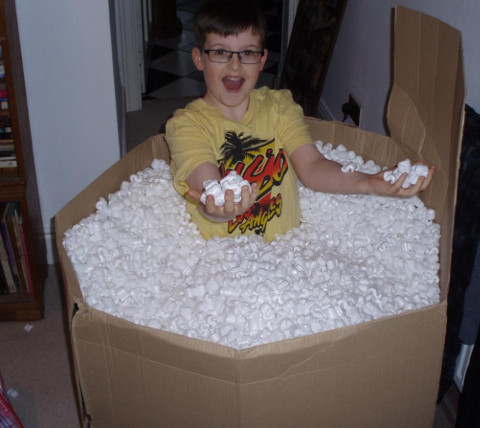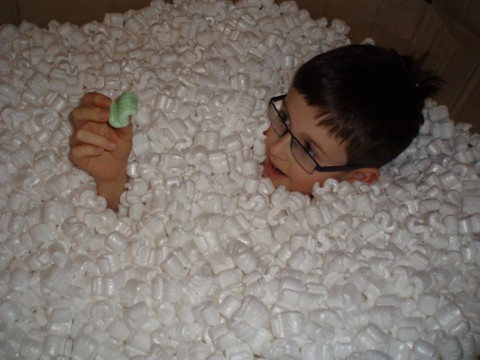 Sherri's…..
"Lizzie, I can can totally relate to your comment about the old sheets and blankets for drop cloths. Only problem is I don't have an attic so they were lining the top shelves of all my closets. I got rid of most of them last year but just found some more and dragged them out to the trash. Also, found some "good" ones that I'll donate. And I just have to share my favorite memory of stocking up on packing peanuts. A "Freecycle" ad that I could not resist … 4 huge boxes full. But the boxes were too big for my car so after filling every bag I had and stuffing them in the front and back seat, I poured the rest in my trunk and then scooped them out when I got home. Oh the things we do to save money!"
LOL, hysterical what we eBay sellers go through to recycle and save money!
Great news! The fourth volume of Antiques from A to Z "Volume 4 or D-E-F" is finished and out. The question I have been getting the most is this…
"Hi Lynn, just checking…does the $117.00 for Antiques from A to Z include all the volumes you will be releasing? Thanks!"
YES of course it does but that price will be increasing as I go along because this eBook is turning out to be awesome! So far I have 450 pages completed and my current projections show it to eventually be 12 volumes and about 1,100 pages of invaluable insider information!
Then I got an email with another great question….
"Hi Lynn, I've been reading your ezines for the past several years and really look forward to them. I've also bought several of your eBooks and have enjoyed them greatly. I am interested in Antiques from A-Z. I read that the price is increasing (which is still a low price for your work). Will you at be offering it on a 3-month payment plan like you've done in the past with other items?"
Brilliant question and why didn't I think to offer that option? Here is a link to purchase it in three payments.
Check out another email I just received…
"Hi Lynn – I just finished reading Vol. C of Antiques A-Z, yesterday and I had to write to tell you what an inspiration you are to me. To be honest, I have been following a couple of other eBayers through FaceBook and blogs the last couple of years, but, in the end the only thing I got out of them was frustration! And – I always went back to the Queen of Auctions. I devour each ezine as soon as I get it, and I have all your eBooks. I have used your ISell sheets for years, and have most of your videos. I was even a member of Queens Court for a year (Someday I want to join again). In the last few months I have been really frustrated with eBay, to the point that I really wanted to quit. Only the huge amount of inventory I have kept me going. But, reading your recent eZine and Vol. C has inspired me to keep going and build this business! They came at a time when I really need that kick to see that it can be done! So, Lynn – thank you for your enthusiasm, humor, love and wisdom. Cindy Drage – from Pennsylvania"
Wow! Thank you, Cindy. Such a sweet email and it made my day! I also must thank my grandmother for all of the wonderful things she taught me over the years…not only life lessons but all about antiques and their value.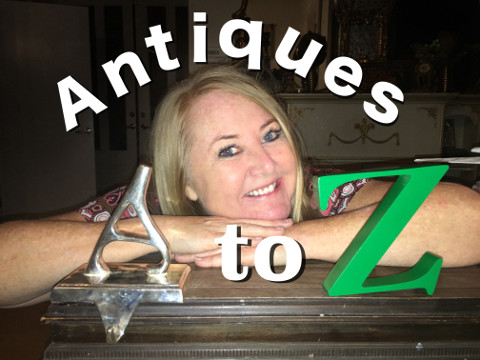 It is hard to explain all of the insider secrets my grandmother taught me about the antiques business, but I will be passing along many of those lessons about antiques and life in our new eBook. "Antiques from A to Z" by Cheryl Leaf and Lynn Dralle.
That is why this eBook is going to end up at about 1,000 pages. LOL! It amazes me when I see something (like that Lalique bowl I recently sold for $1,650) and innately know that it is good…thanks to her! I want you to be able to do the same thing!
I was very lucky to grow up hanging around my grandmother and working in her shop. She was such a pioneer and started teaching classes on antiques back in the 1960's and as you probably know, I came across her notes about a year ago. I had been hoarding these notes and knew that someday I would use them to write a book on antiques.
What I find so fascinating about my grandmother and her notes is that she was super organized and gathered her information not only from antique magazines like "Hobbies" & "The Antique Trader", but also from exhibiting at 18 antique shows a year in addition to reference books and from personally visiting every important museum in the world. Well, practically!
I am super excited to announce that "Antiques from A to Z" is still available for pre-order here.
Or in three payments here.
The eBook will be released in volumes like most of our eBooks and you can expect Volume Five by March 15th.
In Antiques from A to Z by Cheryl Leaf and Lynn Dralle, I am going to share my grandmother's writing and then my take on that subject in today's eBay world with tips and tricks for sourcing and selling those higher end items. I will be showcasing some amazing scores!
If you are hesitant to invest $117, you may want to check out a sample of the eBook by buying the $37 video recording of my PowerPoint presentation from eCom Chicago. You will get a really great idea of what the eBook will be covering and if it can help you.
To pre-order that new video product before the price increases, here is a link.
Check out this recent email I received about the 1 hour video PowerPoint presentation…
"Lynn – I LOVE this video! So entertaining and informative. And I love how all your family (including Mo) participates, as usual. And I would love to attend eCom Chicago next year. Happy New Year to you all! Nancy"
OK, writing the antique eBook has really got me focused back on antiques and it is one big reason that my business has been so great! Higher ticket prices and great margins. During our drive back from LA for Indy's Theatre auditions we stopped at some thrift stores. I bought this chamber pot that I immediately spotted amongst a bunch of crap and thought…"this is good" and it was only $3.99.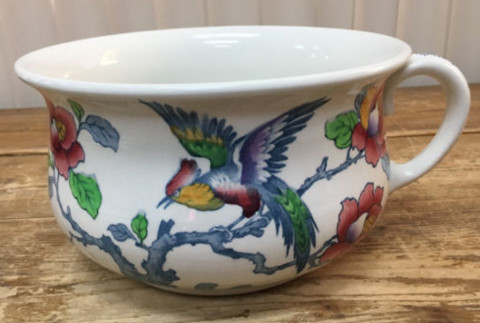 Click here
 to see this auction.
Indy had to use the bathroom badly but we were stuck in traffic in a bad part of LA and I said, "grab the chamber pot from the back seat" and she thought I was serious. She was like "NO WAY." Then I said, "just kidding" and she started laughing and said "you are crazy!"
I had to make an emergency exit and we wound up in a not so great part of town. But there was a store there that said "Boot World" and Indiana and I desperately needed boots for Europe and hadn't had time to shop for them. We went into the store and they had an armed guard at the doorway and no public restroom. I said "I need two things a bathroom for my daughter and boots for both of us." Mindy, one of the sales girls, said to Indy "come with me and you can use the employee bathroom".
Super sweet! Most of the boots were super expensive like $179.99 for Ughs. Not a huge fan but we finally both found darling matching black boots for $49.99 each. That pit stop was meant to be. As I have said throughout this ezine, God works in mysterious and amazing ways! We have all been very blessed .
Here is Indy with her new "walking boot" that will be going to Germany with us and her new left boot. LOL.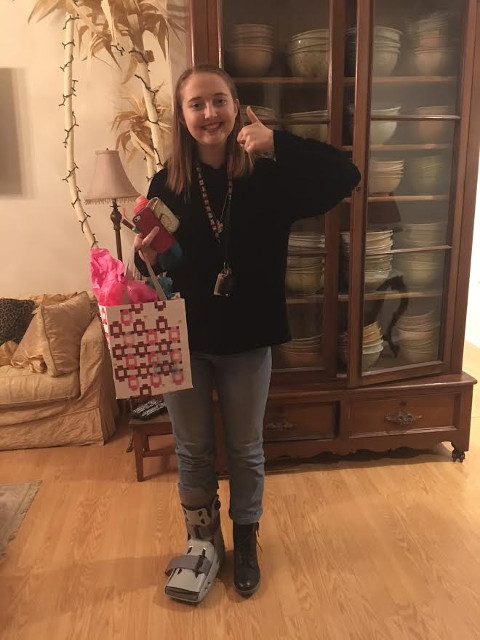 Before I wrap up I want to share one last reason why my eBay business has been off the charts. I have been lotting up things that I will never get around to listing individually before my move.
Here is one of those listing for a LOT of silverplate that should be a SCORE!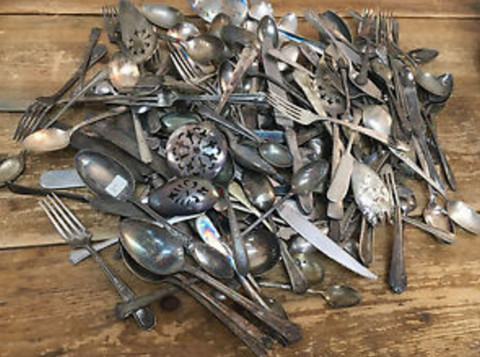 Click here
 to see this auction.
Wish us luck in Europe and I will be sending out some mini-ezines from our travels to keep you in the loop…not the Loo (bathroom in Britain) LOL!
Thanks for reading my ezines! I appreciate it!
Happy eBaying!
Lynn
---
Lynn is an experienced eBay Power Seller, author and teacher. If you want to know the eBay tips, tricks and tools that Lynn uses for buying and selling at online auction click here.
Some links in my emails to you may be affiliate links. You can be confident that I only partner with companies that I fully stand behind.