Hi!
Happy New Year! I was so busy in December finishing Volume C of the Antiques from A to Z eBook, sending out actual "real" The Queen's Court Christmas gifts, celebrating the holidays, spending time with the Goose and getting out our Christmas cards that I did not write one ezine. I am happy to report that one of my New Year's Resolutions is to write 24 ezines this year .
Here is a virtual glimpse into our "real" Christmas card that went out this year. I LOVE IT. Thanks Indy, Goose from Germany and Uncle Lee for the graphics!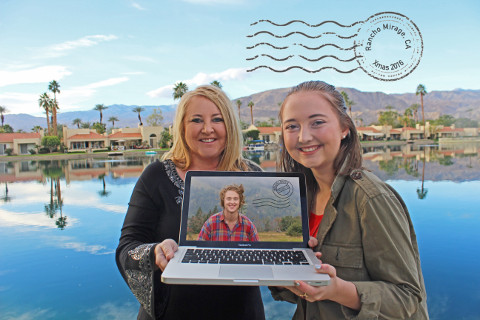 I was going back through old ezines recently looking for a very special photo of my sister and my family, and I realized that when she was sick in hospice I didn't write super long ezines, but rather called them just "updates"….I am thinking that it would be better to email out to you all twice a month and just make my ezines shorter. What do you think?
Here is that photo that I was searching through past ezines to find. It is a picture of my family…. my mom, me, Kiki, my dad, and my brother in her room, Room #11, in the amazing Bellingham Hospice house.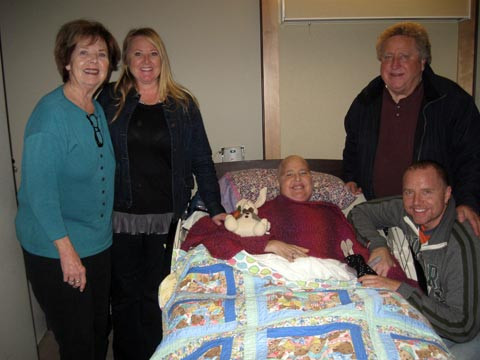 And this is the story behind it…
While spending time in hospice with my sister back in 2012, A Queen's Court member told me that even though it would be painful we must all pose together for as many family photos as we could get. I am forever grateful for that suggestion! Thank you, Bobbie!
Here is what she wrote me and a little bit more of the back story from an update I sent out back in February of 2012…
"Lynn, thanks for the update and glad to hear that your dear mother took a break and hope she is doing more of that every night. Is Lee there for the weekend? Take lots of pictures while the entire family is there. Prayers are still going out for everyone. Hugs too! –Bobbie Quandt, Colorado"
So, on February 13th, 2012, as my brother was packing to leave to go back home to LA, I said to my family, "A Queen's Court member said we should take lots of family pictures." I grabbed my mom, dad, Lee and a hospice volunteer, Dianne (who knew my grandmother and helped her pick out the shiny beaded jacket she wore to my wedding–small town) and we took a few photos with Kiki. Check out her smile. Every single nurse, volunteer, friend, visitor and doctor that comes into her room always gets that HUGE wonderful smile from her. Even if she doesn't know you. My sister is amazing.
I just noticed in this photo that only my brother and I are holding onto Kiki. My mom was too far away to do so but my dad didn't reach out and put his hand on her. I think it was surreal to both of them to even think that they could lose a 40 year old daughter.
OK, now let's get to a score! I had a lot of them this December and my sales were off the charts! Thank you to eBay! It was one of the best months I have had in sales on eBay in a long time, $14,290.07 in December. Ebay is BACK!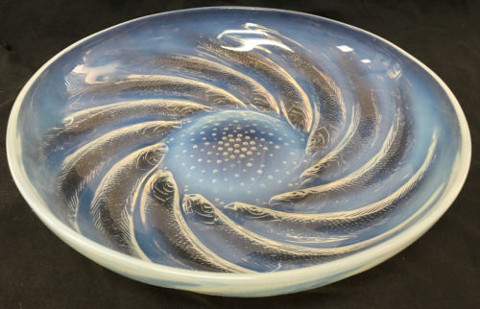 Click here
 to see this auction.
I sold that bowl for a best offer of $1,650.00 and I paid $1.00. Do you know who made it and why it is worth that much? Check out my listing!
The Queen's Court challenge for December, had nothing to do with eBay, but more with the spirit of the season. I called it the "Attitude of Gratitude" Challenge / Choice. Because I believe that to have an attitude of gratitude is much more of a choice, than anything else.
Here is a quote that I posted in the Challenge thread. "Gratitude and attitude are not challenges; they are choices." Robert Braathe"
How strange that my mom and I came up with Attitude of Gratitude for the December challenge and come to find out that it is not a challenge…but a choice 

.
Here is one more quote that I shared with the Queen's Court members…
"I truly believe we can either see the connections, celebrate them, and express gratitude for our blessings, or we can see life as a string of coincidences that have no meaning or connection. For me, I'm going to believe in miracles, celebrate life, rejoice in the views of eternity, and hope my choices will create a positive ripple effect in the lives of others. This is my choice. Mike Ericksen"
The Queen's Court members were amazing in their choices and posts each day. It turned out to be our most read and posted in challenge EVER. 2,852 views. Wow is all I can say!
I really looked forward to each night reading the forums and looking at the photos that members had posted. Some wrote about cherished family members who had passed, others spoke about what great influences that their siblings had on their lives and still others were grateful for the little things like having a home, hot water and food to put on the table.
I was overwhelmed by the love and gratitude that radiated from these posts and often found myself crying…both tears of joy and of sadness. But one thing I can say for sure…Is that I am extremely blessed to have those of you who are very special…. Queen's Court members in my life. And as some of you may know, each December we ship an actual gift to our members as a special thank you and to encourage them to list that item on eBay.
Here is a photo of some of those gifts in postal bins under my Christmas Tree. LOL! What do you think we shipped them this year?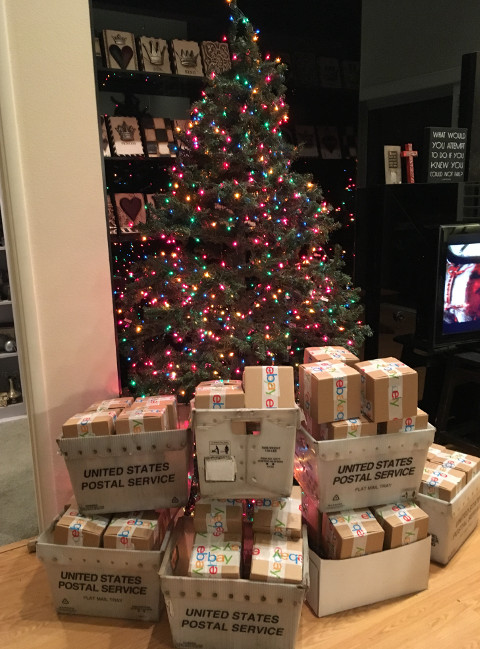 Here is a photo of my mom wrapping one of those gifts in its shipping box late at night. She accidentally taped her hand to the box. At least we have fun while we work!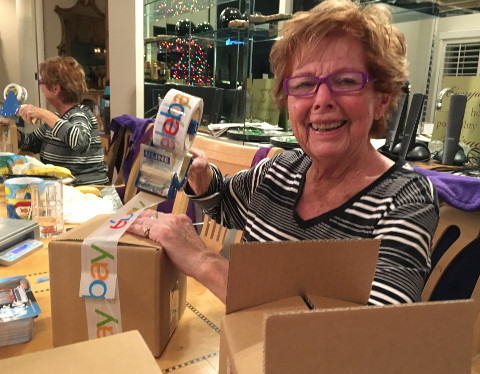 OK, if you haven't figured it out yet, here is a big clue. Check out this item that I sold for almost $60 this December.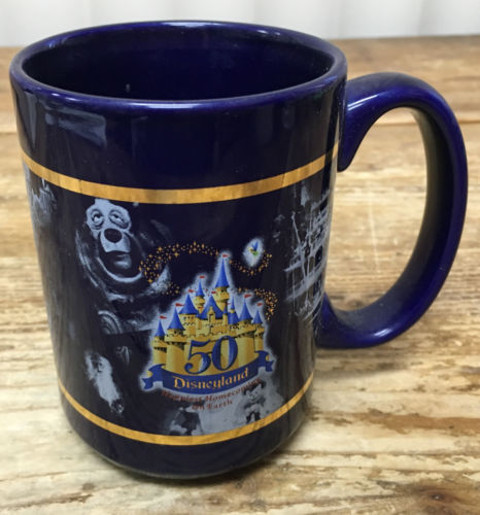 Click here
 to see this auction.
LOL! If you don't know why I got that much money for a coffee mug you need to A. either join the Queen's Court or B. buy my coffee mug eBook before our New Year's Sale ends at midnight tonight.
Oops, if I forgot to tell you we are having a New Year sale so that you can get 30% off anything on my website by using code HAPPY2017 excluding individual I sell products (but if that I sell product is in a bundle you can get it on SALE), QC memberships and our new A to Z eBook & presentation. But the sale ends at midnight tonight. Don't miss out on making your NEW YEAR on eBay AWESOME!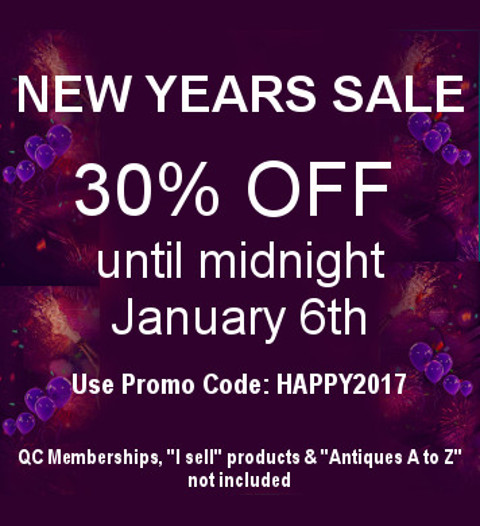 By the way, those Queen's Court gifts go out before I even think of my own family

. But of course, I do think about my own amazing family during the holidays and we were all so blessed this year to be able to pick up Houston from LAX on December 22nd…just in time to spend Christmas at home.
Here is a precious photo of Indiana waiting for her brother to come out of customs at LAX.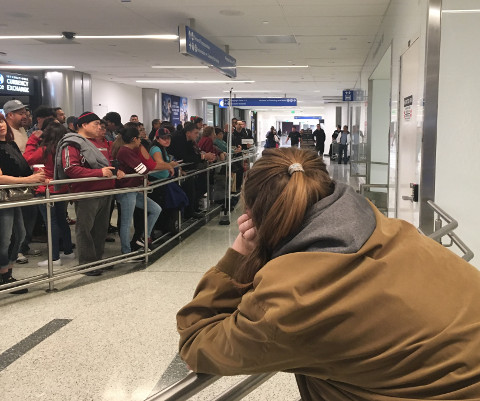 Here is a photo that I took seconds later that I posted on Instagram.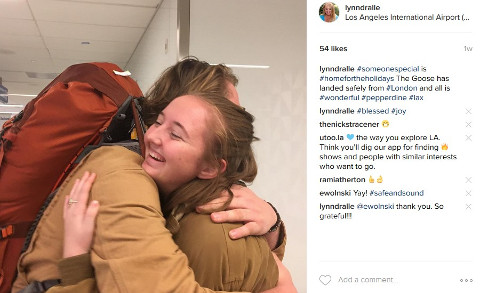 This is what LOVE, FAMILY and HOME look like to me . So blessed and grateful this holiday season. OMG, that QC challenge really rubbed off on me. Right on!
OK, time for another reason to be grateful, a score. This is a beautiful Sandwich tray that sold for a best offer of $200. It is a rather small serving piece but the reason it sold for so much is because of its rarity.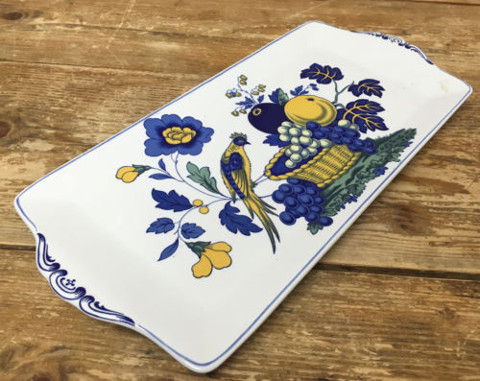 Click here
 to see this auction.
Speaking of the holidays , family and reasons to be grateful, I was recently on eBay Radio with Griff and Lee talking about what sells the best this holiday season. For some reason, we got off on a tangent and discussed how important eBay can be in reuniting loved ones with their precious memories and lost loved ones. I even started to tear up (as in cry) during this interview.
If you missed that interview you can listen to it here.
Here is one of the listings I talk about during that interview. I sold this bear for almost $40. WOW!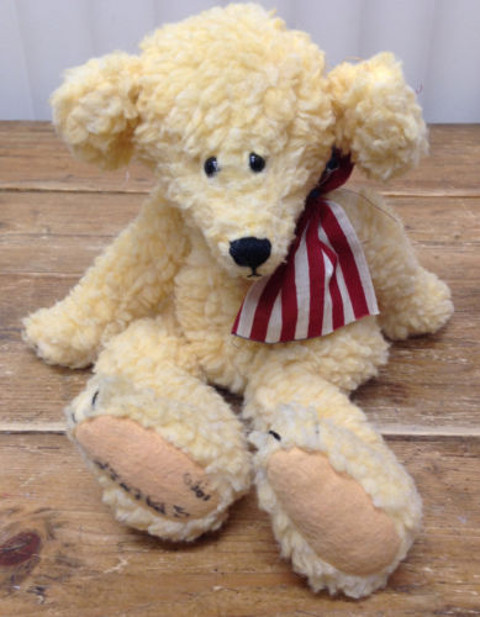 Click here
 to see this auction.
When I was getting that darling bear ready to ship, I noticed that one of the ear's was falling off. I emailed the buyer to let him know and make sure it was OK to ship.
Here is his email back to me,
"Hi Lynn, The ear is fine. My wife, Sue passed away on Oct 2nd and I am bringing a few of her 10,000 kids home. Thank you so much, Peter Palmer"
OK, do you want to talk about crying? I certainly did once I received that email.
Before Houston got home from Germany, Indiana and I had a super busy December. Her Musical Theatre Broadway next Gen Group had been filming an hour long Christmas Television special that was to air December 16th and play again on Christmas Eve and Christmas Day on our local NBC station. Pretty cool! Indy even had a solo in the finale performance. So proud of her!
Before it aired, the entire group traveled to San Juan Capistrano to perform all of their nine numbers live at the Christmas Tree Lighting Ceremony in old town. It was crazy awesome! The fourteen kids had 9 different costume changes that they did in a tent behind the stage. It was WILD!
Here is the finale with fake snow coming down. Indy is on the far left.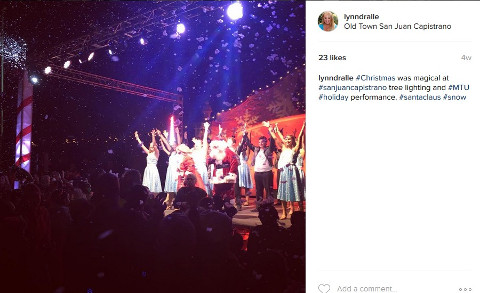 Indy and I decided to spend the night in Laguna Beach. I had never been to Laguna Beach before and it is AMAZING! I love it there! I was able to hit some thrift stores before her performance and got some amazing items. Seriously! I got a set of Arabia for $35.00 and a set of really good Hampton Stainless in the Odyssey pattern for $20.00. Plus a bunch of other stuff. I can't wait to go back 

.
Here are the dinner plates in the Arabia.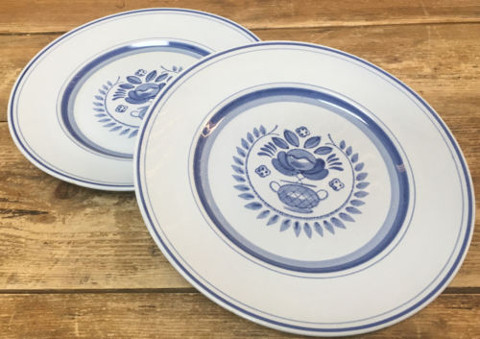 Click here
 to see this auction.
Indiana and I stayed at the Hotel Laguna and had an ocean view. It was so fun! Here we are at breakfast the next morning before heading back to the desert for more television show filming. Indy had to be back for a 3:00 stage call.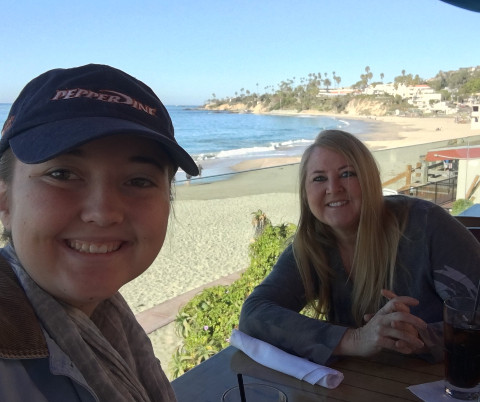 The Tuesday after that crazy fun weekend was the World Quest competition. There were four students on each team from 16 different high schools. The competition consists of 50 questions about current world events. The competition ended in a tie between Xavier (Indy's school) and Indio High School. We didn't know if the tie was for 1st, 2nd or 3rd place but we all thought it was probably for 3rd place.
The tie would be broken with a sudden death tie breaker of just one question. If you can believe it, they went through 8 of those questions and each one took about 5 minutes. It was like a crazy sporting event. We were on pins and needles! Finally, question #9 decided it but we wouldn't know the winner until all the awards were given out.
When they finally announced 3rd place it went to Xavier! Praise the Lord! The 4 girls on the Xavier team had managed to beat the 4 boys on the Indio team. For an academic competition, it was actually pretty exciting! Here is Indiana with her teammates and their coach Mr. Hunter.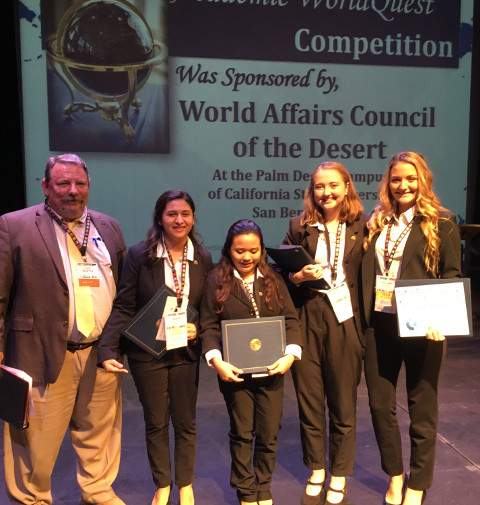 As I sit here and write this ezine, I just sold a plate that I paid $7 for at a local thrift store and bought on December 14th, the day I picked my mom up at the Palm Springs Airport. It is our tradition to always go thrifting in Palm Springs when she flies in and out.
I remember asking my mom, "Do you think I should pay $7 for this plate? It is an awful lot but Laurel Burch died back in 2007 so her items should be going up in value." My mom thought I should probably give it a shot. It sold for full price in less than 30 days! Yaya!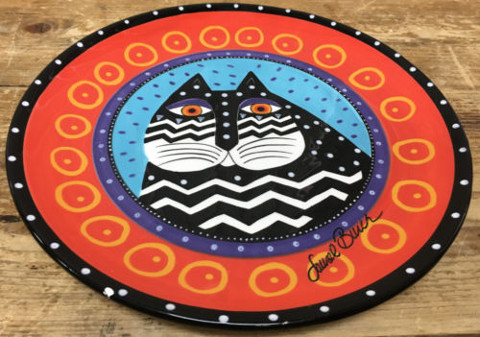 Click here
 to see this auction.
The day after my mom arrived was Indy's 18th birthday! Oh my goodness! I can't believe that I have an 18 and 20 year old. I have been writing these ezines since they were 4 and 6. Where did that time go?
I stayed up late to decorate the garage and her car. I didn't want her to see the sign hanging from the back but of course she knew I was up to something. Somehow, I persuaded her to leave it on for the drive to school.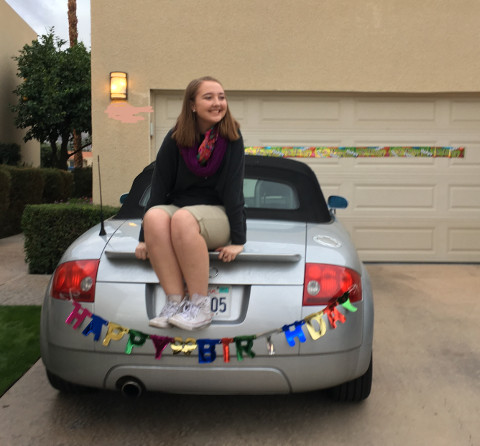 The day after Indiana's actual birthday was the MTU Christmas television premier. The MTU kids and their parents all met up at a local sports restaurant to view it. They had it going on every TV. I took this great picture of all the kids watching the finale on the back TVs and it shows the front TVs at the top and that is Indy in the center singing her solo during the finale. It was pretty special!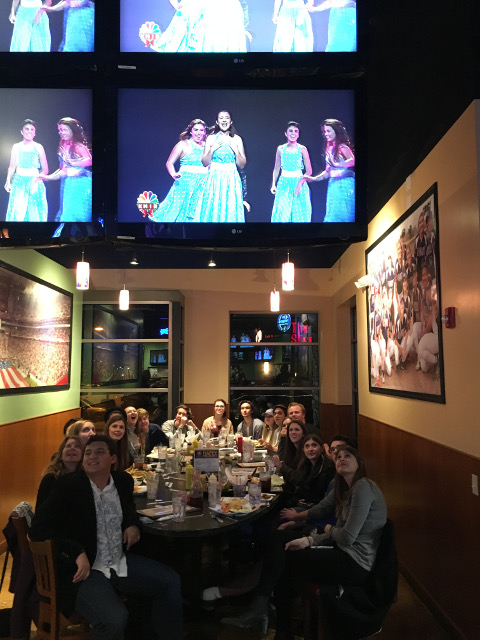 The next morning my mom and I went to a really creepy estate sale. There was literally an inch of dust of every single item and the house was bursting at the seams. In addition it was dark but for some reason, I just had a feeling about the items in that house. The owner had been European and a lot of the pieces were from Europe. I grabbed a box and just started filling it up. I picked up what looked like an Indian basket to put into the box and it turned out to be a pottery piece. It was the strangest thing ever. I didn't recognize the signature but found two other similar pieces that I also added to my box.
Here is the pile of my first round of purchases. I spent $200. I ended up going back later that afternoon and got another box full for $20. Score!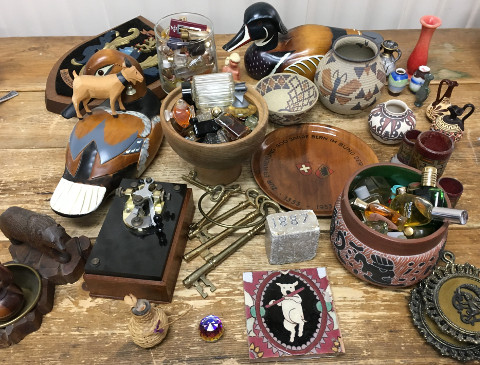 Here is one of those amazing pottery pieces that I have listed on eBay. The potter is a famous Idyllwild artist and my grandmother would have definitely collected his work. It is awesome! Yes, I priced it quite high and as you know….that is the way I roll.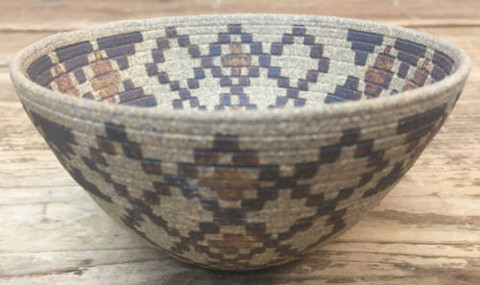 Click here
 to see this auction.
I also got this item at that same sale and it sold at auction. Pretty interesting stuff huh?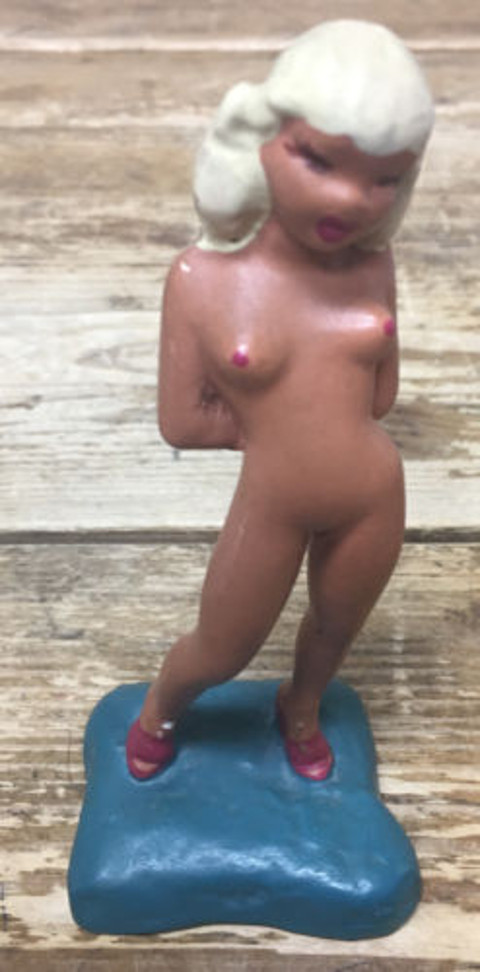 Click here
 to see this auction.
That leads me right into Christmas! At that same sale I found a six foot long family tree hand done in calligraphy and it looked like it was in German. OMG! I know my son (he is a lot like his mama) and loves stuff like this. I grabbed it and my mom and I went out to see how much it was going to cost. We had scrimped and scrounged to pay for my $200 box in cash so all we had left was $7 between the two of us. We asked the estate sale dealer how much? I told him we only had a few dollar bills left. And what a doll, Marc just took the $7 we were holding and said "Merry Christmas!"
Here is the Goose with his new treasure. BTW, I told him it would look cool hanging in the living room and he immediately took it into his bedroom. LOL!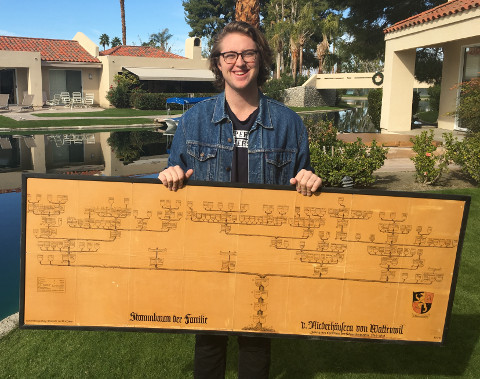 Christmas was super fun and chill. My brother came out for one night and was here for stockings and gift giving and Christmas dinner which we at outside around the firepit by the lake.
Here is proof that my brother was actually here.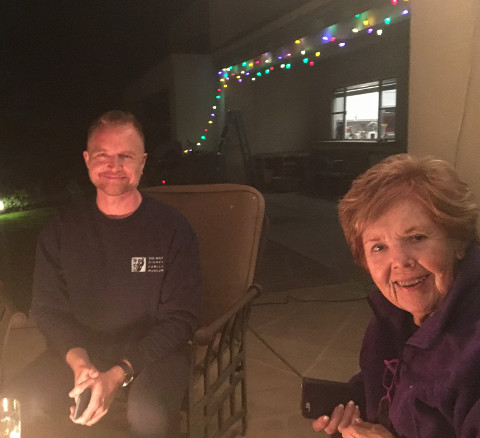 Here are the kids with their stockings. Houston got a record player and Indy got a huge bag of Bath & Body Works from Santa. So, Houston has been playing a bunch of my old records like the Partridge Family, OMD, The Human League and Oingo Boingo. Cracks me up!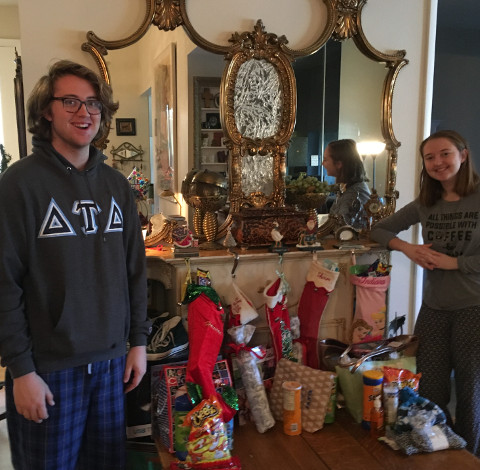 Hot tip…Houston asked for an old school cassette player and the record player for Christmas. I know of several other teenagers who also wanted record players. What does that mean for us as eBay sellers? Get that old vinyl listed NOW!
Houston actually bought all of us Christmas presents this year. Most he ordered on eBay and had shipped to the house. It was very sweet. He got Indiana, me and himself sweatshirts on eBay that say Germany or Heidelberg. Here we are all wearing them.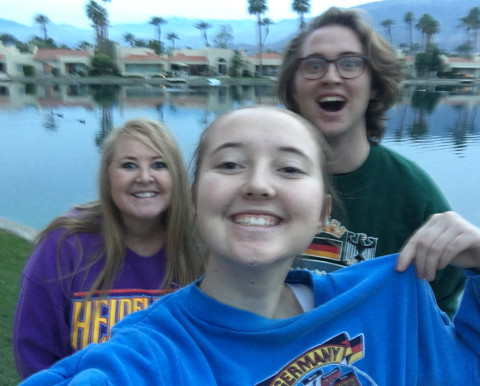 Today is my brother's birthday. Happy Birthday Lee! And he is on a Mexican cruise spending the day in Cabo San Lucas. Sounds nice to me!
He just text some photos and it looks amazing. As his text was coming in I heard a Kaching and just sold this Rooster for full price. Seriously?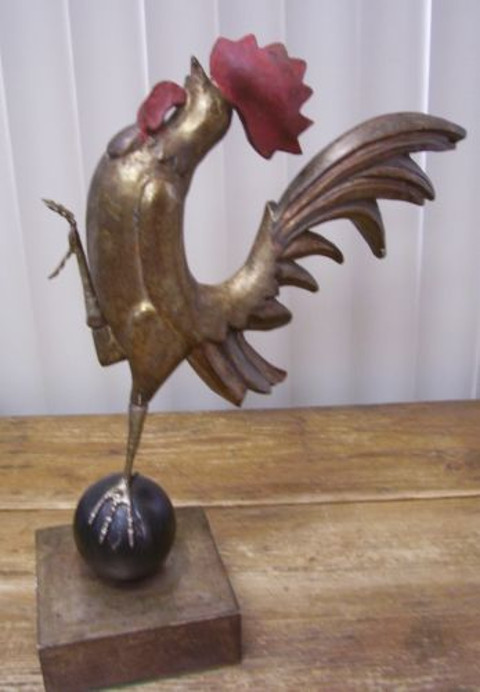 Click here
 to see this auction.
It was from that huge batch of chickens, hens and roosters that I bought for $100. Finally, I think we have our money out of them!
eBay has been off the charts amazing these past few months. We had 54 packages to ship out yesterday (the Tuesday after the New Years weekend). Crazy!
We finally got to celebrate Indiana's birthday with a party for her friends the night before New Years Eve. It was a blast!
Here are Indiana and a few friends in front of the lake.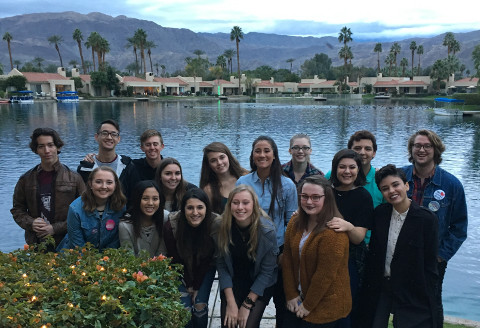 There were quite a few of the MTU kids at the house and Indy pulled out her computer and started playing a download of the Christmas TV special. Somehow, she got all the kids to get up and do the swing (which was one of the numbers). My mom and I LOVED watching it. Doesn't Indy look so happy dancing the swing with her buddy Angel?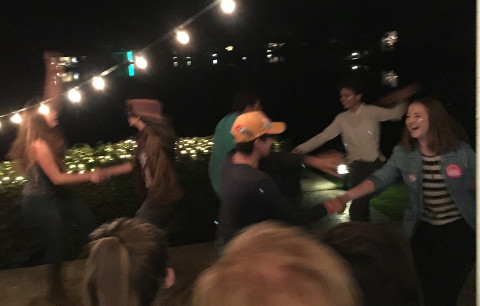 New years eve found us at Coco and Jerry's amazing party! Seriously, I had never had caviar before and it is awesome!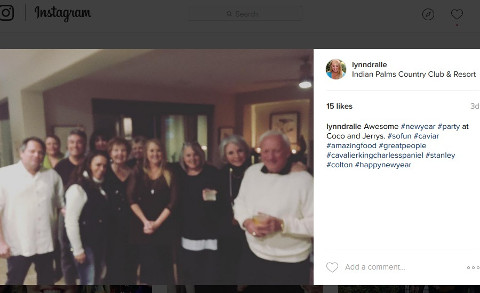 The next day, I got a request to ship a text book by DHL to Aruba. The kid paid full price for this book plus another $128.00 to ship it. It was one of the books that Houston grabbed when he left Pepperdine and listed back in May and I know that money will come in handy for him as he prepares to head back for his Spring Semester in Germany. BTW, Houston got straight A's while taking 18 units in Heidelberg. Couldn't be more proud! BUT, I can't get that stupid song out of my head now…
"Aruba, Jamaica, ooh I want to take ya
Bermuda, Bahama, come on pretty mama
Key Largo, Montego, baby why don't we go, Jamaica

Off the Florida Keys, there's a place called Kokomo
That's where you want to go to get away from it all
Bodies in the sand, tropical drink melting in your hand
We'll be falling in love to the rhythm of a steel drum band
Down in Kokomo"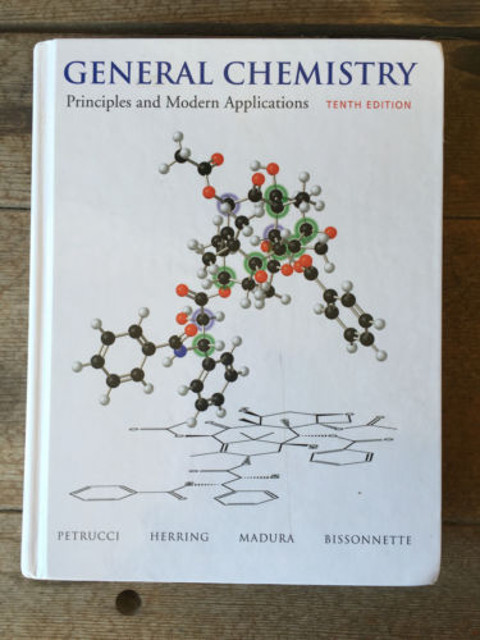 Click here
 to see this auction.
Another hysterical selling story. You will love this one! I got a message through eBay that a buyer lived in Palm Desert and she wondered if she could pick up the dishes from us and save shipping. I figured sure! But she had asked for my phone number in the eBay message and because of that eBay blocked me from sending her any type of response. UGHHHHHH. I wasn't trying to do business "off of eBay" just trying to do business.
Well, luckily she had put her whole name in the message and I was able to Google her and find out that she is a very famous Hillary Clinton impersonator and I got an email address off of her website. I emailed her and told her how cool it was that she looked so much like Hillary and was able to make a great living doing private events.
She has a good sense of humor and wrote back "I guess I am busted. It was a great gig for a while but I got fired on November 8th". She ended up buying quite a few pieces of this dinnerware and came to the office to pick it up yesterday.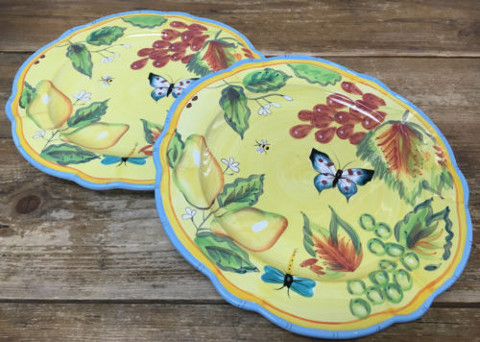 Click here
 to see this auction.
I had to get a selfie with her and my mom….didn't I?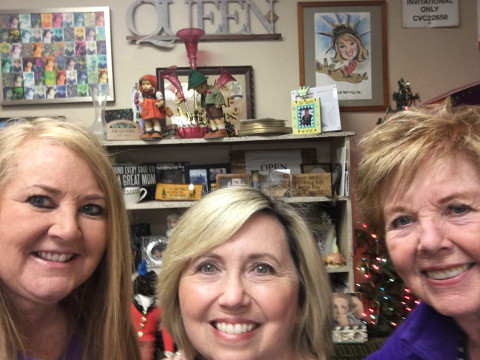 I did ask her why she had to stop doing the impersonating and she explained that it had gotten really dangerous and that she had made a good living doing it and been around the world but it was time to retire. She isn't that old but I understand.
Remember I did an hour presentation on Antiques from A to Z at eCom in Chicago back in October? Well, Indiana, Mo, my mom, Houston and I all sat down to record the audio to go along with the Powerpoint presentation on Monday.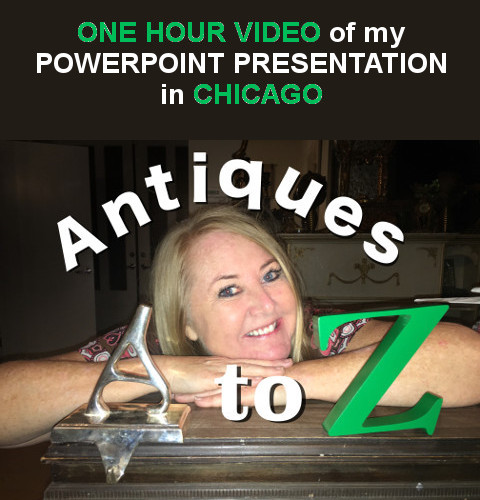 It turned out great and can be viewed as a video…..you will see the slides and hear us narrating it. It was the Queen's Court gift for January. If you aren't a QC member, the intro price is just $17 and you will get immediate access. Click here to order now. This new product is not eligible for the sale that ends tonight at midnight.
Here is an email that I just received from Nancy Nelson a QC member regarding this video….
"Lynn – I LOVE this gift! So entertaining and informative. And I love how all your family (including Mo) participates, as usual. I would love to attend eCom Chicago this year. Happy New Year to you all! Nancy"
On the topic of Chicago, while there back in October I had the pleasure of meeting Ron LaBeau who co-hosts the popular Podcast, "So you wanna sell on eBay" with his crazy sidekick Ali. The interview was super fun and you can listen to it now at this link.
http://soyouwannasellonebay.com/shownotes/lynn-dralle
Here is a photo of Ron, Mo and me in Chicago.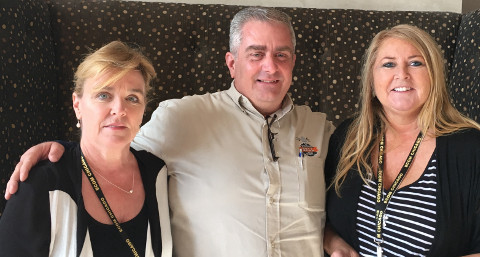 OK, one last score to wrap up this ezine. Antiques are selling really well because I have had my antiques hat on as I write the new eBook! Here is one of those that did sell for full price.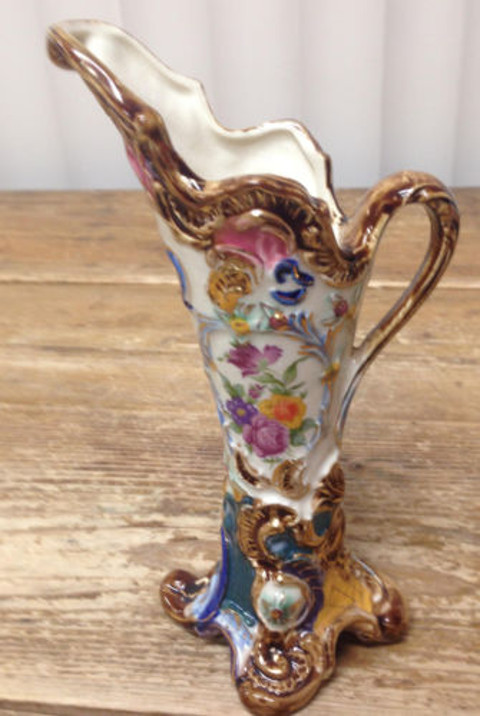 Click here
 to see this auction.
Here is an antique that I bought for Volume C and hope becomes a score in the future. Notice that it is very as is but I have had some interest in it.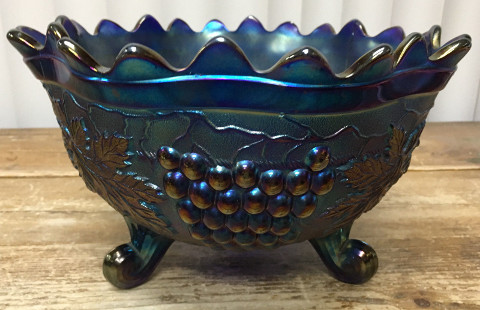 I have had such a fun time with Houston home from Germany. He has been a perfect angel and we have not gotten into one argument! We usually do quite a bit of arguing about politics and religion and I told him several months ago that I refuse to discuss either one with him until he turns 25 .
I walked in the kitchen a few days ago and asked him if I could make him an egg for breakfast. He said "I just cooked breakfast for the entire family and it is in that pan." And on top of that he was doing the dishes! I said "Where is my son Houston and what have you done with him?" In any event, I think his time abroad has helped him to realize how blessed we all are and that you can't take any of this for granted.
Here are a few photos of Indiana and Houston in her new Hammock that my mom bought her for her birthday. We are going to miss that guy when he leaves on January 9th.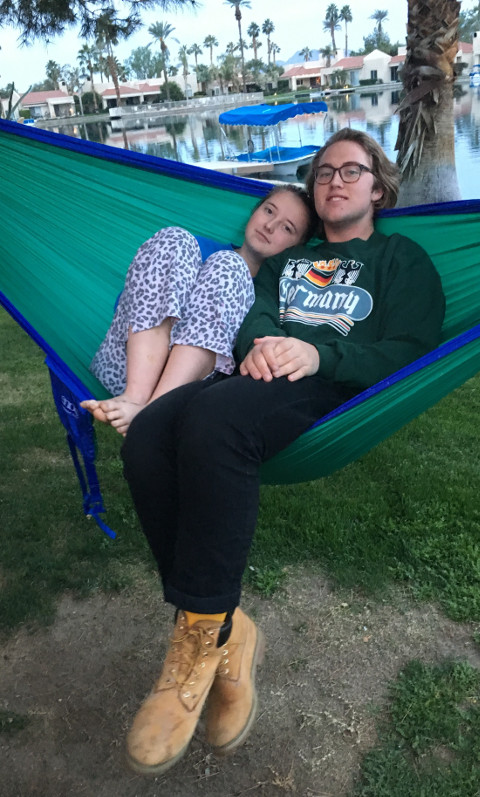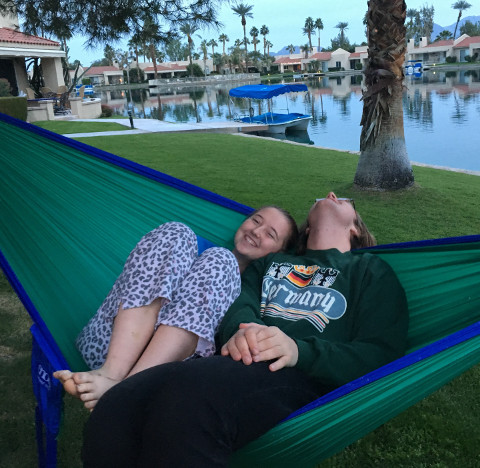 Oh, wait one more potential score! Those boots that Houston is wearing in the hammock are the ones that Indiana and I bought for him at a thrift store near LAX when we were picking him up from his summer in Spain. We went to that same thrift store before picking him up from Germany and check out this French pan I got for $7.99.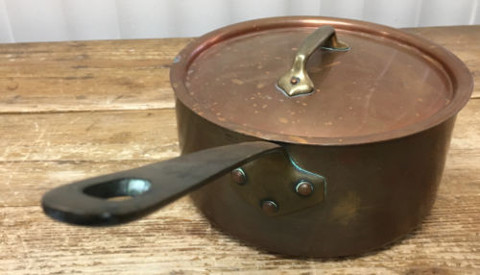 Click here
 to see this auction.
The cashier at the Goodwill looked at me and then looked at Indy and said "Your mom will never use this will she?" Indy started cracking up and I was like, How did you know I don't cook? He told me that I looked all fancy schmancy…seriously? I was wearing a tshirt that says "Baseball Mom" in Rhinestones. Hardly fancy schmancy!
Happy New Year to you and yours! I am very grateful for my friends, family and all of you ezine readers during this very special holiday season!
Thanks for reading my ezines! I appreciate it!
Happy eBaying!
Lynn
---
Lynn is an experienced eBay Power Seller, author and teacher. If you want to know the eBay tips, tricks and tools that Lynn uses for buying and selling at online auction click here.
Some links in my emails to you may be affiliate links. You can be confident that I only partner with companies that I fully stand behind.