Hi!
Happy Halloween (Almost)! I cannot believe how fast time is flying by. We are three weeks into the 4th Quarter and I hope your sales are picking up like ours are!
Let's start this ezine off with a holiday score! I chose this particular listing because it is Thanksgiving related. I bought this set back in April for $50. It included 12 turkey plates and a platter.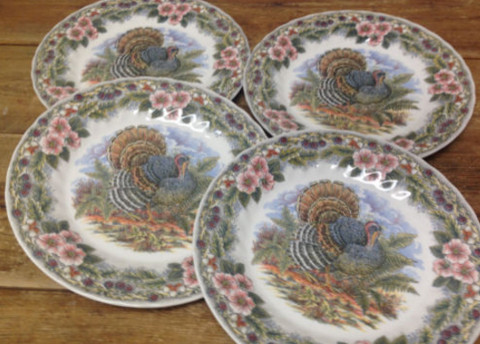 Click here
 to see this auction.
These sold for very close to asking price. Yay! I have sold all 12 dinner plates and have customers wanting to buy more. If you see this pattern when out and about, you had better buy it!
A few weeks ago, I got a very interesting question about one of my eBay items. It was regarding a Papel Coffee mug and the question came from Stanley Papel. He wanted to know if we could discuss a possible business opportunity.
Yes! Stanley Papel is a very famous coffee mug designer. His family history is amazing!
The Papel company has been in business for 50 years. Stanley's parents were original Lesees on Main Street Disneyland from 1955 to 1962 with Ruggles China and Gift Shop.
Stanley worked in the store from the age of 13 and he expanded upon his parent's original success and became known in the industry as "The King of Coffee Mugs" with over 275 million coffee mugs sold under his name.
Here are Stanley and I in his office with his incredible collection of mugs behind us.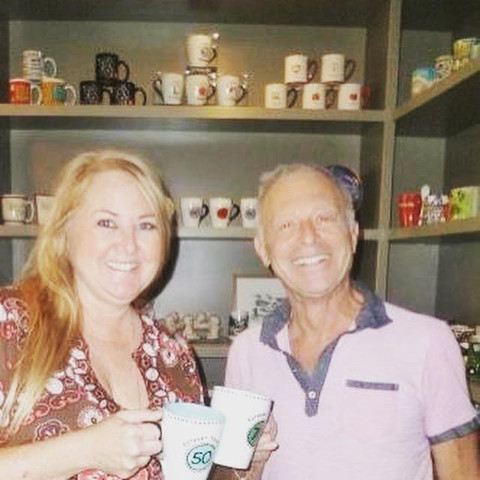 Stanley had found me on eBay by searching for Papel Coffee Mugs within the closest distance to his home in Palm Springs. Of course, The Queen of Auctions popped up and I had 28 of his mugs listed! eBay can be so much more than just a place to sell items, it can also be a way to locate someone to partner with!
Stanley and I will be working together to get his unique and one-of-a-kind items for sale on eBay. We will also be selling some of his original artwork along with an autographed coffee mug that matches that artwork.
Here is one of my current store listings for Stanley's Kurt Kresse artwork and autographed Black and White Jersey cow coffee mug.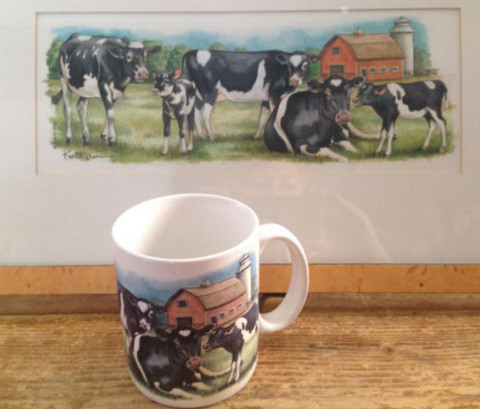 Click here
 to see this auction.
Stanley has over 400 pieces of original hand drawn mug artwork as well as literally thousands of computer generated artworks that are not only Papel designs but also licensed designs to many well known companies such as Otagiri, Enesco, Russ, Applause and Dakin.
Stanley, and his daughter, Melissa are currently designing more new coffee mug lines that I find extremely creative and out of the box. Can't wait to list some of those limited edition mugs in my store on eBay!
A major giftware company will be marketing the Papel Brand beginning January 1, 2016 and the effect should make these unique pieces I am listing even more desirable. I can't wait!
Press Releases and more information will be on the www.papeldesigns.com website starting December 1, 2015.
Here is a listing for an original sample designed by Stanley that never made it to market. I LOVE this coffee mug and it also comes with a signed Certificate of Authenticity COA.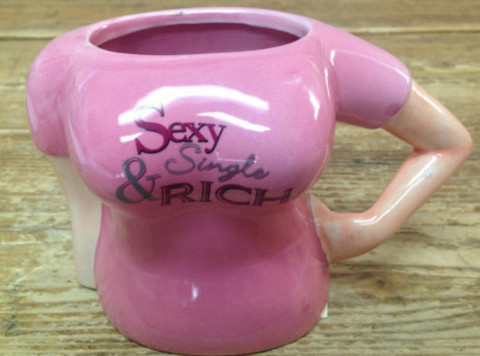 Click here
 to see this auction.
Meeting Stanley was such an honor. He is a true talent, amazing businessman and a very kind soul. It was also incredible timing for me as I am deep in the thick of writing my new eBook on…..Coffee Mugs! It is a sign. The Coffee Mug eBook will be out in November. You may preorder here at our super special low price.
My mom flew in on October 5th and we have had some great adventures. One weekend we stayed out until the cows come home and my SUV was full! "Cows come home" really fits in with Stanley Papel's awesome original artwork and makes me wonder just what "the cows come home" means. Of course I am going to have to check that out.
According to Wictionary….
"The meaning possibly comes from the fact that cows may be expected to return for milking in the morning; thus, for example, a party that goes on "until the cows come home" is a very long one.
Alternatively, assuming a Scottish origin, from the fact that cows in the highlands are put out on the common grazing fields until the end of summer, when they will find their way back home to be let in for feeding. Grass on the hill is plentiful, so cows may stay out for months before scarcity of food brings them home in the autumn."
Reportedly, the first attestation is from the [London] Times.
WOW! I always thought that "until the cows come home" meant very late in the evening. No idea that it really means at sunrise or for six months! Good to know!
And BTW a question for you all….do cows have to be milked? Aren't cows wild animals and they only produce milk for their offspring?
But back to our "until the cows come home" shopping day. My mom bought an AMAZING Italian dinner set for $175.00. Each plate is unique and handpainted. The lady we bought them from had either purchased them in Malibu or Encino. I am going to go with the Malibu because I LOVE Malibu!
Here is one of my mom's listings.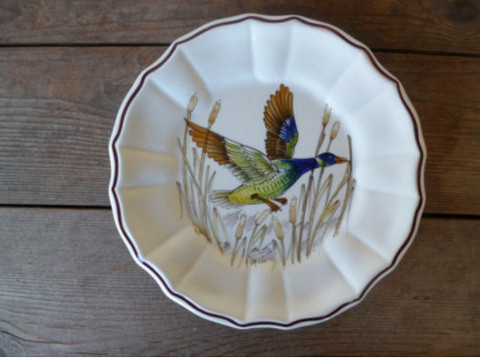 Click here
 to see this auction.
Let's get back to Malibu. This past weekend was Waves Weekend or Family/Parents Weekend at Pepperdine. We finally got to spend some time with the Goose but WOW was he busy!
When Mor Mor, Indiana and I arrived on Campus around 1 pm on Friday, we had a blast checking in and getting our goofy picture taken.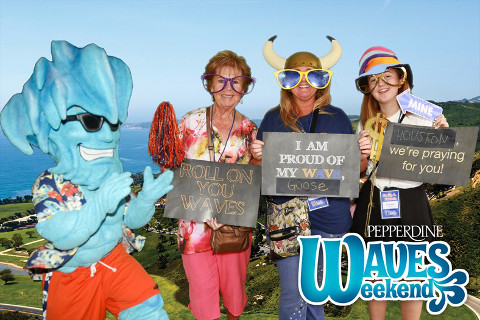 Houston was still in class when we arrived but at 3 pm he left class early to drive students to volunteer at a local pre-school. It is part of his new job as a Service Leader. It was really awesome because he was able to take Indiana with him. He drives a 15 person passenger van. EEgads!
Here is a photo that Indiana took of him.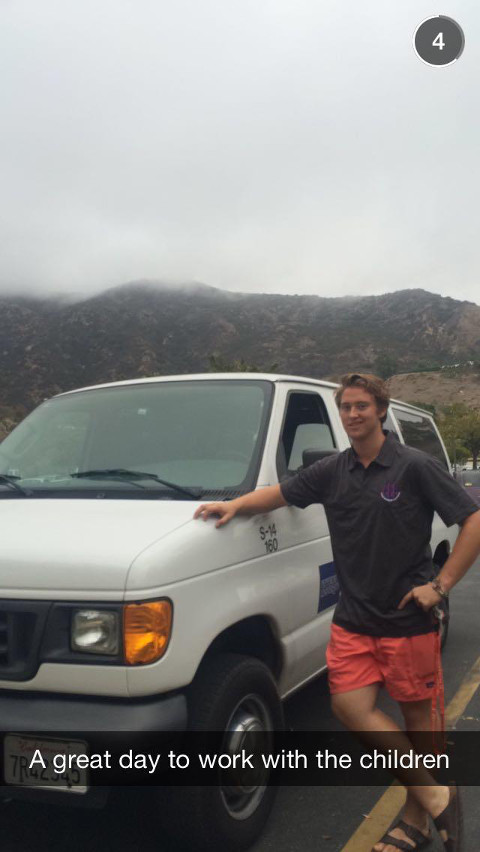 OK, time for another score before I continue on with our Pepperdine Weekend. When I was back home in Bellingham helping my mom clean out her garage (check out TBYI for our Halloween Sale) I bought a few things at the big "we snip" sale. It is a great charity that helps spay and neuter pets.
One of the few things I bought was a green dragon. Can you believe that I paid $10 for this? Well, you just won't believe what it sold for on Sunday while we were still at Pepperdine!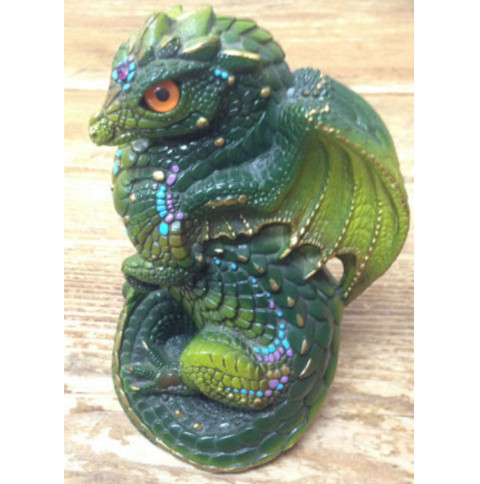 Click here
 to see this auction.
OK, back to Waves Weekend. While the kids were out volunteering, Mor Mor and I boarded a shuttle to head up to the Pepperdine President's home for a Welcome and Hors d'oeuvre party.
WOW! What an amazing home that was opened to all of us! The view was beyond breath taking and we wanted to say Hello to Dr Andrew K Benton so we waited our turn on the bridge to the home.
When we got to AKB (as he is affectionately called), he was so gracious and darling to my mom. He teased her for passing by the line to get a plate of appetizers before getting back in line. I said to him, "We have met before" and he said "Yes, we have. Under the trees for lunch and at that time you were quite sad".
It was move-in day and if you remember from that older ezine story, I was quite distraught because things weren't going exactly perfect. Here is a link to that past ezine if you want to read it.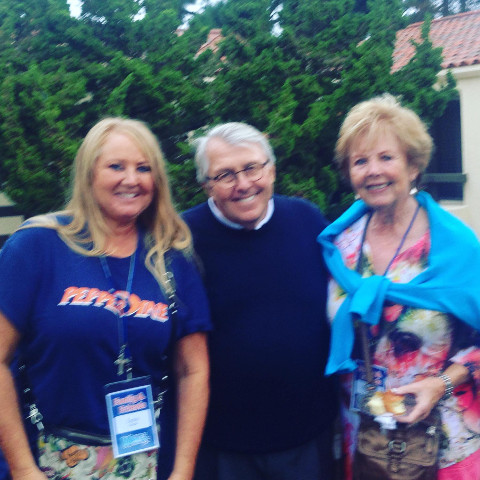 I told him that Houston had been elected Freshman Class President and he said, "I think it has worked out quite well". He was right…it had turned out to be AWESOME!
After our super fun time enjoying the President's home, my mom and I made our way down to the Pepperdine Carnival. It didn't start until 6 pm and we arrived around 5:30 pm. The students were so kind that they went to get a chair for my mom to sit in until the gates opened.
Here is my mom waiting with the carnival in the background.
So cute!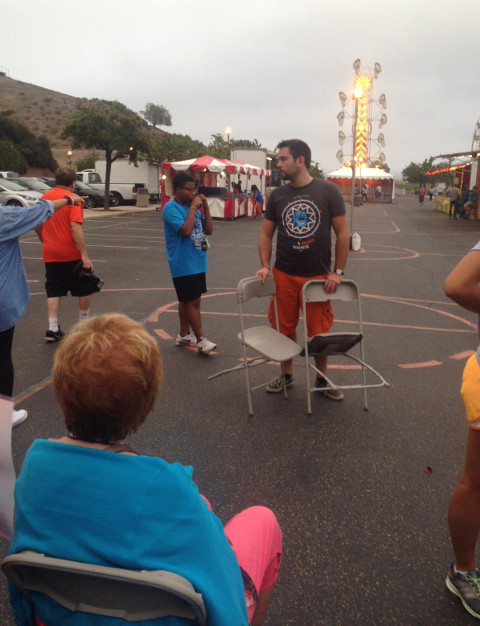 Once the gates opened it was a whirlwind. The students rushing into the event were focused. It was AMAZING….Everything was free. I am not kidding! Chick Filet was free, the cotton candy was free, the churros were free, all the games were free, the rides were free, the gelato was free, the water and sodas were free and most importantly for Indiana the cotton candy was free.
I have to tell you, Pepperdine really knows how to throw a party! Indy and Houston finally showed up (after volunteering with children so they are excused) around 6:30 pm. But Houston had to go to the SGA booth (Student Government Association…he is class president you know) to hand out FREE tshirts to the students. Did I forget to tell you how AMAZING this all was?
Finally, Houston and Indy had 5 seconds to spend with us and I got a great photo of the kids with Mor Mor. I posted it on Instagram and wrote "Finally a Goose Sighting".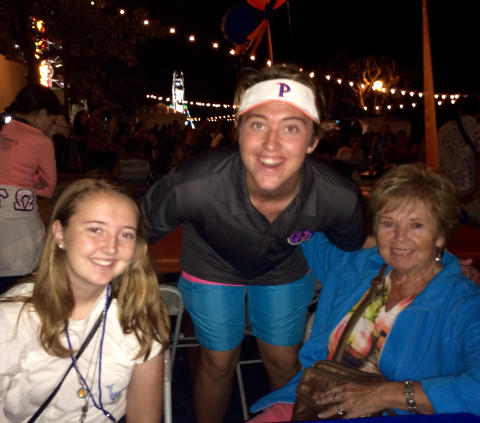 After finally seeing Houston and Indy, we walked around the carnival and decided to call it a night. There was a pep rally after the carnival but we were so exhausted from driving in that morning that it was time for us to call it a night!
I was able to go back to the hotel room and list some flatware. Yay for eBay allowing us to work from anywhere….gotta love that!
Here is a recent flatware score and why I LOVE flatware so much. It JUST sells! And for A LOT. Sold two listings of this pattern for over $50.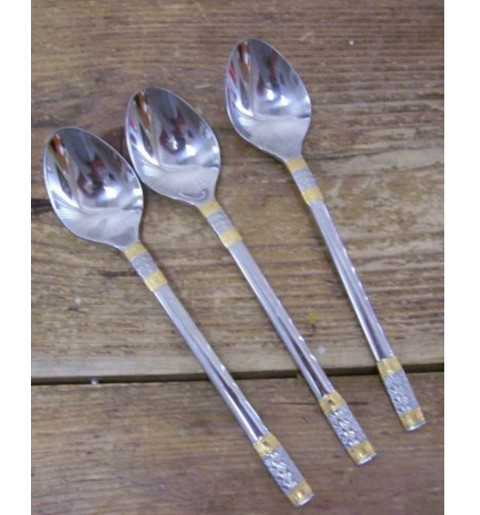 Click here
 to see this auction.
The next day, Saturday, of Waves Weekend was CRAZY! It was jammed packed and I would say, hands down, the BEST day of my LIFE (just kidding but a really great day).
It started out with a garage sale on Malibu Beach Road. WOW! What a great street. I bought some great items and here is one of the listings.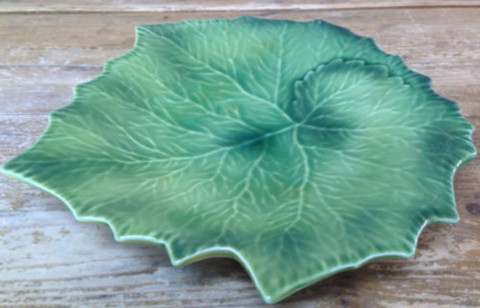 Click here
 to see this auction.
After the garage sale, Mor Mor, Indy and I had to rush back to the school for a brunch with the Dean and some AMAZING music by the Concert Choir. Seriously, I started to tear up….yep, I actually had some tears roll down my face. There were some amazing vocals.
Here is a photo of Indy and I at the brunch.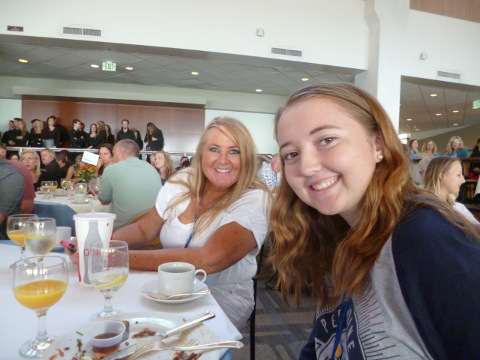 You can see the Concert Choir in the background waiting to perform. After they sang, Indy looked at me and said, "How can so few people fill a room with such astounding sound?" I couldn't even answer….I still had tears in my eyes.
After brunch, we were ushered into a Grandparent's Reception. So Awesome! Mor Mor even won a prize!
Then we went so see Houston's Dorm and after our quick tour we headed out to the Pepperdine Improv Troup's show. Seriously AWESOME! We did NOT want it to end. It was current students and alumni. One of the girls, Kelsey is currently auditioning for shows in Hollywood. She will be on a show soon…I just know it. She and the rest of the troop were incredible!
As soon as that ended, it was time to head to the concert on the grass at Alumni Park. Are you as exhausted yet as I am just remembering how much we did in 2 ½ days? Anyway, about that time my brother showed up. It is always "Lee O'Clock in his and our world". He ALWAYS shows up that exact perfect time. He is blessed that way.
Alumni Park was set up with Food Trucks along the edge. Indy and I thought they looked like they were going to fall into the ocean.

Here is a photo of all of us in the Waves Weekend Picture Frame.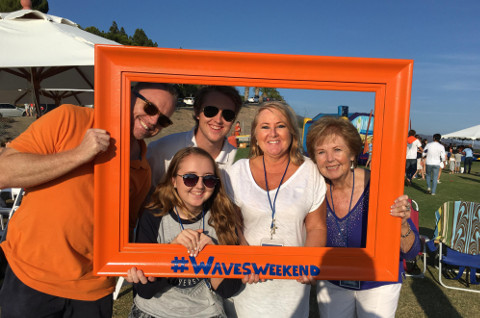 We ate dinner and got to see a lot of Houston's friends that we already know and meet some new ones as well.
Then it was the lip sync competition. The Fraternities partner with Sororities and earn points during the week leading up to this event. Here is a link to Houston's Frat, Delta Tau Delta doing their lip sync with Kappa Kappa Gamma and Kappa Alpha Theta.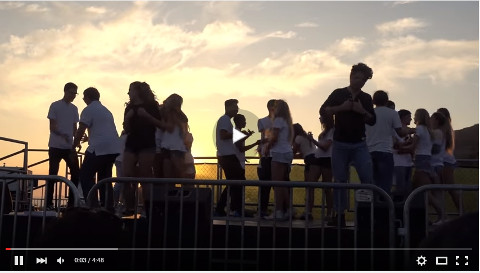 They took 2nd place in the competition but won for the overall Spirit Week and received a trophy! Yay!
The final show was the American Authors on the main stage. They sing "The Best Day of my Life". Tickets were $40 and were included in our Waves Weekend package but Lee did not have one. Luckily, I was able to get a free one for him from one of the Pepperdine Staff. Thanks Dennis!
As we were waiting for them to start playing my brother mentioned that he thought the American Authors was going to be a panel of famous writers interviewed on stage in an NPR type style. He didn't know that they were a band! OH BOY!
Did we ever get a lot of mileage out of that one 

. Indy did a snap chat of her talking to Houston and saying, "What did you think of the American Authors?" and he said "They were good" and Indy agreed but said "I was hoping for Thomas Jefferson though". Hahaha!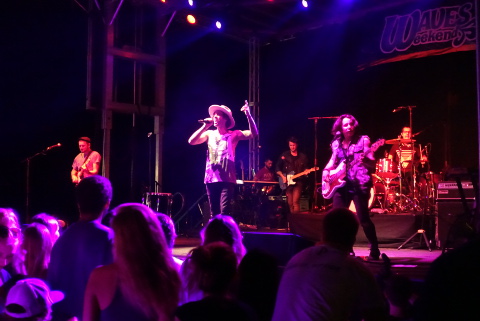 The next morning we all headed down to the Malibu Pier to have breakfast. As we were walking down the pier a fellow student from Pepperdine started yelling "Houston Houston" so he ran back to give her a hug. Turns out she is a runway model 

. Here is my brother taking a picture of Houston and Indiana as they walked back to meet up with us.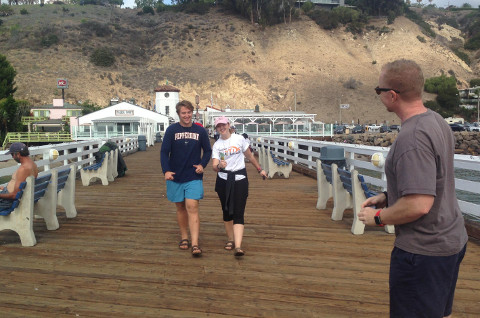 We sat upstairs at the Malibu Farm Pier Café. What a great view. There is no way not to be happy in this environment. It got even better during breakfast when Indiana got an email from her math teacher saying that she had gotten 100% on her Calculus BC midterm that she had taken Friday morning!
What a great reason to celebrate! No one had ever scored a perfect 100% on that professor's test before. Even more amazing, is that Indy skipped the Calculus AB course that is normally taken before the harder Calculus BC. Way to go INDY!!!!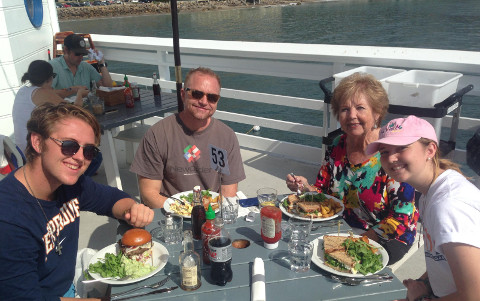 Now it is time for a score! Nancy Calhoun is NOT one of my favored dinnerware brands. However, I was buying some items from a fellow eBay seller and she just wanted to get rid of stuff.
There were 12 of these white with green striped salad plates and she only wanted $2 for the box. I thought I would try my luck using my assembly line listing strategies and see if I could turn those unsalable items into salable ones. I always LOVE a challenge! The style was a very classic, almost Williams Sonoma type knock off, so I gave it a whirl.
Just sold six of them for over $100! Challenge accomplished .
Click here
 to see this auction.
For those of you who haven't ordered our new and improved I sell sheets which can help you list faster, don't forget that they now have a ruler in inches on the front and a ruler in centimeters on the back. I love these!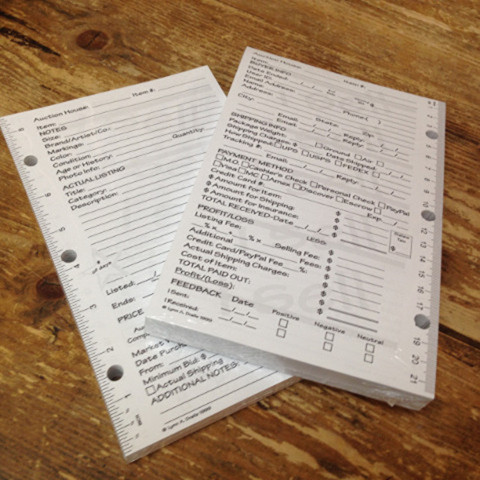 These are even MORE AWESOME for listing and selling than the originals that I designed back in 1999. Now when you are listing and can't find a ruler….there is one right on your sheet. Also, when you are pulling items to ship and need to confirm the length of a salad fork etc…the ruler/isell sheet is right there! Yay! Order your new sheets – click here to order now.
The I Sell Products are not part of our Halloween Sale but everything else in our store is on sale (except for live events & QC Memberships) for a SPOOKY 31% off. Is it possible?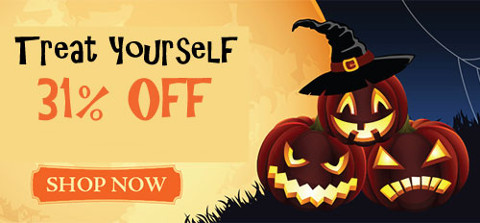 Yes! It is Possible! This SPOOKY Halloween Sale Offers Our Biggest SAVINGS of the YEAR!
Let's celebrate heading into the 4th Quarter with great learning tools and the positive changes that eBay is making. eBay is once again focusing on the small business owners like us who sell Unique One of a Kind Items.
Take 31% off everything on our website (except for I sell products, live events and Queen's Court memberships.) This our BEST DISCOUNT of the year. If you are a Queen's Court member don't forget to stack your 15% discount.
Be sure to enter our 31% off coupon code at checkout: SCARY2015
Check out all of our products here .
We have included links to some of our more recent and most helpful products, most importantly, the 8 videos in our teaching series. They are helping many of you to grow your business. That makes me super happy!
Here is a list of the downloadable videos so far. Remember, each of these is a key step in learning how you can use "Assembly Line Listing" to ramp up your eBay sales and finish 2015 STRONG.
Click here to learn more about these videos.
Be sure to enter our 31% off coupon code: SCARY2015
Don't forget all of our ebooks, like:
And one of our most recent AWESOME teleseminars:
And the video download from my 2015 eBay Radio Presentation
OK, there are so many more great products and if you can't find what you are looking for, please email me at Lynn@thequeenofauctions.com so I can point you in the right direction!
Don't forget to use SCARY2015 at checkout.
But let's get back to our Malibu weekend. After saying goodbye to Houston, Indiana, Mor Mor and I headed to an estate sale in Beverly Hills. One of my favorite estate sale companies EVER is located in Los Angeles and is owned by Sandy and Bob. They live part time in the dessert so we have become friends. Their sale was being held in the former home of Jill St. John, and before she lived there it had been Eddie Fisher's home.
Check out this view from the tip of the swimming pool.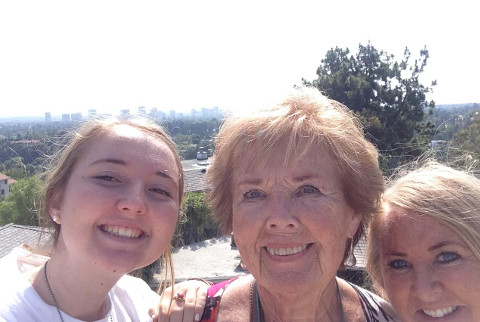 And even more impressive was how the swimming pool just seemed to hang in air and drop off into nothing. It is hard to show in a photo but here are Mor Mor and Indy walking out to the tip of the pool.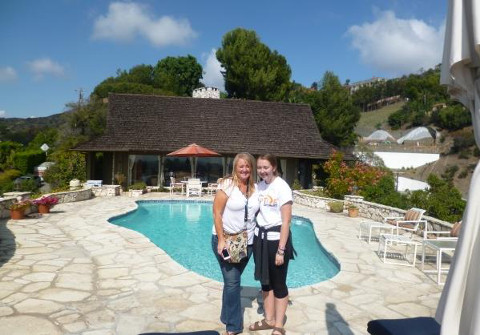 I ended up buying quite a few interesting items at that sale. Here is a listing for some Giorgio Dusting Powder.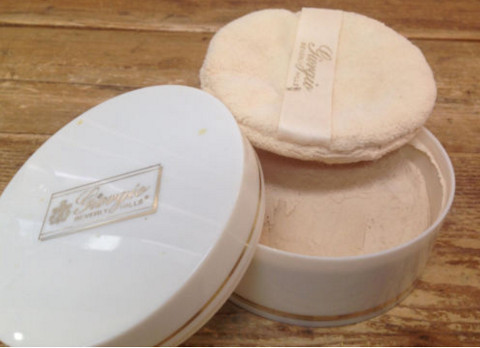 Click here
 to see this auction.
I hope it turns into a HUGE score. But I am afraid it won't be anywhere near this amazing score of Marsha Cade, one of our awesome Queen's Court Member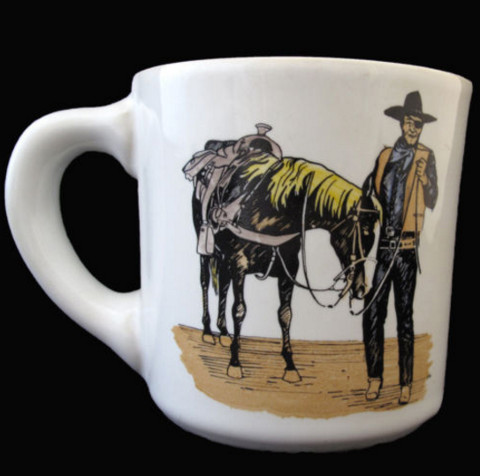 Click here
 to see this auction.
I asked Marsha where she had found it. Here is her response…."
I found it at a local estate sale here in the Philadelphia area. As I've learned from the QC, never underestimate coffee mugs so I always look at them wherever I'm shopping. It's interesting that this one ended up here on the east coast.
At first, I wasn't going to research it, and just take a leap and start it at auction for $24.99. I wasn't sure how to describe it so did a google search with "Ketchum Originals Thank You John Wayne Mug" and the "McQ" came up.
I saw the prices for that mug and decided I had something more than a $24.99 mug. I Googled "in what movie did John Wayne wear an eyepatch." It was True Grit, of course. Then took the search to Worthpoint.
Lynn, the other mug on Worthpoint, with a sale price of $310, has an all gold handle. So I am thinking/hoping mine is the Limited Edition."
When I saw this posted on the Queen's Court private forums, I just knew she needed to be our featured member for this ezine. Luckily, she agreed! Here is Marsha's story in her own words…
"Better than life in corporate America! That's what I tell people when they ask what I do. After working in Chicago, New York City, and Philadelphia, I found the final job of my career, eBay!
I started my eBay business in 2011. I had a passion for ecommerce and was looking for something new to sell and to do online. I had just closed an online artisan food business as growth was too slow and costly to continue. I ran across Lynn Dralle's website and became hooked.
While I've never met Lynn personally she's become an invaluable mentor and friend. Through her teaching videos, newsletters, web seminars, and phone calls, I've learned the ropes from the best. Her Queen's Court is a fabulous resource of sellers who are always willing to help with listings, identifying items, or to discuss the latest eBay happenings good or bad! I love the QC family!
My eBay ID is cadeandco and my store name is "Can Do Collectibles and Fun Finds ."
I sell mostly dinnerware, flatware and OOAK items. Here are two recent scores. This was a Mexican folk art diorama that I found covered with dust at an estate sale for $20. It sold for $275.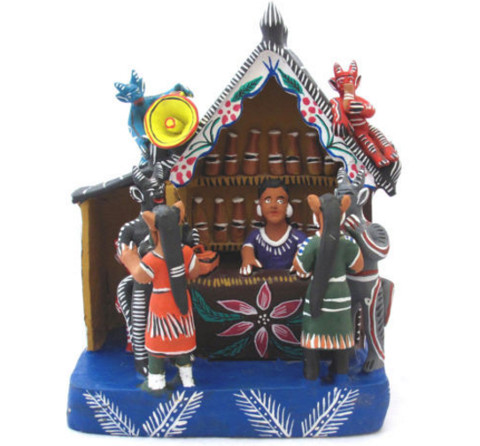 Click here
 to see this auction.
And here is a Kosta art glass plate that I also bought at an estate sale for $40. It sold for $300.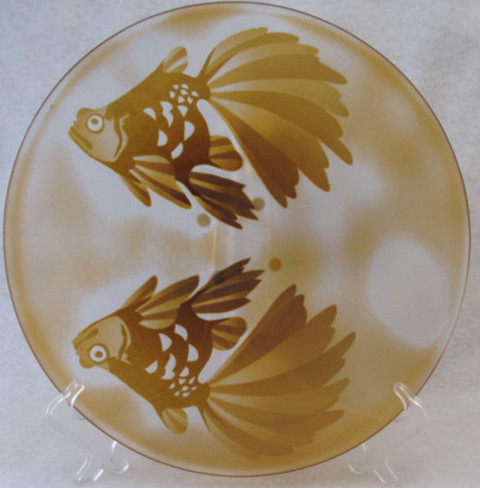 Click here
 to see this auction.
One of the greatest things about eBay is that I learn something new every day. I am not an expert in Mexican pottery or Scandinavian art glass, yet with a little research I found rich history and information about these two items. And the same is true for the John Wayne coffee mug mentioned earlier.
What else do I like about eBay? I'm the boss of everything – purchasing, marketing, research, accounting, organization, quality control, shipping, housekeeping, and time management. And, you can actually take a vacation now and then. Here's a picture of me and my husband, Dick, on a recent vacation with my sister and brother in law. Dick is not directly involved in my business but he's head cheerleader.
Here are Marsha and her husband Dick.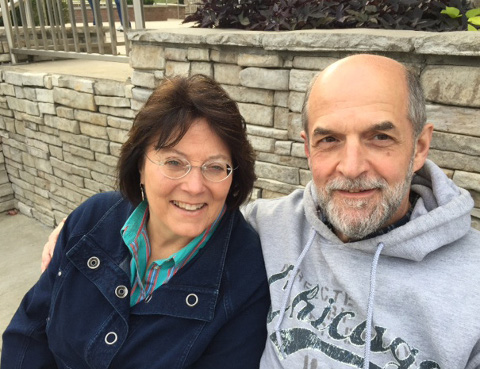 Okay, this is enough. We have two kids in college and I need to get listing. As a wrap up, here are a few of my favorite Lynn Dralle-isms hanging around my desk: List Everyday!, Price It High and Watch it Fly!, There is No Such Thing as Free Shipping!, and "Churn and Burn!." Here's to great holiday sales to you all!"
What a sweetheart! An update on that John Wayne Mug. She started it at $1,499.00 and immediately someone offered her $1,250. She turned it down and he came back with $2,500.00. I told her to raise her starting price IMMEDIATELY to match that offer and tell him she would think about it.
As I am writing this, I will be going on eBay Radio with Griff and Lee in about an hour and I am going to pose the question to all the listeners. If you missed that interview on Tuesday it was recorded and you can hear it here.
Let's end this ezine with a score!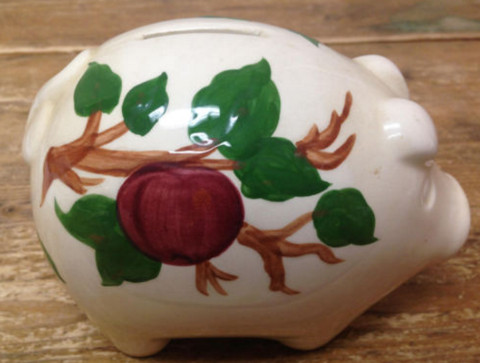 Click here
 to see this auction.
I don't think most piggy banks have even close to the selling price amount inside of them 

. Let's fill all of our piggy or real bank accounts with lots of cash this holiday season! Let's keep those cash registers ringing. Kaching!
Can't wait for the eBay holiday campaign "Wish Bigger" to kick off. "Millions of Wishes on Sale Now".
Thanks for reading my ezines! I appreciate it!
Happy eBaying!
Lynn
---
Lynn is an experienced eBay Power Seller, author and teacher. If you want to know the eBay tips, tricks and tools that Lynn uses for buying and selling at online auction click here.
Some links in my emails to you may be affiliate links. You can be confident that I only partner with companies that I fully stand behind.