Hi!
Happy Summer! As I write this, today is officially the first day of summer, June 20th and it is going to be 124 degrees in Palm Desert. Yes, you heard me right. 124 degrees. Thank the Lord that my mom called yesterday and offered to pay for Indy and my flights up to Bellingham to get us out of this heat. It was an offer we couldn't refuse. No way!
Thanks Mor Mor! You are the best!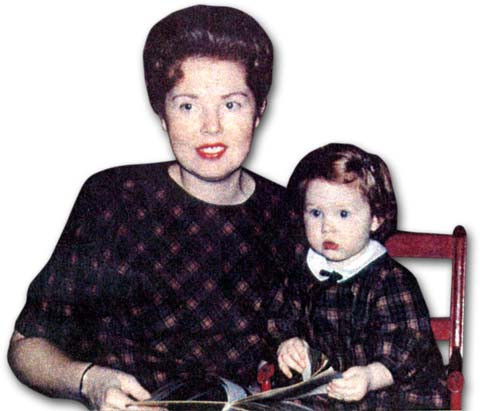 But let's start this ezine off with a score! It is an enamel bowl by Arabia from Finland that I paid $5 for at a garage sale and sold it for a lot of money with a best offer.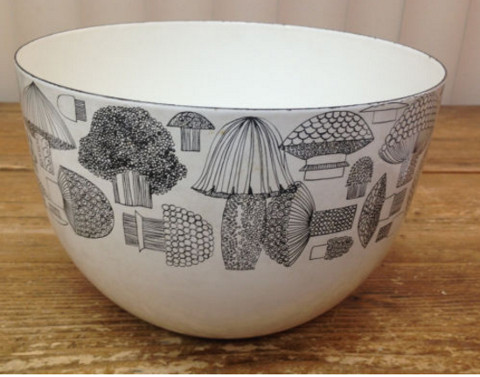 Click here
 to see this auction.
The designer was Kaj Franck which reminds me of my nephew Kai. It was his birthday recently and he is into collecting Football cards so we got him an unopened full box of NFL cards and a notebook to keep them in. Looks like his brother Zach liked the trading cards more than he did! My sister's kids are now 8 and 10 years old. Can you believe it? They were only 3 and 5 when she passed away.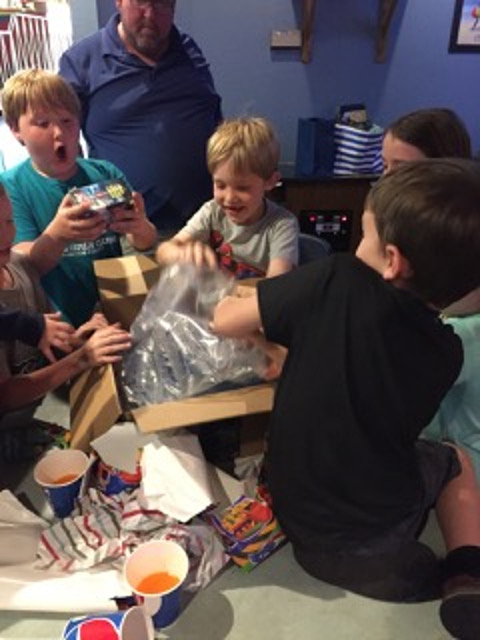 It has been a long time since I have been able to say this but I am writing this ezine on an airplane. Back in the day, that was pretty much a common occurrence. But with such hectic schedules the kids and I don't do as much traveling anymore.
OK, I must take that back. We were on the plane and I was writing but the plane overheated and we have all now been deplaned. Lovely! So, now I write this ezine from the terminal at PSP and I must say that I would rather be home writing from the comfort of my office. We still don't know if the plane will get fixed today and if we will be heading to Bellingham for a short visit or not.
After about an hour in the terminal we are now back on the plane. We should arrive in Bellingham about 5 pm. Just 3 hours later than expected. Well, the only one expecting us is my mom. We decided to have Indy surprise my dad, Papa, by ringing his doorbell once we get to town. Here she is shocking him!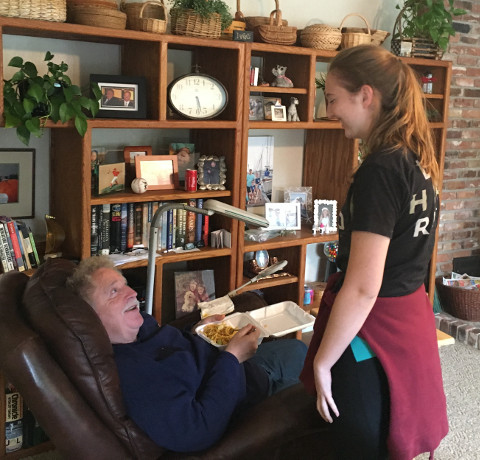 Indy and I had a bet going because I think he will say "What in the World?" when he sees her. She kind of agreed. Yesterday was Fathers' Day so I think this will make his day!
Here is Indy's face after he did in fact say…."What in the World?" Priceless!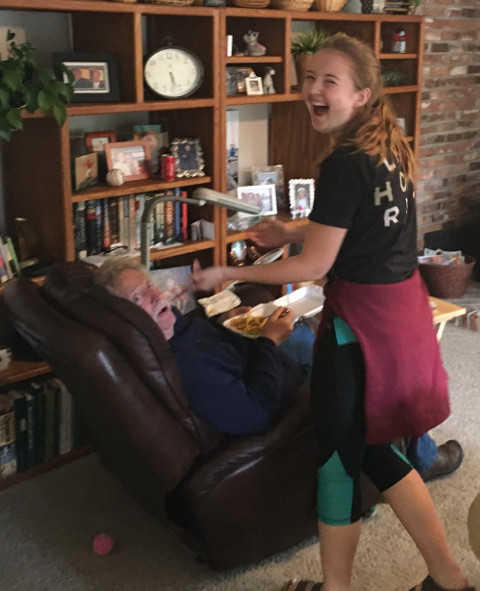 Indy wrapped up her Junior year by doing the transitional Mass reflection. I was super proud of her! Houston and I were there to watch her get up in front of the entire school and share her thoughts. Here she is after the Mass with one of her favorite teachers, Mrs. Alling.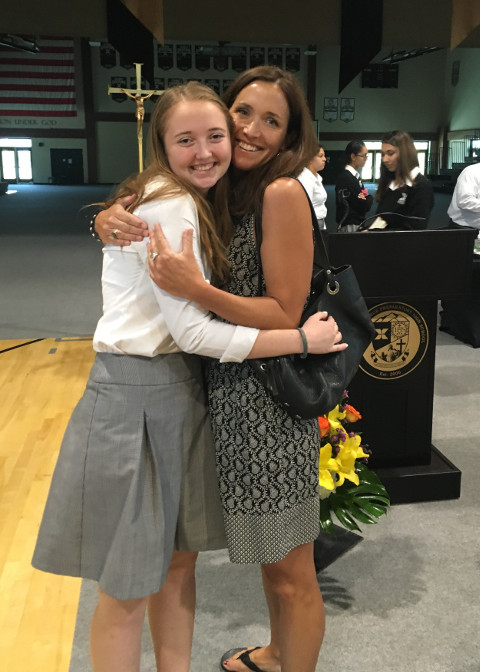 Spending so much time at Xavier recently (my kid's school) reminds me of my time in high school and growing up in Bellingham. I still remember our house at 500 Bayside Road with fond memories.
We even had a toy closet under the stairs and this is where I kept my Barbie dolls and my carousel kitchen. Those types of items (that remind of us of our childhoods) can sell for big bucks. Don't pass them by when you are out sourcing!
Here is a Barbie House that I bought up in Big Bear two summers ago at a thrift store that just sold for a lot of money. It wasn't in the best condition and needed a good cleaning but apparently that just doesn't matter when bidders are trying to purchase their childhoods 

.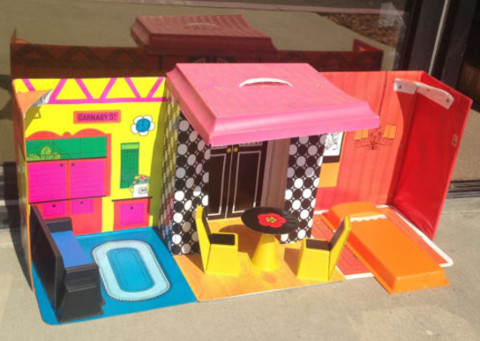 Click here
 to see this auction.
Check out the super nice email I got from the buyer after she received it.
"I love the Barbie Family House. Despite being the ONLY item USPS didn't throw over my gate, they still managed to almost destroy the plastic roof in transition! Happily, the furniture arrived in perfect shape! Thanks for trying your best to protect it with careful wrapping! BTW, I love that it still had the original price tag from Zody's!!!"
My response….
"OMG (Oh my goodness), I am so sorry about the USPS and the narrowly avoided damage. As far as the Zody's price tag, I debated whether to take the original price tag off or not and I thought I would let you make that decision. Seriously makes it even more vintage and cool! Thanks for your business. Lynn"
She wrote back….
"No prob, LOL!!! Zody's was the big store near our home and school, so I have fond memories of it. The sticker was an added bonus!!!"
Nice ending to a potentially bad experience with the USPS.
I must share that the USPS has been incredibly hard on packages for the past six months…ever since Christmas. I have had numerous items break, packages go missing and just general bad service from them.
I put in for a pickup every single day and it is really SOP (Standard Operating Procedure) that the Post office should know to stop by my office but time and time again I find myself calling the Postmaster at 4:30 pm or later and asking Why has no one been here yet to pick up?
One day after four phone calls that they would definitely send someone over, I gave up and went home with my packages outside. Much to my dismay (or relief) they were still there the next morning.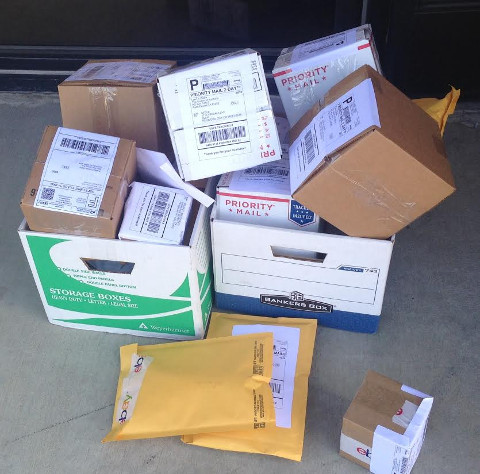 Please also notice that I don't even have USPS postal bins. They don't deliver those either. I have to use my own boxes. One of the only reasons I continue to ship USPS is because they are the cheapest option. Not the best reason.
I would call the fact that all of the shipping packages were still there the next morning a miracle, or a Christmas miracle, but since it is almost July let's just call it a Christmas in July miracle.
This is another reason that I hesitate to use the new eBay branded tape (although I love it) on the outside of packages because I think it makes our packages more tempting to thieves. Maybe I am wrong. But they just look so shiny bright and gift-like that I fear for their safety. Let me know your thoughts on this one…..
But let's take this time to share a Christmas type score that I sold a few months ago. I love this score. I did my research and knew that this should sell in the $150 to $200 range so I priced it at a decent starting price at auction and was thrilled when it sold for the asking bid price.

Click here
 to see this auction.
The newly branded eBay shipping supplies and all things to do with packaging leads me right into our Queen's Court challenge for the month of June. Their challenge was to whip their shipping stations into order and make that part of their eBay business a dream…..not a nightmare.
Here is a photo of my shipping area before.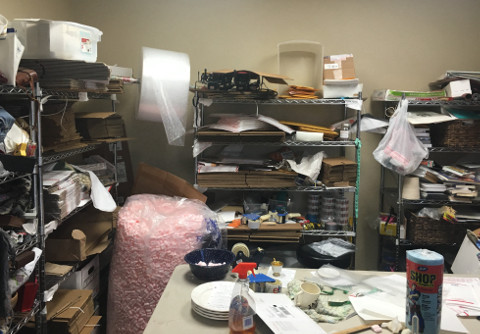 And here is an after photo.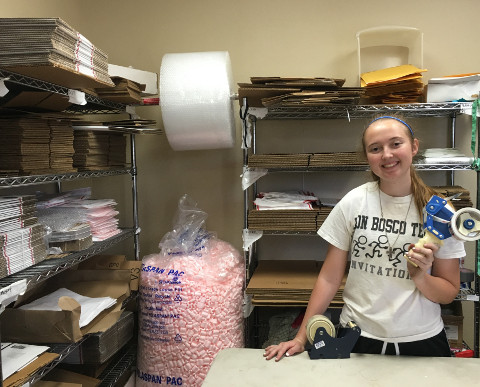 I must thank the one and only "Indy Girl" and the one and only "Hous the Goose" for working their magic.
Here are the kids after a hard day of working at the office during a super hot summer day. I love these kiddos.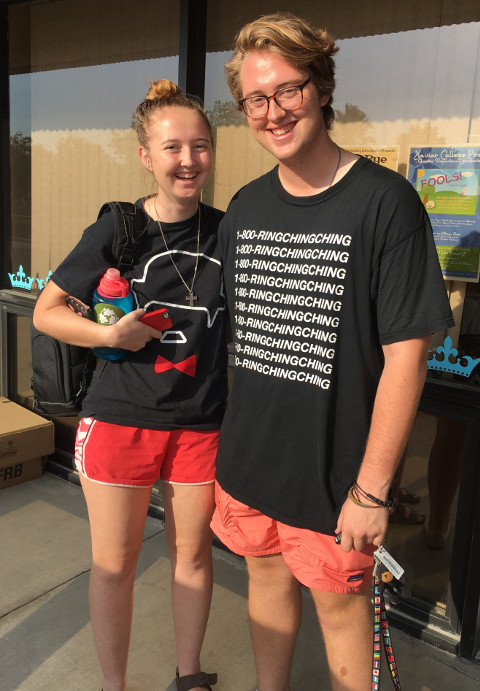 Here is another score before we get into more about Hous the Goose! I bought this carving knife and fork set at that estate sale I have written about before. It was the estate sale of Lita Baron and Cory Calhoun….pretty cool!
Sold for a best offer at really close to asking price!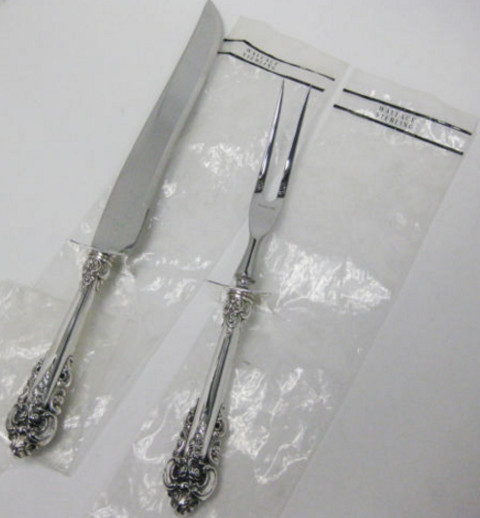 Click here
 to see this auction.
OK it is time for me to talk about the Goose. Houston was home for six weeks this summer (school got out on May 1st…strange but true) and he did a lot of sleeping. I guess that is probably what most teenage boys do after a hectic action packed first year of college.
Something very strange happened as I started writing this part of my ezine about him….a photo popped up on my phone. I have no idea where it came from but it was a post from Instagram that I did the weekend I dropped him off at college. Here is that post and photo. Very interesting!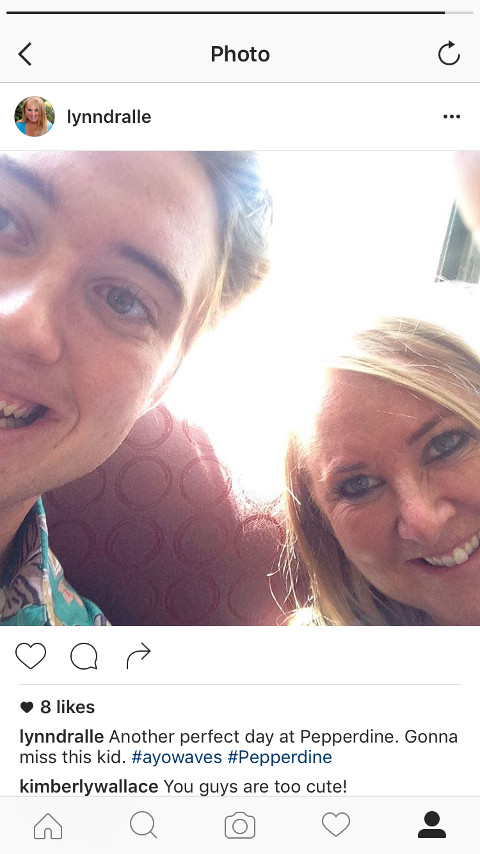 So after Houston had slept for about 1,000 hours…. I still had to make sure he had all of his ducks (or maybe I should say geese) in a row so that he could spend a summer abroad with Pepperdine.
Talk about a whirlwind of an activity task list. New passport, health clearance, correct gear to walk the Camino de Santiago, financial aid paperwork, blood work, required shots, etc. etc. etc.
We started preparing two weeks after he arrived back home and that was May 15th and he told me that he would be leaving on June 1st. Holy Batman!
There was NO way we could get it all done in only two weeks. Thank goodness that after I contacted the head of his International Program for a letter to get a rush passport we found out that he didn't leave until June 15th. Whooooo. Sweat wiped from my brow.
But before we go down this rabbit hole that is the Houston Europe adventure, let's share a score that was made in Europe. Actually made in France… love this. A motto plate that says something like "Don't trust Women and Mushrooms as they can both be poison" . I don't care that it isn't the nicest motto, I paid $1 and it sold for over 60 times my purchase price. LOVE eBay!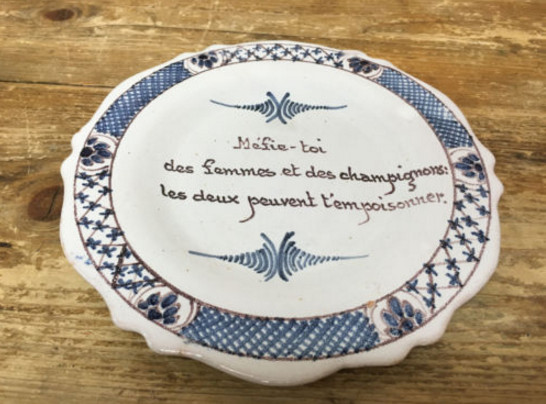 Click here
 to see this auction.
OK, so somehow we got through the maze that was getting Houston prepared to leave for Spain to Walk the Camino de Santiago. Thank you Lord! Indy and I drove him into LA to take him to LAX and we spent the day thrifting and having lunch at Tito's Tacos. A place close to the airport that I used to go with one of my boyfriends back in the day.
Here are the kids at Titos.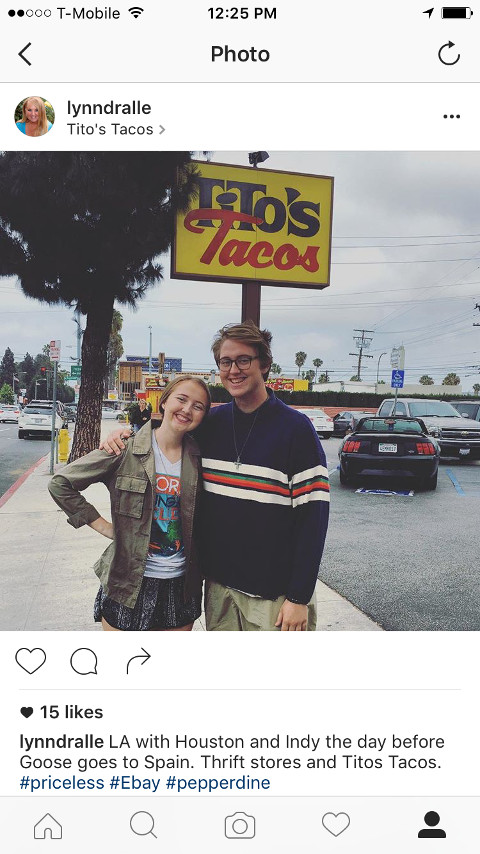 Thriftin in the south bay around the airport was really good. Here are some Waterford Champagne Flutes that I found at a Goodwill in Redondo Beach for $1.99 each. They list for $99.95 each on Replacements.com. Score!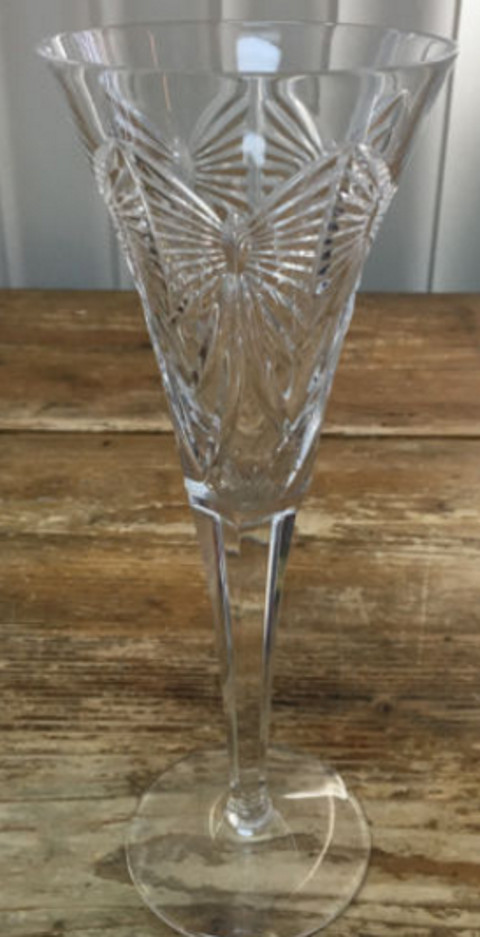 Click here
 to see this auction.
Speaking of thrifting and sourcing, Sourcing is the most critical component of any successful eBay business. My grandmother always said "You make your money in the buying." Where and how you buy that merchandise can make or break you.
Indy, Mo and I have been filming the newest video in our downloadable series and we are super excited to announce that Source it, Sell it! is now in the editing phase. It will run at least 90 minutes if not longer. Yay!
You can tell from this picture that Mo and I do NOT like waiting in line to pay once we have done the fun Sourcing part 

!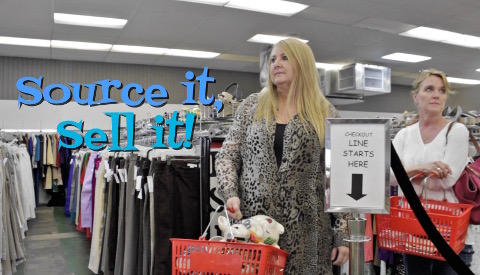 Click here to pre-order now.
Source it, Sell it will show you examples from Estate Sales, Thrift Stores and Garage Sale Shopping. We have been gathering footage since our Executive Summit in 2014 up until just last week. I am super excited for Indy to edit it all together so that we can teach you the most important tricks to effectively source.
Click here to PRE-order Source it, Sell it.
The video will be released around the 1st of July and in this video, you will learn:
How to Prepare for Estate Sales
Which Thrift Stores are the best to Shop
What you Should be Looking for
How to Plan your Route
Why you Need to make Personal Relationships with Estate Dealers
How to do Research in the field
Why Taking your Time can Pay off
How to Effectively Negotiate at Sales
What you Should take with you
What you Should Never Buy & Mistakes I Have Made
All of these tips and tricks will help YOU source more effectively. And you DO make your money in the Buying!
This video will be similar to the Live Boot Camp section called "Garage Saling". But this time, we have me, Mo, and Indy. Since we are not having any more Live Boot Camps, it is my hope that these training videos will keep you all updated and knowledgeable.
Source it, Sell it is available for Pre-ordering now. Order your copy of our new Downloadable Video Source it, Sell it at our low introductory price.
To order now, click here.
Here is one of my scores from the new video.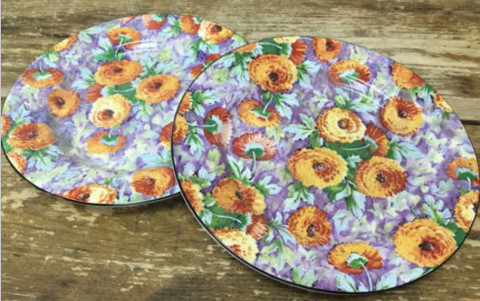 Click here
 to see this auction.
But back to our Los Angeles adventure. Since Houston wasn't meeting his group at LAX to leave for Spain until 6 am the next morning (ugh), we headed over to my brother's house to see all of his upgrades (new floors, cabinets etc) and grab dinner. When we arrived he was busy putting together a new chair for his patio and said that he just wanted to get that finished before dinner.
Well, our family doesn't just sit around. His back patio was a mess (sorry Lee) and Indiana asked for a rake and Houston started helping with the chair.
Here is Indy raking.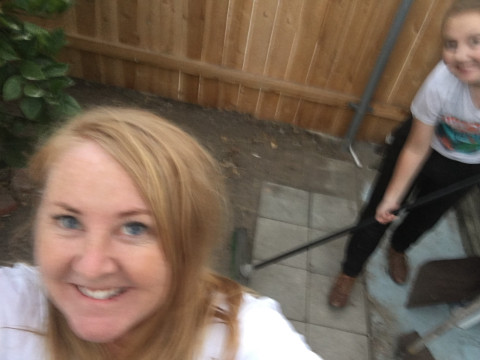 I decided to get all of the cardboard cleaned up and put into the recycling bin which was way down the street from his place. I must say I am extremely proficient at recycling. I got the cardboard from at least six huge boxes into one tiny recycling bin. I sent a photo to my mom and she laughed and said "Only in LA does it say scavenging prohibited on a trash can."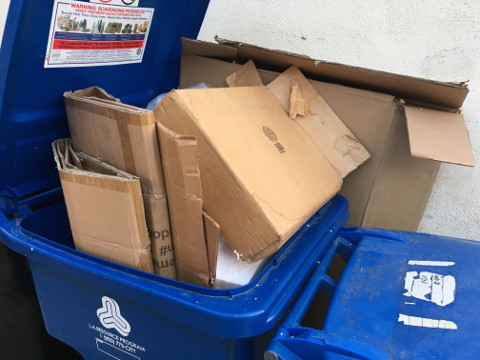 Then Lee happened to mention, "I bought a fire pit and would really like to get that put together." Since we didn't protest, out came Lee with another huge box and that assembly process had begun.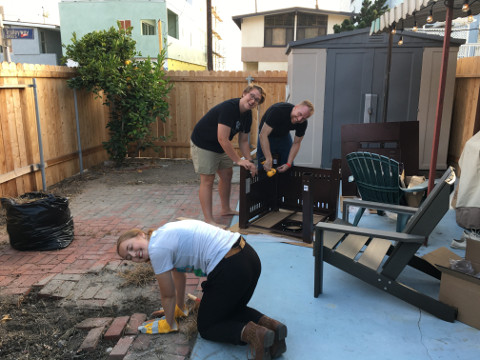 Houston and Lee attacked the fire pit. Indy was finished clearing all of the weeds and wanted to plant some flowers. Believe it or not my brother had purchased a bag of wild flowers and she and Houston started sprinkling them around as I watered the new garden.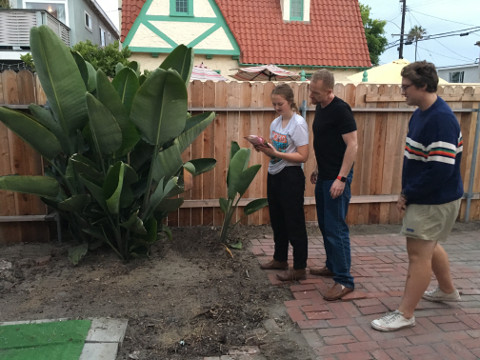 As day turned into night, we were still working away. Finally, the fire pit was finished. Success! Super fun and productive day! My brother was very grateful as he said it would have taken him a full day or two to accomplish what the four of us did in three plus hours. Many hands make light work.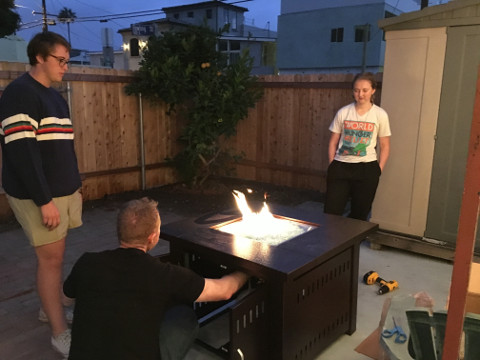 It was about 9 pm and Lee offered to take us to dinner. We walked over to a local Playa del Rey restaurant called Playa Provisions and had a wonderful feast of many different appetizers. Thanks Lee! Indiana actually can't wait to go back and help some more . We are planning on visiting again when we pick up Houston from Spain on August 1st. But this time Lee has promised us a barbecue dinner on his new and improved patio!
Lee's house is turning out really nice because as you may remember he dumped truckloads of stuff on me! Well, I just sold one of the books that he had sent out to me in the desert. Check it out. Car manuals sell really well and you should be on the lookout for these.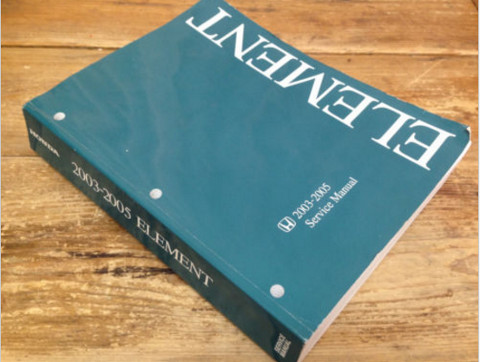 Click here
 to see this auction.
This is a crazy story. I sold an empty box that had originally held a set of hand painted items from Israel. I figured that the box would mean something to a collector of Yair Emanuel items but nevertheless, it was just an empty cardboard box and it had sold to England for $18.85. I emailed the buyer to make sure that he knew what he was getting before I spent the $20 plus dollars to ship it to him. I never heard back so went ahead and shipped it anyway. My mistake!
Click here
 to see this auction.
My gut instinct was correct and my listing had been misleading in the fact that I had left the hand painted in the title from my "sell similars" of the actual hand painted items that had come with the box.
Here was his email…"The box was described as a hand painted wooden box. It is neither hand painted nor wooden. A return will make absolutely no sense as it would be a complete waste of money to post you back an empty cardboard box. Please advise. Laurence"
Ughhh! Of course I had to refund him as it was my fault. Too bad it had shipped to Europe. That is why I ALWAYS double check on questionable sales like this one. Too bad I never heard back from him prior to shipping. Oh well! I did the right thing. And about a week later, check out what sold for full price and you may have guessed to whom…. to the original buyer of the empty cardboard box, Laurence!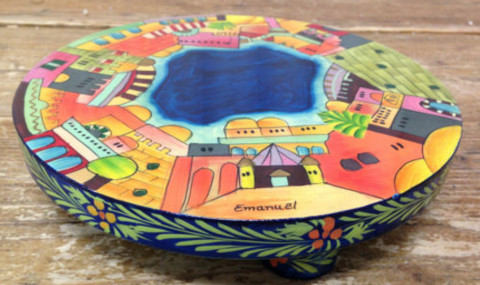 Click here
 to see this auction.
I am finishing up this ezine from my mom's beach house in Washington. It is a cool 60 degrees here. Nice! Indiana and I were bummed that we wouldn't be seeing my sister's kids, Kai and Zach, as they spend the summers with their dad's sister Pam in Oregon. I text their dad John to see if there was any chance Pam could maybe meet us halfway so that we could see them as it has been two long years.
I got a text back that yes she could drive them to Olympia on Thursday (that is today as you are reading this ezine) to meet us for the afternoon. Yayyyyyyy! So excited to see them. Olympia is about 3 hours from my mom's house and probably about 2 ½ hours from Pam's house.
When Pam told the boys that we were going to be seeing them, this was their reaction.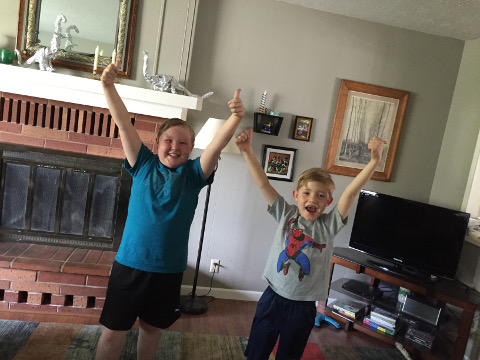 Such cuties! My initial reaction was "I have got to call Kiki to tell her. She will be so happy!" Isn't that strange? Sometimes you just forget that someone is gone. But I think that somehow she does know that we will be seeing her boys. 

Family is so important and I am very blessed to be spending time with my parents this week. It was very strange, but while helping my brother clean up his outdoor space and putting together that "impossible" fire pit, I sold a family related item. Check it out.
Click here
 to see this auction.
This wedding album had been with the items that I inherited from my grandmother's shop. I was fascinated by it and tried to figure out the names but wasn't sure if I had them spelled correctly or not. After it sold for full price, I received this email.
Amazing! The act of kindness from this eBayer to research my item and locate the family in Alaska. Seriously, I am often blown away by the efforts of complete strangers on this wonderful website called eBay!
Well, let's get Houston off to Spain and wrap up this ezine. We drove him to LAX at 6 am on the 15th of June and he met up with nine other students and two faculty members. Here they are posing for a group photo before they fly to Madrid.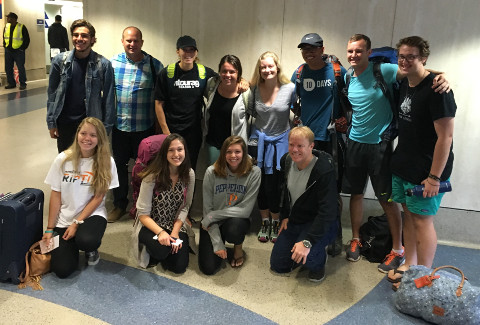 Here is Indy saying goodbye to her brother.
He is having the time of his life! They spent five days in Madrid and just arrived in St. Jean Pied de Port in France, some 800km away from Santiago, over the French border.
Houston and his Pepperdine group will spend 38 days walking these 500 miles along the Camino de Santiago. Their journey will wind up at the Santiago de Compostela and the tomb of Saint James in that city's cathedral along the coast of Spain.
Here is a little blurb about that trek from a travel blog….Along the journey, a common phrase is "Buen Camino", (which literally means "good path") and is generally received as "good luck and happy travelling". It also has a deeper meaning – an acknowledgment that you see a person who is searching for "perfection". This is related to the "pilgrimage" intent. Becoming your best self – what God intends – is the goal.
In celebration of Houston and his group finally reaching the ocean, let's end this ezine with a score I sold recently of a platter featuring fish. The pattern is "La Mer" by Williams Sonoma and I bought this at the Williams Sonoma outlet store in Las Vegas last year.