Hi!
Here it is… my first eZine from Europe! I am going to be writing three of these during our 12 days abroad. There will be one for each portion of our trip; London, England, Frankfurt, Germany and Krakow, Poland. It is my goal to keep you updated and also to use this as my family's travel journal!
This trip was possible due to that incredible gift of the Tiffany Brooch from my grandmother many years ago. The sale of that gift this past November paid for Indiana and my plane tickets . Thank you Cheryl Leaf!
Here is the brooch if you didn't see it in the ezine from February 17th, 2016 where I talked about putting it up for sale.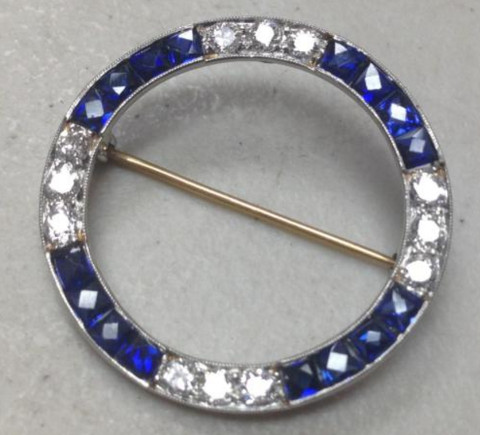 Click here
 to see this auction.
My grandmother loved to travel and she kept a HUGE map of the world pinned to a bulletin board and every time she traveled to a new place she would place a thumbtack to mark it. It was her goal to visit every continent (except Antarctica 

). The only continents that she didn't make it to were South America and Australia. I don't think she cared that much about seeing South America, but it was her dream to visit Australia. She always regretted not going there when she was able to walk.
This is why I have always encouraged my kids to travel and it is just fantastic that Houston was accepted to Pepperdine, as it is not only a top 50 US World and News Report University, but it has the #1 International Program in the country. Pepperdine encourages each student to spend their ENTIRE Sophomore year abroad. How fantastic is that?
The school has full time facilities located in London, England, Laussane, Switzerland, Florence, Italy, Heidelberg, Germany, Buenos Aires, South America, Beijing, China and Washington D.C..
Here is a recent score from one of those places . What is even more interesting about this score is that it is a Wedgwood piece that my grandmother brought back from Portobello Road in London, England .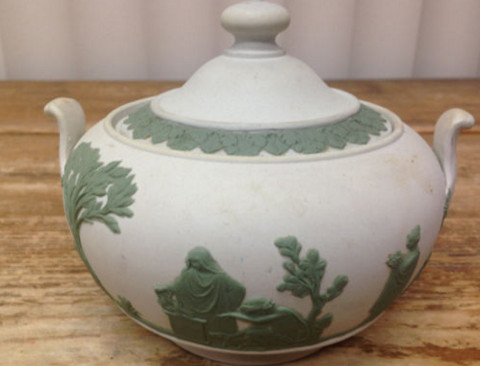 Click here
 to see this auction.
At Pepperdine, there are about 900 Sophomore students and each program can only accommodate about 60 kids. It is extremely competitive to get into the country's program of your choice. Yes, there is an application process that starts the second week of Freshman year. Isn't that crazy? All of a sudden you are a freshman in college, away from home for the first time, and you have to pick where you want to study next year! WILD.
Houston applied for the Germany program because his fraternity big brother, Joel, had spent his sophomore year there and just couldn't stop talking about it and raving about the faculty. Especially Professor Lerner.
Here is a photo of Houston studying abroad and his fraternity big brother back at Pepperdine in Malibu. Can you tell which one is the Goose? LOL.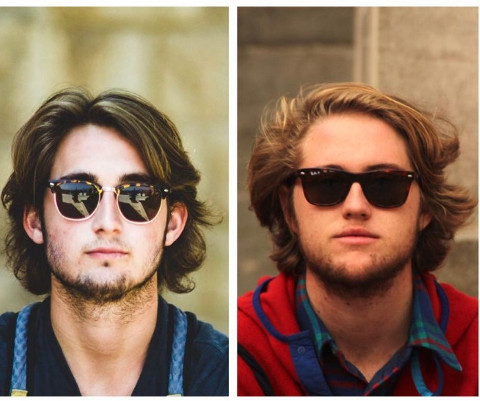 Unfortunately, the competition was extremely fierce for the 50 spots in Germany and Houston was not accepted, but was placed on the "wait list." The international studies program gave him an option to apply for a second choice program so he submitted his application to Buenos Aires. He was accepted! A requirement for all of the students accepted into the abroad programs is to take one full year of that country's language. He immediately enrolled in Spanish.
I was bummed, because I just LOVE Europe and for him to have had the opportunity to live and travel in Europe for a full school year would have been wonderful. In each foreign country, Pepperdine holds intense classes and study during Monday through Thursday, and the students are encouraged to travel on the long weekends. The opportunity of a life time if you ask me.
I had a funny feeling that as the world's political climate and terrorism became worse during his fall semester, that some parent would withdraw their child from the Germany program. Well, check out this email that Houston received over Christmas break. The subject was International Studies Program Opportunity: and I have included what Houston wrote to me at the beginning….in all CAPS.
I didn't email or text Houston back, I called him immediately and said "CALL THE OFFICE RIGHT NOW and tell them YOU ARE ALL IN." I was so excited for him! What a wonderful and blessed opportunity.
The rest is history. He did get one of those coveted spots and I think his persistence in stopping by the IP (International Programs) office almost daily 

 to see if any spots had opened up, helped his case.
Once that brooch sold, I quickly called our travel agent to make plans to visit him in Germany. We decided to go in February (over Indiana's ski week break) and airfare was cheapest into London, so we would start there first, then travel to Heidelberg and then go to Krakow with Houston.
We were to fly out of LAX, on Thursday, February 18th and if you can believe it, the day before, I sold over $1,200 of this dinnerware set (made in Finland btw). This sale helped make that Wednesday an almost $1,600 sales volume day on eBay!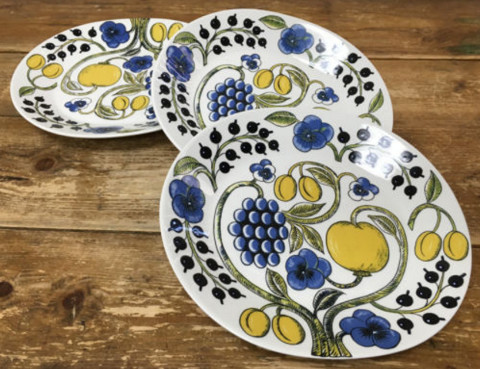 Click here
 to see this auction.
Since we needed to leave for LAX at 11:00 am on Thursday, my mom and I arrived at the office at 7:30 am so that we could get all of our packages out before leaving. Mo and Carmen would be filling in, but I didn't want to burden them with all of that. Thank God my mom was there to help!
Here is the pile of the packages in front of the office as we headed off to LAX.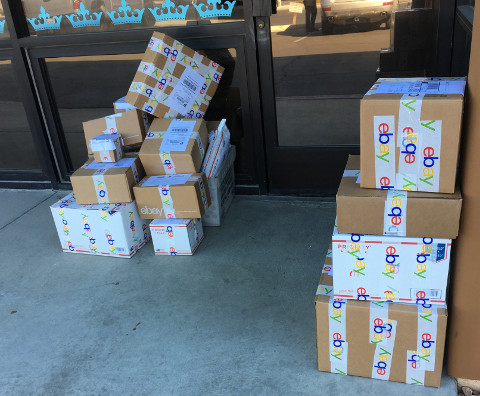 We arrived at LAX quite early and decided to meet my brother, Lee. Super fun and he treated us to lunch at Noodle World! My mom thought I said "Doodle World" while driving and she asked "what kind of food do they serve there"? I said probably Noodles and we cracked up when I explained to her that the name was Noodle not Doodle World. Way to start off our trip!
Here is my mom, Lee and Indy and lunch.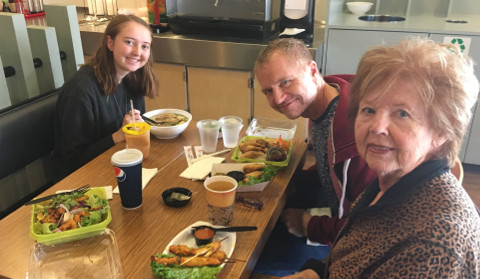 I didn't want Carmen and Mo to be overwhelmed with shipping that first weekend I was away (especially since Monday was a holiday), so I didn't accept too many best offers. A $20.00 offer came in on this creamer that had been listed since April 20, 2011 and it was too hard to pass up!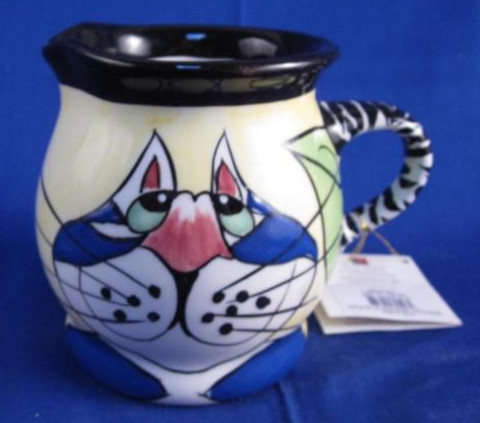 Click here
 to see this auction.
In case you missed my recent eBay Radio show with Griff and Lee on February, 14th where I talk about hiring eBay help here is the link.
I had to crack up when Betsie tweeted this about my segment. Love her and her husband Jon !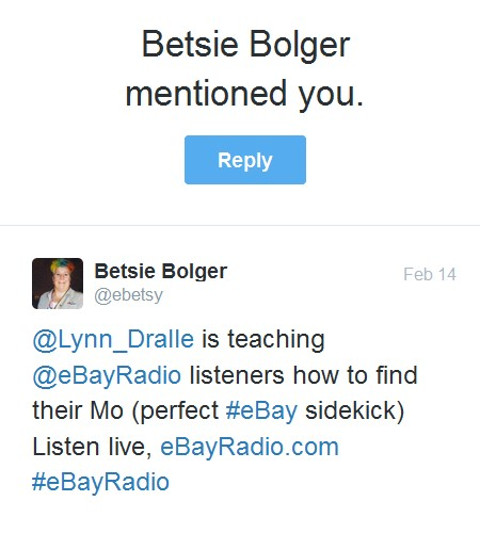 Our flight to London was quite nice and we arrived at about noon on Friday the 19th. We inquired about a taxi to our hotel at the Chelsea Pier and were told it would be 80 pounds….that is $99.77 in US dollars. OMG, seriously? London is way too expensive!
A very nice man suggested we take the tube…aka underground…aka subway. Well, that was not the best idea. First we had to spend $75 to purchase three Oyster cards which cost $8 each for the card and the rest would be available to use as payment for the subway fare.
Just try taking your daughter (with a broken foot, but in a walking boot) and your 80 year old mother who just had a hip replacement and can't walk long distances on the tube. Oh, did I forget to mention that we had 3 huge suitcases and 3 large carry-ons?  The reason we were taking such large suitcases was because A. Houston needed us to bring a bunch of stuff back home for him and B. My mom and I planned to stock up on antiques and collectibles to sell on eBay.
Here is my mom sitting down on the tube and in the foreground you can see one of our six pieces of luggage. Indiana and I had to stand up with them because the newer suitcases have wheels that roll in every direction (I couldn't figure out how to lock them in place) and they were rolling all over. Yikes! It was quite the experience!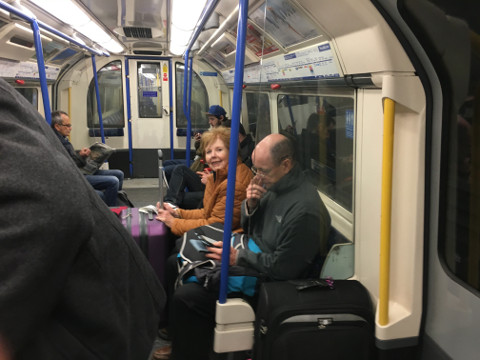 I have never been so happy to arrive at a hotel, get settled and walk over to the Chelsea Pier to have lunch. We found a darling restaurant called the Waterside (thanks to the front desk) and had a wonderful time. Here we are at lunch.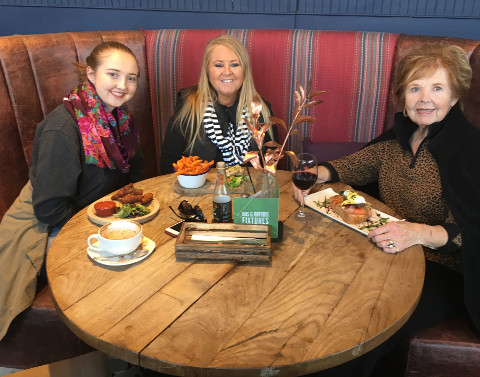 During lunch, I sold this amazing piece for a best offer of $70. Couldn't pass that best offer up! The most interesting part of this sale was that the figurine was a fruit stall in Mexico and the next morning we would be going to Portobello street, just like my grandmother did back in the 1960's. Portobello street is famous for and full of vendor's stalls that sell antiques, collectibles, food and fruit. Strange but true!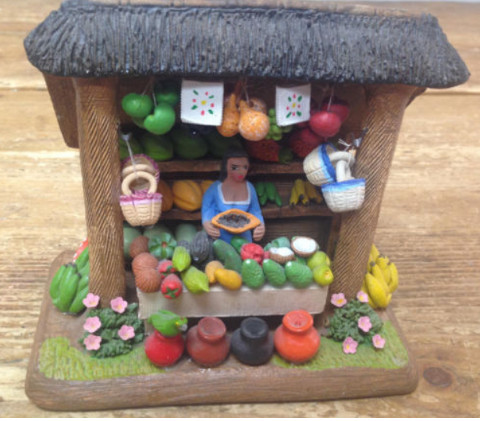 Click here
 to see this auction.
We had decided prior to the trip to take Houston's advice for beating jet lag. He recommends trying very hard not to sleep too much on the plane and once you get to your destination, immediately start living in that time zone.
So after lunch, we took a taxi to the Victoria and Albert Museum which was open until 10 pm that Friday night. This was one of my grandmother's favorite museums in the world and now I know why. You could spend days in there. Just like the kids in one of my favorite books "From the Mixed up Files of Mrs. Basil E. Frankweiler."
Here we are in front.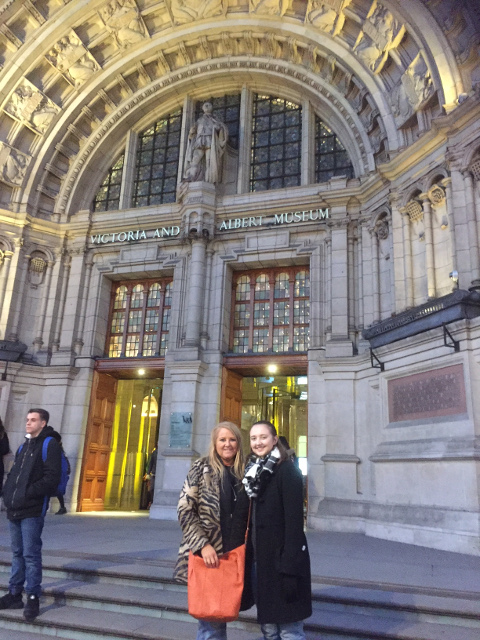 I visited this museum once when I was six and I didn't remember much of anything until we walked into this one hallway and I had that strange feeling of déjà vu. I said to my mom "I have been in this room before."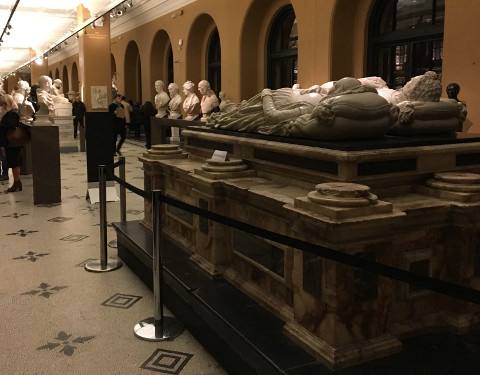 The reason it had made such a big impact on me was because of the huge tomb with the carved marble figures on the top and the statues of the famous people's busts lining it. It had FREAKED me out as a kid. Isn't that always the way? Your most vivid memories are of the terrible things. So, why do we even try and make happy memories for our kids? Just kidding…that was a terrible thing to say 

.
Here are my mom and Indy in front of the tomb. Thank goodness the V&A museum had wheelchairs to borrow because my mom had walked too far that day taking the tube etc. and her hip replacement was bothering her.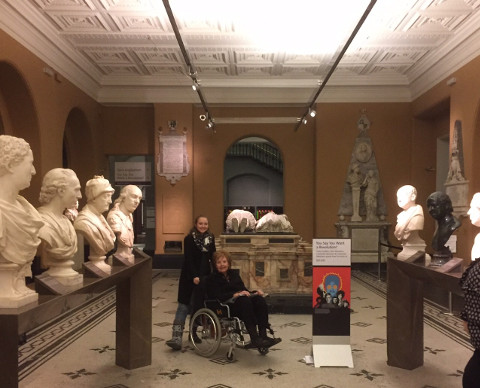 We were at the museum for almost five hours. It was incredible! Indiana found an exhibit called "You Say You Want a Revolution" which was the history of English Rock and Roll that cost 16 pounds to enter. The museum offers free admission, so I did not mind buying her a ticket. In the previous photo you can see the poster board advertising that exhibit.
However, it wasn't something my mom and I were interested in seeing so we went off to see the metal, cutlery, glass, china, snuff boxes, smalls and dinnerware, I took a lot of notes and pictures in the museum that evening. I am going to use quite a few of them in my Antiques from A to Z ebook. So excited to finish writing it. Don't miss out on ordering it before the price goes up.
Before we left the V&A Museum, we dragged Indy up to the Theatre exhibit. There was a scale model of the stage for Sweeney Todd. Ironically enough, that is the next production that MTU will be performing for their last show of the year. She was so excited to see it!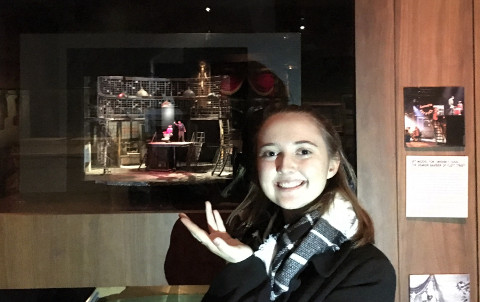 While in Europe, I sold this darling architectural model (much like the Sweeney Todd stage model) that would be shipped to France. A large volume of our eBay revenues come from international sales. I encourage all of you to offer this option, if you aren't already.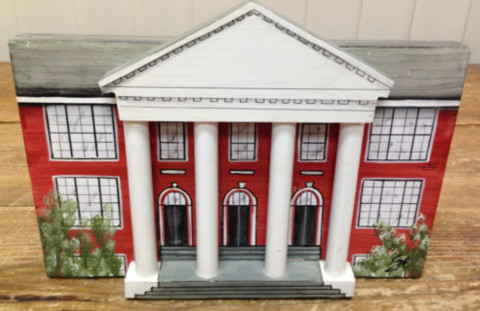 Click here
 to see this auction.
When we returned to the hotel, we did some research to find tickets to a West End Musical for the next night. Indiana's one wish was to see a musical during our two short days in London. Unfortunately, everything was sold out.
Indiana had found a last minute ticket booth, on line but you had to be there in person to buy the tickets. So the next morning, we got up early and hailed a cab to take us to TKTS to buy "cheap" day of the show seats.
Our cab driver, Tony, was a hoot. When he picked us up he said, "I can't take you as a fare because she (looking at Indiana's walking boot) has a bum foot." We thought he was serious. LOL and we were off to the races.
Tony explained to us that cars are not allowed to drive into Leicester Square (where the ticket booth is located) but because of Indiana's broken foot and my mom's hip replacement, Tony drove there anyway. It was HYSTERICAL!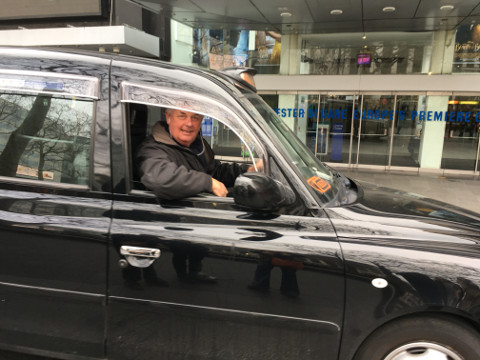 So we got in the queue for tickets. It was quite long and when we checked the prices most were around 50 pounds per ticket. As we got closer, the sales people in the booth spoke over a loud speaker so you could hear what each party was purchasing. Everything we heard sounded like there were only single seats available. Not optimal. Indy's first choice was School of Rock.
We got to the window and Mark said "only singles for School of Rock." I asked how close together they were and none were even semi-close. Darn it! Then we said "How about Jersey Boys?" He said "Wait a minute… three seats in the front row just opened up for School of Rock. I can't believe it!"
Neither could we. They were only 45 pounds each and we grabbed them. It was meant to be! We were walking on air (well, not literally since Indy still had her boot on and Mor Mor was tired from walking too much) so we decided to take the tube to the Portobello Street Market.
This time the tube was a much nicer experience, but we still had to walk way too far. Ughh! So by the time we go to the antique stalls, we were all pretty worn out. One thing that did cheer me up was this sale of a Villeroy & Boch Soup Tureen for over $100. That would buy some nice antiques and it was also a sign of things to come…Germany the next day since V&B is made in Germany.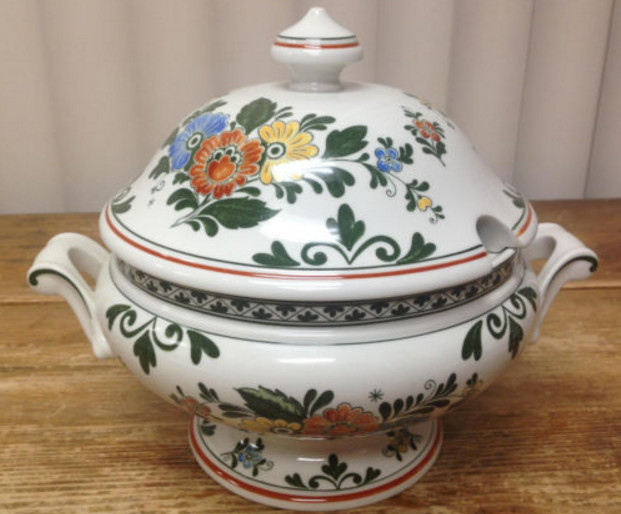 Click here
 to see this auction.
Here is a selfie we took on the very busy Portobello road.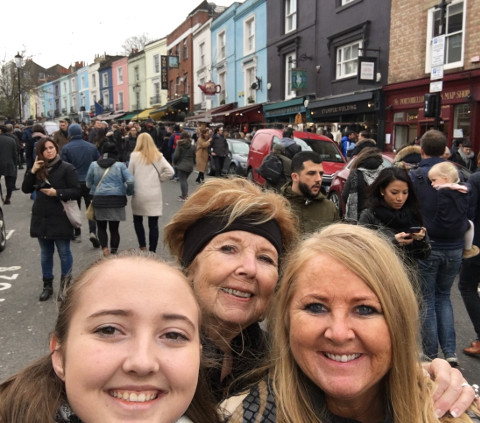 It was a fantastic morning spent at the market and I ended up buying a few very expensive pieces from Anthea and her husband Phillip, that I will list on eBay soon. I will definitely discuss what I learned in my new eBook Antiques from A to Z. Can't wait to finish Volume 5 G-H.
My mom also bought an expensive piece from Anthea and Phillip. They had some of the highest quality items in the area. Here is my mom with Phillip and Stanley when she checked out and was paying. We were all cracking up .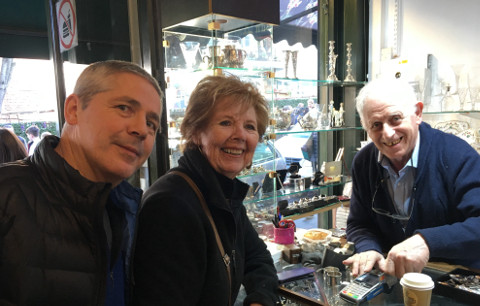 After Portobello, we took a Taxi back to the hotel to get ready for our front row seats to the musical School of Rock! So darn exciting! I even dressed up 

.
London was just an amazing experience and we (my mom and I) couldn't wait to take Indy to a West End show! We arrived early and they had all these fun props set up for you to get your picture taken in the New London Theatre.
Here we are holding guitars.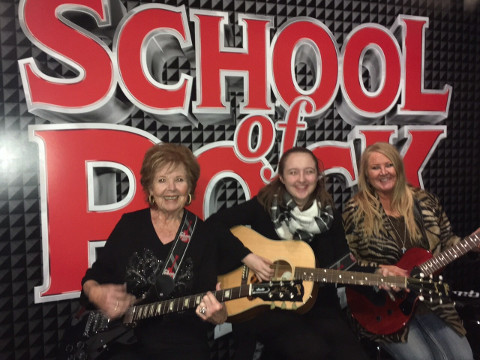 Here we are in the photo booth.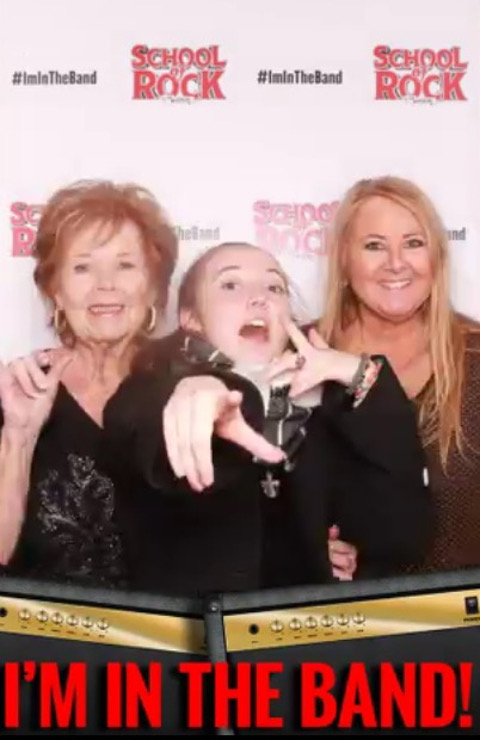 The show was beyond outstanding and our view was incredible! Even though we were way over to the side we could still see each and every detail (until the big school teachers desk was rolled right in front of us LOL). There were about 12 kids (ages 9 to 13) cast in the show and their singing, dancing and actual musical instrument playing was beyond unbelievable.
After the show, we asked where the stage door was located so we could get some autographs from the cast. The lead (David Fynn who played Dewey Finn), totally reminded me of Jack Black from the movie. He was phenomenal. When he exited the stage door, Indy got an autograph and I got a photo of him with Indy and Mor Mor. He lives in Encino, CA….LOL small world! What a talented actor.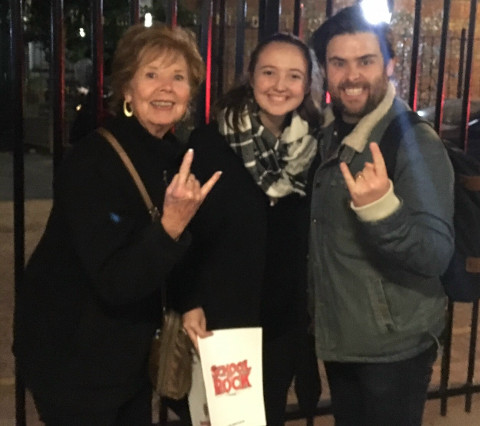 We ended the night with a great scenic taxi ride back to the hotel with plans to leave at 10 am on Sunday morning for our flight to Frankfurt. Couldn't wait to see the Goose! More to come in my next ezine about our time in Germany!
As you know, I always like to end my ezines with a score, so here it is. Sold this plate from Turkey, which is as close to Europe as you can get, for over $100. Yowza!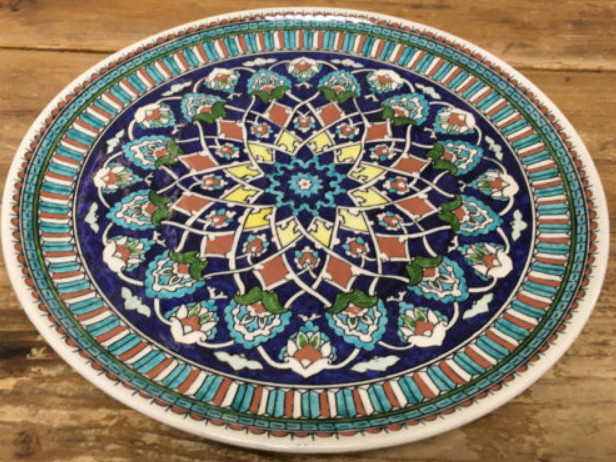 Click here
 to see this auction.
OK, one more potential score…that totally cracks me up. I bought this for $1 and think it is hysterical.