Hi!
I can't believe it is December! Wow, is all I can say. Our eBay business really picked up in November and we ended the month at $9,244. Yippppeeee!
A big reason for our great November sales, is because I was fortunate enough to buy some really great things at a recent estate sale. I did go a little crazy and will explain that soon, but for now…
Let's start my ezine with a score from that $1,500 (yes I did say $1,500) shopping spree.
Check out this Cache pot that I bought on the last day of that awesome estate sale.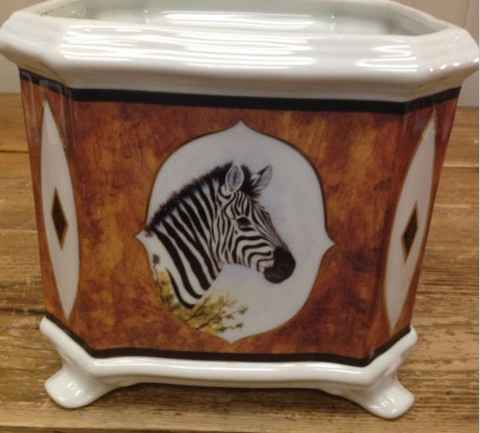 Click here
 to see this auction.
On the first day of the sale, I spent $528 and got some great items at full price. I went back on Sunday (when things were marked down) and spent another $1,000—Yikes!
I must tell you, that when you find a quality sale, with all of the correct elements, it is time to open your checkbook with a smile on your face. You can NOT go wrong. I spent over $1,500 at that sale and I will do very well with these items.
Part of my purchase, on that final day, was an entire table of Christmas items. I was afraid to buy all of the Christmas because the prices were super high and I knew enough, but not enough, to buy with confidence and just enough to be dangerous.
One thing I did learn from Cheryl Leaf (my grandmother), was to always buy in a big lot. I should buy everything on the Christmas table. One or more of the items, may end up paying for all of it. But I would not know, unless I bought it all and tried to sell it. So, I went for it. Bought the entire table, lock, stock and barrel.
Here are the kids unpacking the boxes in front of my office. They had so much fun and they wanted to bring it all home to decorate our house.
Sorry for all of you in colder climates…yes my kids were barefoot and it was November 20th.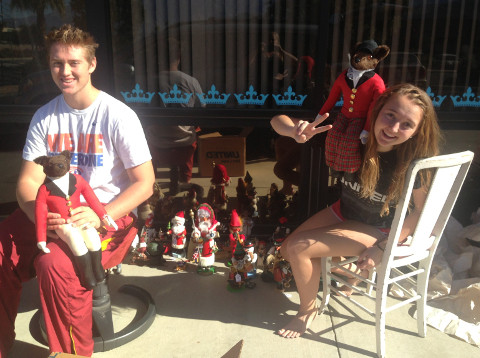 Here is a link to one of the items that has already sold and been paid for….yipppeeeeee!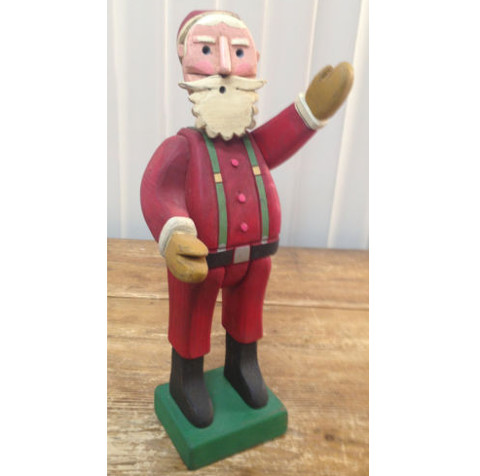 Click here
 to see this auction.
Here is a link to one of the items that I couldn't find out who the maker was so I was hesitant to list it. One of my strategies has always been to list these items high and ask for help or put a ? in the title..
Well, I started it at $149.99 and it immediately got a bid. Yowza! But no one has told me the maker yet. Whatever, is all I can say!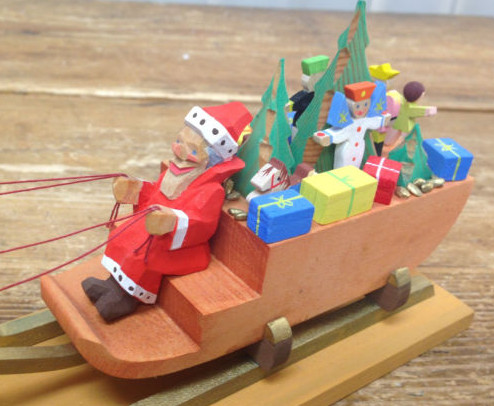 Click here
 to see this auction.
Actually, I am very grateful and thankful for being able to buy such awesome merchandise and have it sell so quickly. Yipppeeeee! I am also grateful to all of my ezine readers and Queen's Court members for your support and help over the past many years.
Speaking of Thanksgiving, I must tell you about our awesome experience during this past holiday. We were invited to my friend Kelly's home for Turkey day and she is, literally Martha Stewart, but younger and hipper. Her daughter is friends with both of my kids and we LOVE their family. What a treat!
Here is her table set up in anticipation of the event! It was soooo cute.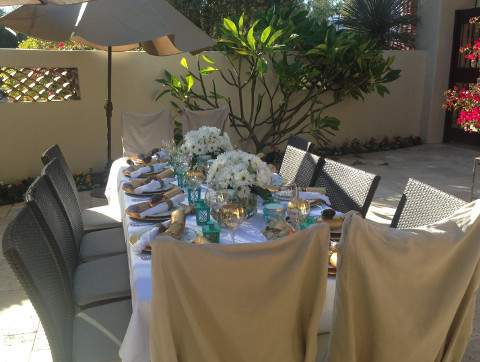 She had also invited two Marines from our local base, 29 palms, and it was crazy for us to meet 19 year old Josh and 20 year old Herchristy. Both of whom are amazing kids that are serving their country. It was wild because they are not that much older than Houston, Indiana and Kaileigh. Here is a photo of the kids that I took where I told them to be Marine tough. The Marines are on either end of our kids.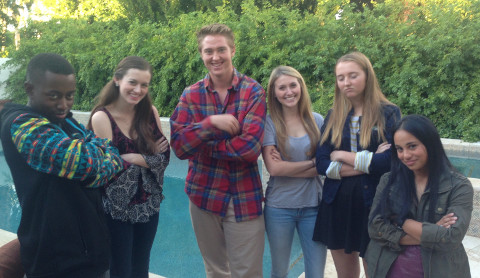 OK, time for a score that is NOT from my huge $1,500 purchase. It is an item that I picked up at a community sale in a mobile home park with my mom this past October when she was here for my live Executive Summit. I paid $1. Yipppeeeee!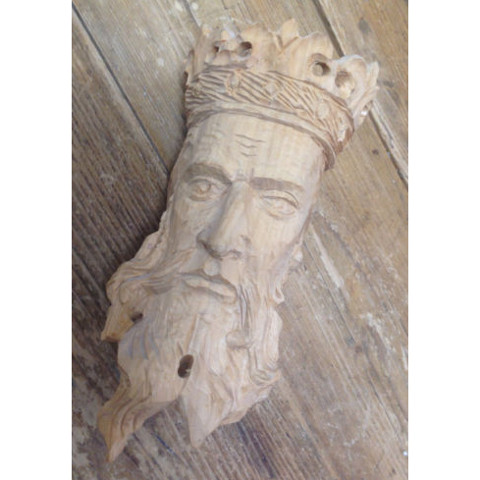 Click here
 to see this auction.
Kind of fitting, because I thought it looked like Jesus in his crown, as we all prepare for the huge sales we are expecting for this Christmas Holiday. Fingers crossed that our good fortune continues and sales continue to be strong!
The kids and I took the photo for our Christmas card this past weekend and it was hysterical because it was Indy's idea (she is amazing) to recreate our card from 10 years ago. Here is that original card…..and yes, Indy still owns the pink TY poodle from that photo shoot 

. We are a family of hoarders you know!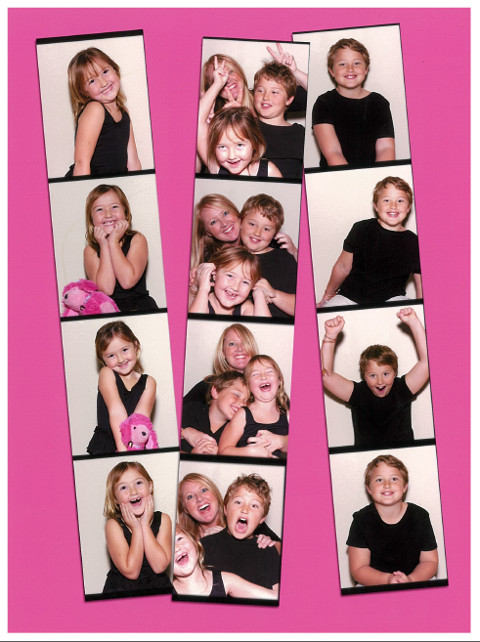 If you are a Queen's Court Member you will be getting a copy of the new and hysterical version in the mail soon. Just keep in mind that both kids were sitting on my knees during the original shoot, as they did again last weekend. Unfortunately, or fortunately for humor's sake, Houston is now at least 2 feet taller than me when he tries to sit on my knee. I look TINY. That is the good news!
Here is a photo of Indy doing the photo shoot with a self timer. Yes, the three of us are pretty self sufficient. I was going to leave for the office to ship after our group photos were finished but just couldn't. We were all laughing hysterically. Pretty fun!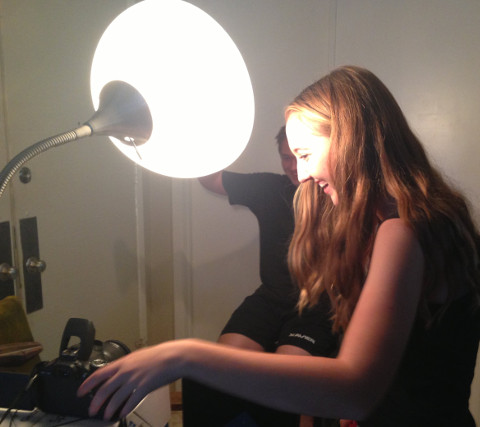 Speaking of my precious Queen's Court Members, it is time to feature a member in this ezine. This issue will feature Mandy, who is near and dear to my heart. Here is a photo of Mandy and I at my Lynn on Location in Las Vegas back in 2011. Yikes!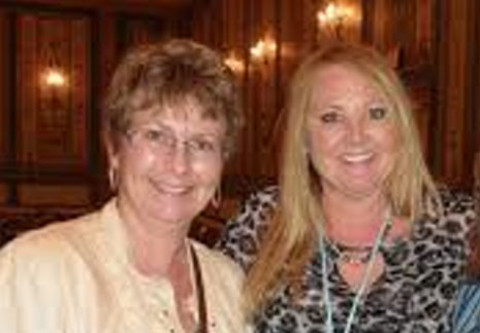 Mandy is always the first QC member to email me her scores for our monthly calls. I truly appreciate her and her knowledge! She was my first "foreign" student to attend one of my live boot camps back in 2010. She is Canadian, just so you know, eh?
Let's start her story off with one of her recent scores.
"A recent fabulous score is a Canadiana Art Glass Vase I sold for a friend. Signed simply Two Rivers, I found out that the artist is an accomplished Native Canadian Ojibwa glassblower and artist.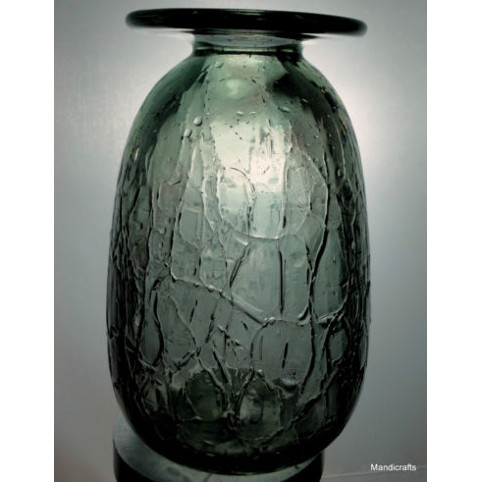 Click here to see this auction.

My user id is "Mandicrafts" which came from being creative and making and selling crafts on weekends at craft shows since the 1980's. I must have had TIME back then LOL!

I have been selling on eBay since 2006, although I signed up in 2002 but was too chicken to buy or sell for years until I found The Queen of Auctions and opened my Mandicrafts eBay store.

I began selling as a hobby to support my "bear collecting habit" and it turned full time in 2009 after I was laid off from a 21 year corporate job. Much more fun buying/sourcing teddy bears than industrial chemicals!

My focus has always been on Steiff Germany collectibles since that was my own collecting genre.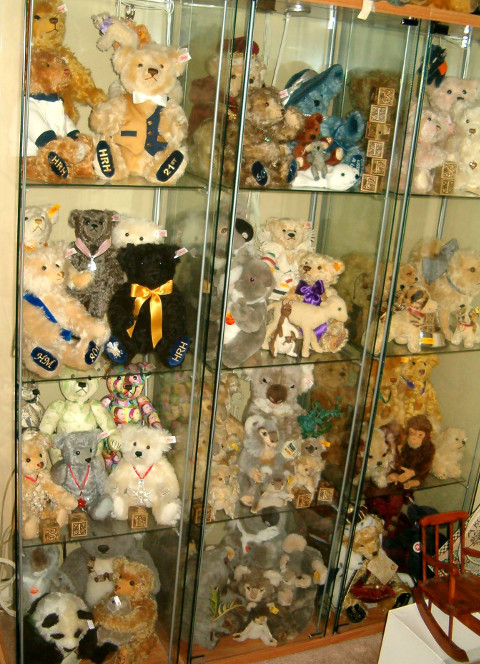 I made a wonderful contact in Germany who sources Vintage Steiff at their markets and I learned how to clean the animals using an approved Steiff method (instructions on one of my store feature pages) to bring extra value to my offerings.

I receive MASSIVE boxes of 300+ animals several times a year direct from Germany. I began to offer many other items due to my love for antiques and to add variety.

Here is a photo of one of my HUGE shipments from Germany.

I was diagnosed with Breast cancer during a biopsy early in 2014. I was lucky. The cancer was removed and I have been going through the Chemo and Radiation treatments to make sure the cancer does not reappear. The fatigue, brain fog, and other side effects are nasty but the end justifies the means and though it has been difficult to maintain my ebay store during this trial, I have done so, and have not disappointed any buyers.

I have had to do my shipping in little batches, search for items to ship in small stages, and prepare listings one at a time. My strength is returning so it is now getting a lot easier to complete my daily chores. As my hair was falling out I had to wear a scarf to keep the little hairs out of my shipping tape. I now have some fuzz showing so my hair is beginning to return!

Here is a photo of me and my dh (darling hubby) last December before I started losing my hair."
God Bless you Mandy and your DH Bill! We are all praying for you and thank you for sharing!
Here is one last score from Mandy…
Click here
 to see this auction.
One of the things that I love about Mandy (and all of you QC members and ezine readers) is how darn positive you all are! Mandy's story didn't start with her cancer battle and she doesn't let it define who she is or what her life is about. It is a bump in the road and she continues to inspire. Go girl!
OK, now on to some other girls that inspired me recently. As I was leaving to head to my office this past Saturday, Indiana and Paige (her best friend since they were three) yelled out…."Can we work for you?" Those five words are always music to my ears.
I was like "YES!" And then I regrouped. Teenage girls. How long was it going to take them to get ready? Paige had spent the night and I think they were still in their PJ's and it was noon. "15 minutes" they said.
"No", was my response. I had 30+ things to start pulling and shipping. Then I stopped, regrouped and said "I will give you five". They jammed and we all left for Headquarters (or the shop…whatever you want to call it) five minutes later.
Paige and Indy started the shipping, but Paige is a neatnick (YAY) like her mother Lori (garage sale Lou's wife) and she started straightening up my really messy office. My office was atrocious. All I have been doing is buying, listing and selling and have not had time to organize a thing.
Boy, did Paige get on a roll and then Indy joined her and after two hours, I was like, I need to go home and list. Paige said "We have to finish". OK, two more hours went past (we did take a 45 minute Panda Express & Dairy Queen break) and the girls had completely reorganized my life (oops, I mean my office)! I feel like a new person.
Here are the girls on the couch after their whirlwind cleaning spree. They even unpacked all my returns from the past six months and cleaned off that couch. Praise the LORD!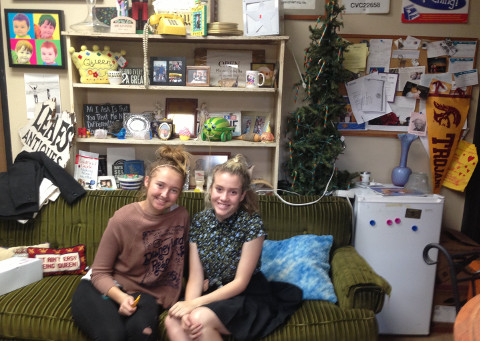 One of the things that Indy was shipping while Paige was on her cleaning rampage was this total score! This Vietri bowl had sold because I had recently listed a different Vietri serving bowl at auction. I will say this over and over again and I want you to all repeat this mantra…"Auction listings may not sell, but they WILL drive traffic to your bell"….had to make it rhyme….Bell stands for "fixed price eBay store listings" (yay, I know bell doesn't really stand for eBay fixed price store listings).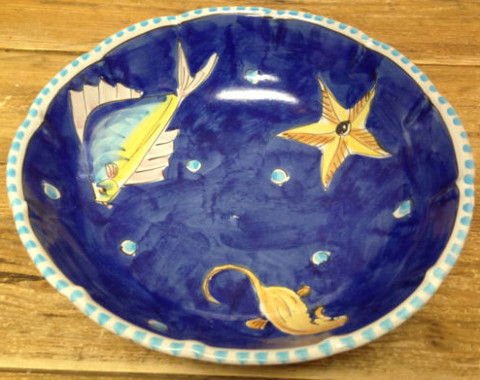 Click here
 to see this auction.
OK, so as many of you know, Houston has been going through the process to become a notary. He finally completed everything required and I took him recently to get sworn in. Yes, he did get sworn in! It was pretty awesome! I am very proud of him.
Here is a photo of him signing the paperwork after getting sworn in through the plexiglass. EEgads!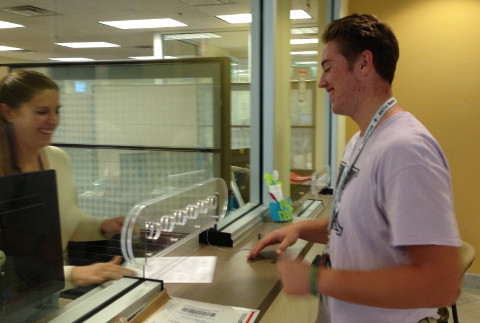 My brother Lee had come up with this great saying, "When are you authorized to notarize?" right after Goose took the test, so we bought two websites….a2notarize.com and a2no.com. Pretty cool!
My mom ordered him this amazing shirt with Authorized to Notarize on the front and his websites on the back.
You have to check out this short video clip. It is sooooooo fun!
I am super excited to announce that the footage from our Executive Summit – Day 1, Part 1 will be available for instant download at a special preorder introductory download price.
The footage is from the first day and is about 2 hours long. It includes these sections:
This is your chance to be a fly on the wall at our BEST live event EVER. Seriously, this experience was once in a lifetime and I am thrilled to be able to offer Part 1 of Day 1 to you now at the introductory pricing.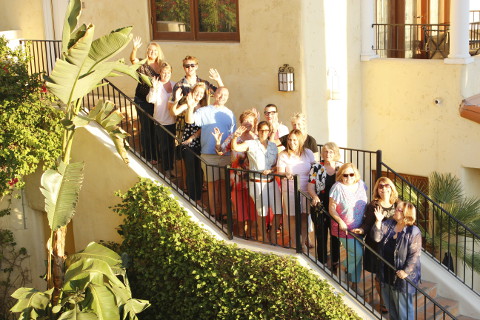 The footage will be emailed to you sometime this weekend or early next week, but definitely before December 15th (Indy's birthday). Click here to order now at our low preorder/intro price.
Oh my goodness… so much fun in our house. Houston is back to baseball (yippee skippeee) and Indy has started playing basketball. She is really good for never playing before! Houston and I drove out to Desert Mirage to see her first JV Game and we got there a little late. OK, Desert Mirage High School is about 30 minute away. When we walked in it was 12 to zero and they were winning (not us—Xavier was losing big time).
Here is a photo of the score board. That is my darling daughter in number 10….this was just 10 seconds before she made the first basket for Xavier. YES, Indiana made the first basket for our team! YIPPPPPPPEEEEEE!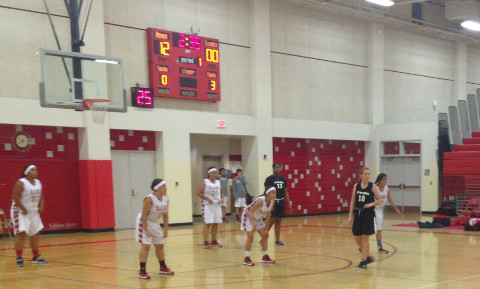 Xavier (we) lost the game but Indy had a blast and so did we. Basketball is WAY more fun to watch than cross country. No disrespect in any way but basketball is fast paced and seriously fun!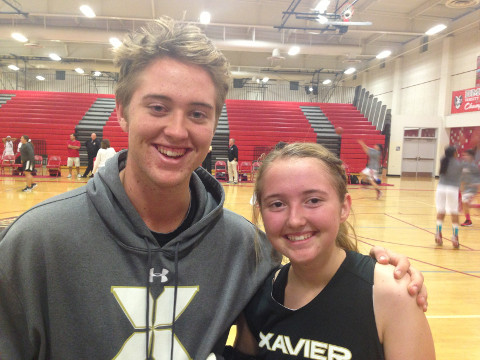 My little Indy is turning 16 this month! WOW! My life is about to get even crazier with two drivers in the house and Houston applying to every college he has been dreaming about. It is all good and I wouldn't trade my life for anyone elses. I LOVE my life today and always look forward to what TOMORROW will bring. Happy Holidays, Happy Selling and …..
Oh crap, I was going to end with a thank you but I always end with a score. So here goes. My mom was planning to attend an estate sale last weekend. There was an amazing set of flatware that was going to be there and I helped her do the research and it was so much fun!
I advised her to only spend $300 but maybe go to $350. She spent more than that but we did agree that quality merchandise is worth a little bit extra. Here is one of her listings that I KNOW will be a huge score for her. Please share this with any one you know who is in the market for mid century modern flatware. Gotta love eBay.