Hi!
Happy Fall! It has been 100 degrees plus here forever! Finally, today it is raining and we are in the 80's but it is supposed to get back up into the 100's by tomorrow.
I hope you are all having an excellent Fall and that your eBay sales are picking up! Ours sure are and it is about time!
Let's start this ezine off with a score. Check out these Jeans that I picked up at a local Goodwill for $3.00. Once a month or so, Goodwill puts all of their clothes on sale for $3.00 per piece. I always check out the men's jackets and jeans when they have these sales. There were two pairs of these Evisu Genes (Jeans) that looked brand new so I bought them.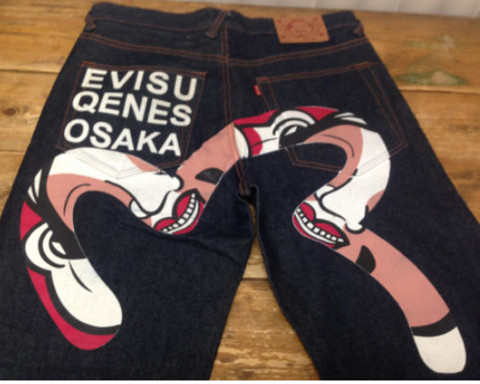 Click here
 to see this auction.
I tried them first at auction and they didn't sell for $99 so I raised the price and put them in my eBay store. They sold in less than 30 days for full price and I shipped them to Thailand. I think I priced them toooooo cheap! I hate it when I think I am leaving money on the table.
These jeans were unusual because the company is Evisu Genes but on the back pocket of these it appeared to be a typo because it said Qenes. Oh well, over 66 times a return on my initial investment in less than a month is pretty AWESOME!
My kids have been incredibly busy! Nothing new there. It has been interesting for me to keep up with Houston's escapades by following him on snap chat and getting the rare text here and there. Indy and Houston text each other a lot so I can always count on Indiana for a "debriefing". He seems to be doing fantastically well and I have to admit that I am reliving my college days through him. Oh what fun!
Some of the best news is that Goose was elected Freshman Class President! WOW is all I can say!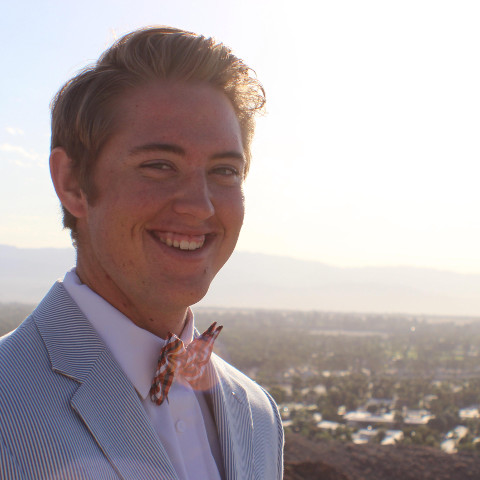 Pepperdine had sent Houston and a few other students to Harding University in Arkansas for the Global World Missions Experience the same week as the election. He found out the results when he was in Arkansas and text me first thing! I was soooo excited and happy for him.
Before I tell you more about Houston, I had better share a score because there is A LOT to tell!
Check out these amazing Gothic Curtain Rod Finials that I got from my grandmother. I was always going to do something with them but hadn't gotten around to it in over ten years so decided to list them. I took a best offer of almost $300 on Tuesday. Yay for eBay!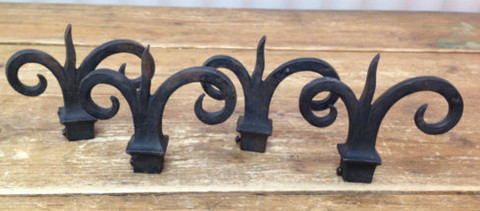 Click here
 to see this auction.
OK, back to the Goose. Houston has only been at Pepperdine for about six weeks now and I was joking to my friends and family that he has done more in those six weeks than I did in my entire Freshman Year at USC.
In addition to visiting Arkansas and being elected President Houston has……
Tried out for Concert Choir (didn't make it because it is mostly made up of music majors but kudos to him for trying)!
Applied for the Jumpstart Program to mentor Pre-School children (didn't make it because of his presidential time commitment)
Applied for a job in the Food & Homeless Service Office (he not only got the job but was offered the position of Leader…something that Freshmen rarely get hired for!) He will be driving a group of up to 15 students two to three times per week to volunteer on skid row. He will supervise, also volunteer and lead a reflection afterwards. Congrats!
Applied for a position as a Service Team Leader to spearhead a group that would travel to a third world country over Spring Break. (he did not get that position but they are thinking of putting him on the Compassion team heading to Guatemala).
Applied to the Heidelberg, Germany for the Sophomore year abroad program. (he will find out that decision at the end of the month).
Attended classes and done his homework…although, his grades are yet to be determined
Rushed Fraternities these past few weeks.
I am exhausted from just writing this down. Can you imagine actually doing it all? I am happy to report that he has chosen Delta Tau Delta and is now an "official" Fraternity Pledge!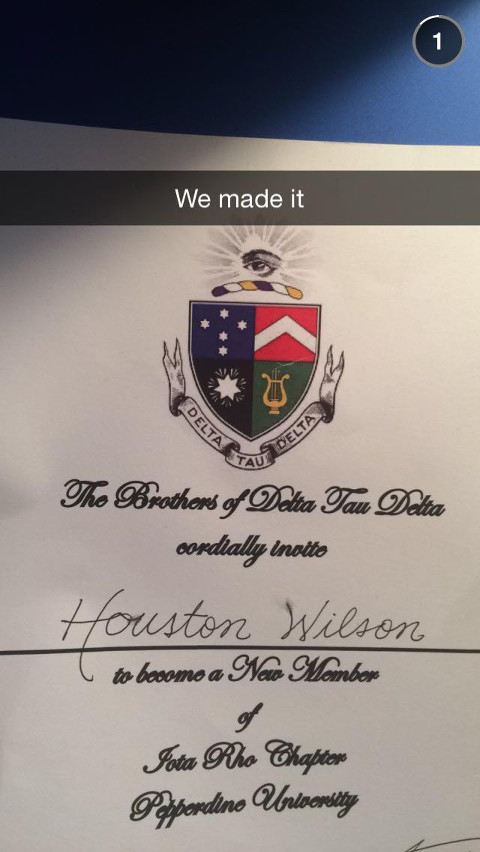 Speaking of my Freshman Year at USC, I have a great story to share with you and it fits right in with Fraternity and Sorority Rush. Check out this photo of my friend Annie and me during our "Presents" Day at Alpha Delta Pi Sorority.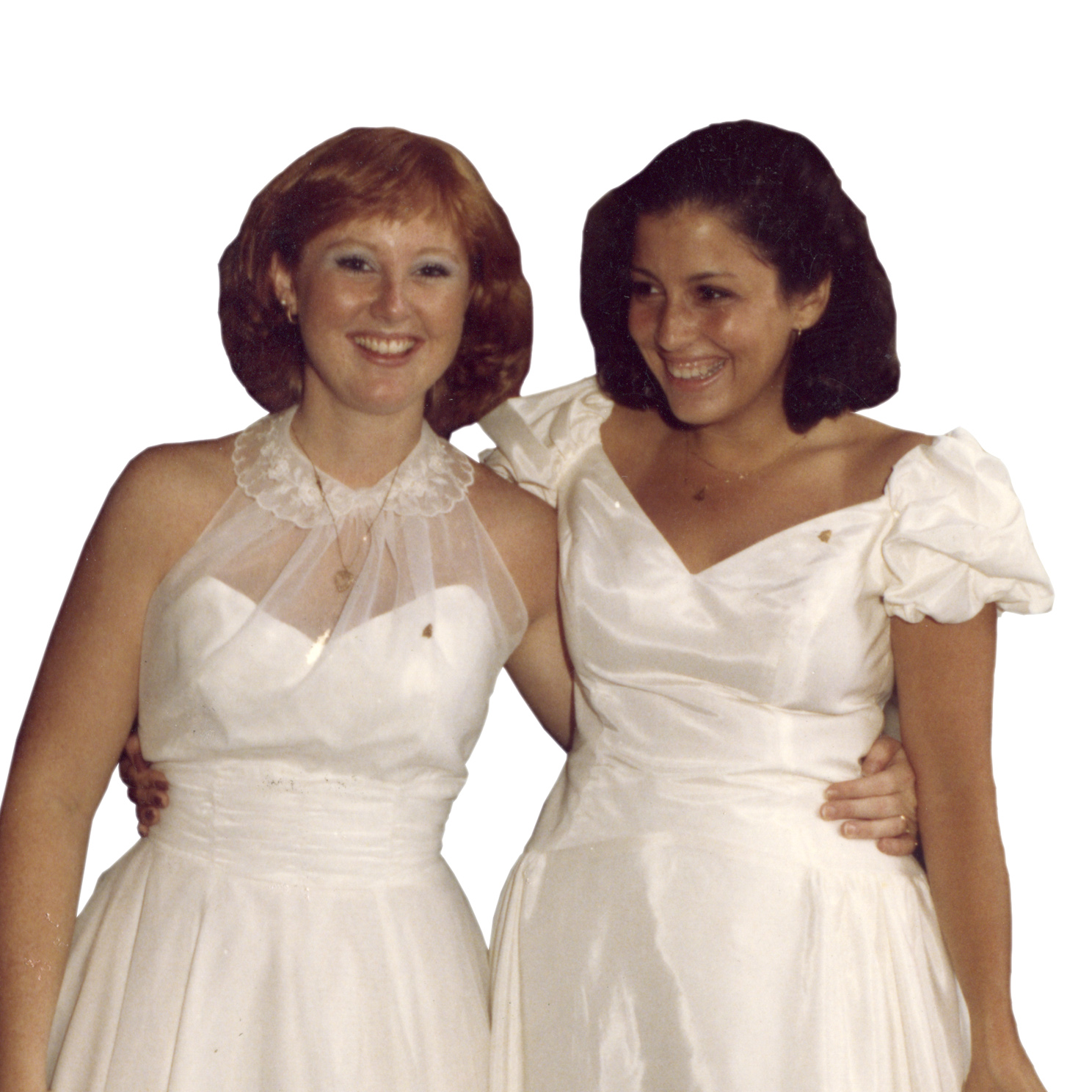 Story #28 from Money Making Madness that accompanies this photo is all about my parents putting me on a plane and sending me to Los Angeles to start school ALL BY MYSELF. Can you even imagine doing that to a kid today? Yikes!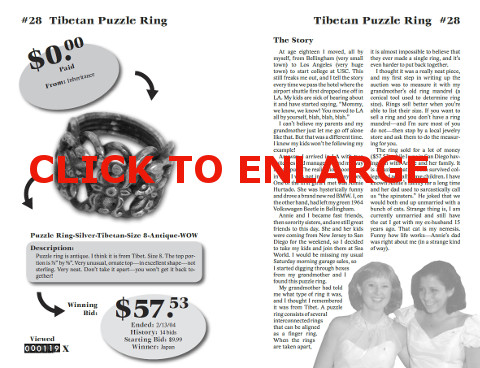 Indiana and I have been kind of lonely since Houston left. In fact, two Sundays ago she begged me to spend the day with her. I told her I would take her to lunch at Panera if she would go to some thrift stores with me. Deal! Well, thrift stores usually lead to trouble now don't they?
At one of the stores, there were two dinner sets in the front case. The Spode one had been marked down to $135 and the Williams Sonoma one was new and priced at $225. I was able to look up the Spode set on my phone and knew it was a decent deal so I bought that set with Indiana's student discount and no sales tax for $121.50.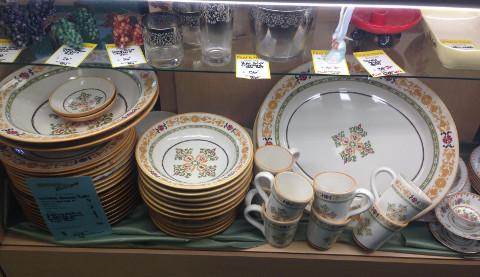 Since I couldn't ID the Williams Sonoma set I took a photo of it in the case and went back to my office to identify it. In the photo you can barely see part of the Spode set. Here is a current listing for the Spode in my eBay store.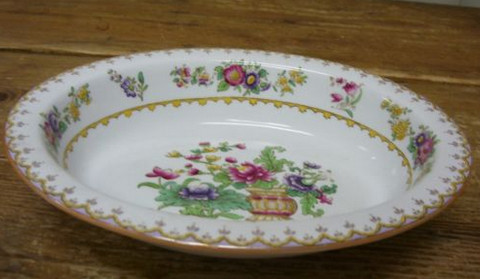 Click here
 to see this auction.
I haven't listed the cup and saucer sets yet but so far we have 11 listings that add up to $846.85 in our eBay store. Awesome for a $121.50 investment!
Once I got to my office, I began to research that Williams Sonoma set. First of all, it was a HUGE set and second of all, it was priced fairly. I did note that there were quite a few of the pieces with chips and that the pattern looked worn. I couldn't tell if it was intentional or not so that is why I didn't just buy it immediately. I wanted to make sure that it was part of the actual pattern.
I was able to quickly ID the pattern as Asolo and realized that it was a steal. I called the store and asked if I could pay for the set and they could pack it up so that it would be ready for me when I got there. No dice. I had to come in person and pay for it. I jumped in my car and off I went.
When I got back to the office and wrote it up to list, I realized I had close to $3,000 at high retail from a $202.50 ($225 less 10%) purchase. Yippppppeeeee! One bowl sold at auction for $34.99. I immediately got the rest of it listed in my store at high retail and I sold this platter today for almost full asking price. I LOVE WILLIAMS SONOMA.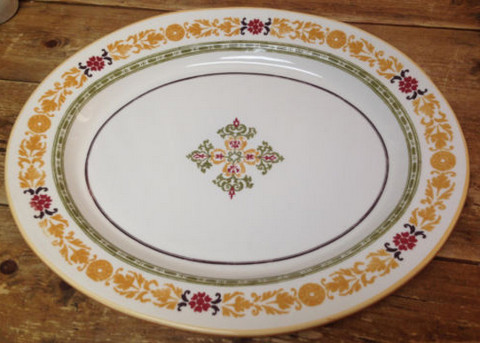 Click here
 to see this auction.
In addition to the Asolo, there were also some Beaded Buffet Plates in brown by Williams Sonoma included. It is all listed in my eBay store now in 20 listings and it adds up to $2,859.72. Don't forget the $220 that I have already sold in this pattern. I have already paid for the entire set in less than 10 day.
For those of you who haven't ordered our new and improved I sell sheets, don't forget that they now have a ruler in inches on the front and a ruler in centimeters on the back. I love these!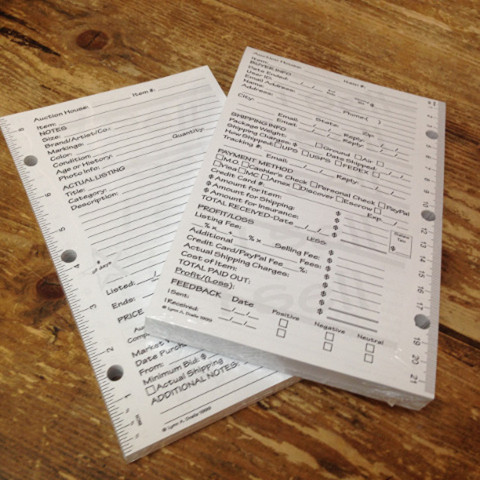 These are even MORE AWESOME for listing and selling than the originals that I designed back in 1999. Now when you are listing and can't find a ruler….there is one right on your sheet. Also, when you are pulling items to ship and need to confirm the length of a salad fork etc…the ruler/isell sheet is right there! Yay! Order your new sheets – click here to order now.
Indy was certainly my good luck charm that Sunday as she is every day! She was nominated for Junior Class Homecoming Princess last week so she had to dress up for school each day of Spirit Week. Here she is with her friend Tiff dressed up for the theme "Disney TV Show" Day.
They are playing Jackson and Oliver from the "Hannah Montana" show in the famous episode where they tried to sell their new creation "Cheese Jerky" at the Beach Hut. Indy found the t-shirts with me at a thrift store, painted them and also made the signs. She is UBER creative!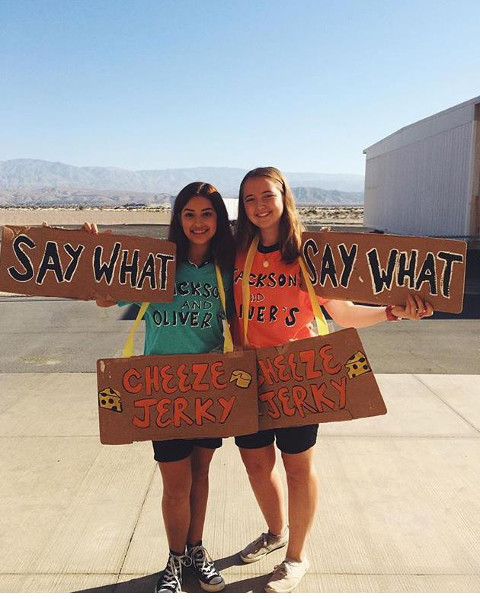 Here she is dressed up as Mary Poppins for Disney Movie Day. But if you follow me on Instagram at LynnDralle you would have already seen this.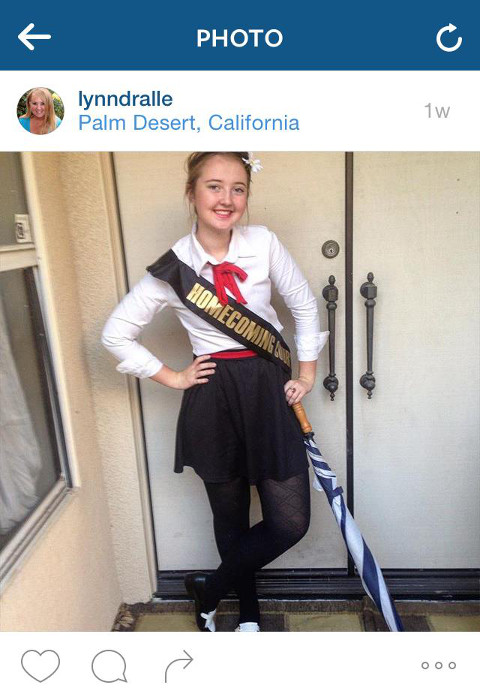 During that crazy Spirit Week leading up to the announcement of the Homecoming Princesses, I happened to stumble over Indiana's work station (on the floor of the family room) during the middle of the night. I just had to take a photo. That girl worked so hard on all her costumes. As you can probably guess, this was the night before the "Disney Character" day and she was going as Winnie the Pooh.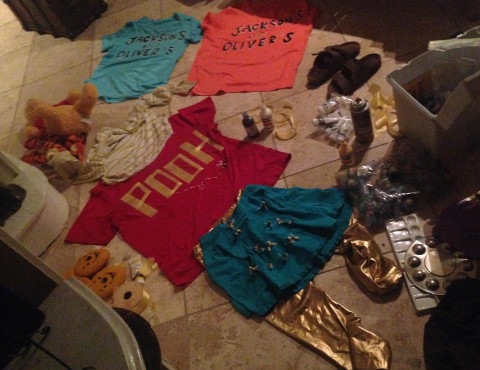 I am sooooo happy to report that Indiana was chosen by her classmates as the Junior Homecoming Princess! Yipppeeee! She looked so darling (and happy) riding around on the back of the convertible during halftime of the football game.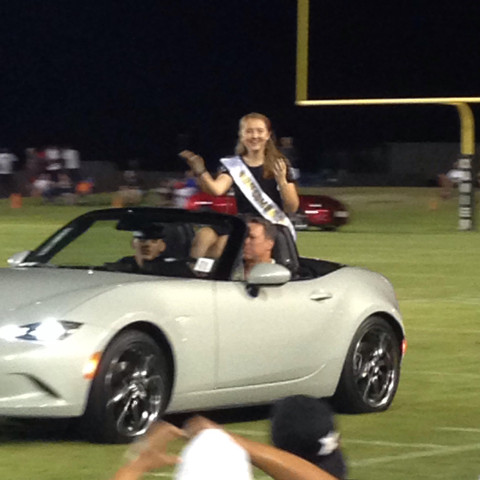 But let's get back to business. My friend Lori (Garage Sale Lou's wife) and I were invited to an awesome storage unit sale in Palm Springs. We absolutely adore the estate sale dealer who was hosting it. It was 90 degrees that day with about 100 percent humidity and Lori and I were disgustingly drenched after unpacking all of the boxes to weed through.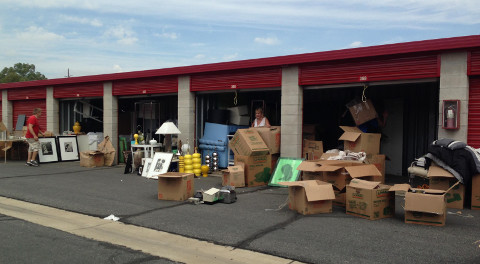 I spent $250 on a bunch of amazing architecture, photography and mid century design books and $100 on other items.
Check out some of my piles here.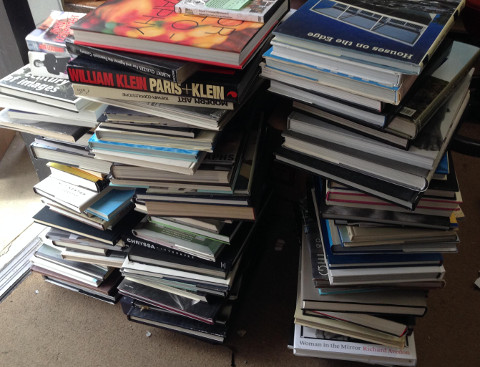 Here is one of the books that sold for close to $100 and they just paid!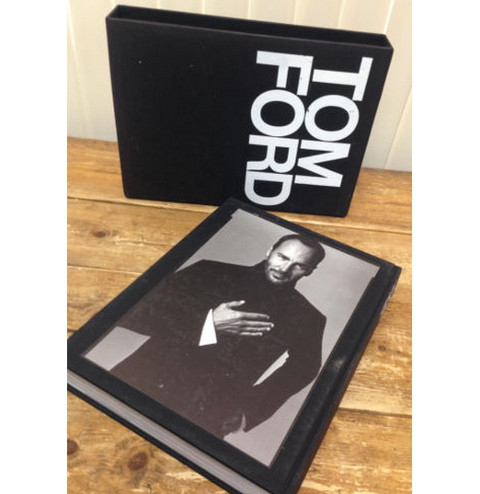 Click here
 to see this auction.
Books are super tedious to list but most of these were first edition, first printing and were extraordinary. I had a blast getting them all listed last week. They add up to over $2,000 at my auction pricing. In addition, I kept out about 30 books to gift to my mom and brother for Christmas and birthdays. They are both fans of Mid-Century architecture.
Here is one that didn't sell at auction but is now in my eBay store.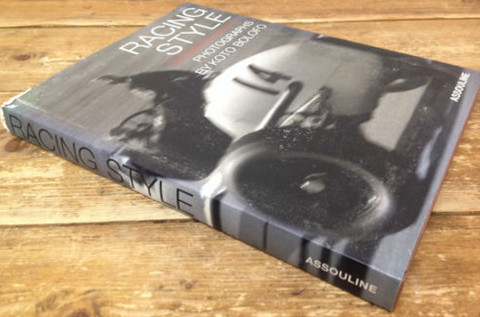 Click here
 to see this auction.
In addition to all the books, I also bought quite a bit of Mid Century Smoky glass and pottery. Check out some of the random pieces on my shipping table.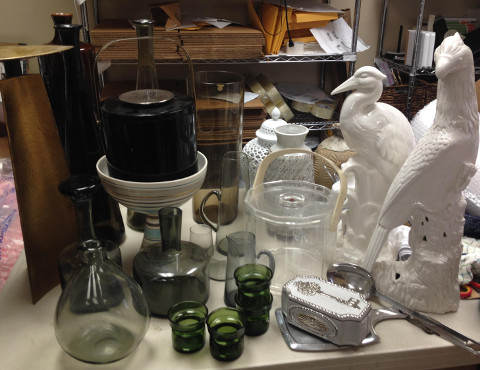 Here is one of the smoky Scandinavian tall vases that didn't sell at auction but is now listed in my eBay store in anticipation for our AWESOME 4th quarter sales!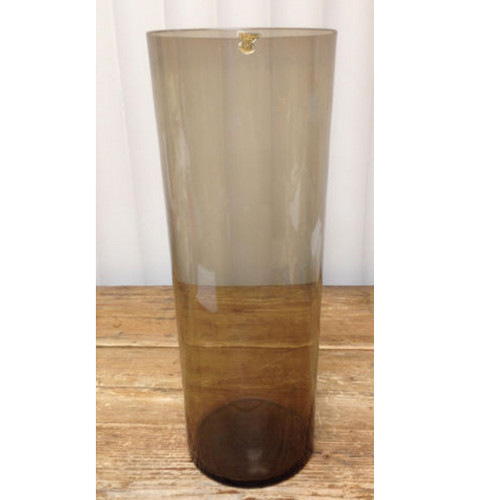 Click here
 to see this auction.
All of us on the Queen's Court have been ramping up for OUR huge 4th Quarter Sales which are officially underway! Our challenge this month has been to list the elephant in the room. You know that one thing that you have been staring at for months, if not years.
Well, my "elephant" was a Barbie car that Coco (QC member) gifted me during our executive summit almost a year ago today. Thank goodness I finally got it listed!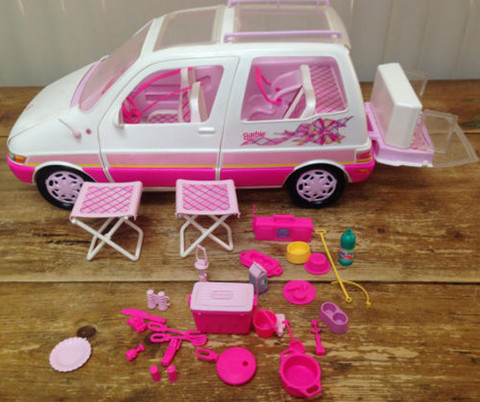 Click here
 to see this auction.
eBay had some great announcements from North American Vice President Jordan Sweetnam on Monday. Here I am with Jordan at eBay's 20th Celebration!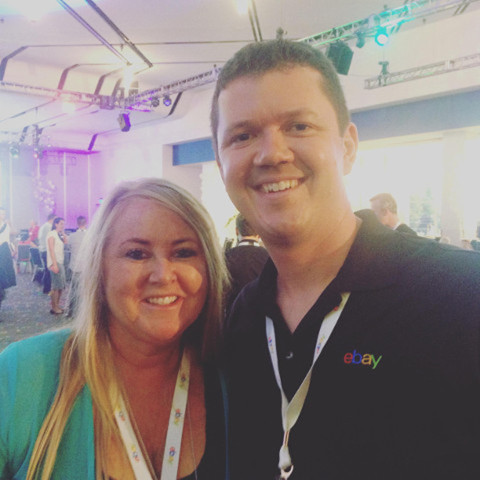 eBay continues to amaze!!! Read it here
.
Really great for small sellers with some new free listings and for sellers without an eBay store a chance to try one for free for one month. Offer is limited. Please sign up here. For anchor stores, the only new benefit is that clothing is now considered part of the free 100 that was originally just collectibles.
I have to say that I am so impressed with eBay recently. eBay's 20th was amazing and now these new announcements! Go EBAY!
In celebration of that, For those of you have never attended an eBay Live event, we have a very special offering for you. Back in 2008, we had the foresight to film "The Road to eBay Live". It looks at the event from our perspective as exhibitors and as sellers. We had the green light from eBay to film inside the event and also film my presentations. The 3 DVD set which is 5 hours and 42 minutes long is available now for only $19 with FREE shipping with in the US. Click here to order now. Price goes up at midnight on October 10th.
More information from the back of the original 3 DVD set….."In this episode from her instructional video series, Lynn takes you on "The Road to eBay Live".
Disc 1: You asked them and we took your questions to eBay Live in Chicago in 2008 and got you the answers you were looking for…This Q&A will include your questions asked and answered by Lynn, other PowerSellers, and some of our favorite eBay Gurus.
Disc 2: We were given the green light to film all three of Lynn's eBay classes. Be a fly on the wall and learn all her tricks for garage saling and research in her standing room only classes.
Bonus Disc 3: Behind the Scenes Reality before, during and after eBay Live in Chicago 2008! The drama, authors' luncheon, after hours parties and the humor of Mo, Carmen, Jason and Lynn. This is hilarious!
So excited to be able to share this DVD set of three that includes 5 hours and 42 minutes of "vintage" footage with you at only $19 with FREE shipping until midnight on October 10th. Click here to order now.
Ever since eBay's 20th many things have been changing for the better with my business. I am now working with the eBay Growth Business Division to work on growing my unique OOAK mature business. One of the first things we are working on is lowering my eBay fees and working on moving older merchandise.
To be ahead of the game for our weekly meetings, I recently ended 32 eBay store listings for souvenir spoons and repurposed them into two listings. One with 8 sterling spoons and one with 24 semi silver and other souvenir spoons. Cool news, I had bids on both within an hour of listing both.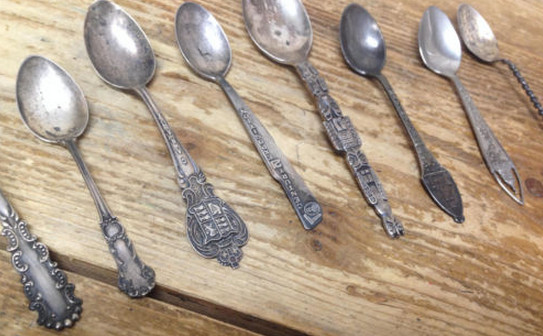 Click here
 to see this auction.
I was reading People Magazine a few weeks ago, and read that Matt Damon was starring in a new movie, The Martian, to be released on October 2nd. October 2nd would have been my sister Kiki's 46th birthday and Matt Damon was her absolute favorite actor. I can't tell you how many times we watched the Bourne movie series over and over and over in hospice house. I knew that the best way for me to honor my sister on her birthday would be to see that movie.
I was in line at the Mary Pickford Theater at 11 am on October 2nd and I have to say the movie was really excellent! Happy Birthday Kiki!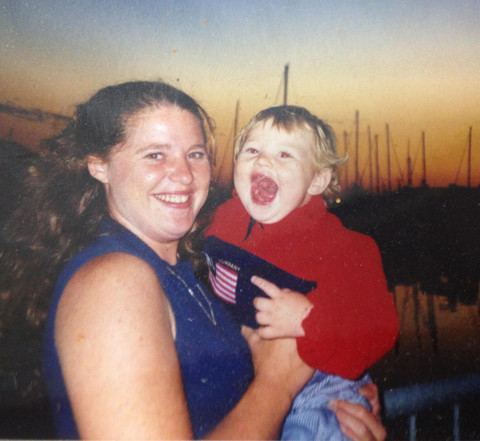 Over the past few weeks Indiana has been trying out for the school play. Xavier is doing Neil Simon's Fools about a small village in Russia that has a "stupid" curse placed on it. Fools was allegedly written as the result of an agreement Simon made with his wife during their divorce proceedings. She was promised the profits of his next play, so he attempted to write something that never would last on Broadway. Pretty funny!
It turned out to be a huge hit and I am happy to say that Indiana did get one of the leads and will be playing Dr. Zubritsky.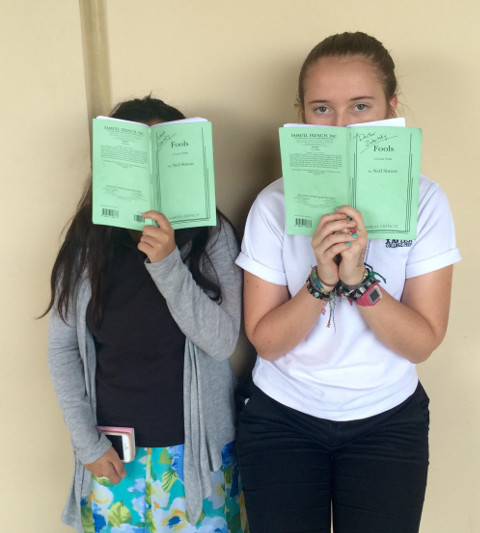 Well, that just about brings us up to date. My mom flew in on Monday and will be here for several weeks. My mom, Indiana and I will be heading to Malibu on October 16th for Wave's Weekend… also known as Parent's weekend. Should be fun! Young Authors will be performing (they sing "The Best Day of My Life) and there are tons of events planned. Can't wait to see the Goose!
Let's end this ezine with a score! Just sold a Lladro Christmas Tree Topper. Yes, they are already Christmas shopping.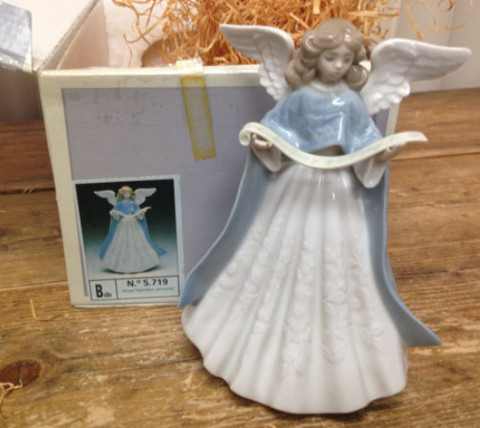 Click here
 to see this auction.
Can't wait for the eBay holiday campaign "Wish Bigger" to kick off. "Millions of Wishes on Sale Now". Buckle your shipping seatbelts….It is going to be an AWESOME holiday season!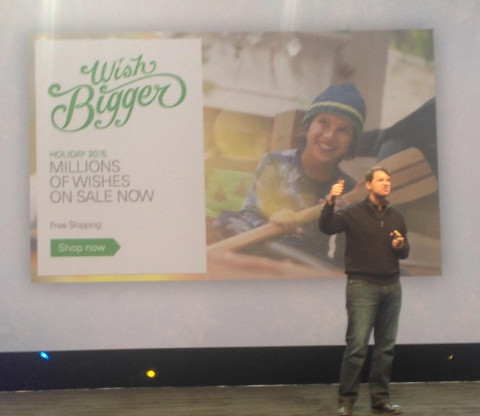 Thanks for reading my ezines! I appreciate it!
Happy eBaying!
Lynn
---
Lynn is an experienced eBay Power Seller, author and teacher. If you want to know the eBay tips, tricks and tools that Lynn uses for buying and selling at online auction click here.
Some links in my emails to you may be affiliate links. You can be confident that I only partner with companies that I fully stand behind.