Hi!
Happy New Year! Sorry for the lack of ezines last month, my computer hard drive crashed again for the second time in 2013. Thank goodness I have a three year warranty! But it still takes weeks to get everything back up and running. As a New Year's Reminder, PLEASE back up your computer after you finish reading this ezine!
Hard to know where to begin, but I guess I will start with Thanksgiving. We ran (well Indy & Houston did—I walked/ran) the Turkey Trot in the morning and then we went out to Sherman's Deli for a holiday breakfast of waffles, omelets and bagels & lox. Delicious!
Here is a selfie photo that Indy took at Shermans. Do you like the shopping cart above my head in the photo? I just noticed it. Weird!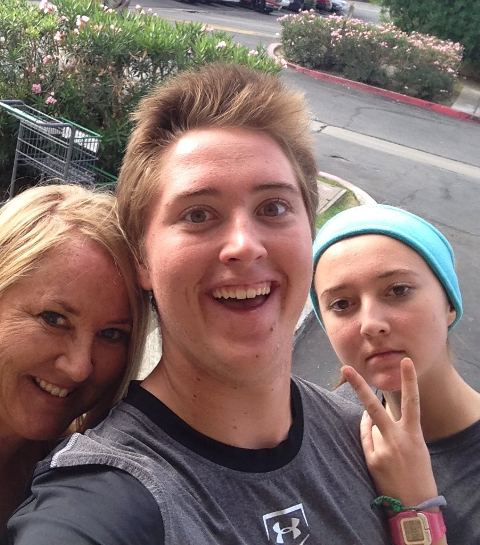 I ended up with a blister the size of Texas but it was still a lot of fun. Luckily, we were invited to my friend Tina Burke Brown's Palm Desert home for Thanksgiving dinner. Tina is one of my best friends from high school and she and her husband have a winter home here.
Her little brother is Billy Burke of Twilight and Revolution fame. It was great to see Billy, their dad, and all the rest of their extended family on Thanksgiving day.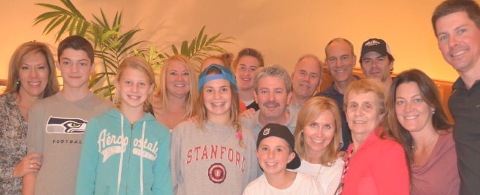 You can't see Indy because she set up the self timer (of course) and by the time she ran to the back of the group (she is next to me and all you can see is the bun in her hair) someone blocked her face. Darn it!
My kids had a blast, the food was amazing and they thought everyone was super nice. Billy played the card game 99 with us before dinner and my kids are new fans. They have both now watched all episodes of Revolution on their computers.
Thanksgiving was a score spent with friends and family so now lets share an eBay score.
This amazing piece of art glass by Stuart Abelman sold a few days before Thanksgiving at a best offer of over $200. Wow! Check it out here.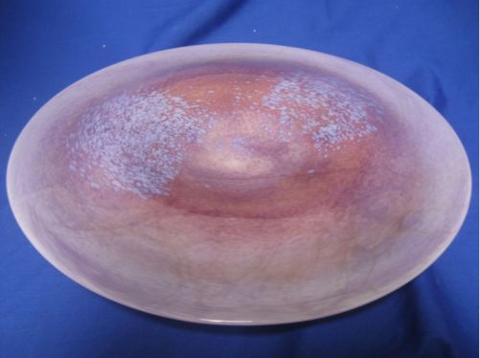 Click here
 to see this auction.
After Thanksgiving, things did not slow down! They NEVER do, but they got even more hectic with Indy's 15th birthday on the 15th. Apparently, when that happens, this is called your Golden birthday and is a HUGE event. Didn't know that because mine happened when I was just six years old. But we went all out.
For most of the month of December, Indy and I decorated an empty warehouse for the party. We strung lights, hung decorations, planned the music & food and begged my brother to come out from LA for the main event.
Thank goodness he did! We never could have pulled it off without him. I think it was a huge success and Indy would agree. There were over 50 kids that attended that afternoon and it was a 1980's glow stick dance party.
Here is a photo that my brother took of them throwing their glowsticks in the air.
Here is a panoramic photo of most of the kids after I rolled up the warehouse door and my brother got them to line up. Too fun! But so exhausting 

.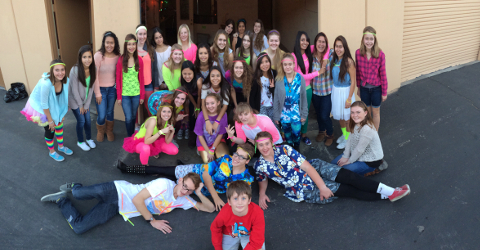 OK, something keeps happening on eBay that freaks me out. Things listed on the same day sell on the same day. We are talking about stuff that was listed a long time ago at fixed price in my eBay store selling on the same day—Coincidence? I think not!
On January 10, 2014 at 8:15 am, I took a best offer of $10 for a Reed & Barton Christmas bell that was listed on October 16th, 2013. Here is that listing.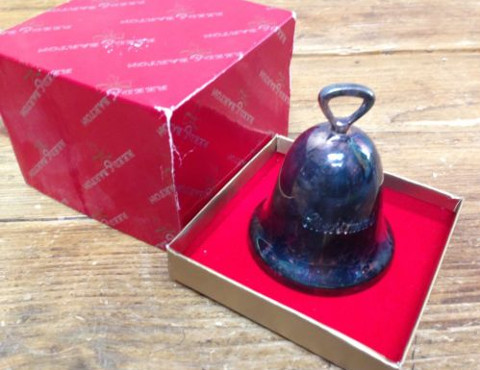 Click here
 to see this auction.
I have told most of you that best offers lead to more sales. For those of you who believe me and follow my advice, Congrats! For those who don't, please make sure you have my Best Offer eBook (PDF).
At 11:26 am on January 10th, I heard my iphone go kaching. This means that something on eBay has sold. Yay! It was another item that was also listed in my eBay store at a fixed price on October 16th, 2013. Coincidence. Of course not!
Here is that item that sold for asking price.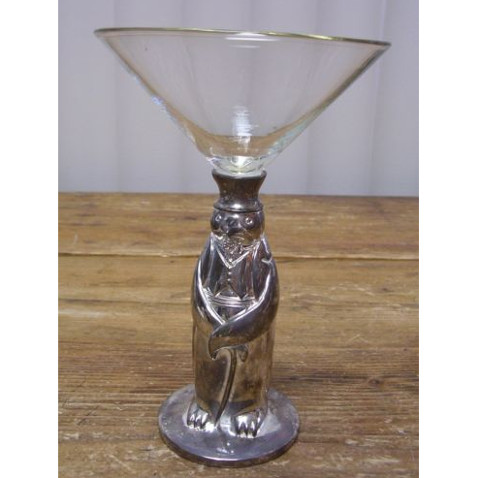 Click here
 to see this auction.
Both items were unrelated until you look closer. Both were silverplate. I strongly believe that the new eBay Cassini search engine will pull up similar items higher in search results when one item from that genre sells from a particular time frame.
If you don't have my eBay Store eBook you need it. Learn more about it here or purchase it here. But let's get back to another concrete example of an eBay store score.
I paid about 50 cents for this item. It sold for over $400 from my eBay store using my eBay store techniques that obviously work! Yay!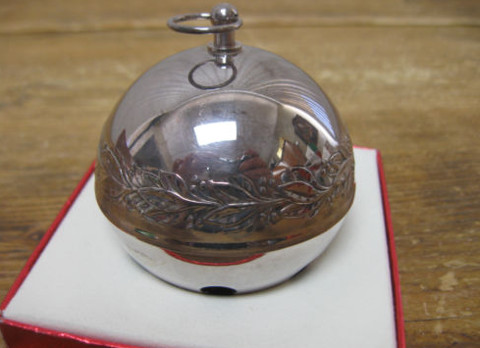 Click here
 to see this auction.
Not only did I use my eBay store techniques to sell this item, but I used my write up techniques to list it and all the other wallace chrsitmas bells quickly. Don't miss out on our write-up rodeo video that will increase in price tonight at midnight, 1/16/2014.
Here is more about it…

Check out this email I received recently from Cindy after she watched Write-Up Rodeo:
Hi Lynn –,
Just wanted to let you know that I watched the video this afternoon. Great stuff! Learned a lot, and when I wrote up some I Sell sheets after watching it, the process went much faster!

Thanks, as always for the wonderful tips, and for the motivation to list, list, list! I am up to just over 750 items now.

– Cindy
Thank you to Cindy! And to all of you who are learning from us. It is really a great feeling to know that we can make a difference in your income!
Our introductory pricing will be ending on Thursday, January 16th. Order yours today to lock in this great low price.
Our new video, Write-Up Rodeo is the newest video in our training series. Mo and I had a blast filming this with my daughter Indy, and now she has edited this hour-long video with her great eye and fun sound effects.
Write Up Rodeo will walk you through how to write up your weekly purchases and get ready to list quickly.
It will be very similar to the live Boot Bamp section called "Initial Write Up" with Lynn & Mor Mor. But this time, we have me, Mo and Indy 

.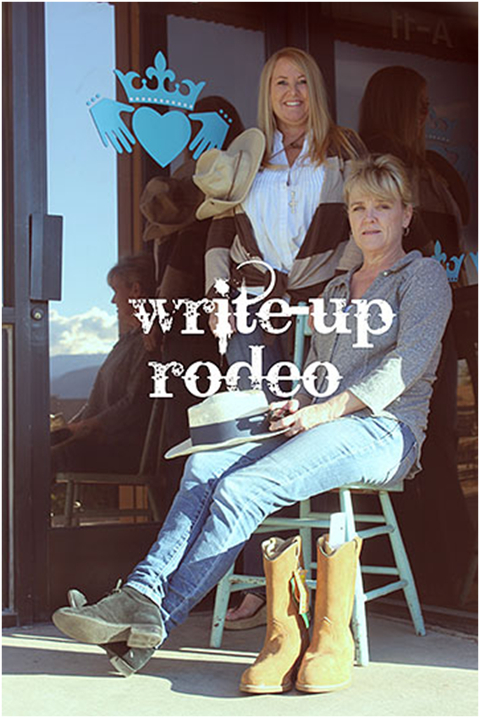 Since we are not having any more Live Boot Camps, it is my hope that these training videos will keep you all updated and knowledgeable.
Write-Up Rodeo is available for online viewing or download NOW.
Order your copy of our new Write-Up Rodeo at our low introductory price.
In this new online and downloadable video, I show a table full of items and how Mo and I write up 61 items in 61 minutes!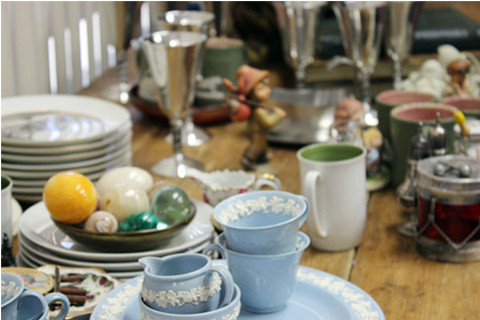 Write-Up Rodeo is here! Don't miss the Rodeo !
To order now, click here.
P.S. Queen's Court members, don't forget to use your discount.
P.P.S. Even one thing that you learn can more than pay for this video or eBook. Click here to order the Write-Up Rodeo video now.
P.P.P.S. Our introductory pricing will be ending on Thursday, January 16th. Order yours today to lock in this great low price. Don't delay!
P.P.P.P.S. Remember, Time is Money. Learn how to list more in less time with Write-Up Rodeo!
OK, I have to take this moment to admit that I make mistakes—even after spending my whole life in this business. I know we all make mistakes and I LOVE to share my mistakes because it helps you all know that you can learn and still make money.
I spoke about buying mistakes on my recent Griff and Lee interview. If you missed it last week, you can still catch it here.
One of the mistakes I mentioned on the interview with Griff was for Pez Dispensers. I was very excited to purchase 22 of these for $2 each. WRONG! But I did learn a lot. Pez did not ADD FEET until 1987, so any pez without feet is probably worth more money.
Here is one of the pez dispensers that I now have listed in my eBay store. None of them sold at auction….of course not.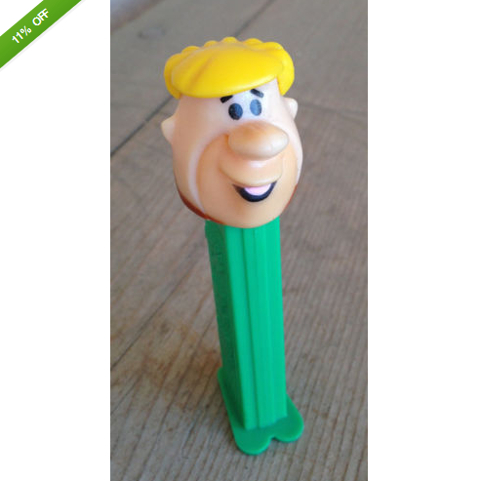 Click here
 to see this auction.
After Indy's really awesome birthday party (which she planned) we had an amazing Christmas. But first, let me tell you how Indy's glow stick Birthday party came to be.
Indy, Mo and I were sitting around the office trying to brainstorm how Indy could celebrate her "golden" birthday in style. I suggested the new indoor go-kart track. Indy thought that was an awesome idea, however, we had at least 40 kids to invite (due to cross country…can't leave any of the team out 

).
So, I called the go-kart place on the office speaker phone. I asked this new business what was the lowest price per person for a group of 40. They said $44.99 per person plus a $5 yearly license fee. I almost threw up. Just kidding, but I did gag on my water.
REALLY, 40 times $49.99 is about $1000. NO WAY! I told them my budget was $5 per kid or $200. They could not even respond to that, so we hung up. Mo, Indy and I were giggling. It was an eye opener. Maybe I should get into the kid party planning business?
At that point, Indy got on-line and started googling fun 15 year old parties. She found some really cool glow stick ones and we went with that. I found an empty warehouse to rent, I bought a ton of Christmas lights at my thrift store, and we made it work. Indy worked her magic and I assisted.
Here is an item that sold during that time that helped pay for all of our hard work. As you can probably guess, we traded sweat equity for the ultimate party. I did also invite many of my business associates and had my office open so it also served as our company Christmas party. This plate sold for over $70.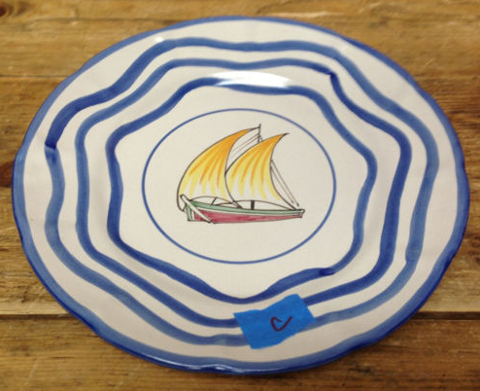 Click here
 to see this auction.
I am so proud of Indy, as always, but a highpoint after her Birthday party was her getting the Xavier Heart Award from the Cross Country team and coach at the awards banquet.
The Xavier Heart Award is given to the athlete who embodies the heart and soul of the team. It is rarely given to a Freshman. Go Indiana!
Here is Indy receiving her award.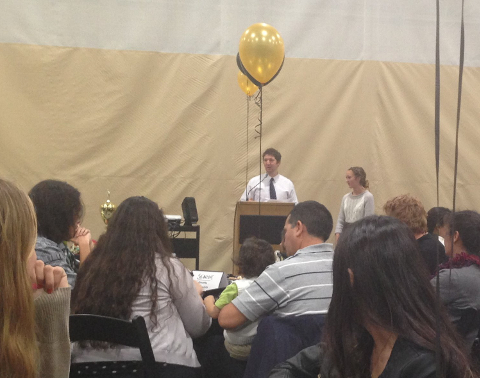 But back to the Griff & Lee interview regarding mistakes. I just got this email from Mary Long. She sends out quotes to her mailing list and was kind enough to give me permission to share this….
"If you're not making mistakes than you're not making decisions."
-Catherine Cook
"Why is it we're so afraid of being wrong? We don't want to do it until we can do it perfectly, but very often we learn how to do it right by first doing it wrong. Sometimes more than once. Take a shot. Make a decision. Learn from it. Than make another one…. " "
~Mary Long, Founder
herstorynetwork.com
This quote is perfect for this ezine. During my recent Griff interview there was one very key point that I didn't have time to make and I want to share it now because I think it is very important and relates very well to this.
The question was "What has been your biggest risk with your eBay business so far?"
"The biggest risk I took was closing my grandmother's antique store in 2002 and going full time on-line with only eBay sales. It was scary and yet very rewarding.
I have learned a lot from selling on eBay these past 15 years and MOST was learned during the last 12 years without the safety net of the actual store. Making mistakes is what forced me to move forward with my business and make corrections. Sometimes you need to lose that safety net to see just how high you can fly.
I think many part-time eBay sellers are reluctant to put all of their eggs in one basket. They keep their other part-time or even full-time jobs, while dabbling on eBay because they love selling on the site and dream of making it their primary source of income.
Yet, they are afraid to give it their all and really go for it. I believe that when the time is right you need to just "plug your nose and jump in". You can do it, the water is fine!
I remember doing just that when I was in the Bahamas in 2004 for my first open water dive. I was petrified, but the waters were rough and the dive master said, "it is calmer and safer below, just go for it". I went for it that day and continue to go for it, both with scuba diving and my eBay business. I encourage you to all "just jump in".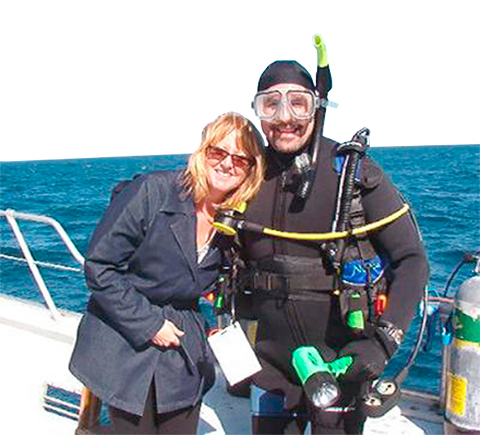 That scuba diving story is recounted in story #24 of Money Making Madness. It is included here if you don't remember it. Check out the pink Guilloche perfume stopper that sold for almost $50!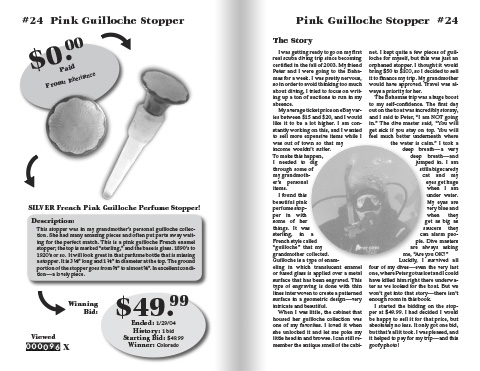 Click here to view larger image
Houston and I headed out to a baseball tournament in Riverside one Saturday morning in December. I left him an hour early at the field and went to some estate sales. I found some flatware and then I stumbled across an awesome clearance sale at a warehouse. I bought quite a lot of brand new merchandise and took the man's business card.
After the game, I took Houston, two of his teammates (Sam & Clint) along to tour his friend Garrison's college. Garrison plays baseball for Cal Baptist University and here is a photo of the boys on the field.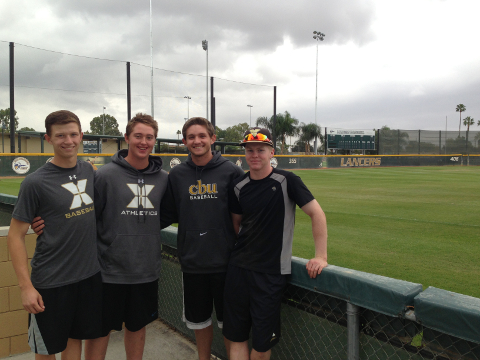 After touring the campus, I took all four boys to lunch. It was hysterical to listen to what a typical lunch conversation between four 17 & 18 year old boys is like. As a mom, I found it very touching that Houston wanted to include me in the their day's adventures. I was the only parent invited 

.
It was a really fun day! When I got home and started researching some of my brand new finds, I realized that my chance meeting at a warehouse clearance sale could turn in to an ongoing sourcing connection. As Lisa Sutorra always says, "you must always have sourcing top of mind". I think I was born with that instinct 

.
In any event, I called the warehouse manager and told him I would buy everything that was left if the price was right. He said "I will make it right". It was their clearance items from 2013 and they were motivated to move them.
The next Saturday, Houston and I returned to Riverside to fill up my SUV. It was a blast and he is a great helper (just like Indy).
Here is one of the items that just sold today. It is really fun to have brand new items in quantity to sell on eBay. Not only are the profit margins higher than selling with fullfilment by Amazon, but I can control the entire process from start to finish.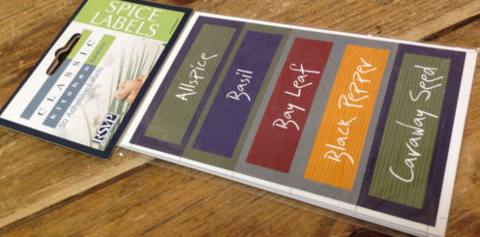 Click here
 to see this auction.
Our Christmas was wonderful! My mom was here from Washington and my brother had nine days off from his real job. We all had a great time! Lucky for me my brother was here because it took him all nine of those days to repair my crashed computer hard drive 

.
One of the highpoints of Christmas was a tour we took of the Annenberg estate, Sunnylands, which is located in Rancho Mirage. The antiques in their home were incredible! The Annenberg's china set was my dream china, Royal Copenhangen's Flora Danica. I learned quite a lot on the three hour tour.
Here we all are in front of the entrance to the home.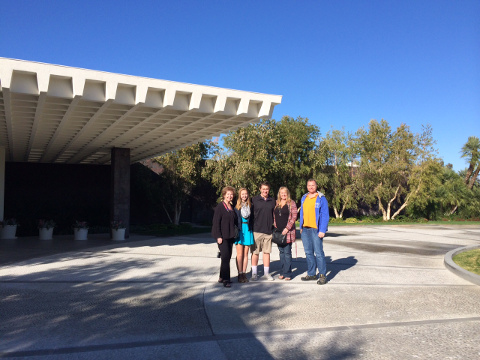 Tickets are hard to come by and are only available on the 1st and 15th of every month. They sell out within fifteen minutes. We had been trying to purchase them for over a year and finally got lucky!
Here is a link to learn more about Sunnylands.
As I finish writing this ezine, I just sold two different items that were listed on the same day in October of 2013. Another coincidence? Again, I think not. And it still freaks me out!
Here is one of those items which sold at 11:32 a.m. on January 11th for a best offer.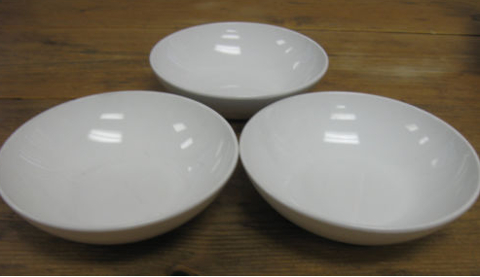 Click here
 to see this auction.
Here is the other one of those items which sold on January 12th at 7:25 am for a best offer.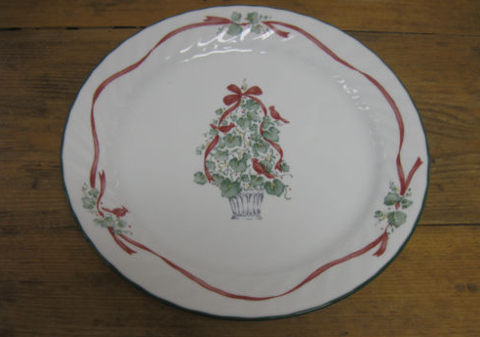 Click here
 to see this auction.
And here is my I sell store book for October 2013 showing the two pages which were right next to each other. They were both by Corning, but two completely different patterns.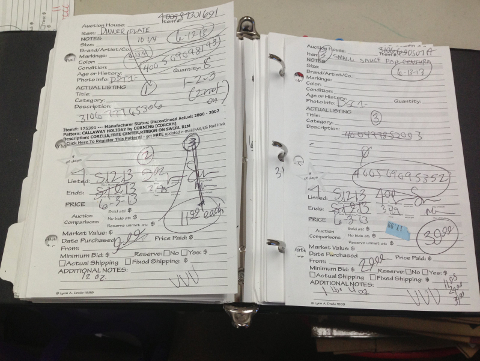 Accepting best offers can lead to similar items from similar time frames showing up higher in search results . This will often lead to increased sales.
Let's end with one last fun score! January has been a great month so far on eBay. I hope it has been for you also! One reason is this flatware that I sold the first week of January for over $504! Here is one of the listings (we sold multiple listings).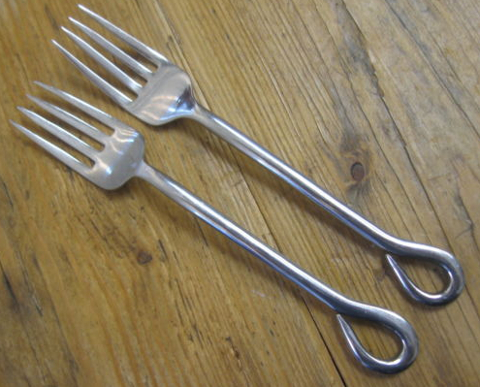 Click here
 to see this auction.
Watch for this maker. Although this is a tricky thing to do because these pieces were just marked "Made in Thailand". I was thrilled to be able to identify these pieces and it was key to my getting top dollar.
Very special announcement, my buddies "thrifting with the boys", have a new show "thrift hunters" premiering on the Spike network. YAY! Congratulations to Jason and Bryan!!! Here is a photo of Bryan, myself and Jason at a recent event.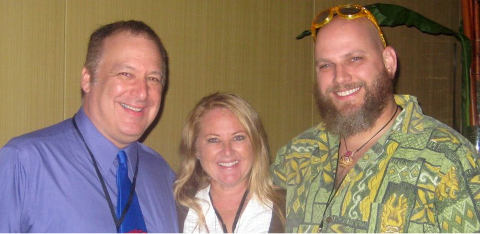 It airs on Spike this Saturday, January 18th at 9:30 pacific and at 9:30 pm eastern. Here is a link to learn more.
http://www.spike.com/shows/thrift-hunters
Finally, Happy Holidays & a Happy New Year from my family to yours!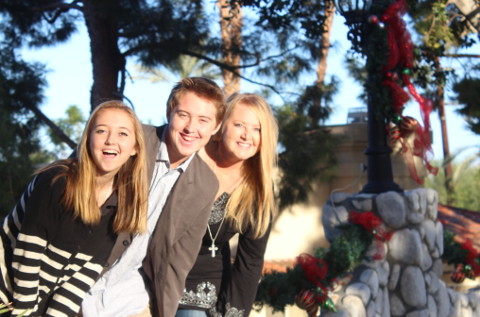 Check out this darling Christmas card I got from my friends Hass & Judy this year. Judy took the time to draw the kids filming me teaching about eBay. It is priceless!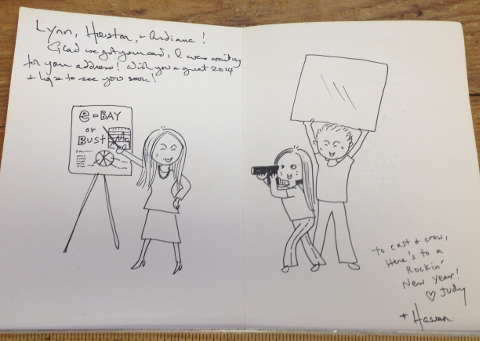 ---
Lynn is an experienced eBay Power Seller, author and teacher. If you want to know the eBay tips, tricks and tools that Lynn uses for buying and selling at online auction click here.
Some links in my emails to you may be affiliate links. You can be confident that I only partner with companies that I fully stand behind.