Hi!
Happy 4th of July and Canada Day to all of you out there! We celebrated in Bellingham, Washington with my mom and dad (not pictured).
Here we are on my mom's deck.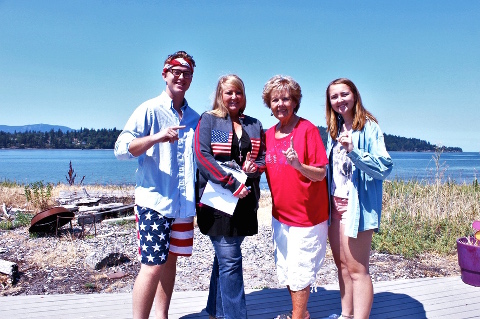 But of course it was NOT a vacation, it was a busman's holiday. A busman's holiday is when a bus driver takes his family on vacation, but he has to drive the entire time because they don't fly…they drive. My grandmother used to use that term for me every time I came to visit because she always had 100 tasks for me to help her complete (but I LOVED it). Still true for when I visit my mom today.
But before I get into more about that, let's start this ezine off with a score. Check out this vase that was in my Grandmother's personal collection. I took a best offer for it and it is the most expensive thing I have sold in about 5 years! Yippppppeeeee!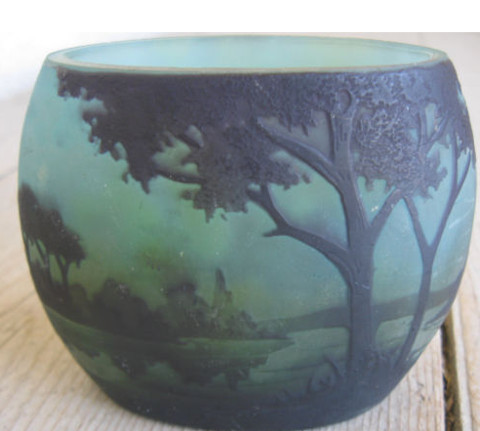 Click here
 to see this auction.
But back to why we were in Washington for the 4th of July. My mom has needed help for quite some time redoing her eBay storage and getting her inventory managed. Luckily enough, the kids and I actually had a free week at the same time so we could fly up to Bellingham to help her and to also celebrate both Houston and my Birthdays. Mine is the 6th and his is the 10th so it worked out great!
We (my mom, me, Houston, Indy, my dad and his wife Sue) all went out to dinner at Anthony's on the water to celebrate both birthdays. It was super fun! And a great break from all the labor intensive work we had been doing in my mom's garage.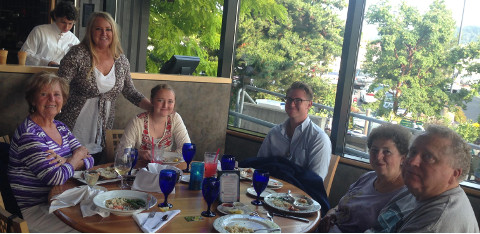 BTW, check out my dad's shirt in this photo. I know it is hard to see but his shirt looks like it has a Seahawks logo on it, but it is actually the shirt my brother Lee made for my dad with a photo of Bill Gates driving the Mercedes that my dad recently bought as a lease trade in. The car is gorgeous.
Here is a photo of my dad's car at the airport. BEAUTIFUL and dad you DESERVE it!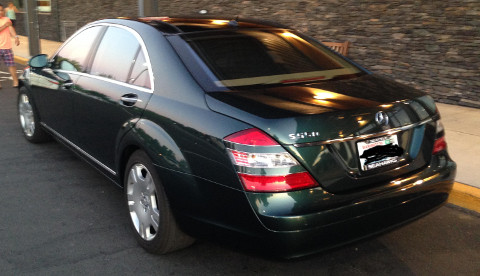 Seriously, the work we did in my mom's garage was MAJOR. Indy filmed the entire week so be on the lookout for a new video in our learning series about Refreshing, Retiring, Remodeling and Revamping your eBay space and your inventory.
Here is a before photo.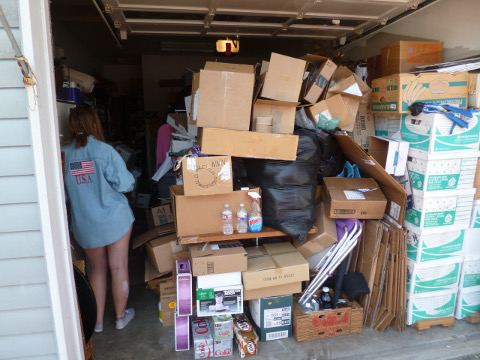 It was really messy and scary before our remodel!! My mom is a pack rat (yes, I come by it naturally) and she went into the house to get a baggie to save these few pieces of packing peanuts. Yikes!
She explained to me that growing up during the war she, her mom (my grandmother Cheryl Leaf) and her dad had to recycle everything. Tin foil, soap, and string were a few examples. It suddenly all made sense to me…..that is where it all originated.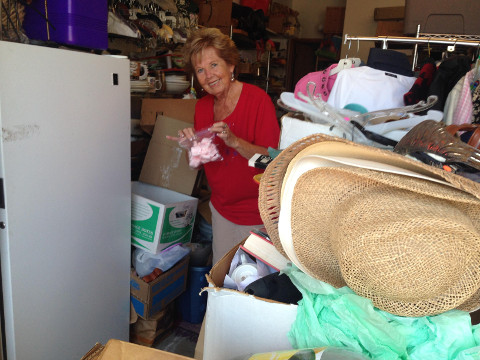 I will share an after photo later on in this ezine. My mom and I did get a chance to hit one charity sale for We Snip. An Animal charity that provides free neutering and spaying to pet owners. We each had to take 5 cans of Pate cat food to get in a half an hour early. Seriously, who knew that they even made Salmon Pate for cats? Wow!
I told my mom that I would be primarily shopping for her but that I wanted to purchase an item or two for myself. She said "Of Course". I filled a cart full for her and also found a flatware set, a paperweight and a mythical dragon for myself.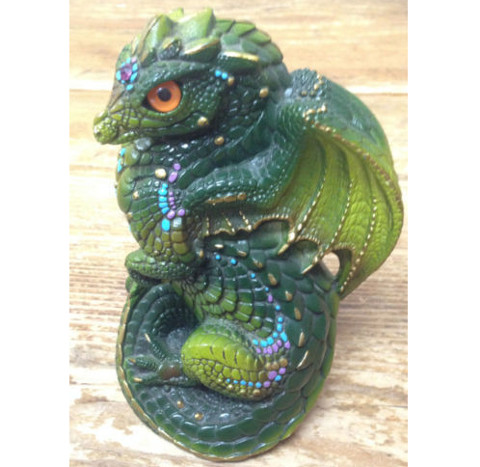 Click here
 to see this auction.
When I got back to Palm Desert and researched my flatware. I felt kind of bad. It was probably the best thing we had found that day and I only paid $10 for it. I told my mom that the pattern was Oneida Vectra and a 5 piece place setting was worth $167.91 on Replacements.com and there were six full place settings in my purchase which added up to $1,007.46.
I called my mom to tell her that I felt bad and she said "No this is wonderful! I was feeling guilty about how hard you all worked and wanted to do something extra for you so this makes me feel much better!" Awesome mom 

 Here is one of the listings for my new cool flatware.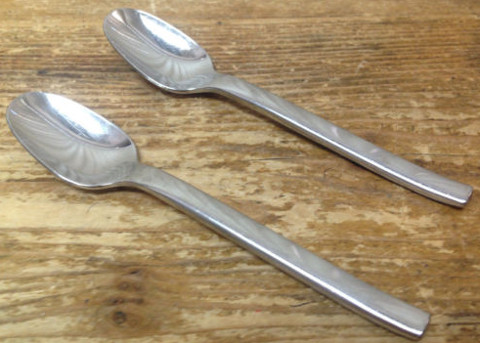 Click here
 to see this auction.
OMG, I forgot to tell you that Houston has finally decided upon a college. Praise the Lord! Here is his graduation announcement.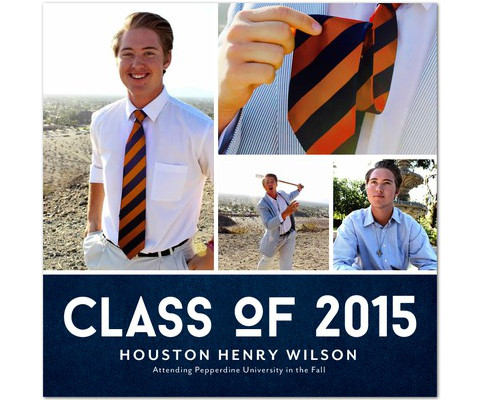 I am very proud of the "Goose" and can't wait for his college experience to begin! Speaking of the goose, while I was home in Bellingham, I was looking at a picture of me sitting on my green VW bug in our driveway during high school.
I noticed two things about this photo. 1. I knew that I always hated wearing shoes from a very early age but here is more proof and 2. I am wearing my favorite sweater from high school and it has a Canadian "Goose" on it. Strange but true!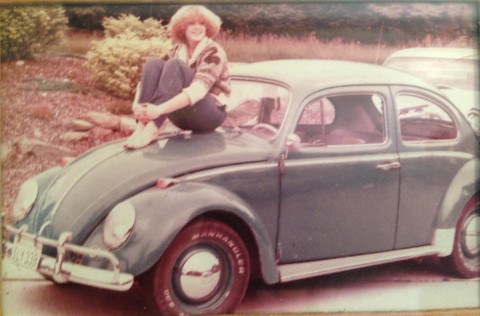 Because Mo has been immersed in listing Chickens and Roosters from my $100 purchase several ezines ago, I have been selling other related Chicken and Rooster items. The more you list at auction, the more similar items you sell….even out of your store at fixed price.
Here is Mo being overwhelmed those chickens.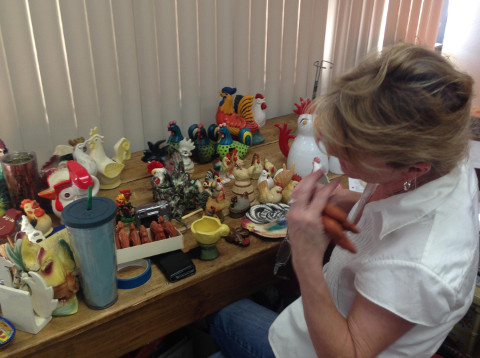 And here is one of a set of four chicken/rooster plates by Williams Sonoma that I sold for $40 each. $160 Kaching!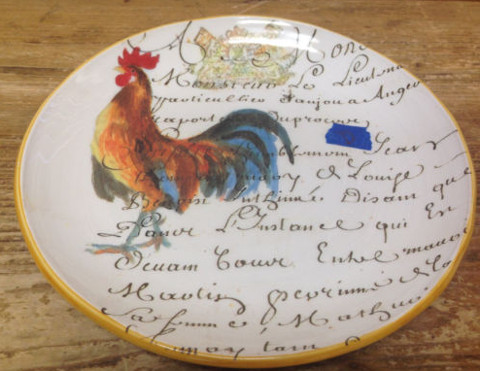 Click here
 to see this auction.
Now for some super exciting news….Happy Birthday to The Queen's Court!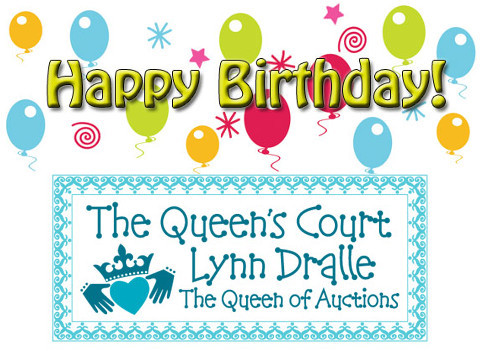 I can't believe it but it has been 8 years this month! The Queen's Court was started back in July of 2007 and is still going strong. I LOVE all of the Queen's Court members, especially the charter members that have been with me since the get and have been continuous members for the past 8 years! There are 30 of you and if I have forgotten anyone please let me know…..
Allavine, Alma, Bonnie, Bobbie, Bev, Beth, Barbara, Danni, Debbie, Dory, Elizabeth, Inez, Jackie, Jane, Jim & Barbara, Julie, Linda, Linda, Linda, Linda, Lynnette, Marianne, Missy, Nancy, Pat, Reta, Ruth, Sharon, Terri and Terri!
Our featured Queen's Court member for this ezine just had to be a Charter Member and because a lot of this ezine has been about her remodel, I chose my MOM!
Thanks Mor Mor! Here is her story….
"As my Mom (Cheryl Leaf) grew unable to run her antique shop, Lynn came up from CA to take over in 1993. When Mom had to go into a nursing home in 1998, money was needed for her care, so Lynn had us all selling my Mom's goodies on eBay.

Here is a photo of me as a baby with my mom and dad (Cheryl & Elmer Leaf).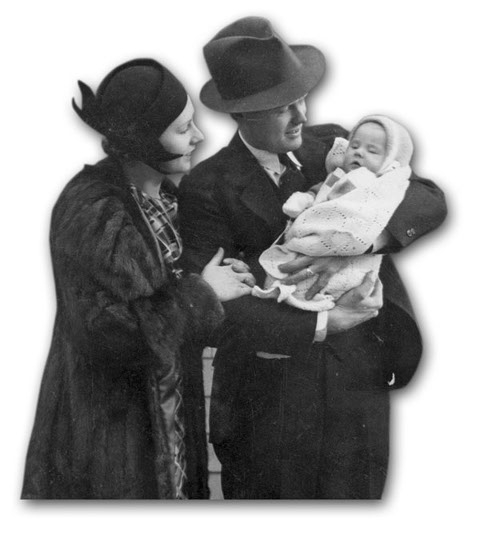 My mom's home was a virtual "museum" so we had a lot to work with. Myself and my three kids were all eBayers at this time, working all over the place at Grandma's. The tape gun was a familiar sound ringing in our ears!

Here is a photo of me, my kids and three of my grandkids for my 70th birthday party which was a 1950's themed party! From the left is Kiki, baby Zach, me, Indiana, Lynn, Houston and Lee.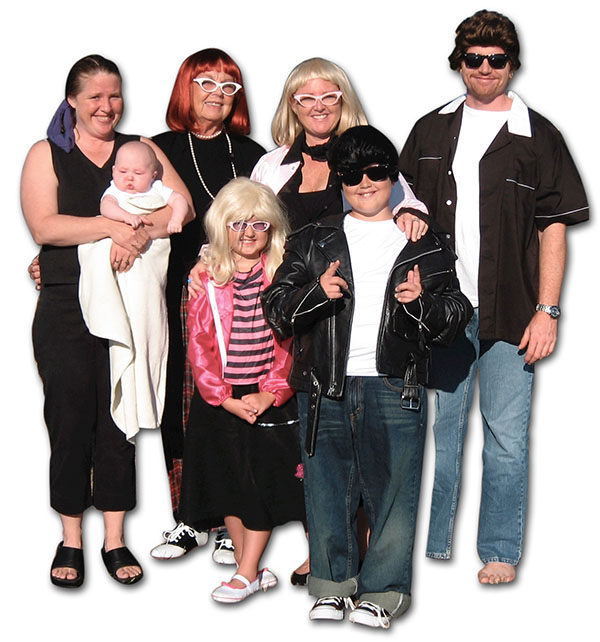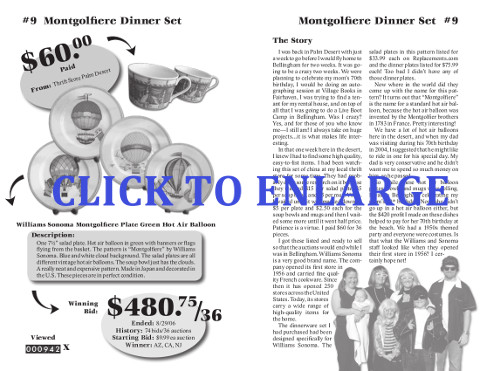 With all four of us doing eBay for the shop, I began to wonder what could I sell on eBay for myself? At that time in 1999, I was quite heavy, and I saw the need for fashionable plus sizes. So I signed up for my own account–hence, thexstyles, and traveled to fashion marts in Seattle to order in merchandise for my business.

However, since I was still in the mortgage business, I didn't have much time to devote to this endeavor.

Fast forward to 2002. I started spending winters in the desert–summers on the beach in WA. As I rented year-round in CA I could leave my merchandise there and take the small, easy to transport items, such as flatware, to WA for the summer. So for 5 years, with a packed van, every 6 months, I was schlepping my store up I-5, down I-5, up I-5—you get the picture! Not easy, nor ideal.

Finally after moving back to Washington full time in 2007, and giving up the mortgage biz, I went into eBay full time. As I discovered, one can't survive on Social Security alone, so eBay became a very important, and essential part of my life.

I have a Master's degree in Home Economics, with an emphasis in Textiles and Clothing, and I taught in public schools for 4 years, and adult sewing classes for many more years. So I tend to lean this direction for my ebay store.

I now sell all sizes of clothing, even specializing in men's shirts. A recent score was a Jams World dress, which I bought at a thrift store in the desert for $7, and sold today for $89.99. Yeah!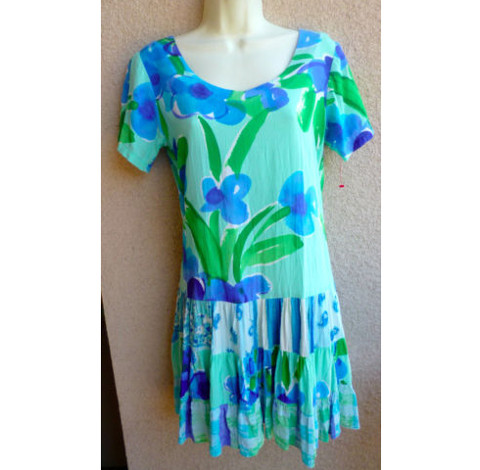 Click here
 to see this auction.
And today I listed a piece of fabric which I purchased at a local estate sale in Bellingham on June 13th, for $1. I started it at $24.99 and immediately had an offer for a BIN of $200. How fun is that??? You just never know!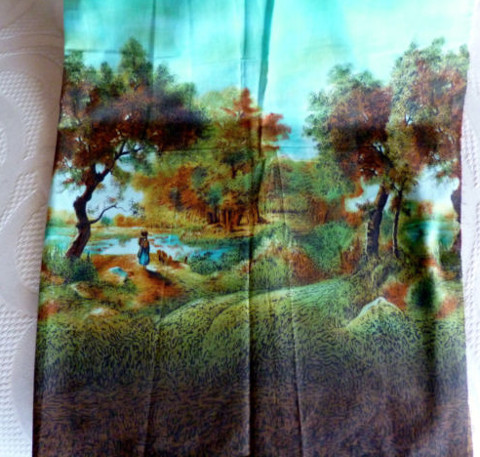 Click here
 to see this auction.
Lynn told me to turn it down and let the auction run its course but just to be sure she emailed another Queen's Court Member (Vicki who has been specializing in fabric) for her opinion.

Here is what Vicki said, 'I would say No too…. She's got a large amount of the fabric and I have never heard of this manufacturer's name before… So thanks. LOL, I love that you are asking ME questions!!'

So, I turned the lady down and am hoping that it sells for much more than the $200 offer!

eBay has been wonderful to me. What else can a gal of 78 do to provide for herself, work for herself, when and where she wants, take time off for trips to see the kids and grandkids when desired, and still enjoy a decent lifestyle??? It's a beautiful thing!!!!

Thanx to Lynn, for my eBay savvy, and Lee for my technical support and because of all of this, I am able to supplement my income and provide a fairly nice lifestyle for myself. I'm just hoping I can do this for many years to come!"
My mom is AWESOME! Thanks for sharing your story MOR MOR. BTW, my mom is a very strong woman and will be selling on eBay well into her 90's….as long as it is something she still enjoys doing it.
I think that when some people retire, they lose interest in living and I know that doing eBay helps keep many of us YOUNG at heart!
So back to the eBay remodel…..while my mom and I were working on remodeling and refreshing her eBay inventory, we had to go through about 25 boxes of books and decide which were worth keeping to sell on eBay.
Here is a listing for one of my mom's books that was eBay worthy. We listed it on her iphone and used the stock photo.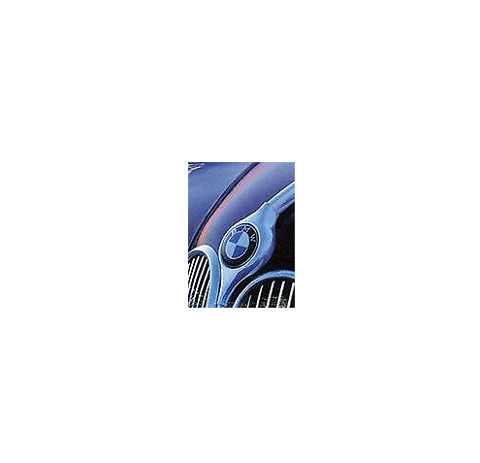 Click here
 to see this auction.
The book sorting was quite the process and will be showcased in our new video (out soon), but we would go through the books after moving shelves and merchandise all day long. Exhausting! Here is our work in progress! Remember, I did say my mom was super strong? And she never gives up. She is what you would call a "dynamo".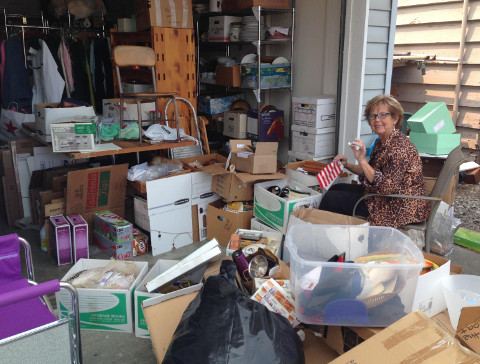 Well, after one long day, I was carrying a box of books out to the garage to put on the "to be listed" shelf and I knocked over a HUGE glass of water on my laptop. UGHHHHHH. I immediately jumped into action, unplugged it and had my mom grab a towel.
I called my brother Lee and he said "Put it in Rice and make sure it is unplugged". I left it overnight in rice in a garbage bag and the next morning it still didn't work. UGHHHHH again.
I left it in the rice for the next two days and I checked on it the morning of our flight out of Bellingham back to Palm Springs. Still didn't work. I packed it into my carry-on with a heavy heart. I hadn't backed it up in a year. I know, I know….my BAD.
Got back to the desert at about 6 pm on July 10th and docked it in my home office and again, no such luck. I drove to my warehouse office and worked on that computer until 8 that night. When I got back home….it had miraculously started working again. God is good! Actually GOD is GREAT! I am so HAPPY! And just started my new backup now…… A great reminder to all of us 

.
Once it started working, I was able to finally list again 

. Here is one of those listings that I did that night. It is for a great Dansk Denmark piece that I had bought recently for just $5. Yaya!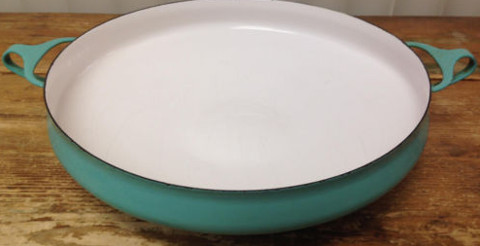 Click here
 to see this auction.
But back to our awesome time in Bellingham. It had been over three years since the kids and I spent any quality time back at home. My sister passed away in 2012 and after that, it was hard to go back for any extended period of time due to sadness and all of my kid's extracurricular activities. So, now I present some fun memories of this trip (courtesy of Houston and Indiana).
My mom's neighbors, Barb and John, have three kayaks and life jackets that are ocean worthy. Houston and Indy took the kayaks out quite a few times. Thanks Barb and John!
Here is their first foray into the ocean.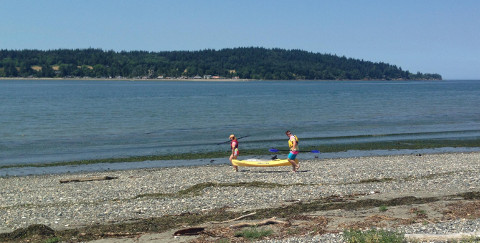 As the sun was setting on the 4th of July, Houston took a Kayak way out into the bay and watched the sun set. What an amazing picture (thanks Mor Mor) and you can see Indy in the foreground filming the event. Seriously, summers in Bellingham are quite magical.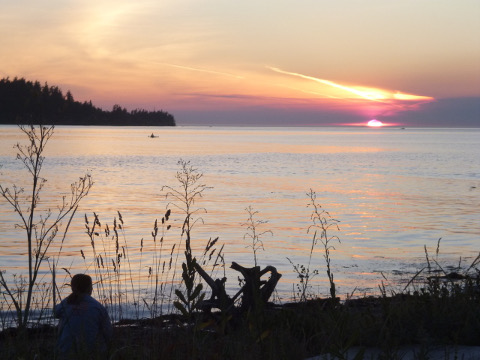 The first day we arrived in Bellingham, I group texted my sister's best friends who have always been called "the aunties" for being there for Kiki's boys. Here was the text.
"Hi aunties. The kids and I are in B'ham for a week. Houston and Indiana would love to take a hike and I thought a hike to Kiki's favorite place (Fragrance Lake) would be awesome. Is anyone interested in guiding them? Thanks gals . Lynn"
I finally heard back from Missy and Tara on July 8th and luckily they could take the kids on our last night (July 9th) at 5:45 pm. We met at the gas station where I used to fill up that darling green VW bug for $1.08 a gallon. Those were the days!
Here is a selfie in the Parking Lot.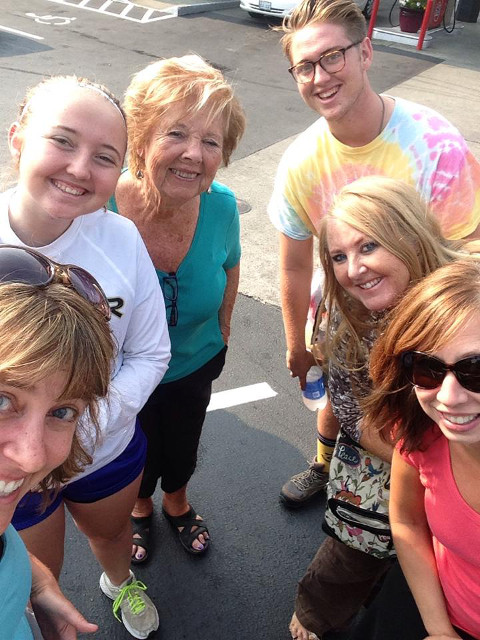 My mom and I didn't join them on their 5 ½ mile hike (no way when my mom needs a hip replacement) but instead went back home to sort more books. UGHHHHHH.
During the hike I got photos from Missy and Tara. Here are a few of my favorites.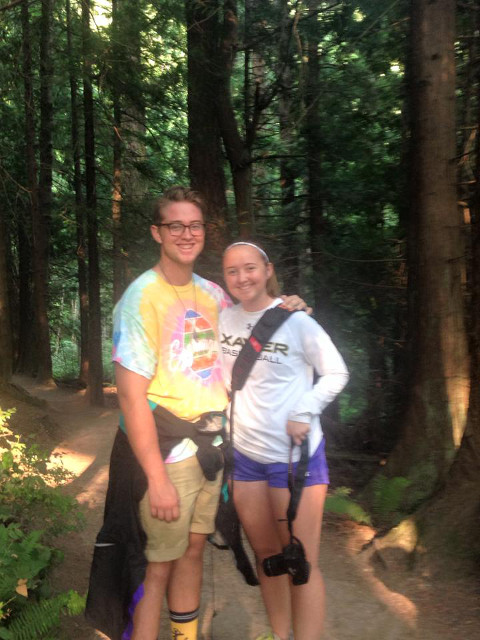 The four of them on the hike up.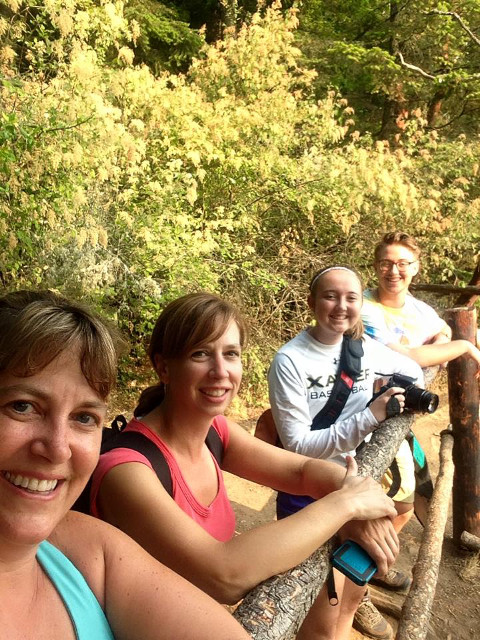 Missy posted this photo of the kids testing the waters at Fragrance and she wrote…. "First it must pass the toe test!"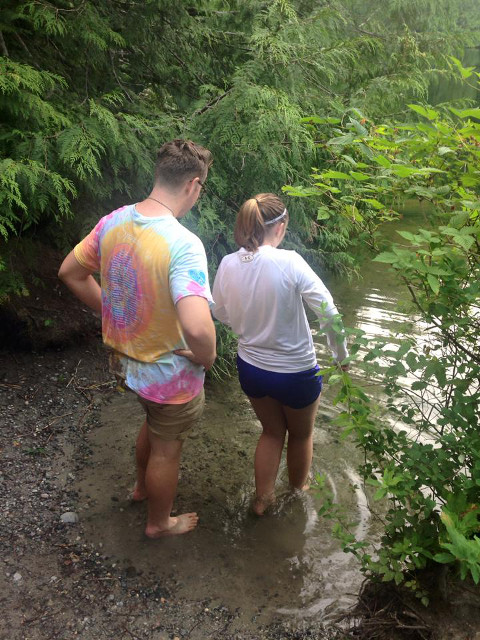 My kids actually took the plunge and swam in the lake! Kiki would be so proud!
Here is a text I got from Tara and Missy after the hike.
"We had so much fun on the hike yesterday!! Love your kiddos! They are amazing human beings and it was awesome to connect with them! We have to make this a tradition! Auntie hikes! Safe travels! Missy and Tara"
Side note…unfortunately, my sisters kids (Zach and Kai) were five hours south in Oregon during our week so we didn't get to see them. Hoping to get back home soon and spend quality time with those darlings 

.
OK, before I forget here is an after shot of my mom's garage…..Seriously, we (me, my mom, Houston and Indy) all worked wonders! Watch for the video footage coming out soon.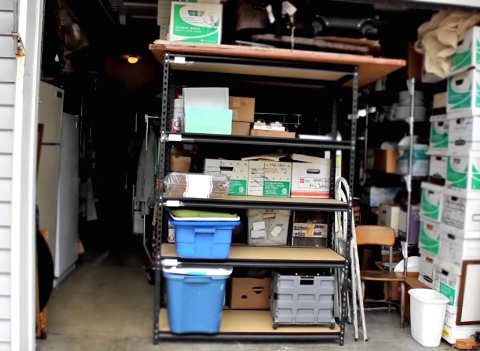 And you must check out this super nice email from my mom thanking us a few days ago.
Subject line: This Morning

"I was driving home down Haxton, and I felt so much peace and well-being, like I was in control and could handle anything. Then I thot—-

The difference——my neat and orderly storage with empty shelves and racks!!!! Not totally over-whelmed as I normally am.

Amazing!!!! What a difference it makes. Thanx ten million!!!!

Have a good day——I know I will!!!! Luv ya, Mom"
It's about time for another score….Seriously! I almost opened a booth in an antique mall last October for my furniture scores. I am sooooo glad I didn't do it. For quite a few reasons. But first and foremost, is that the pieces I wanted to showcase and sell have sold on eBay with local pick up only. Score! No extra work!….and having a booth in an antique mall is extra work and extra expense.
You read about the blue table in the last ezine but I just sold this chase lounge base for over $200 a few days ago. The interior designer will be picking it up this week.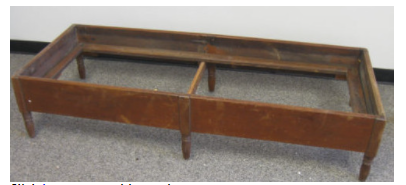 Click here
 to see this auction.
Speaking of local pick up only and things like Craigs list…do I have a story for you? Not sure if you will like it, but here goes. I have had an ad on Craigs List for a month or so. It was part of my flatware teleseminar series. I got a phone call two weeks ago and a man asked me if I still wanted to buy flatware.
YES! He had two sets of Gorham stainless and sent me photos. I was able to identify one of the sets and knew it was worth some money. I asked him how much and he wanted $250. I didn't feel comfortable with that and said I could go $150. He agreed but wanted me to drive to LA to pick it up. Not going to happen. That would have cost me $100 in gas round trip.
I asked if I could paypal him the money and have him ship the flatware to me. I knew that was safe because there is always recourse with paypal. He didn't have a paypal account and asked me to western union him the money. NOT SAFE. But for some reason I trusted him.
I said "How about this? I will Western Union you ½ the money (at your expense) and once I receive the merchandise, I will Western Union you the other ½ (at your expense)". He said fine.
I know folks, not the brightest move on my part, but I figured worst case scenario, I would be out $75 and I may get some great flatware. Well, I have never Western Unioned anything and it is a ROYAL pain! I got it done and two days later…there was a box of AWESOME flatware at my PO box. I immediately Western Unioned the $75 and I also paid the fees ($12+ to send it right away—YIKES) since the flatware did turn out to be a great couple of sets.
Here is one of my listings.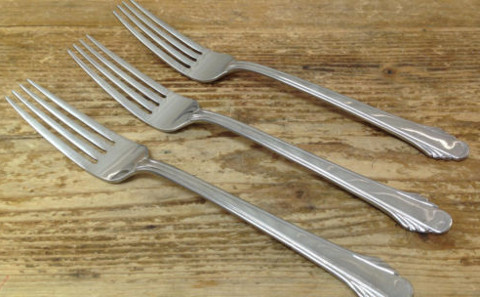 Click here
 to see this auction.
BTW, here is my warning….Don't TRY THIS AT HOME. All I am saying is…. this time it turned out great for me, but just because this one time turned out OK, don't do anything STUPID.
Speaking of flatware brings me to another AWESOME Queen's Court Member…Robin M. She taught me about lotting up (selling all your unsellable and random pieces) flatware back in the day. I will always thank her for her helpful tips and then she recently posted a link to her flatware page on pinterest. Seriously AWESOME. Robin, you rock! Thanks for agreeing to share it with all of us.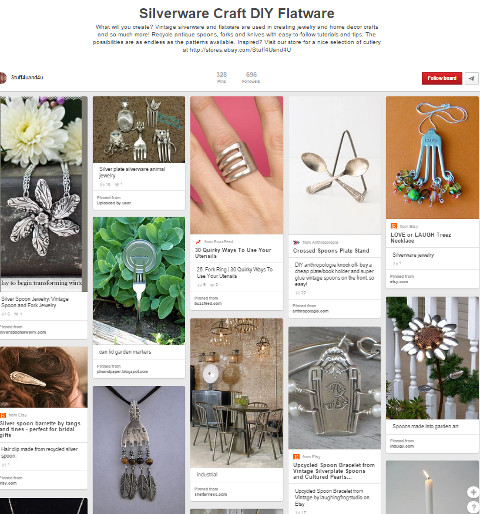 OK, let's end this ezine with a score! From a dinnerware set I bought for the Dinnerware to Dollars teleseminar. Pretty cool. The two listings I have sold have already covered the cost of the entire purchase. Gotta love eBay!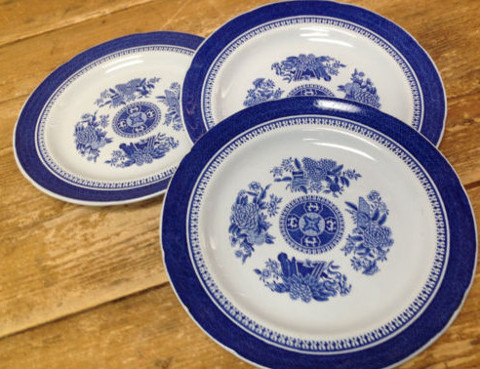 Click here
 to see this auction.
Oh crap, I forgot a great story to share with you. I took the kids to see a movie matinee on Saturday. I thought it would be a great way to extend our Busman's holiday and Houston and my birthdays. So we went to the 1:30 showing of Inside Out (the new Disney Pixar movie). It was darling, but at about 35 minutes in, the sound went out from the front. The side sound was still working, so I thought maybe this is supposed to happen. They are in imagination land so maybe we are supposed to imagine?
After about 5 minutes it got really AWKWARD. I sent Houston to the front to tell them there was a problem, but then people started getting up and leaving. Indy and I just cracked up. It was seriously WEIRD. We saw Houston coming back up the movie stairs and we all just decided it was time to get our money back.
We got our money back plus 3 free tickets to see it again. I felt bad for the manager and he said things like this NEVER happen. OK (only to me). Well, Indy went to see it again that night and loved it so I knew I needed to see the end. I couldn't take the time to sit through the entire movie so I timed my entrance AT A DIFFERENT MOVIE THEATER at about 40 minutes into the show. I walked in and the sound was terrific…..
Unfortunately, there was NO PICTURE. Are you kidding me? The screen was BLACK. It was a 10:10 am showing and I was the only one in the theater when I arrived at 11:00 am on a Sunday. Duh! No one else would be there and that is why no one else had complained. I found the manager and got him to fix the problem but I kept thinking to myself….I am NOT meant to see this movie. Well, after my private showing of the end, I have to say it was absolutely darling and I would recommend "Inside Out" to all of you. Super cute!
Here is a great score to end this ezine. I started this ezine with a great 4th of July photo and will end it with a great American Score. God Bless the USA!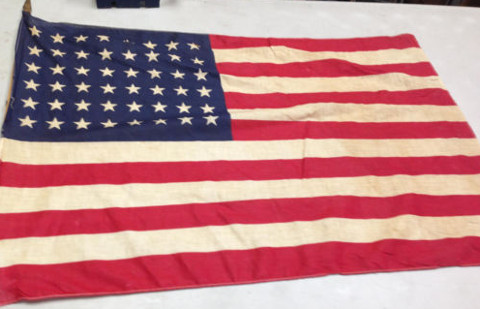 Click here
 to see this auction.
PS….The $75 I got for the flag probably covered our visit to the movie theater. Seriously…$27.55 entry and $26.45 for 3 drinks and a large popcorn. Again, GOD Bless the USA! Just NOT movie theater prices .
Thanks for reading my ezines! I appreciate it!
Happy eBaying!
Lynn
---
Lynn is an experienced eBay Power Seller, author and teacher. If you want to know the eBay tips, tricks and tools that Lynn uses for buying and selling at online auction click here.
Some links in my emails to you may be affiliate links. You can be confident that I only partner with companies that I fully stand behind.