Hi!
Once again, I am very behind with my ezine writing for this year. I entirely missed writing one in September. How did that happen? Let's see, try getting a kid ready to spend the next 8 months living in Germany, run a business, start writing a new eBook, try and keep up with a teenager who will be graduating next year, help her apply to colleges, plan a last minute trip to Washington and have a social life. It's not easy, but it sure is fun!
The Queen's Court challenge for September, was to Go Big or Go Home…list all of your big items first. One of our members (I think it was Jan) said "Lynn, it is more like Go Big and Go Home for you". LOL, as many of you know I am trying to move back to Bellingham, WA next summer and re-open my grandma's antique store with some modern twists. Pretty exciting stuff!
I am going to share an item that I didn't list for September's challenge, but it did sell during the month and it is a great example of how to ship larger items cross-country. It was an antique display cabinet that had belonged to my grandmother. I loved it but just didn't have room for it and have never used it. I figured it would be better to find it a new home.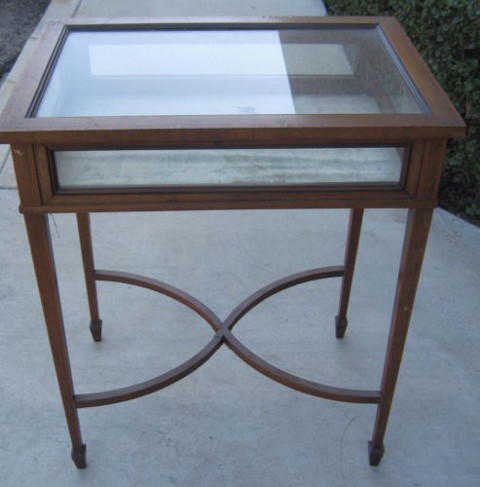 Click here
 to see this auction.
I listed it on March 16th of 2013. It took 3 ½ years for me to find the perfect buyer and boy did I! I received this email from my potential customer.
"Hello – would you have any idea whom I might contact in your town that could give me a shipping price? Thanks so much, Jeannette"
I wrote back to get her zip code and then I immediately contacted Roadie. Here is the email I sent to her.
"Jeannette, I called Roadie (I have used them before and they are awesome) and if the person bringing it to you can get it in their front seat it would be $101. But if it has to go into the backseat the price increases to $351. The Roadie operator thought we could probably call it a front seat medium item but I should really try putting it in my car's front seat to see if it really does fit. Just let me know if you are still interested. Thanks! Lynn"
She was definitely interested in the $101 price and she made me a best offer of $350.00. I took it and ran! Just kidding. I also invoiced her for the $101, still not knowing if it was a done deal or not. I got the "gig" posted on Roadie and within four days, I had a driver.
I couldn't believe it happened that quickly! Matt was the nicest guy and has made himself a nice second job by driving for Roadie. The cabinet fit in the front seat (barely) and it was off to Knoxville, Tennessee.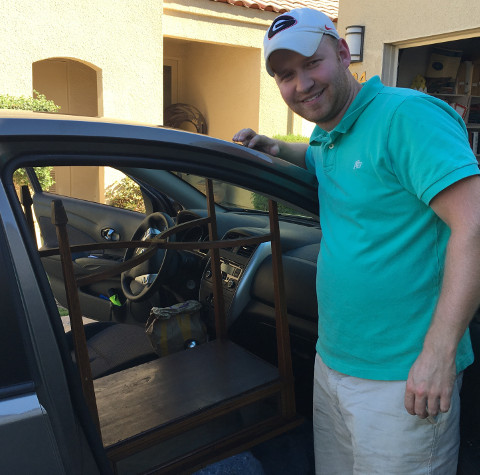 Check out the email I got from the buyer. Seriously, it made me want to cry!
"Thank you Lynn…this delicate beautiful display cabinet is so lovely!! It is exactly what I have been searching for. My husband had an old tiny skeleton key and opened the top right up. I am in the process of cleaning it. I plan to take it to someone for a thorough proper repair to the fragile legs and bracing. Lynn, it is prettier than I thought it would be. I adore it and I am so grateful to you for everything!!! All my very best to you, Jeannette"
Wow! Isn't eBay such an amazing place to do business and Roadie is helping us to do this with larger items. I have suggested to eBay corporate that they put Roadie into the listing flow so that we can choose it as a shipping option. I hope they do this someday soon!
Houston was scheduled to leave for Germany on September 8th, so he wanted to use one of our cars to drive to Malibu to see all of his friends who had already started school there before he left. I let him take my car the weekend of September 3rd so Indy and I shared her Audi. Not a great idea. We have had so many problems with that "dream" car that I couldn't let Houston drive it out of our immediate vicinity.
Here is one of a few recent examples, on the afternoon of August 22nd, I got a phone call from Indy. She said "Mom, my car won't start….it just clicks and clicks but nothing happens". Oh crap (I thought). I said "I hope it is just the battery, let me call AAA and I will meet you at the school". I got to Xavier just as AAA was pulling in. It was NOT the battery, but something worse. The battery guy had to call for a flatbed truck to haul it in to our mechanic. That car can only be towed/moved on a flat bed. I have seen way too many of those in the past year of owning that "dream" car. Seriously, we gave it to her as a surprise on November 22nd of last year. We haven't even had it a year yet!
Some of you may remember this video.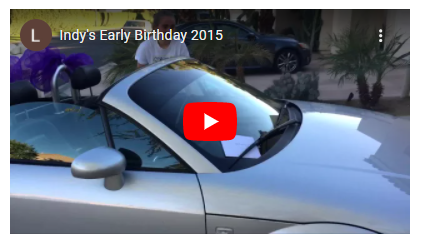 I got an email the next day from my mechanic. Fuel pump needs replacing…$732.47. Seriously? I can't take it anymore! Somehow we figured out how to get that fixed and Indy got her car back on Friday afternoon. I told my mechanics to just put the key under the mat and we would pick it up later that day. That was a HUGE mistake!
Here is my Instagram post from that experience.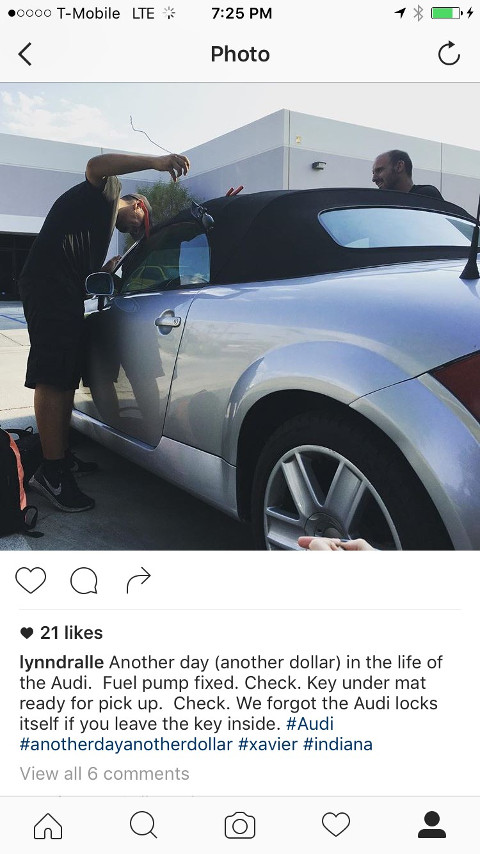 But we had the Audi back and it was all clear for Houston to take my SUV to Malibu. He left on Friday and it was all good. Saturday morning Indy and I decided to take the Audi to go grocery shopping since we had NO food in the house. Unfortunately, when she started the car, I heard a really bad noise. She didn't hear it because she was inside the car. About 500 yards down the road, the "check engine" light came on. That is NEVER a good sign.
We turned around and put the car back in the driveway. I called my friend Lori's new "mobile mechanic" and he was happy to do a service call on a Saturday. Praise the LORD! But he couldn't be there until 4:30 PM. OK, what do we do now for food?
I called Lori and I could tell she was too busy so I just couldn't ask her so I text Mo and said…"Any chance you are going grocery shopping today?" She text back and said "why?"
"Well, Indy and I could take Uber or we could ask you to please drive us." She said "I will pick you up in 30 minutes." Always nice to have GREAT friends 

.
Indy and I spent almost $200 on groceries. We knew we had to stock up since Houston had about two weeks left at home. He eats a lot. After we got the groceries home (thanks to Mo), the mobile mechanic showed up and thank the Lord it was just a $182 firing coil.
BTW, when Houston was a little chubby toddler, my grandma (Cheryl Leaf) used to always say…"this boy loves his groceries" because he loved to eat and apparently he still does! My grandma loved her little Goosie !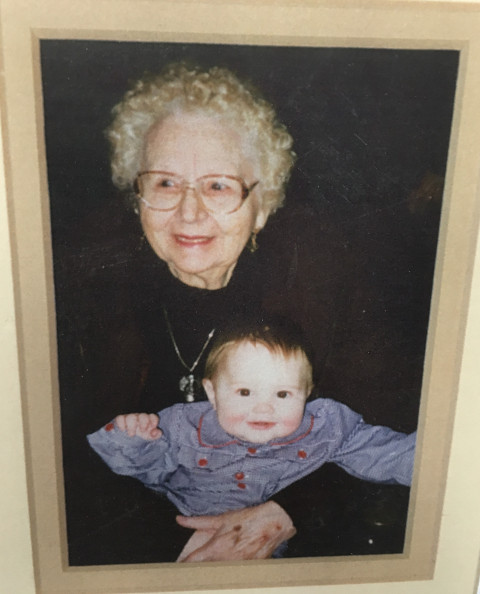 And her little Indy Girl ! These photos were taken right after Indiana was released from the hospital and my grandma was in a nursing home for a short while. As you can see in the photos, my grandmother just LOVED these two kids of mine.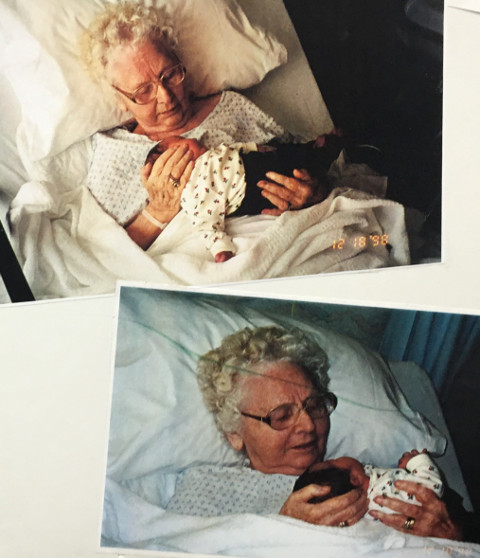 While the mobile mechanic was in our driveway fixing the Audi, I took a best offer on this darling little teddy bear.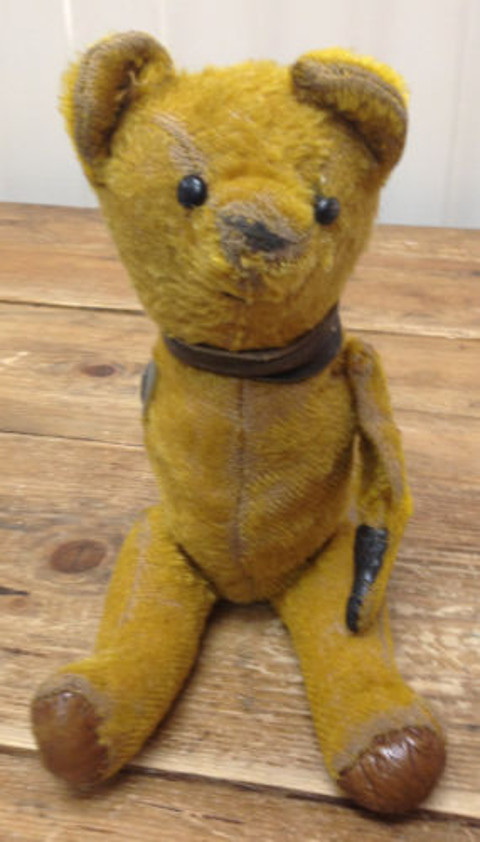 Click here
 to see this auction.
The way I looked at it this little bear either paid for the groceries or the mechanic. It was a win-win. Mo, Indy and I were hanging out in the kitchen waiting for the car to be finished and I had the bear in one of my display cabinets, so I got him out and we started posing him around the house holding his cash. It was hysterical! He looks pretty proud of himself, one arm and all .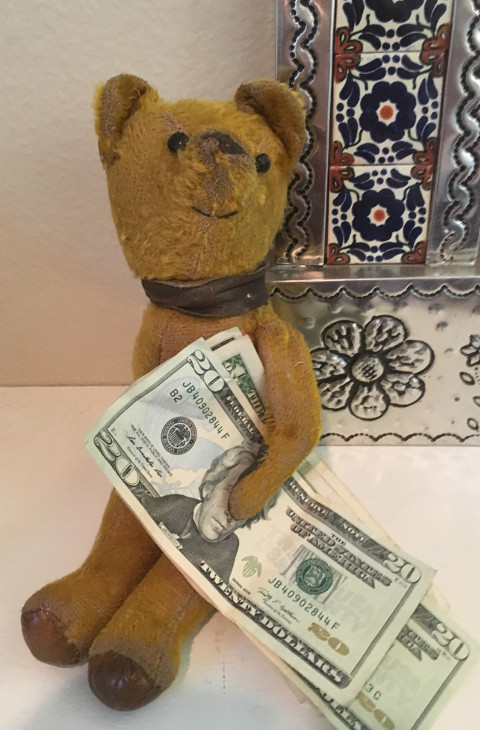 In this photo he looks like he is taking off with the cash! We were all cracking up .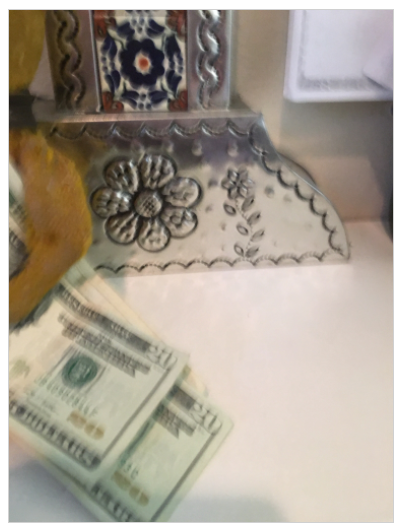 Here is the feedback I received from the buyer, who purchases a lot of antique teddy bears.
"Love love this adorable antique teddy bear! Thank you! A+++++ seller"
Speaking of antiques, I am deep in the midst of writing Antiques from A to Z and I am having a blast! It has been very motivational for me to get back into the mindset of sourcing items that aren't necessarily that easy to identify but can sell for big bucks.
Volume 1 is out and Volume 2 will be released on or before October 15th. You may still pre-order this eBook here.
Check out this nice email I just received from a reader….
"Read Volume 1 and about to read it again with note taking. It is AWESOME!" Michelle.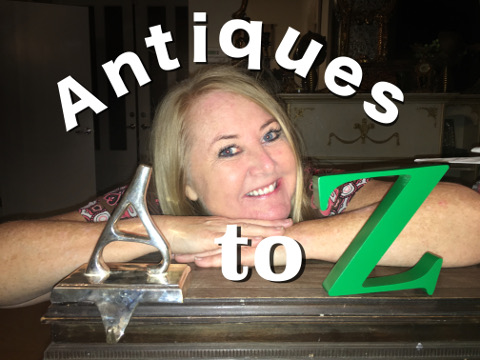 A question that I keep getting is this…."Hi Lynn, just checking…does the $77.00 for Antiques from A to Zinclude all the volumes you will be releasing? Thanks!"
YES of course it does but that price will be increasing soon because this eBook is going to be awesome! In fact, I had 143 subjects from my grandmother's notes and had to cut it down to about 100. That may still be too many for one eBook.
Because of this new book, I decided to put my "antique" hat on recently at an estate sale (instead of my dinnerware, flatware, or coffee mug hat ) and check out this awesome collection of miniature lamps I bought.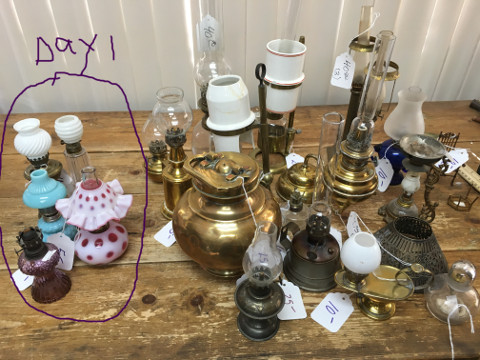 The lamps on the left hand side are the ones I purchased on the first day of the sale for full price. Prices ranged from $5.00 to $15.00. The lamps on the right hand side are the ones that I went back for on the final day of the sale and got them all for about $125.00 (less than ½ price). I also bought Houston two new jackets for his year in Germany :).
Speaking of Germany, here is Houston in the Black Forest (not wearing either of those jackets) with two of his buddies and they all have baseball mitts. I love this photo.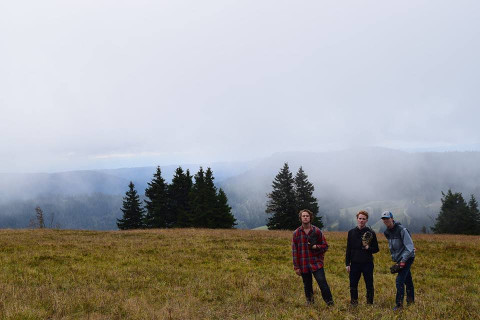 Back to the lamp purchase. I sold one of the first ones I bought for a best offer of close to $100. I love ANTIQUES!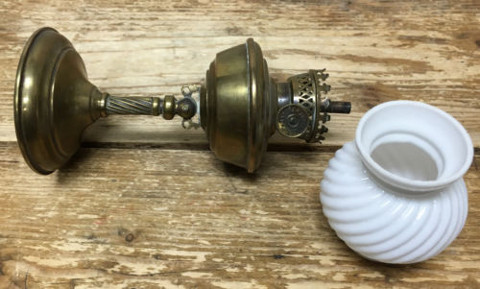 Click here
 to see this auction.
I sold another one and still have 15 listed and those lamps add up to $4,119.34 at my current asking prices. Pretty awesome for less than a $200 investment. Do you see how important it is to know more about antiques?
Check out this lamp that was one I bought on the first day. Pretty cool!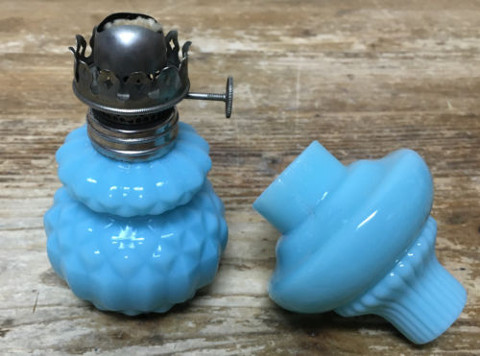 Click here
 to see this auction.
Another super cool thing is that Indiana started her Musical Theatre University Program on September 6th. It is an AMAZING program which she attends every day after school Monday through Thursday from 3:30 to 5:30. On Mondays she has Acting, Tuesdays she has Lyrical Interpretation, Wednesdays is Ballet with a real piano player and Thursdays is Vocal Technique. Her favorite classes are Ballet and Vocal Technique.
Here is a photo of Indiana clapping with some tiny hands (she recently bought in Palm Springs) on her fingers at the orientation. I am so proud of her for being accepted into this very prestigious program.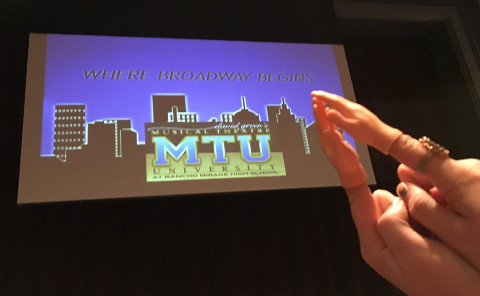 Here is a link to the MTU website if anyone is interested in reading more. It was founded by a very prestigious man in the entertainment industry, David Green, who is still very much involved. What an honor for Indiana to be studying under such great teachers and Broadway talent!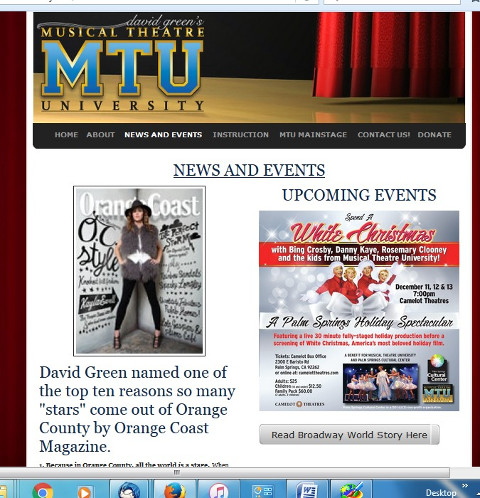 Oh, I forgot, in addition to being accepted into MTU, she tried out for the traveling troupe called Broadway's Next Generation which is made up of 6 boys and 6 girls. She made it! So now she has practice for that every Wednesday night after her Ballet class and isn't finished until 9 pm. Indiana has decided that theatre is her passion and she is going for it! I would say so! But as you can imagine, I never see her anymore .
Guess who else I never see anymore? Hous the Goose. We drove him to LAX on September 7th for his flight to Frankfurt. Hopefully, we will go over and visit him either during Christmas or Winter Ski break. Trying to coordinate all of our schedules and with Indiana also in the thick of applying to colleges may make it impossible.
Before I get into more about Germany, I had better share a score. It is for another antique item. These beautiful antique lamp shades sold for a best offer of over $500!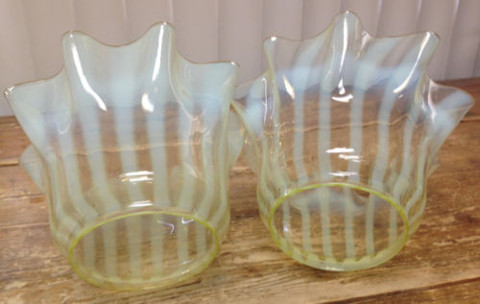 Click here
 to see this auction.
Here we are at LAX as Houston is getting ready to go through security. Not sure I would let him through with that face !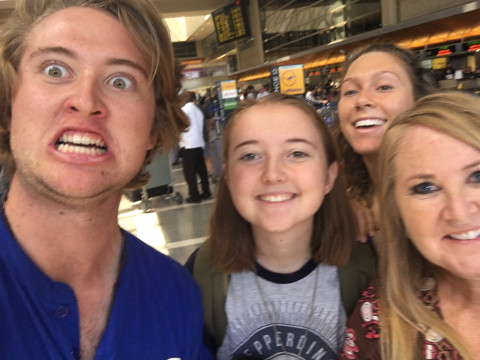 His friend Claudia (who was on the Camino de Santiago summer program with him) came to wish him "So long, farewell, auf Wiedersehen, goodbye"….which reminds me that Houston and some of his German program friends took the Sound of Music bike tour. In this picture he is finally wearing one of the jackets I bought him! What a life!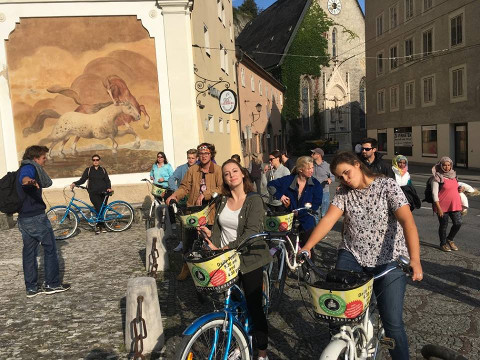 Oh and the house that these 52 Pepperdine students live in with the faculty was just remodeled. His room is amazing! Here is what the room looked like before the four boys moved in.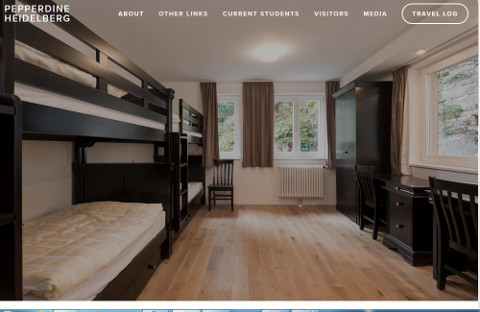 Here is a picture he sent us of it after they moved in and I am assuming it is probably even messier by now!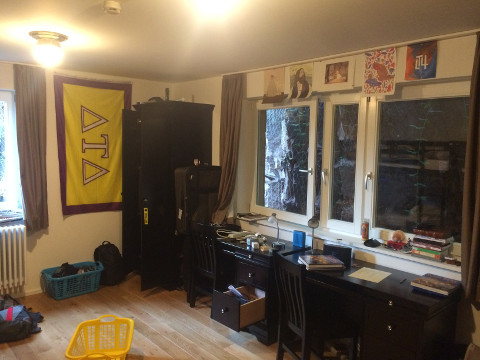 As you can guess, this is the Delta Tau Delta room. Apparently, at every Pepperdine European location there are permanent wooden boxes for each sorority and fraternity so that their fellow brothers and sisters can leave them items that they may need. This flag was in that box so that they could decorate with it. In addition, Houston needed a very expensive textbook and it was going to cost me about $350 (with shipping to get it to him in Germany) and he text me one morning and said he had the book. I was like "What?" and he said "It was in the Delt box!" How cool is that?
When Houston first arrived in Germany we heard from him quite a bit. He text me a picture of the Steiff display in one of the stores

 and then he said "You have got to come and visit there is a Villeroy & Boch store right across the street from my school LOL." That was priceless! All these years of pretending not to care about what I sell on eBay may just have sunk in more than I had hoped!
Here is a Steiff that I just sold for my brother and we took a best offer of $150.00 for it. Super cute!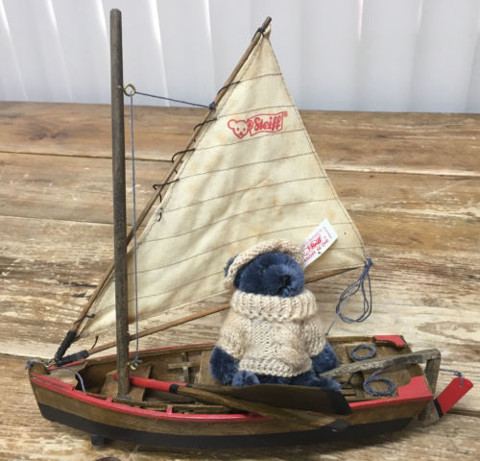 Click here
 to see this auction.
To wrap up my commentary on Houston's experience so far I will share one last photo of him wearing actual Lederhosen at Oktoberfest. Apparently, he got the flu while there and came back and gave it to everyone in the house. I asked him if it may have been the "Beer Flu" instead. He cracks me up!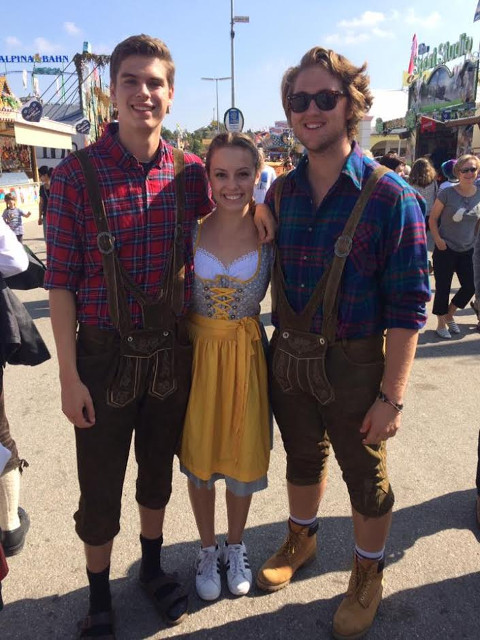 After my most recent ezine, I got a lot of questions from you all asking about the "to do" lists that I write in my notebooks. If you missed that ezine you may access it here.
Here is a photo from one of my "to do" lists. I try and divide my tasks into home, office, phone calls, etc. I also try and put time estimates next to each task. Then I prioritize them and put hours of the day next to each one. This helps me to stay focused and feel like I have accomplished something. I was right on track for Saturday's list !
If you notice in that "to do" list I made a note to send Houston a care package. He had requested Cliff Bars, Skittles, and Sour Patches. I spent $30 on the food and then another $30 on shipping it to Germany in a flat rate padded envelope (you can only put up to 4 pounds in those for international shipments and 4 pounds is not very much)! I am not sure I will be doing that anytime soon since I am guessing he would rather have had the $60  :).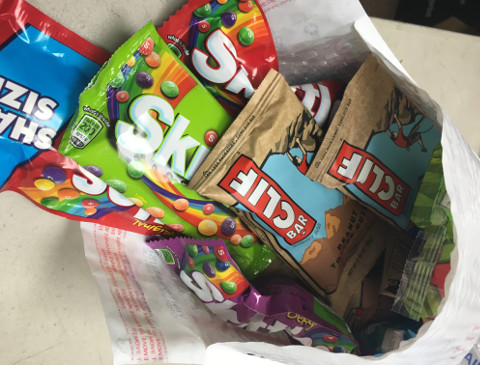 Ina Steiner of eCommerce Bytes interviewed me recently for an article on Anchor stores. If you haven't read it yet, you may check that out here.
After that article debuted, eBay radio invited me on to discuss why I am so optimistic and excited for the new changes eBay is making! Griff was still on sabbatical so Lee and Audrey Tracey interviewed me. As always it was a fun interview!
You can access the archived show here.
My friend Lori (Garage Sale Lou) decided to weed out some of her coffee mugs as she gets ready to move her eBay business back into her home. It seems like just yesterday she was moving it out of her home and I was helping her sort those coffee mugs . Turns out that was two years ago. Time flies. So Lori donated a bunch of them.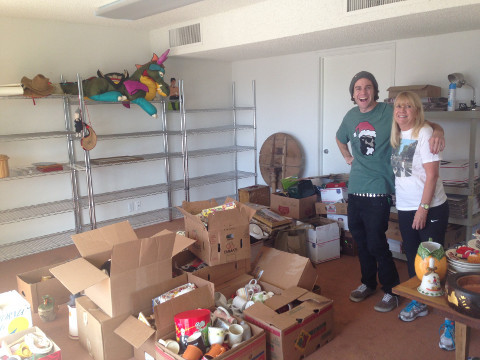 I went to a thrift store last week and there were some nice coffee mugs. The thrift store was close to my office and very far from Lori's house so I thought no way would those mugs be Lori's. As I was buying them I snapped this photo and text it to her.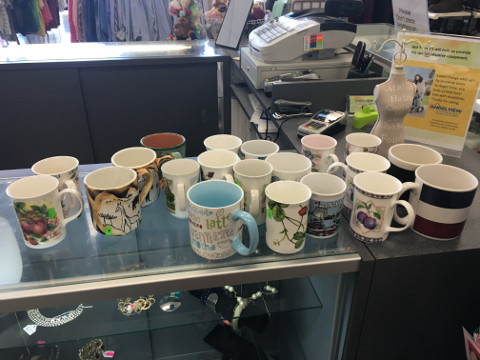 About 15 minutes later (after I was back in my office and writing up those mugs) I get this text from Lori "Hahaha. Those were mine. Lol". I had a feeling! Oh well.
Here is one of those listings that I actually sold.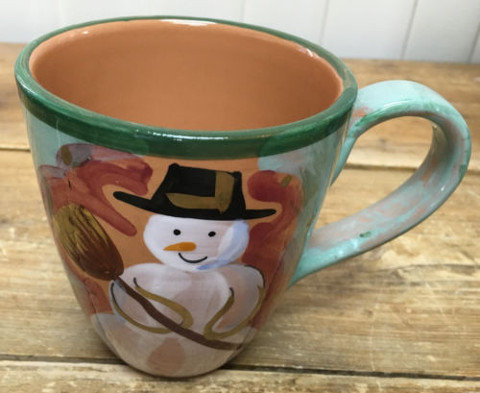 Click here
 to see this auction.
So you just never know! And it may not have even been one that Lori had donated.
I have a bunch of friends that I call the "baseball moms". We all met and become close because of all the time we spent traveling near and far…(Cooperstown, Ohio, Colorado, San Diego etc.) because our boys all played on the same teams. Believe it or not, that is how I originally became friends with Mo and hired her to work for me. Such a stroke of genius! It was actually her husband Paul that suggested it to me. Thank you Paul!
In any event, another one of those moms is Candy and another is Kel. The four of us sometimes meet for happy hour (even though our boys no longer play baseball together and are all in college). They are really great friends and a few weeks ago we were having appetizers and those three were talking about their annual September trip to Temecula for wine tasting. I was like, why haven't I ever been invited?
They said, of course you are and suddenly I had a brilliant idea! Why don't we all go and visit my mom. Girls weekend in Bellingham! I needed to get up there to look at more retail space and what a great excuse.
I told them that the airfare was really inexpensive and we could fly directly from Palm Springs to BLI and stay with my mom for free. It would end up costing everyone less than a weekend in Temecula. Candy and Kel do NOT like to fly and Mo and I had a laugh about that.
Mo and I have travelled a lot for my eBay business and on one crazy airplane ride back to PSP from Salt Lake City, everyone started throwing up because of the turbulence. I couldn't stop laughing and that made Mo laugh even harder. The more the other passengers were throwing up the harder we laughed. I know it sounds terrible but it was a coping mechanism (or not 

).
Finally, the girls said they would do it but would it be OK with my mom? I called her on speaker from the restaurant and said "Hey Ma, what do you think if Mo, Candy, Kel and I come up for a girl's weekend Friday to Monday later in September?" She said, "Do you even have to ask?"
Game on! We gave my mom shopping lists and she bought everything we would need to eat and drink so our precious short trip would not be wasted on grocery shopping. My mom kept track of the cost and we all split it four ways. It worked out amazingly well because A. My mom loves company B. She loves to grocery shop and C. We paid for it!
The morning of our trip there happened to be an estate sale in my gated community. Luckily, I had time to check it out and buy some items before heading to the airport. Here is one of those items that I think is worth quite a bit of money. Not sure exactly what kind of birds these are but I hope it sells for big bucks!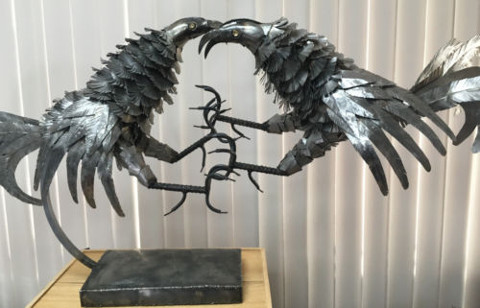 Click here
 to see this auction.
At that same sale I bought a set of Mexican Pottery dishes that I thought were Ken Edwards and Tonala but instead were Teresa Duran and Xochiquetzal Pottery. Why does it make me believe that these two either worked together or dated at some point :)? Their signatures on items are very similar and both use their initials KE and TD and are wonderful artists producing pottery out of Mexico.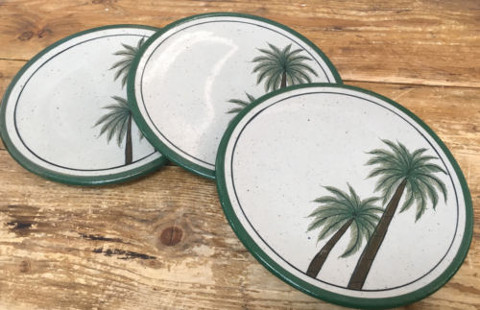 Click here
 to see this auction.
But back to the fun trip to Bellingham. We left PSP at 11:30 am on Friday, September 23rd and arrived in BLI (Bellingham International Airport) at about 2:45 pm. My mom was waiting at the gate with flowers for us and she immediately started to tear up. I said, "Why are you crying Ma"? and she was like "I am just so happy to see you all". What a sweet lady!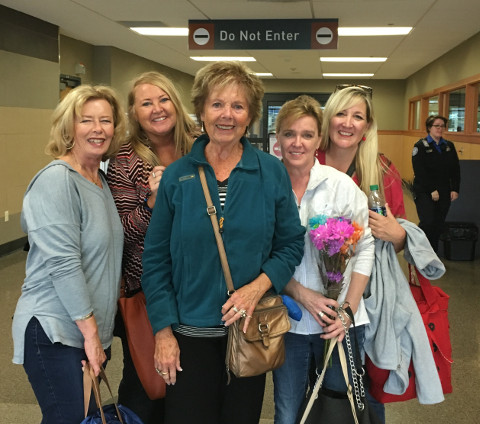 We immediately left the airport to squish into my mom's tiny Honda Fit. Seriously, it barely holds five kindergarteners, much less 5 adults but we made it and had a great time doing it. Later in the trip as we were all piling in my dad said "see you later sardines". LOL.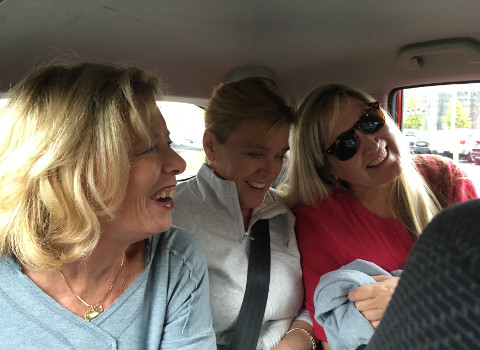 Once safely buckled into the car we headed out to my mom's beach house. I was so excited to spend some time with my nephews and had arranged with their dad, John, to have my dad bring them out directly after school.
Seconds after we walked in, there was my dad with Zach and Kai! FUN FUN! My dad knows Mo and Candy quite well…Candy and my dad had always gotten along really well at the baseball games but hadn't seen each other in years.
Here is my dad giving Mo the business. They were cracking each other up!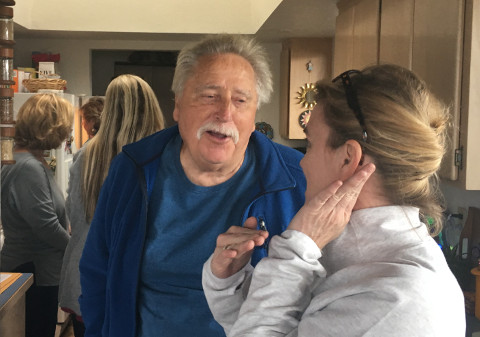 Here I am with those darling nephews of mine. I love them so much and it was soooooooo great to see them and spend time with them. Kiki would be so proud of them.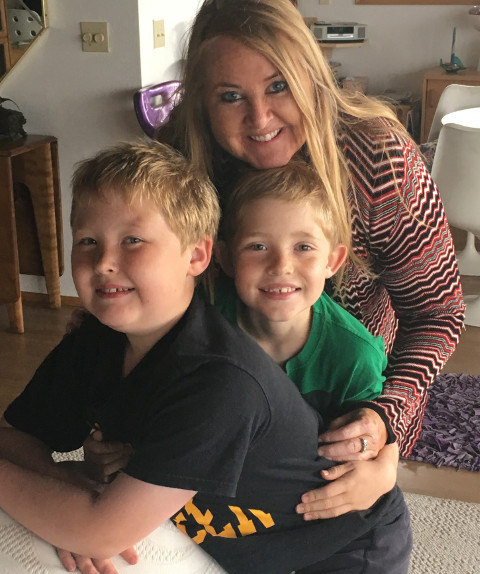 Later that night, the boys insisted on playing Monopoly with all of us. Thank goodness we are all moms and understand how important it is to participate. Thanks to Kel, Mo and Candy! Mor Mor and I are used to this but Monopoly is the longest game ever and they were all good sports. I have only myself to blame, since I introduced the boys to Monopoly three summers ago and now they have every version of Monopoly under the sun….Pokeman, Deluxe, Traditional, Washington State, etc. etc.
While playing Monopoly with the boys, I took a best offer on this bowl that had been listed since 2011 for almost $50! Now, Zach and Kai, that is REAL money, not Monopoly dinero!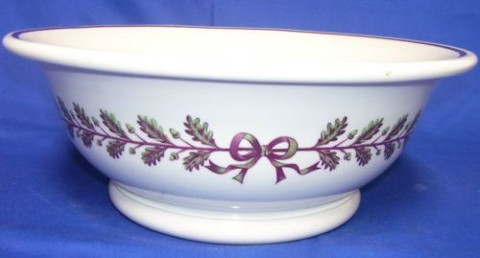 Click here
 to see this auction.
Later on that night I showed the boys Indiana's Snapchat story and she was screaming and having a blast at a football game. Apparently, Xavier was winning. It wasn't until a few days later that I realized it was against our cross-town rivals, Palm Desert High School. Xavier hadn't ever beat PDHS in football until Houston's senior year and he was playing. They were crowned the Kings of Cook Street (since both schools are on the same street). Pretty cool that Xavier beat them a 2nd time!
Here is Indiana at the game with her friends. I love this photo!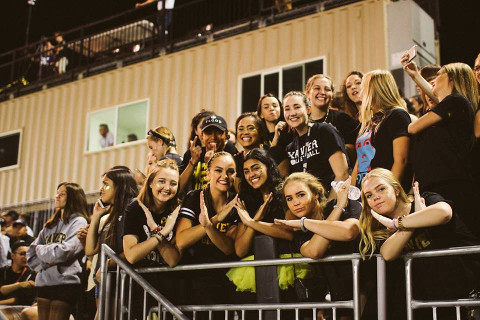 But back to Bellingham….The next morning John came to pick up the boys early so we could hit estate sales and tour two commercial properties. While at the house, John was telling us all about the fishermen at the shoreline. I had no idea what a Gil Netter was or how they caught fish but John explained it to all of us. Pretty interesting. Then he went down to the shore and bought two of the fresh salmon for $20. Seriously, Awesome!
Check it out.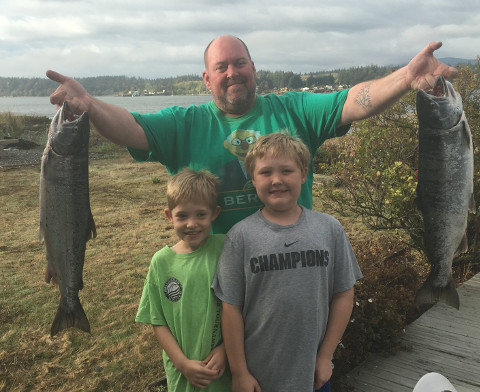 John even skinned them and filleted them for us. Wow! Talk about farm (sea) to table. We left John and the boys cleaning the fish and headed into town for some sales.
Here we are at one of the sales.
I bought some great items in Bellingham but shipped them home parcel post. They are still not here yet. That is super worrisome. One of them was an American Girl Doll Horse that was quite large. Actually, the box just arrived! Yay and I got the horse listed. Here is that listing.
Click here
 to see this auction.
After garage saling we went to look at some commercial space on Guide Meridian. I had a gut feeling but now I really know that I don't want my business to be on Guide Meridian–it is a crazy busy street that most locals try to avoid. After that we went to view the Fairhaven Firehouse that has been completely remodeled by a guy I went to high school with and is for sale. What an amazing piece of property. Unfortunately, it won't work for what I need but it was fantastic to tour it.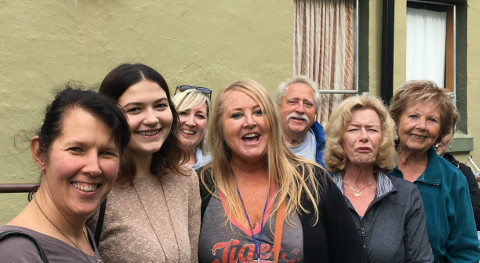 My dad joined us and so did Audrey Angel (my first employee at Leaf's Antiques) and her daughter Annabelle. What a treat! Even more of a treat was to view this original hand painting of Bellingham showing the street map for the firefighters. It is behind walls in the performance area of the Firehouse but must be preserved as a preserved national treasure.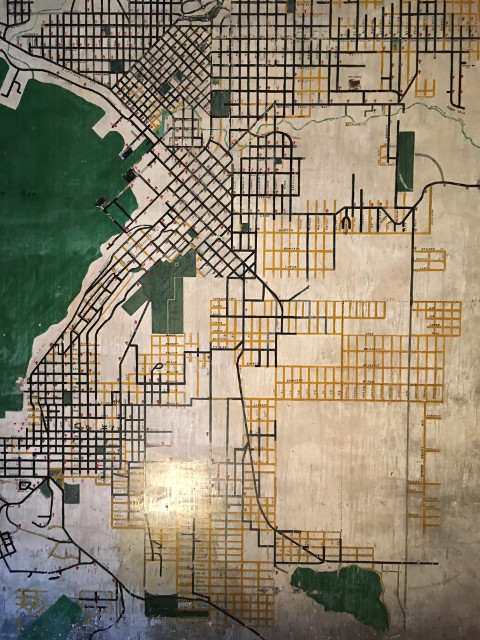 After that it was back out to my mom's to sit on the deck and enjoy ourselves!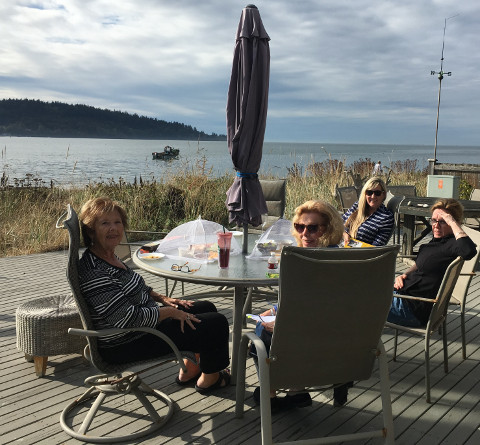 The day ended with Kai coming back for another sleepover (Zach was at a friend's house for a birthday party) and their dad joined us for the salmon barbecue. Perfect day! Here are the three chefs each preparing one of the salmon fillets for the barbecue. My mom said these three are welcome back anytime because my mom didn't have to lift a finger! What about me?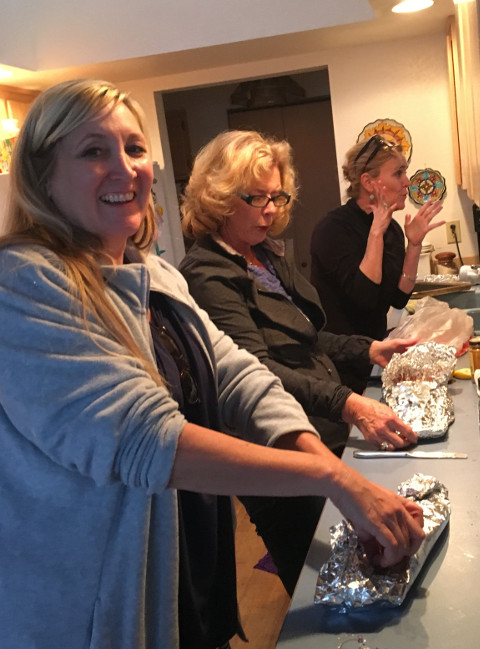 The next morning we took the passenger Ferry over to Lummi Island for Brunch at the Beach Store Café where the owner herself, Tess, was our server. What a fun experience! A highpoint of the trip I would say.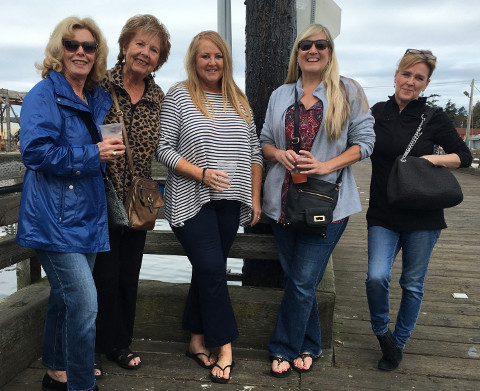 Walking back from the Ferry we stopped by to say hi to one of my mom's neighbors, Mary Ellen, who is seriously another national treasure. Her Native American Indian basket collection is AMAZING! As she was telling us about one of the larger Indian baskets that had been used as a laundry hamper Mo just randomly set her takeout box of greasy pizza on it. Boy did we jump and get that off of the basket ASAP. That will be a joke for years to come . Sorry Mo!
Mary Ellen even let me take a photo in front of her basket collection. I wanted her in the picture but she declined.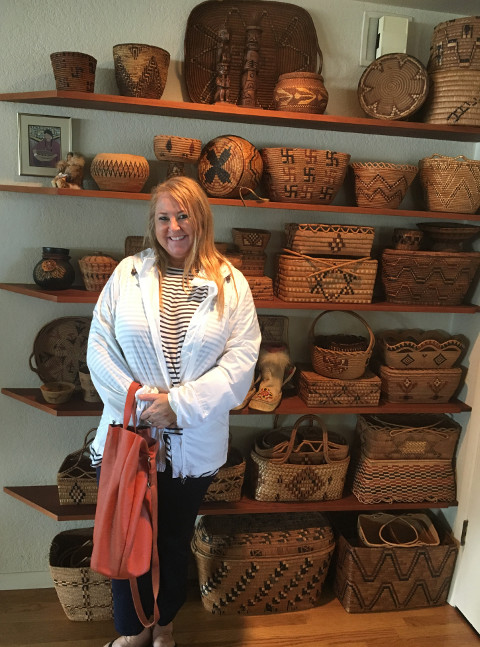 Later that evening, my mom hosted the monthly beach bash and quite a few of her neighbors joined us. It was a blast and we all laughed hysterically! The next morning was a 7 am wake up call to catch an early flight back to the desert. The trip was a huge success and we can't wait to go back to visit again. I will be up there quite often as I continue to hunt for the perfect location for my business. Pretty exciting stuff!
While on our plane flight back home, I took a best offer on this teapot. It pretty much paid for my entire plane ticket!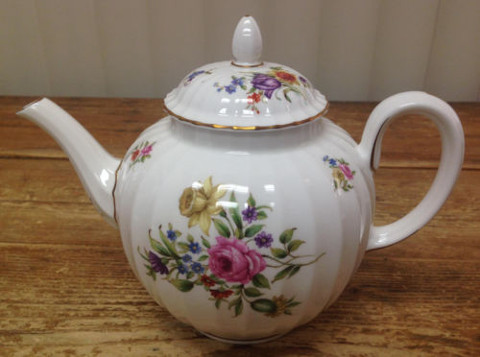 Click here
 to see this auction.
I will be meeting up with my Mom and quite a few of you in Chicago in a few weeks. Mo will be there as well. If you live in the Midwest or want to plan a Chicago trip this October, don't forget that I will be teaching a class entitled "Antiques from A to Z" at EcomChicago. I am excited to share more of my grandmother's tips and tricks in person and help you all succeed at eBay! I can't wait to attend this amazing event for the first time! For more details, check it out here.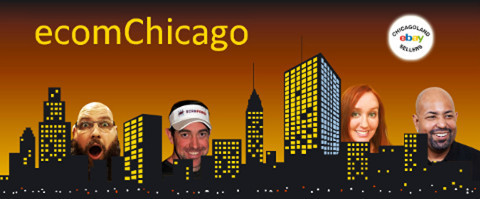 One last score to end this ezine and to end a super busy six weeks. Can't wait to be writing more ezines once things quite down. Wishful thinking I would imagine.
OK, I must clarify….this really isn't a score yet but I predict it will be soon! I found this Ralph Lauren Hand Knitted Sweater at a thrift store recently. It set me back $14.99, but I am certain it will sell for at least my opening bid. Fingers crossed.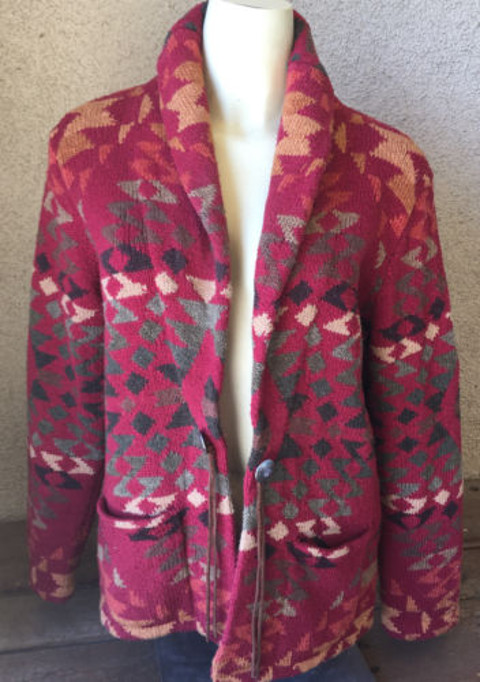 Click here
 to see this auction.
See some of you soon in Chicago! It will be a blast .
Thanks for reading my ezines! I appreciate it!
Happy eBaying!
Lynn
---
Lynn is an experienced eBay Power Seller, author and teacher. If you want to know the eBay tips, tricks and tools that Lynn uses for buying and selling at online auction click here.
Some links in my emails to you may be affiliate links. You can be confident that I only partner with companies that I fully stand behind.