Hi!
It's almost Thanksgiving and I hope your sales are picking up. Ours are rolling along and definitely picking up speed. Just like Houston and Indiana!
Indy ran a really famous course last month which I will tell you about a little later and Houston was released at the end of October to play baseball! Hurray!!! I am writing this ezine as I sit at a baseball showcase at ASU. We are in Arizona for baseball, garage sales, and thrift shopping. Life is finally getting back to "our" normal. The baseball field at ASU is fantastic! What a great experience.
Here is a photo of Houston pitching on the field during the showcase.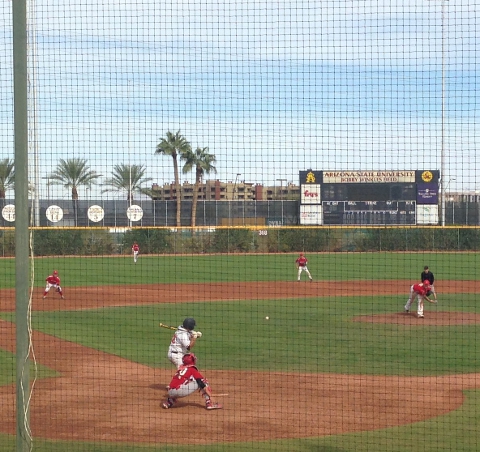 Actually, our sales are jumping off the charts and at the end of this ezine, you will see a photo of my kids jumping for JOY. Jumping is totally AWESOME!
Much like Houston when he played first base during the showcase (check out this photo of him jumping to catch a ball at first) and Indy when she ran Mt. Sac. But back to baseball, when we arrived in Tempe, I learned that the first team we would be playing was CBA (California Baseball Academy) and this was the exact same team that had broken his arm.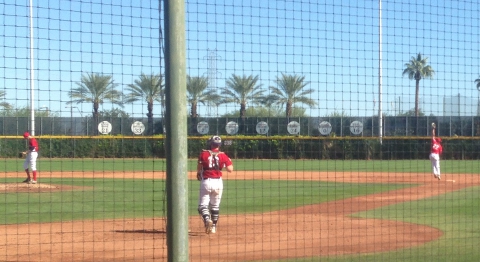 Patrick, our travel team coach, walked over to me (with an impish grin on his face) and said "You aren't superstitious are you?" I was like "No, why?" He said he was going to put Houston at first base and I just said "As long as he is OK with that". I almost threw up. Just kidding. But, it was strange.
Seriously, the exact same team and the exact same position. Oh, well, buckle your seat belts, as we are always in for a bumpy ride.
While I was sitting at the showcase, my phone made the sound for a bid received and about ten seconds later it made the Kaching sound for a sale. I picked up my phone and was THRILLED when I saw what had sold! Total score! Before I share that score I want to discuss the silver plate.
I usually don't pick up silverplate pieces when outsourcing but I am always looking for sterling. I was at an estate sale a few weekends ago and the woman told me that the few pieces of silver plate that she had on the small card table were from her mother-in-law's estate. Her mother-in-law lived in New York City during the Depression and apparently had lots of money to spend on fabulous antiques.
I quickly picked up a Bing & Grondahl figurine for $10 and started a pile. I saw a hallmark on a silver piece that looked like a mark for sterling so I grabbed that for $10 also. I also bought a huge set of Haviland white plates for $20.
Then I saw the fantastic candelabra sets. There were two of them and I figured that they were silverplate, but still so wonderful. One set was $30 and the other set was $40. I took a risk. I spent $120 that morning from one tiny little card table. I didn't buy everything on the card table. I was wondering, as I drove away if I was making a mistake by not buying everything. Have you ever felt the same way?
Like when I said it was OK for Houston to play first base. I am just kidding :). He did perfectly fine and it was great for him to jump right back in. He had a great showcase and hit well, played first, and pitched well. I am very proud of him for getting right back into the swing after being out for three months.
But back to my purchases off of that card table. As soon as I got back to my office I started writing up the items to sell. It wasn't going so well at first. The Bing & Grondahl figurine had been repaired and the head had been glued on. Here is the auction listing with the repaired head.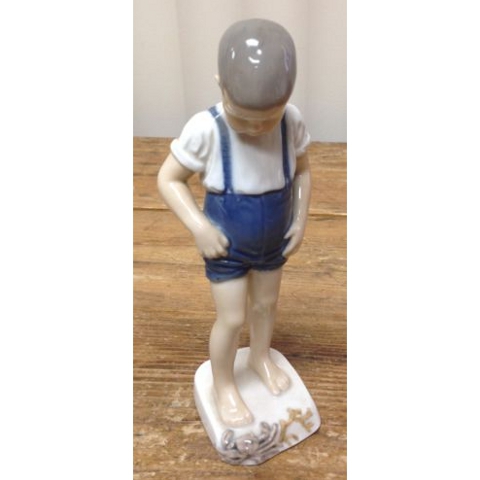 Click here to view this auction on eBay!
Then I got to the candelabras. I found a maker's mark quite clearly on the smaller set. They were marked inside the candle holders on the inside base. Then I realized that one of the candle holder stands was in desperate need of solder. Oh well. Here is that candelabra set listed on eBay.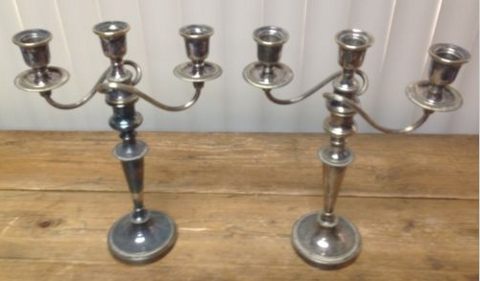 Click here to view this auction on eBay!
I moved on to the other pair of candelabras and the only mark I could find was a hallmark with two suns or stars. Here is what those marks looked like.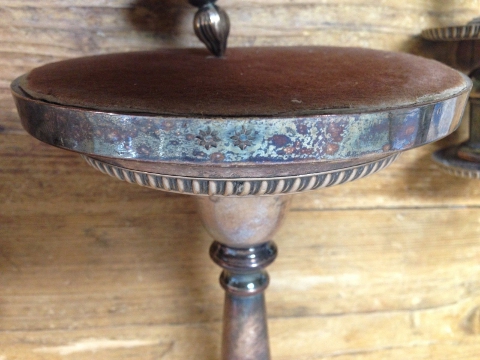 I set it aside to list later because I needed to know the maker. I had to KNOW the maker.
I moved on to the shell-shaped bowl with the hallmarks. Much better luck with this one! I was able to quickly identify the four hallmarks. It was sterling! And it sold at auction for my full asking price which was very close to sterling melt value. Here is that listing.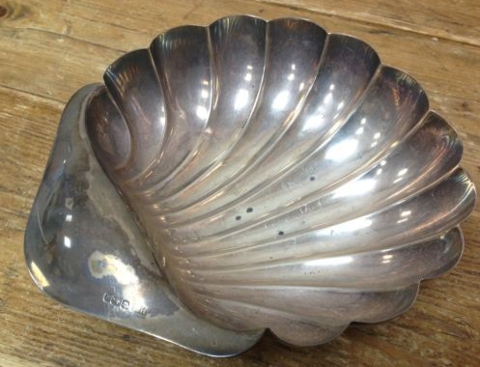 Click here to view this auction on eBay!
When I got back to the candelabras with the two sun hallmarks, I decided to just list them at a really super high price and ask for Help Maker ? in the title. Within a day, a nice eBayer had emailed me with this note…..
"Dear thequeenofauctions,
The candleabra with the sun marks may be a silver plate over copper. Matthew Boulton used a mark of this sort. He also made this type of product. Still from around 1800 and valuable if all of the above is correct. Search Matthew Boulton on E bay and you may be able to find similar items."
How super sweet! The nice eBayer was right. Boulton was the maker and he lived from 1729 to 1809. 80 years old was really long for back then and how cool that I had a piece from the 1700's (most likely). Awesome!
I was able to quickly do some research on the maker and changed the title. I also found that my price was in the right range. How amazing! PFA (The price had been Pulled From Air as my grandmother used to say).
I got a lot of questions but no bids. Until the very last minute of the auction, while I was sitting in the ASU stadium. You won't believe what they sold for!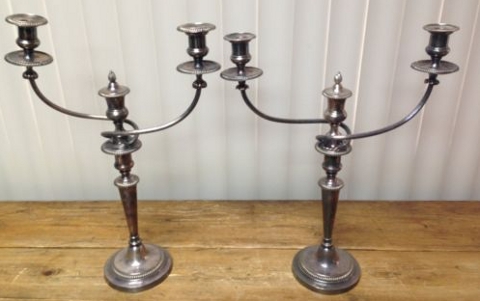 Click here to view this auction on eBay!
Those are some pretty serious scores! But let me share with you a mistake I made a little bit later on that same day. Yes, I do make mistakes and I am not afraid to share them with you because it helps all of us to see that mistakes do happen and we can still be successful business owners.
Before we get to the mistake, I want to remind you that my eBay store eBook is out and already has an additional update with new information. This book will help you learn how I price, how and why I put everything up for sale at auction first, and many more tips & tricks to increase your business. The price will increase $10 tonight, Thursday, November 14th. So please don't forget to order it now. Click here to place your order and the eBook will be automatically emailed to you as a download.
Here is more information about the store eBook which I had been meaning to write for a long time! While writing the eBook and doing my research, I realized that 85% of my sales volume comes from my eBay store and NOT from auctions.
Here is a recent store sale that sold for full price—close to $100!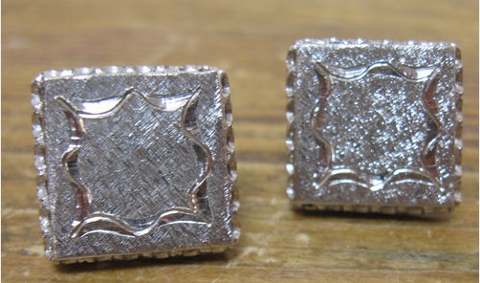 Click here to view this auction on eBay!
The new eBook is over 110 pages and full of great insider information. It is available for immediate purchase and download before it goes up to $10 until midnight on Thursday, November 14th. Here is the rough draft Table of Contents. The TOC has changed a little bit but not much.
Table of Contents:
Introduction
Sales Analysis
Why use the Auction Format at All?

Never Leave Cash on the Table
Drive Traffic to Your Store

Auction Pricing Strategies
When are you Ready to Open an eBay Store?
Which Store Level Subscription Best Fits Your Business?
How to Open an eBay Store
Anatomy of a Store
Store Pricing
How to easily Move-Item from Auction to Store
Store Features to Utilize

GUC
Internal Categories
Professional Logo
Store Banner

How to Jump-Start Your Store Sales

Top-Rated Seller
Markdown Manager
Email Marketing
Always Grow your Inventory
Don't miss out on the Story Book! The price will be going up on Thursday, November 14th. It is a downloadable book that will be immediately emailed to you. If you are a Queen's Court member please don't forget to use your discount.
The store update that is included with your purchase, which I wrote and added last week, will show you more about the new eBay store profile page and how to edit your own. Here is what my new profile page looks like on eBay.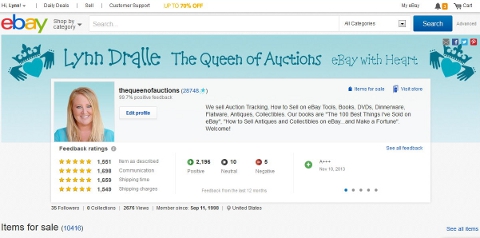 Let's get back to that mistake. After those HUGE scores, I rounded the corner and went to another sale in the same community. The ladies had boxes full of Precious Moments Figurines for sale. They wanted $5 each. Too much. I drove away and started thinking about it. There were quite a few, they would be easy to list and it would give me a lot of auctions quickly.
I pulled to the side of the road and tried to access my Terapeak account to see what an average selling price for a Precious Moments Figurine was. No internet service. Darn it! I called my brother and asked him if he could check it on his computer. I gave him my login info and he said the average sales price was $36.22. Not bad! I figured if I could get them at $4 each it would be worth my time. I am always thinking "make 10 times your investment".
I quickly drove back and asked the ladies to count them for me. There were 91 and they wanted $450. I got them to agree to $375 (which was $4.12 each) and I handed them a deposit telling them I would be right back, but I had to run to the bank to get more cash.
As I was driving to the bank, my brother called back. He said, "Lynn, Would huge collections (or lots) of figurines in that search skew the Terapeak results"? I told him "No, it will be fine". But inside I was thinking "Oh crap!" Of course those lots would skew the results. I had already committed and made a deposit, so I knew I would stand by my offer and my word.
I got the extra cash, drove back and packed up the figurines, threw them in the car, and decided to call it a day!
It took me forever to get those 91 figurines all listed! It wasn't as easy as I had thought. Apparently, each figurine is signed but also marked on the base with an impressed line drawing of a different character for each year of manufacturer. The original early Precious Moments that were not marked with anything and were never re-released are the most valuable.
Of course, there were none of those in my new purchase!
I started all 91 at $19.99 and thought to myself, I am not going to get a bid on any of them. Oh well, with Christmas coming, once they are in my store at a higher fixed price and best offer, I can put them on sale.
But, lo and behold, I did get a bid on one at auction. I was so excited!!!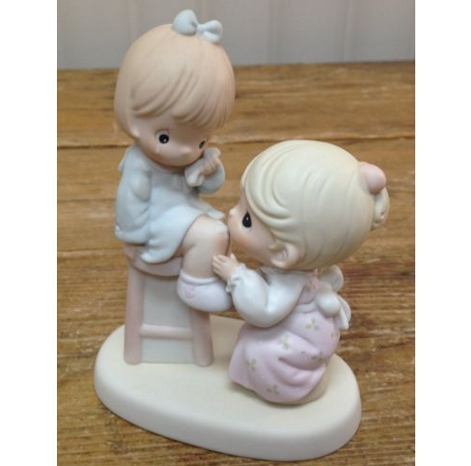 Click here to view this auction on eBay!
My dad was in town for 12 days as you may remember and I had him organize my books. He is so amazing! It took him about a week, but they are all on shelves in alphabetical order by title, so that I can find them quickly. What a joy! And it was hot while he was doing this task. Probably 91 degrees in the back warehouse. What a trooper!
Here he is with his completed work of art.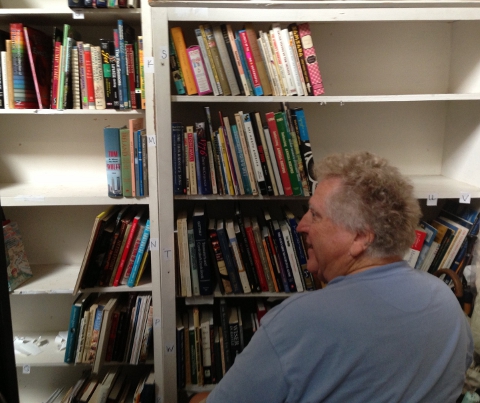 I recently sold a book for the best offer from my dad's new library and was able to find it very easily before accepting that best offer.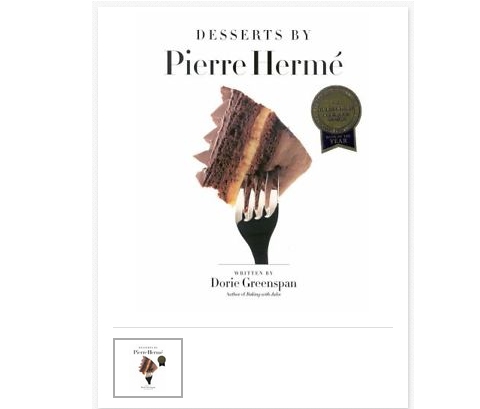 Click here to view this auction on eBay!
Because I was able to easily locate it, I took the $30 offer quickly. Thanks, dad!
My dad was mainly there to see Indy run two cross country races. I did explain to him that cross country is not really a sport you can watch. But he LOVES his granddaughter.
Here is my dad with the kids out to dinner.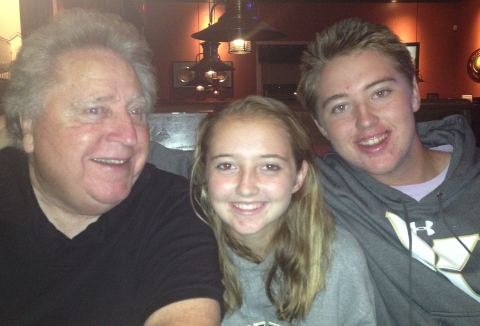 He was here for the famous Mt. Sac race. It was so amazing!
My dad pretty much sat in his chair for the entire race and watched it on the big screen. Apparently, the Mt. Sac cross country race is the world's largest invitational meet.
I was very proud of Indiana. Here she is about to cross the finish line at about 26 minutes.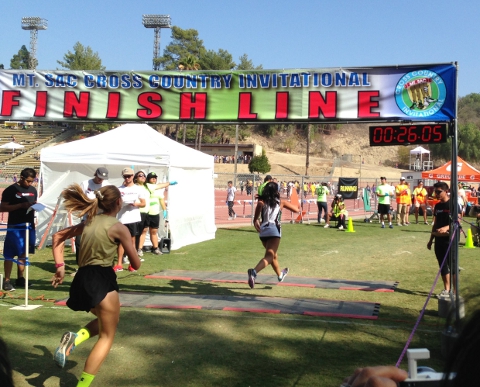 Here is Indy with the other Xavier Freshman girls after the race. She was soooooo happy!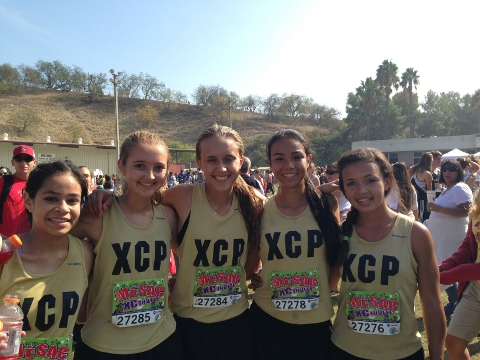 A score that made me really happy that same day was the best offer for a paper model. What is a paper model you may ask? Well, I will show you.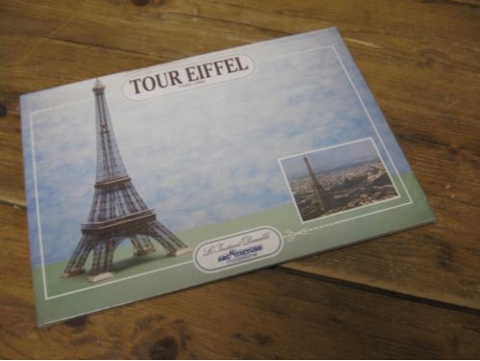 Click here to view this auction on eBay!
I bought two different styles of these paper models (new in package) for $5.00 each. Seemed like a lot to pay but they were pretty neat. Apparently, they are worth their weight in gold, as I was able to accept an offer of $124.59 for just one of them while at Mt. Sac (Mount San Antonio College) for Indy's race. And it was shipped to Quebec, Canada.
If you are NOT selling internationally, you must do this to increase your business NOW! Those very expensive candelabras were also shipped out of the U.S., to Australia!
Last Thursday, I went out thrifting with my mom and Max. My mom was in town for a quick visit to help me ship and for a shopping spree because Washington is super depressing with all the rain this time of year.
Max is the property manager at my new office. He is hysterical and a lot of fun! Here we are at lunch.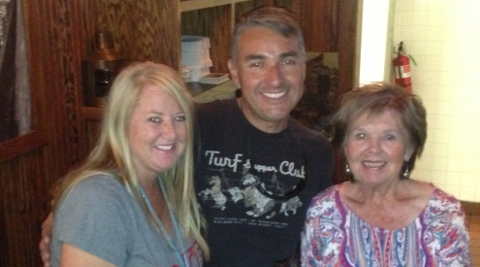 I just noticed I still have my loupe on a string around my neck. How embarrassing! Yikes!
While out thrifting with my Mom and Max, I picked up a set of Studio Nova Hopscotch dinnerware. I normally wouldn't have purchased it because it was priced at $69.99. However, it was priced with a blue price tag, and that color tag was ½ price that week.
Here is a listing of some of the salad plates that sold at auction. Pretty cute pattern in a Kelly green color. And you have got to love the name…Hopscotch. I used to play hopscotch every day at recess in elementary school. Really brings back my fun childhood.
Oh my gosh! We also used to play dodge ball. I had two boyfriends (whatever that means when you are six) in first grade in Monmouth, Oregon. Eric Jensen and Brent Howard. Really?
Brent used to say "I pick Lynn Dralle for Dodge Ball and we stand". It was just the two of us and we always won—he was really good. How can I even remember that now? Either it was a great memory or a really bad one. I wonder where those boys are now?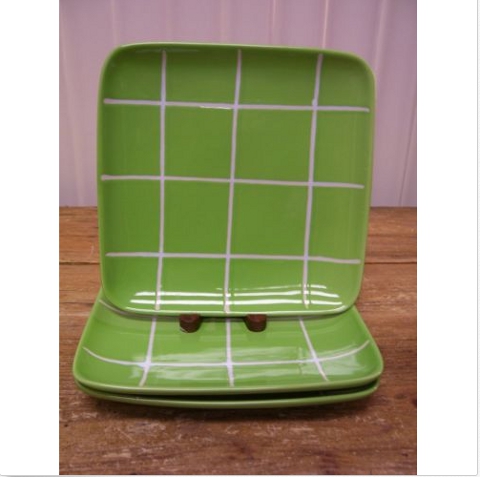 Click here to view this auction on eBay!
OK back to reality. Yay for hopscotch and childhood games! I paid $35 for an entire set of dinnerware. I sold almost all of it at auction for over $150. And my mom was still here to pack it up and get it ready to ship! A double score!
If you don't have my dinnerware eBook you need it NOW.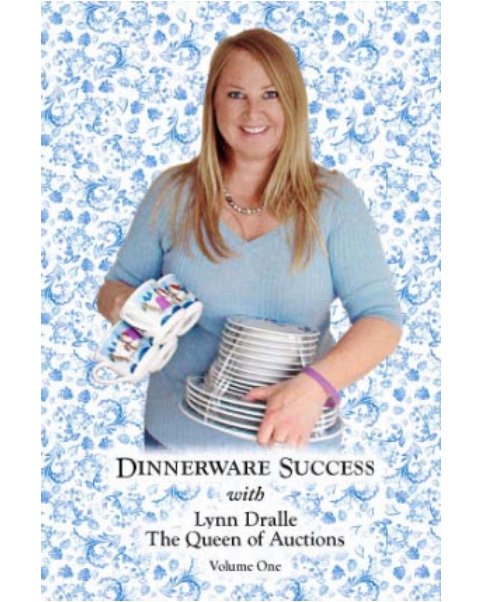 My kids are still dressing up for Halloween. I am happy about that :). Here they are before school that day.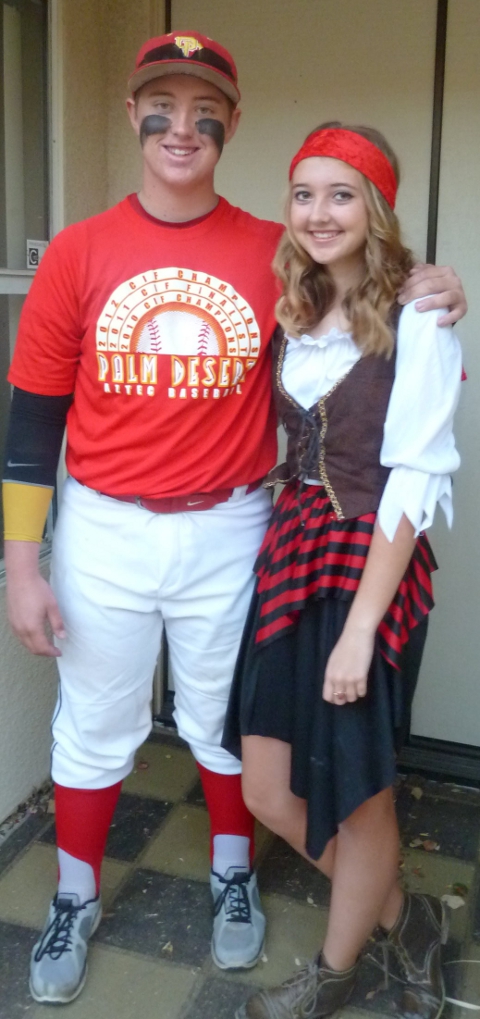 Houston took his girlfriend Riley to the Homecoming Dance last month. They had a blast and instead of a corsage, he gave her a beaded bracelet with a cross on it. Here are Riley and Houston before the dance. The bracelet is on her wrist that doesn't show. Darn it!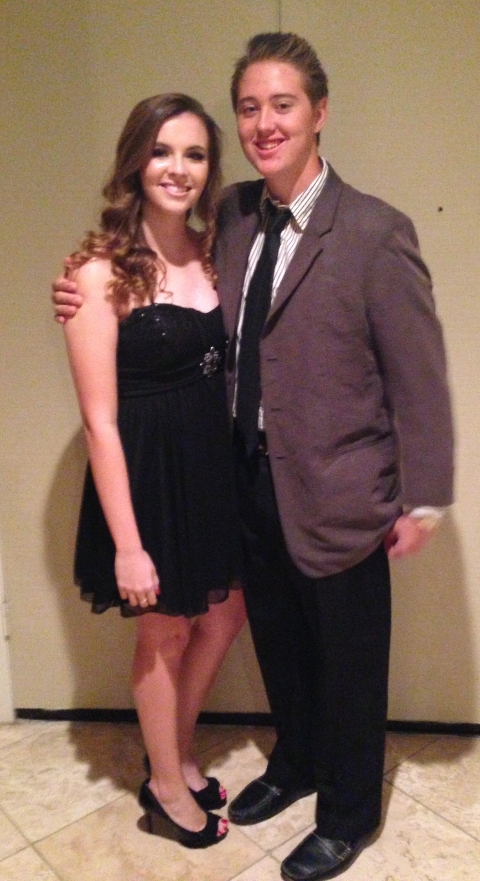 Houston told her that she could wear a corsage for one night, but the bracelet would last forever. Ahhhh. Riley still wears it. So cute!
Now, let's end with a fun holiday score that will make you smile and jump for joy

.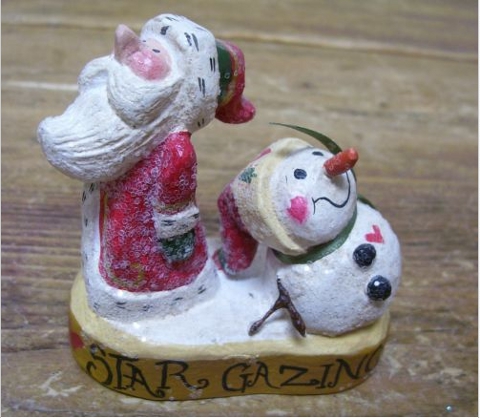 Click here to view this auction on eBay!
And finally, a fun picture of Indiana, Houston, and Riley before they went to a Christian concert at their high school on the Friday night before the baseball showcase. I told them to jump in the air so I could take a picture. I LOVE THIS PHOTO. Such Joy! I hope YOU jump for joy this Holiday Season!!!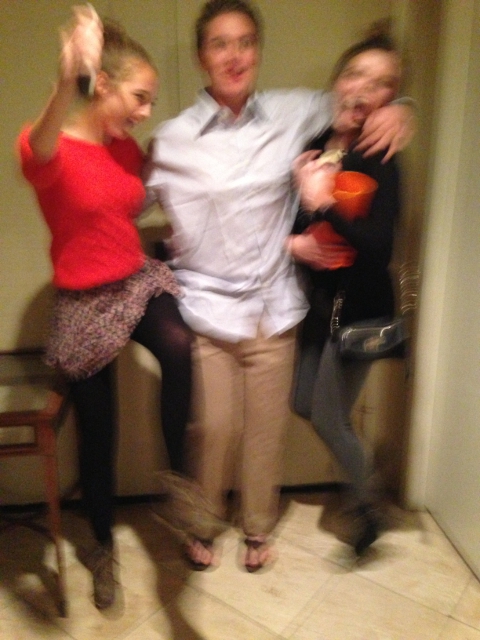 Thanks for reading my ezines! I appreciate it!
Happy eBaying!
Lynn
---
Lynn is an experienced eBay Power Seller, author, and teacher. If you want to know the eBay tips, tricks, and tools that Lynn uses for buying and selling at an online auction click here.
Some links in my emails to you may be affiliate links. You can be confident that I only partner with companies that I fully stand behind.