Happy Thursday!  Lots of exciting things happening and we still need red and orange decor items for our front windows.  The windows are coming along, but we need your help!  Thank you to everyone who has brought us red and orange items.  We appreciate you!
Now for some new arrivals…check out this stunning Century by Hickory Silk Sofa North Carolina, available now for $1596.00!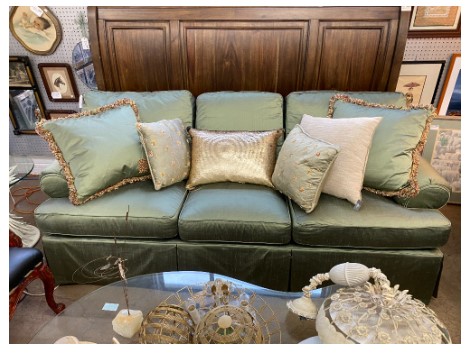 We also just received some amazing antique dressers…… Birds Eye Maple Inlaid Tall Dresser $595.00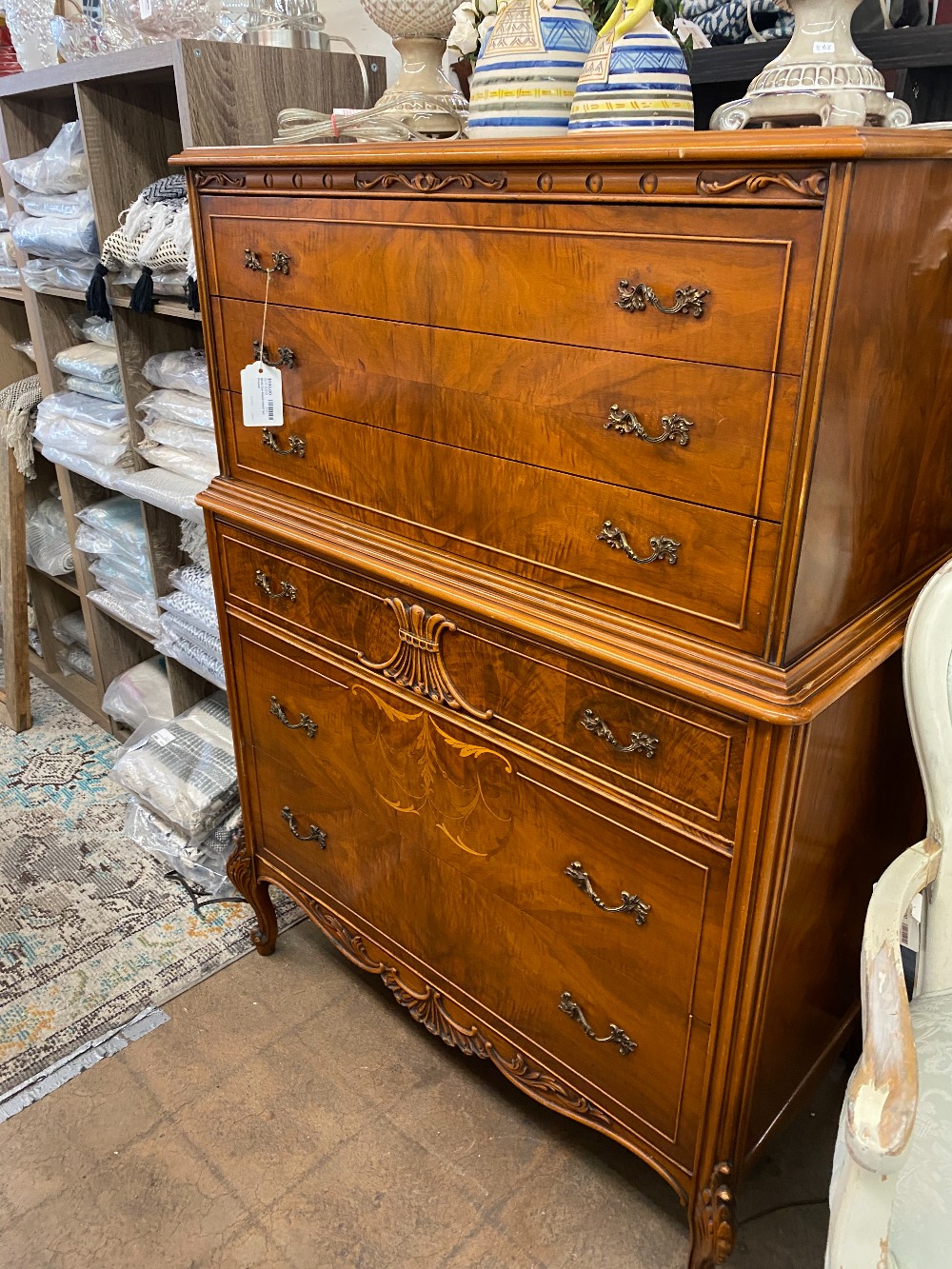 We are going to have a documentary film crew in the store on Friday, January 20th to film us.
Sooooooooo exciting!  In honor of their visit, I am totally gutting the vignettes and redoing the walls.  I just finished the yellow / orange vignette.  Here is a before and after.  And check out this Shell Needlepoint $49.50 that is currently featured on the wall.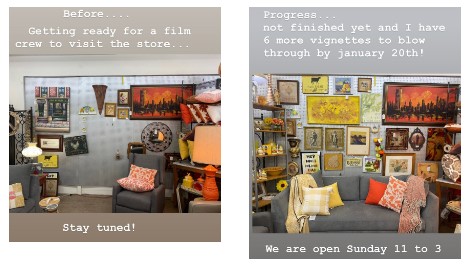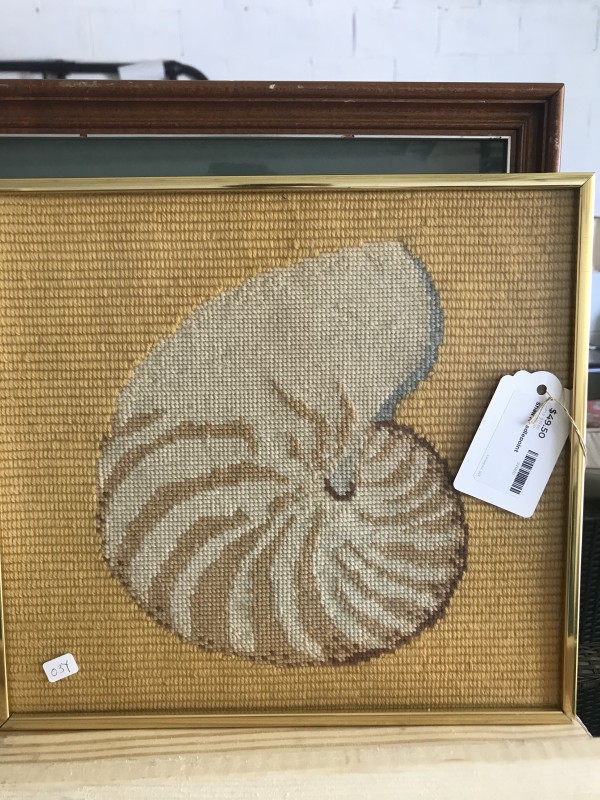 In more awesome news…Adolio has his truck back! Here is Adolio's number (805-758-5931) if you need him & Sunny to pick up any of your purchases or bring us stuff to consign.
Please clear any furniture coming in with either myself or Sandy (store manager), but Adolio & Sunny move items for a very reasonable price and besides they are super sweet!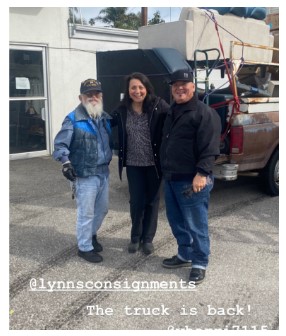 This beautiful chair just arrived and we also have two matching ones in grey available…. Tayla Swivel Chair Green Fabric which is priced for $395.00.  The grey ones have had a markdown so are at a lower price.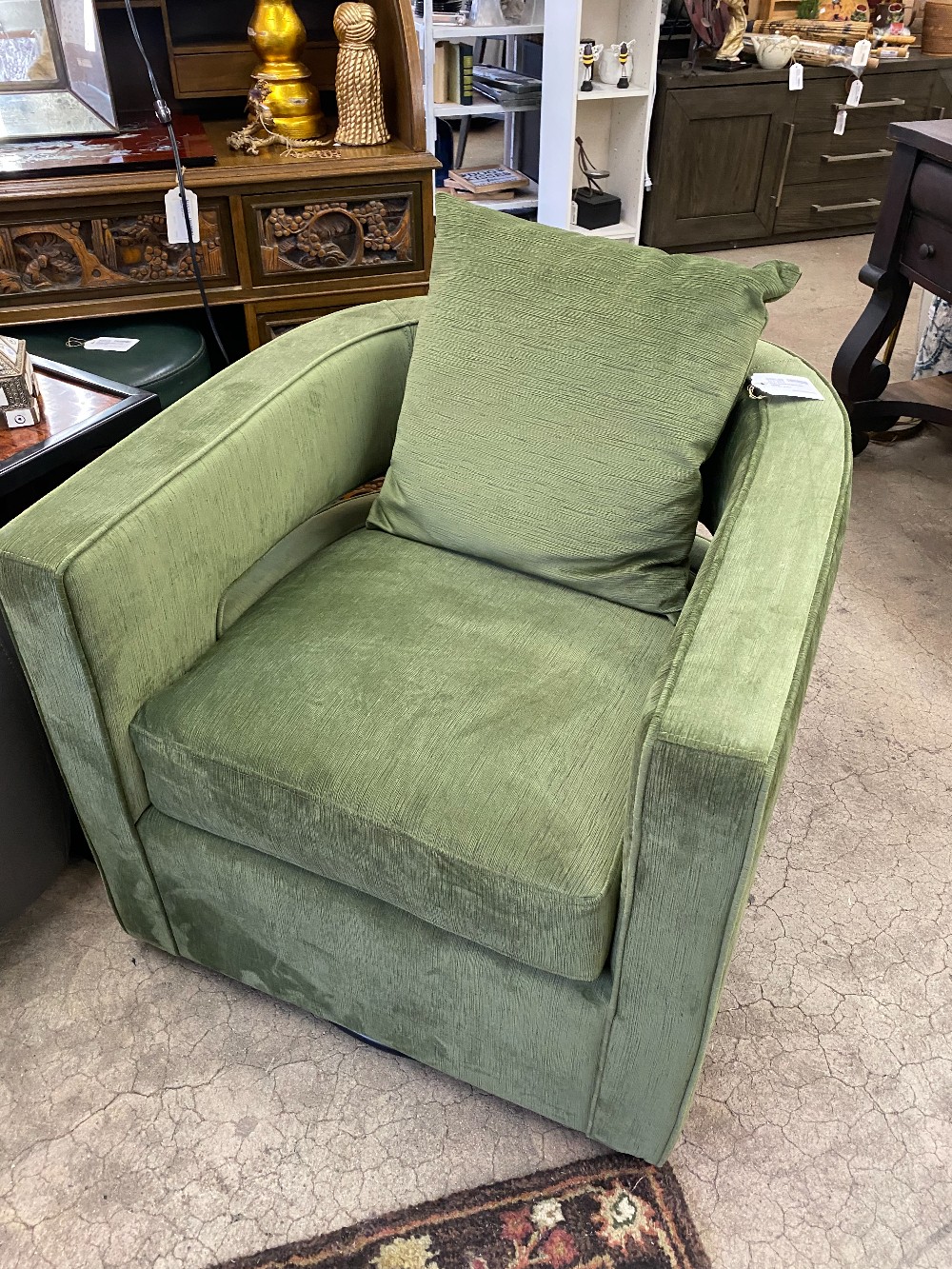 Keep your earbuds safe & sound with a Puffy lightweight earbud case from Baggu.
Puffy Earbuds Case Lime Rose
Puffy Earbuds Case Midnight Fern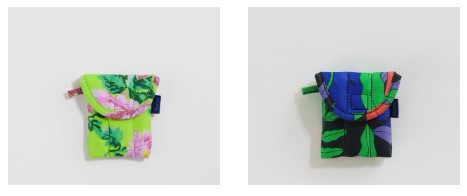 Puffy Earbuds Case Honey Leopard
Puffy Earbuds Case Woodgrain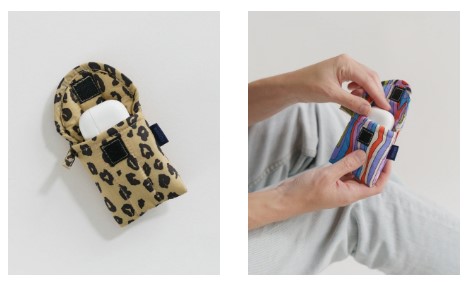 I did an eBay for Business Podcast interview last week with Griff and Brian Burke.  They are always so much fun.  You can listen to it here.
I LOVE how they call it a "Lynn Dralle" Check In.  LOL!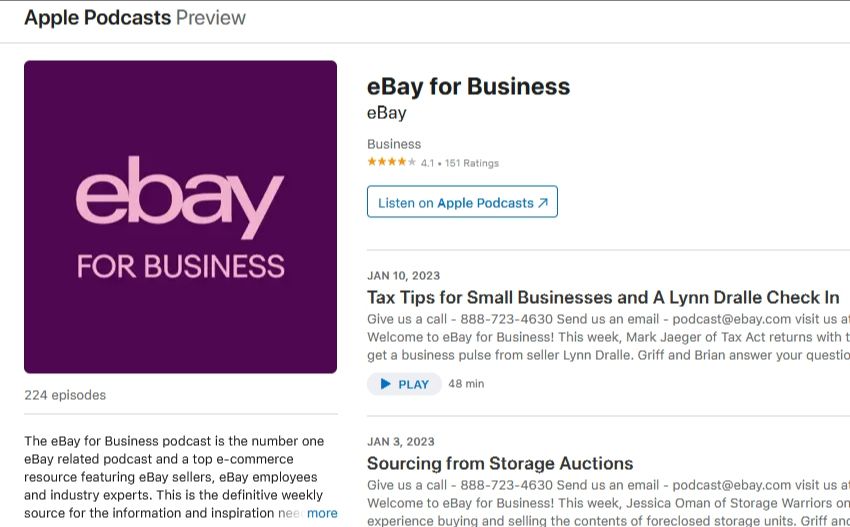 And now for some fun fashion items. These sweaters have been a best seller….. Dreamers Ivory Collar Sweater which retails for $32.50.  Perfect for this rainy cold weather.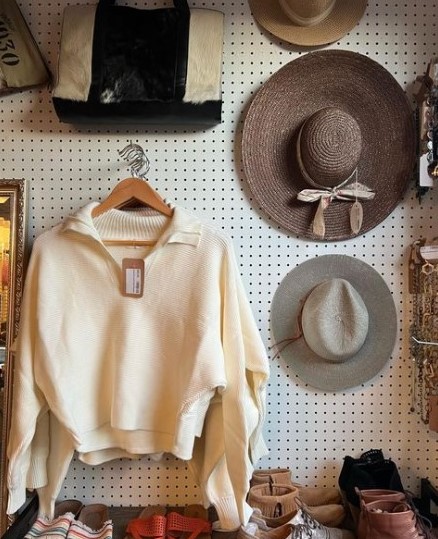 Plenty of accessories in stock. Check out some lovely earrings from Myra!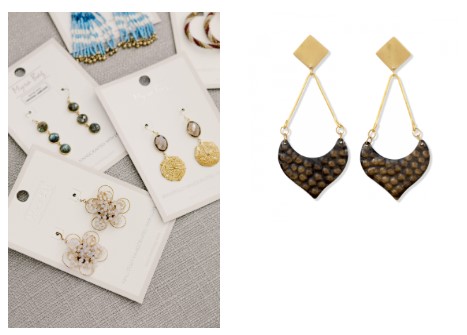 Give your look a perfect touch of style with these unique, hand-made earrings!   These are made by Noel in Portland, Oregon.  Noel is a friend of my kids from Pepperdine.  She is so talented!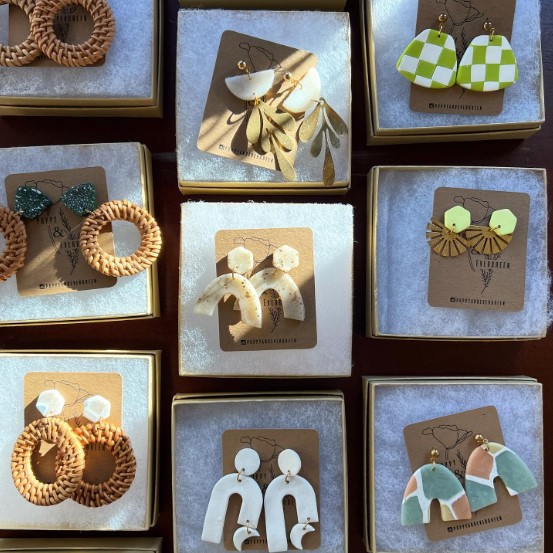 Take care and SEE YOU SOON!
Indiana, me and Houston!
Thanks for reading my ezines!  I appreciate it….as always!
eBay with Heart & Design with Heart……Lynn
Past Newsletters…All can be found on our Blog.
P.S.  All of the professional photos I use on Instagram, Facebook and in these newsletters were taken by my friend Denise's daughter, Jaclyn Sabo.  She is amazing!   To learn more about Jaclyn….https://www.jaclynszabo.com/
P.P.S.  If you have a friend who wants to sign up for this newsletter.