Happy Thursday!  OMG!  So excited to welcome an Academy Award winning Documentary Film Crew to the store this Saturday.  I can share more details later, but for now just know that we are completely gutting the store and redoing EVERYTHING!  It looks sooooooo fabulous, you must stop in soon!
Now for some sneak peaks with before and afters!  Here is the red room….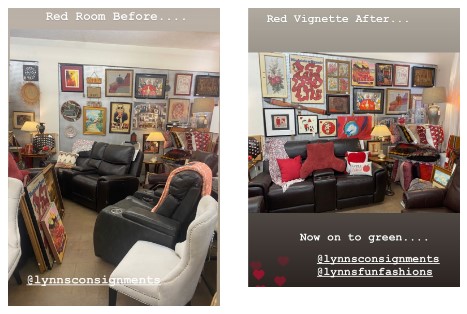 As many of you know, we didn't have enough room in the store for yellow and orange to have their own vignettes, so here is the combined orange/yellow room.  Before and After!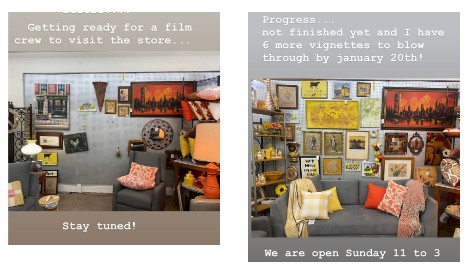 And here is the green vignette before and after!  Do you spot any art that looks interesting?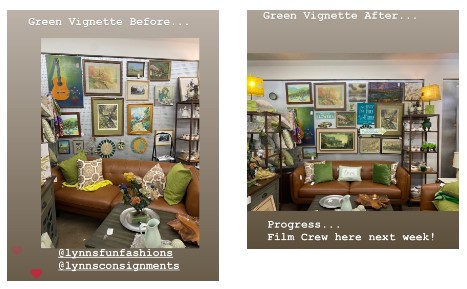 And here is the Turquoise Blue vignette before and the girls worked their magic and then the completed room. This one might be my favorite!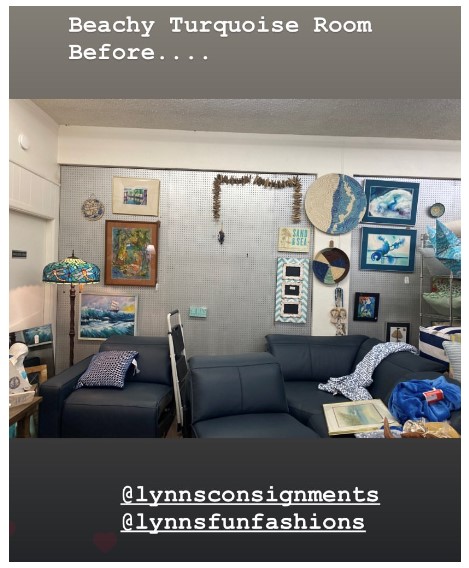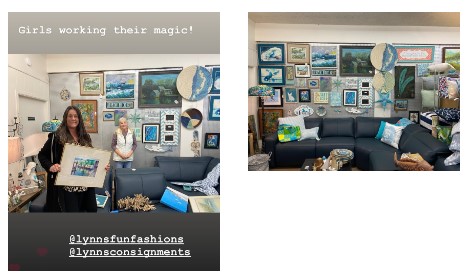 Here is the Navy Blue vignette before and after! Hard to do this one with the window in the center.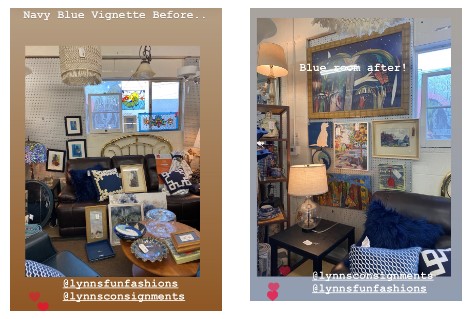 And here is the pink vignette that Sandy did, sorry no before photo!  this one is also really hard as we don't have pegboard on this wall.  Sandy had to drill holes for the cement nails.  Ughhhh!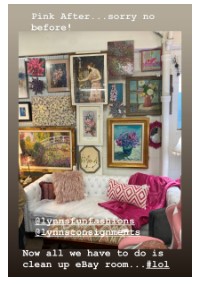 Finally, here is the classic Black & White vignette before and after!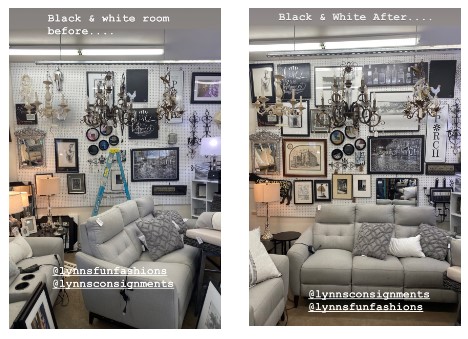 And by the way, Val cleaned up the office! She is the best!  We just realized that five years ago yesterday, we met for the first time.  She has been with me at the store since the very beginning.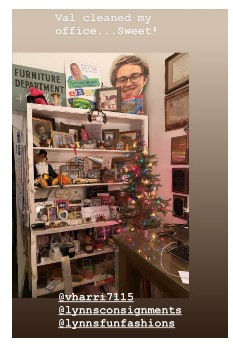 And now for some new arrivals…. Birds Eye Maple ? Inlaid Low Dresser that's priced at $595.00.
This beautiful solid antique piece is perfect for any room in your home. With spacious drawers and a beautiful finish, this piece is sure to add a touch of elegance and sophistication to any room.
Check out this Grey Bar Stool priced at $39.50.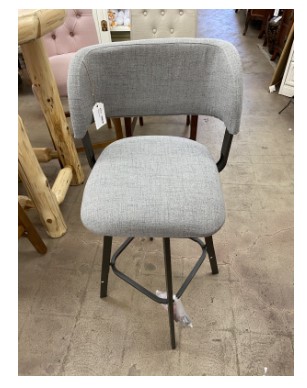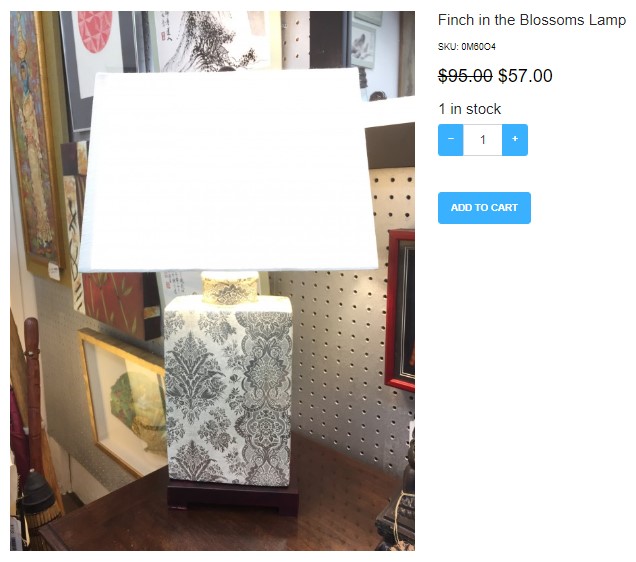 With such a focus on art this week, check out this Bamboo Canvas Artwork and priced at only $19.50.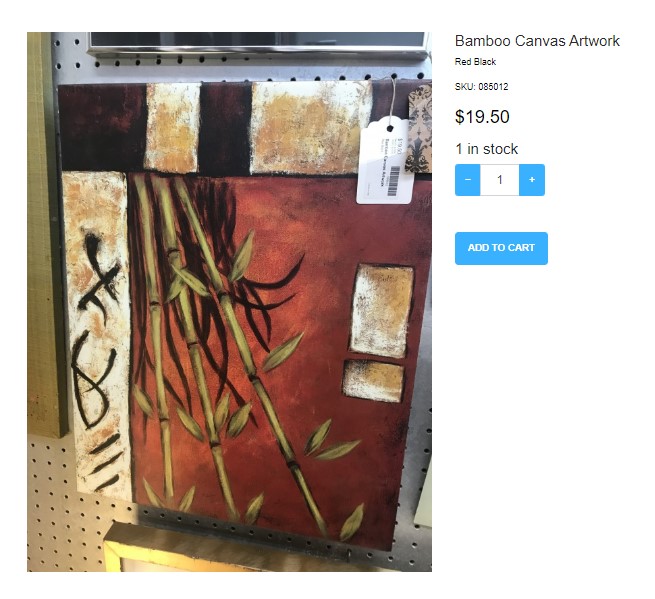 We carry a wide selection of Myra and Baggu items! Here are a few from our bag category.
Fanny Pack – Turmeric $49.00
Fanny Pack – Black $49.00
Take your style to the next level with these Fanny Pack Bags. This fashionable accessory is the perfect way to keep your hands free, store important items, and make a statement.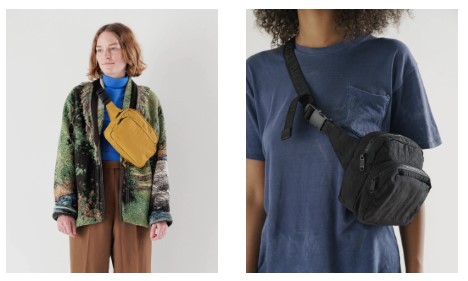 Top Zipper Fanny Pack $34.95
Impression Fanny Pack Bag Purse $37.95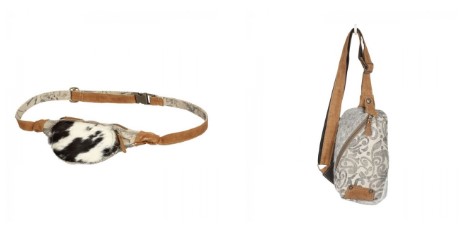 And now for some fun fashion items. This stylish  Striped Grey Top will surely become your go-to for effortless style. Grab it now for only $23.10.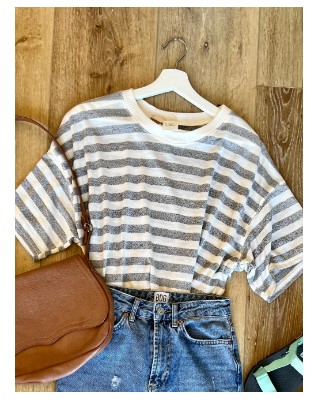 I haven't shared an update about Carlos in some time, so here he is.  He is obsessed with my hair.  Not sure why….but he loves his new life in our new home because it has a "doggy/kitty" door and he can come and go as he pleases.
He even figured out how to use the actual tiny "kitty" door to get into the Casita, so Cha Cha can't bug him.  Just so you know, I had no choice but to let him be an outside cat.  He was relentless.  And if it eases your mind, he does not leave our property.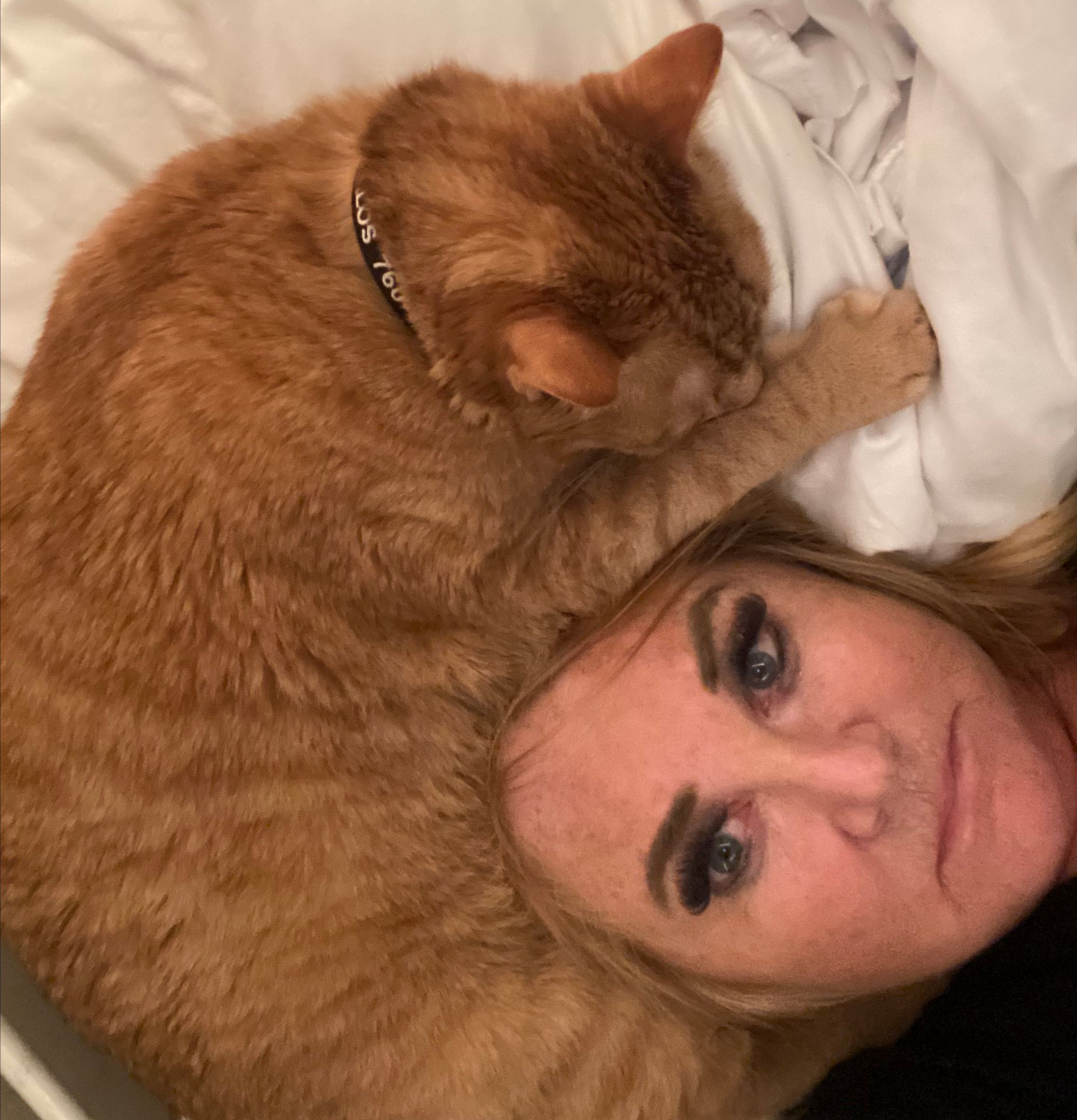 Take care and SEE YOU SOON!
Chacha, me and Indiana!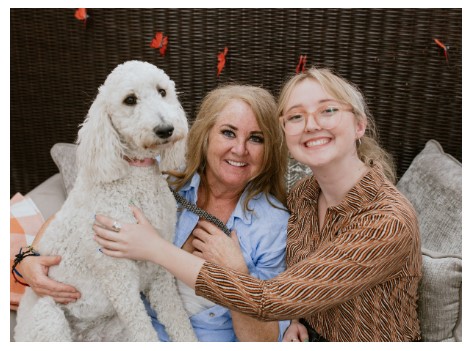 Thanks for reading my ezines!  I appreciate it….as always!
eBay with Heart & Design with Heart……Lynn
Past Newsletters…All can be found on our Blog.
P.S.  All of the professional photos I use on Instagram, Facebook and in these newsletters were taken by my friend Denise's daughter, Jaclyn Sabo.  She is amazing!   To learn more about Jaclyn….https://www.jaclynszabo.com/
P.P.S.  If you have a friend who wants to sign up for this newsletter.