Why in the world was I out in a field this past Saturday from 3 pm to 8 pm?  Because two of my awesome customers, Tina & Tere Cruz, invited me and a plus one to a "private" Outstanding in the Field Event.  OMG!  What a treat.  It was an amazing experience!
I text my friend Chris, who I did the Spain Semester with at USC, and said "Are you available for a really cool event on Saturday, May 6th"?  He got divorced a few years ago and is living his best life and this is his year of only saying "Yes".  So, he text me back, "Yes, my Saturday is wide open.  I am game for anything short of jumping out of an airplane."  LOL!
It was held at Rancho el Rincon in Carpinteria.  First, we had Margaritas and sat in Adirondack chairs overlooking the ocean.  While sitting there, the OITF (Outstanding in the Field) staff brought by some of the most amazing appetizers!
Just to give you an idea of the caliber of food served, here is a list of the appetizers:
-Baja California Kumiai Oysters:  JJ's Lone Daughter Ranch Kumquat, Pickled Fresno Chili
-Mini Blue Corn Barbacaoa Tacos:  JJ's Lone Daughter Ranch Avocados, Tomatillo Salsa, Queso Resco & Pickled Red Onion
-Quesabirria con Huitlachoche y Hongos
-Superior Farms Borrego Tare-Tare:  Aleppo Pepper, Roasted Garlic, Spring Onion, Finley Farms Little Gem
Drinks served with the appetizer course were:
-2022 Land of Saints Rose of Grenache Santa Barbara
-Yola Mezcal Margarita w Rancho el Rincon Limon
Here we are toasting the amazing day and also Chris and me with Tere and Tina.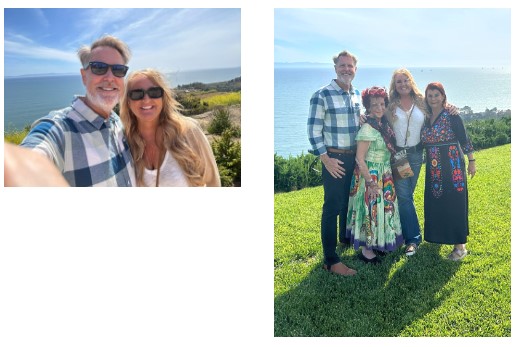 After cocktail hour, we got a tour from Nick, who's family owns the farm and Rincon Tropics.  What a treat to check out the avacados, passion fruit and tangerines.  Then it was dinner at a long table for 40 of us.
Outstanding in the Field is very well known and they are famous for hosting Farm to Table events all over the World.  Tina and her sister, Tere, have been to many of these events from Mexico to Hearst Castle.  For those of you who may remember from one of my past ezines, I took my kids to an Outstanding in the Field at Hearst Castle.  Here is a link to that ezine "Empty Nest…Full Store" if you want to read more.
During dinner we got some fun pictures.  Here is Chris with Seth (from Outstanding in the Field) and Tina.  Here I am with Tere and her cousin.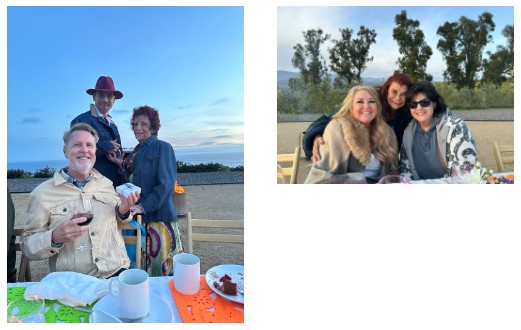 The event ended with a surprise Mariachi band.  And I want to show you what my plate and the menu looked like.
What an epic day!  So much fun.  Chris and I grabbed a ride down the hill from some of our new friends into Carp after and hit up a local bar and then ubered home.  LOL!  Epic is an understatement.  Thank you Tina & Tere from the bottom of my heart!

Before I forget, after I posted some photos on Instagram/Facebook, I got a text from one of my sorority sisters, Kathy Aicher.  She was like "I know Tina…her family owned my favorite Mexican Restaurant."  NO WAY!  And the restaurant was famous.
It was called Ernie Jrs and was in Pasadena and Eagle Rock.  Although, Tina & Tere's dad founded the original Ernie's back in North Hollywood almost 70 years ago.  Wow!
Check out this article about them closing back in 2014.  So interesting!  And this is what the Mid Century Sign looked like.  They were in business for almost 60 years.  Really reminds me of my grandmother and how she was in business for 52 years.  Both institutions and very sad days when they both shut down.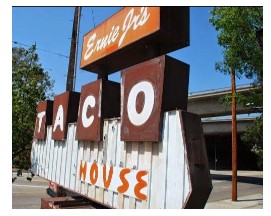 Enough about me and my fun life….LOL!
Happy Thursday! Some really fun arrivals for you to check out.
Say hello to this new addition — Red Asian Lacquer Cabinet Ballard Design $895.00.
Come see it in person!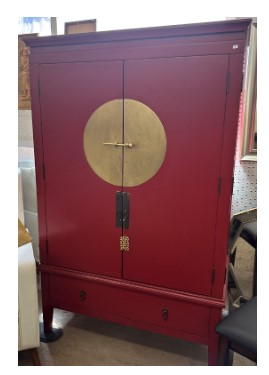 Painted White Tall dresser with Transfer $295.00  Painted and designed by one of my favorite employees, Susan!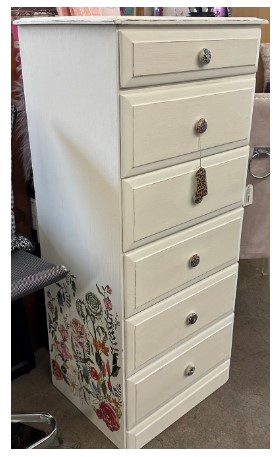 This stunning Green Painted Console will surely freshen up your living space! $795.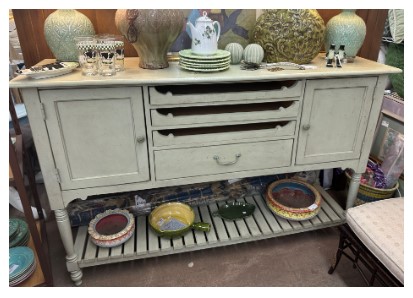 Square Glass Coffee Table — price has been dropped to $116.00!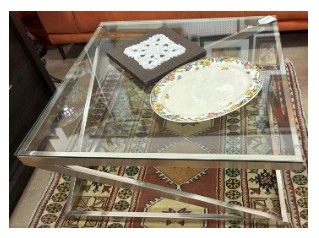 Rustic Wine Rack with Drawer $149.50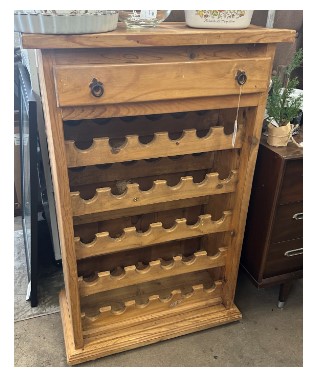 Vanity Set  With Chair and Mirror $195.00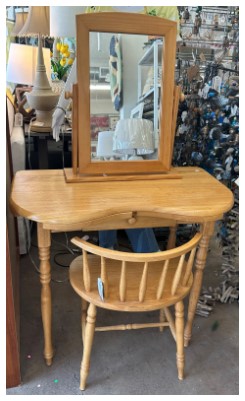 Acme Furniture Table Base Chrome price has been reduced to $297.  All it needs is a glass or wood top and you have an amazing entryway console.  This table base retails for almost $2,000.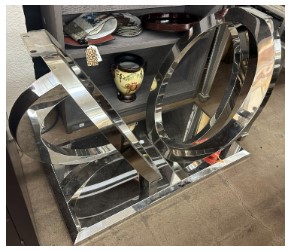 Green Tall Painted Armoire $795.00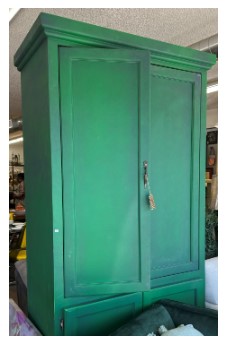 Marble Top Antique Washstand $445.00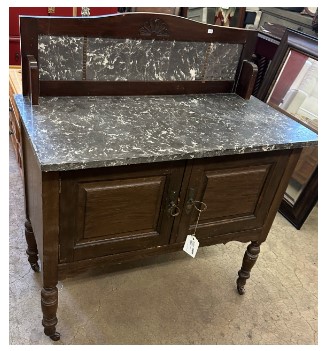 Attention Clothing Consignors: We are looking for unique, one-of-a-kind, funky and higher-end clothing. Larger sizes are greatly appreciated!
We are in desperate need of Medium, Large and Extra Large Women's Clothing.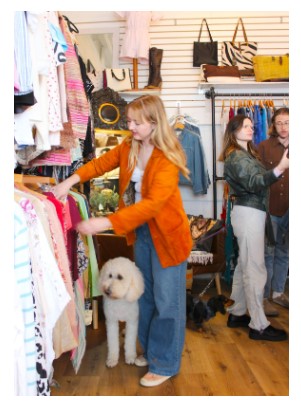 Call or Text to set up an appointment.
Land Line  805-628-9208
Cell Phone  805-470-6493
Also, new hours in the clothing boutique:
Weds & Thurs  11-3
Fri & Sat           11-5
Sunday              11-3
$uper $ale! — Score big on comfort and savings with our Alpendale Fabric Power Reclining Sofa Light Grey and Carey Leather Power Reclining Loveseat with Power Headrest Brown! Get them now for just $400 each.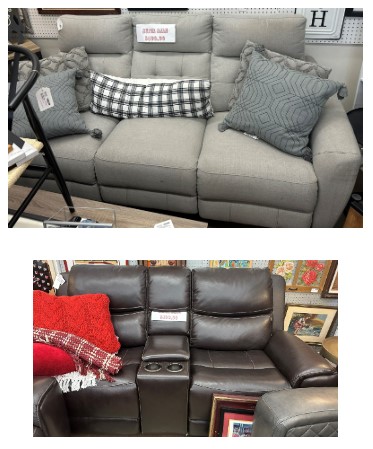 Our new Natural Miniature Cast Iron Birds are perfect for adding a rustic flair. Grab yours now for just $5.95 each!
Brighten up your space with these lovely coasters! Sunflower Coaster Set
Get your set now for only $17.95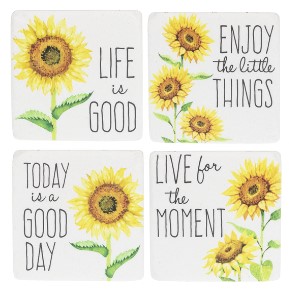 Freshen up your space with our new Botanical Wall Decor Burlap! Perfect for adding a touch of nature to your home, this casual piece is $69.50.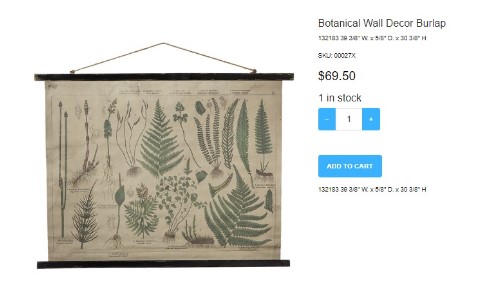 These figurines bring a charming and laid-back vibe to any room. Only 2 pieces in stock, grab yours now for just $14.95 each. Shop before they fly away!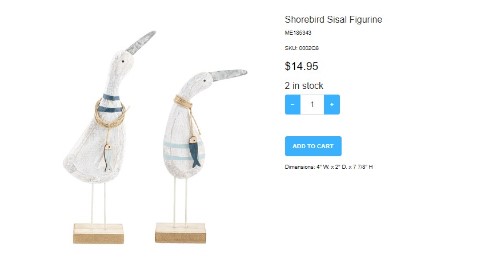 Thanks for checking out our new arrivals!
Remember to drop by our store or browse our website. We'll keep you posted with more cool things, and as usual, we really appreciate your ongoing support!
Take care and SEE YOU SOON! Me, Houston, Emma, and Indy!   Oh and HAPPY MOTHER's DAY!!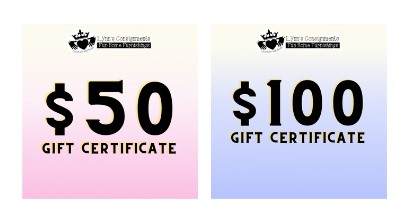 It is not too late to get a great gift for your mom.  We have gift certificates!
And they can be issued in any amount.  Here are some examples….
$50 gift certificate.
$100 gift certificate.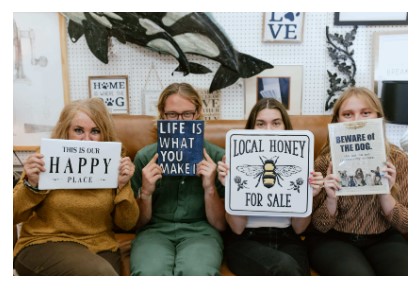 Thanks for reading my ezines!  I appreciate it….as always!
eBay with Heart & Design with Heart……Lynn
Past Newsletters…All can be found on our Blog.
P.S.  If you have a friend who wants to sign up for this newsletter.