Happy Thursday!  Today is Melanie Souve's birthday.  Mel and I have been friends since 6th grade.  In honor of her big day, I thought I would share this story from Money Making Madness.  Can you believe we used to reenact "Harriet the Spy"?  LOL.
The store is packed with super fun items.  Seriously, it hasn't looked this good in a while.  Stop in and check us out.  Here is a new display that Val, Candy and Sandy worked on.  I love the look of this vignette.
We have gotten in some Mid Century Pieces! Say hello to our Small Three Drawer Dresser, the perfect blend of style and functionality by Bassett Furniture.
Grab it now for only $195.00.
Add a rustic touch to your dining area with our White Distressed Dining Table. This shabby chic piece is not going to last. Available now for just $795.00.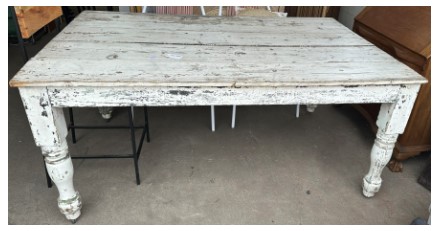 End Table Metalwork $245.00 There are two of these available.
Washington Apple Table $100.00
Custom Painted Night Stand $95.00 – 2 in stock.
Oak/Teak Bookshelf with Glass Doors $195.00
Two-tier Wood and Marble Serving Stand $57.00
Check out this rustic trunk on wheels.  It is super cool.   Priced at $395.00
These slipper chairs just arrived and are priced at $395 each.  They are high quality and comfortable.
Don't forget about our clothing boutique.
Hours:
Weds & Thurs  11-3
Fri & Sat  11-5
Sun 11-3
Land Line  805-628-9208
Cell Phone  805-470-6493
Thanks for checking out our new arrivals!
Don't forget to visit us in-store or check out our website. Stay tuned for more updates and as always, thank you for your continued support!
Take care and SEE YOU SOON! Indy, Steve, Emma, Mor Mor, me and Houston.
Thanks for reading my ezines!  I appreciate it….as always!
eBay with Heart & Design with Heart……Lynn
Past Newsletters…All can be found on our Blog.
P.S.  If you have a friend who wants to sign up for this newsletter.