I really need to get back to writing these on a more consistent basis.  But, Oh well…it is what it is!
A broad recap of the past 6 weeks…Trip to San Diego, three more Indiana Shows in Weho & Noho, House Warming Party and a trip to Palm Desert.  Lots going on at the store as well 🙂  Tons of classes and new furniture coming in and out so fast it makes your head spin!  It was also mother's day and I wasn't able to spend it with my kids, ughhh!  But we celebrated the weekend before.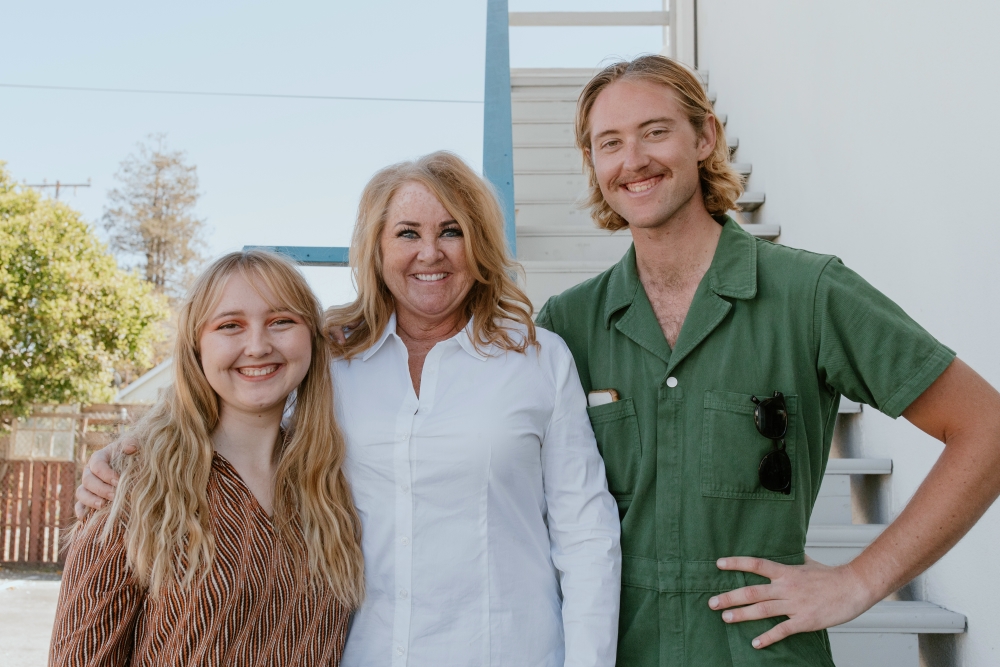 Welcome to Lynn's Latest #004…
Thursday, June 9, 2022
Watch for it every Thursday or every other Thursday, Friday or Saturday!
Actually, lets be honest…watch for it whenever I get one finished hahahaha
Volume III  Issue 004
Back in April, I was mentioning to a friend that my kids hadn't really been home since Christmas.  Well, they did come home for the Anniversary Party and grand opening of the Clothing store on March 1st, but did not spend the night.  I was starting to think that maybe I should rent out Houston's Villa (aka Casita) since it never gets used and then…….they started coming home all the time.  LOL.
Houston had a few days off so came out to Ventura to ride his bike and get some free food.  Hahaha.  One night we had dinner at Aloha Steak House and it was lovely.  The next night Indiana showed up and we ate at Red Robin in the Collection.  Random, right?  But I LOVE having them home.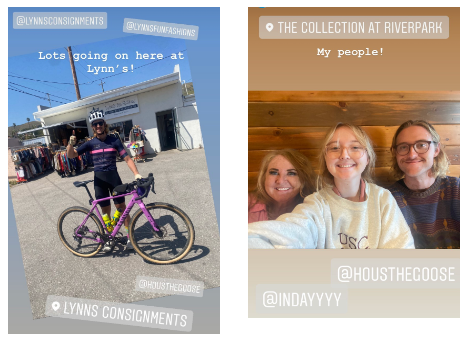 Almost immediately after my last ezine came out, I headed to San Diego.  The trip had been on the books for about 6 months.  Houston would be competing in a bike race and I had reserved a super cool hotel on the lake at San Marcos.  Well, you make plans and God laughs, right?  Houston broke his collarbone biking (where else would something like that happen?) and he pulled out of the race.  Part of my trip was to visit my really good friend Lori so I decided to go down for the weekend anyway.
I met Lori in 2003 (Wow!  We have been friends for almost 20  years) when we first moved to Palm Desert and I enrolled Indy in Pre School at the Presbyterian Church.   Indy met this little girl, Paige, and decided Paige was going to be her best friend.  Well, let me tell you, Paige was having none of it.  Thank goodness her mom, Lori, and I became friends first 🙂 and I was able to get Indy invites to all of Paige's parties.  LOL!  Seriously, it was so funny to watch!  Here they are about 2003.  So cute!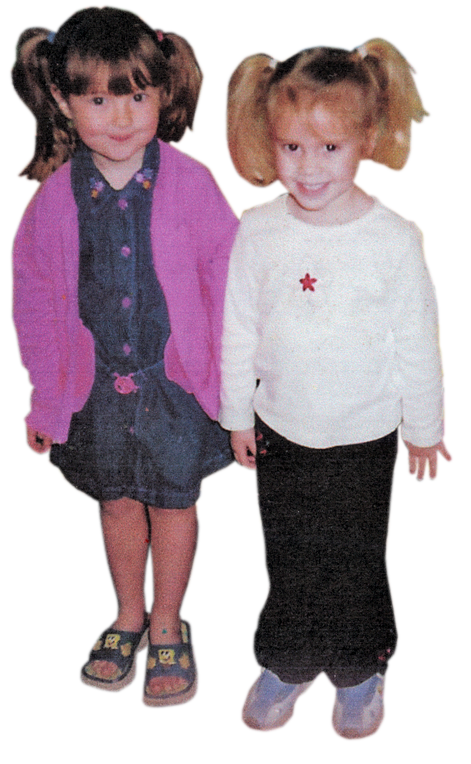 Since that photo came out of my "3rd 100 Best Book", I think I should share that story.  It is an embarrassing story about how NO ONE came to one of my first book signings.  Hahaha  But first, a more recent photo of the girls.  How cute are they?  This was five years ago at Paige's High School Graduation from Palm Desert High School.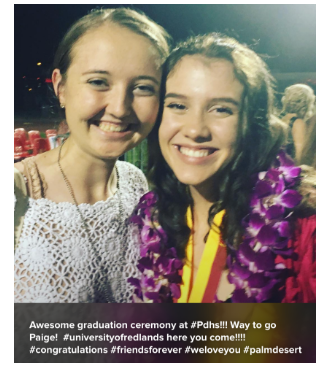 OK, on to that story!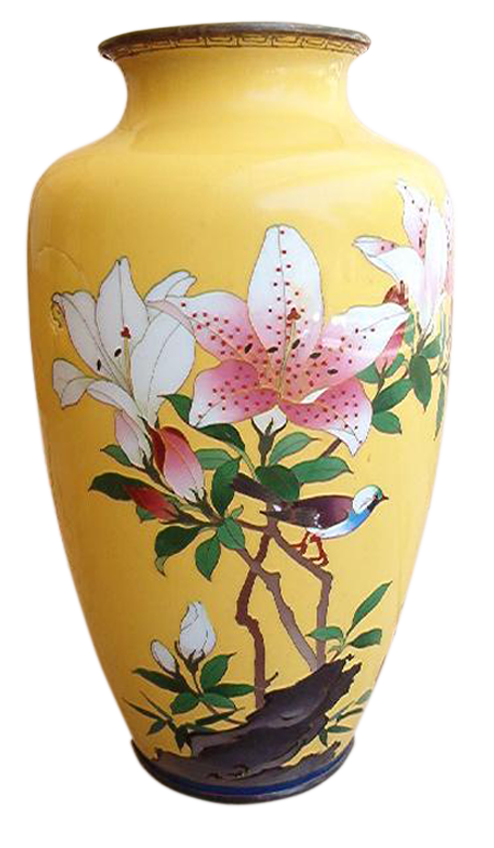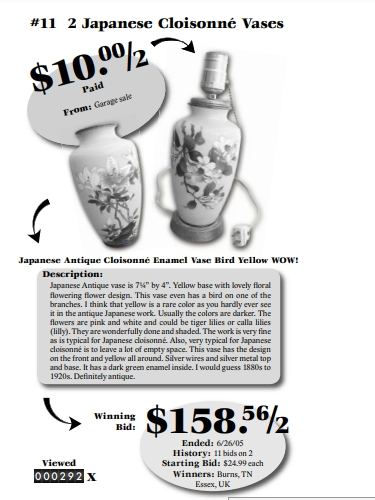 Anyway, my trip to San Diego was a success.  Did a ton of thrifting with Lori as she sells on eBay as well.  Also did some touristy things like walk around Encinitas, hang out at the pool and have brunch at the Chart House.  Oh, I love me a Chart House Restaurant.  They are fewer and further between these days.  We used to have one in Rancho Mirage, but it burned down ughhhhh and I believe that there used to be one in Westwood and Malibu.  I could be wrong.  But, in any event, I LOVE the Chart House!
It was the perfect moody Sunday to hang out by the ocean at the Chart House in Cardiff.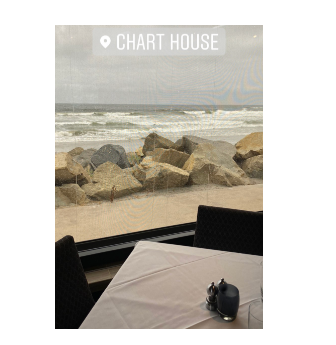 We also checked out a furniture consignment store in Encinitas.  OMG!  Talk about no filter and a store that will take ANYTHING….I thought it was insane that they had no standards.  I hope y'all realize how important it is for us to curate the "best" shopping experience for you by not showing pieces that have no right to be in an upscale shop.  Check out these photos.  I mainly took these to show my staff how bad it could be….and that we are doing a pretty GREAT job!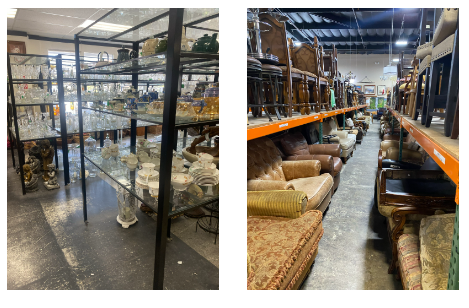 In their Chachki Department, I found a set of Heller Plastic dinnerware.  Usually a pretty good score, but it was priced at $120!  I decided to get it anyway.  Mo has it all ready to go up at auction.  She has 26 listings scheduled to start this Friday/Saturday and they add up to $298.74 at the opening bid.  Hopefully, the set will sell (all in individual listings) for at least $600.
Here are what some of those scheduled listings look like.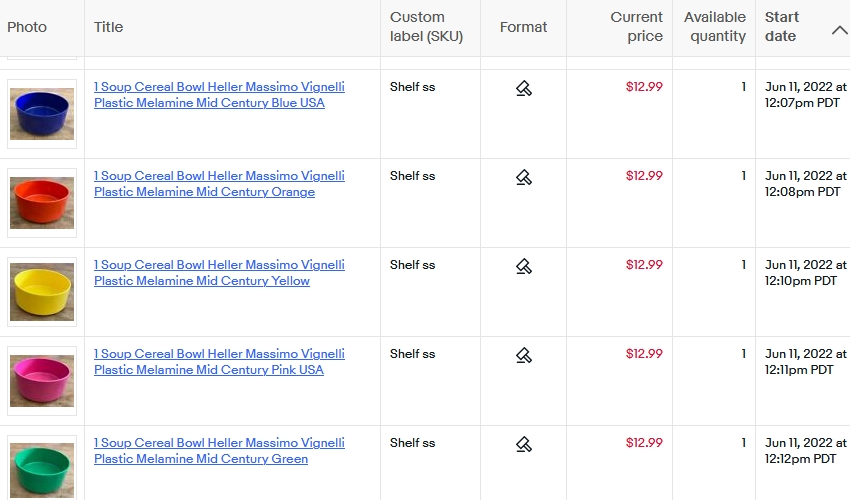 Here is one of the individual listings for you to check out when it is LIVE on Saturday.  Click here to see the listing.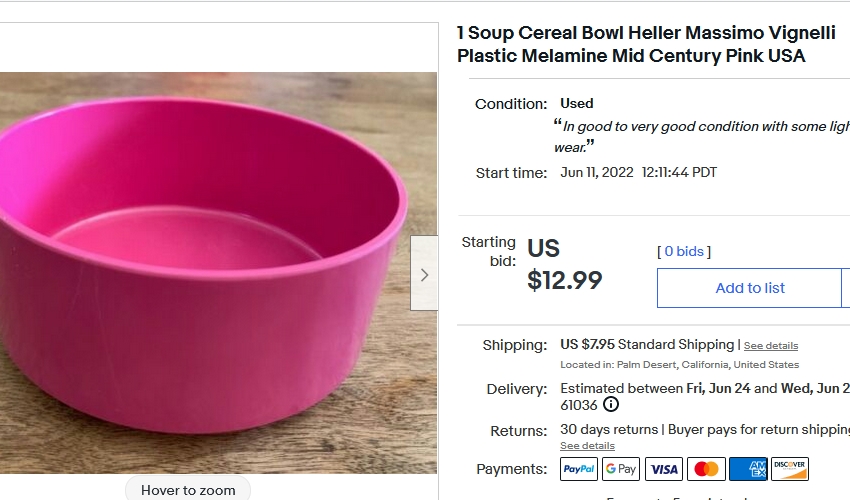 OK, to wrap up my San Diego trip I got a great picture of Paige and Lori.  So great to catch up with them!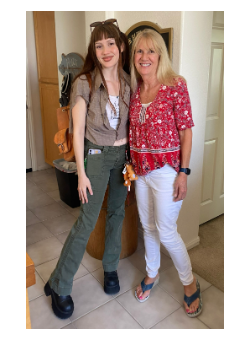 Oh, I almost forgot.  We went to see the coolest clothing consignment store in Encinitas.  It is called Flashback…it was fun to get some inspo.  Want to do one of our front window with some funky hanging baubles like these.  Where can I get something like those?
Oh and by the way, they do just BUY clothes outright at this location and let me tell you they pay hardly anything.  Pennies on the $.  Lori had a friend take in a vintage Ralph Lauren Polo Teddy Bear Sweater (sell for about $200+ on eBay) and they gave her $5.  BEWARE!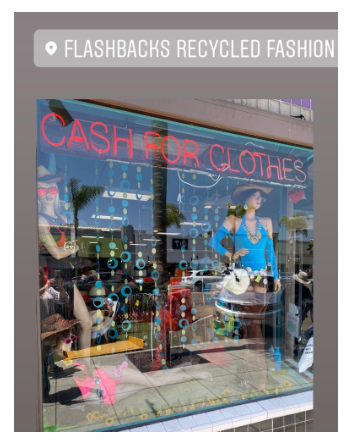 It was nice to be back in the store after San Diego.  Lots of new stuff coming in and we redid both of the front windows.  We now have a green garden theme on one side and a blue beach nautical theme on the other side.  These pics are just sneak peeks/work in progress so please stop by and check them out!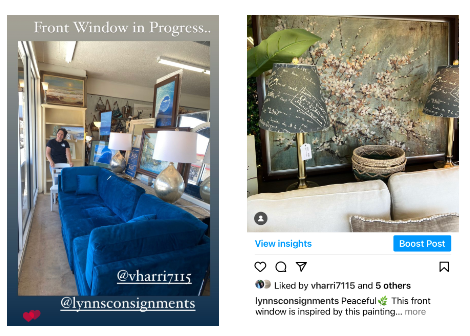 Here are some photos of just a few of the vignettes and a shopper!  By the way, we APPRECIATE you our Customers and Consignors sooooooooooo much!  Without you, we wouldn't be able to do what we LOVE everyday.  We LOVE being able to offer you a stress free and fun place to shop.
These photos highlight our botanicals.  These are reproductions, but are really well done.  Tons in stock and at $4.95 each for an 11 by 17″ print, you can't go wrong.  Click here to shop  online store.  We do ship!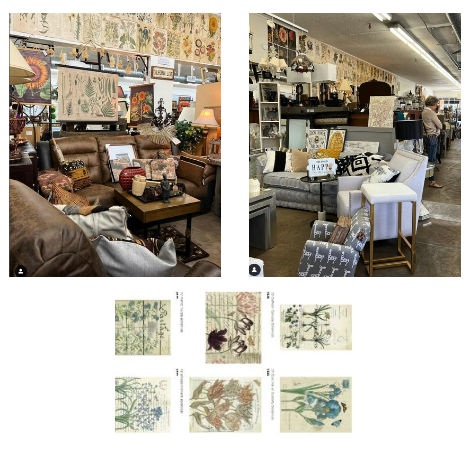 It also reminds me how much I love and appreciate my staff as well. Check out this screen shot of one of our group texts. Susan was asking if anyone wanted some fish that they had caught in Alaska and that is how it started….. AAAAWWWWW….warms my heart!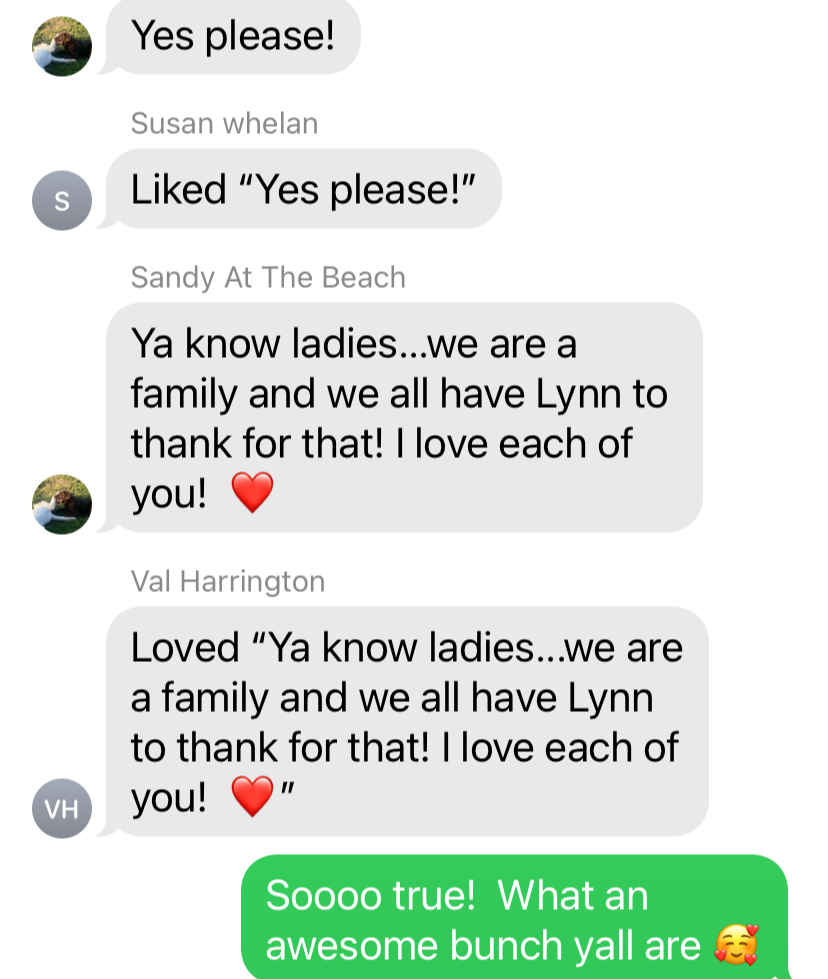 Indiana has been on fire as far as her career is going!  Seriously, she has booked so many comedy and cabaret shows that I can hardly keep them all straight.  I do make a point to attend every single one.  I must admit that it is getting a bit more difficult with one practically every weekend.
The show she had on Friday, May 6th was with some older comics.  We weren't sure what to expect!  Here is the flyer for the show and me getting stuck at the corner of Hollywood & Vine.  UGHHHH!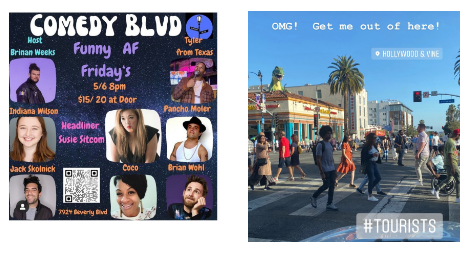 I met the kids and their dad before the show for dinner at our favorite Italian restaurant Spartina.  It was actually fun to catch up with William and I even invited him to our housewarming party that would be taking place in just one week, on May 15th!  Yikes….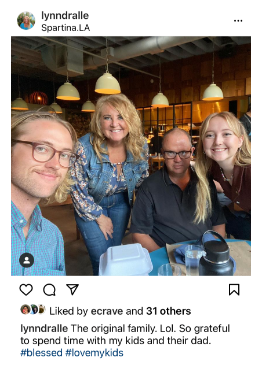 Just for fun, a throwback photo of William and me back in the day.  We were skiing with Dean Factor (best man in our wedding) and his girlfriend at the time, Shannon Doherty.  LOL!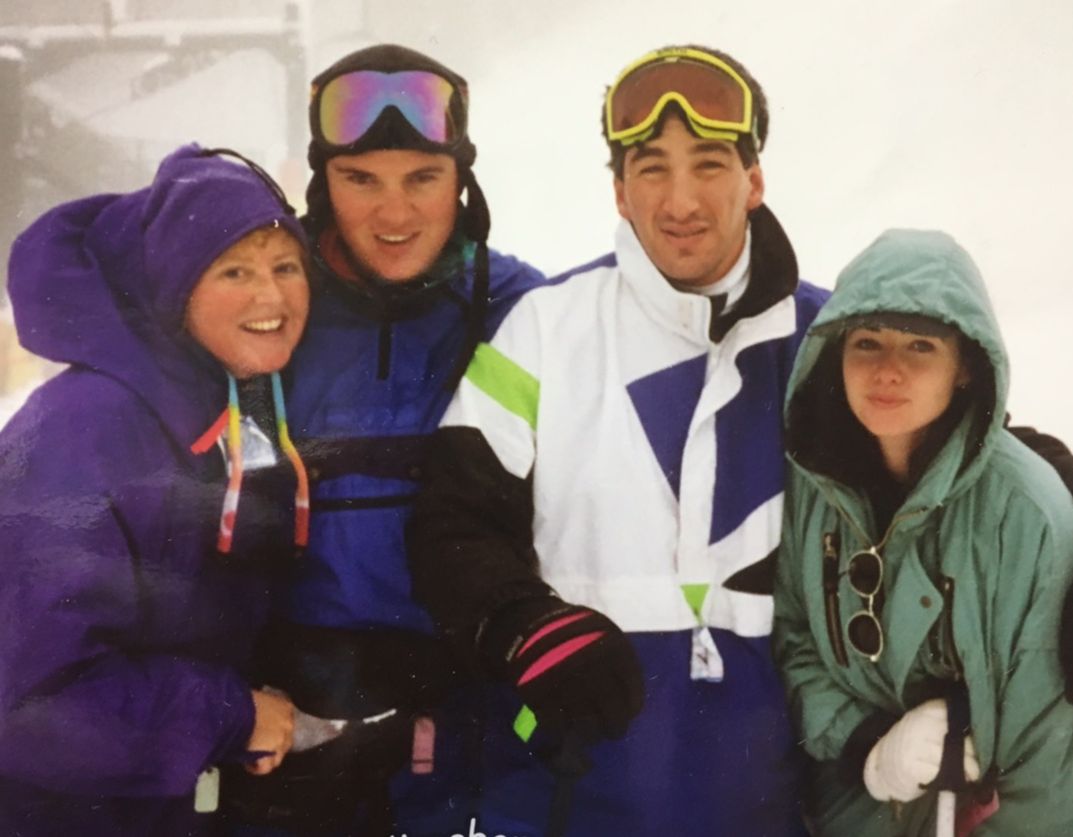 We ended up celebrating Mother's Day that evening as well since we didn't know if the kids were going to come out to Ventura.  Indy posted this sweet Instagram post for me and look at this photo I posted of my mom, dad and grandma Cheryl Leaf leaving the Bloomington, Indiana hospital with me!!!!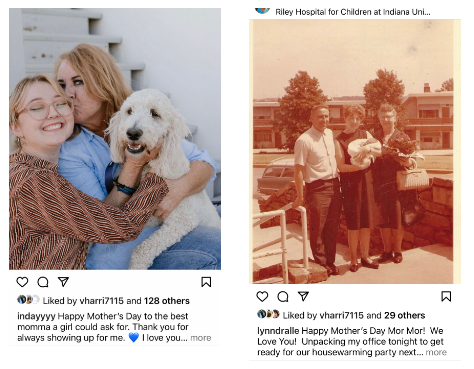 Indiana's show later that night was let's just say "interesting".  I am glad that it was just her "original" family there to see it and not my usual crew.  Most of the comics were in their 30's and 40's and Indy was the only 22 year old baby.  Here is an after the show photo to put things in perspective.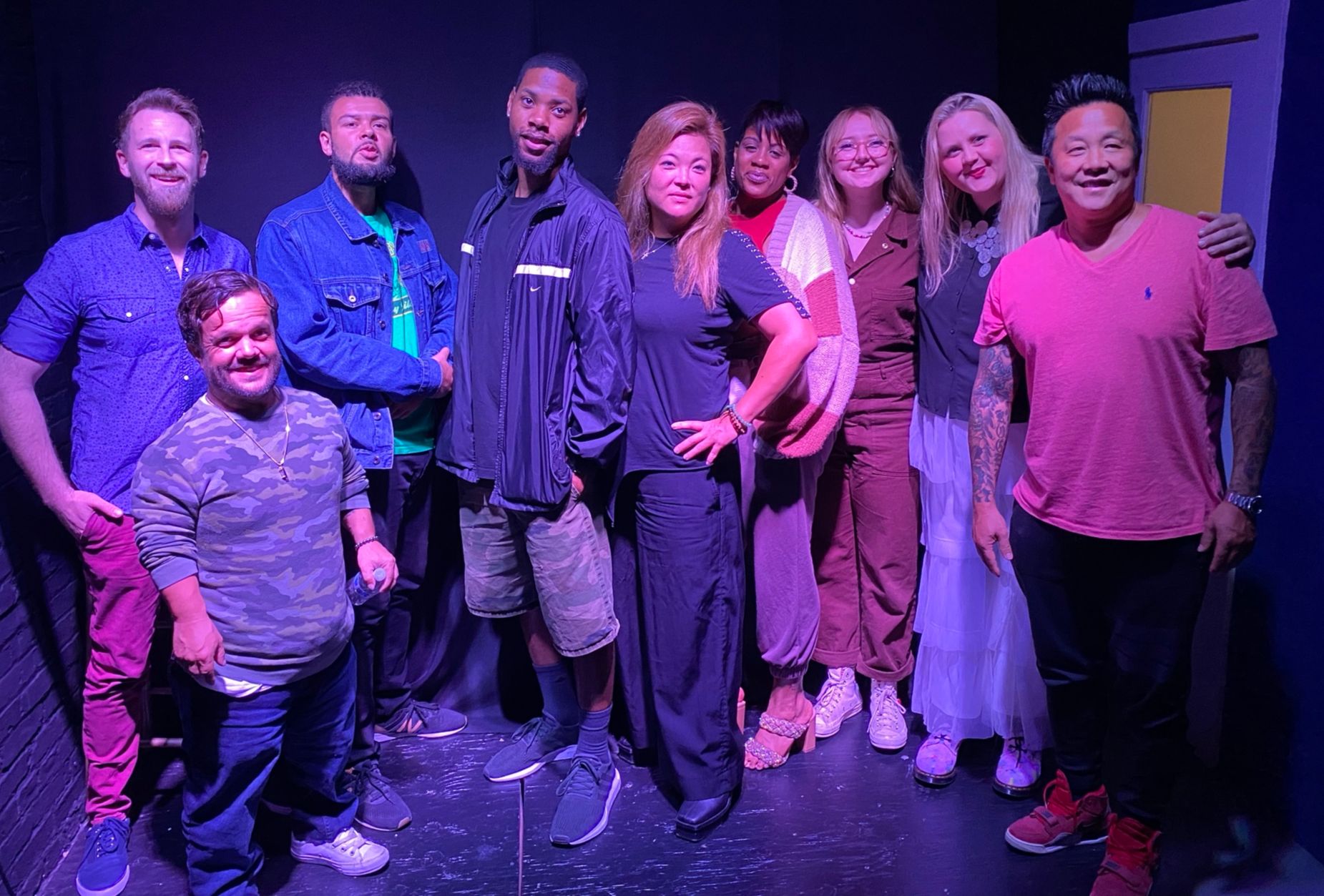 Back to reality and no more about my daughter who is chasing her dream!  By the way, I fully support her going for it and we even have a fund CMDF (the Chasing My Dream Fund) of which I pay her $15 an hour to pursue her craft. Its a win-win…especially when she buys me that beach house I have always wanted :)!
OK back to the housewarming party that I had scheduled for May 15th that was consuming most of my energy!  I wanted every box unpacked and my house decorated and finished!  Well, we are never really "finished" are we?  But, it was a good goal for me.  We had purchased the home in November, and I gave myself 6 months to get it "finished".  LOL!
Here are a few shots of my personal "vignettes".

Before I get to our epic housewarming party, I need to tell you about the Groundlings!!!!!  I just couldn't get away from talking about the CMDF and Indy could I?  Oh well, it is pretty exciting!
The Groundlings are a famous LA Improv Troupe.  Indiana had to "audition" for a place in their basic class.  Yay!  She got in!  So proud of her.  Check out these pics of her before the 1st class and after.  Too cute!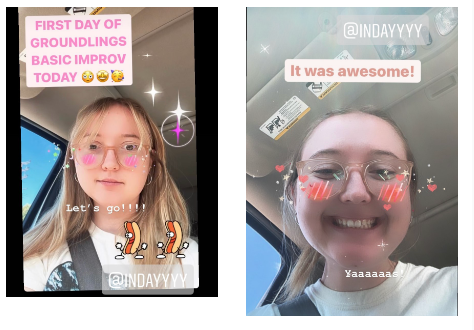 OK, on to the housewarming party.  I ordered a ton of food and booze and when the ginger beer arrived, I was like "Damn, I messed up".  First party fail as it has no alcohol in it.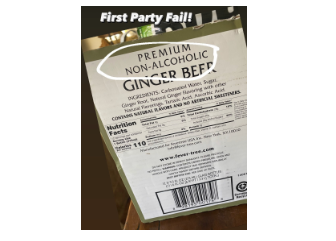 Well, come to find out, Ginger Beer is NOT supposed to have alcohol in it.  WTF?  Well, I learn something new everyday.  LOL.  But before I get into all of the fun shenanigans that went down at my party, let's talk about our upcoming classes.
The first one is our calligraphy course on Sunday, July 10th from 12:30 to 2:30 pm.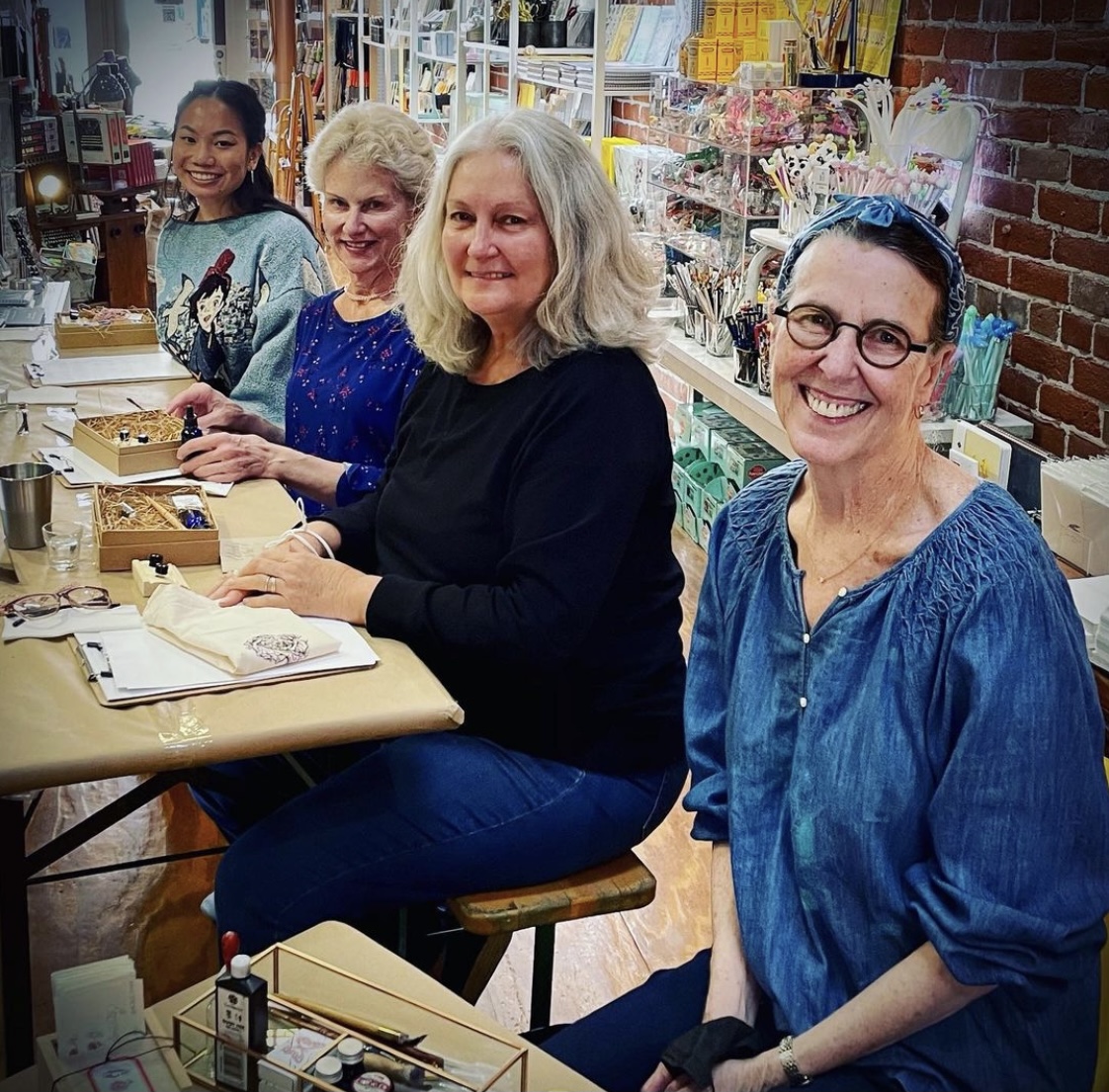 Her last class was a huge success!   and these are being taught by one of my very first consignors…Joy Goldowitz!
She is a teaching dynamo!  Her course "Calligraphy:  The Art of Beautiful Lettering" will be offered on Sunday, July 10th from 12:30 to 2:30 pm.
The course is just $59 and includes a gift box full of calligraphy supplies!  What?  This is unreal 🙂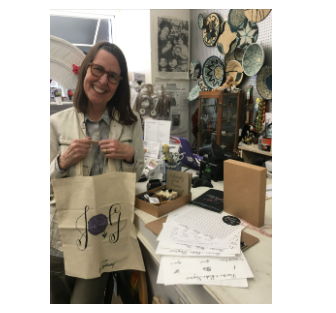 Joy is a retired (after 37 years) elementary school teacher.  She is a lover of the relaxing art of hand lettering, beautiful inks and stationary of all ilks.  She is a passionate teacher who happily loves sharing her techniques with others.  She will guide you on a journey creating lovely letters to embellish words, names, addresses, cards, gift tags etc.
OMG!  I want to take this class!
We have also decided to schedule caligraphy courses through the end of the year.  So, if that date doesn't work for you.  Hopefully, one of these will!
Sunday, August 21st
Sunday, September 11th
Sunday, October 9th
Sunday, November 13th
We will be scheduling an Annie Sloan Chalk Paint Class and an Iron Orchid Design class for sometime in July.  Please let us know your preferences if you are interested…..evening? afternoon? weekend?
In the meantime our most recent Annie & IOD classes were a huge success. Thank you Sandy for doing such a great teaching job!   Here they are at the Annie Class on Saturday, May 21st.  Check out that dark brown wood console that retails for $115…wait until you see what they did to it!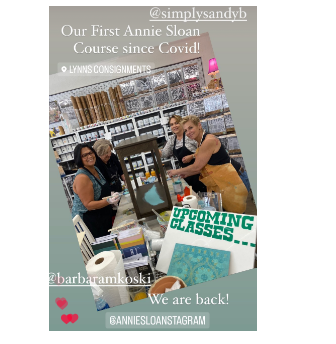 Here is the "after" of that same console after a few coats of Annie Sloan Provence and an Iron Orchid Design Paint Inlay.  "Ooh La La" as my grandmother used to say.  It sold three days later for $179.50!  Amazing what a little bit of paint and imagination can do!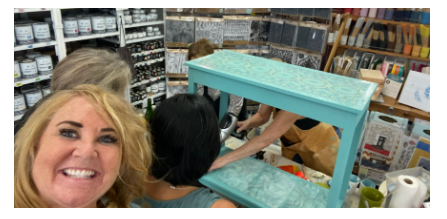 Before I get into the housewarming party, I think it is time for an eBay score!  Don't you?  OK, check this one out…..Click here to see the listing.
It is from one of my Queen's Court Members, Sherri Mertle!  She emailed me this a few weeks ago….
"I hope this message finds you well and enjoying life.  😊  I'm doing fine.  I tried once again to retire from eBay but then a bunch of surprise expenses popped up.  The main reason I didn't want to sell anymore is because I DETEST the record keeping and bookkeeping and taxes.  But with mounting bills, last month I realized I had to suck it up and start over again.  Sales are pretty slow overall and it's rather discouraging.  However, yesterday I had a wonderful SURPRISE Jewelry SCORE that lifted my spirits a bit and I just had to share with you.
This pin came in a large jewelry lot and I paid about $3.45 for it.  I didn't even notice it in the photos but as soon as I picked it up, I knew it was something special … just didn't know HOW special until the auction ended yesterday."
OMG!  9 bids and sold for over $400!  Way to go Sherri!  And in an ending note,
"Oh, and one more thing to share.  If you ever know someone who plans to retire from eBay selling, encourage them to hang on to their best merchandise … just in case.  I definitely regret liquidating all the wonderful jewelry inventory I acquired over the years, but it is what it is and I'm making the most of it.   Anyway, that's it for now.  Take care.  Sherri"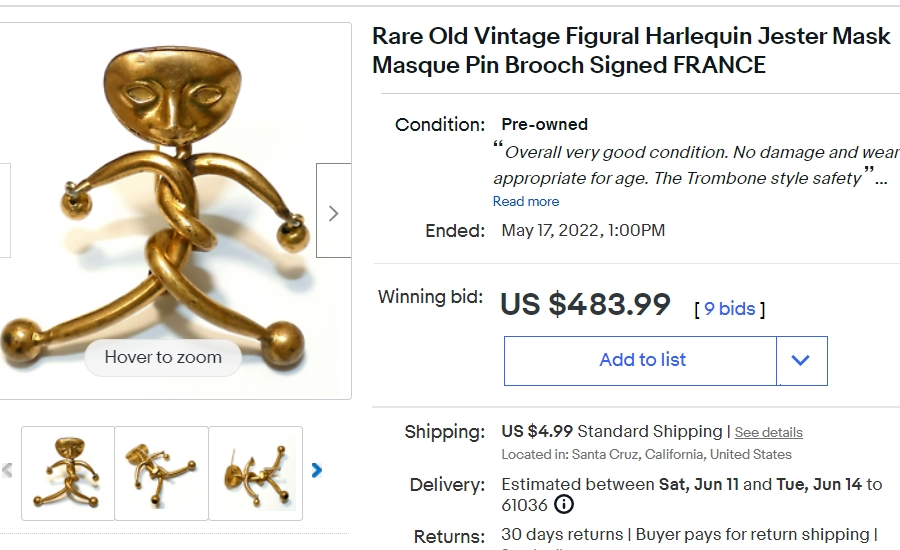 OK, Housewarming party time!  I was amazed at how many of my friends came out of the wordwork for it!  Seriously!  Our first arrival (early even) was Steve Kantor.  He is a friend from USC grad school that I haven't seen in 20 years (at least).  Indiana got a kick out of getting to know him because he was really good friends with her dad…and yes, he is drinking NON ALCOHOLIC Ginger Beer.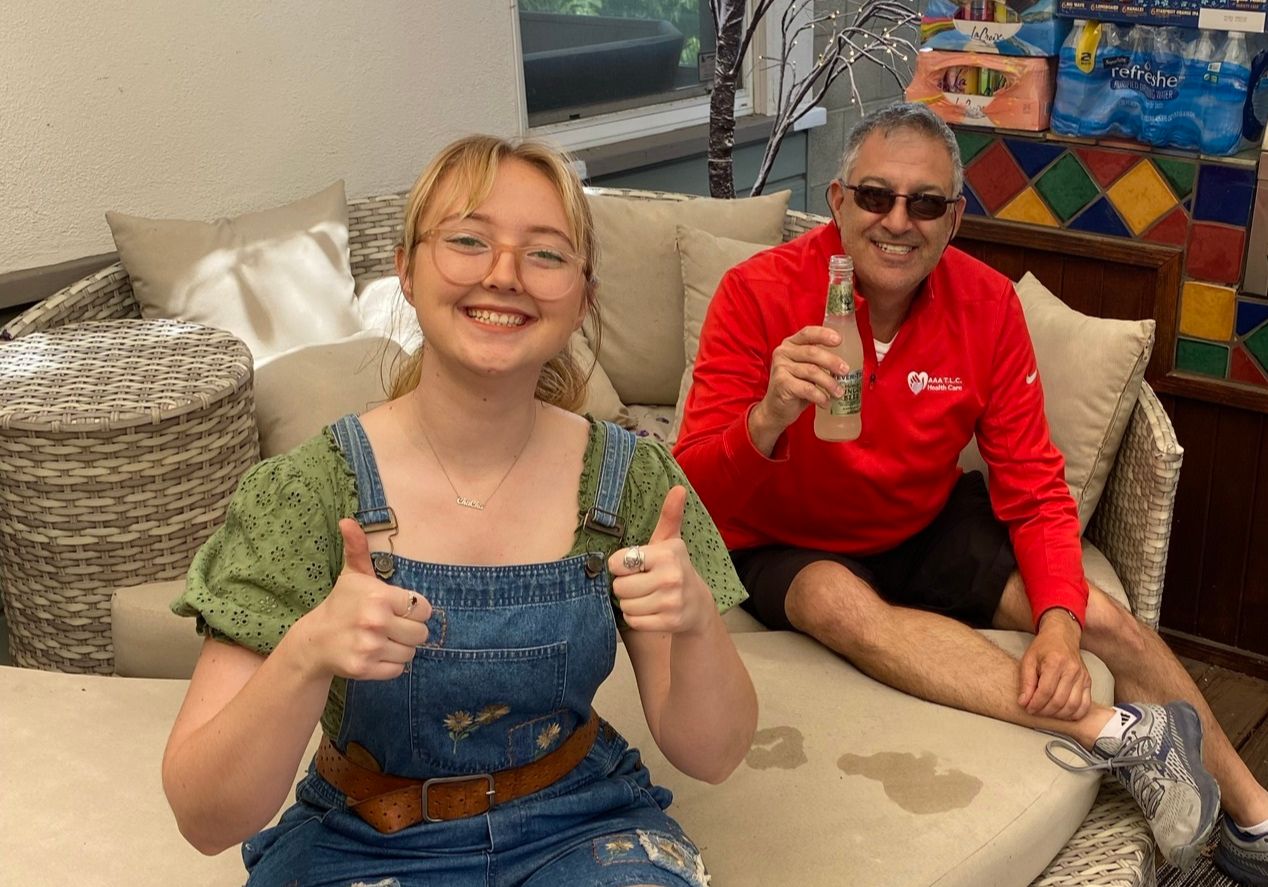 Then we had Gregg & Robin Kaufman show up from Woodland Hills. Gregg was also in our USC MBA class and he and I were partners in all of our group projects. Such a smart guy! When Robin's Mom passed away (about 15 years ago) in Palm Springs, they gave us her mom's Piano for Indiana. How crazy is that? We still have the piano so it was fun for Robin to play it (although she hated playing it growing up). Boy, can I relate to that….I HATED taking piano lessons.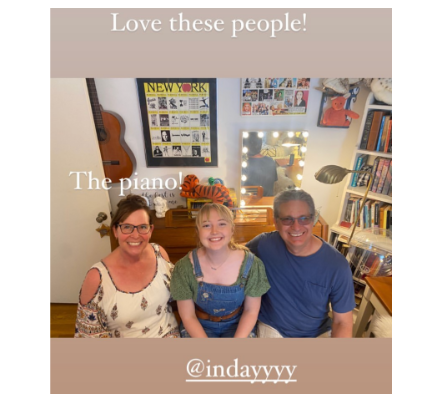 Now, time for a photo dump of our guests!  So many customers, consignors, neighbors and friends showed up.  Too fun!  That is Claudio & Maggie De Medeiros, Steve Burtch, George Kuzma and Bill & Susan Swisher.  How do I not have a photo of Pat & Bill Clark?  Darn it!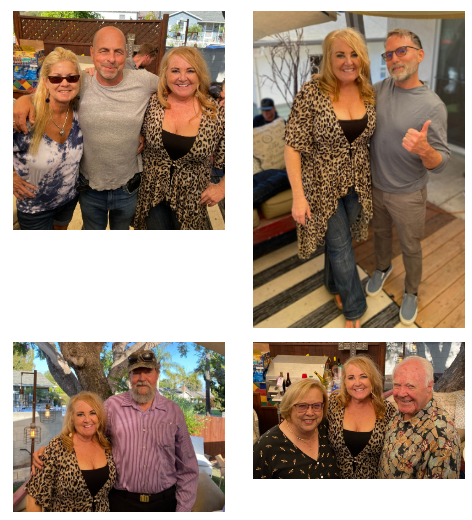 Then there were the employees…and more friends.  Another Photo Dump.  Sandy getting the party started with Jello Shots, Val & me, the girls and Sunny and Wayne & his new wife.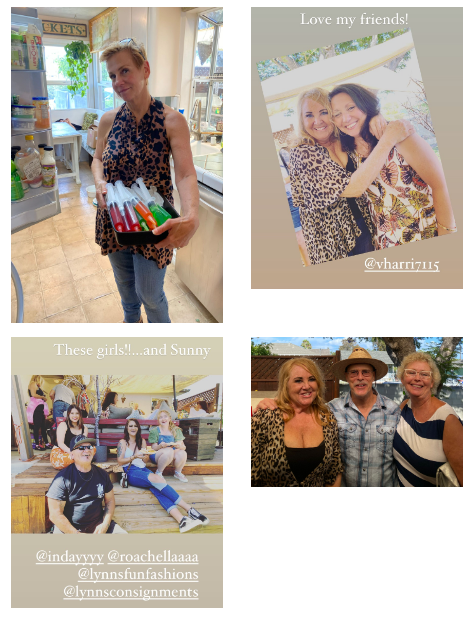 And then, Jeff & Joanne (my really good friends from USC & my realtors), Chris Wade from USC Spain Semester, some of my new neighbors and finally Cindy (eBay gal) and her husband Rob looking for lost eBay items…LOL…but seriously it is the truth! And they found them 🙂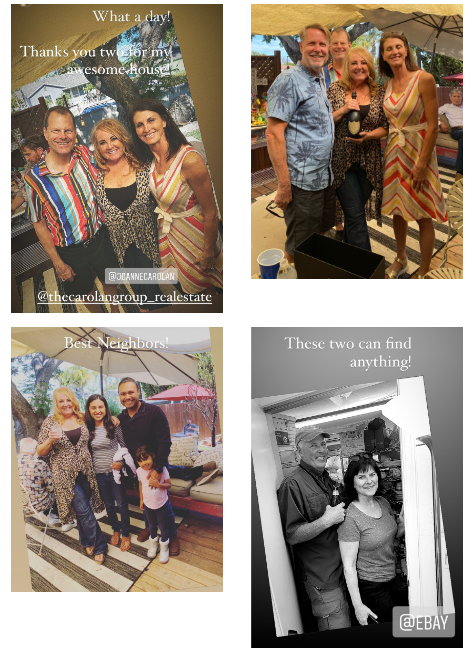 And finally, Jensen & her mom (Jensen watches Cha Cha at Send Rover on Over) and Cha Cha was VERY confused as to why Jensen was at our house.  And some more of my neighbors.  I have the best neighbors!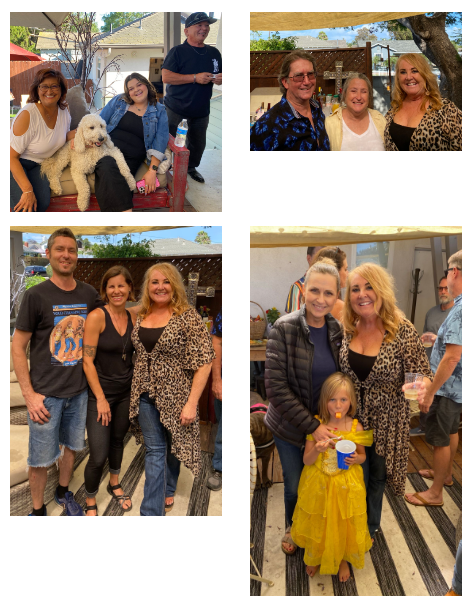 OK that was exhausting, but fun!  Seeing all of the photos brought a smile to my face….  And there are so many more photos that I didn't share!  We had over 60 people show up to the party and it was so much fun.  Thank you to everyone who participated!!!!  I am still working on those Thank You Cards.  Check out this photo of all of the housewarming gifts.  OMG!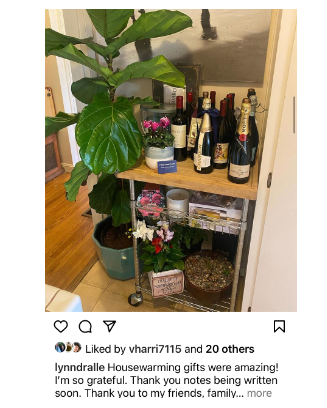 Indiana had a show almost every weekend in May.  If only I could get frequent flyer miles for driving :)!  Before each show, I take the kids out to dinner.  Bribery will get you everywhere!  We decided to try a new spot, The Melrose Umbrella Company.  Let's just say I am a FAN!  I ordered a martini and asked for a blue cheese olive.  Indio (the bartender) did not have any, but he went back into the kitchen to make one….service with a smile!
And then I met Marc, the manager, from Indiana and we became fast friends.   He LOVES my daughter and her name BTW.  She went back a few days later with some friends and Marc bought shots and a charcuterie board for the table.  LOVE this place!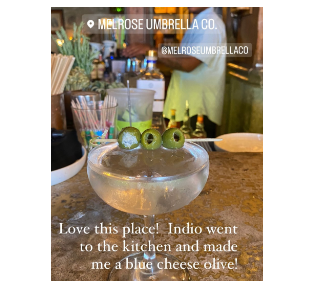 The show was awesome!  And some of Indy's friends from the Groundlings came to watch.  One of the gals, Krystal Ker, from Washington was on the West Wing for a season.  But, alas, it was Grandpa (Houston and Emma's Dachshund) that stole the show.  LOL!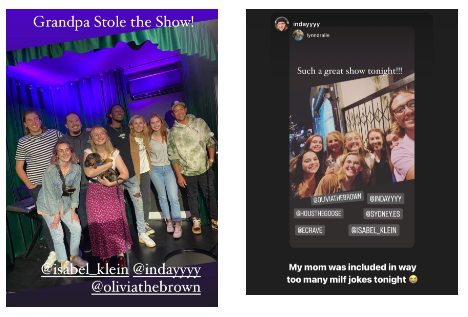 The next day was Khey Fest.  I love a good Country Concert.  There were four of us going, me, Marty, Sandy and Robin.  Sandy was the designated "snack lady" and snuck in a ton of good munchies.  Way to go Sandy!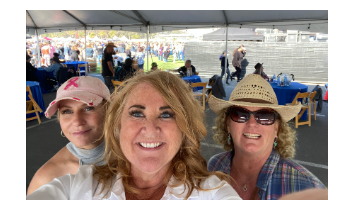 We had VIP tickets (always a good idea) and the acts were awesome!  Tenille Arts & Dylan Scott!  Can't wait for Boots & Brews this August with Cole Swindell.  I LOVE that we get so many great bands and entertainers to our little beach city.  Always so much fun!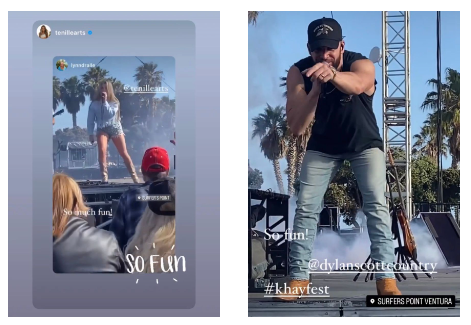 The next morning I was heading out to Palm Desert.  I don't normally go mid week, but my friend Mo needed a ride to a doctor's appointment so why not?  I was able to get some thrifting in…check out these coffee mugs I got at Revivals in Palm Springs.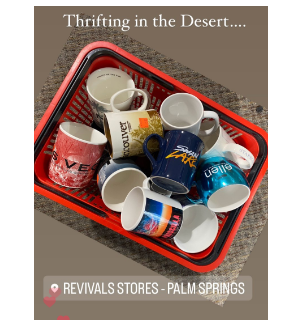 The Ellen mug is already listed at auction (way to go Mo!).  Just a heads up, when a show is going off the air or a celebrity passes you should always BOLO (Be on the Lookout) for any item associated with them.  I know it is morbid, but death and destruction sell.  LOL!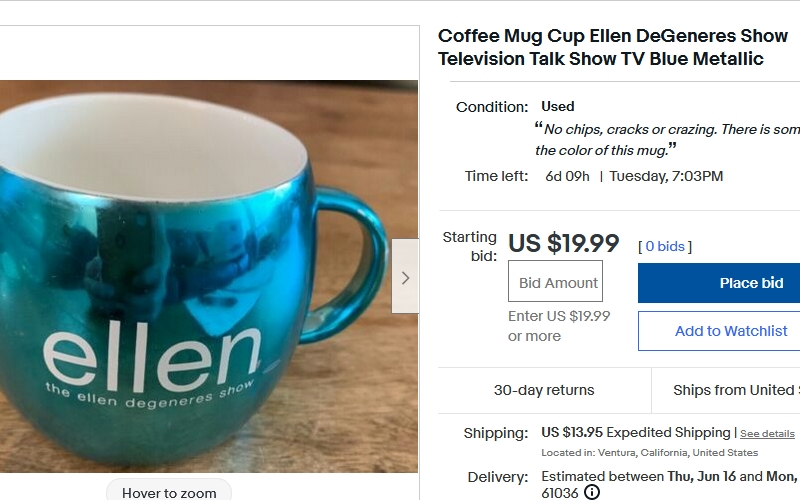 Super fun time in the desert with my best friends. We did dinner at the Old Spaghetti Factory one night. I LOVE that restaurant. Reminds me of growing up in Oregon & Washington and also travel baseball tournaments with Goose (aka Houston).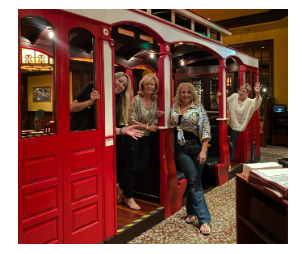 I was also able to visit my former neighbor, Sandra, at Lake Mirage.  She was the best neighbor and I miss living there!  We lived at the Lake Mirage Country Club for about 7 years so lots of good memories.  I am sharing a picture of Emma and I with Sandra that we took 3 years ago during a visit.  Time flies!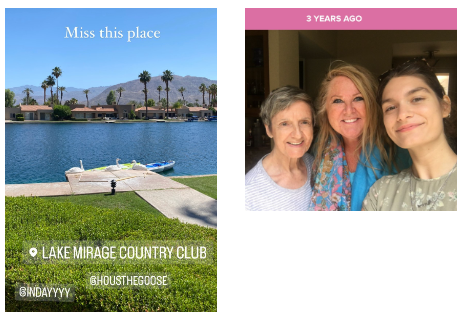 For those of you who may remember, Sandra was one of my first consignors, who sent me to Ventura with all of her awesome Folk Antiques.  Including, Harry the Horse!
Interestingly enough, I still have some of her items listed on eBay and the morning that I was scheduled to visit, we sold 4 dinner plates for $175 each or $700.  What a score!  Here is one of those listings.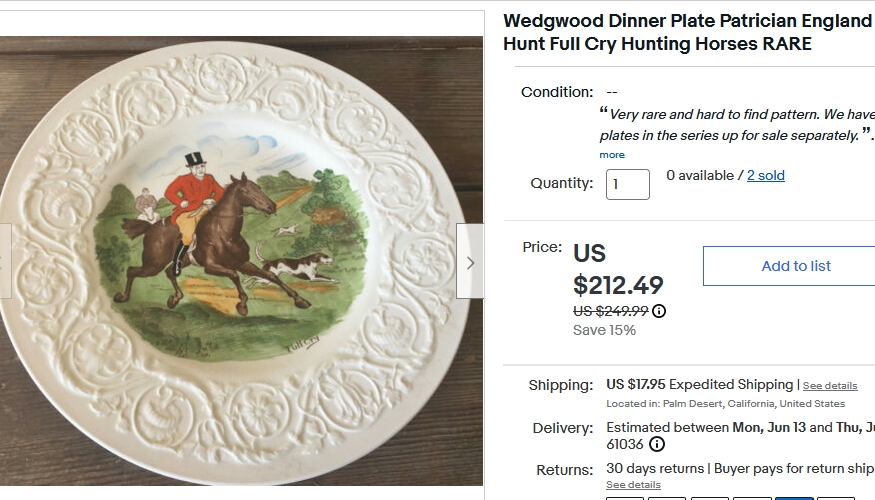 Time to talk about the clothing store!   We still have appointments available for you to bring in 20 of your best clothing items.  We are also now taking Mens items.  Please call or text the clothing store….
Land Line  805-628-9208
Cell Phone  805-470-6493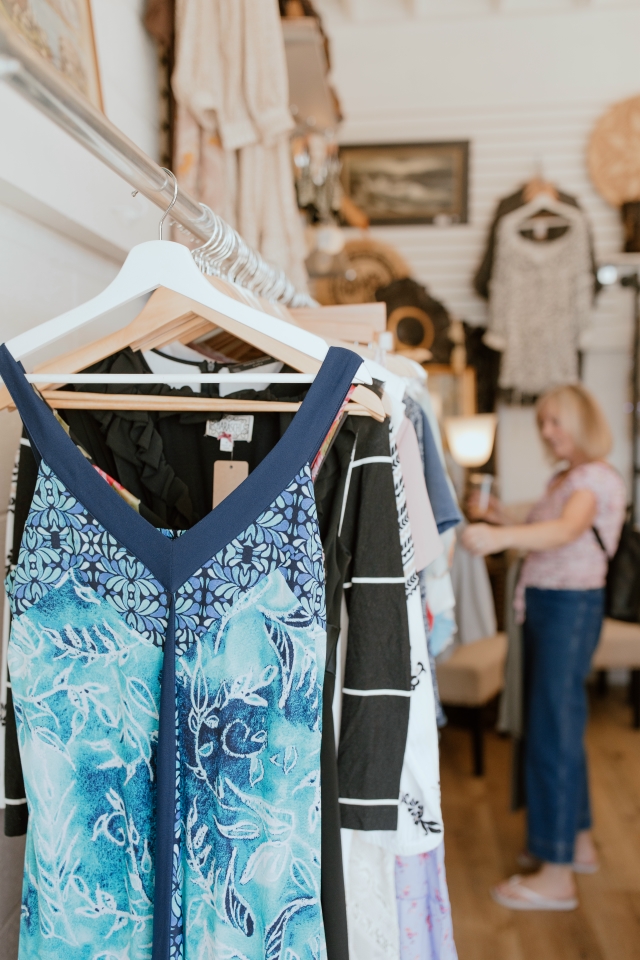 If you missed the email saying what we are looking for in clothing…please read it here before you come in.  Thanks!
After the desert it was back to almost normal life.  What is really normal anyway?  Laid low for most of Memorial Day Weekend (doing a two week cleanse so NO drinking) and just hung out with my puppy and kitty.  Because how cute are they?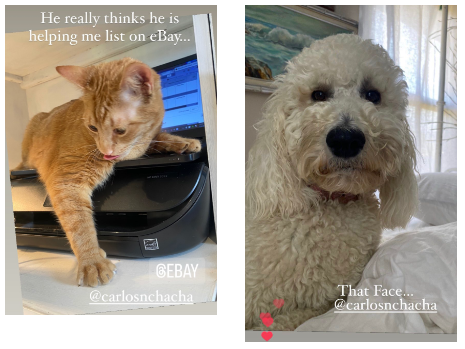 On May 30th, my nephew, Kai, turned 14.  OMG!  How?  When they were here visiting over Christmas, Kai was infatuated with the Bidet in one of our rooms at the Madonna Inn.  Hahaha.  So, for his birthday present, I bought him a Bidet seat that will fit on any regular size toilet.  Sent the huge package and told him not to open it until his birthday.  Well, the evening of his birthday, both boys (Zach and Kai) called me giggling.  Apparently, it was a huge hit….now if they can just get their dad to install it.  Fingers crossed!
Here are a few photos of us in the Country Gentleman's Suite.  Notice how everyone is on their phone…except for me & Kai who are playing a game.  He is always such a good sport!  Love that kid!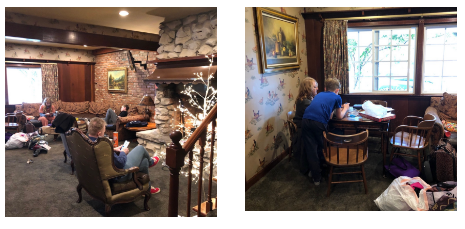 And, here is a photo of the boys giggling with Indiana as they eat Ice Cream for breakfast at the Madonna Inn.  Just like they were giggling when they called me about the Bidet and if you can believe it?  My mom actually had a photo of the toilet with the bidet….LOL!  Way to goooooooo Mor Mor!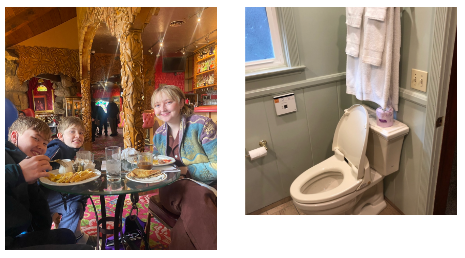 Indiana came home to get her hair done by Joey at Tupelo Honey.  He always does such a great job!  And it was just in time for her Cabaret show which was taking place on Saturday, June 4th in North Hollywood.  Here we are out to dinner at Water's Edge.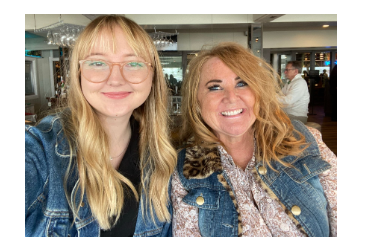 I was super excited for her Cabaret show because she was singing a solo, singing in a quartet and also doing stand up.  Such a treat!  Sandy and I headed down for the show and met up with Houston, Emma, Bella & Grandpa for dinner in North Hollywood.  Crazy, but North Hollywood (where I was a buyer for May Department stores for 5 years) is now known as the NoHo Arts District.  Who would have thunk it? (as my mom & grandmother would say)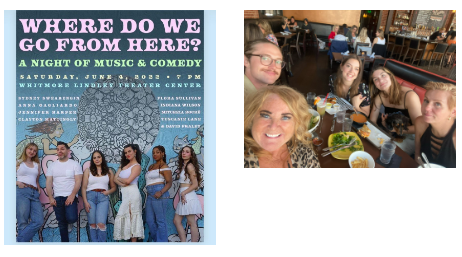 The show was phenomenal!  Such talent!  Here is Indiana performing "I'm Breaking Down" and "Bitch of Living".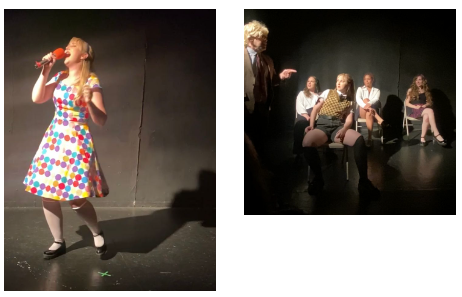 Afterwards we got a group shot and I took a photo of David Frayley (One of Indy's roommates & the piano player), Tim from Groundlings (Indy's new bestie), Indiana and Houston.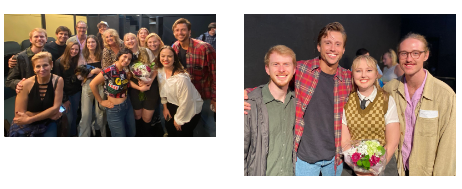 In not so good Cha Cha news, she somehow got a foxtail in her foot.  I don't know if it was at the beach or what, but it was not good!  She started licking her paw and rubbed it raw about 8 days ago.  I couldn't get her into the vet until this past Monday.  They shaved the fur and tried to lance it out.  After that, it got worse!  She couldn't even walk.  Ughhhh….
I finally took her to the Emergency Room (Horizon) on Wednesday and they put her under and surgically removed the Foxtail.  Luckily, they found it and she is on the road to recovery.  Although, it is 10 days of epsom salts and antibiotics.  And it only cost $786…  Poor Baby (her or me?)!  But, yes I do have insurance.  Can't wait to see if they pay this claim!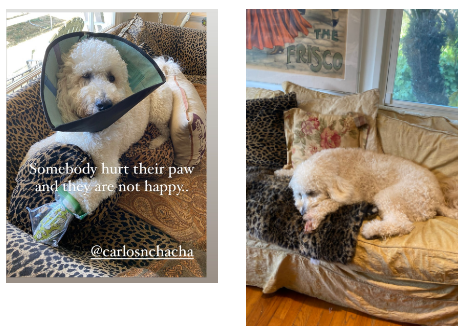 HEADS UP! We will have a clothing booth at the Lavender Festival in Ojai on Saturday, June 25th. Stop by and see us!
Thank you all for supporting me, my family and my businesses as I work on expanding….as you know I am building my empire!
eBay with Heart
Decorate with Heart
Dress with Heart
I try and do everything in my life in a big way and with a lot of heart! Thank you for joining me on this super fun journey. I appreciate you!
AND a HUGE reminder. We have Annie Sloan's NEW SATIN paint in and it is a game changer according to Val! No waxing is required and it goes on smooth as silk!!!! Yippppeee…I was only able to order 2 cans of each color so come in and grab them before we sell out! So much fun these days at Lynn's! Because you know, "Everyone Wins When They Shop at Lynns!"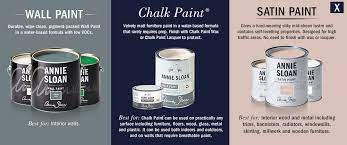 Take care and we hope to see you soon!  Sandy, Peggy, me and
Val!  Also, Candy, Cindy, Rachelle, Kailen, Robin, Susan & Shawnna (not pictured)….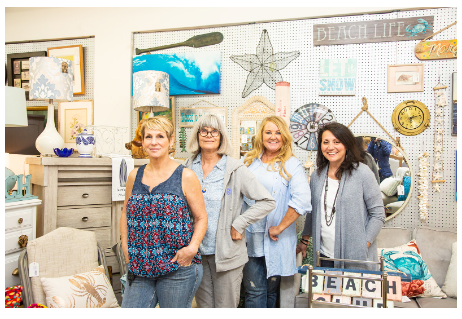 Thanks for reading my ezines!  I appreciate it….as always!
eBay with Heart, Design with Heart & Dress with Heart………Lynn
BTW, we now have a blog on the website where you can read all of our past newsletter
Link to Blog.
Past Newsletters
1  https://tinyurl.com/lynnslatest1
2  https://tinyurl.com/lynnslatest2
3  https://tinyurl.com/lynnslatest3
4  https://tinyurl.com/lynnslatest4
5  https://tinyurl.com/lynnslatest5
6  https://tinyurl.com/lynnslatest6
7  https://tinyurl.com/lynnslatest7
8  https://tinyurl.com/lynnslatest8
9  https://tinyurl.com/lynnslatest9
10 https://tinyurl.com/lynnslatest10
11 https://tinyurl.com/lynnslatest11
12 https://tinyurl.com/lynnslatest12
13 https://tinyurl.com/lynnslatest13
14 https://tinyurl.com/lynnslatest14
15 https://tinyurl.com/Lynnslatest15
16 https://tinyurl.com/lynnslatest16
17 https://tinyurl.com/LynnsLatest17
18 https://tinyurl.com/LynnsLatest18
19 https://tinyurl.com/LynnsLatest19
20 https://tinyurl.com/LynnsLatest20
21 https://tinyurl.com/LynnsLatest21
22 https://tinyurl.com/LynnsLatest22
23 https://tinyurl.com/Lynnslatest23
24 https://tinyurl.com/lynnslatest24
25 https://tinyurl.com/lynnslatest25
26 https://tinyurl.com/lynnslatest26
27 https://tinyurl.com/lynnslatest27
28 https://tinyurl.com/lynnslatest28
29 https://tinyurl.com/lynnslatest29
30 https://tinyurl.com/lynnslatest30
31 https://tinyurl.com/lynnslatest31
32 https://tinyurl.com/lynnslatest32
2nd Year….Volume II
01 https://tinyurl.com/lynnslatest01
02 https://tinyurl.com/lynnslatest02
03 https://tinyurl.com/lynnslatest03
04 https://tinyurl.com/lynnslatest04
05 https://tinyurl.com/lynnslatest05
06 https://tinyurl.com/lynnslatest06
07 https://tinyurl.com/lynnslatest07
08 https://tinyurl.com/lynnslatest08
09 https://tinyurl.com/lynnslatest09
010 https://tinyurl.com/lynnslatest010
011 https://tinyurl.com/lynnslatest011
P.S.  All of the professional photos I use on Instagram, Facebook and in these newsletters were taken by my friend Denise's daughter, Jaclyn Sabo.  She is amazing!   To learn more about Jaclyn….https://www.jaclynszabo.com/
P.P.S.  If you have a friend who wants to sign up for this newsletter.