We are looking for some part-time help in Fun Fashions.  If you love fashion, please reach out.
The Palm Desert girls were here for a few days and it was FUN!  But I am exhausted 🙂  We stayed around Ventura, but did manage to visit the Ronald Reagan Presidential Library and see the Auschwitz exhibit.
Such a Powerful exhibit. I loved this quote at the end and really took it to heart.
Back in 2017, I visited Krakow and toured Auschwitz and Birkenau with my kids.  If you want to read about our trip to Poland you can check out this past ezine.
Here is the gate to the entrance of Auschwitz.
The wrought iron sign says "Arbeit Macht Frei" which means "Work sets you Free." What a terrible, terrible place. The tour was long and cold. I was exhausted from walking up and down the worn stairs, seeing the torture chamber, the execution wall and walking through the gas chamber. If I couldn't handle a four hour tour, how did the people who were sent there even survive?
It made me realize how awful this place was and what a dark place it must have been for its inhabitants. I almost threw up in a few of the rooms. Seeing what these poor, innocent people went through on a daily basis is too much to even comprehend. But I do realize how important it is to recognize that this can NEVER happen again.
Thank you for letting me share that.  For those of you in Southern California, I highly recommend that you go and see the exhibit in Simi Valley.
Now, for our new arrivals.
This charming Turquoise Dresser Mirror is priced at $125.00!
Chanton Leather Sofa Blue $795.00
Live Edge Wood Console Table $195.00
Hutchins Leather Power Reclining Sofa With Power Headrests Ivory/Brown! Brand new at $695.
Plaid Cushion Bench Mud Room Bench $249.50
Media Cabinet Light Blue $125.00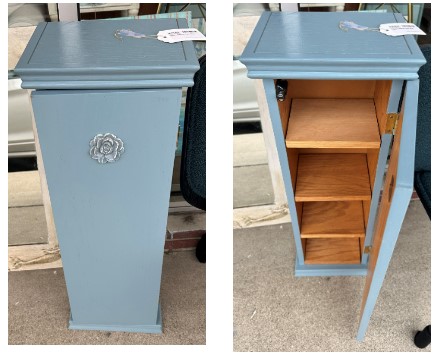 Turquoise Blue Rolling Coffee Table $95.00
Name Brand Storage Chaise Lounge with Lumbar Pillow Beige.
$249.50.
Ethan Allen Side Table Nightstand $149.50 each – we have 2 in stock
Pottery Barn Rolling Desk Chair Black $145.00
Ethan Allen Raffia Bench $395.00
Thanks for checking out our new arrivals!
Remember to drop by our store or browse our website. We'll keep you posted with more cool things, and as usual, we really appreciate your ongoing support!
Take care and SEE YOU SOON! I am signing off with a photo of me, Houston and Indiana after dinner at the oldest restaurant in Poland from our 2017 trip.
Thanks for reading my ezines!  I appreciate it….as always!
eBay with Heart & Design with Heart……Lynn
Past Newsletters…All can be found on our Blog.
P.S.  If you have a friend who wants to sign up for this newsletter.