Happy Thursday! We survived Cabo!  It was soooooo much fun!  Re-entry has been a little bit difficult.  I read 5 books on vacation and barely touched my computer.  What a treat!
One more fun pic from our trip.  We did go into town one day and had to hit up Squid Roe.  A LONG time favorite!
The last time I was in Cabo was December 2011 on a cruise with my family.  It was the last trip we would take with Kiki before she passed away in March of 2012.  Here are her boys, Zach and Kai dancing on the exact same ledge that is behind us on this recent trip.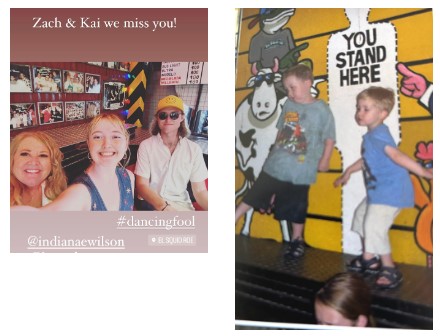 We arrived back in LA on Sunday night and I spent the night at the kids condo in Marina del Rey.  The next day was Houston's 27th Birthday and I took the kids out for breakfast.  So fun!   But more about that in my big ezine at the end of the month.
For now, here are the two Instagram posts that Indy did for my birthday and for Houston's.  She is really funny!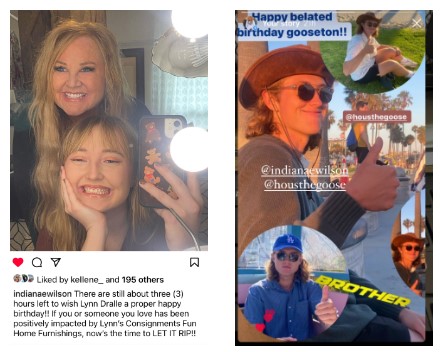 Before I forget, I need your HELP!  We do only one ad per year and it is in the Ventura Visitor Inspiration Guide.  We LOVE this publication.  For the past two years we have used this green picture of Indy with Cha Cha which I love.
These are the contenders for this year's ad.  Please vote for your favorite 🙂  Thanks!  Email  me your choice!  Photos by Kimberly Wallace 🙂
#1  Red Room
#2  Orange/Yellow Room
#3  Green Room
#4  Beachy Room
#5  Me & My Dream Team
Thanks!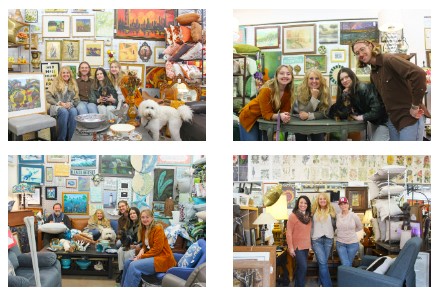 Now for new arrivals.  Swing by our store or check out our website online to see more.
Here's some of our new arrivals and current inventory — Pine Corner Cabinet — currently priced at $245.00
This Heritage Dresser Looks Handpainted ad is stunning! Priced at just $495.00
Tropical Floor Lamp with Leaves $89.50
Antique Boot Wooden Shelf Bootery $495.00
Wicker Style Dining Chair $49.50 – 2 available.
White Modern Chair $49.50 – 2 available.
Distressed White Console with Metal Baskets $395.00
White Large Ladder $95.00
Wicker Shelf with Drawers $39.50
This Shabby Chic Painted Bench is the perfect addition to your indoor or outdoor space! Get it for only $65.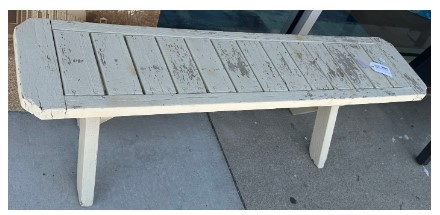 Small light Wood Ladder $75.00
This Devon & Claire Tianna Fabric Swivel Accent Chair Ivory just arrived today and it is gorgeous!  $395.
This very nice Heavy Quality Three Drawer Nightstand just came in as well.  $245.
Thanks for checking out our new arrivals!
Remember to drop by our store or browse our website. We'll keep you posted with more cool things, and as usual, we really appreciate your ongoing support!
Take care and SEE YOU SOON!
Thanks for reading my ezines!  I appreciate it….as always!
eBay with Heart & Design with Heart……Lynn
Past Newsletters…All can be found on our Blog.
P.S.  If you have a friend who wants to sign up for this newsletter.