Well, I had the SURPRISE of my life this past Saturday night.  Seriously…I think I am still in SHOCK!
As many of you know, I returned from Mexico last week and then worked all week.  And Friday night Indiana had a show in North Hollywood.  It was a late night!  I had to work all day Saturday and Sandy, Val and the store gals wanted to take me out for a birthday drink after work.  I did not WANT to go.  I was exhausted.
On the way to meet them at Gigi's, I got a text from Sandy that said….
"Are you coming to GiGi's?  I can't stay long because I have the dogs.  Doug is in SF.  Cindy and Robin are here with me.  Susan & Peggy can't come."
I was like, Seriously WTF?  I said to Val, "I don't want to go…do I have to?" and she said "Oh come on, it will be a quick drink."
So, I walk in the door and it is dark, but I see balloons and a lot of people.  I don't think anyone said "Surprise", but BOY was I surprised!
Thank you to everyone who showed up.  It was beyond epic.  As I was walking towards Sandy while they were singing Happy Birthday she said I looked mad and I think I even punched her arm.  LOL!  Here I am with Sandy and Kelly after I calmed down :)!
I don't know how Sandy pulled it off, but I had absolutely NO CLUE!
There were so many friends, consignors and customers there…it was awesome!  I will share more details and photos in the big ezine at the end of the month, but for now here is group photo.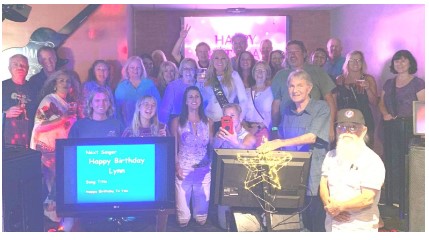 Well Sandy was telling me about all of the people that she invited and she said, "I text your kids and they never got back to me."
My response…."Oh well, typical.  They never text me back either".  Then I turned around and who was walking in?  Houston, Indy, Emma, Grandpa and their friend Alex.  JOY JOY!
Sandy even made home cooked food for the entire party!
Happy Thursday!  And now for some new arrivals 🙂
Huntington Leather Sofa Granite (Grey/Brown) $895.00
Teamson Home Ashton Wooden Round Dining Table With Faux Marble Top White(Marble)/Brown $249.50
Modus Furniture Tahoe 5-Drawer Chest Umber Grey(Black) $595.00
Canmore Leather Power Recliner With Power Headrest Cream $495.00
Opalhouse Designed With Jungalow Oversized Oblong Embroidered Decorative Throw Pillow Natural/Black $24.95  Two in stock!
Vintage Cast Iron Barn with 4 Farm Animals $145.00
Modus Furniture Tahoe Nightstand $295.00 each – 2 stock left
Urban Trends Ceramic Elephant Figurine Yellow 7″ $19.95 – 3 in stock.
Capodimonte Floral Arrangement $145.00
Kate & Laurel Apricot + Birch Framed Canvas Multi-Color $95.00
Outdoor Buddha Dark Wood Garden $295.00
Sara Gold Cream Lattice Swoop Arms Dining Chair Beige/Gold/Black $195.00
Naveta Led Table Lamp Brown/Beige Tones – 3 in stock! Price dropped to $55.96 each
Dorothy Thorpe MCM Large Serving Tray Atomic Sterling $236.00
Barron Upholstered Dining Chair Walnut/Grey $69.50
We have 7 in stock.
For those of you familiar with David Salk (he is a potter extraordinaire) from Idylwild, CA.  His pottery mimics actual Native American Indian Baskets.  Here is lamp that just came in.  Priced at $595.
And for some fun fashion items… Check out these bags from Myra Bag – the perfect companions for your on-the-go lifestyle!
Booklore Backpack Bag $55.95
Coco and Cream Hand-Tooled Bag Purse $134.95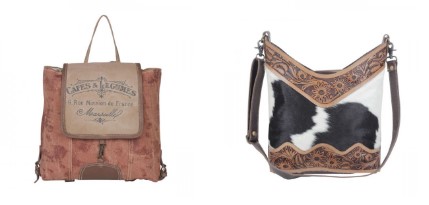 Concept Leather & Hairon Bag Purse $79.95
Leaf of Spring Concealed Bag Purse $79.95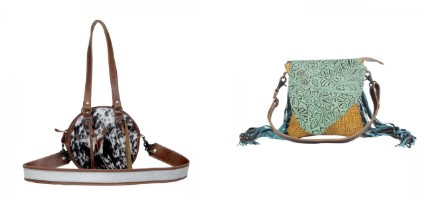 Our store is jam-packed with awesome items.  But we can always use MORE! 🤩
If you have gently loved items you no longer use and want to make some easy extra cash, consignment is the perfect solution for you! Join us and turn your clutter into cash!
We just added a neat rustic clothing fixture to the main store in the black and white room.  How fun is this display?  Come in and see us!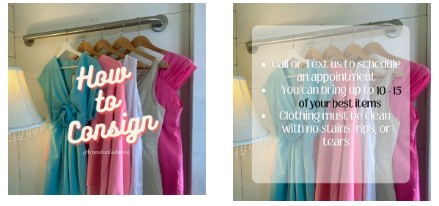 Fun Fashions
Land Line:  805-628-9208
Cell:  805-470-6493
Don't forget to visit us in-store or check out our website. Stay tuned for more updates and as always, thank you for your continued support!
Take care and SEE YOU SOON!
A photo of the gang from my Surprise Party!  Jane, me, Sandy, Denise, Robin & Val!  BTW, the lighting in Gigi's was not optimal LOL!
Thanks for reading my ezines!  I appreciate it….as always!
eBay with Heart & Design with Heart……Lynn
Past Newsletters…All can be found on our Blog.
P.S.  All of the professional photos I use on Instagram, Facebook and in these newsletters were taken by my friend Denise's daughter, Jaclyn Sabo.  She is amazing!   To learn more about Jaclyn….https://www.jaclynszabo.com/
P.P.S.  If you have a friend who wants to sign up for this newsletter.