My last ezine ended with Indy passing her milk training at Caffe Luxxe and my surprise birthday party! Which was epic…thank you again everyone & especially Sandy!
At the end of July, I got an invite from my friend Janette & her husband Ryan to take Cha Cha out on their boat to Lake Castaic.  Hmmmmm…should I do that on a Sunday morning or go to Fit Buddha?
It was actually a tough decision since I am very serious about my Fit Buddha workouts and MUST go at least 3 times a week.  It is kind of addicting, I must admit.  What was my decision….drum roll please…..I picked the BOAT!
Saturday, after the store closed, found me at Pet Smart shopping for Life Vests for Dogs.  LOL!  I had Cha Cha with me and she got wrapped around my legs and I fell down hard.  OMG!  I hit my knee and it was so painful (I don't think I could have done Fit Buddha the next day anyway :))
Here she is trying on her life vest at home before the boating day.
Welcome to Lynn's Latest #0008
Thursday, August 31st, 2023
Volume IV  Issue 0008
The next morning I drove to Janette & Ryan's house so that we could all drive together.  Since both of their boys were coming and bringing friends, they needed me to drive.  All good, until we had to go and pick up one of their son's friends way out in Santa Clarita.
Seriously, where in the heck were we?  Then we drove to the lake and it was packed.  The line was so long to get into the inspection area.  OMG.  Cha Cha was freaking out when she saw the water…not sure what that was all about, but I think she thought it was the BEACH…which she loves.  I honestly, don't think she has ever seen a lake.  The entire experience was a little stressful, I must admit.
Once we got the boat in the water, it turned out to be a lot of fun!  Janette & Ryan's boys are amazing water boarders and Cha Cha really seemed to enjoy her time on the boat.
Ryan even picked her up and put her in the water (The Cha does not like the water) but she managed to swim to shore.  All in all it was a super fun day!  Here are some pics!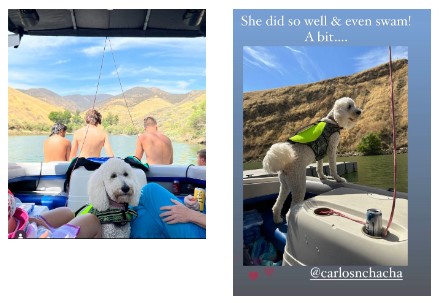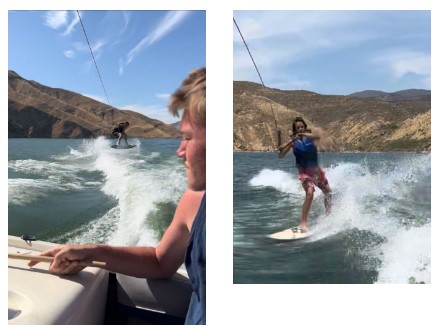 Time for an eBay score!  I have had this license plate since 2019 and it finally sold…for a best offer of $60 and it went to a body shop in Amarillo, Texas.  I bet they are using this for a refurbished car.  So cool!
Check out the original listing here.
When I first moved to Ventura and the store was only about a week old, I met the most amazing person.  Her name is Denise Angelini and she came in to the store with a mission….. to support a woman owned business.  She said to me "We are going to be friends" and I said "OK!".
She started setting up monthly night outs for a group of us women.  She is such a special person and a great designer.  If you need an interior designer, hit her up.
But I digress, those monthly night outs ended with Covid and we finally had one with the OG's (Original Gangsters) earlier this month at the Boatyard Pub.  So much fun!  Love these ladies sooooo much.  From left to right….Jane, Denise, me and Irene.
I had to leave happy hour with the girls early to go and meet Sandy at the fair.  We were going to see Midland.  Boy, do I love the Ventura County Fair!  Apparently, we always get a paid photo from the entrance (whether it is with Sandy or me and the Palm Desert girls…we ALWAYS do this).  Someday, I will have to share all of the ones I have.  LOL.  Here we are!
OK! the weekend after the fair was a wedding in Riverside.  I mentioned this in one of my earlier new arrival emails this month, but this wedding definitely deserves more ink.  Seriously!
My good friend Kimberly Wallace and her husband Mike's son (Jaron) was getting married.  Jaron had been dating Bella for 6 years.  So in love and so young.  21 and 22.  But the stuff that you live for!
I drove to Riverside early on Saturday and checked into the Mission Inn.  I had always wanted to stay there.  Such an amazing property.
I text Kimberly and said "Do you need any help?" and she said "yes, but it is super hot here…maybe you want to come out later".  I said, "I can get there early if you need help, but I don't want to be in the way and she said "I only have two friends coming to the wedding and I would LOVE it if you got here early."
Done and done!
I ironed my dress, had a martini in the lobby and got in an uber to be there early to support my friends of 30 years.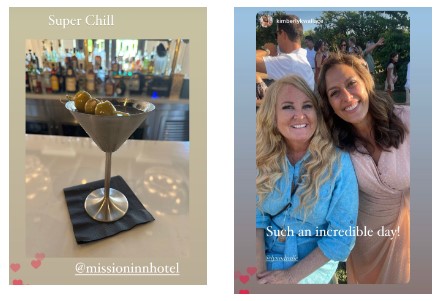 The wedding was off the charts sweet and the reception and dinner were so fun!  I was soooooo happy to be there.  Here are some fun photos from that night.  Nothing better than supporting your friend's kids.  Nothing better!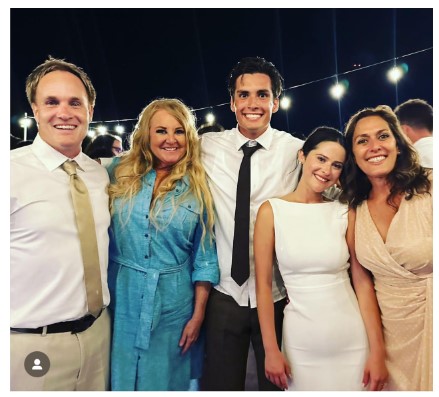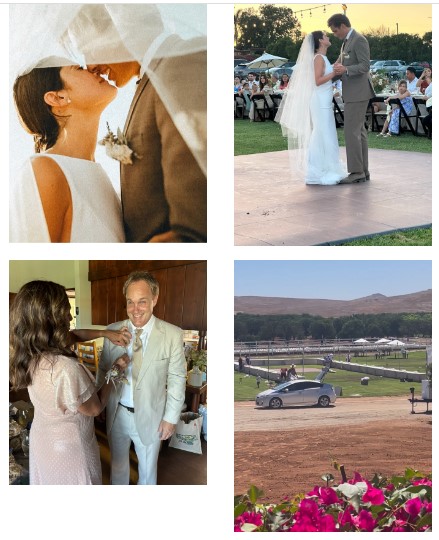 Turns out the day of the wedding was also Cha Cha's 3rd birthday….of course!
Luckily, Sandy & Doug had hooked me up with this amazing place in Carp to leave her.  Diane is amazing and she had an entire day and party planned for my girl.
LOL…seriously…check out these pics. So much better than anything I could have done!
There was a lot going on this year on August 5th. While I was at the wedding in Riverside, Cha Cha was celebrating her birthday in Carp, Houston & Emma were in Indiana attending a wedding at Notre Dame. Love this picture so much!
So the store has been super fun lately.  Val and I did a Barbie window a few weeks ago and OMG, I had no idea how much PINK we had in stock!  Apparently, pink doesn't sell very well, because we are overstocked.
The front window looks like someone barfed pink.  Hahahahaha….so much fun though.  Here are a few pics.  I LOVE the Barbie Logo that Sandy made for it.
Once we finished the Barbie window, Sandy put together a group outing for the Lynn's Consignment gals to go and see the movie.  We met up before the movie at Finnegans to have drinks and we were served by Peggy's son Brad who is a bartender there.  Fun!
I fell asleep during the movie though.  Hahaha I guess I was exhausted!
Picture on the left, Brad, me, Sendia, Robin, Sandy and Peggy.
Picture on the right, Robin, Cindy, Whale, Peggy, me and Sendia.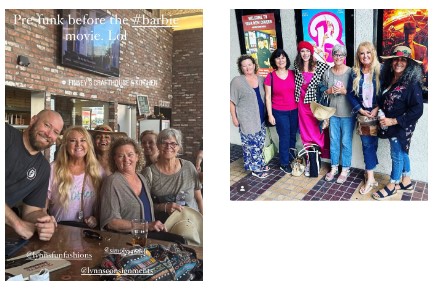 Time for an eBay score.  But, before I forget, I did a Griff interview this month.  We had the darndest time getting it recorded because my computer doesn't have the correct version of Windows, so I decided to use the store computer and it crashed!  I had to run to Walmart and buy a new one.  Stressful!
But OMG….we finally figured it out and got the episode recorded.  You can listen to it here.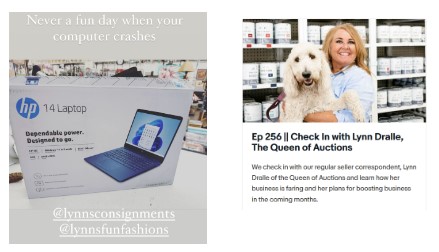 OK, now for that eBay score!  I LOVE this one because Houston & Emma came home to Ventura in July for an evening and we went to the Paradise Pantry for dinner and then hit some thrift stores.  Check out the actual listing here.
I bought this set of flatware at one of our local thrift stores for $40.  Just sold these two dinner forks for $123.19!  Total SCORE!
As many of you know, my August was crazy because I spent two weeks in Washington.  OMG!  Hard to be out of town for that long.
My adventure started on Wednesday, August 9th when Cha Cha got picked up for her road trip to Bellingham.
I worked all day, and that night I ubered into Marina del Rey to fly out with the kids the next day.  Houston couldn't decide whether or not to bring Grandpa.  So we asked Grandpa what he wanted to do.  LOL.  He wanted to come with us!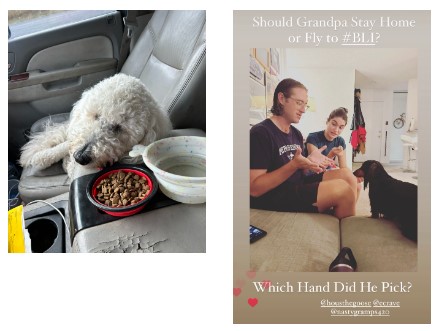 Our flight to Bellingham was pretty uneventful except for the crazy bus we had to ride on to get to Allegiant Air's outer terminal.
When we arrived into Bellingham, my mom Mor Mor was there to pick us up and take us to Anthony's for lunch.  We would be meeting my sister's boys, Zach and Kai there.  Marty would also be arriving with the Cha from Ventura and we all had a fun lunch.
The next day was my mom's big birthday party so we had a lot of planning to do.  So that is what we did all Thursday afternoon.
Then on Friday, the day of the party, Indy and I went into town around noon to pick up the pizza, more drinks, balloons etc.  We were too early to get the pizza, so Indy and I stopped for a quick drink.  LOL.  The weirdest place ever!
The party turned out great!  I think my mom (Mor mor) was very pleased.  We had the most people ever!  I think it was because it wasn't on a weekend day….it was on a Friday and in the summer most weekends are already booked.  Great success!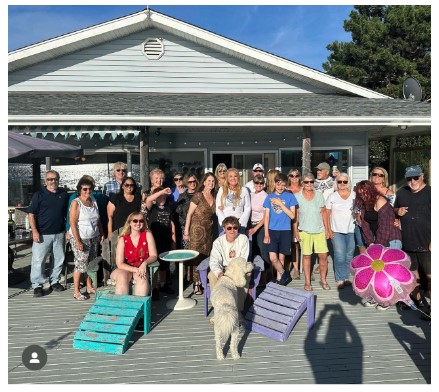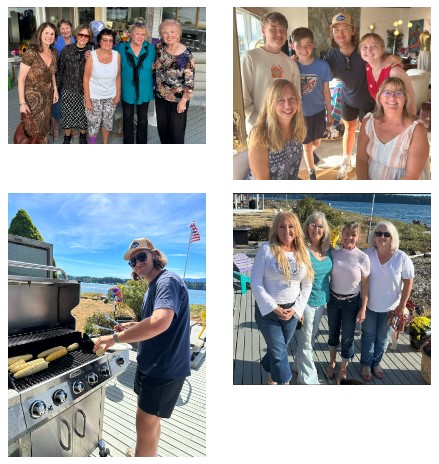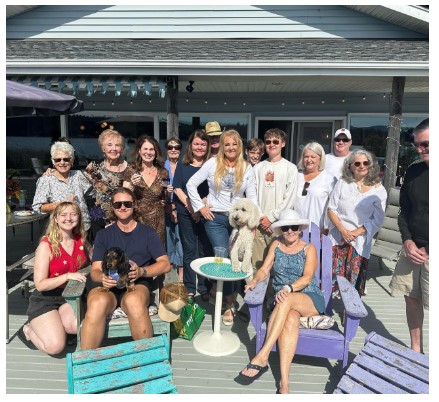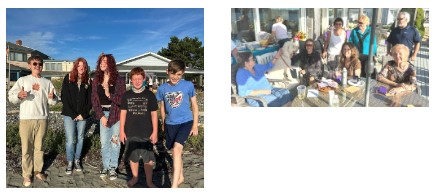 The next day was the Dralle Family reunion (that I planned) in Mount Vernon, WA at the Mclean Road Fire Hall.  Seriously?  It was epic.  We had over 50 people attend and I think it was so fun!
Growing up I had over 50 cousins and wewould always get dragged to these reunions at the SAME Fire Hall.  Used to hate going, but now it was a joy.  I did this in my dad's honor, because I really miss him.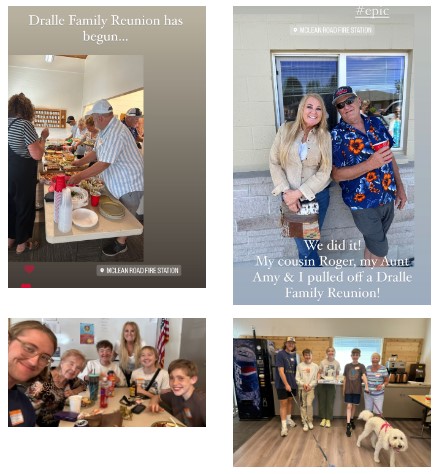 The kids left the next morning to head back to LA.  What a whirlwind for them!  I was stuck in Bellingham for another week, because my high school reunion was the next Saturday.
That Sunday, after the kids left, I reached out to one of my really great high school friends, Teresa Thornberg.  I hadn't seen her in years.  Luckily, we were able to meet each other for dinner.  So fun catching up!
Thinking about Teresa, reminded me that she was in one of my stories from Money Making Madness.  Here is that story!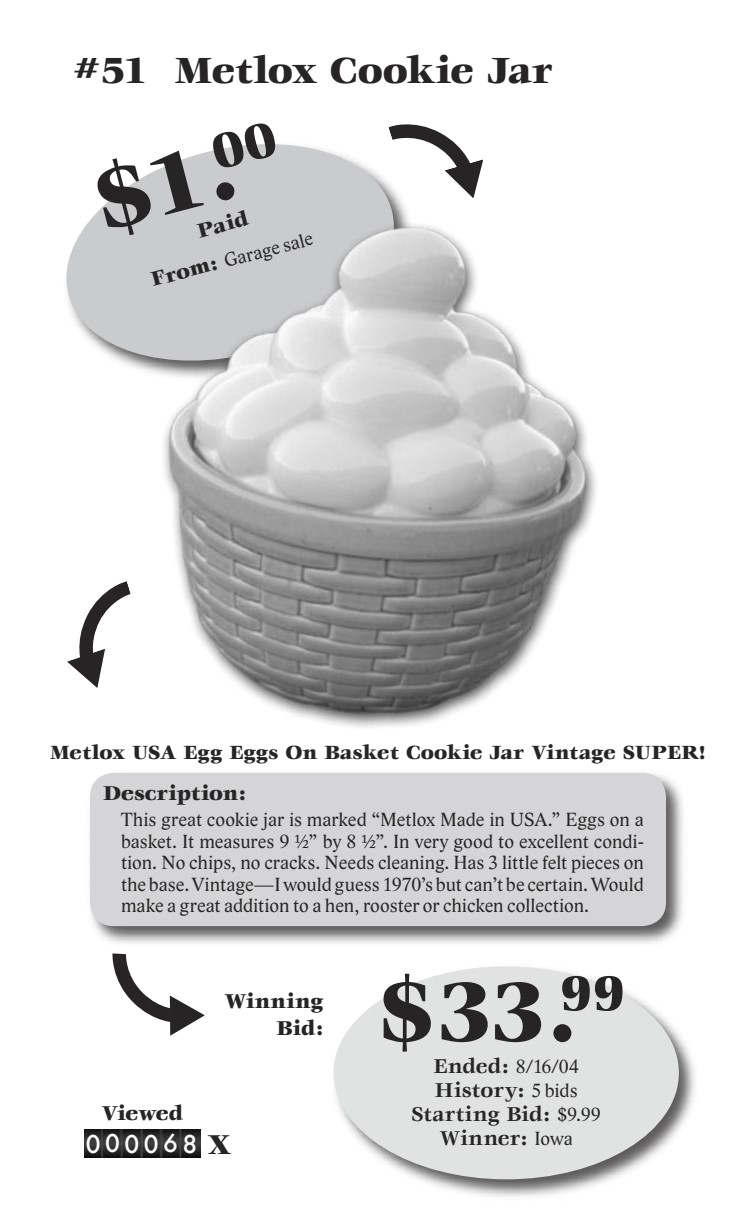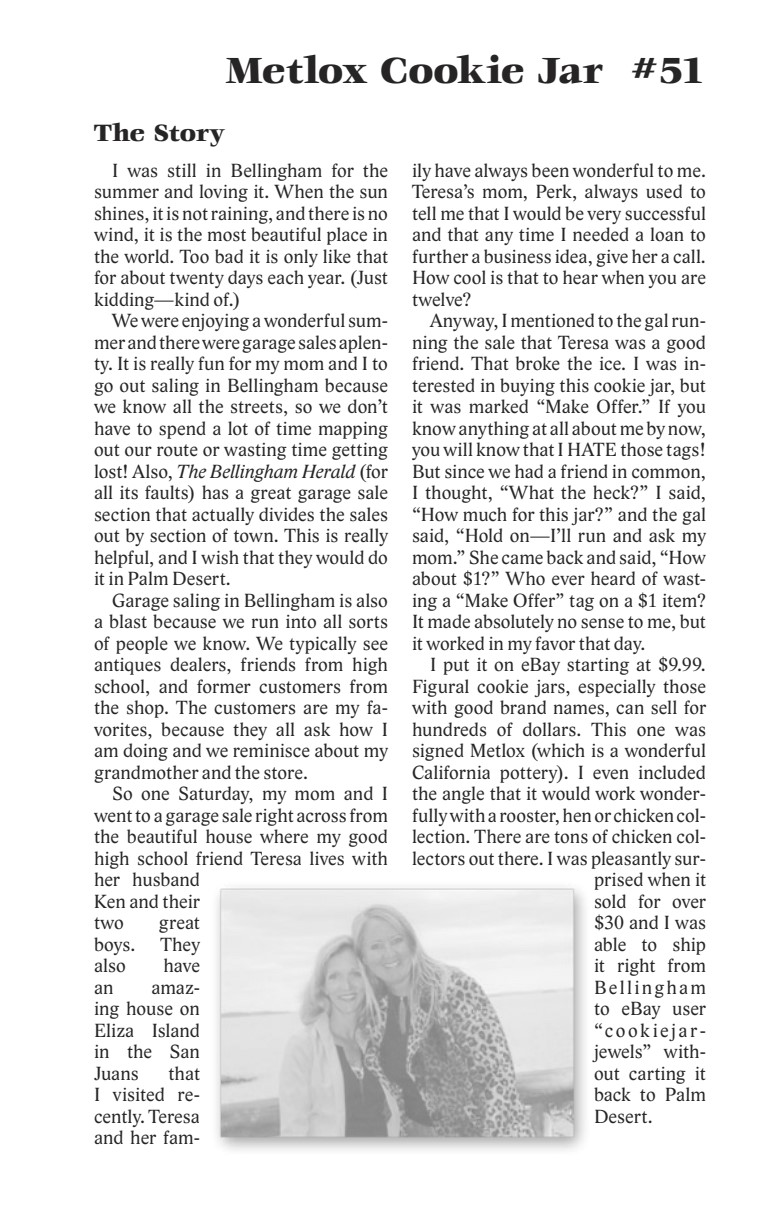 The week before my high school reunion was nice because I got to spend a lot of time with my mom.  We went out to a lot of lunches and happy hours and even hit up an amazing estate sale at Assumption Gym put on by Theresa Muers to benefit Hope House.  Theresa is an angel and was also the only person that I trusted to liquidate my grandmother's estate 21 years ago!
I bought a TON of great stuff for eBay.  Some I shipped home and some my friend Marty will be bringing back to Ventura on his boat.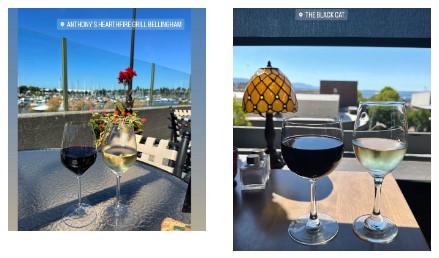 On Friday, August 18th, it was my mom's REAL birthday and I had planned a pre-func (before our high school reunion on Saturday) for that evening at Skylark's in Fairhaven.
So, to honor her real BIRTHDAY, my brother and I took her out to lunch at one of her favorite restaurants…..The Rusty Wagon.  It is all done in Western memorabilia, has great food and was a lot of fun!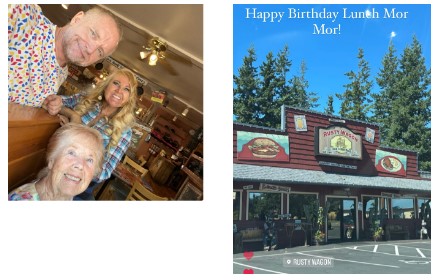 Later that night was the high school get together at Skylarks in Fairhaven.  Sooooo much fun to see friends that I haven't see in years.  I don't know what it is about high school friends, but they are just the best!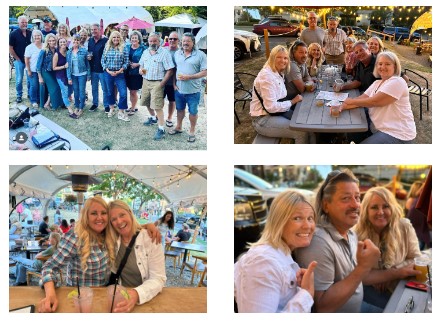 So much fun!  The next night was the "actual" reunion at Shuksan Golf Course.  Our graduating class was about 400 and only about 85 people showed up.
Well, if you know anything about me, I have already offered to plan our 45th reunion in 2026.  LOL.  Wish me luck!
Here are some highlights from that evening.  Including the opening of our time capsule.  Almost everything was ruined except for our plastic ASB ID cards.  I retrieved mine!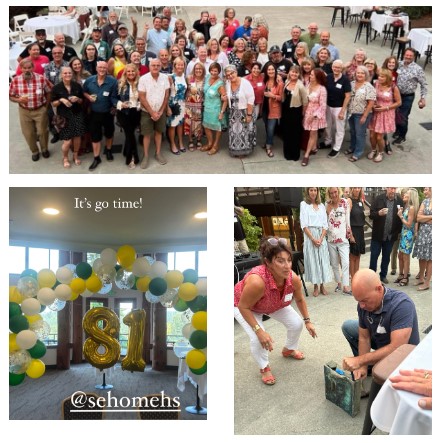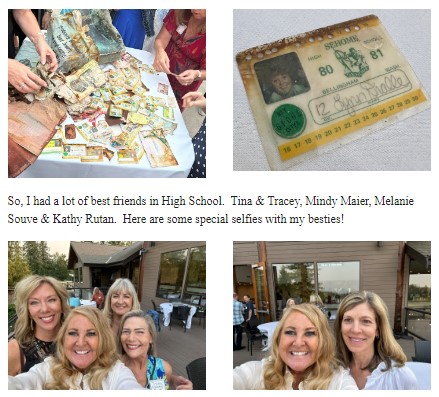 And I would be remiss, if I didn't include this selfie with "one" of my high school crushes.  Cory Garnaas.  He is still sooooo cute!  I told him that if he ever divorces his wife to call me….OK, I was a little drunk.
Oh, before I forget….let me interrupt this program for a word from our sponsors 🙂
The store still needs a bunch of stuff…..Main Store
Small Mirrors
Dressers
Desks
Matching Table Lamps
Floor Lamps
Shelves
End Tables
Side Tables
Coffee Tables
Baskets
Cool Garden Pieces
Metal and Wood items
We really need Sofas & Sectionals in very good to excellent condition.
Please text pictures of larger items to my store manager Sandy for pre-approval prior to bringing in.  805-628-6025
For the clothing store….
Larger Sizes
Designer Purses (have been selling really well so thank you for those!)
Higher end shoes/boots
Spring colors
Shorts
Short Sleeve Tops
Lightweight Sweaters
Summer Dresses
Ventura LOVES Casual Dressy!
Great Selling Brands:  Cabi, Free People, Johnny Was, J Jill, Ann Taylor/Loft, J Crew, Chicos
Hours in Fun Fashions
Weds  11-3
Thurs  11-3
Fri  11-5
Sat 11-5
Sun 11-3
To make an appointment please call or text.
Land Line  805-628-9208
Cell  805-470-6493
OK after the "real" party there was an after party at Kurt Lunde's barn….OMG!  Seriously, so cool.  He has all these classic cars, a pool table, full bar and I could go on.
Apparently, this is where we are having our 45th high school reunion that I am planning.  LOL!
Here is the group shot from the after party…and that officially wraps up my high school reunion!  Thank you for following along with me….I appreciate it!
Before I left town, I was lucky enough to spend some more time with my bestie Melanie Souve, who I hadn't seen in four years!  OMG!  Too long.  She and her husband Scott met my mom and me at Hearthfire for Happy Hour on Monday night.
After that my mom and I headed to "Matthews Honest Cocktails" to see one of my sister's best friends, Seth.  I hadn't seen him in probably a decade so it was so awesome to catch up.
If you missed reading about my crazy trip back to Ventura with the Cha in cargo, you can read about it here.  But, suffice it to say, we made it home safe and sound.
She wasn't upset at all about the plane trip and was just happy to be home.  I can't say the same about her road trip up to Bellingham with my friend Marty.  She did NOT like that at all and was super pissed at me.  She wouldn't eat for 4 days and would only sleep with Indiana.  Whatever!
Once home it was back to REALITY!  Also, got to see my good friend Marc Kettles in the Fantasticks in Ojai.  If any of you are around this weekend, they still have shows Friday & Saturday night and a matinee Sunday.  It was an AWESOME production.  Please go see it.  www.ojaitheater.org
The lead in the musical, Gallo, even came to Fit Buddha on Monday and worked out with us.  He has an amazing voice and is super handsome!  Then we all went to lunch.  So much fun!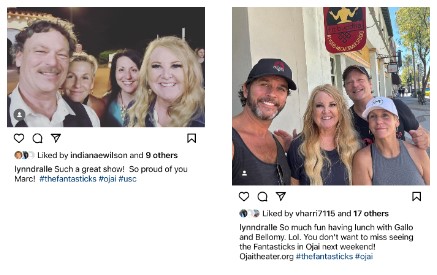 So today, as I am writing this ezine, I get a text from one of my college friends, Chris Wade.  He was like…are you at the store?
Yes, why? He was driving back to San Clemente from Santa Maria and stopped in to say hi.  Too much fun!
And now, for what most of you have been waiting for….our new arrivals!
Green Velvet Arm Wingback Chair $295.00 each – Two in stock.  These are amazing!
Marble Top Bistro Table $135.00
Small Multi Color Dresser $125.00
Urban Trends Bamboo Tall Round Lantern With Braided Rope Lip and Handle Black $95.00 each
Mainstays Round Table Black $145.00
Distressed AS IS Dresser Shabby Chic $195.00
Round Beachy Inspired Painted Table $95.00
MCM H. Wegner for Andreas Tuck Danish Teak Nesting Tables $495.00
Green Distressed Bird Cage $125.00
Rhode Island Nicolas Original Oil Painting $145.00
As I end this ezine, I just want to say THANK YOU so much for reading these and mentioning it to me in the store or by email.
I LOVE to hear that you enjoy reading these and it makes my day!
Especially because I had a heart to heart with my kids (who I really started writing these for so that they would have a baby book LOL….No seriously, that is why I did it and I have been writing these for over 20 years) and they told me that they don't read them.  WTF?
Houston even had the gall to tell me that he would read them when I was dead.  OMG!  Hopefully, he will read them before then because I plan to live for a very long time!
Again, thank you all for supporting me, my family and my businesses as I work on expanding….as you know I am building my empire!
eBay with Heart
Decorate with Heart
Dress with Heart
I try and do everything in my life in a big way and with a lot of heart!  Thank you for joining me on this super fun journey.  Take care and we hope to see you soon!
From left to right, Katie Carolan, Sandy, Indy, me, Val, Adolio, Peggy and my mom Mor Mor.
Thanks for reading my ezines!  I appreciate it….as always!
eBay with Heart, Design with Heart & Dress with Heart………Lynn
BTW, we now have a blog on the website where you can read all of our past newsletter
Link to Blog.
Past Newsletters
1  https://tinyurl.com/lynnslatest1
2  https://tinyurl.com/lynnslatest2
3  https://tinyurl.com/lynnslatest3
4  https://tinyurl.com/lynnslatest4
5  https://tinyurl.com/lynnslatest5
6  https://tinyurl.com/lynnslatest6
7  https://tinyurl.com/lynnslatest7
8  https://tinyurl.com/lynnslatest8
9  https://tinyurl.com/lynnslatest9
10 https://tinyurl.com/lynnslatest10
11 https://tinyurl.com/lynnslatest11
12 https://tinyurl.com/lynnslatest12
13 https://tinyurl.com/lynnslatest13
14 https://tinyurl.com/lynnslatest14
15 https://tinyurl.com/Lynnslatest15
16 https://tinyurl.com/lynnslatest16
17 https://tinyurl.com/LynnsLatest17
18 https://tinyurl.com/LynnsLatest18
19 https://tinyurl.com/LynnsLatest19
20 https://tinyurl.com/LynnsLatest20
21 https://tinyurl.com/LynnsLatest21
22 https://tinyurl.com/LynnsLatest22
23 https://tinyurl.com/Lynnslatest23
24 https://tinyurl.com/lynnslatest24
25 https://tinyurl.com/lynnslatest25
26 https://tinyurl.com/lynnslatest26
27 https://tinyurl.com/lynnslatest27
28 https://tinyurl.com/lynnslatest28
29 https://tinyurl.com/lynnslatest29
30 https://tinyurl.com/lynnslatest30
31 https://tinyurl.com/lynnslatest31
32 https://tinyurl.com/lynnslatest32
2nd Year….Volume II
01 https://tinyurl.com/lynnslatest01
02 https://tinyurl.com/lynnslatest02
03 https://tinyurl.com/lynnslatest03
04 https://tinyurl.com/lynnslatest04
05 https://tinyurl.com/lynnslatest05
06 https://tinyurl.com/lynnslatest06
07 https://tinyurl.com/lynnslatest07
08 https://tinyurl.com/lynnslatest08
09 https://tinyurl.com/lynnslatest09
010 https://tinyurl.com/lynnslatest010
011 https://tinyurl.com/lynnslatest011
P.S.  If you have a friend who wants to sign up for this newsletter.