Happy Thursday!  As you are reading this, Houston, Indiana and I are flying up to Bellingham.  Unfortunately, Emma is not joining us.  In sad news, her grandma passed away and she is on her way to Chicago to pay her respects.
Cha Cha is probably already in Bellingham because my friend Marty picked her up yesterday morning to drive her up there.  Here she is on her road trip.  My road trip with the kids will be much shorter, as the flight from LAX to BLI is only 2 1/2 hours!
Lots going on for us in Bellingham.  First up is a lunch at Anthony's today with my nephews and hopefully Cha Cha.  Although, most restaurants in Washington don't allow dogs…even outside.  How weird is that?  Here is a photo of us at Anthony's from years past.  One of my kids favorite restaurants!  When they were little they called it the "Crazy Fish"restaurant.  LOL.
Then Friday afternoon, we will be celebrating my mom's 87th birthday on her deck!  Fingers crossed for great weather!
Then Saturday is the Dralle Family Reunion.  My bright idea!  There were 13 kids in my dad's family and there are only 2 left.  My Aunt Amy and Uncle Alan.  My Aunt Amy posted this on Facebook earlier this year.
You can see my comment…What was I thinking?  I have been working with my Aunt Amy and cousin Roger and somehow I think we may have pulled it off.  Hopefully we will have about 40 in attendance from all over the country.
I had 50 cousins (can you believe that?) and hopefully there will be quite a few of them there in addition to some of the 2nd cousins.
We used to get dragged to Dralle family reunions every summer and they were always at the Fire Hall in Mt. Vernon and they were potluck.  Well, here we go again……  Wish me luck!
My kids will fly out that next morning (Sunday) back to LA, but I will be in Bellingham for another week.  It is my high school reunion on Saturday, August 19th.  Fun times!
In more fun news, this past weekend, I went to the most amazing wedding.  More about that in my "Real" ezine at the end of the month.
But for now, Jaren (my friend Kimberly's son) got married.   I have been friends with Kim & her husband Mike for 30 years!  Kim is also the one who did the amazing charcuterie board for us at our last year's anniversary party.
Here we are at the wedding with the bride & groom!
The day of the wedding 8/05 was also Cha Cha's 3rd Birthday!  Can you believe my little 805 girl is three already?
Now, let's get to the new arrivals!
Underwood Mercedes (Ithink ?) Typewriter $195.00
West Sixth Fabric Living Room Sofa Grey $995.00
Barcelona Leather Sofa Cream $1995.00
Barcelona Leather Chair Cream $695.00
Heritage Hill Nightstand Brown $295.00
Mid Century Teak Veneer Credenza $495.00
Vintage Pottery Cowboy Lamp $245.00
Hamilton Hills Rectangular Mirror Silver Metal/Glass $95.00
Charles Dickens Set of Books $34.50
Sword Solawesu Indonesia Dutch Colonial Era $245.00
Rustic Small Paned Stained Glass Window $195.00
Iguazu Falls Mask Semi Precious Stones Gourd on Stand $195.00
Claude Monet Canvas Artwork from France Giverny $145.00
Obstetrician with Baby Lladro 4763 $125.00
Wedgwood Blue Biscuit Tobacco Jar $125.00
Emotional Arsenal Fecher Gramstad Figurine $195.00
Original Painting of Monkeys From Guatemala $98.50
Asian Bamboo Standing Mirror — price dropped to $237.00! 
Assorted 5 150g Soaps in Gift Box – $29.95
25g Fleur de Lys Bonbon – 4 pcs left – $10.95 each
Love & a Dog Dictionary Art $21.95
Love & a Pug Dictionary Art $21.95
California Map Dictionary Art $21.95
Not All Who Wander Dictionary Art $21.95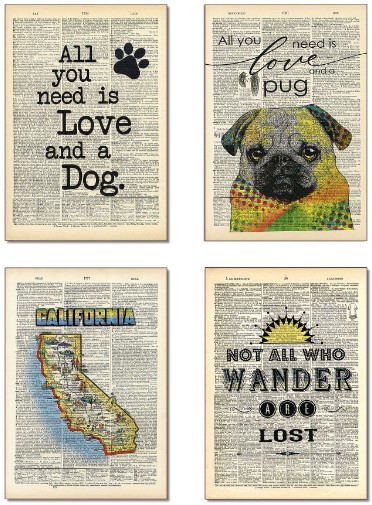 Thanks for checking out our new arrivals!
Remember to drop by our store or browse our website. We'll keep you posted with more cool things, and as usual, we really appreciate your ongoing support!
Take care and SEE YOU SOON!
A Photo of some of the Lynn's Girls who went out to see the Barbie Movie this past week :)!  From Left to Right, Robin, Cindy, Whale, Peggy, me and Sendia.
 Thanks for reading my ezines!  I appreciate it….as always!
eBay with Heart & Design with Heart……Lynn
Past Newsletters…All can be found on our Blog.
P.S.  If you have a friend who wants to sign up for this newsletter.