I can't believe it is August already!  What in the World? As my dad used to say.  I love this picture of my dad with my brother Lee and me.  We were totally scared to go stand by the Buckingham Palace guard and horse and my dad got so mad at us that we are smiling and he is frowning.  LOL!  Oh, the joys of parenthood!
Welcome to Lynn's Latest #006…
Thursday, August 18th
Watch for it every Thursday or every other Thursday, Friday or Saturday!
Actually, let's be honest…watch for it whenever I get one finished hahahaha
Volume III  Issue 006
So the day after my last ezine came out I was on a road trip to the desert. I was driving out there to fly to Bellingham from PSP. I hate flying out of LAX and needed to get out to the desert for a haircut and teeth cleaning. LOL. We lived for 16 years in the desert and I still go to my favorite people…Sherry Mesa & Dr. D my dentist. So great to see them and catch up!
I also go to thrift and take merch to my eBay assistant Mo to list for me. The day I left for Bellingham, we stopped by The Revivals in Palm Springs. As we were walking in, a man came out carrying a set of flatware. Damn! I said, That should have been mine! Inside I found one set and was getting ready to pay when I saw another set being put out. I said to Mo, "Quick get over there and check it out". She did! And came right back and said, "you had better get over there as there are about 10 sets of flatware"! OMG! Total Score. Flatware is my FAVORITE thing to buy and sell on eBay.
As I was perusing the many sets, I looked up into a familiar face. "Dennis?" I said. And he said "Lynn!, I was just thinking about you when I priced this set of Ventura flatware". Crazy, small world! Dennis also sells on eBay & is one of my loyal ezine readers from way back and unbeknownst to me now volunteers at the Revivals in Palm Springs. His boss was on vacation and he found 10 sets of flatware in the back and decided to price them and get them on the floor. What amazing timing I had that day!
Here is a photo that showed up in my timehop of me and Dennis and a few other people at the last live eBay on Location event that we all attended in Las Vegas 5 years ago.  Crazy!
Here is one of the listings from that bunch of flatware! I paid $35 for the set of Wallace Colonial Hammered and this one listing will more than pay for the entire set! Score. Check it out here.
I was headed up to Bellingham for my high school friend Jo Dallas' daughter in law's baby shower.  That was a mouthful!  While in Bellingham, I did go out to dinner with another of my high school friends Marty to celebrate his turning 60.  OMG!  How can that even be happening?
I do not feel anywhere near 60 years old.  We had dinner at Dirty Dan's in Old Fairhaven.  I love that restaurant and hadn't been there in years.  When I was married, William and I used to go there to celebrate big occasions like buying a house or having a baby.  I guess Marty turning 60 is also a big occasion!
That reminds me of when my dad turned 60 back in 1994.  I had just moved back to Bellingham and thought it was such a huge milestone and should be properly celebrated.  So, I took out an ad in the Bellingham Herald with  a photo of him as a kid and said "Happy 60th Wayne Dralle".  He did NOT find it amusing.  My kids had better NOT do anything like that for me when I turn next year.
The baby shower was amazing!  Jo Dallas went all out for it.  My mom was also invited so it made for a super fun day!
While in Bellingham in July, my mom and I also took some time to thrift.  We headed to the Assistance League Thrift Store across from Haggens on Meridian on the Thursday when Seniors get 10% off.  Wow!  When we got to the store, there was a sign on the door saying that they were going to be closed until August since so many of their volunteers were out with Covid.  Bummer!  But as we were leaving we ran into Theresa Meurs.  I LOVE Theresa!  She did my grandmother's estate sale for us and she is a pro.  It was so great to see her!
With all this talk of thrifting, it's time for an eBay score, don't you think?
I bought this baseball player bronze statue at a thrift store, years ago when Houston (my son) was playing travel baseball.  I think I paid $50 for it.  It has been listed on eBay for almost 5 years.  Patience is a virtue.  Sold it for a best offer of $1,500 last week.  Yipppppeeeeee!
Here is one of my favorite pictures of Houston back in the travel baseball days.  We were in Cooperstown for the big tournament and Houston hit the winning home run over the fence of the Big Green Giant.  My dad had never been so proud before.
Oh and I would be remiss if I didn't share a photo of my dad with Indiana during that same tournament.  My dad sure loved my kids and they loved him.  He was the only real father figure they have had.  It makes me sad that he has been gone 5 years.  Ughhhh.
Speaking of losses, it is with a heavy heart that I let y'all know that we lost one of our favorite consignors and someone who turned out to be a good friend .  Bill Swisher passed away last week.  He will be greatly missed.  Here he is with his wife Susan at my recent house warming party.  RIP.
When I flew back into Palm Springs after my July Bellingham trip, my good friend and eBay assistant Mo, decided to follow me back out to Ventura to do some work for me and get out of the heat!  Mo does not like to drive on the Cali freeways so this was huge for her!
She made it and I was very proud of her!  She ended up staying in my casita for almost 10 days.  I LOVE LOVE LOVE my new house because I can have house guests and literally never see them.  We had a blast and did a lot of fun things!  Like dinners out etc.  I don't have many pictures of us but I do have some fun drink pics.  LOL.
It was also awesome because Indiana had 3 shows while Mo was here and she got to go with us to all of them!  Check out this post that Indiana did showing all of her July shows and I LOVE the caption she put with it…
Mama I've Made it!
The first show we went to see was "Tales of The City" Los Angeles at the Comedy Nook and we went to one of our favorite Melrose Restaurants before hand, Spartina.  I finally got to celebrate Houston's birthday with him in person.  Hadn't seen him since his birthday on July 10th.  Such a fun night!  Here we are out to dinner!  It was Indy's first hosting gig that night and she did an AMAZING JOB!
The next show was character roulette and Indy brought back her bicyclist and added a new character, a barista. Makes perfect sense since she just landed a new job at Cafe Luxe an upscale coffee shop with locations in Santa Monica, Brentwood, Montecito, Pacific Palisades and Malibu. She is in training to become the best barista ever! We had dinner before hand at Umbrella Company, another one of our favorite Melrose restaurants!
Before I forget, our Instagram accounts, LynnsFunFashions and LynnsConsignments have been getting better and better! Thank you Rachelle :)! Please follow us if you don't. You can now buy product directly from the Instagram post through our website and Rachelle has been posting new fashion items and store items daily. Please check them out & give us a follow. Here is a sampling.
OK, before I share about Indy's final show of the tryptich, let me share a few TBT (Throw Back Tuesday or Thursday whichever you prefer) photos that I posted recently on the Instagram.
First one is one that I took a photo of that was in a photo collage on my mom's hallway wall when I was up in Bham in July. So much fun and for all of you wondering if I am a real redhead…..yes I am and I don't have to color my hair. It is natural! This was when my grandma Cheryl Leaf, my brother Lee and I returned from a spur of the moment trip to Hong Kong. Yes, spur of the moment back then was 2 weeks notice!
And for the next TBT photo, I was looking through old yearbooks and found this hysterical photo of me and one of my sorority sisters during Greek Week at USC.  Seriously?  7 days of FUN!  Well back then, University of Southern California was 365 days of fun!
So Indy's third show while Mo was here visiting was the Comedy Embargo at the Harlowe Bar.  It felt so OLD HOLLYWOOD and it was a super fun show.  Indy hosted again and it was a great time!
Since Mo was out here visiting me from Palm Desert, Candy and her husband Ron also decided to come out to Ventura.  So much fun to have my Palm Desert besties in Ventura!  Unfortunatly, Kel couldn't join us.  Ughhhhh!
While Mo was here visiting we worked out at Fit Buddha 4 times!  Go us!  Saturday morning after our workout, Sandy, Mo and I headed over to a new restaurant (I think it is called The Six) right across from Fit Buddha for Bloody Mary's.  It was a little too convenient!
As July came to a close, Mo headed back to the Desert and I was getting ready for a major road trip! I was heading up to Bellingham, Washington to throw my mom and Cha Cha a big birthday party. My mom was turning 86 and Cha Cha 2!
I couldn't put her in the cargo section of the plane (cha cha not my mom :)) so decided the only way to get her up there to frolic on my mom's beach was if I drove her. Ughhhh! Indy was going to ride with me up, but we couldn't leave until July 31st as she had a show on July 30th. Her show on the 30th was once again in WeHo and she did 10 minutes of stand up and killed it! She is getting really good! One of her bits was about the lady in middle school who would check you out for scoliosis. Here is a link to it on TicToc.
The morning after the show Indiana, Cha Cha and I got on the road at 7 am. Started out to be an epic day!  We had plans to make it to Dunsmuir to eat an early dinner at Yaks Burgers and then we had a hotel reserved in Yreka for the night.
We headed up the 101 instead of taking the I5. Much better choice and so scenic and fun. Our first stop was 5 hours in at a Starbucks. Then Indy drove 3 hours and I took over for the last 3 hours of the day. We had an epic early dinner at Yaks where Cha Cha even got her own burger patty with chopped bacon on the top.
All was good as we started driving our final 40 minutes from Dunsmuir to Yreka where we had a hotel reserved & paid for.  About 5 minutes outside of Dunsmuir it started getting really foggy.  But then it got super dark.  OMG, it started to look like a fire.  ..
Indiana was traumatized by the Woolsey fire that hit the Malibu area when she was at Pepperdine.  This was not a good thing to be driving into so I had Indy call the hotel and the receptionist said that they were "under a warning".  We were only 5 mins away at that time, so decided to check it out for ourselves.
Once we drove into town it was even darker.  I asked the hotel receptionist what should we do and she said "Go north".  She was going to credit my cc with no penalty so off Indy and I went.
We started calling hotels in Medford and Ashland looking for rooms. EVERYONE was sold out. So we just kept driving north. Finally ended up in Grant's Pass and had to pay $250 for one night. I will tell you about our 2nd less eventful (but maybe not) day after I remind you about our upcoming course on Sunday. We have 3 students so far!
Our next calligraphy course is Sunday, August 21st from 12:30 to 2:30 pm.
Her last class was a huge success!   and these are being taught by one of my very first consignors…Joy Goldowitz!
She is a teaching dynamo!  Her course "Calligraphy:  The Art of Beautiful Lettering" will be offered on Sunday, August 21st from 12:30 to 2:30 pm.
The course is just $59 and includes a gift box full of calligraphy supplies!  What?  This is unreal 🙂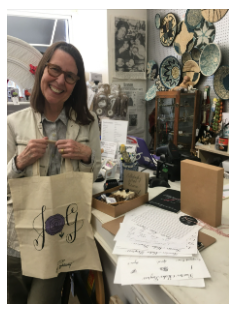 Joy is a retired (after 37 years) elementary school teacher. She is a lover of the relaxing art of hand lettering, beautiful inks and stationary of all ilks. She is a passionate teacher who happily loves sharing her techniques with others. She will guide you on a journey creating lovely letters to embellish words, names, addresses, cards, gift tags etc.
OMG! I want to take this class! My mom just text me and she is going to take this class. She is signed up!
We have also decided to schedule caligraphy courses through the end of the year. So, if that date doesn't work for you. Hopefully, one of these will!
Sunday, September 11th
Sunday, October 9th
Sunday, November 13th
We will be scheduling an Annie Sloan Chalk Paint Class and an Iron Orchid Design class for sometime in September. Please let us know your preferences if you are interested…..evening? afternoon? weekend?
Check out this project piece that Sandy has been working on. How cute is it? It has IRON Orchid Design transfer and moulds on it. BTW, the new IOD Winter releases will be for sale on August 24th. So exciting! They have arrived in store but we can't sell them until that launch date :)!
But back to the road trip.  I have not done that drive since I used to drive the kids up every summer (before travel baseball consumed our lives) and we would live with my mom at her beach house for a few months.  I think the last time we did that drive was 2005.  I now remember why!
Day 2 started out with a 7:30 am phone call from Paula the owner at Barke & Bathe.  I thought it must be a mistake so didn't answer.  Then I got a text with a photo of the police in front of my store.  Next phone call was from a police detective.  Someone had broken our front door's glass.  Thank GOD they didn't get in nor break one of the big windows.  The day was starting off to be quite interesting.  Indiana said to me, "OMG, what could go wrong next?".  And I was like, "Honey it is stuff like this that makes life an adventure….& keeps my attention"
Well, thank God for Sandy (my newly appointed store manager) who came to the rescue.  Sandy met the police and arranged for the door to get boarded up and new glass ordered.  So cool that I can leave town and know that I have the best team in place!  Such a great feeling.
And Indy and I continued on our road trip!  We decided to stop in Eugene and go by the house where Indiana's dad, William, had grown up.  William's Dad, Doug, had died when Wm was 8 years old in a plane crash when he was covering a story as the County Editor for the Eugene Register Guard.  So crazy that in front of the house was one of those "old" newspaper holders for that same paper.  Life is strange sometimes, sad and still very interesting.
Since Indiana and I had done almost 12 hours that first day of the road trip, we were able to do a pretty easy day 2 and make it to an early dinner at Anthony's in Bellingham.  My mom drove in and met us.  I had to laugh when we parked at the restaurant and I got this photo of the back of my SUV.  Houston had asked me to bring up his bike so he could cycle around Bellingham  in addition to all of the other crap one takes on a road trip!  LOL!
Since we made it up to Bellingham, it is time for a station break.  OK, just a heads up.  We now have a clearance area for clothing.  Take 25% off the lowest prices.  Come in and check it out!
But back to the Bellingham trip.  Indiana and I had a lot of fun with Mor Mor and Cha Cha before everyone else arrived on the Thursday before the big party that was set to take place on Saturday, August 6th.  Here we are at the airport when everyone arrived….including Grandpa and Cha Cha!
So the first day they were in town, we just hung out at the beach.  Houston resorted to his usual rock baseball bat hitting and Emma (crazy NJ girl that she is) actually got into Hales Passage to swim.  Are you serious?  Yes, I am.  And then, they put Grandpa in the water as well.  What in the world?
The next day we headed out for a 9 am soccer game of Kai's in Burlington.  His team did great and we all went out to breakfast after at Mr. T's in Mount Vernon.  So much fun!  Houston did a bike ride to Birch Bay and back while the rest of us chilled…..Then we did an early dinner at Anthony's….our favorite!  It is always so much fun to be home in the B'ham!  My brother arrived that night at 7 pm….we were all in the house and ready for the big party the next day!
Before I share all of the fun pictures from the big birthday, just wanted to remind you about our clothing store! If you missed the email saying what we are looking for in clothing…please read it here before you come in. Thanks!
Also, start collecting your Fall items and Adult Halloween Costumes. We will start taking in Fall on August 1st. Call or text the girls to set up an appointment.
Land Line 805-628-9208
Cell Phone 805-470-6493
My mom and Cha Cha's birthday party turned out to be perfect! Seriously! So many wonderful people showed up. My step mom Sue and my step sisters Rita & Renae and some of their kids. My dad married Sue after I married William so I think it was around 1994, so we didn't grow up together but we all still feel like family. Rita & Renae's kids feel like my kid's cousins so that was super special.
My sister's best friends Missy and Tara also showed up.  So great to see them as they have been such a huge part of my nephew's lives…they are called the aunties!
And two high school friends showed up, Jo Dallas and Marty Mundell.  Such a fun day!  Unfortunately, my kids had to fly out the next morning at 6 am.  Yikes!
My brother and I left on Monday morning to drive back to So Cal.  I would be dropping him off at his house in Berkeley and spending the night at a hotel in the Berkeley Marina.  That was a super long day.  We left at 7 am and I didn't get to my hotel until 10:30 pm.  Poor Cha Cha…that was too long for her to be cooped up in the car.  And she went a little CRAZY once we got into the hotel room.  LOL!
The good news is that after that 14 hour drive, I only had 6 more hours to get back to Ventura!  That day was a breeze and we were both so happy to be home!  Not sure if I will be doing that drive anytime soon again.
Back to the store…. don't forget you can shop online with us.  What has been selling the best lately is our Baggu inventory.  People from around the world have been ordering.  Pretty cool!  Here is a link to our Baggu online.
The night after I returned to Ventura was Cheap Trick at the Fair.  I couldn't miss that could I?  Sandy took me as my birthday present and we had soooooo much fun!  I LOVE the Ventura County Fair.  So glad it is back!
While I think about it, please vote for us in the VCR Best of 2022 for both antique store and home furnishings.  We would really appreciate your support!  Please vote here.
Here are the IMPORTANT rules…
1. One online ballot per person.
2. Ballots must have at least 10 completed categories.
Voting starts on August 1, 2022 at noon and ends on August 31, 2022, at noon
To find Lynn's Consignments Fun Home Furnishings scroll to Category #4 Antiques and Category #15 Home Furnishings!
Attention Consignors:
What we need for the main store…..
Anything Beachy
Shelves
Bookshelves
Desks
Dressers
Chair Sets
Pairs of Lamps
Floor Lamps
Bar Stool Sets
One last fun thing to talk about before I wrap up this newsletter. Last Friday night I was invited to a "kick your booty" party at Fit Buddha hosted by Joanne Carolan. It was so much fun! 10 of us went out to dinner after at Rum Fish and here is a picture of some of us.
Marc Kettles and his wife Eva own Fit Buddha and he was my "college crush" at USC. We went to several sorority/frat parties together. So when I posted the Rum Fish picture on Instagram and Facebook, I couldn't resist sharing one of my favorite photos of us back in the day.
One of our favorite consignors/friends, Pat Clark, posted the cutest comment on Facebook.  I LOVE this!  Thanks Pat!
But in the best news from that evening, Terri Nunn, the lead singer of Berlin, is a good friend of my friend Joanne and she was at the Fit Buddha party and also joined us for dinner.  Super fun getting to know her better and  I asked her when her next shows were and she said she had one on August 18th in Orange County with Boy George.  Too cool!
The next thing I know Joanne texts me and we have 4 tickets comped to attend that show tonight.  My mom just flew in with Zach and Kai (my nephews) and we are joining Joanne, Jeff and their daughter Alana at the concert in Orange County.  We are so excited and what a great way to spend my mom's actual birthday!
Thank you all for supporting me, my family and my businesses as I work on expanding….as you know I am building my empire!
eBay with Heart
Decorate with Heart
Dress with Heart
I try and do everything in my life in a big way and with a lot of heart! Thank you for joining me on this super fun journey. I appreciate you!
AND a HUGE reminder. We have Annie Sloan's NEW SATIN paint in and it is a game changer according to Val! No waxing is required and it goes on smooth as silk!!!! Yippppeee…I was only able to order 2 cans of each color so come in and grab them before we sell out! So much fun these days at Lynn's! Because you know, "Everyone Wins When They Shop at Lynns!"
Take care and we hope to see you soon!  Sandy, Peggy, me and
Val!  Also, Candy, Cindy, Rachelle, Kailen, Robin, Susan & Shawnna (not pictured)….
Thanks for reading my ezines!  I appreciate it….as always!
eBay with Heart, Design with Heart & Dress with Heart………Lynn
BTW, we now have a blog on the website where you can read all of our past newsletter
Link to Blog.
Past Newsletters
1  https://tinyurl.com/lynnslatest1
2  https://tinyurl.com/lynnslatest2
3  https://tinyurl.com/lynnslatest3
4  https://tinyurl.com/lynnslatest4
5  https://tinyurl.com/lynnslatest5
6  https://tinyurl.com/lynnslatest6
7  https://tinyurl.com/lynnslatest7
8  https://tinyurl.com/lynnslatest8
9  https://tinyurl.com/lynnslatest9
10 https://tinyurl.com/lynnslatest10
11 https://tinyurl.com/lynnslatest11
12 https://tinyurl.com/lynnslatest12
13 https://tinyurl.com/lynnslatest13
14 https://tinyurl.com/lynnslatest14
15 https://tinyurl.com/Lynnslatest15
16 https://tinyurl.com/lynnslatest16
17 https://tinyurl.com/LynnsLatest17
18 https://tinyurl.com/LynnsLatest18
19 https://tinyurl.com/LynnsLatest19
20 https://tinyurl.com/LynnsLatest20
21 https://tinyurl.com/LynnsLatest21
22 https://tinyurl.com/LynnsLatest22
23 https://tinyurl.com/Lynnslatest23
24 https://tinyurl.com/lynnslatest24
25 https://tinyurl.com/lynnslatest25
26 https://tinyurl.com/lynnslatest26
27 https://tinyurl.com/lynnslatest27
28 https://tinyurl.com/lynnslatest28
29 https://tinyurl.com/lynnslatest29
30 https://tinyurl.com/lynnslatest30
31 https://tinyurl.com/lynnslatest31
32 https://tinyurl.com/lynnslatest32
2nd Year….Volume II
01 https://tinyurl.com/lynnslatest01
02 https://tinyurl.com/lynnslatest02
03 https://tinyurl.com/lynnslatest03
04 https://tinyurl.com/lynnslatest04
05 https://tinyurl.com/lynnslatest05
06 https://tinyurl.com/lynnslatest06
07 https://tinyurl.com/lynnslatest07
08 https://tinyurl.com/lynnslatest08
09 https://tinyurl.com/lynnslatest09
010 https://tinyurl.com/lynnslatest010
011 https://tinyurl.com/lynnslatest011
P.S.  All of the professional photos I use on Instagram, Facebook and in these newsletters were taken by my friend Denise's daughter, Jaclyn Sabo.  She is amazing!   To learn more about Jaclyn….https://www.jaclynszabo.com/
P.P.S.  If you have a friend who wants to sign up for this newsletter.