I guess this week is payback for me being gone for 2 weeks!  LOL.  Both Cindy and Sandy are on vacation.  Cindy is up north and Sandy is in Idaho visiting her son.  I will be working more hours in the front store and also doing all the eBay shipping.  Not my favorite thing to do!  But look how cute the Cha was when she was a puppy!
Thank God Jo Dallas arrived yesterday to help me out!  She is a lifesaver. Stop in the store to say hi to Jo as she will be there for the next week.  What a great friend!
This was all of us last night at The Saloon before Sandy left town.  You gotta love Sam (Sandy's Chocolate Lab) and Cha Cha.  Sam loves me by the way!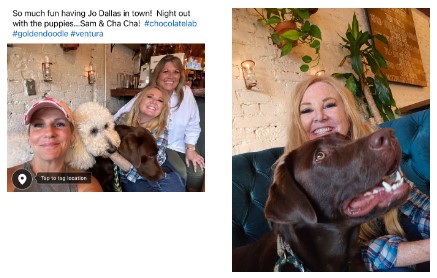 When I was up in Washington last month, I did my Global Entry Interview at the Blaine location.  So much easier than driving into Los Angeles and doing it at LAX.  So excited to get my new card in the mail this week.  Let's go……
Yesterday at the store, this lady came in and said "Are you Lynn?"
"Well, yes I am".  Her name was Gail and she was visiting from Chicago.
She has been reading my ezines since 2008 when she saw me speak at eBay Live in Chicago.  Crazy!  That was 15 years ago.  Gail knew all about my kids, the store and my shenanigans and she said that my ezines always make her feel happy.  Aaaawwww.  My ezine used to go out to 20,000 people.  These days it just goes out to 2,000 of you, but we are building it back up.
She is what Sandy calls a "super fan".  I think it was adorable!  Thanks for stopping in Gail!
Check out these cool new arrivals that just landed! And just so you know…this sofa is super miniature…it is for some small preschool kids.  LOL.  Come in and check it out!
Miniature Sofa Light Blue Green $135
Cement Buddha Head on Stand $236
Original Artwork Cows The Red Bucket Watercolor Framed $145
Black & White Ansel Adams Photo Beach Scene Black White $65
Beach Boys Framed Album Covers $195
Old Ochre Painted Secretary Dresser with Elysium Transfer $495  This was painted and styled by Sandy.  Super amazing!
Custom Craft Trombone in Case $495

Folk art Naa durga and lord ganesha print $39.50
Storage Ottoman with Birds $49.50 each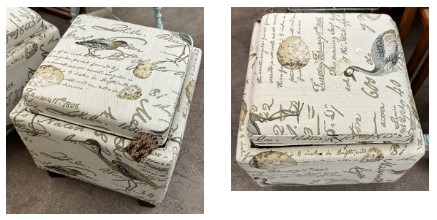 We got a ton of Bauer Chartreuse in this week.  It is selling quickly…stop in and check it out.  Mid Century at its finest.
Bauer Chartreuse Monterey Moderne Teapot & Warmer $65
Horchow Jewelry Box Ornate $125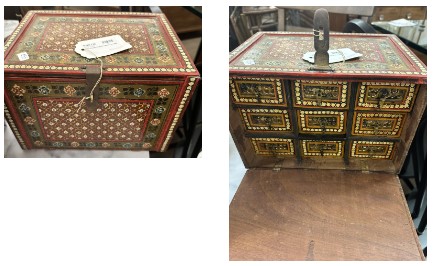 White Sleek Coffee Table $79.50
Starfish Wall Hook Iron $19.95
Bird on a Branch Hook $11.95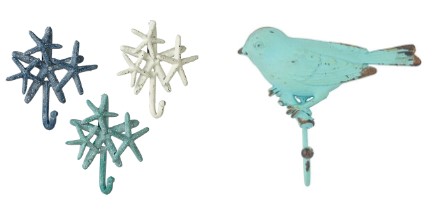 Iron Seahorse Wall Hook $9.95
Mermaid Wall Hook Cast Iron $14.95
The new Iron Orchid Design Christmas Quarter 4 releases came out this week.  They will sell out quickly!
Hello Pumpkin 6×10 Iod Mould $27.95
Ginger & Spice 6×10 Iod Mould $27.95
O Christmas Tree 6×10 Iod Mould $27.95
Candy Cane Cottage Iod Transfer 8×12 Pad $23.95
Holly Glen Iod Transfer 8×12 Pad $23.95
Fairy Merry Christmas Iod Transfer 8×12 Pad $23.95
Christmas Pups 12×12 Iod Stamp $27.95
Christmas Kitties 12×12 Iod Stamp $27.95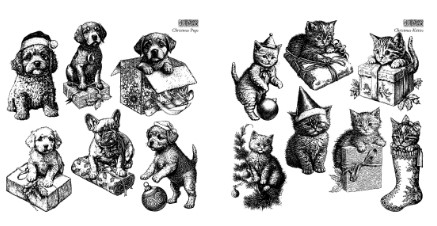 We're still looking for more one-of-a-kind clothing. Call or Text to set up an appointment.
Land Line  805-628-9208
Cell Phone  805-470-6493
Thanks for checking out our new arrivals!
Remember to drop by our store or browse our website. We'll keep you posted with more cool things, and as usual, we really appreciate your ongoing support!
Take care and SEE YOU SOON! Indy, Me and Houston!
Thanks for reading my ezines!  I appreciate it….as always!
eBay with Heart & Design with Heart……Lynn
Past Newsletters…All can be found on our Blog.
P.S.  If you have a friend who wants to sign up for this newsletter.