OK, I have had so much fun these past 2 weeks with my friends in town visiting, but I am ready for a break.
Jo Dallas showed up on September 4th, to help out at the store while Cindy and Sandy were on vacation.  What a great friend and we had a blast!
Then Indiana and her friend Larissa joined us for two nights over the weekend.  Another fun time!
Luckily, my house is really set up well for guests.  We have my bedroom and Indy's bedroom in the main house and then two additional suites with their own bathrooms, my office and the casita.  It is an awesome house!  To host awesome guests!
On Wednesday, September 13th, Mo drove out from Palm Desert to work on my eBay business.
Then the rest of the Palm Desert best friends showed up on Friday. It was a whirlwind weekend and so much fun! The girls took me out for my big birthday at Prime. Such a great dinner! Love Prime's new patio.
Mo left this morning and I am back to my life as I know it.  Fit Buddha later today!  Wish me luck :).
Just to give you an idea of how exhausted I am, here I am taking a bit of a nap at the Saloon this past Saturday night around midnight.  LOL!
Check out these cool new arrivals that just landed! Come in and check it out! This darling piece was painted and embellished by Sandy.
Five Drawer Lingerie Dresser – Custom Painted $295.00
Kramer Leather Power Reclining Sofa Ivory $999.99
Vintage Side Tables $195.00 each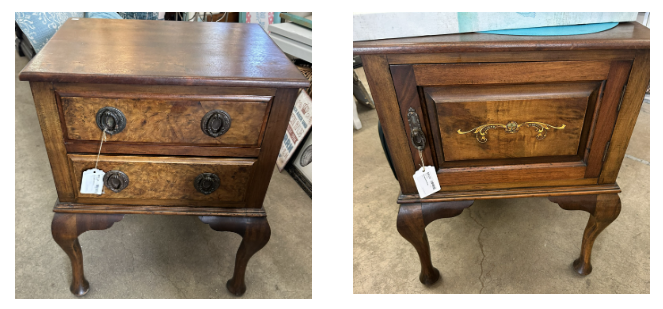 Pottery Barn Neutral Brown/Grey Sofa $495.00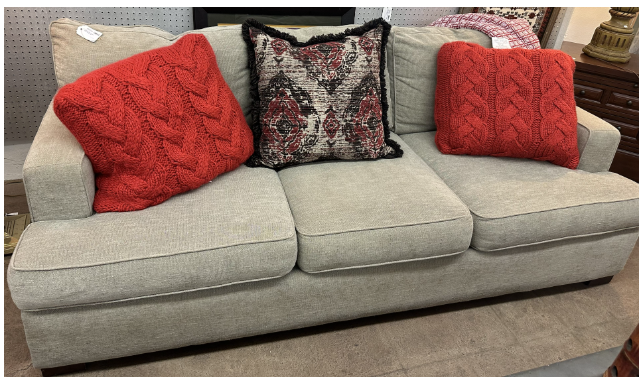 French Antique Butcher Block $1295.00
Beachy Two Drawer Chest $79.50
Ceramic Round-Bellied Pierced Temple Jar With Cut Out Pattern Design Blue $85
Urban Trends Ceramic Round Bellied Temple Jar With Cutout Pattern Design Body Gold $85
High Back  Wooden Vintage Chair $195.00
We're still looking for more one-of-a-kind clothing. Call or Text to set up an appointment.
Land Line  805-628-9208
Cell Phone  805-470-6493
Thanks for checking out our new arrivals!
Remember to drop by our store or browse our website. We'll keep you posted with more cool things, and as usual, we really appreciate your ongoing support!
Take care and SEE YOU SOON! Me, Emma, Indy and Houston.
Thanks for reading my ezines!  I appreciate it….as always!
eBay with Heart & Design with Heart……Lynn
Past Newsletters…All can be found on our Blog.
P.S.  If you have a friend who wants to sign up for this newsletter.