Just want to take a moment and say how thankful we are for YOU!  Our consignors and our customers for supporting us through these tough few years!
We appreciate you more than you will ever know and we are soooooo grateful for you in our lives!!!!
Excited to announce a
Black Friday & Shop Small Business Saturday SALE….
10% off the ENTIRE STORE!
New Gift items included!  11/26 & 11/27!
AND make an offer on any CONSIGNED ITEM that has been here over 95 days!
There will be a PARKING LOT SALE as well!  Don't miss this 🙂  Shop LOCAL!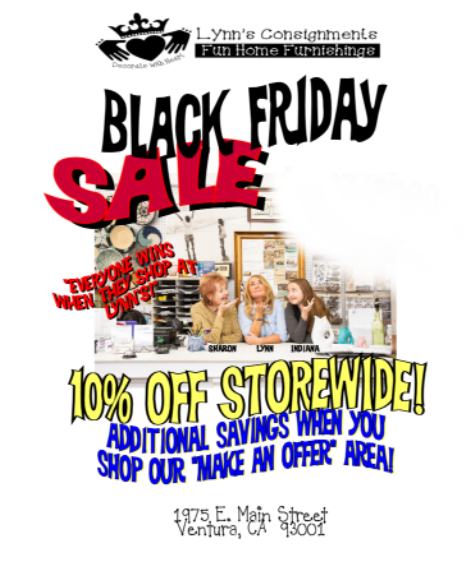 I would also like to wish you a very Happy Thanksgiving!  I am feeling extremely blessed to have my mom, Houston, and Indiana all in town to celebrate with Cha Cha, Carlos and me!  Emma is back in Chicago with her family and we miss her!
Here we are at Gigi's Cocktail Bar last night to celebrate our move into the new house!  It has been an amazing ride and we are so blessed and grateful to be in our new home for the holidays!
From left to right, Houston, Indiana, me and my mom (Mor Mor)!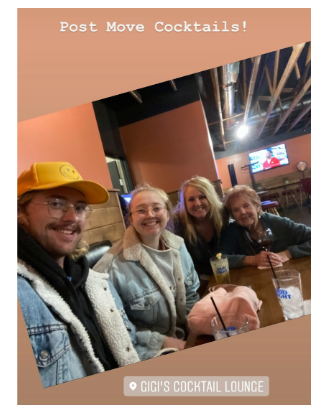 Our HOLIDAY HOURS will be as follows:
Tuesday through Saturday 11am to 5pm
Sundays 11 am to 3pm
We will also be open on Monday, December 20th from 11 am to 5 pm
We will be closed the following days:
Thursday, November 25th Thanksgiving
Saturday, December 25th Christmas
Saturday, January 1st New Years
CLOSING EARLY at 3 pm on Christmas Eve Friday December 24th
CLOSING EARLY at 3 pm on New Year's Eve Friday January 30th
Take care and SEE YOU SOON!
Lynn, Indiana and Houston!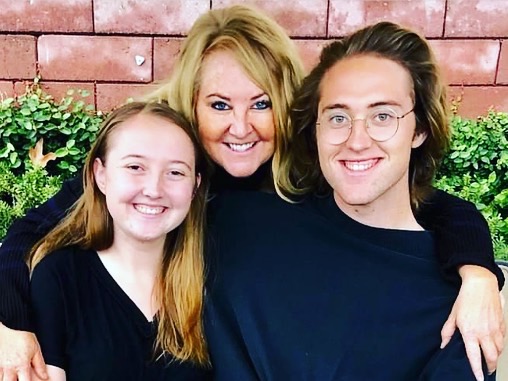 O.K., one last adorable photo of Cha Cha and Carlos!  I LOVE these two as much as I LOVE my kids!  Well, maybe a little less than I LOVE my "real" kids.  LOL!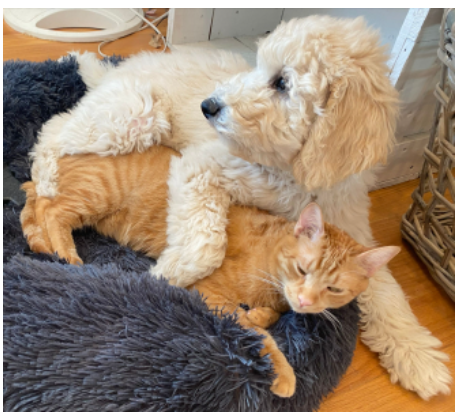 OK, one last funny photo of the Cha.  She is exhausted from the MOVE.  I am not kidding.  She doesn't really understand what went down, but she knows it was A LOT.
On the other hand, Carlos knew exactly what was going on and he is freaked out!  He is currently sequestered in Houston's new room (dubbed the Villa) for two weeks so that he doesn't try to get back to the old house.  My poor pets!  But back to the exhausted Cha Cha photo!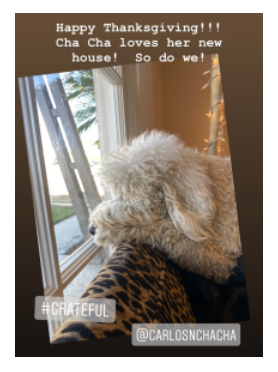 Thanks for reading my ezines! I appreciate it….as always!
See YOU on Black Friday! And/or Small Business Saturday!
eBay with Heart & Design with Heart……Lynn
Past Newsletters
1  https://tinyurl.com/lynnslatest1
2  https://tinyurl.com/lynnslatest2
3  https://tinyurl.com/lynnslatest3
4  https://tinyurl.com/lynnslatest4
5  https://tinyurl.com/lynnslatest5
6  https://tinyurl.com/lynnslatest6
7  https://tinyurl.com/lynnslatest7
8  https://tinyurl.com/lynnslatest8
9  https://tinyurl.com/lynnslatest9
10 https://tinyurl.com/lynnslatest10
11 https://tinyurl.com/lynnslatest11
12 https://tinyurl.com/lynnslatest12
13 https://tinyurl.com/lynnslatest13
14 https://tinyurl.com/lynnslatest14
15 https://tinyurl.com/Lynnslatest15
16 https://tinyurl.com/lynnslatest16
17 https://tinyurl.com/LynnsLatest17
18 https://tinyurl.com/LynnsLatest18
19 https://tinyurl.com/LynnsLatest19
20 https://tinyurl.com/LynnsLatest20
21https://tinyurl.com/LynnsLatest21
22https://tinyurl.com/LynnsLatest22
23https://tinyurl.com/LynnsLatest23
24https://tinyurl.com/LynnsLatest24
25https://tinyurl.com/LynnsLatest25
26https://tinyurl.com/LynnsLatest26
27https://tinyurl.com/LynnsLatest27
28https://tinyurl.com/LynnsLatest28
29https://tinyurl.com/LynnsLatest29
30https://tinyurl.com/LynnsLatest30
P.S.  All of the professional photos I use on Instagram, Facebook and in these newsletters were taken by my friend Denise's daughter, Jaclyn Sabo.  She is amazing!   To learn more about Jaclyn….https://www.jaclynszabo.com/
P.P.S.  If you have a friend who wants to sign up for this newsletter.