It has been a jam packed busy week…as usual!   Halloween was super fun!  Cha and I gave out lots of Candy!
Speaking of Halloween, we are having a 50% OFF Sale on Halloween.  It must be Halloween…NOT Fall or pumpkins or pumpkins with mermaids on them etc. but CLEARLY a Halloween item…….Like these items
The Huge monster in the front window
The Coffin in the front window
Costumes
Monster Candles etc.
It is up to our discretion, so please ask before assuming…thanks!  And Happy Halloween Sale!
It is not too late to sign up for our Annie Sloan Paint your Own Piece Class which takes place tomorrow, Friday, November 3rd from 2 to 5 pm.  Cost is $69 and we supply the paint, the wax and the brushes and you leave with a finished piece!  It must be a smaller piece and approved by us first.  So Let's go!  More info……
Y'all have been asking and we are here to answer!  Our next Annie Sloan Paint Your Own Piece class will be held on Friday, November 3rd from 2:00 to 5:00.  Cost is $69.  We supply the paint, the brushes, waxes and instruction.
You bring your piece.  Please text a photo of your piece prior to the class for approval….to me at 760-880-3535 or Sandy 805-628-3289.  Pieces should not be too large.  Think a side table, chair, small shelf etc.   Space is limited so sign up here now
Here is a photo of me with Annie Sloan in New Orleans last year.  Sandy and I both attended her "Big Paint" event and can't wait to share our knowledge with y'all.
If you have any questions please call the store at 805-628-3289…Here is a photo of a piece that Sandy is still working on, but OMG, it is awesome!  Annie even gave us her advice on what colors to use.  Annie's Paints are amazing!  And so are Sandy's skills!
So, I was pretty sad yesterday when I went to do our weekly furniture pickup and I knew that for the first time in 6 years, Adolio wouldn't be there.  Aaaawwwww……he has been with me since the beginning and I love that guy.
I pulled up in my rented Uhaul truck and was waiting for Paul and a friend to meet me, when out of the corner of my eye I thought I saw Sonny…..what?  Adolio and Sonny were a team that helped me every Wednesday until about a year ago when Sonny decided to retire.  I have sure missed Sonny and thought I must be imagining this.
Then I saw the "Raiders" bumper sticker and I thought, OMG, maybe it really is him?  Then he got out and I was sooooooo happy to see him!  It made losing Adolio just a little bit easier to take.  What a blessing!  Yesterday turned out to be super fun!
Speaking of Adolio retiring, I really need someone with a truck that we can recommend for deliveries.  This could be a really great gig for someone to make some extra cash.  We sell a lot of furniture and need reliable people that we can recommend.  Please reach out to us if you are interested and we can chat.
Also, I am looking for someone with a pretty good sized truck to do my weekly Wednesday furniture pickups.  I don't like having to rent a Uhaul truck each week.  Not fun for me!  Right?
In more fun store news, the Christmas window is coming along…not done by any stretch of the imagination, but we are working our magic slowly, but surely on this one.  Please contact us if you have any great Christmas items to consign.  So exciting!
First pic is of Sandy (such the trooper) up above the clothing store throwing the Christmas trees down to me….Seriously?  I am exhausted from this week 🙂  LOL!  Kidding, not kidding!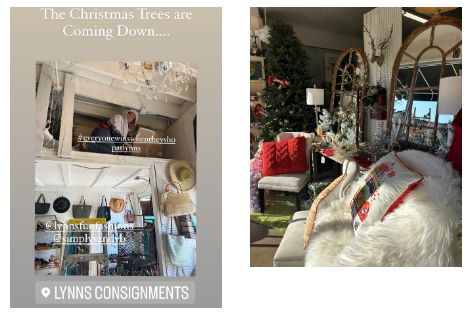 And now for some new arrivals 🙂
Belmont 11 Piece Patio Seating Set Grey/Beige  $1995
Alpendale Fabric Power Loveseat With Power Headrest Light Grey  $795
Threshold Foxborough Loveseat Brown/Tan $395.00
Whitlocke Slipcover Sofa Cream Classic Roll Arm $895.00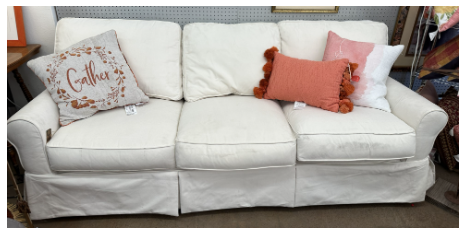 Wrought Iron Wine Cabinet  $195.00
Hand Painted Floral Side End Table AS IS $125.00
Oxford Navy Painted Sideboard $695.00
Jewelry Cabinet Standing $95.00
Metal Table Lamp with Burlap Shade $69.50 – 2 pcs
Ethan Allen Historic Sentinel 1 Framed Bridge $295.00
Lumisource Winston Farmhouse Dining Chair Copper/White $135.00
Brushed Pewter Lamp with Glass Container to Fill $125.00 – 2pcs available in stock
Stylecraft Unframed Acrylic Painting Home Wall Art Multi Color Canvas $149.50
Hampton Bay Rattan Floor Lamp Black/Natural Tones 61″ $115.00
Cresswell Lighting 66'' Modern Black Over the Sofa Counterbalance Floor Lamp $95.00
Stylewell Hexagonal Wood and Metal Floating Shelf Brown/Black $69.50
Hampton Bay Elgin Pantry Kitchen Cabinet White $395.00
Trexm Round Extendable Dining Table With 16" Leaf Espresso $395.00
3D Zip Set Vacation Stripe Mix $36.00
3D Zip Set Sea Animals $36.00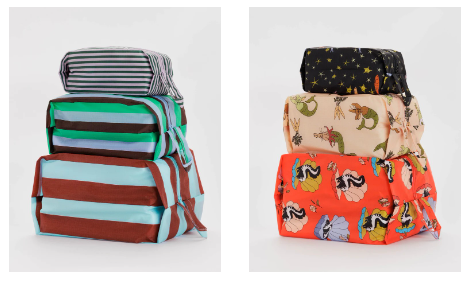 Dopp Kit Hello Kitty Apple  $32.00
Dopp Kit My Melody $32.00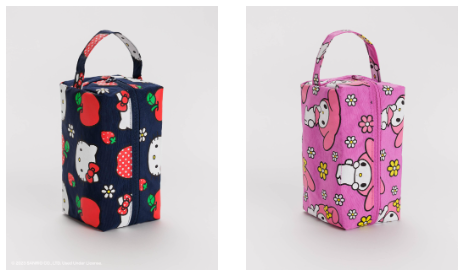 Go Pouch Set Vacation Stripe Mix $40.00
Go Pouch Set Sea Animals $40.00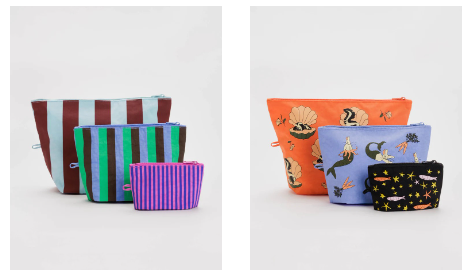 Standard Baggu Hello Kitty Apple $14.00
Standard Baggu Hello Kitty and Friends Scene $14.00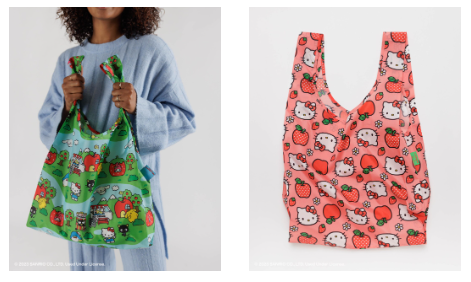 Standard Baggu Hello Kitty Icons $14.00
Standard Baggu Cinnamoroll $14.00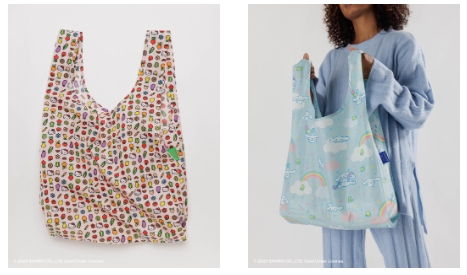 Holiday Stocking Hello Kitty Apple $24.00
Our store is jam-packed with awesome items.  But we can always use MORE!
If you have gently loved items you no longer use and want to make some easy extra cash, consignment is the perfect solution for you! Join us and turn your clutter into cash!
Fun Fashions
Land Line:  805-628-9208
Cell:  805-470-6493
Don't forget to visit us in-store or check out our website. Stay tuned for more updates and as always, thank you for your continued support!
Take care and SEE YOU SOON!
A photo of the gang from my Surprise Party!  Jane, me, Sandy, Denise, Robin & Val!  BTW, the lighting in Gigi's was not optimal LOL!
Thanks for reading my ezines!  I appreciate it….as always!
eBay with Heart & Design with Heart……Lynn
Past Newsletters…All can be found on our Blog.
P.S.  All of the professional photos I use on Instagram, Facebook and in these newsletters were taken by my friend Denise's daughter, Jaclyn Sabo.  She is amazing!   To learn more about Jaclyn….https://www.jaclynszabo.com/
P.P.S.  If you have a friend who wants to sign up for this newsletter.